Trader Joe's is one of the BEST places to find staple items and the occasional speciality item that will fit into your Paleo diet for a fraction of the cost of other grocery stores. While we all know that Trader Joe's doesn't allow any artificial flavors or preservatives, synthetic colors, MSG, genetically modified ingredients, or partially hydrogenated oils (artificial trans-fats) in their Trader Joe's branded products there are still tons of highly processed frozen food items with ingredient lists as long as a novel. If you're someone who is new to Paleo this list should be helpful to navigate the store and find some awesome products and awesome deals. Let's get started!
1. Produce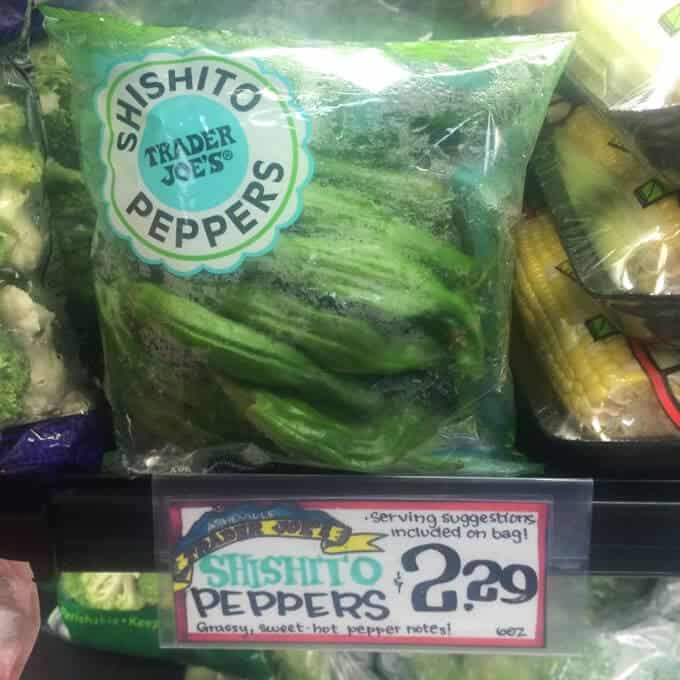 I love TJ's produce section! They have a great organic selection and their prices are consistently cheaper than anywhere else. I've heard some sources say that the produce quality can be hit or miss but I simply haven't found that to be true in my case. Only once have I had to return something (their return policy is spot on by the way, if you try it and don't like it simply return it for a full refund) from the produce department and they were gracious and apologized profusely. My favorites from the prduce section are the beets, arugula, limes, bananas, bell peppers, broccoli, shisito peppers, mixed salad greens, and melons…All organic and all priced at amazing prices.
2. Butter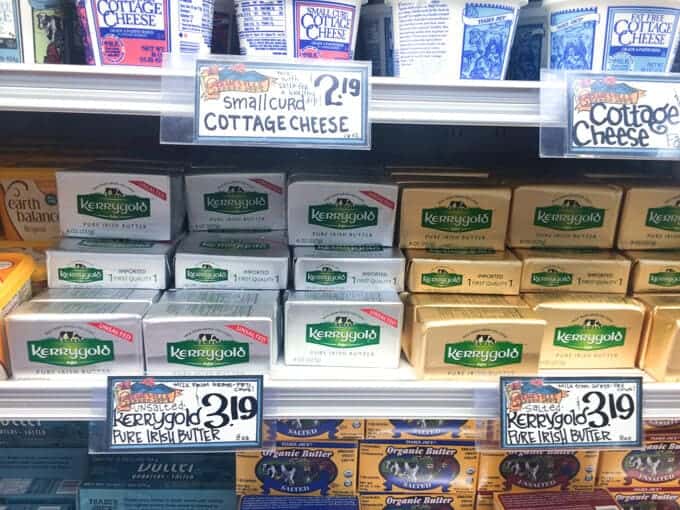 Another staple that I never pass up is Kerrygold Grass-Fed Butter! It's about a dollar cheaper than anywhere else and it's the best butter on the planet. I usually purchase a few packs and make a large batch of ghee everytime I make a trip to Trader Joe's.
3. Hemp Seeds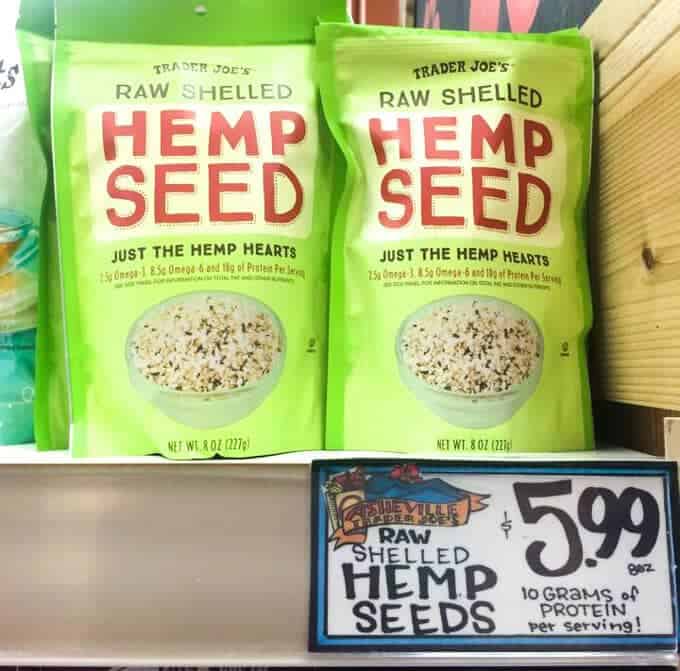 A fantastic source of vegetarian protein, I love the nutty flavor and they are very versatile. Use them on a salad, mix them in your smoothie, or use them as a "breading" for meat.
4. Bacon!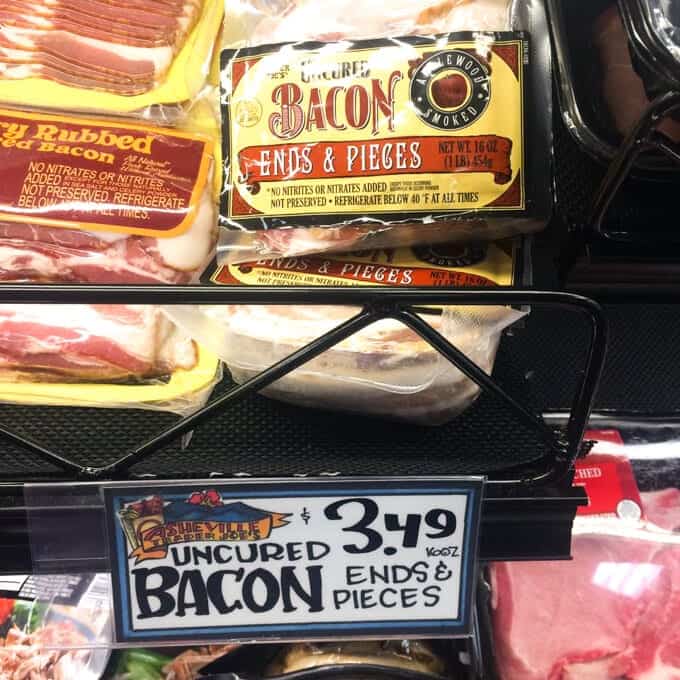 TJ's uncured bacon ends and pieces has no sodium nitrates, for a considerably reduced price from competing bacon. Buying the ends and pieces is a little bit of a gamble, you never know if you're going to get thick or thin pieces, but every package we have ever purchased has had full strips of delicious perfectly fry-able bacon.
Recipes that use bacon: Herb Wrapped Pork Loin / Baked Sweet Potatoes with Brown Butter, Bacon, and Herbs / Tricolor Grilled Potato Salad with Bacon, Spring Onions, and Mustard Vinaigrette / Jalapeño Bacon Deviled Eggs / Sweet Potato Casserole with Bacon Pecan Streusel
5. Prosciutto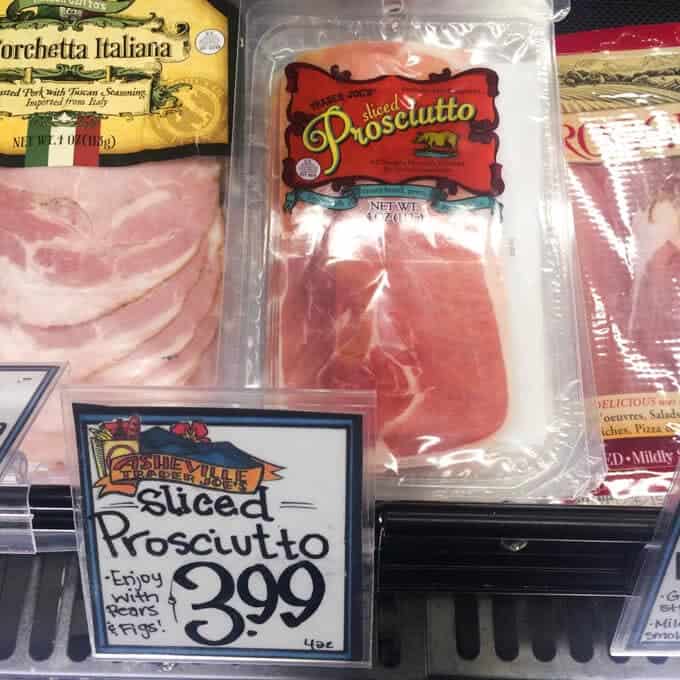 Personally one of my favorite meats. Eat it by itself or with olives, melon, chicken, or as a salad topper. The possibilities are endless! The $3.99 price tag is almost half off from other brands I've seen, and it is also nitrate free.
Recipes utilizing prosciutto: Honey Glazed Prosciutto Wrapped Chicken / Cantaloupe Gazpacho with Frizzled Prosciutto / Crispy Prosciutto Wrapped Green Beans
6. Pork Belly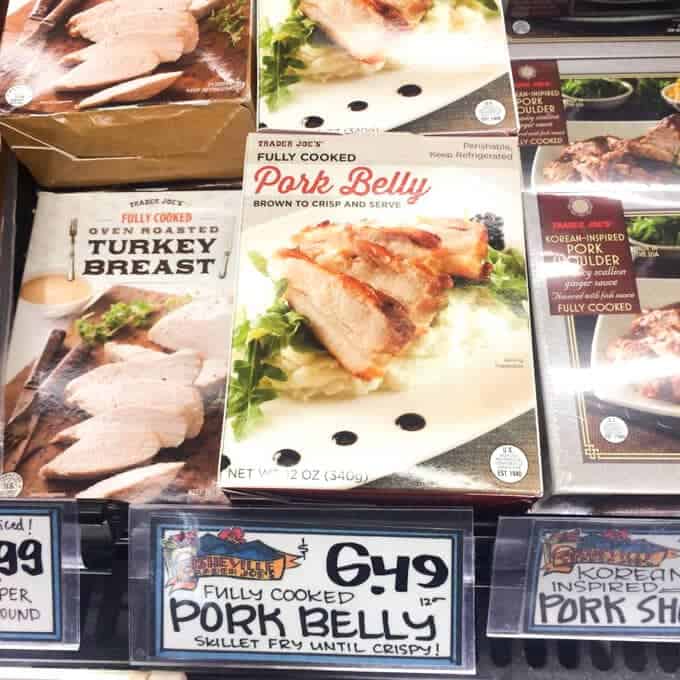 Pork belly is a newfound love of mine. This one is super easy to prepare since it's already cooked. Just brown on all sides until super crispy. The inside stays moist and it's perfect for eating with mashed potatoes, glazing with a fruit compote, or throwing into tacos! Just last night we had jicama taco shells with pork belly and cantaloupe salsa…so good!
Recipes that use pork belly: Paleo Pork Belly Tacos
7. Simply Roasted Chicken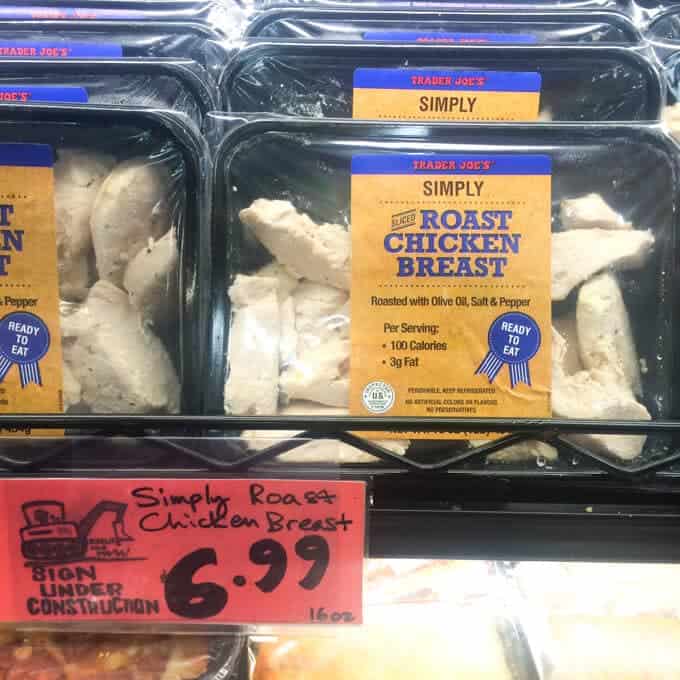 This pre-cooked chicken is great for those of us on the go. Throw it on a salad or wrap it up in a large collard or chard leaf and you'll have a easily portable, delicious, and time-saving meal.
8. Grilled Cauliflower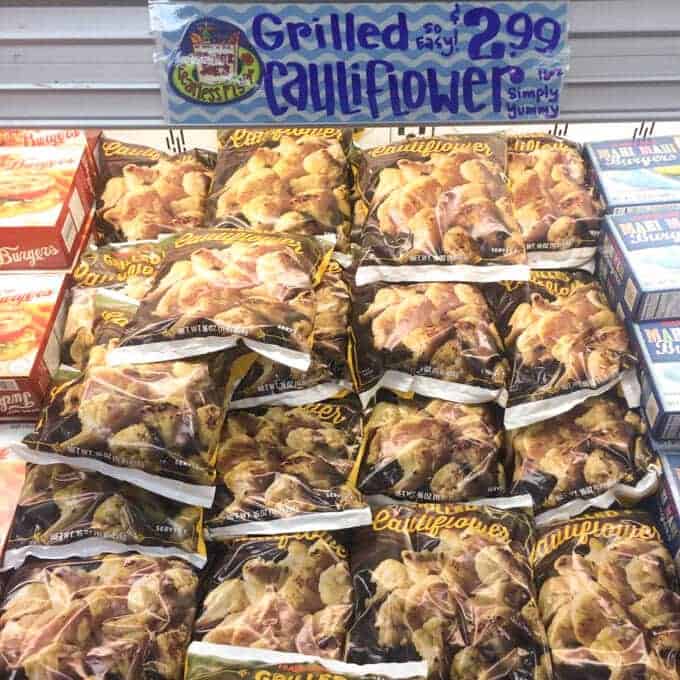 This is a a new item I've seen lately, along with riced cauliflower (which has been out of stock every time go). This makes a great vegetable sides to replace the standard American grain side dish. I love how these are grilled too, I'll have to try that with some fresh cauliflower from our garden and let you know how it turns out.
9. Coconut Flour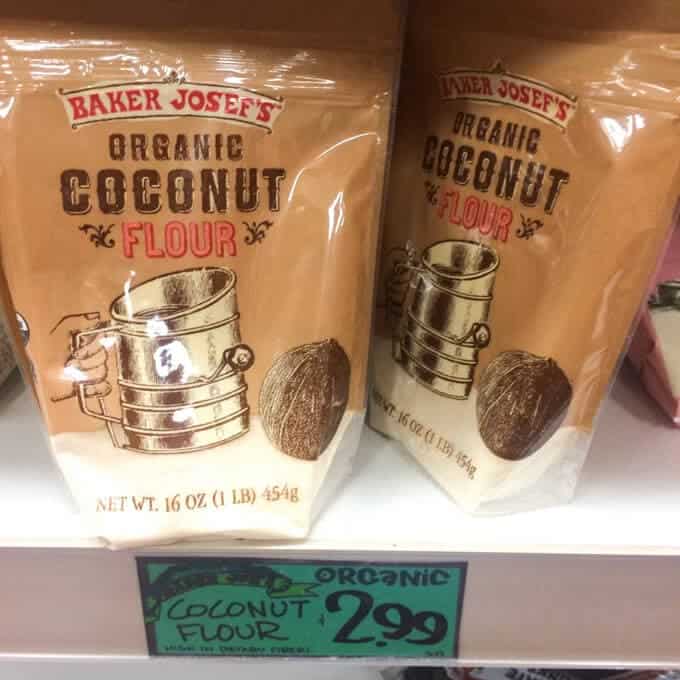 This baker Josef's 16oz bag of coconut flour is organic and has an unbeatable price, other brands can range to $10 or more per pound. Coconut flour is essential is you are trying to do any type of paleo baking.
10. Almond Flour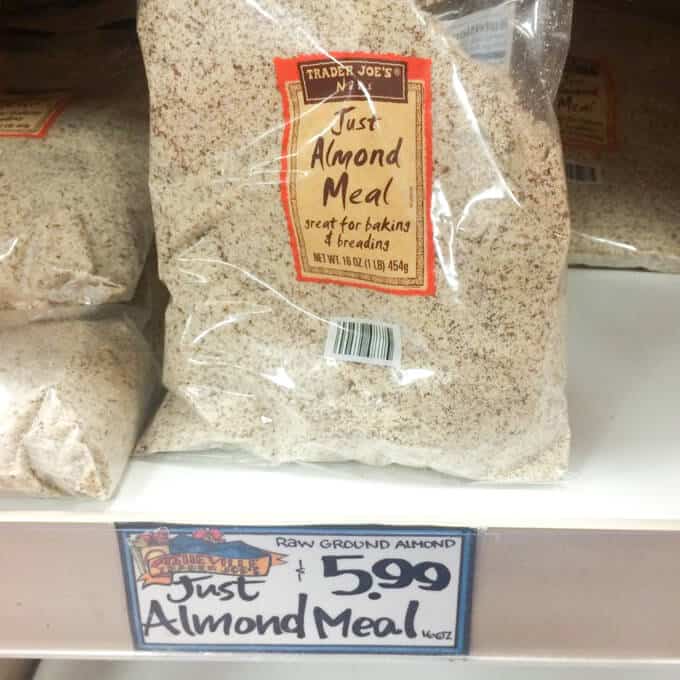 Another staple in paleo baking is TJ's just almond meal. You can also dredge chicken through it for a nutty, crunchy crust. The price, once again, is unbeatable so you better stock up when you go.
Recipes using almond flour: Fat Head Pizza Crust / Almond Flour Pancakes / Paleo Jalapeño "Cornbread" Muffins / Chorizo Stuffed Clams / Paleo Brownies / Bison Meatloaf / Paleo Donuts / Strawberry Galettes / Raspberry Swirl Chocolate Tart
11. Nuts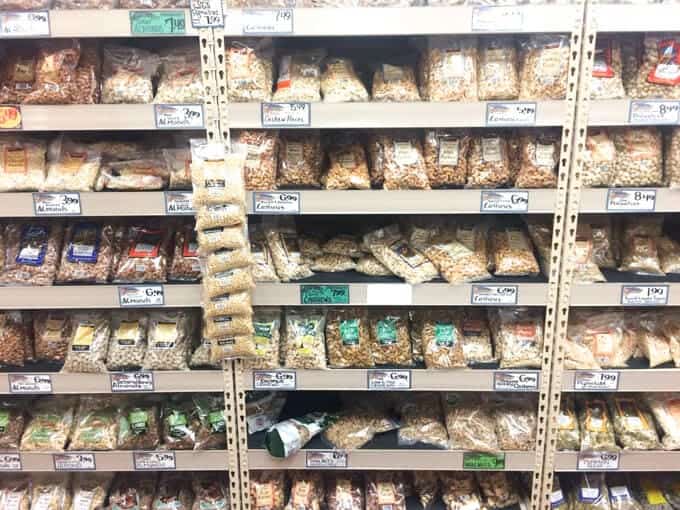 Trader Joe's has a huge nut and seed selection. We always buy a variety of seeds and nuts and make a huge batch of trail mix to take hiking on the weekends or as just a snack while watching a movie.
Recipes that use nuts: Pumpkin Spice Granola / Chocolate Fudge Coconut Granola
12. Coconut Oil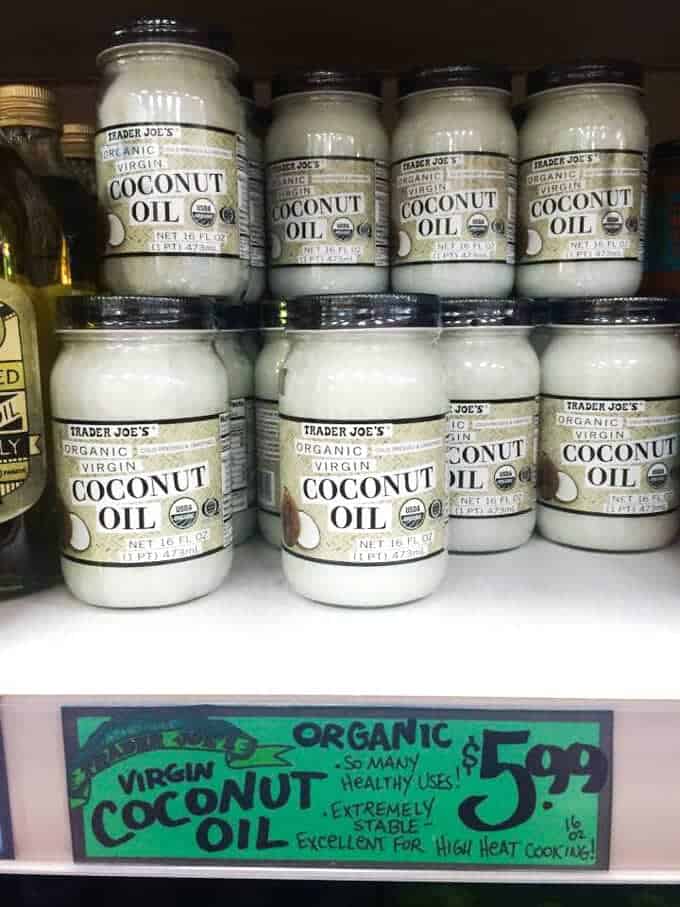 Another Paleo staple, coconut oil is a great source of MCT's (medium chain triglycerides) and has a high smoking point, so it is my frying fat of choice. There are countless ways to incorporate coconut oil into your daily life.
Recipes that use coconut oil: Just about all of them or my Easy Chocolate Freezer Bark!
13. Sardines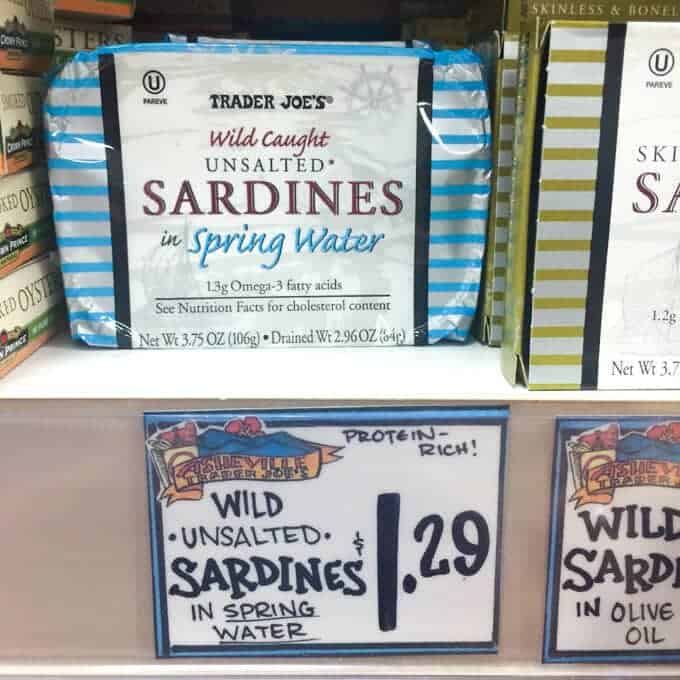 A wonderful superfood, at a wonderful price. The value is amazing! I to prepare them by lightly pan frying them and using them as a salad topper like in my Pan Fried Sardine Superfood Salad!
14. Sparkling Water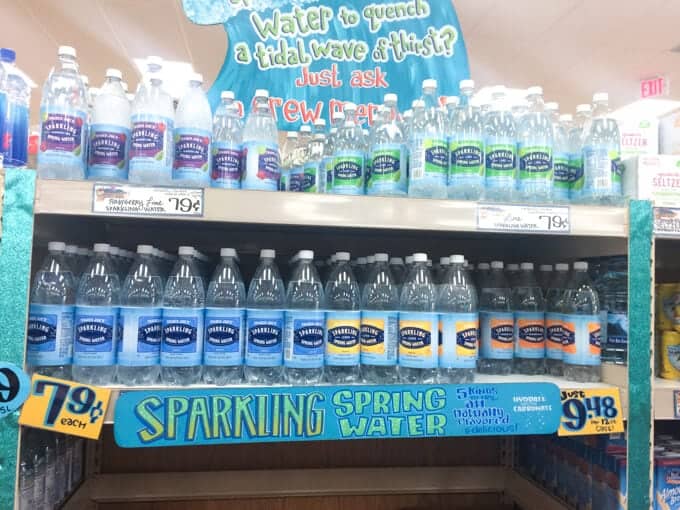 A great way to up your water intake if you're like me and really don't care for plain water. The raspberry lime is delicious, especially with a squeeze of fresh lime!
15. Honey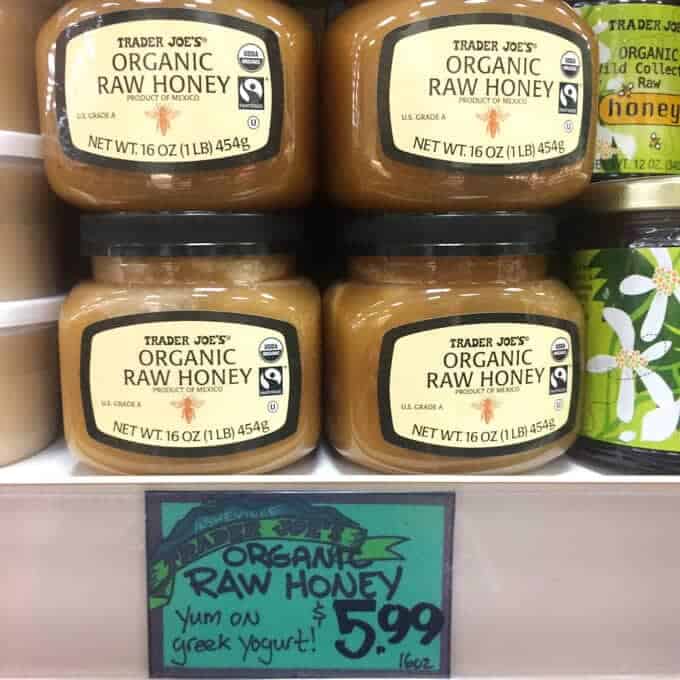 This is the best deal on organic raw honey that I've ever seen. Buying local is obviously best but if you can't find a local option this is the perfect second option! Great for making Paleo Honey Sesame Chicken!
16. Frozen Wild Blueberries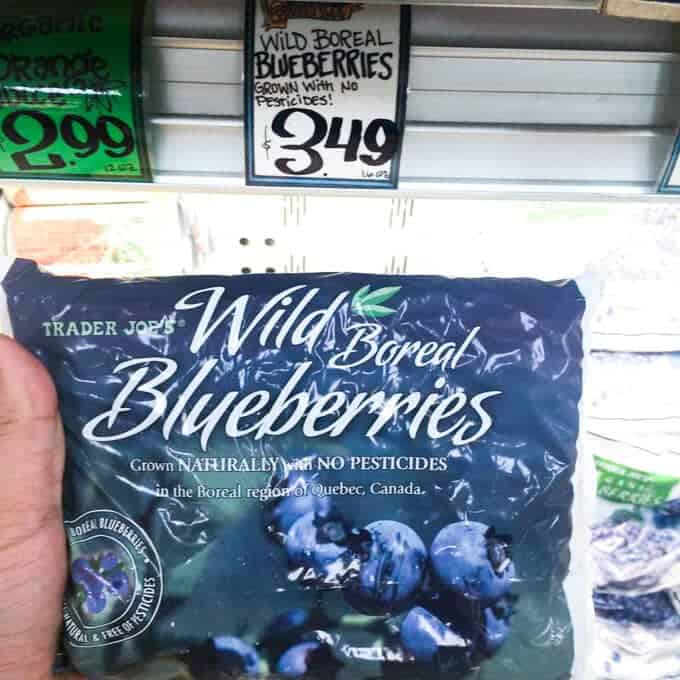 Man oh man how I love these blueberries! They're incredibly sweet and perfect for pies, smoothies, and even fruit leather! For a delicious pie check out my Chocolate Blueberry Pie (to make it Paleo simply substitute the sugar for coconut sugar and use the pie crust from my strawberry galettes!). For the fruit leather recipe check out my Strawberry Fruit Leather recipe and you can substitute blueberries for the strawberries!
17. Seafood Blend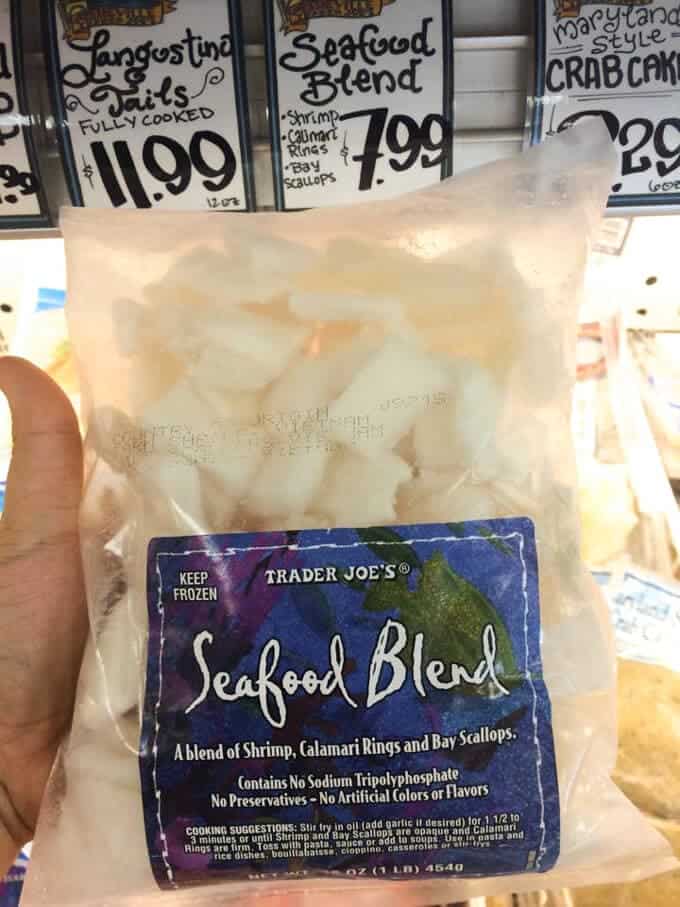 Ok so here's the deal…Frozen seafood is never my favorite but this seafood blend is so versatile I couldn't not put it on the list. Our favorite ways to use it is grilling it for tacos, and throwing into soups and stir fry's. Just be sure to not over cook it. If grilling you'll want to thaw in cool water and pat dry before grilling.
18. Grass-fed Beef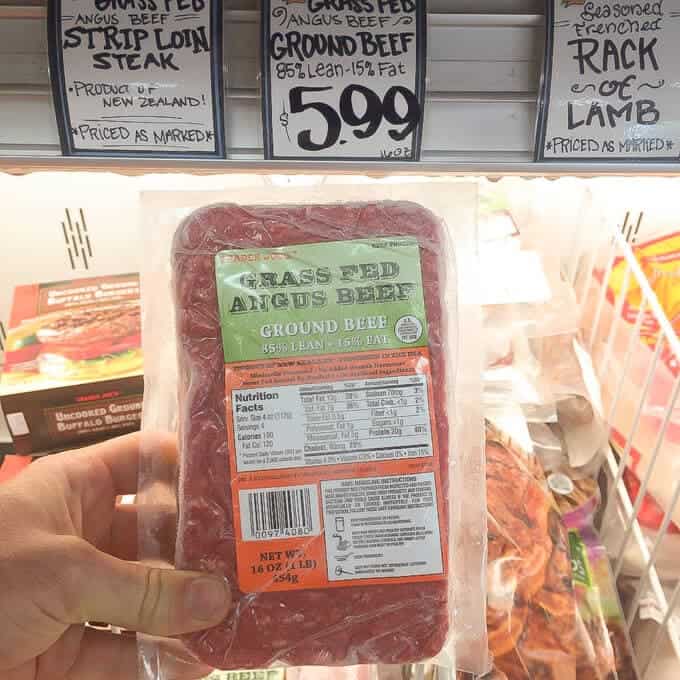 We usually buy ground beef from a local farm, but at $5.99 per pound it's a great deal!
19. Freeze Dried Blueberries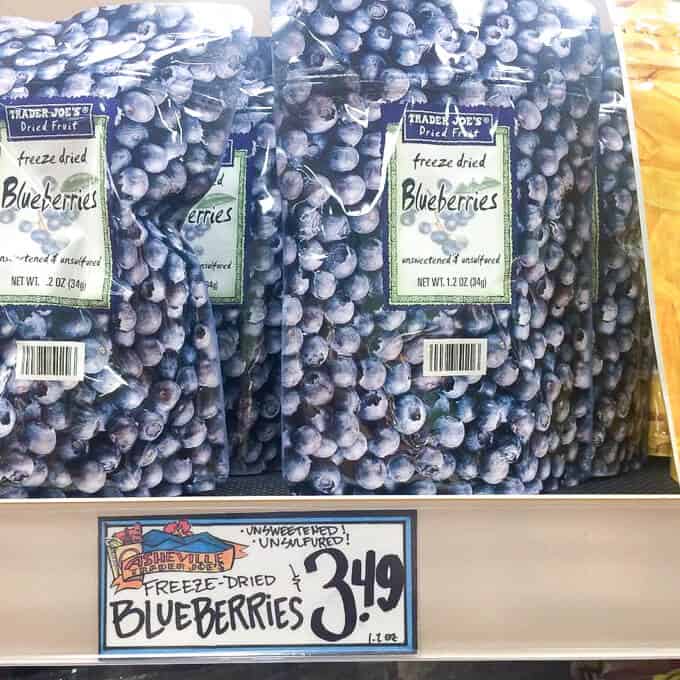 Another great snack for throwing in your lunch or taking on trips! I especially love these because they're unsweetened!
20. Teas and Coffee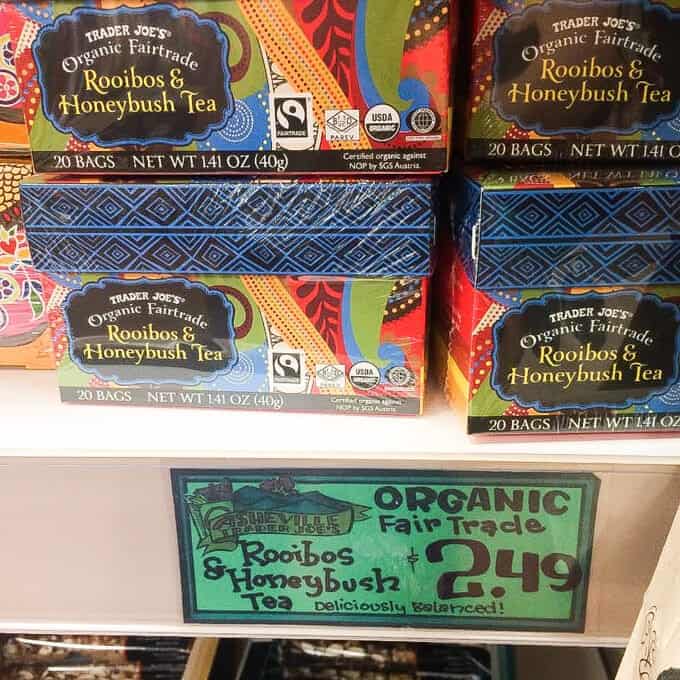 Trader Joe's has a fabulous selection of organic and fairtrade teas and coffee. The Rooibos and Honeybush is my favorite!
21. Coconut Cream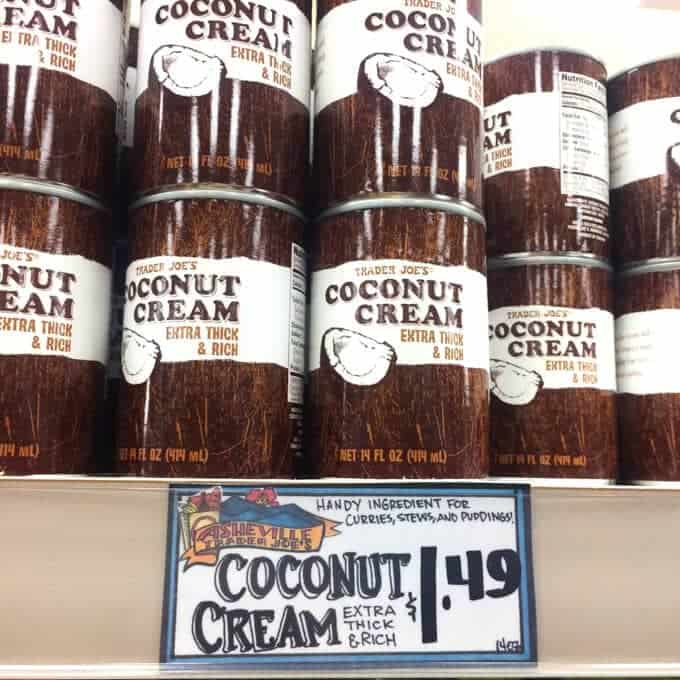 Great for curry and desserts this coconut cream is delicious! I also whip it up for a whipped cream topping with fresh vanilla bean!
22. Ghee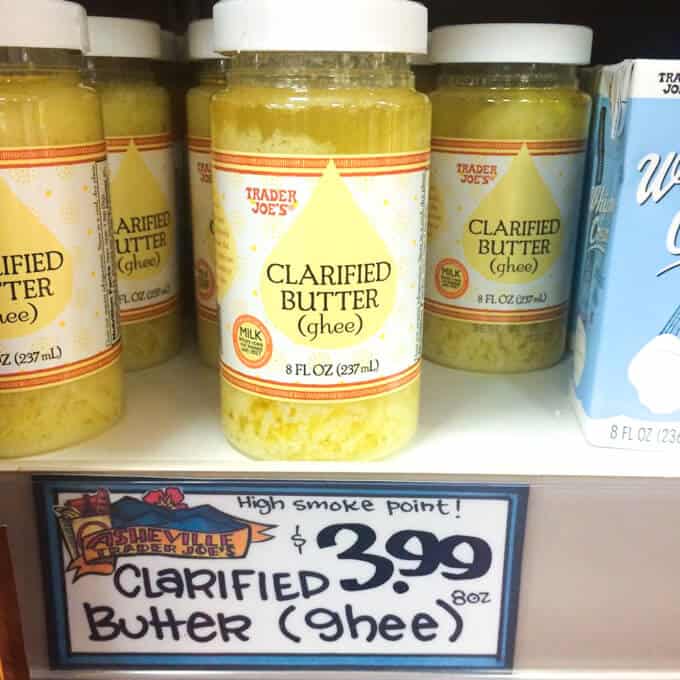 If you're not a fan of making your own ghee this is an economical choice. It's not organic so depending on what your view point on that is you may want to make your own.
23. Guacamole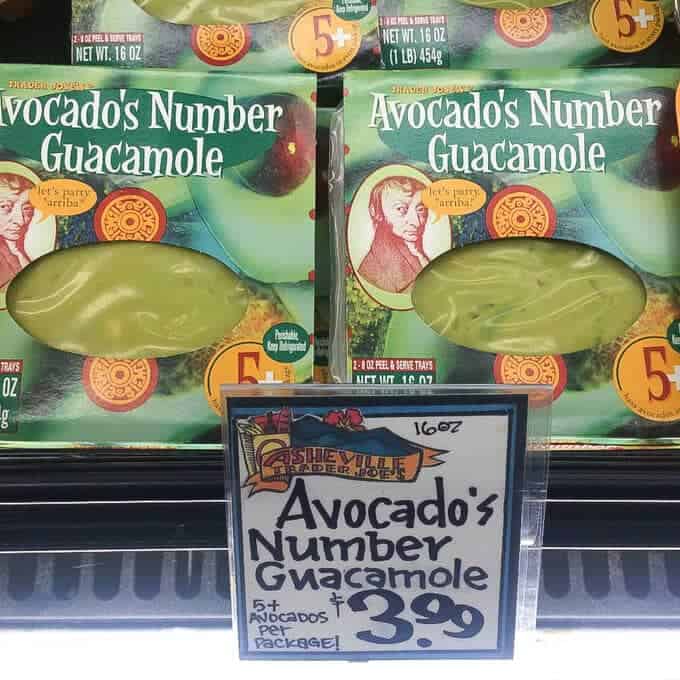 And last but not least is guacamole! I couldn't resist adding this one in. The ingredients are spot on and it has over 5 avocados in one package! I couldn't buy 5 avocados for that price! I'm guilty of eating it straight up with a spoon but it's also great on salads, meats, fajitas, and so much more!
These are just a few of my favorite Paleo items from Trader Joe's. Do you have anything you'd like to add to this list? Leave your favorites in the comments! Or download a free printable shopping list below!