We all know that fish is a really great healthy and lean protein for us to be included in our diet. Sometimes cooking it can feel daunting, though, and it can be hard to get out of the rut of our usual recipes.
Paleo Fish Recipes
If you're looking for more paleo fish recipes to add to your repertoire, then look no further. We have 19 stunningly delicious options right here, which are perfect for your low-carb grain-free, dairy-free, and sugar-free needs. You'll be wowing your family and friends in no time at all!
Need more ideas to fill out your paleo-friendly menu? Check out some of our other popular paleo recipe collections listed below.
Crispy fish tacos with grapefruit salsa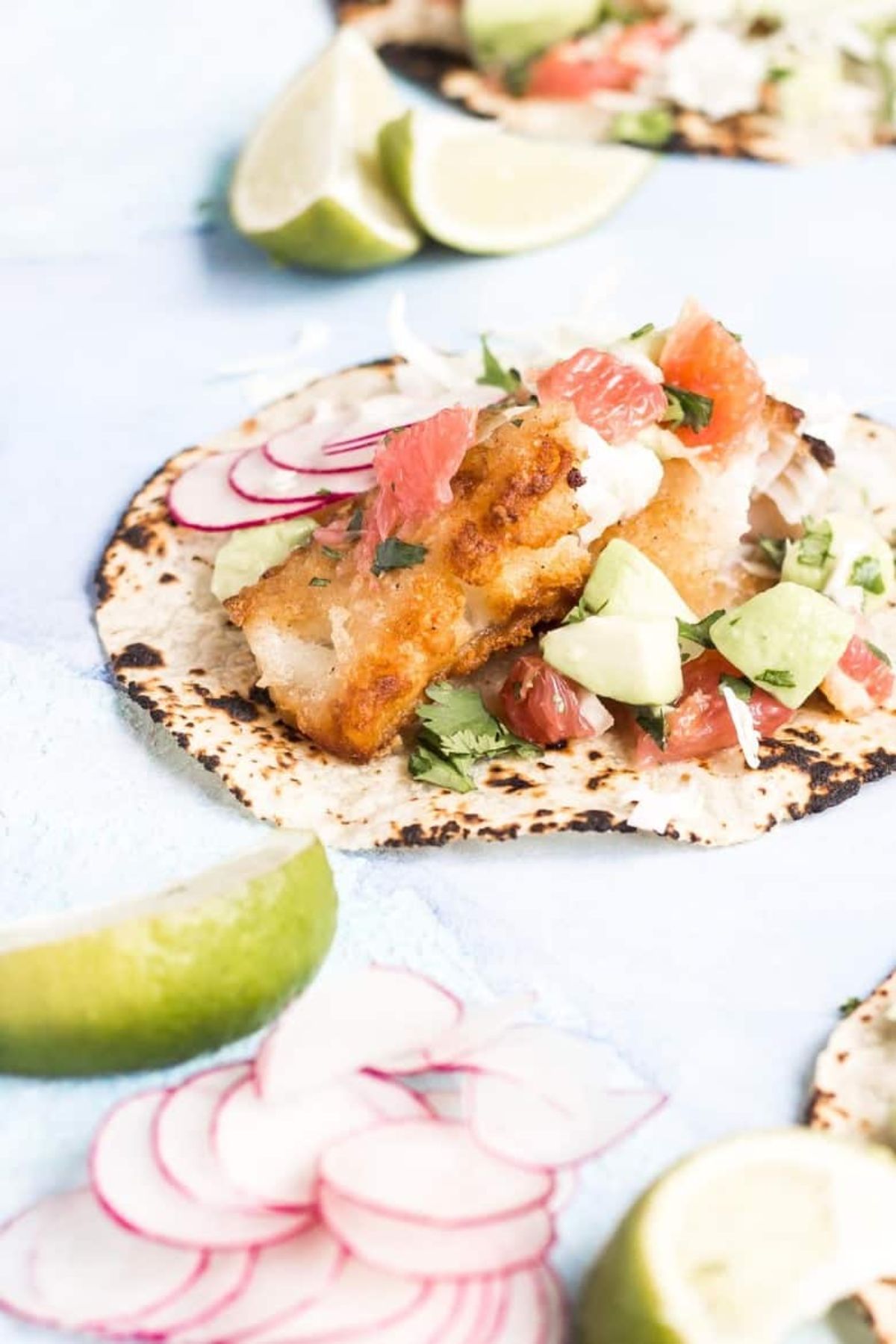 Fish tacos have to be the simplest thing to serve up on a weeknight when the kids are bored of their usual meals. Our fish tacos come with a zingy grapefruit salsa, so your gang can wrap up their own parcels of deliciousness.
Sheetpan fish fajitas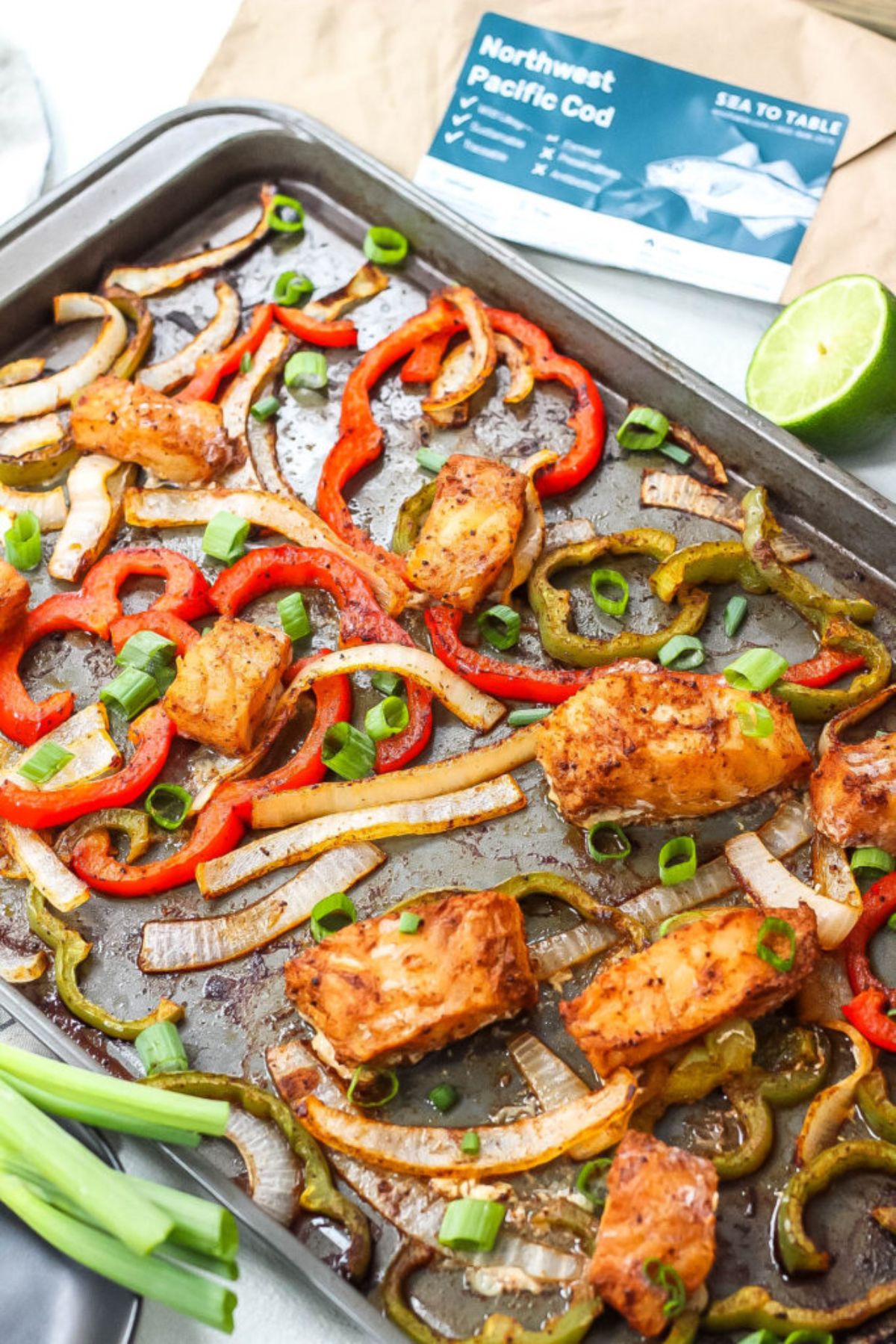 For another easy weeknight dinner with minimal prep involved, Whole Kitchen Sink's sheet pan fajitas are a great option. On the table in 30 minutes, your fussy eaters can pick and choose their ingredients and add the cod to tortillas, and you can keep paleo with cauliflower rice.
Crispy coconut pan-fried salmon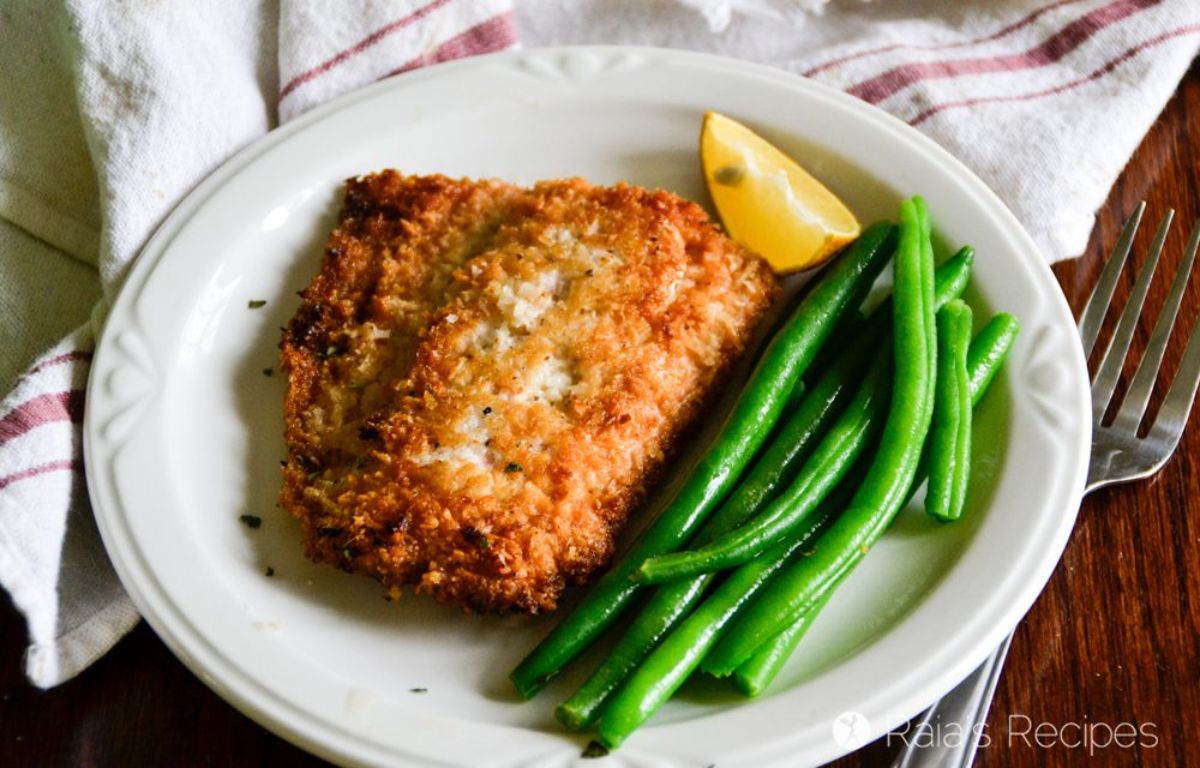 For a slightly different, and paleo, take on your cod, Raia's Recipes has a coconut crumbed salmon that is fresh and delicious. Pair with some green veg and munch to your heart's content.
Whole30 fish and chips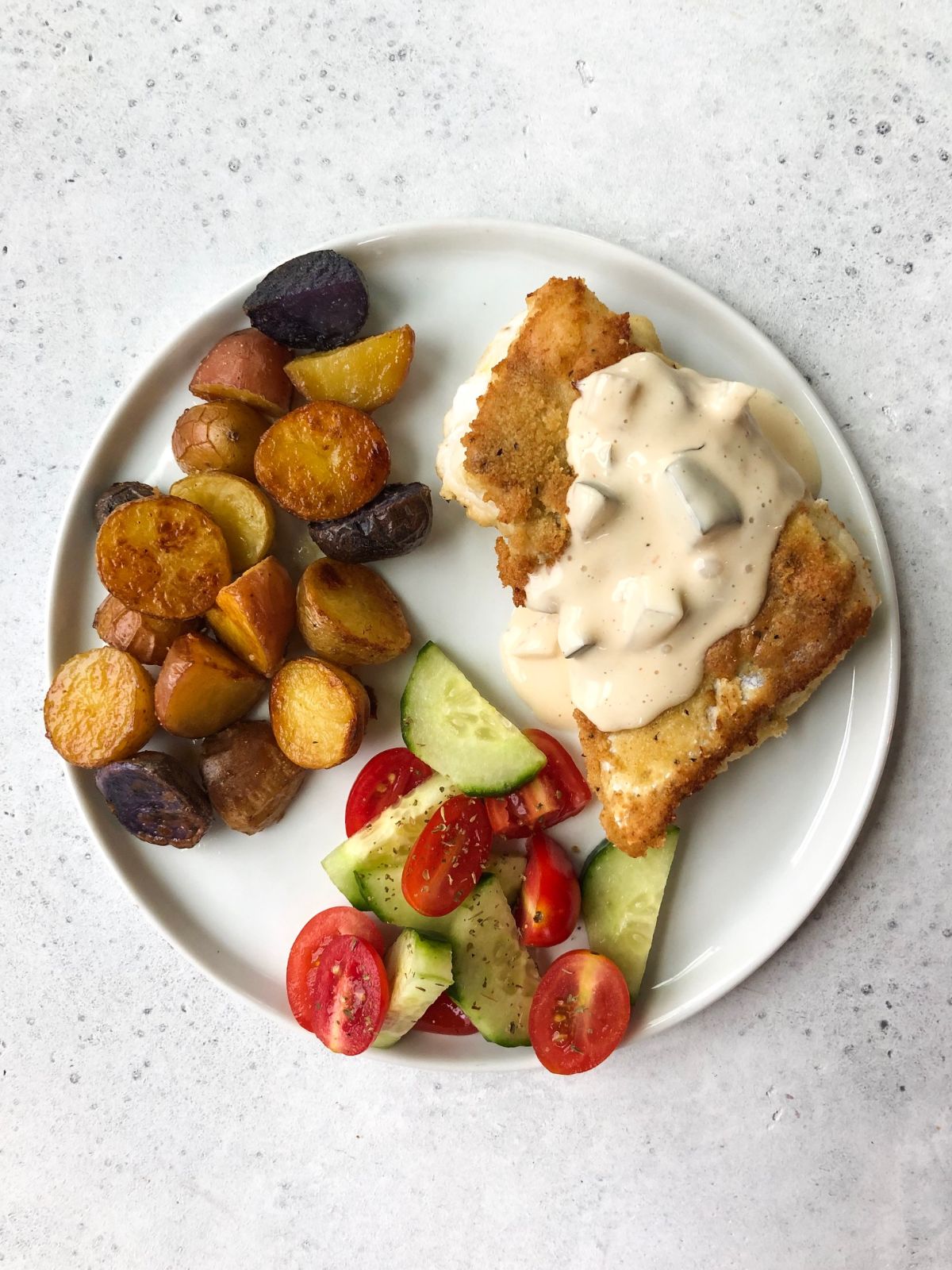 For all you Anglophiles out there, you'll be well aware of the classic English dish of fish and chips. Delicious? yes. Paleo? No. Well, Mary's Whole Life has a yummy paleo version that everyone will love tucking into.
Tuscan shrimp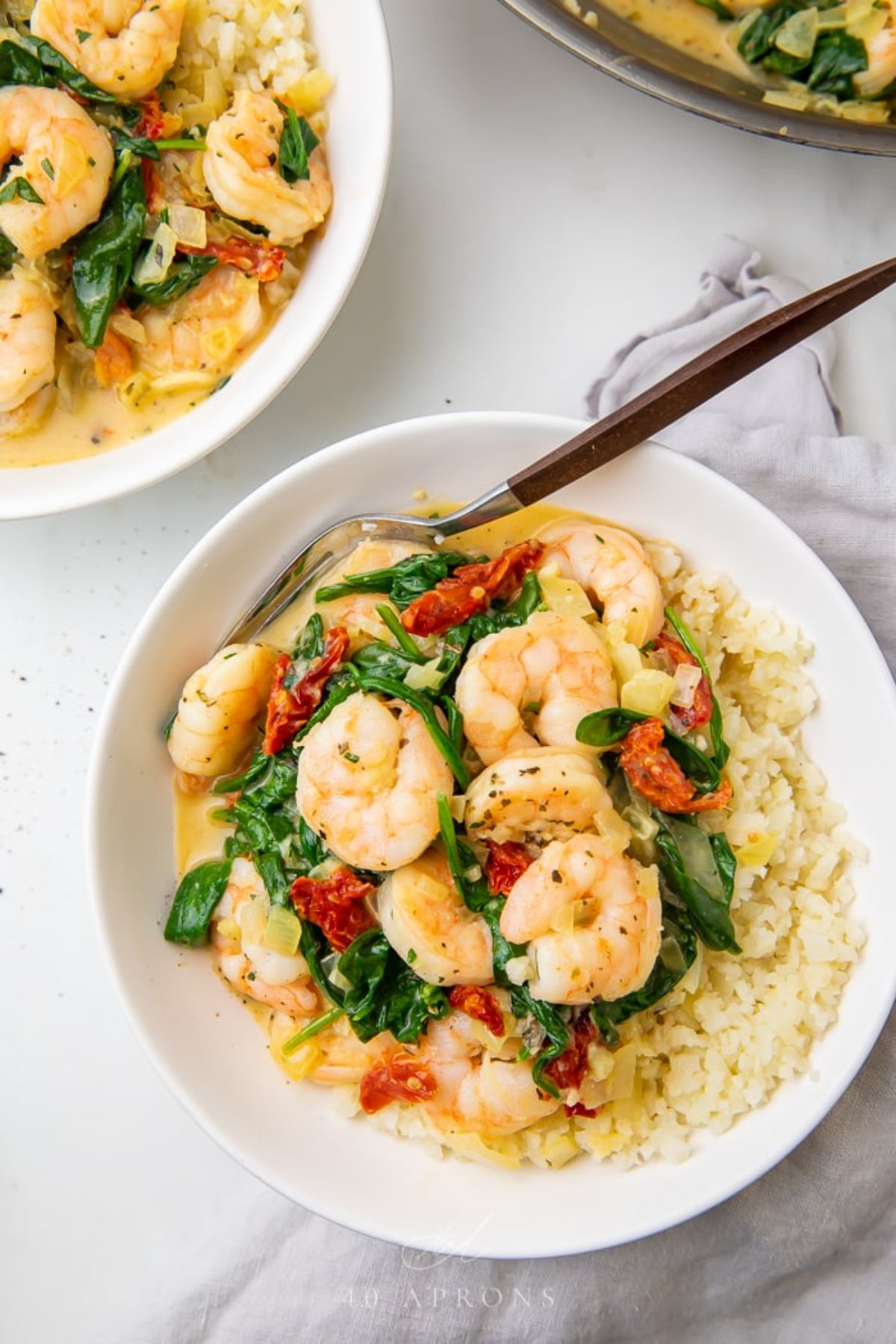 For a warm bowl of comfort food, without compromising your paleo principles, this Tuscan shrimp recipe from 40 Aprons is the perfect solution. Full of fresh and nutritious veg, lean protein, and flavor, it's sure to leave you satisfied.
Fish taco bowls with chipotle lime dressing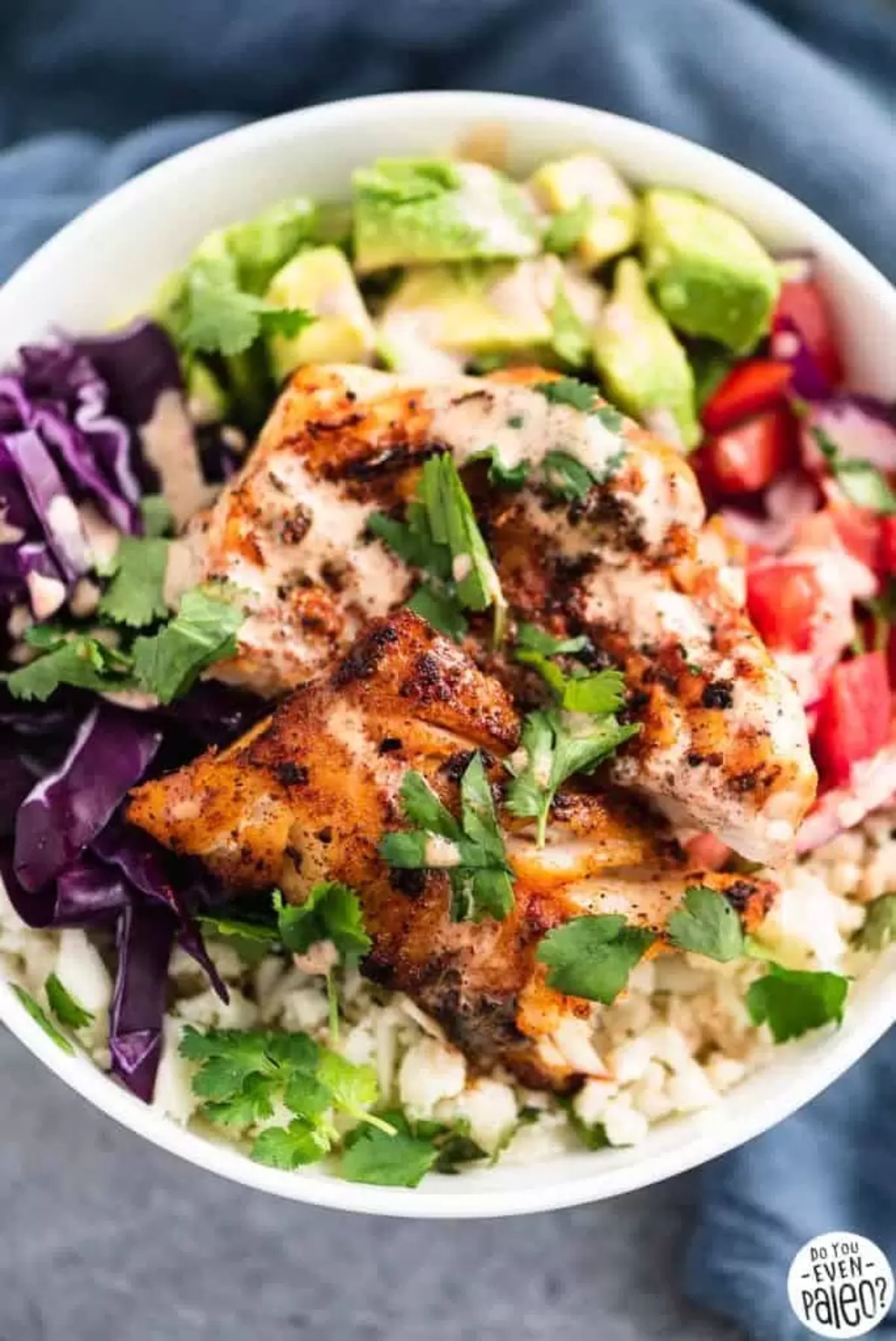 Follow the instructions from Thyme & Joy for their fish taco bowls, and then take the results and arrange them in any way you choose. Stuffed into celery slices, loaded onto lettuce wraps, or over cauliflower rice it's delicious.
Mahi Mahi in creamy sun-dried tomato sauce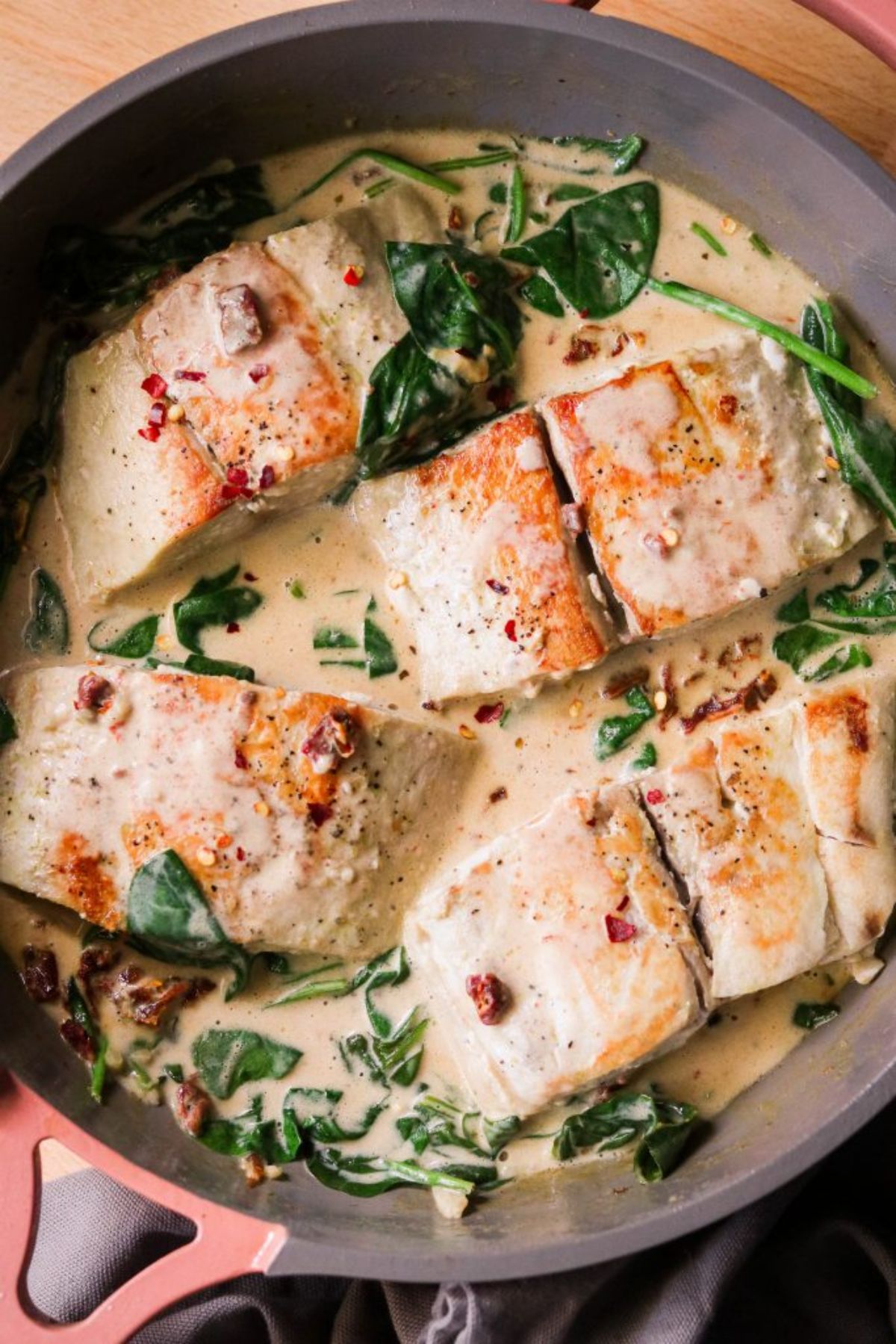 For a simple dinner party dish that will still make a statement, What Great Grandma Ate's mahi-mahi brings the goods. The creamy sauce is so delicious, and the whole meal can be on the table in 20 minutes.
Baked cod in roasted red pepper sauce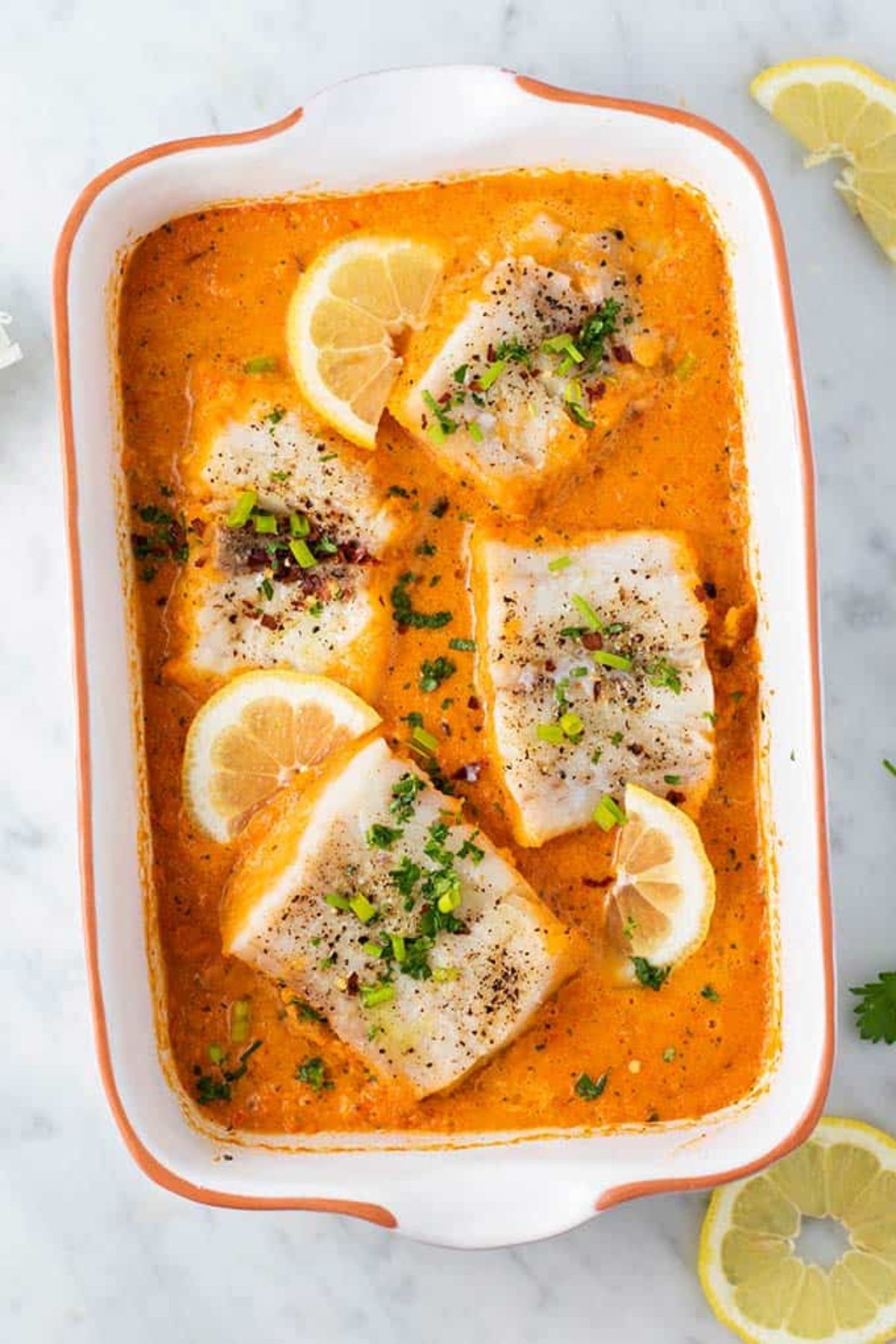 I love the vibrant color of this rich dish from Sunkissed Kitchen. The red pepper sauce goes so well with the cod, and you can add whatever green vegetables you fancy right now.
Cod fritters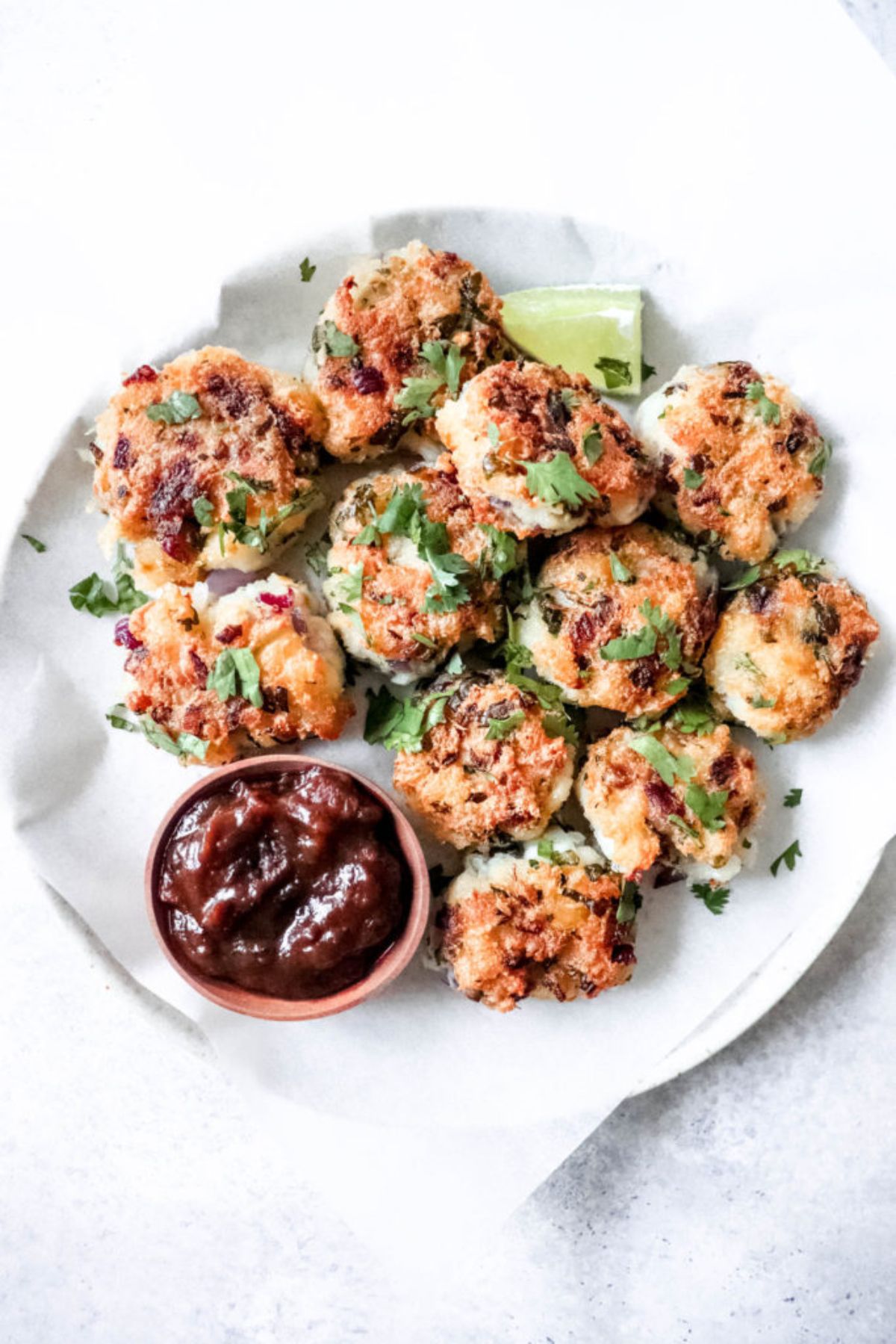 These cute little bite-sized appetizers from Heal Me Delicious are great for your next dinner party or buffet. Full of fresh herbs and flavor, you'll probably have to make double!
Fish taco bowls with cilantro lime cream sauce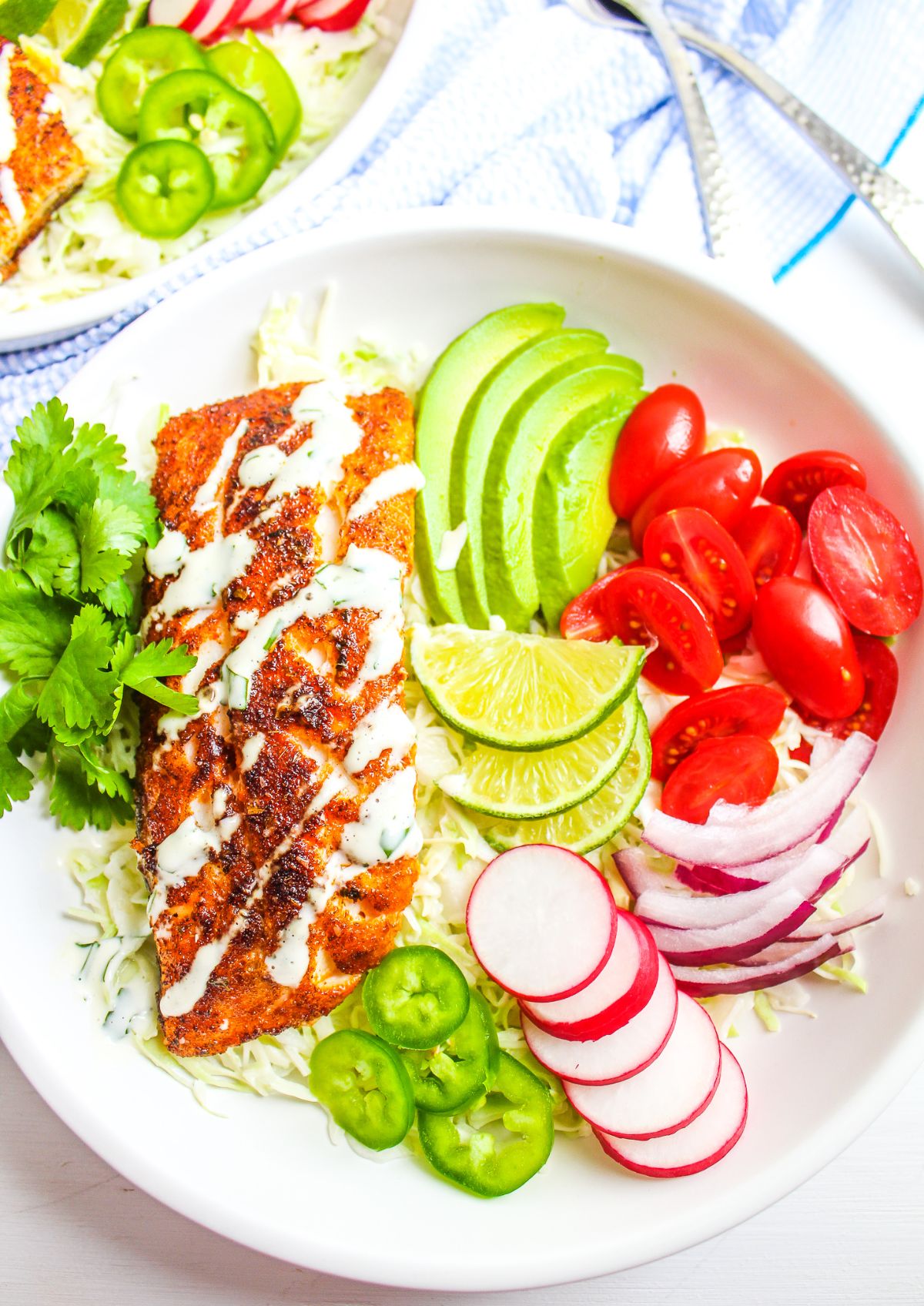 Fish taco bowls are so versatile and easy to throw together for a nutritious and satisfying lunch. The cilantro lime cream sauce in this recipe from The Bettered Blondie is bright and refreshing.
Salmon cakes with zucchini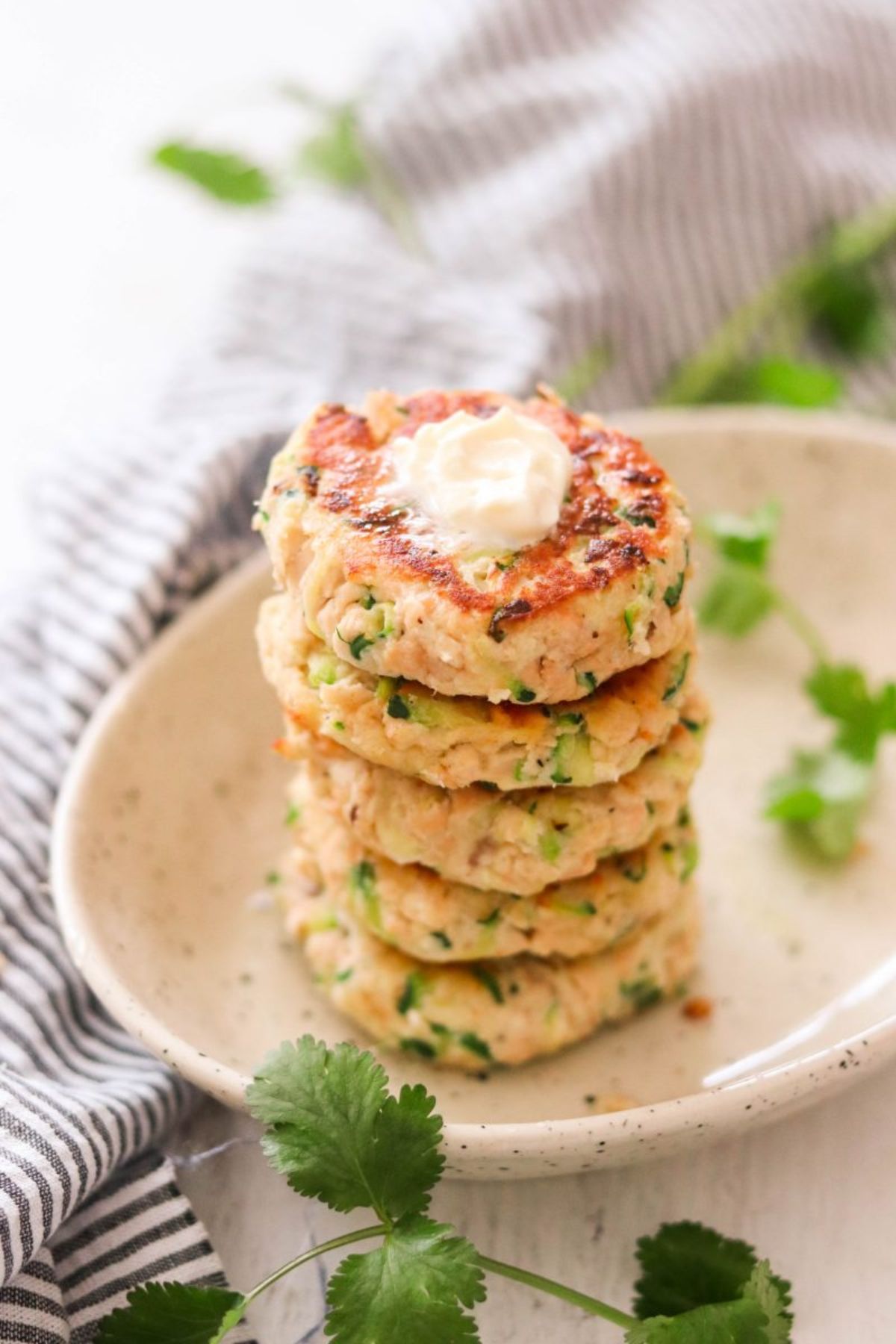 Now, don't get me wrong, I love zucchini. But there are certain times of the year when it's easy to get bored of making zoodles from your glut of the green vegetables. What Great Grandma Ate has a great recipe for adding them to paleo salmon cakes, and they're delicious.
Baked fish sticks with cucumber relish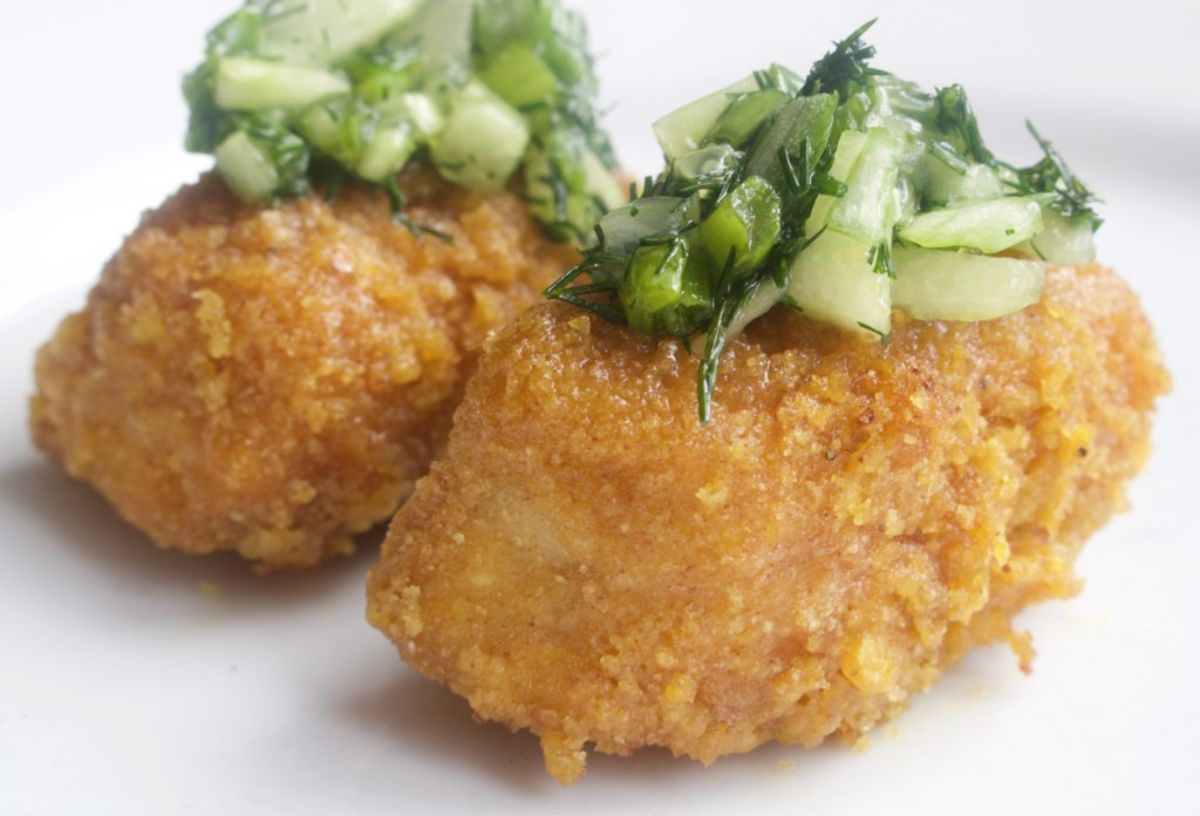 Beyond the Bite 4 Life had a revelation when she got home from her weekly shop with too many bags of plantain chips. She ground them up and used them as a paleo-friendly batter for these fish sticks. So good as an appetizer or an afternoon snack, especially with the zingy relish.
Pecan crusted salmon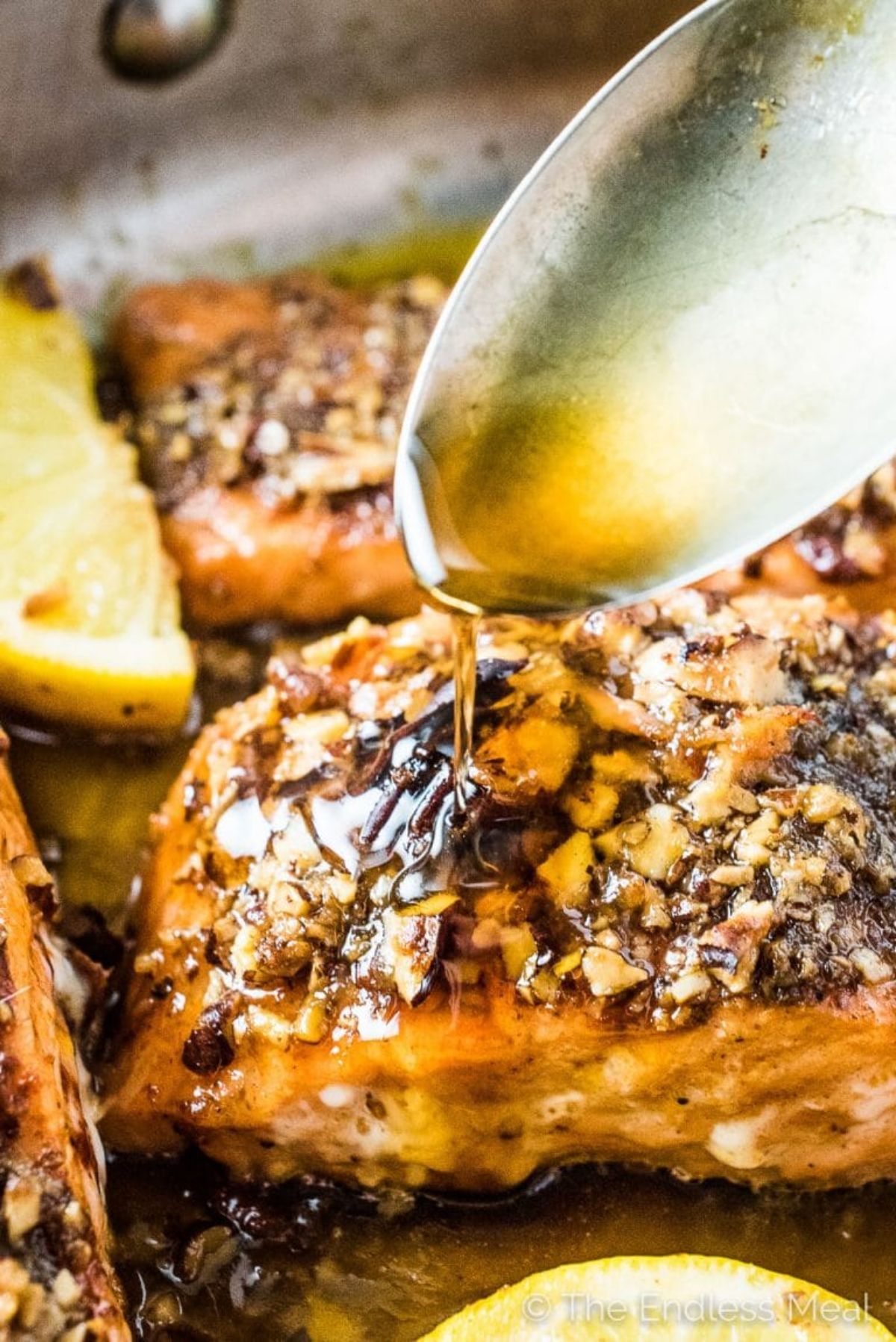 The maple glaze and toasted pecans will draw you in, and you'd never believe how healthy this recipe from The Endless Meal actually is! It's so easy to make, and sure to be a hit with the whole family.
Fish taco bowls with mango salsa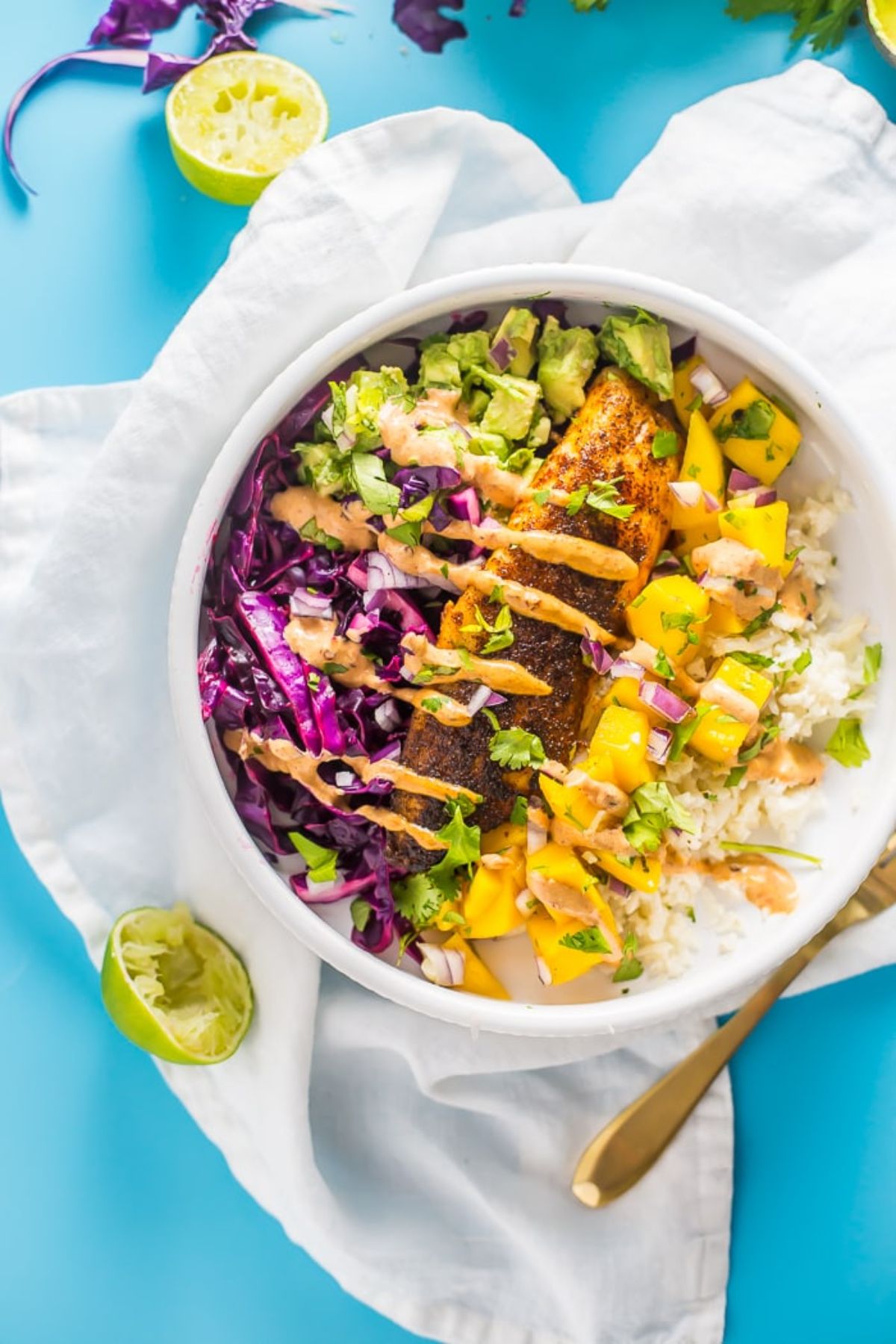 I told you that fish taco bowls were versatile! 40 Aprons' version is completely paleo-friendly, and completely delicious, helped in no small part by the most flavorful mango salsa and chipotle aioli I've ever tasted.
Proscuitto-wrapped cod with lemon caper spinach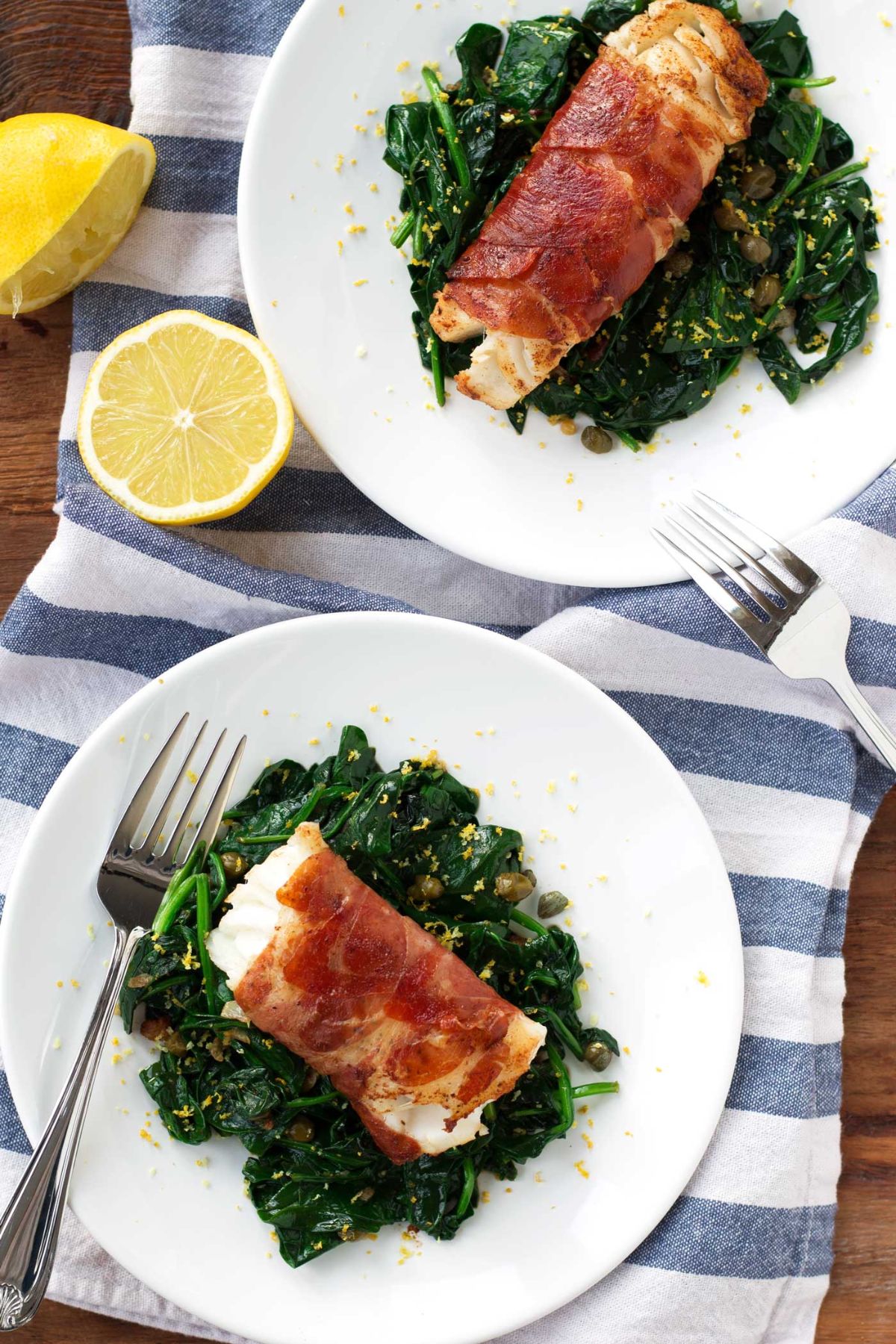 Resting on this bed of spinach is the most delicious fillet of cod you've seen, wrapped in salty Proscuitto and classy enough to serve to your most discerning paleo guests. Kit's Kitchen will show you how.
Baked haddock in sweet potato cream sauce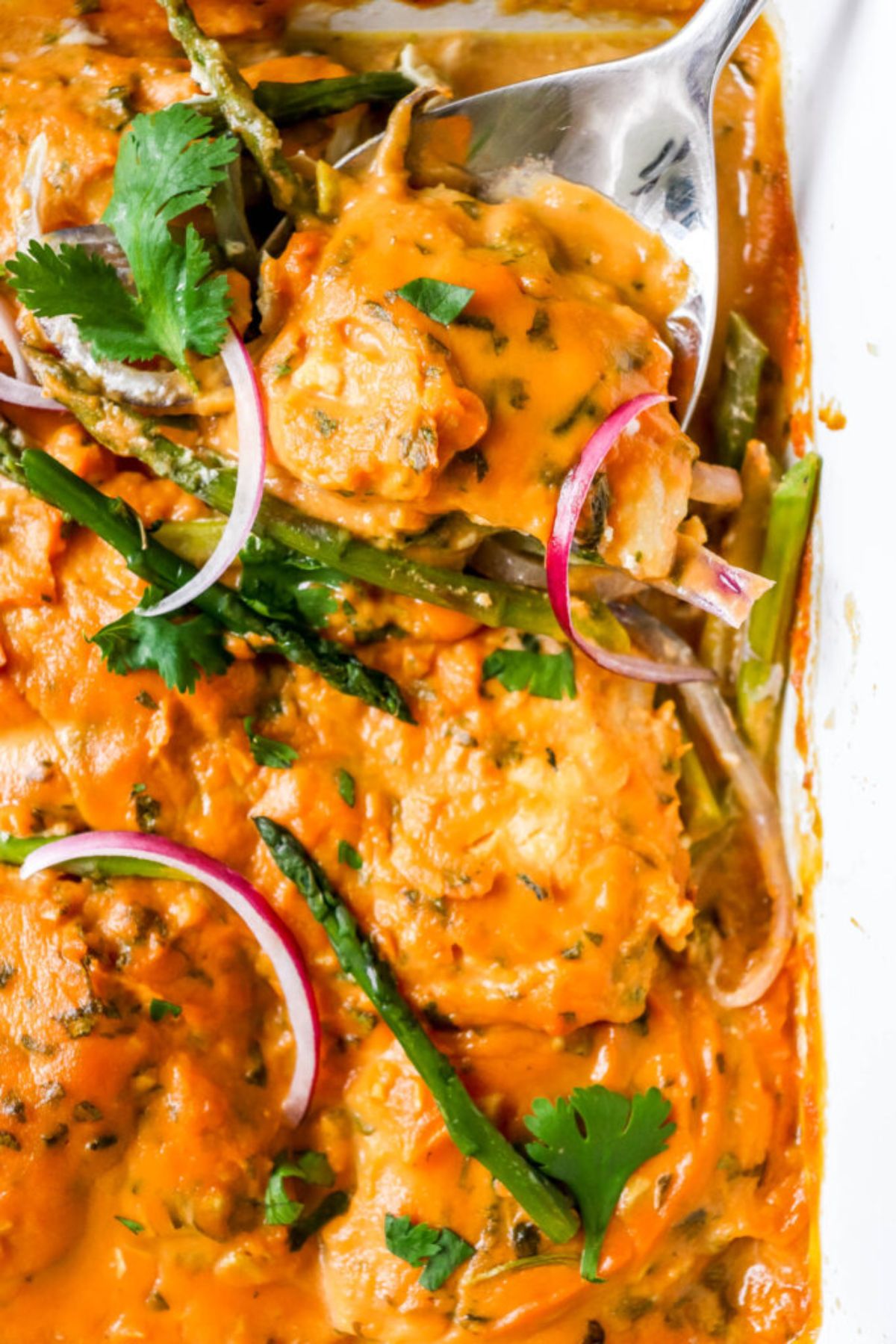 Another great "throw it in the oven and walk away" dish for busy weekday suppers. Heal Me Delicious' paleo dish is warming and comforting, and your whole tribe will wolf it down.
Brazilian fish stew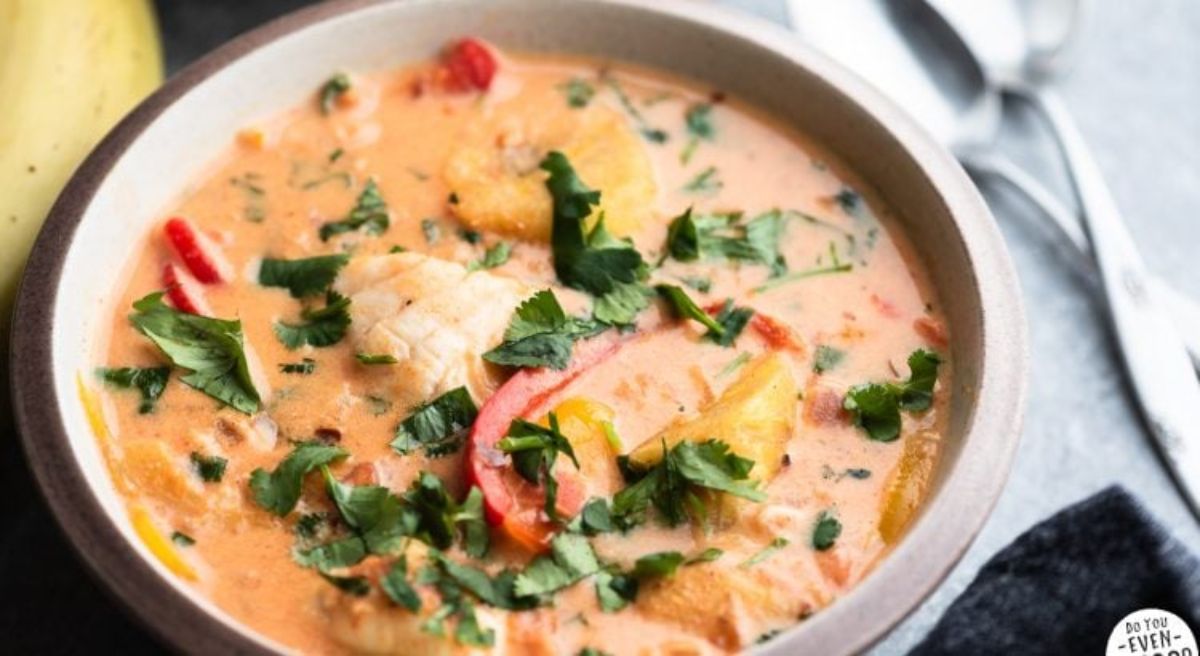 This paleo version of Moqueca, the Brazilian fish stew, is packed full of herbs and spices, as well as loads of colorful veggies. Do You Even Paleo has made it adaptable to fit whatever veg you have in your fridge to use up.
Crispy salmon bowls with pesto spaghetti squash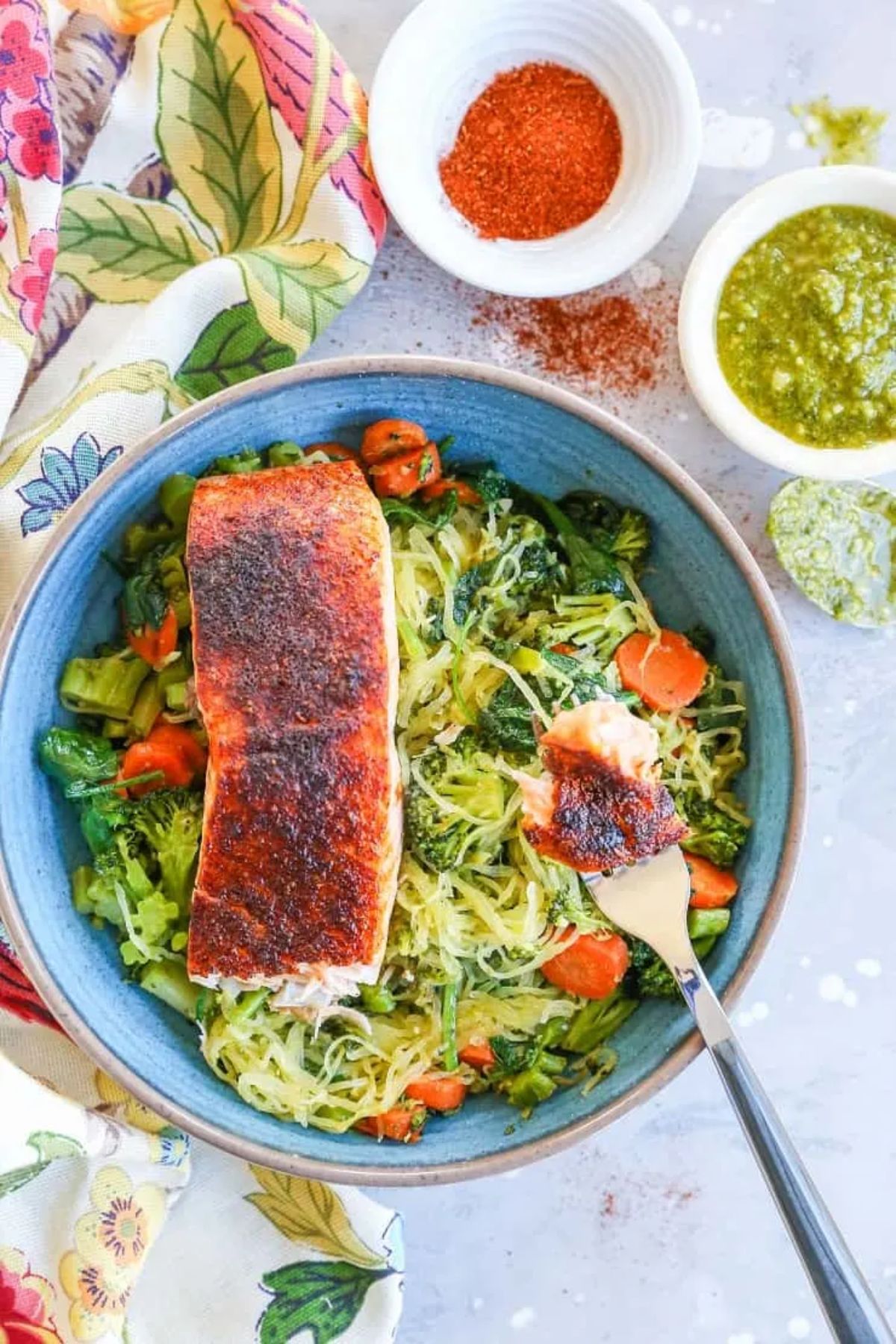 For those days where you are also sick of zoodles, this recipe from The Roasted Root will come to the rescue, with the most delicious pesto-covered spaghetti squash noodles you've had, topped with delicious crispy salmon, It's a great paleo supper.
Tom Kha Gai (Thai coconut shrimp soup)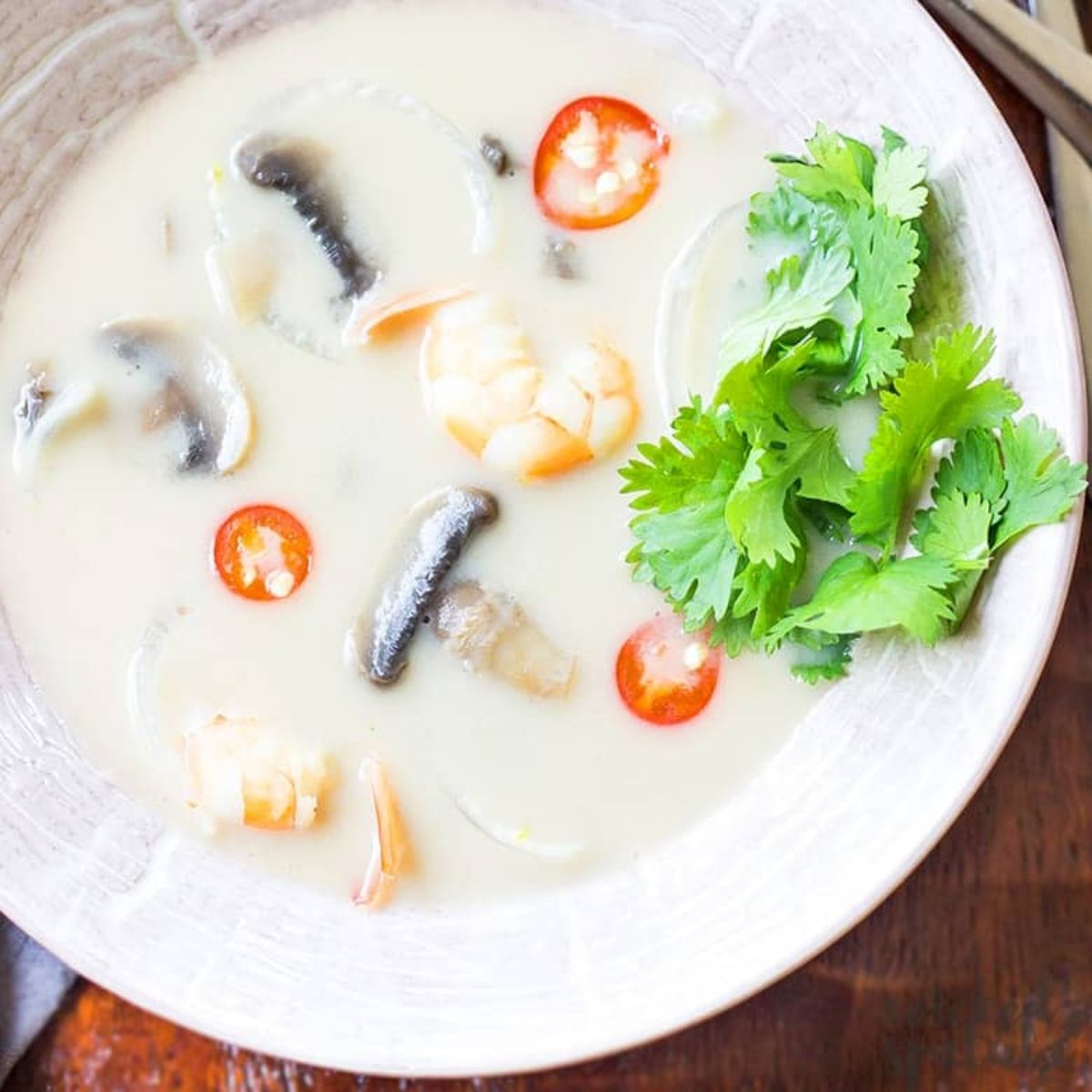 If what you want at the end of the day is an explosion of flavor, then look no further than our version of Tom Kha Gai. This paleo coconut shrimp soup takes 20 minutes to make and will not disappoint.
RECIPE CARD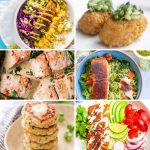 19 Easy Paleo Fish Recipes
Find a delicious way to add fish to your menu with these Paleo friendly versions. Easy to make, full of flavor, and ideal for your diet plan!
Ingredients
Please ensure Safari reader mode is OFF to view ingredients.
Crispy Fish Tacos With Grapefruit Salsa

Sheetpan Fish Fajitas

Crispy Coconut Pan-Fried Salmon

Whole30 Fish And Chips

Tuscan Shrimp

Fish Taco Bowls With Chipotle Lime Dressing

Mahi Mahi In Creamy Sun-Dried Tomato Sauce

Baked Cod In Roasted Red Pepper Sauce

Cod Fritters

Fish Taco Bowls With Cilantro Lime Cream Sauce

Salmon Cakes With Zucchini

Baked Fish Sticks With Cucumber Relish

Pecan Crusted Salmon

Fish Taco Bowls With Mango Salsa

Proscuitto-Wrapped Cod With Lemon Caper Spinach

Baked Haddock In Sweet Potato Cream Sauce

Brazilian Fish Stew

Crispy Salmon Bowls With Pesto Spaghetti Squash

Tom Kha Gai (Thai Coconut Shrimp Soup)
Click to convert between US & metric measurements:
Instructions
More TIPS about this paleo recipe in the post above!
Add healthy omega fatty acids to your diet with one or all of these fantastic fish recipes! Completley paleo and easy to make any weeknight!
© Copyright Wicked Spatula. We'd LOVE for you to share a link to this recipe, but please DO NOT COPY/PASTE the recipe instructions to social media or websites. You may share a photo with a link back instead.
Did you make this recipe?
Click here to leave a comment + star rating! ★★★★★
Then, share a pic on Instagram. Tag @wickedspatula or #wickedspatula!