Whether or not you're an avid Veganuary follower, you're probably aware of the news stories saying that we should all be eating less meat. Now, a lot of people might think that Paleo is an anti-vegetarian diet. All the focus on lean proteins can give that impression.
But it's not true! You can be Paleo and increase the number of vegetarian meals you eat. There are plenty of ways to incorporate other types of protein with vegetarian paleo recipes that are perfect for your Meatless Mondays. In fact, we've pulled together 21 of them right here!
Vegetarian Paleo Recipes
If you need more paleo recipes for your menu, make sure you check out the ones linked below. While these aren't all vegetarian, you can still enjoy delicious paleo meals with zero guilt!
Korean bibimap bowl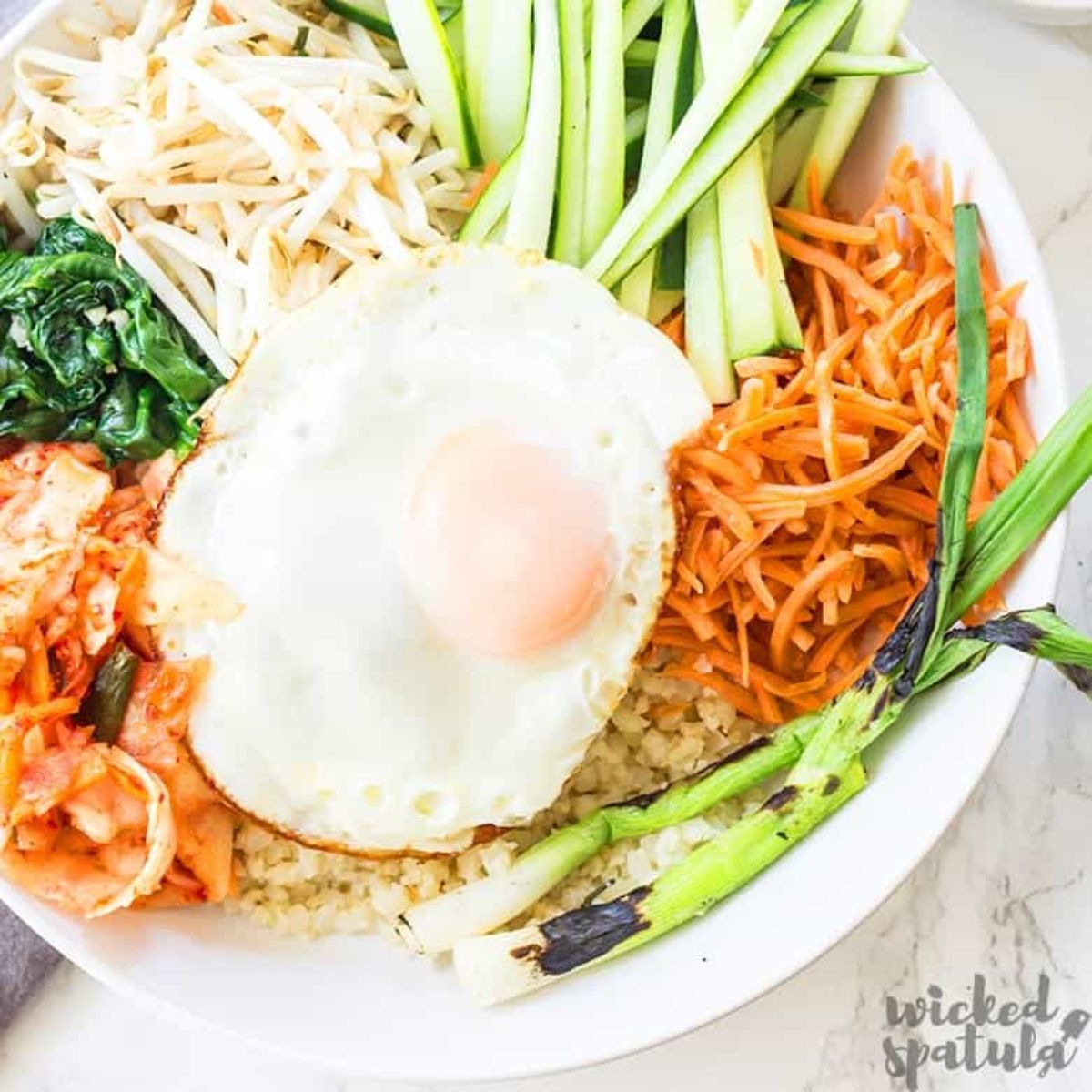 Not only is our Korean Bibimap bowl paleo-friendly, vegetarian, and delicious, but it's full of really interesting flavors. Carrots, beansprouts, scallions, and good-for-your-gut kimchi. Also, you can make it in just 20 minutes.
2 ingredient cauliflower gnocchi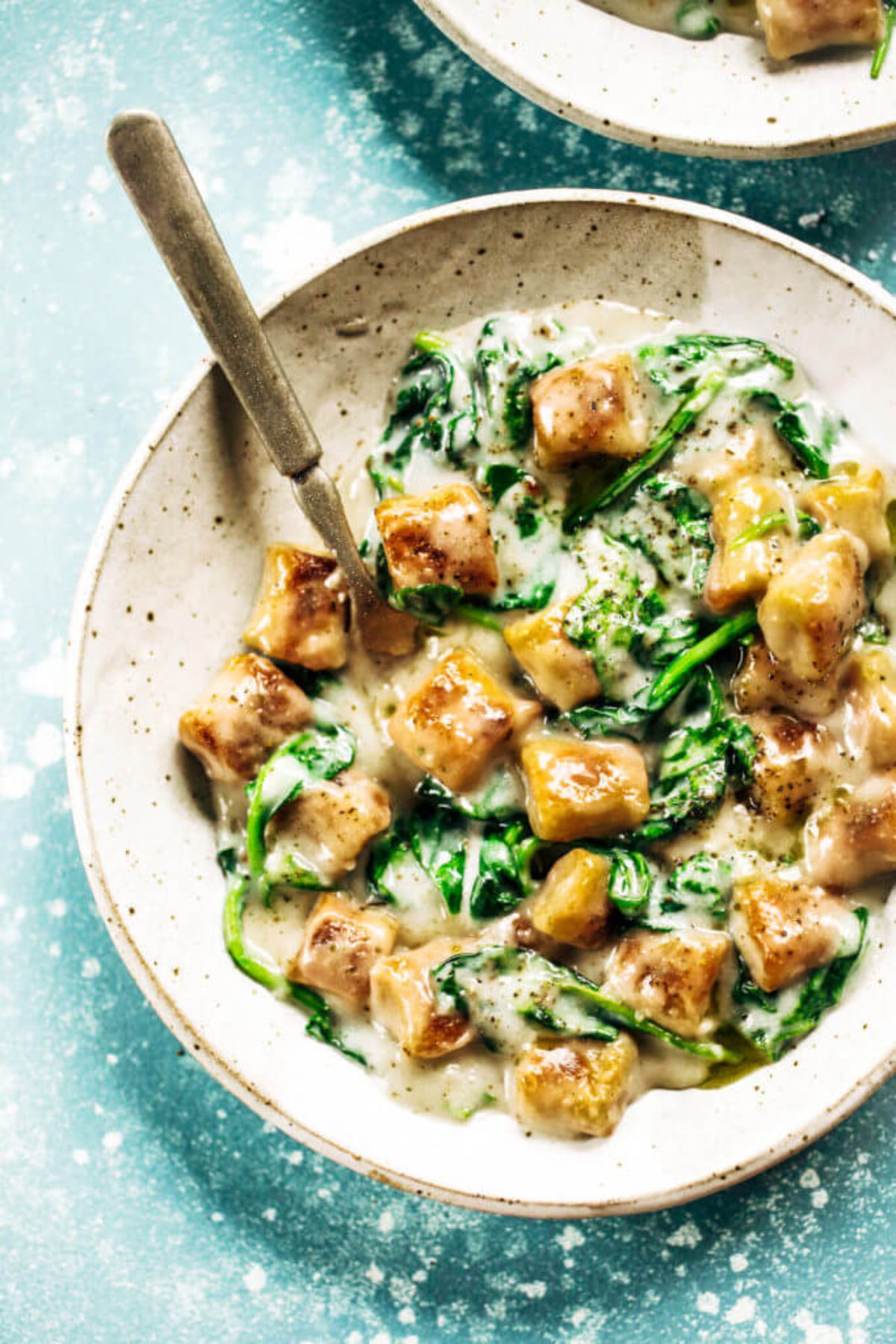 Just like it says on the tin, this tasty, paleo-friendly gnocchi from Paleo Gluten Free Eats only uses 2 ingredients. Toss it in some spinach cream sauce and you'll be in pasta heaven, without the gluten headache.
Bang Bang cauliflower tacos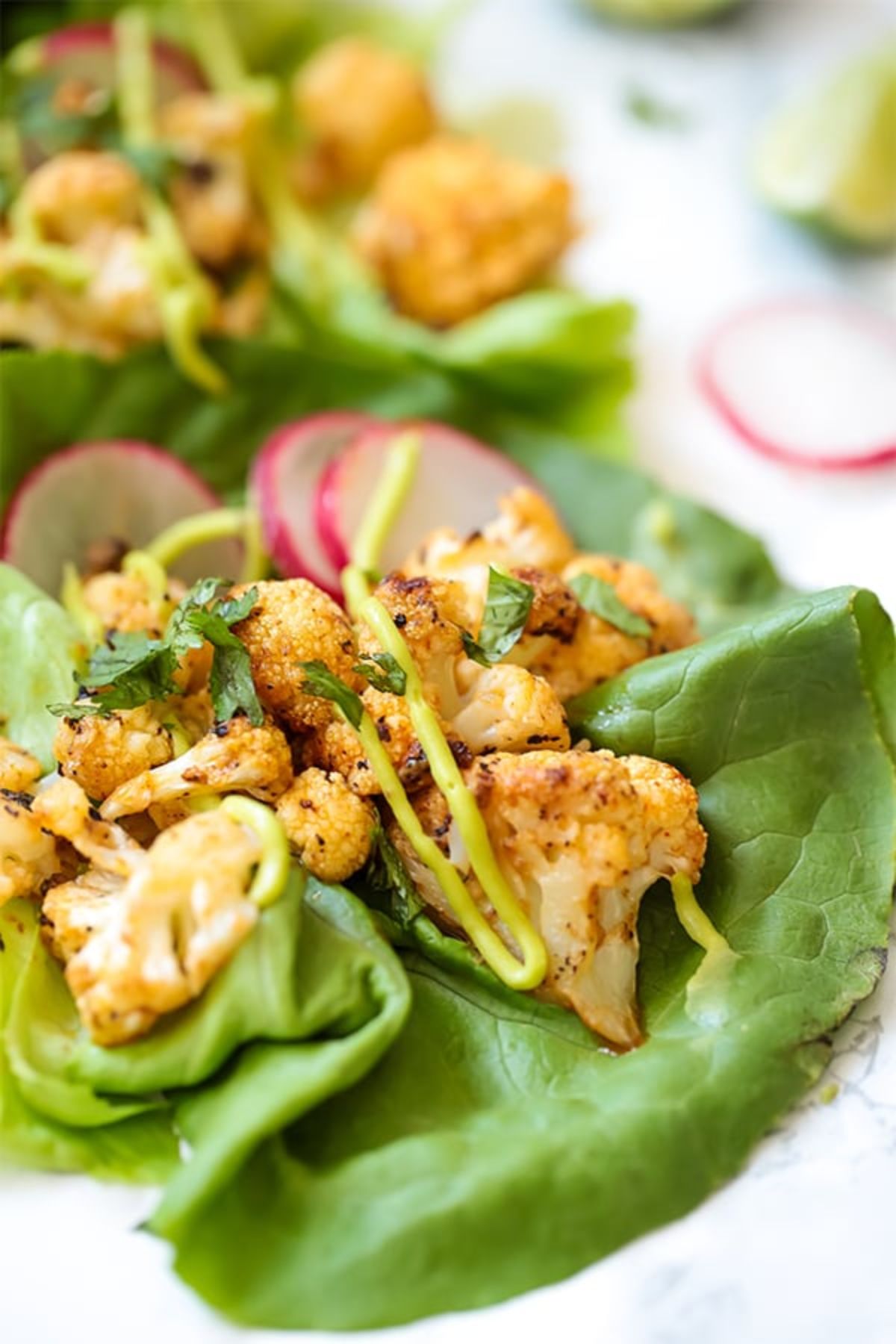 If you're looking for a vegetarian appetizer that will blow your guests away, then Unbound Wellness' Bang Bang cauliflower tacos need to be your go-to. Full of flavor, these also work well as a plant-based side dish. I dare you not to munch on them as you're making them!
Cauliflower roasted steak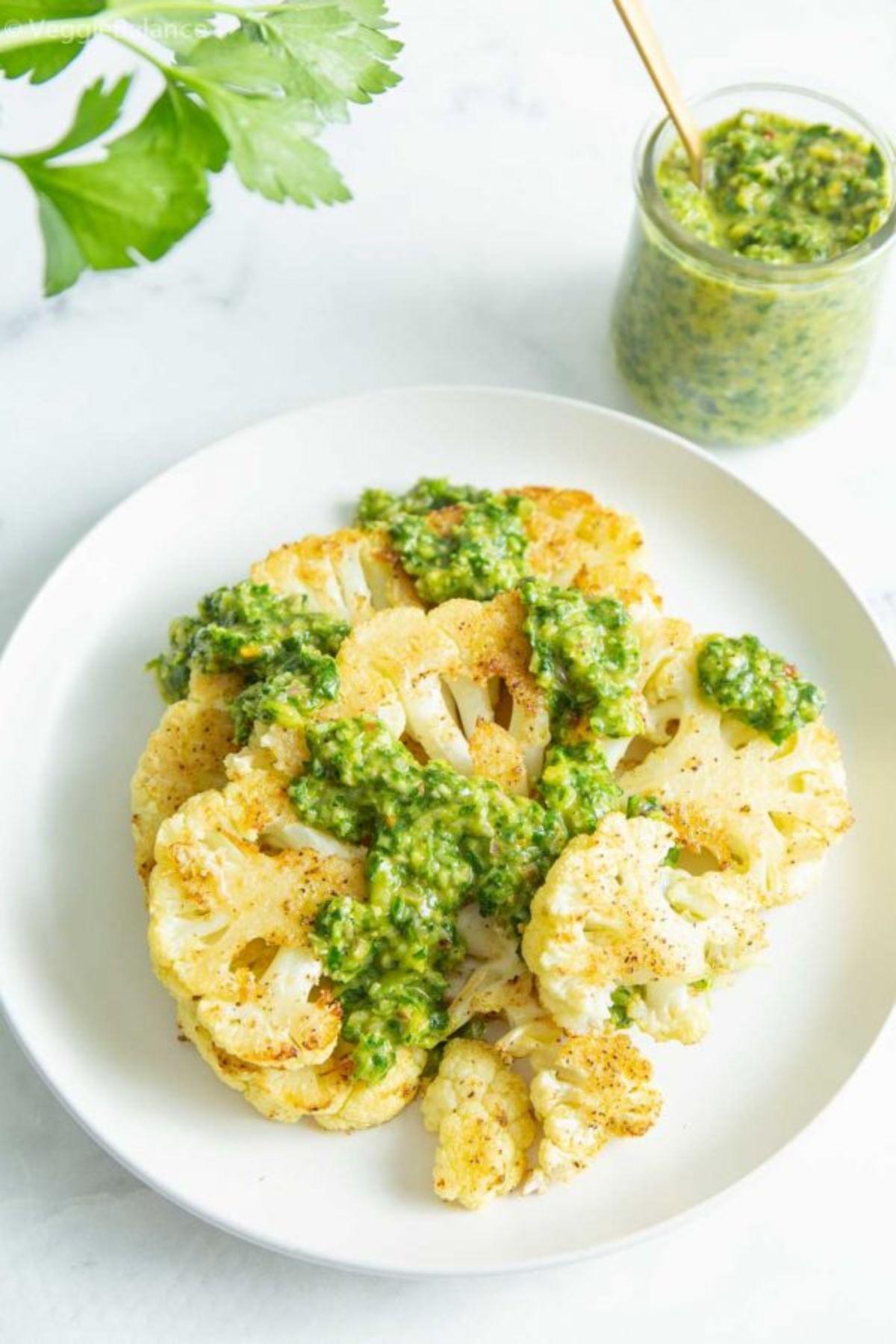 As strange as it might sound, cauliflower steak can be a filling and delicious weeknight supper. Follow the instructions from Veggie Balance and you'll end up with a perfectly seasoned, tender "steak", covered in a gorgeous chimichurri sauce.
Ratatouille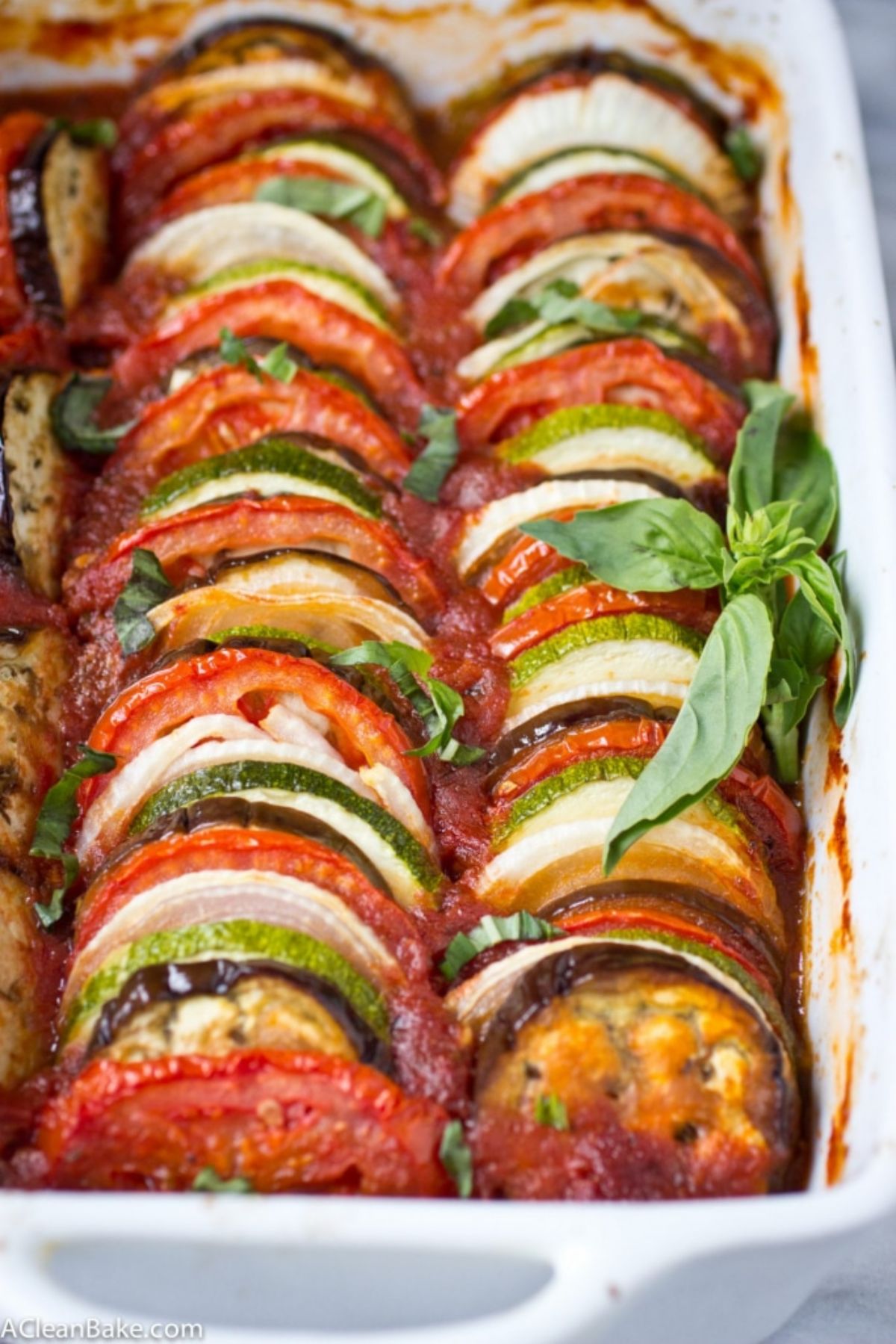 Super-speedy to put together and stunning when it's on the table, this ratatouille recipe from A Clean Bake is a great way to add more vegetarian suppers to your week's menu. It freezes well too, so you can store it for when you're really busy.
Sweet potato noodles with cashew sauce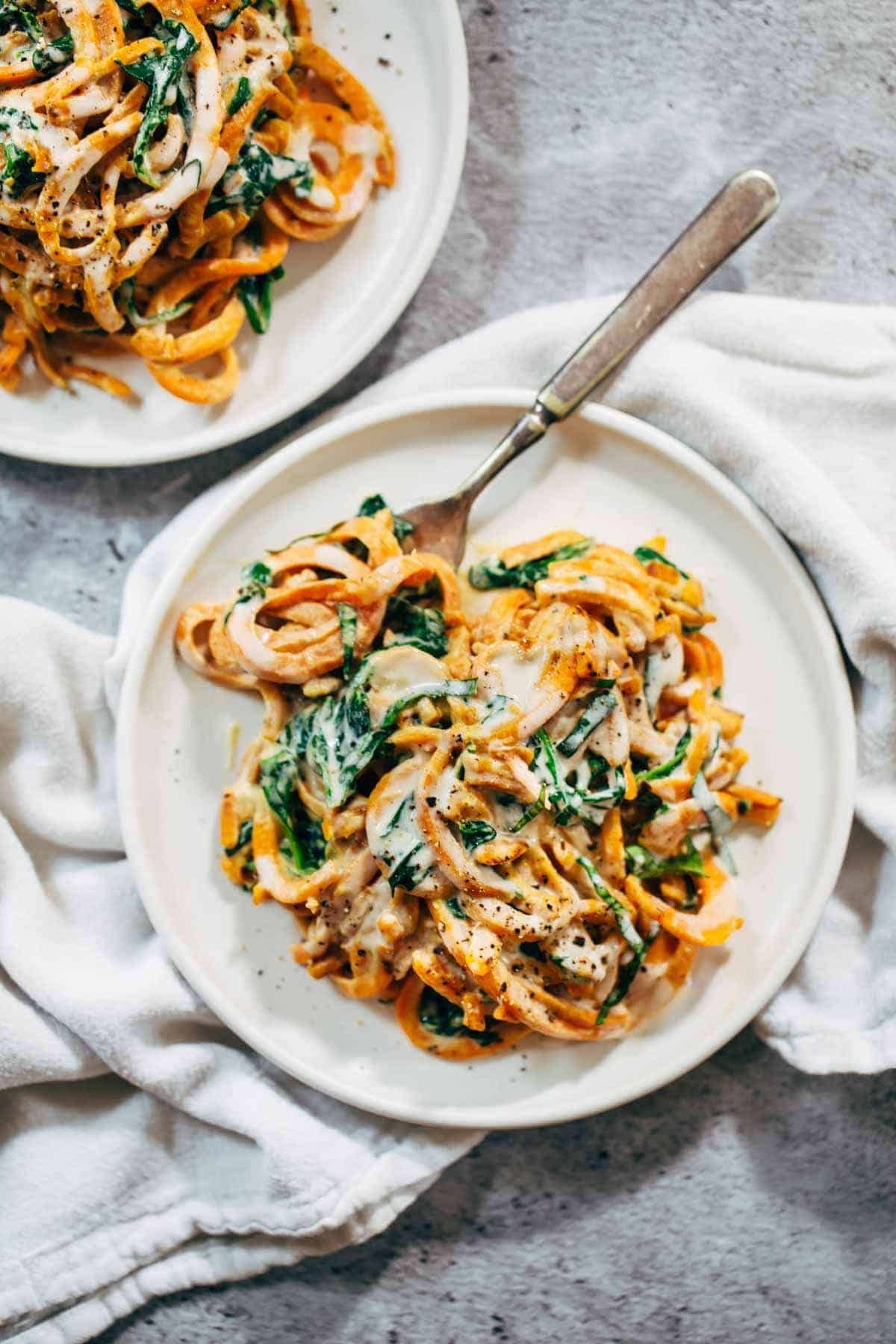 Cashews are your secret dairy-free weapon for a creamy and delicious pasta sauce. Add this to sweet potato noodles, using Pinch of Yum's recipe and you won't want to eat anything else. Seriously.
Spicy peanut spaghetti squash ramen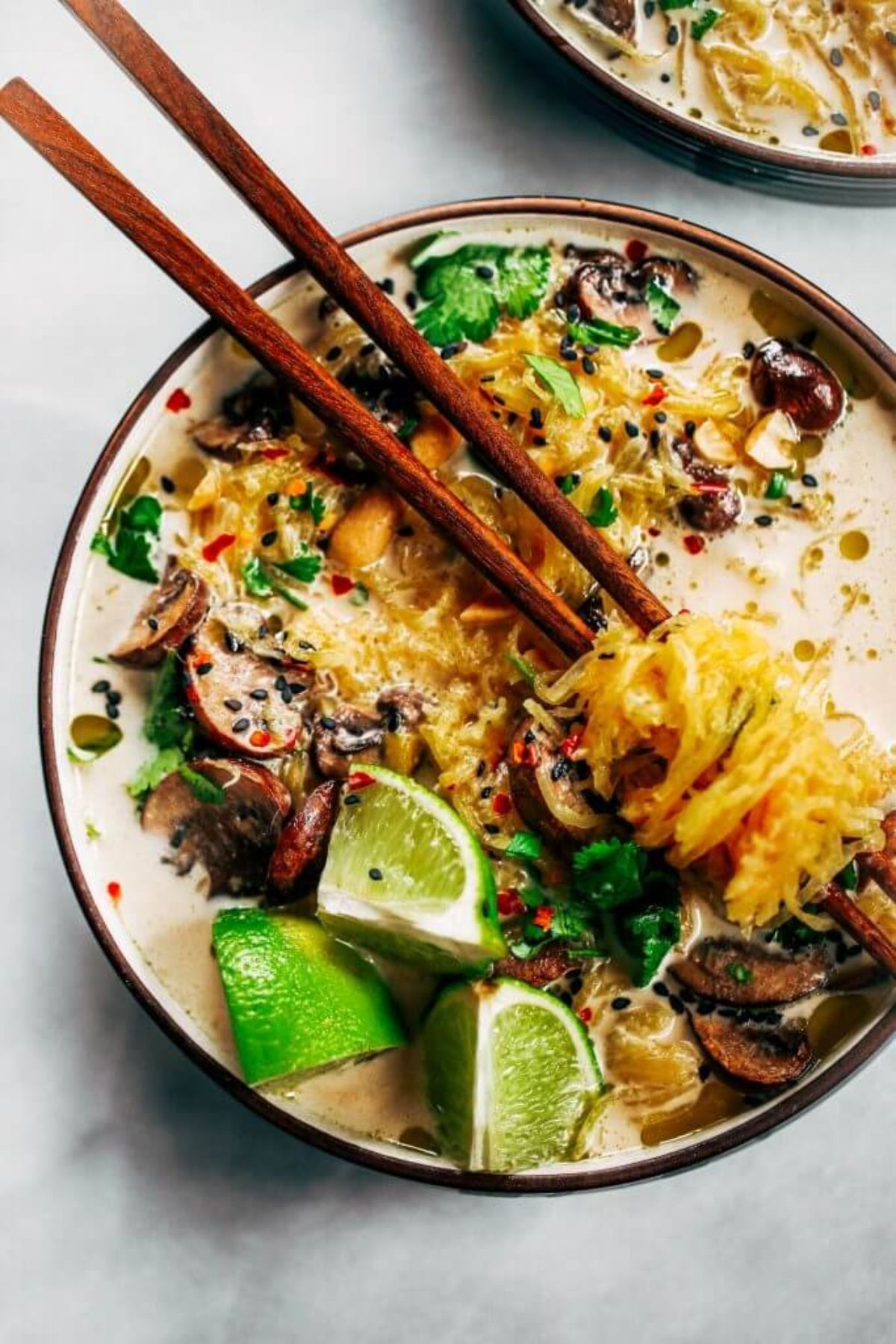 A steaming bowl of ramen was my go-to meal at college, just what I needed after a long night at the library. This paleo version from Paleo Gluten Free Eats is vegetarian and full of so much flavor that your whole family will love it. The spicy peanut and lime broth is a particular favorite of mine.
Baked avocado fries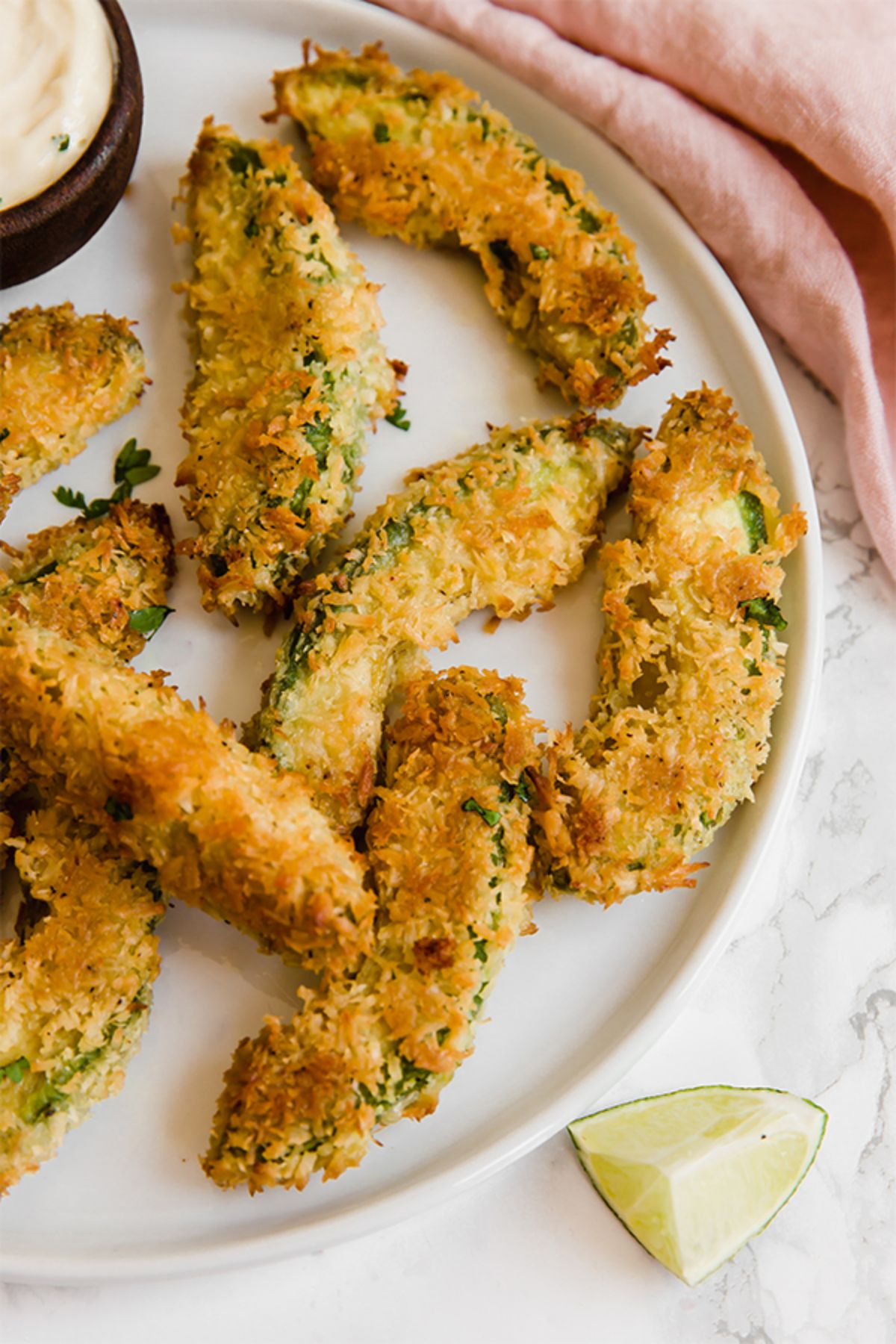 The perfect snack, a moreish appetizer, or just an extra side to munch on, these baked avocado fries from Unbound Wellness are a vegetarian paleo recipe you need to get on board with.
Indian butter cauliflower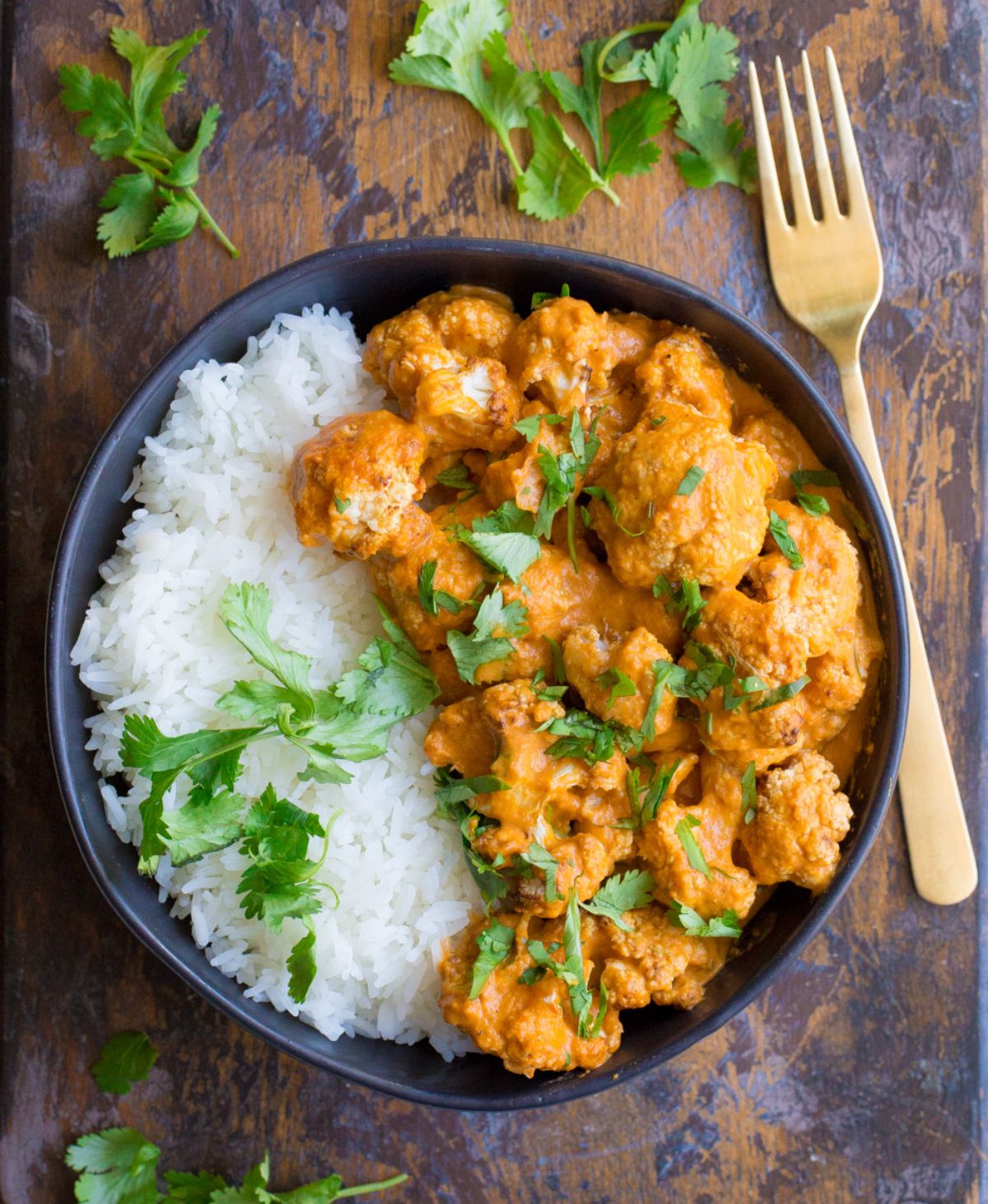 Yes, we are aware that cauliflower features pretty heavily in this list, but honestly, you can't go wrong with this versatile, full of fiber vegetable. With the creamy rich sauce from Wholesomelicious, you won't miss your chicken tikka at all.
Roasted veggie breakfast casserole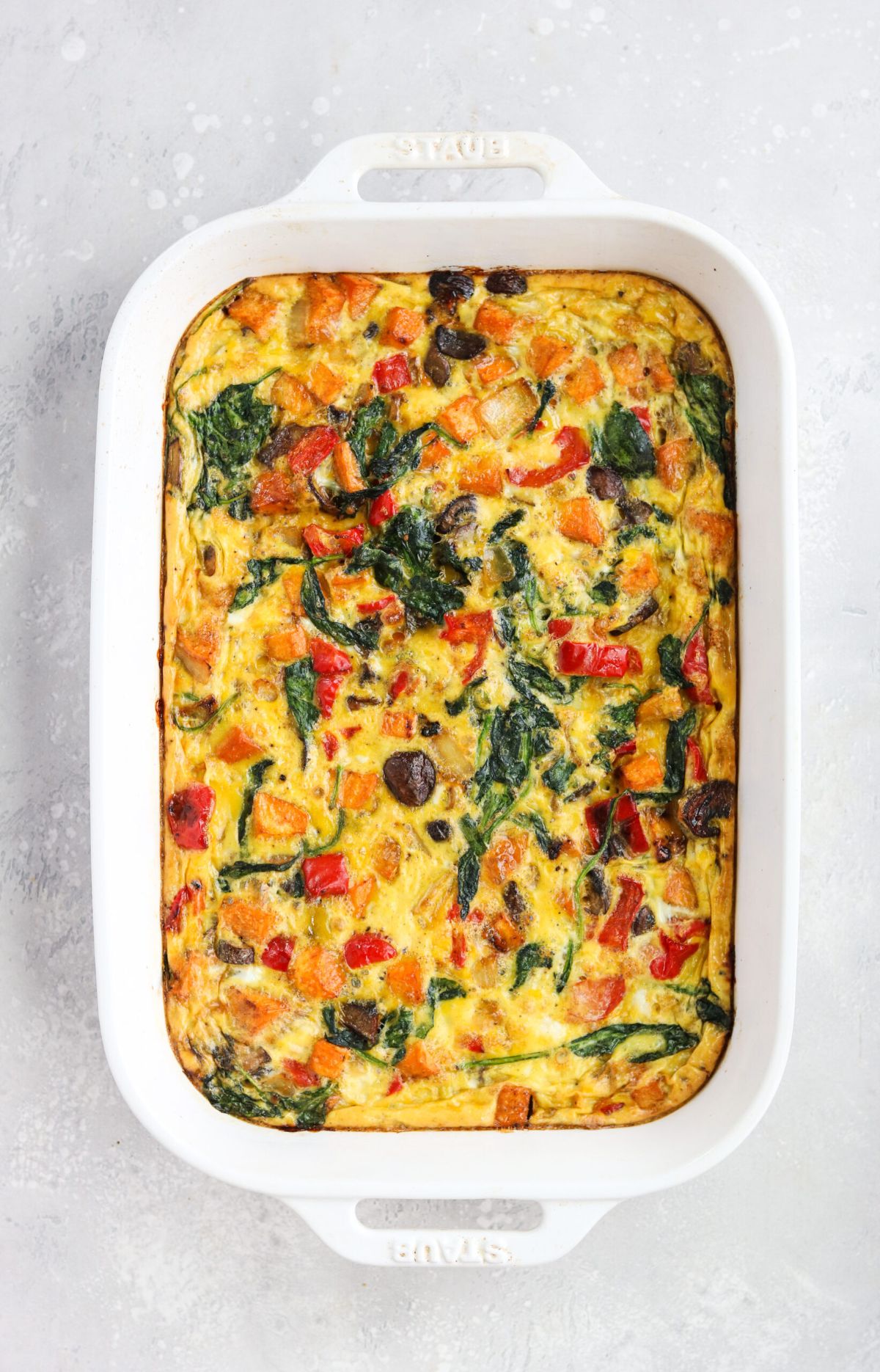 Packed with flavorful and nutritious vegetables, this casserole is a great way to up your quota of vitamins and minerals before the day has really started. Head to Mary's Whole Life for the lowdown on this paleo beauty.
Zucchini carrot fritters with paleo sour cream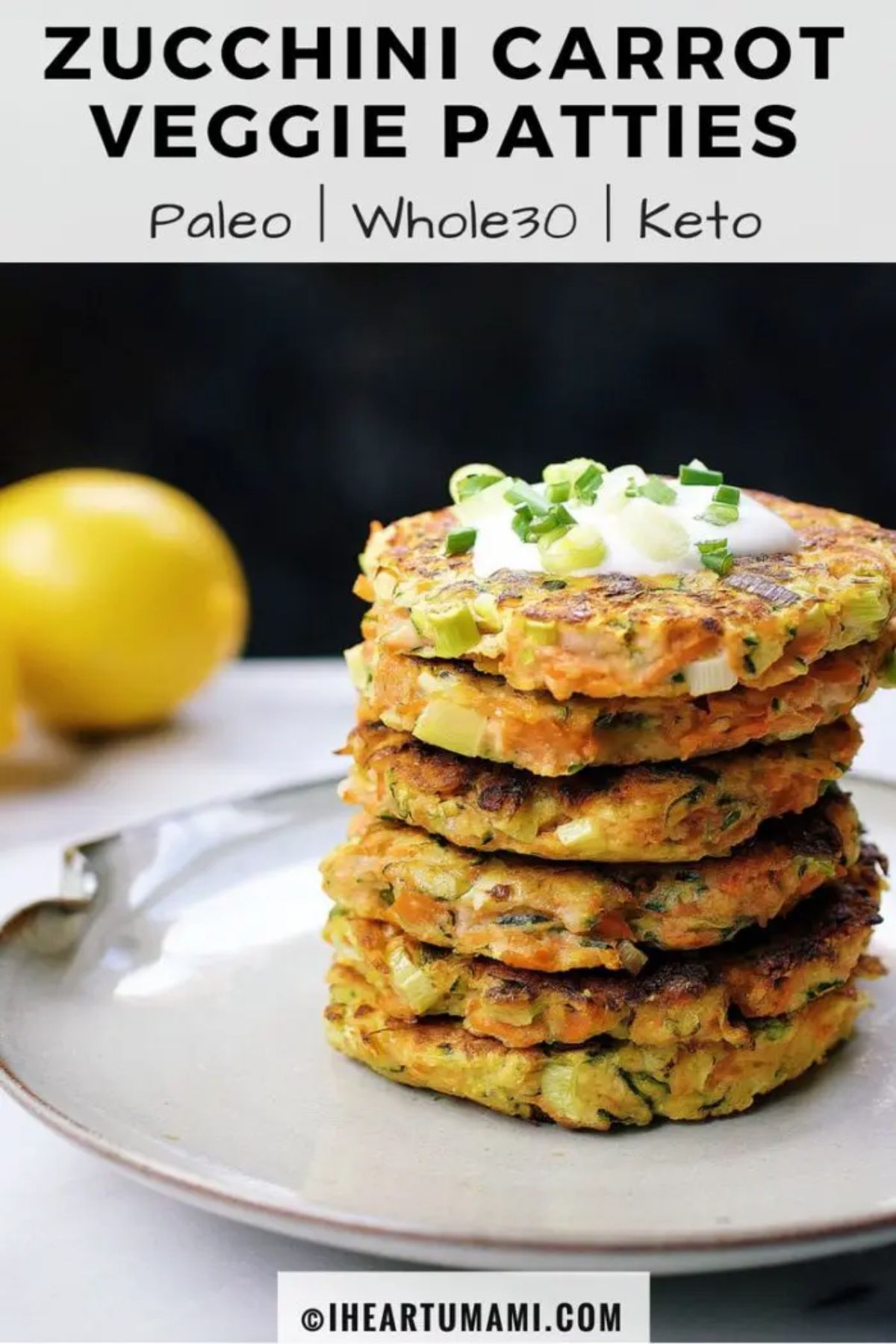 If you're turning pale at the thought of another zucchini noodle, then I'd advise you to try out I Heart Umami's zucchini carrot fritters. They're a great way of dealing with your zucchini glut and adding more vegetables into your supper without having to twist them around your fork.
Sweet potato cauliflower curry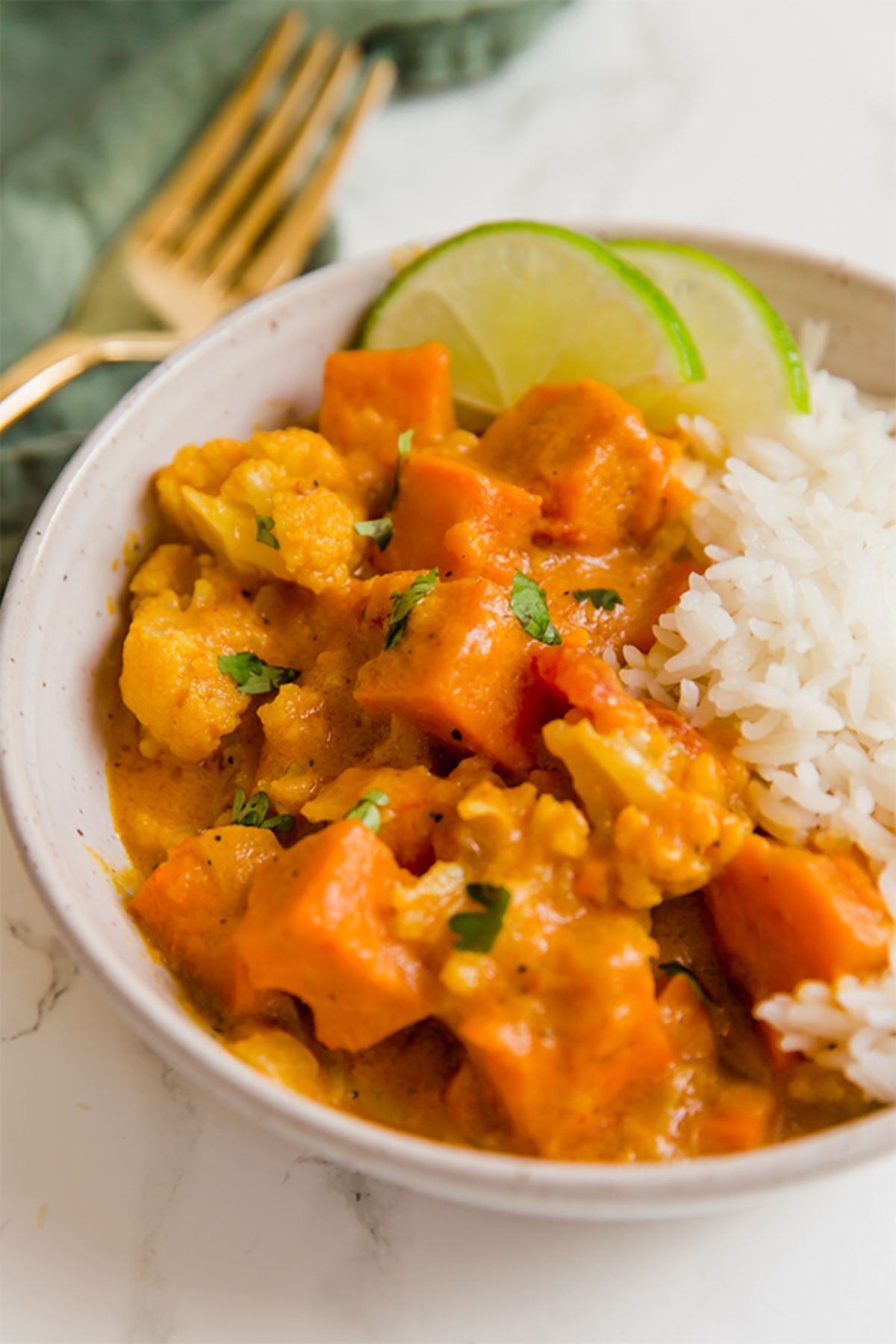 Fancy a bowl of warm and creamy comfort food? Then head to Unbound Wellness and get cooking their sweet potato cauliflower curry. Creamy coconut milk and flavorful spices make it the perfect easy weeknight supper.
Paleo veggie burgers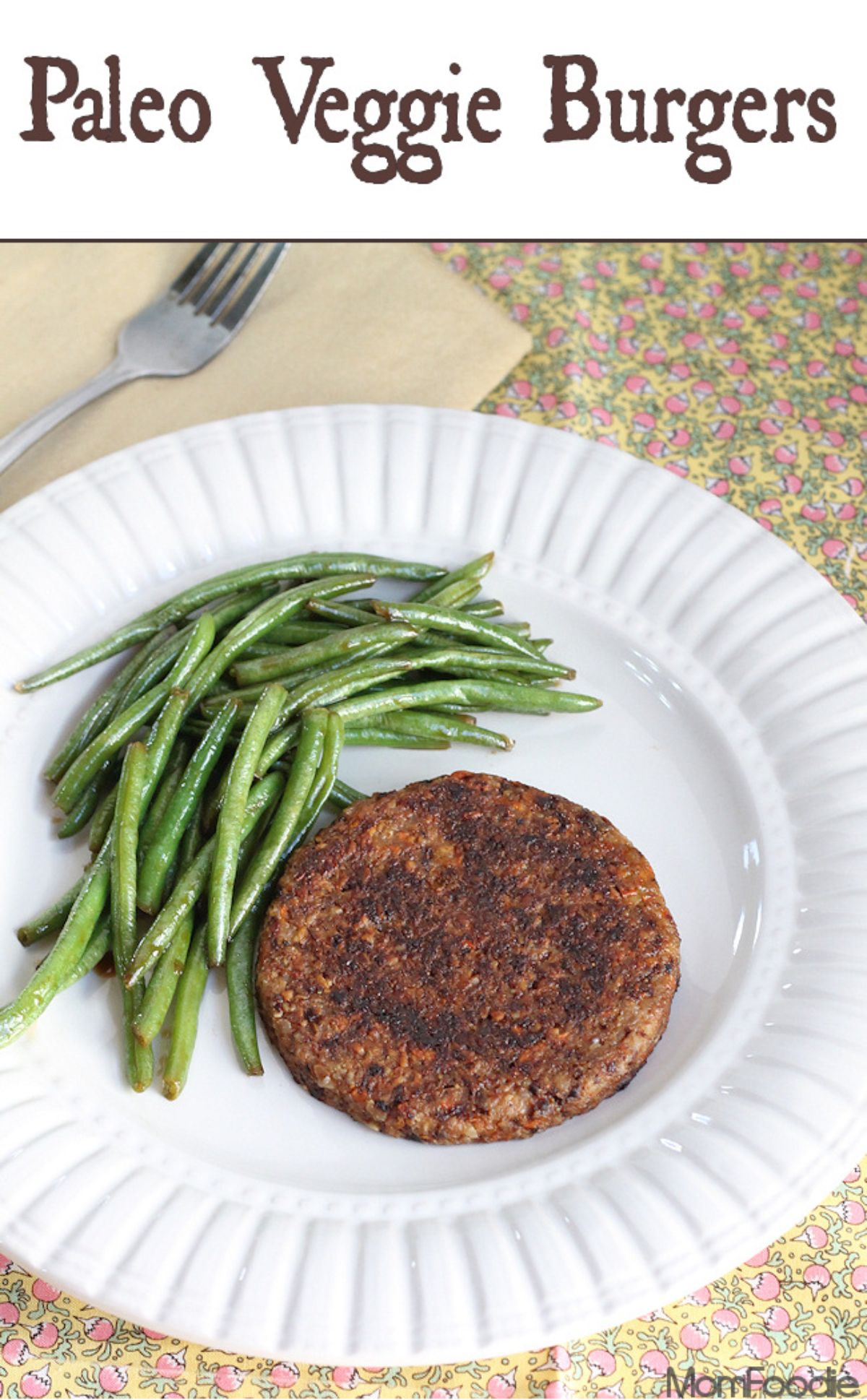 The perfect option for those who want to eat meat, but are trying to include more meat-free days in their week. These veggie burgers are about as close to the real thing as you can get thanks to Mom Foodie's simple recipe.
Broccoli fried rice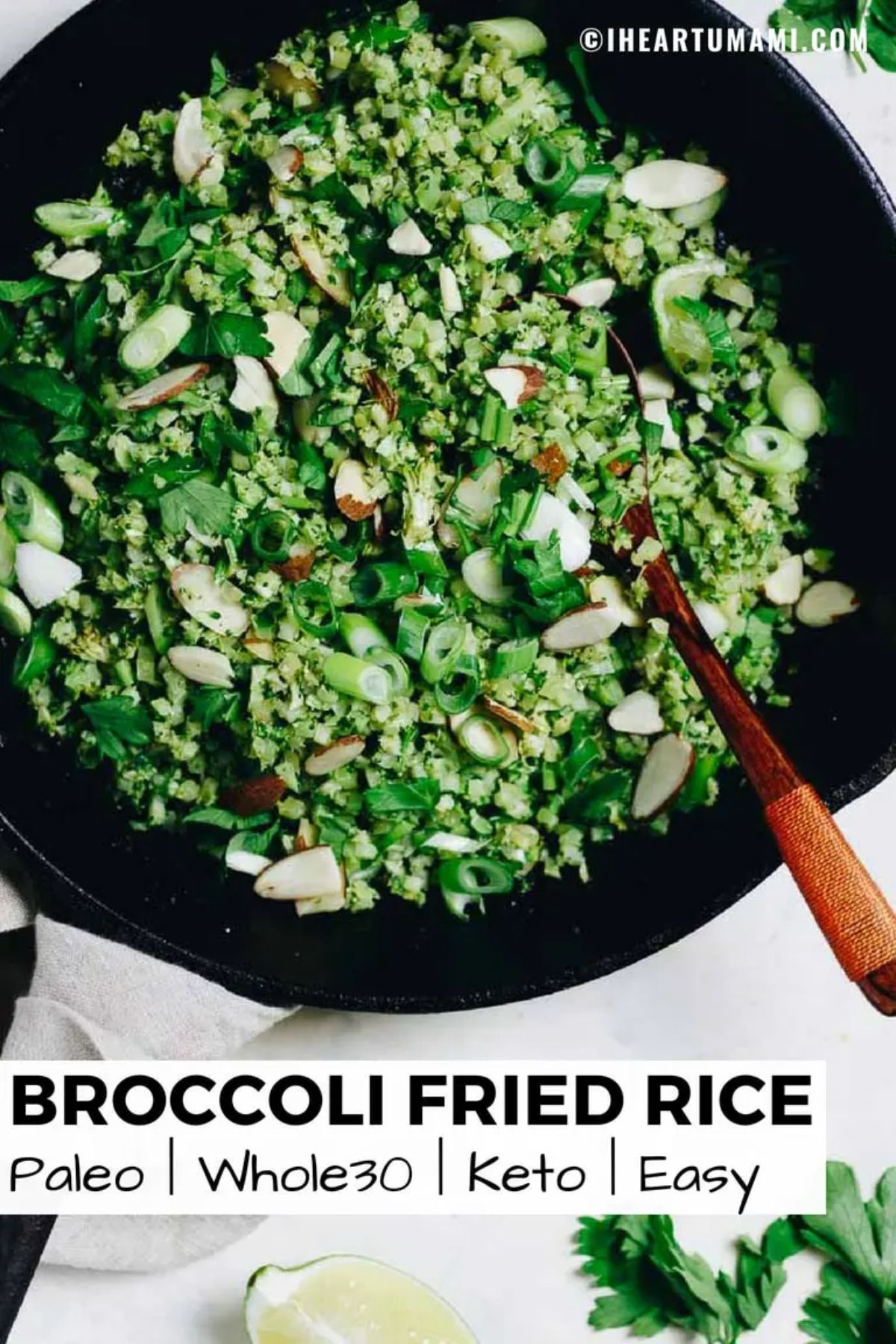 It's not just cauliflower that you can use to replace your traditional curry accompaniment. This broccoli rice recipe from I Heart Umami is a tasty alternative for when you don't have any cauliflower in your fridge, or you'd like a change.
Sweet potato au gratin with apples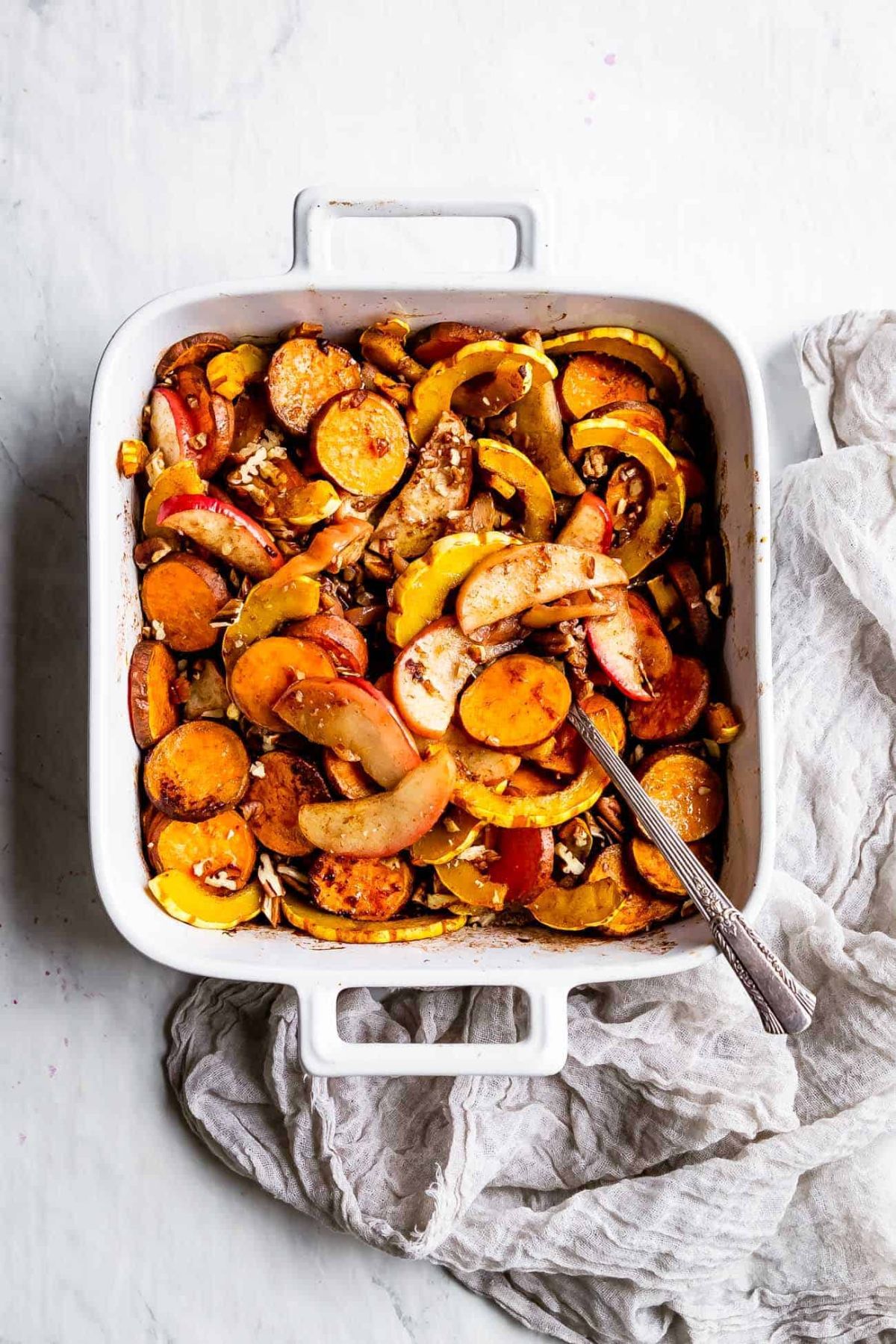 This gratin from The Movement Menu is a brilliant way to lien up all of your Fall vegetables. Laced with cinnamon and cardamom, it's so delicious that you'll want to make it even in the summer.
Rutabaga noodles with tahini sauce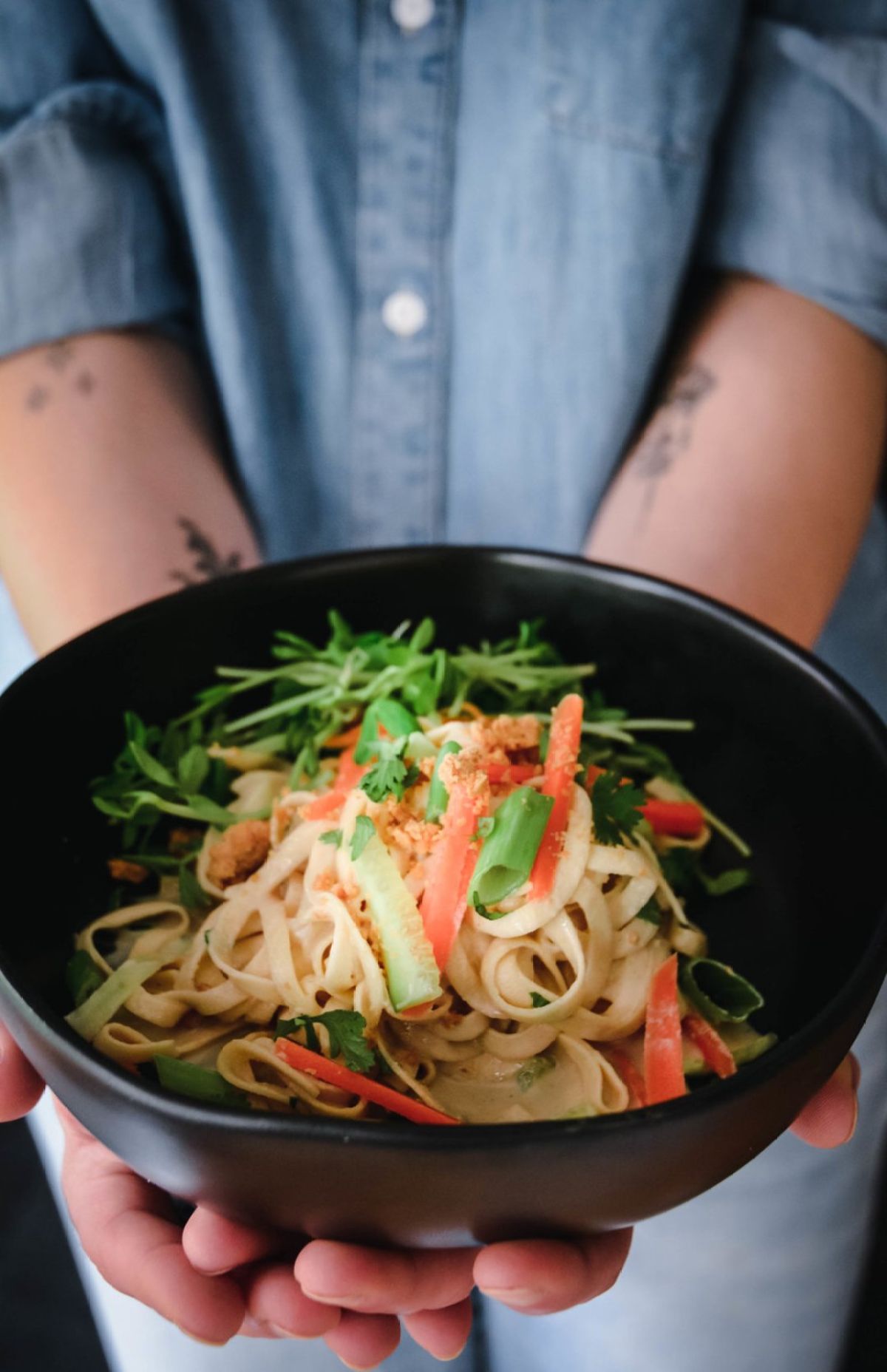 These light and refreshing noodles make a brilliant speedy lunch, whilst keeping things low carb. The tahini sauce and cashew crumble that Calm Eats has created lifts the dish to seriously yummy levels.
Roasted herb mustard potatoes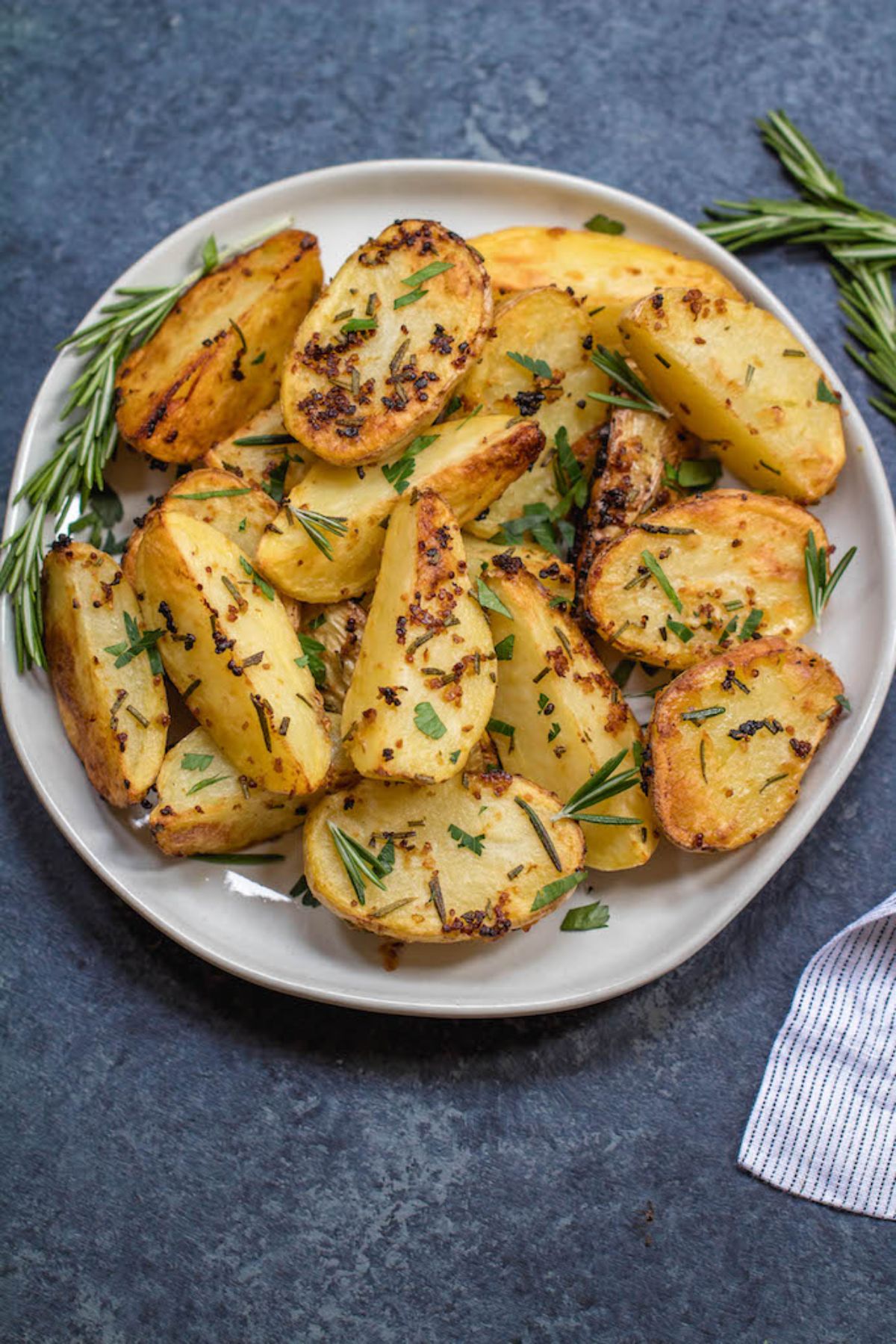 A few minutes of preparation, 30 minutes in the oven, and a happy and full family around the table. What more could you want from a recipe? Whole Kitchen Sink's roasted potatoes are seriously yummy.
Cheesy paleo broccoli casserole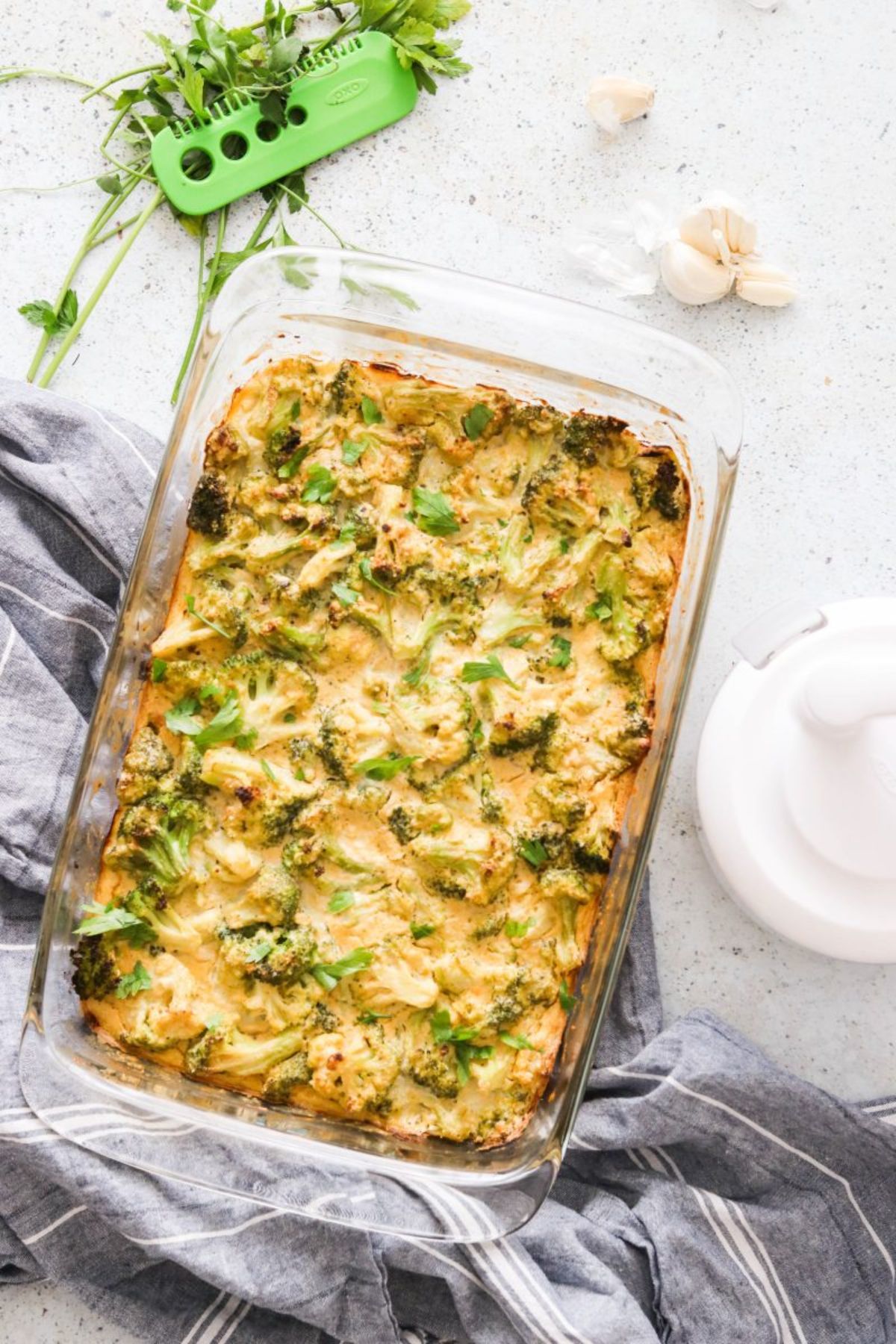 A cheesy casserole without the actual cheese? Yes please! What Great Grandma Ate has a "cheesy" broccoli casserole that is paleo-friendly and dairy-free. This will definitely be your new favorite side dish.
Broccoli and cauliflower salad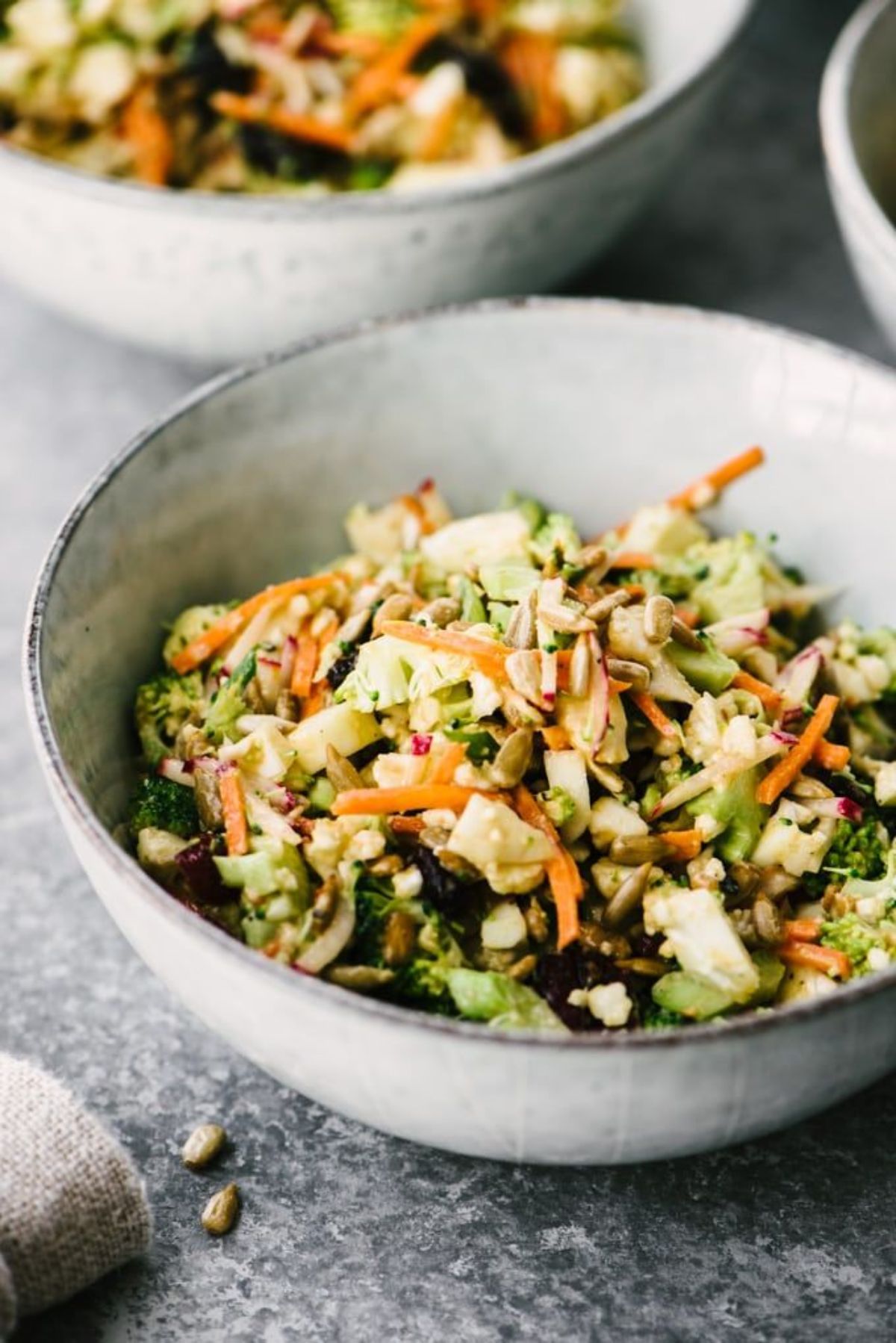 The delicious sunbutter sauce in this salad from Our Salty Kitchen makes the perfect picnic accompaniment. It's a much healthier alternative to all those salads covered in mayo, and full of fresh and crispy vegetables.
Cauliflower pitas with avocado crema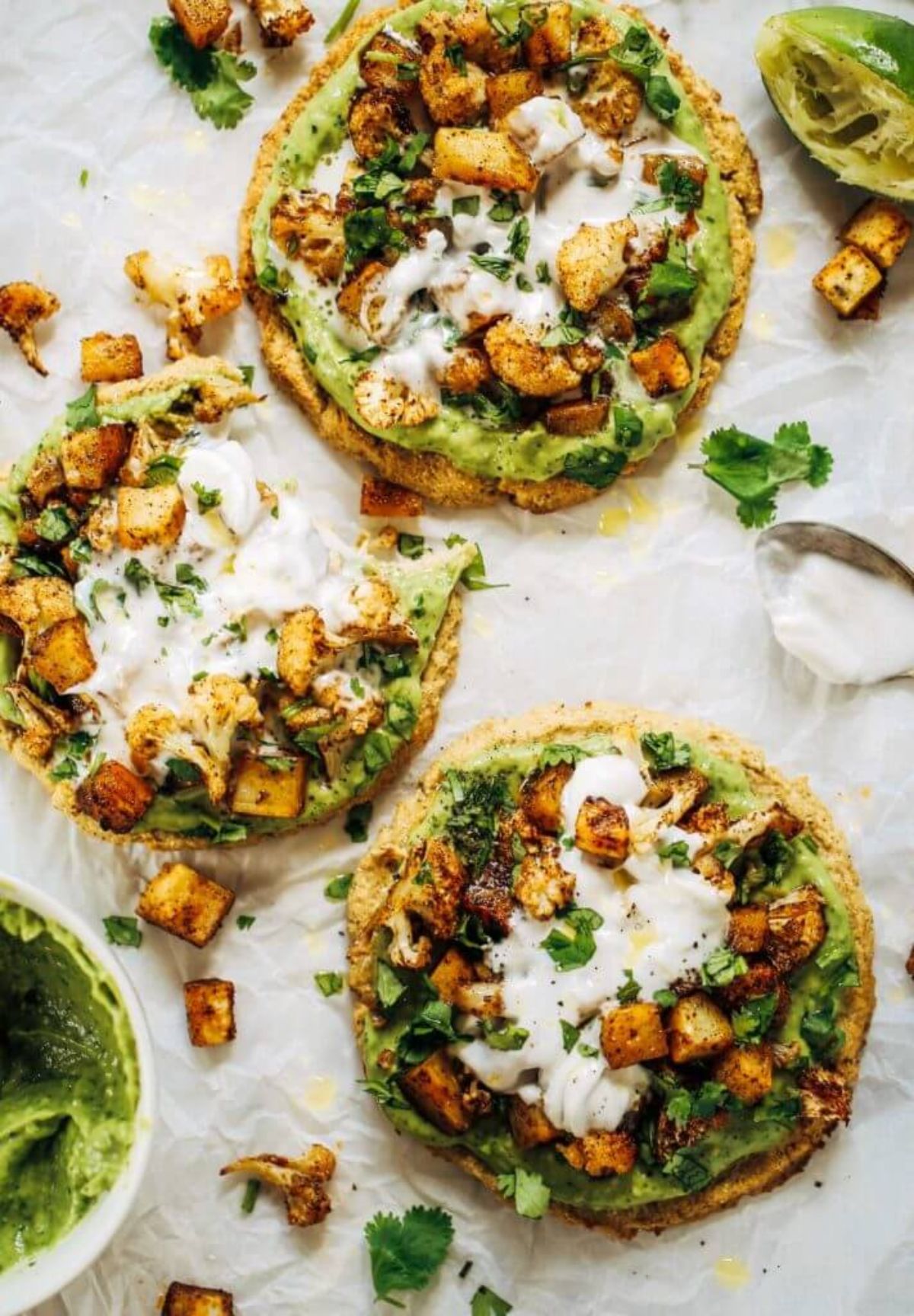 Paleo Gluten Free Eats reckons that you'll only be able to eat one of these pitas. Oh, you'll love them, but they're so filling that you'll feel full for ages. I don't know about that, but the avocado crema is so tasty that I'm tempted to put it on absolutely everything.
Sweet potato brownies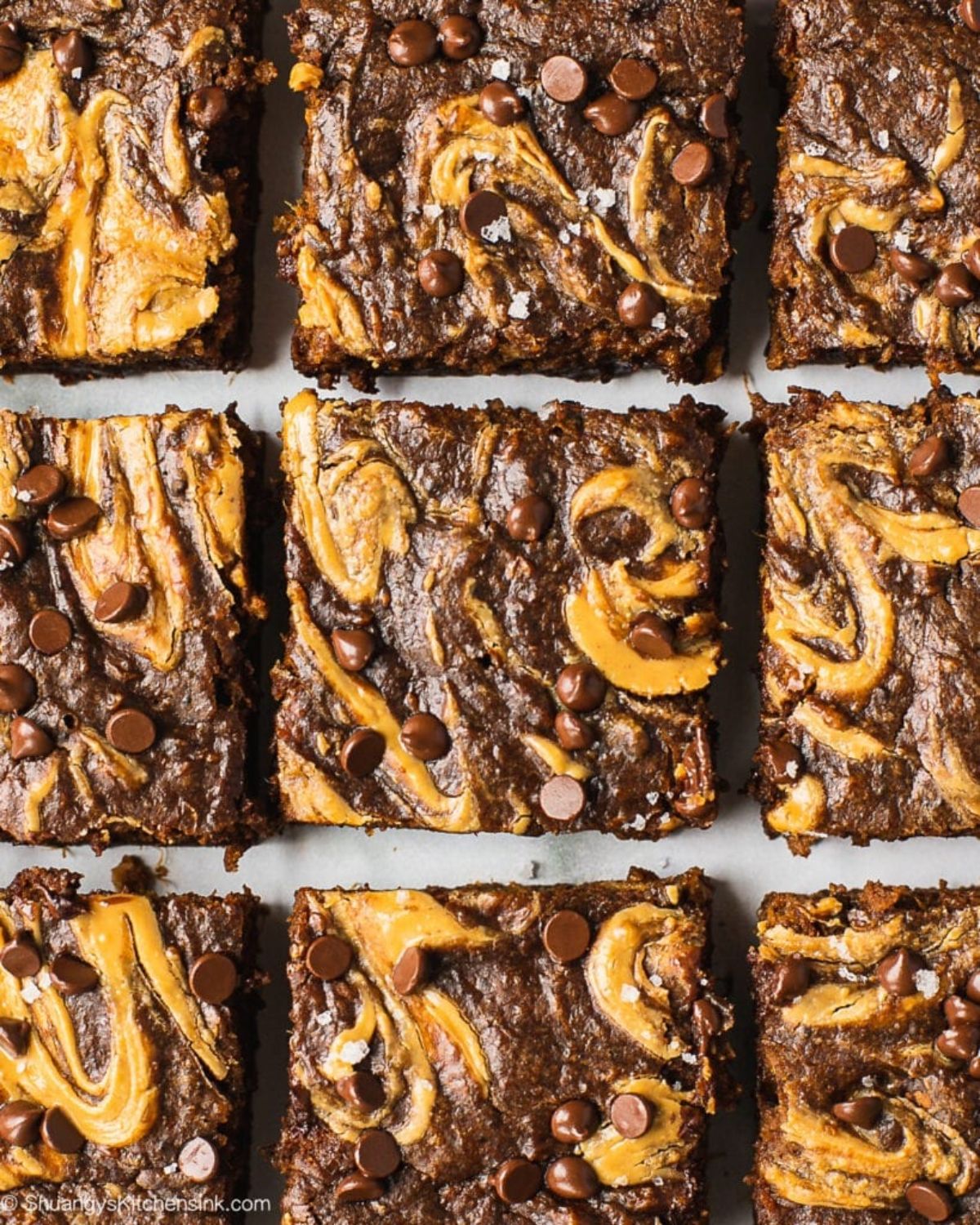 Vegetarian paleo recipes can be sweet too! These sweet potato brownies from Shuangy's Kitchen Sink are gooey and fudgy, whilst containing no flour or refined sugar at all. So you can tuck in guilt-free.
RECIPE CARD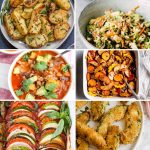 21 Vegetarian Paleo Recipes Perfect for Meatless Monday
Paleo can be vegetarian and this list of recipes makes it easy to enjoy both for hearty meals that are sure to satisfy anyone at your dinner table.
Ingredients
Please ensure Safari reader mode is OFF to view ingredients.
Korean Bibimap Bowl

2 Ingredient Cauliflower Gnocchi

Bang Bang Cauliflower Tacos

Cauliflower Roasted Steak

Ratatouille

Sweet Potato Noodles With Cashew Sauce

Spicy Peanut Spaghetti Squash Ramen

Baked Avocado Fries

Indian Butter Cauliflower

Roasted Veggie Breakfast Casserole

Zucchini Carrot Fritters With Paleo Sour Cream

Sweet Potato Cauliflower Curry

Paleo Veggie Burgers

Broccoli Fried Rice

Sweet Potato Au Gratin With Apples

Rutabaga Noodles With Tahini Sauce

Roasted Herb Mustard Potatoes

Cheesy Paleo Broccoli Casserole

Broccoli And Cauliflower Salad

Cauliflower Pitas With Avocado Crema

Sweet Potato Brownies
Click to convert between US & metric measurements:
Instructions
More TIPS about this paleo recipe in the post above!
Make "Meatless Monday" even better when following a paleo lifestyle by using these delicious recipes as the base of your menu!
© Copyright Wicked Spatula. We'd LOVE for you to share a link to this recipe, but please DO NOT COPY/PASTE the recipe instructions to social media or websites. You may share a photo with a link back instead.
Did you make this recipe?
Click here to leave a comment + star rating! ★★★★★
Then, share a pic on Instagram. Tag @wickedspatula or #wickedspatula!