Sweet potatoes are the dream ingredient for us Paleo people. They have a lower glycemic index than normal potatoes, so they impact our blood sugar less. You can have a creamy mash with your lean protein and not have to deal with the sugar crash later on.
Also, they're seriously delicious and incredibly versatile. As you'll see in our round up of paleo sweet potato recipes, you can turn them into wafffles, use them to cover chicken nuggets, and even make them into a low carb chocolate pudding!
Paleo Sweet Potatoes Recipes
Need more ideas to add to your paleo menu? Don't worry! We have you covered! Below you will find some of our favorite recipe collections featuring all paleo friendly foods!
Sweet potato casserole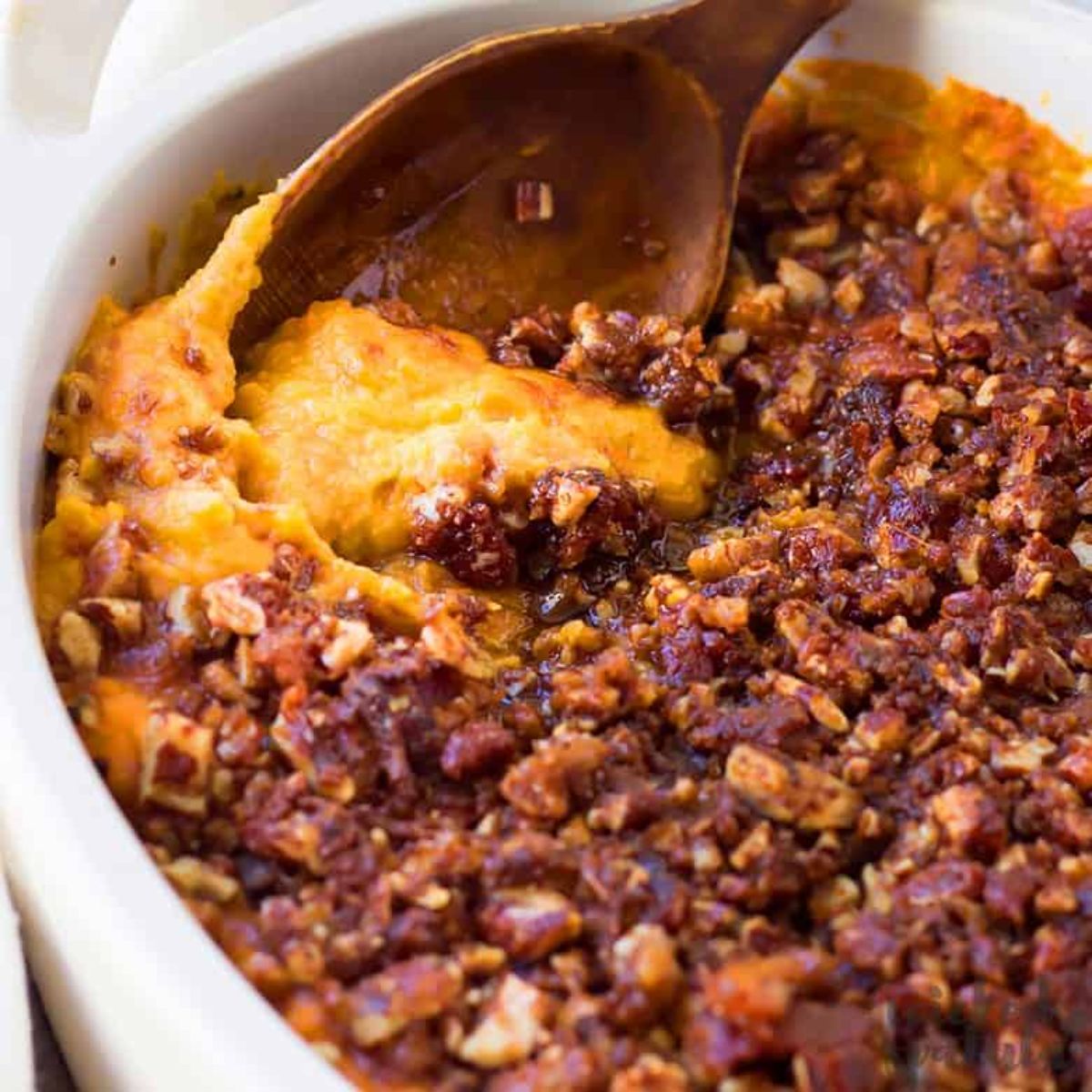 Let's start with a classic, shall we? Our healthy sweet potato casserole is dairy-free, low sugar, and has added bacon. You'll be chomping at the bit to tuck in!
Sweet potato pumpkin spice bread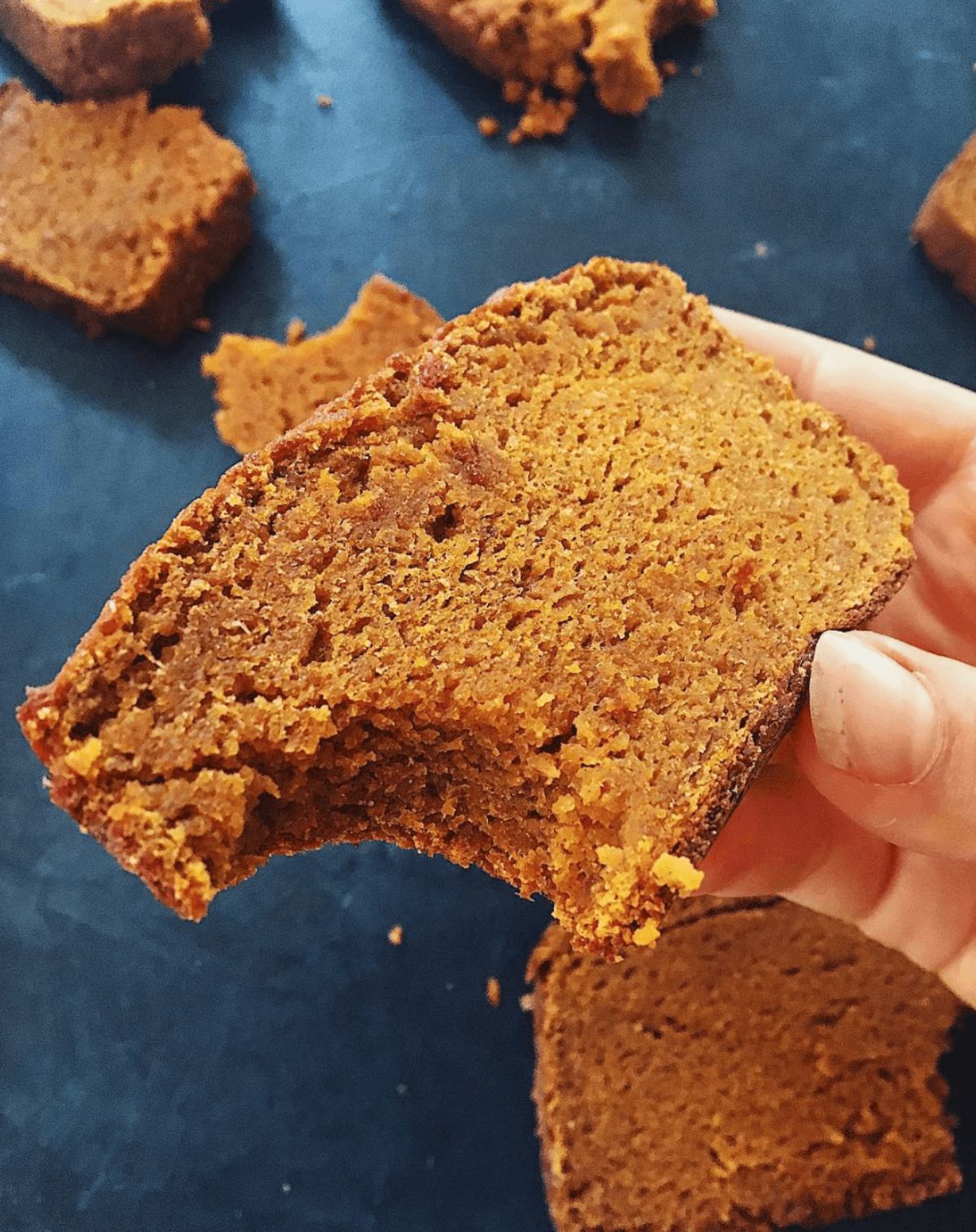 If you are looking for something to replace your banana bread for your paleo afternoon snack, then Paleo Gluten Free Eats' sweet potato pumpkin spice bread should be your next bake. It's easy to make, moist, and delicious.
Chicken pesto stuffed sweet potatoes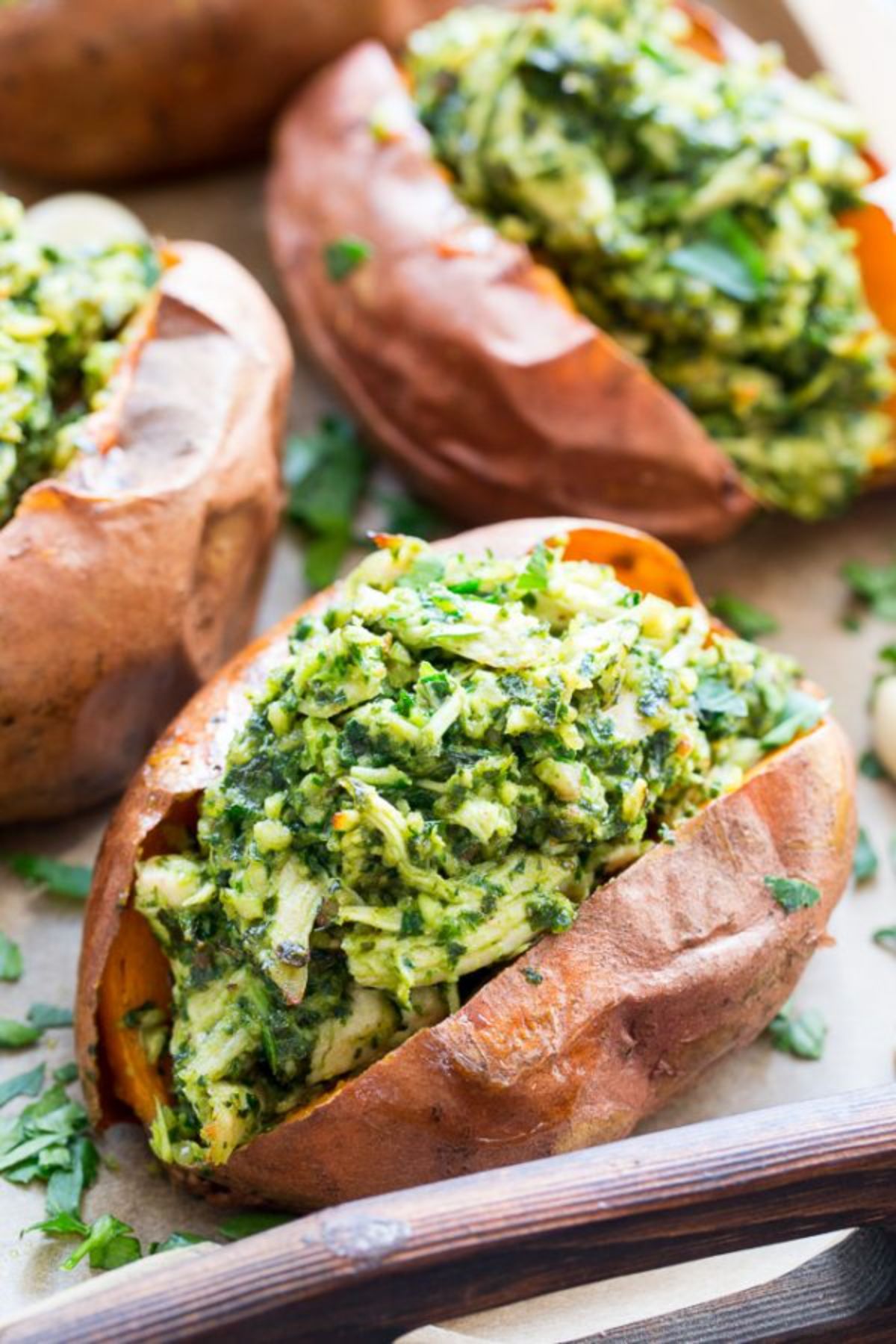 For the quickest of lunches that will fill you up and keep you in line with your paleo diet, these stuffed sweet potatoes from Paleo Running Momma are perfect. Her paleo-friendly pesto is delicious, and the perfect complement to the sweet flesh of the potatoes.
Sweet potato gnocchi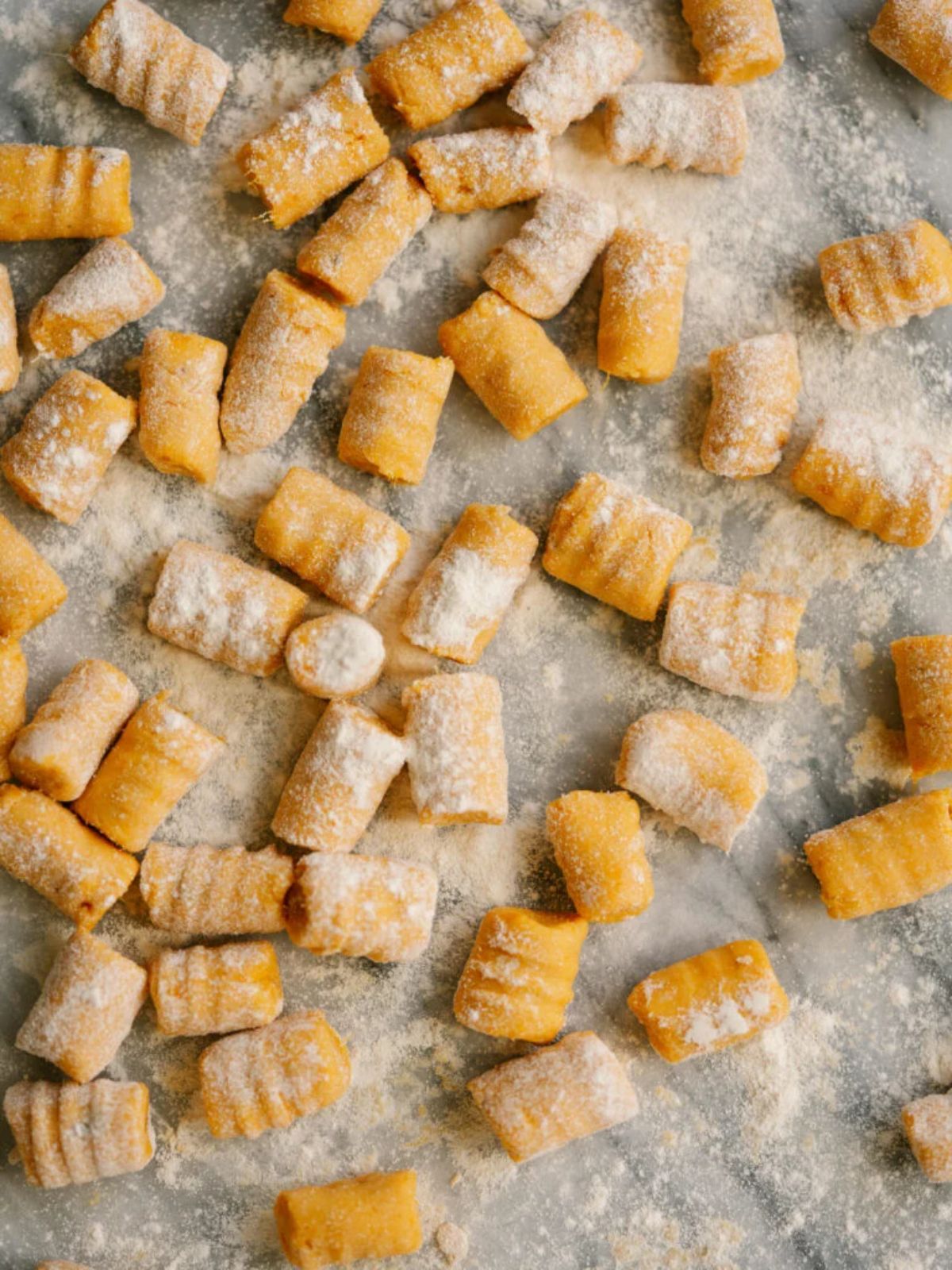 Pre paleo, gnocchi was one of my favorite Italian meals. I love the little moist parcels of dough covered in all sorts of yummy sauces. Well, now I can revisit my love, with Mad About Food's sweet potato gnocchi. It's made with only 3 ingredients, so there's no excuse to get your Italian on!
Roasted carrot and sweet potato hummus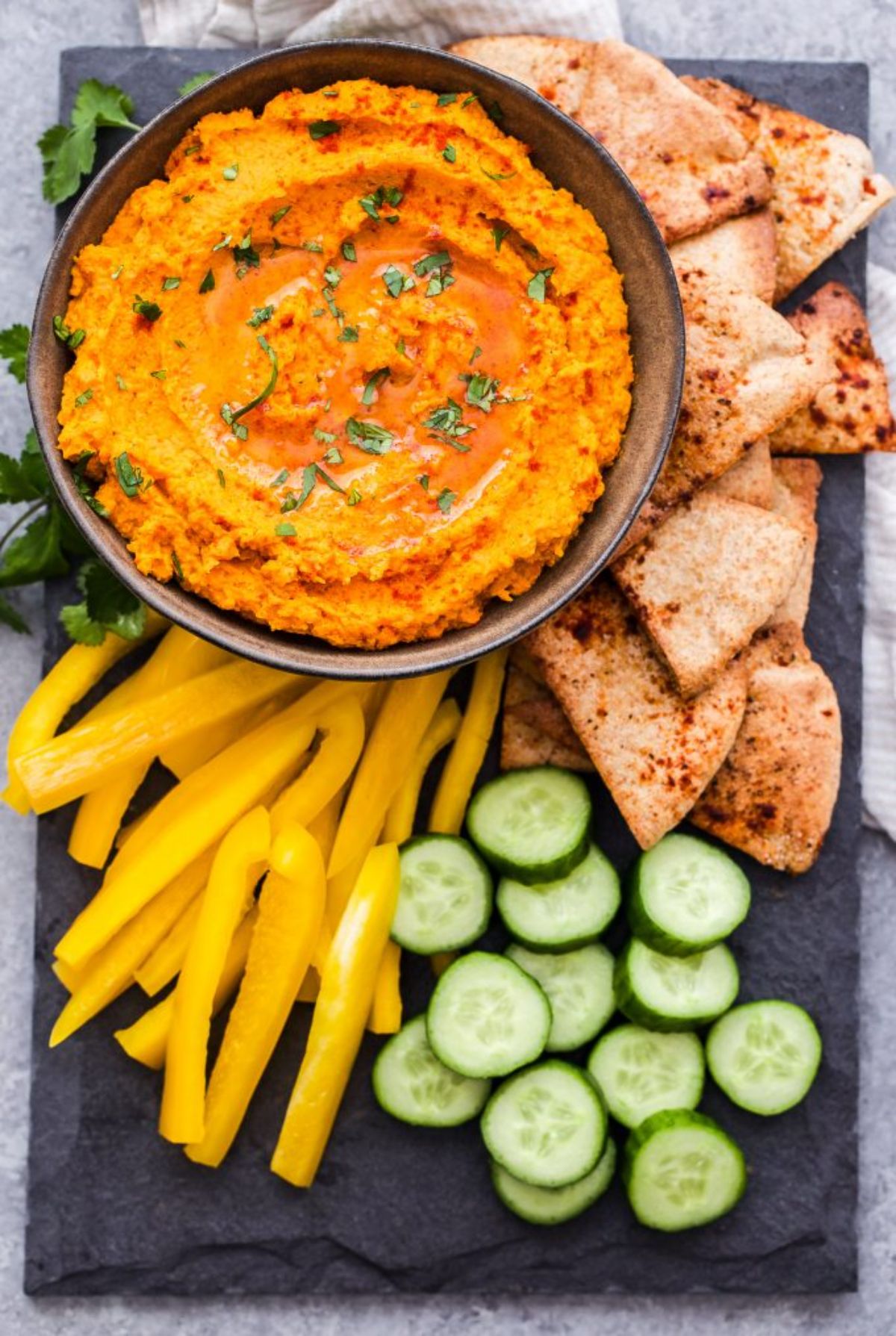 Hummus without chickpeas? It is possible with Recipe Runner's roasted carrot and sweet potato version. It's great for dipping your veggies into, and it looks fun and vibrant in the middle of your buffet table.
Sweet potato salad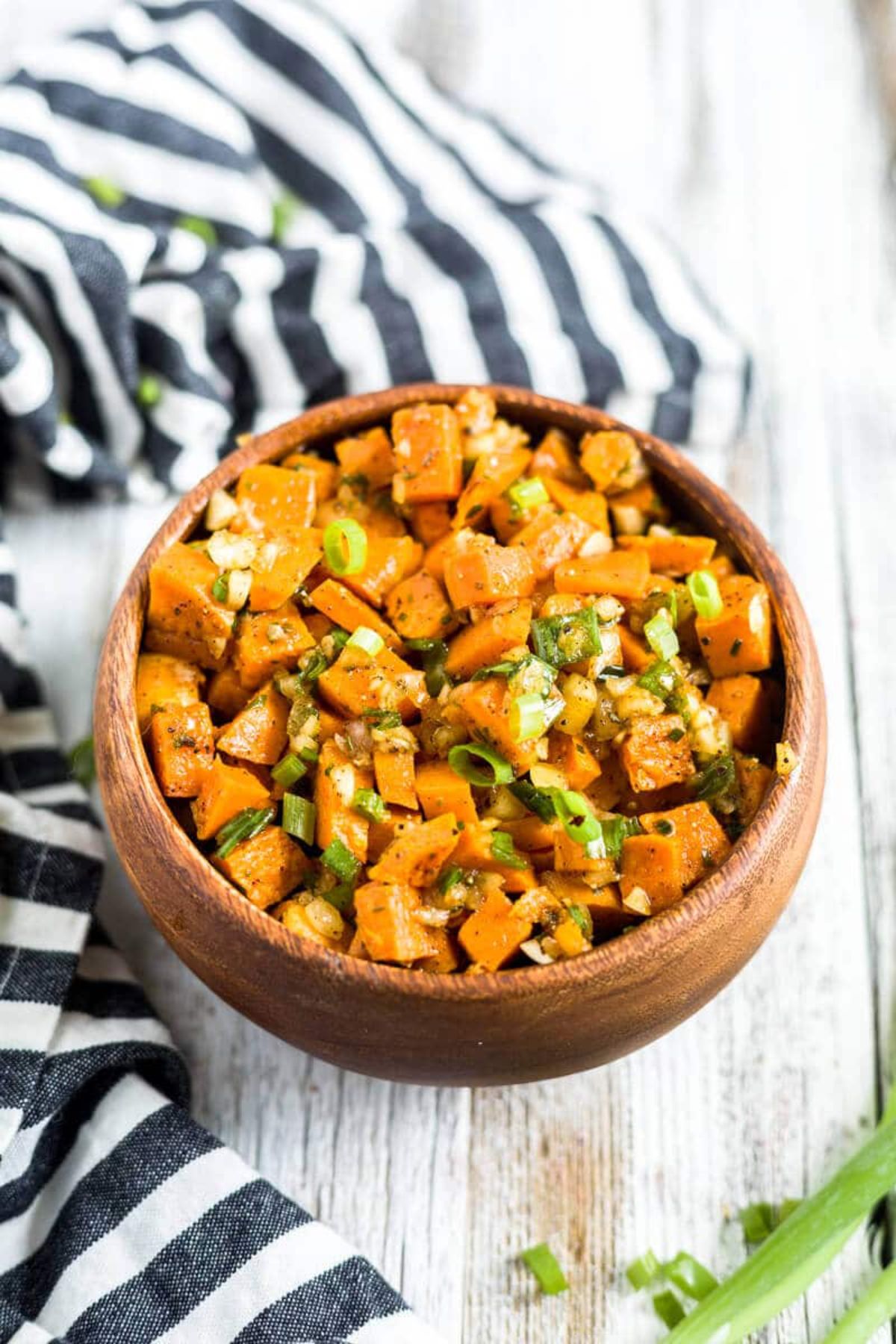 For a beautiful and delicious side, you should try this healthy salad from What Molly Made. Paleo and vegan, it's quick to pull together and is covered in a surprising tangy sauce.
Sweet potato chicken nuggets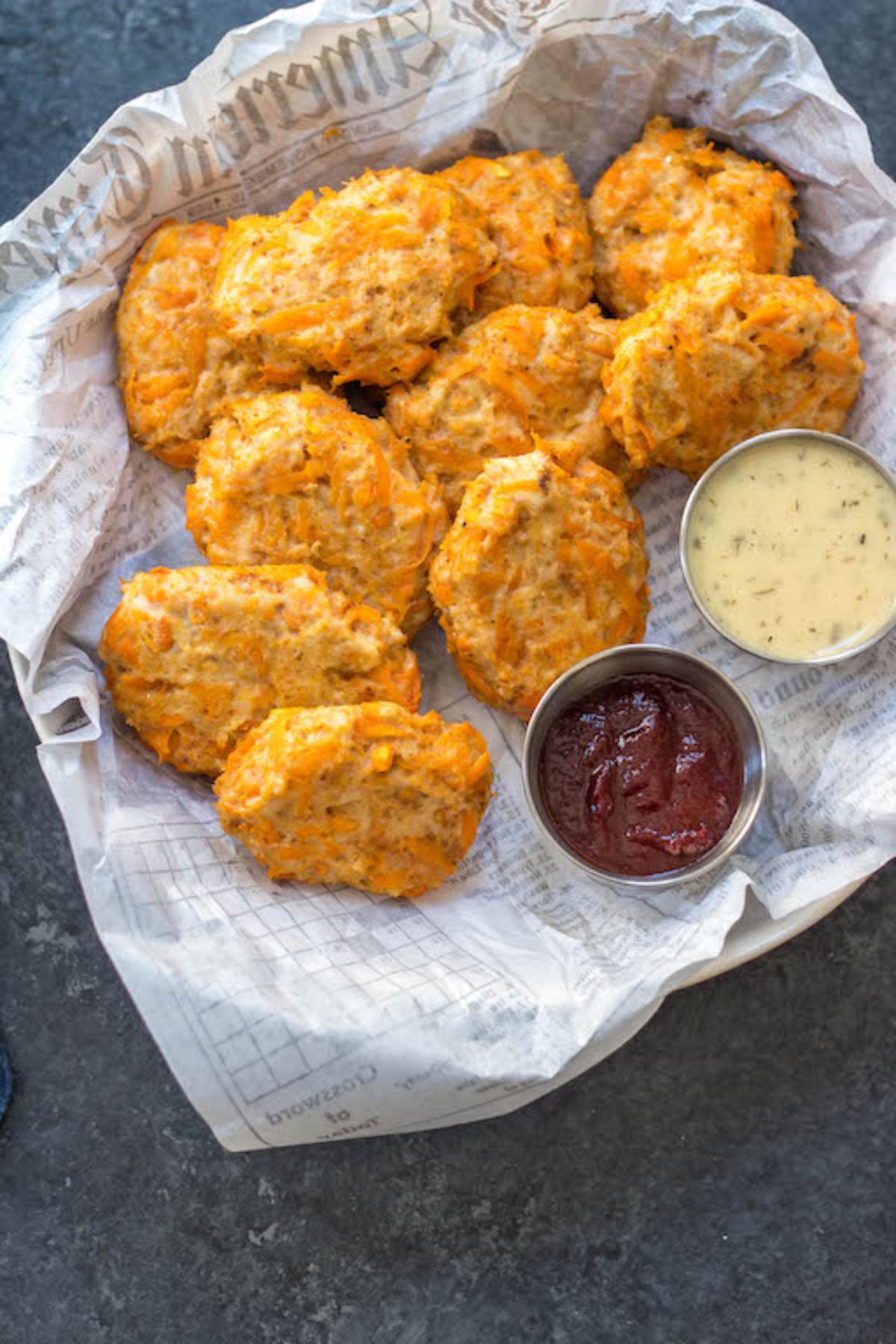 These little morsels are a useful option to double up and throw in the fridge for those busy weeknight suppers. Whole Kitchen Sink's healthy chicken poppers recipe is sure to go down well with the whole family.
Sweet potato cauliflower curry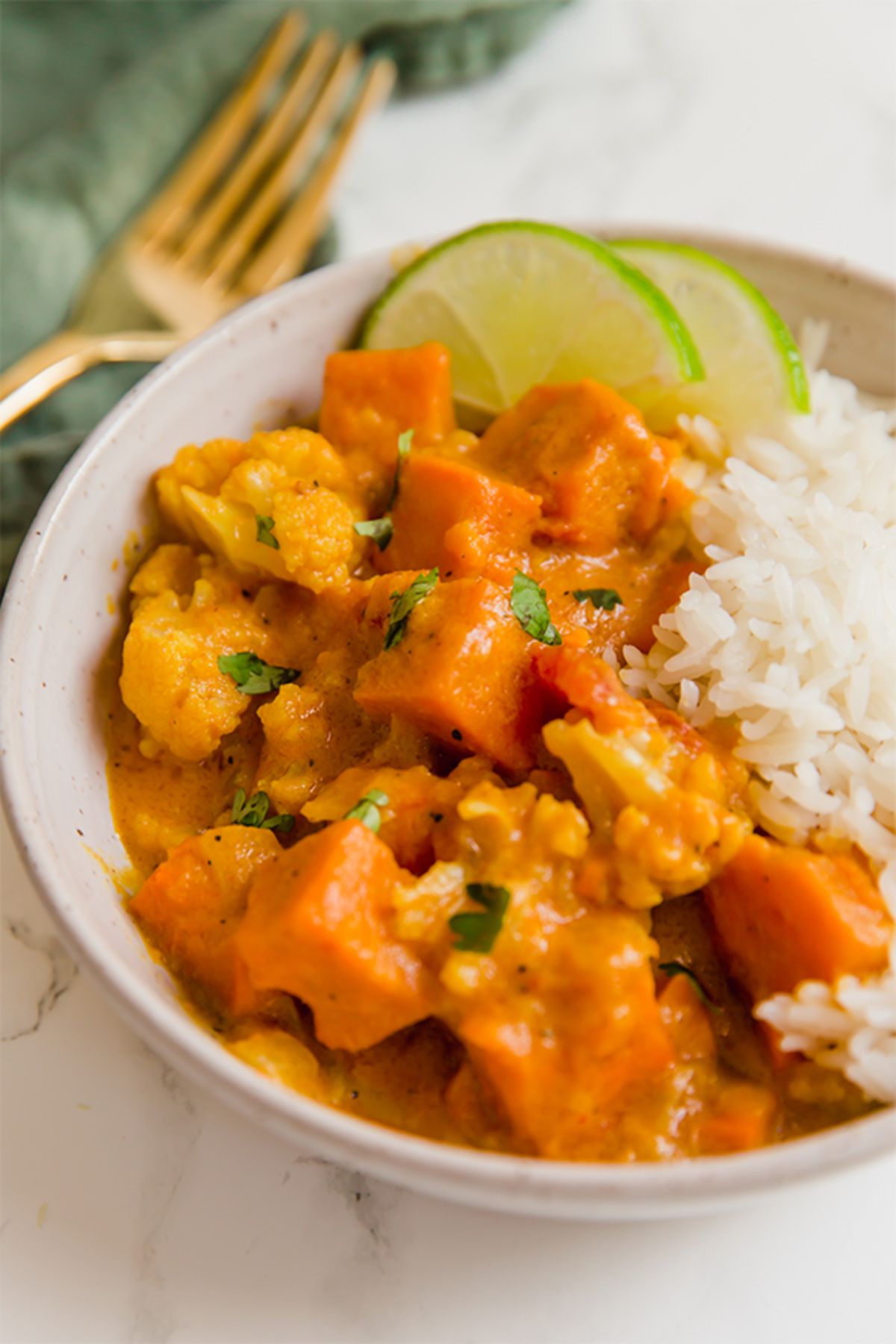 This bowl of healthiness is packed full of nutritious vegetables and will keep you satisfied until the next morning. Unbound Wellness has created a creamy and delicious curry that you can pair with cauliflower rice, or just have by itself.
Sweet potato hash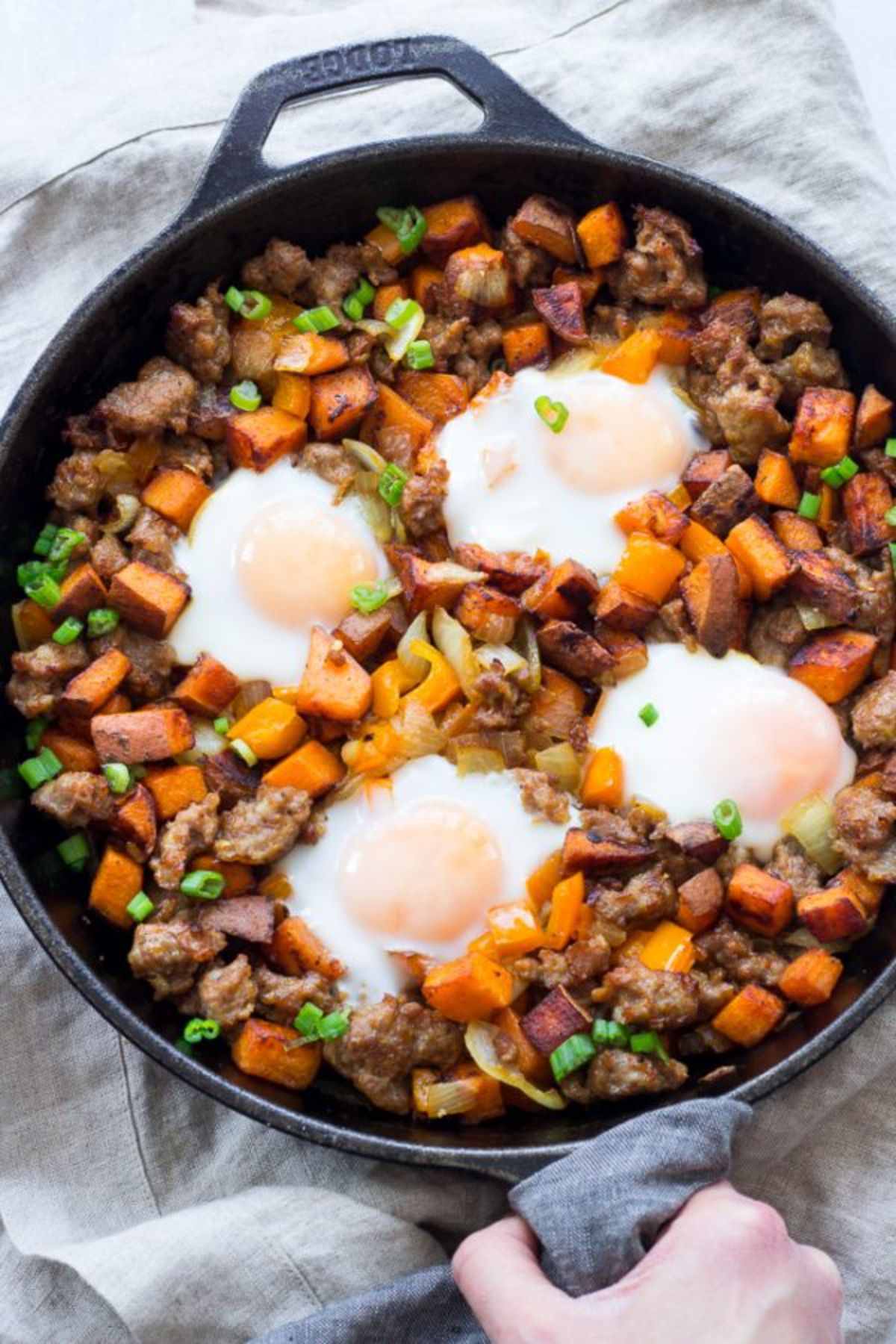 One pan meals are where my heart is on a busy weekday evening or a busy weekend breakfast time. This hash from Paleo Running Momma is made in the skillet, and leaves you with less washing up. Always a bonus in my book.
Mashed sweet potatoes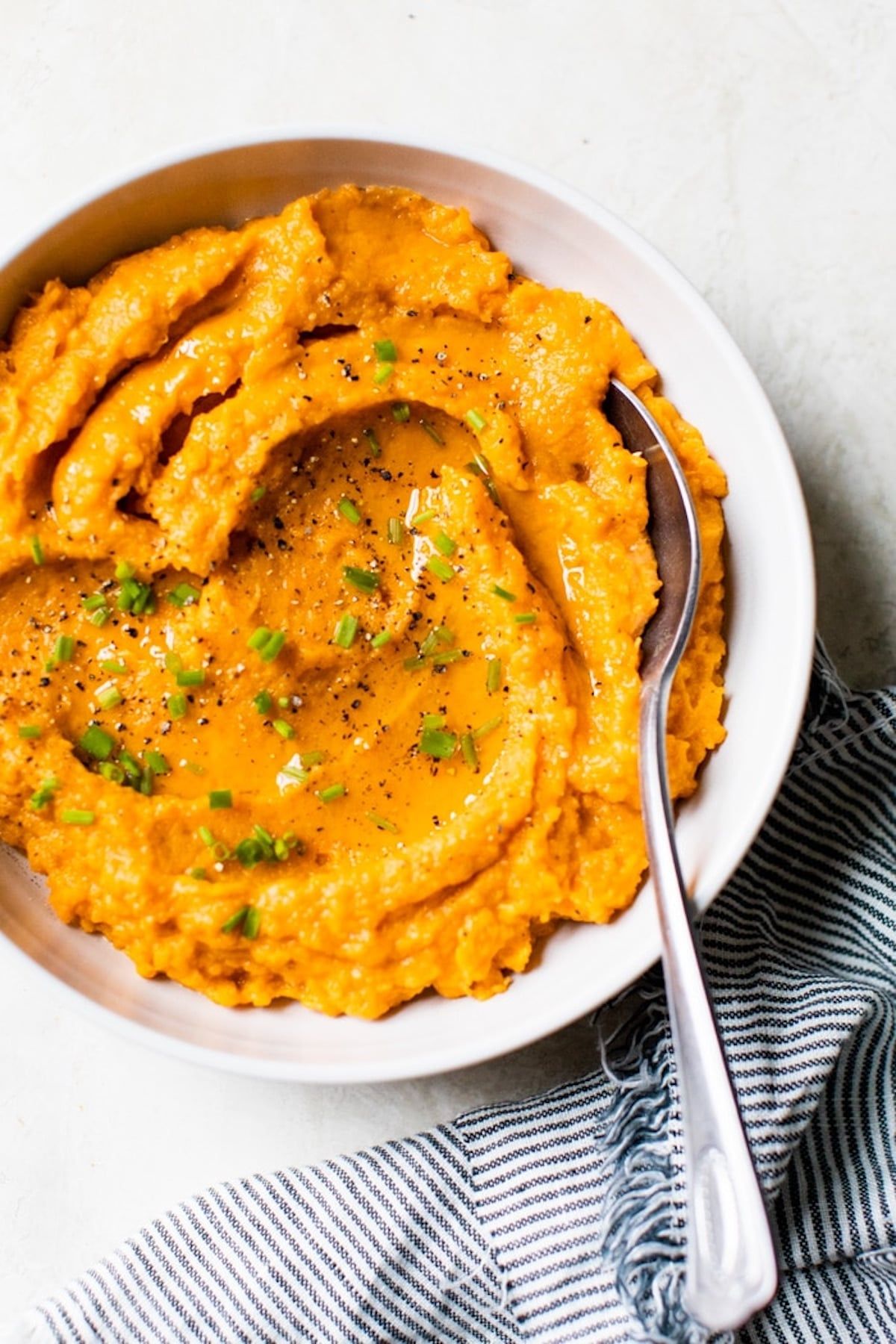 If what you've been missing is a simple mashed potato to go with your roast chicken, then The Almond Eater's version is the easy and delicious comfort food you've been waiting for.
Slow cooker sweet potato chili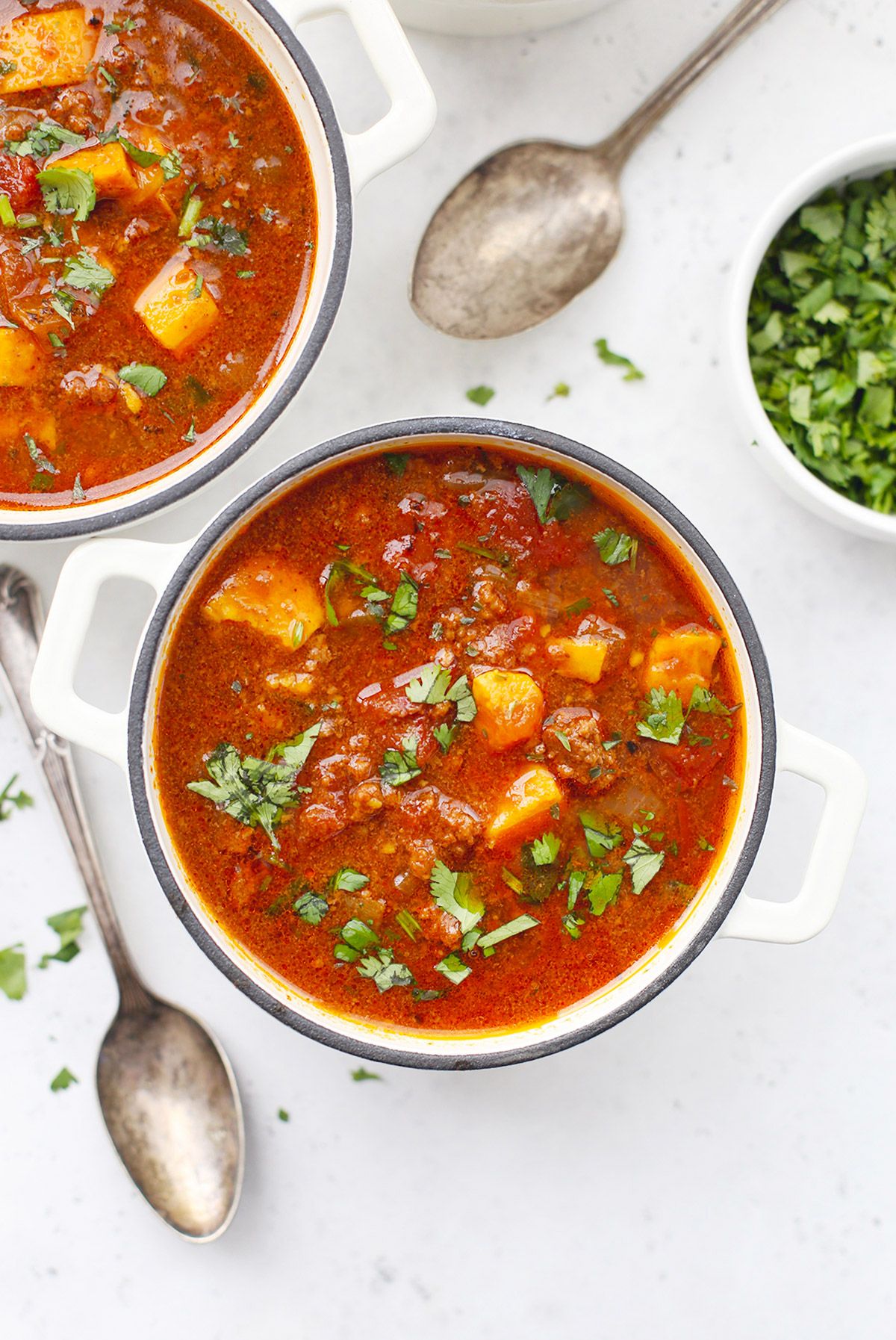 This sweet potato chili from One Lovely Life is one of those meals that tastes great first time round, and then knocks your socks off reheated the next day for lunch. Two meals, no fuss, just the way we like it.
Sweet potato and fresh greens soup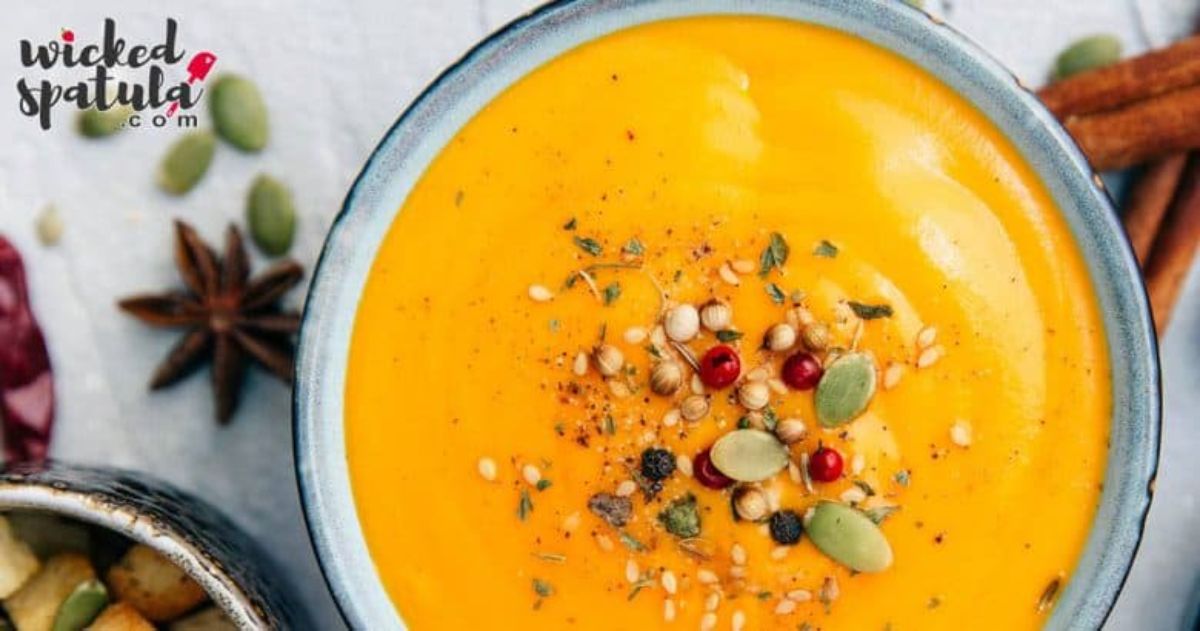 We all need a few awesome soup recipes up our sleeves for cold Autumn and Winter evenings. Our sweet potato soup is full of nutritious vegetables and makes a delicious bowl of creamy comfort food to suit your paleo needs.
Sweet potato, bacon, and chive muffins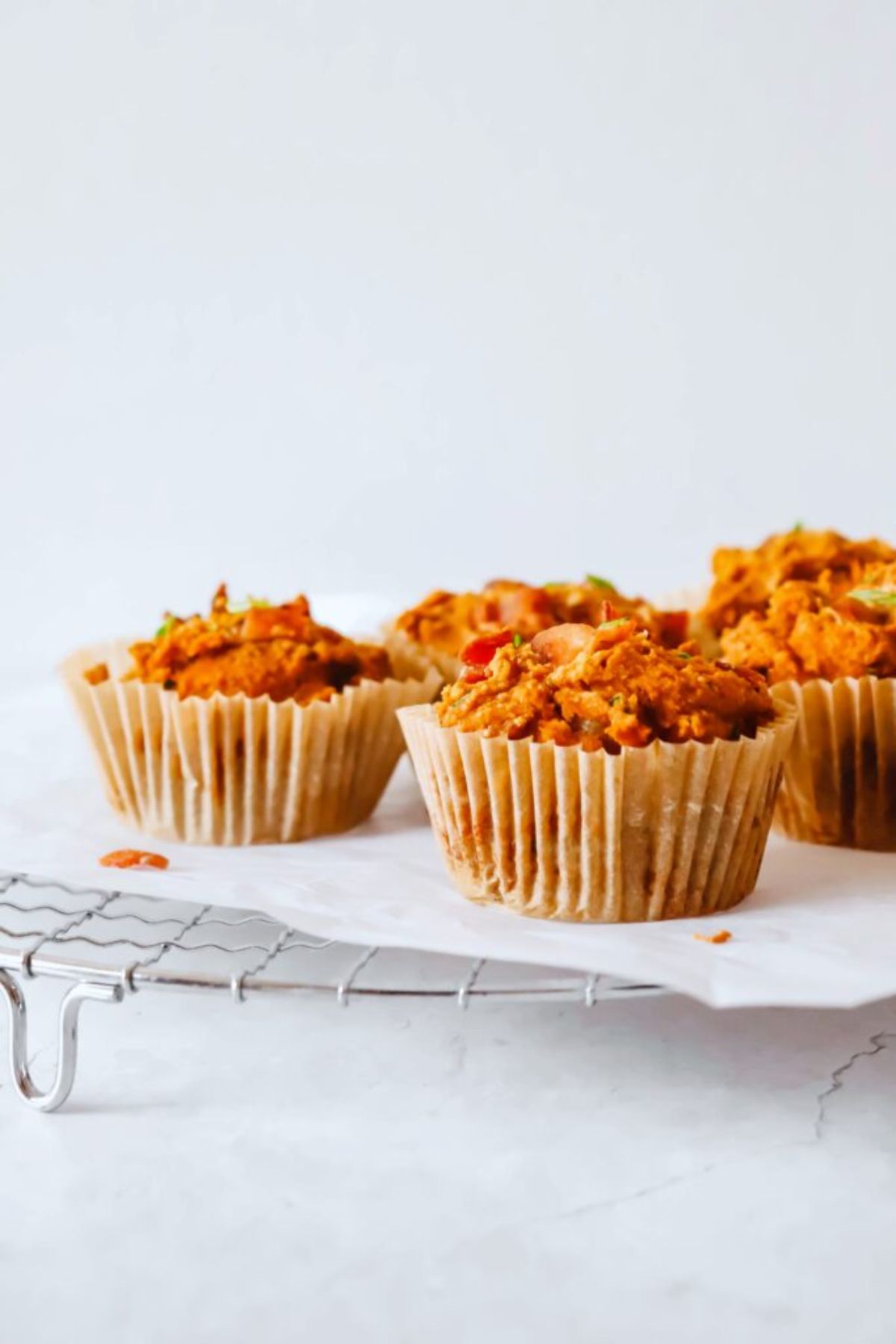 Sweet potatoes are also your friend when you're in search of a grab-and-go afternoon snack. These cute little muffins from Heal Me Delicious are moist, savory, and filled with little bacon surprises.
Sloppy Joe sweet potato fries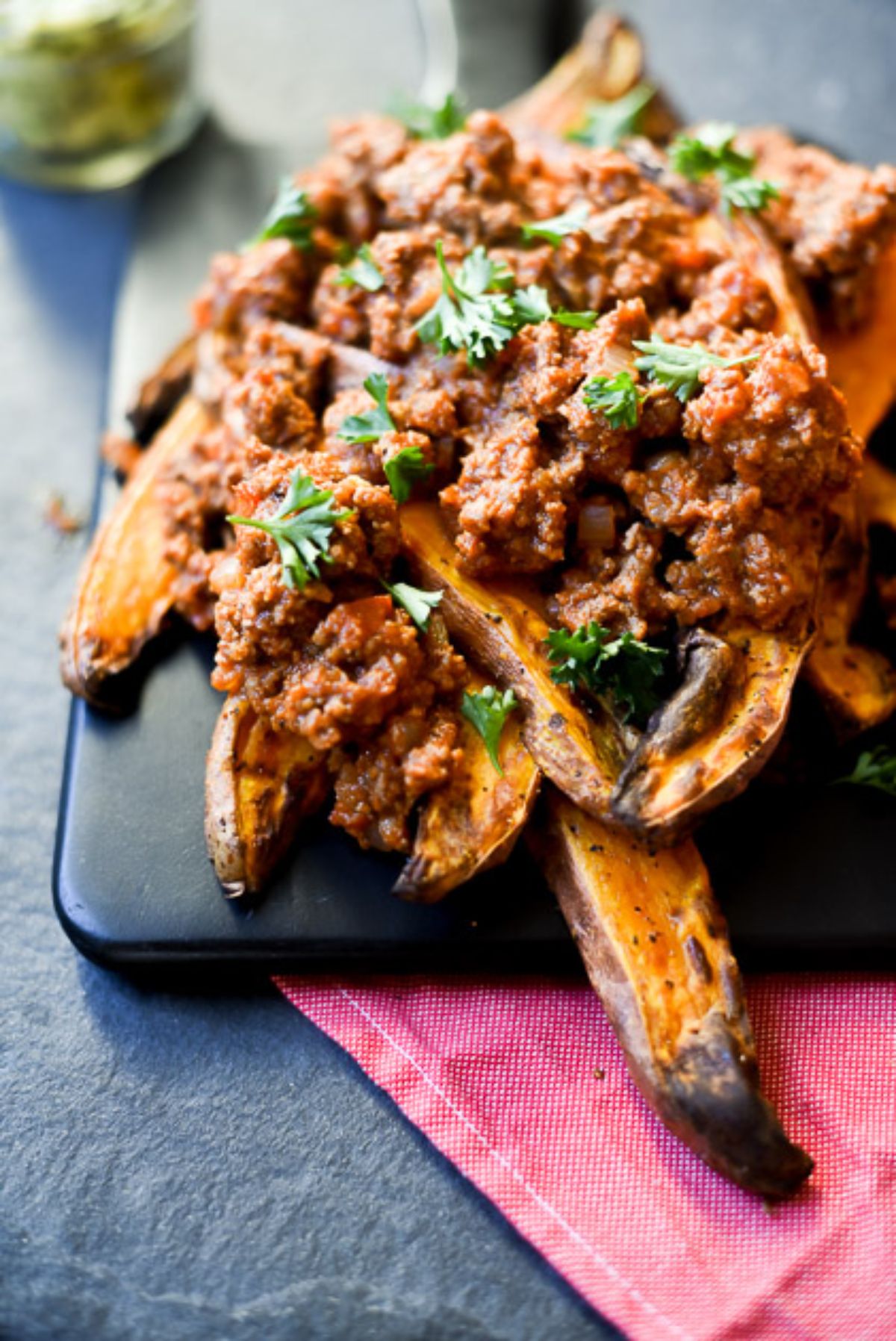 For days when you want to feel like you're seriously indulging, without having to deal with the carb/sugar bloat the next day, these sloppy Joe fries from First and Full are the answer. The tangy tomato sauce and healthy ground beef melt in your mouth.
Sweet potato shepherd's pie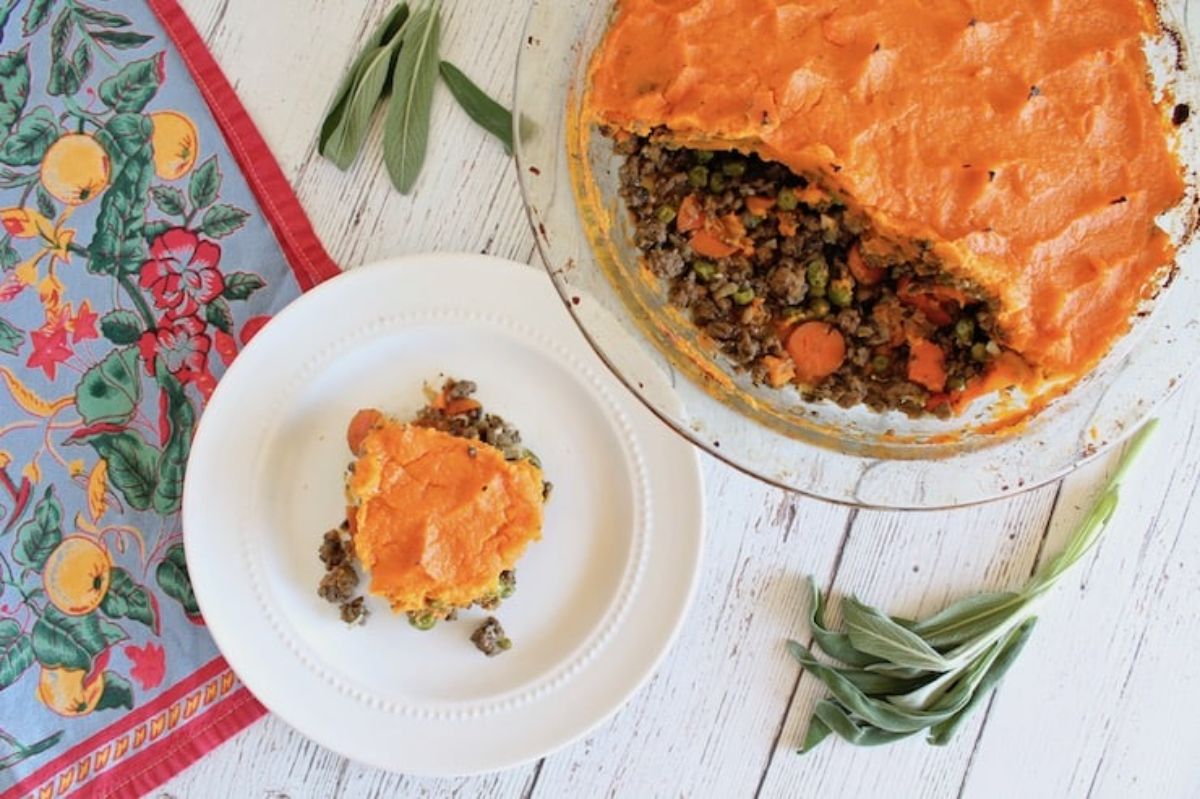 Now, here's another classic meal that you thought was off the table with the paleo diet. Healy Eats Real has created this paleo-friendly twist on a traditional shepherd's pie for you to enjoy with your whole family.
Paleo sweet potato tortillas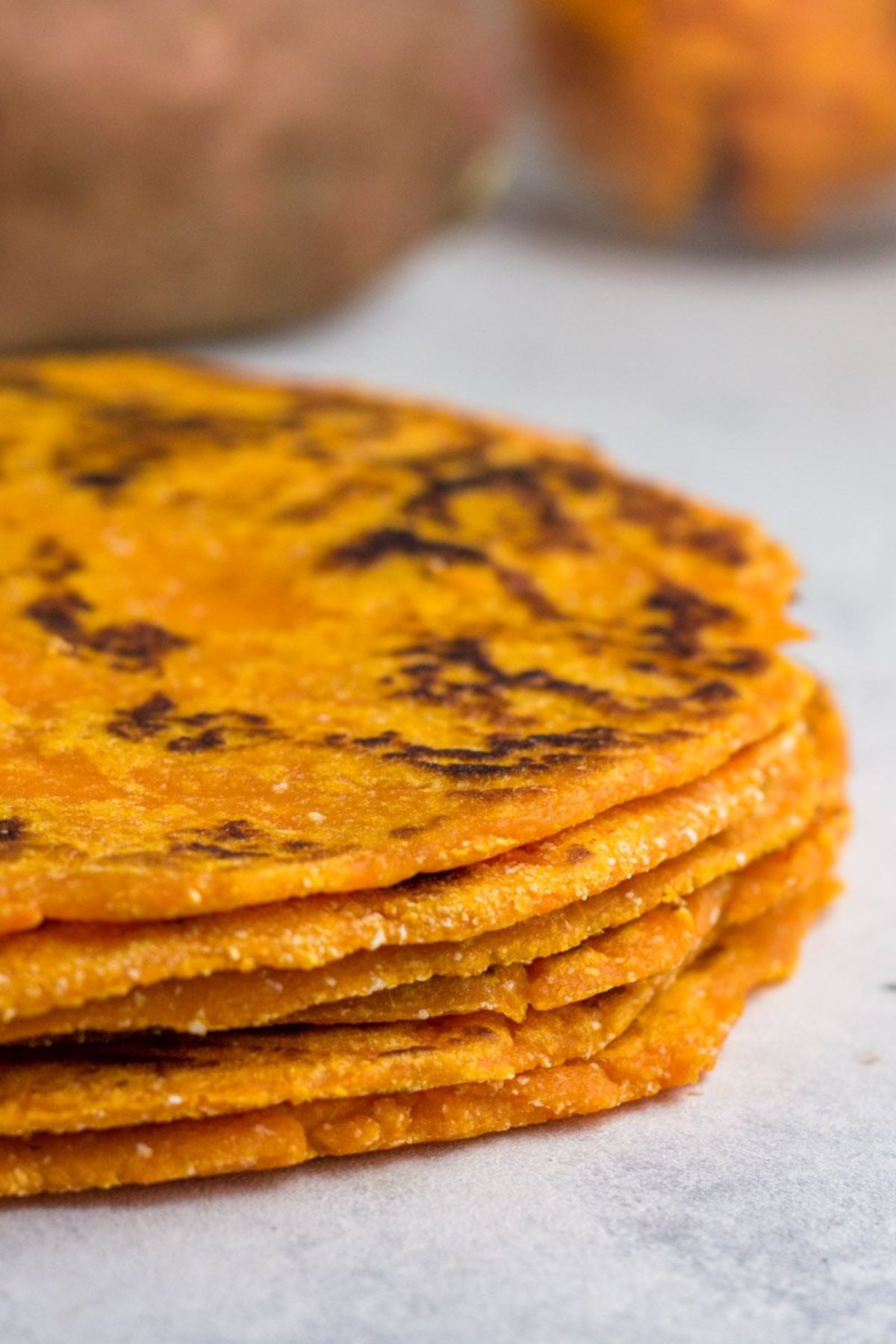 If you're a little sick of taco bowls and would actually like to eat something that looks like a taco for a change, why not make these paleo-friendly tortillas from Physical Kitchness? Super simple and freezable, they will make you feel like you're not missing out.
Fluffy sweet potato breakfast bowl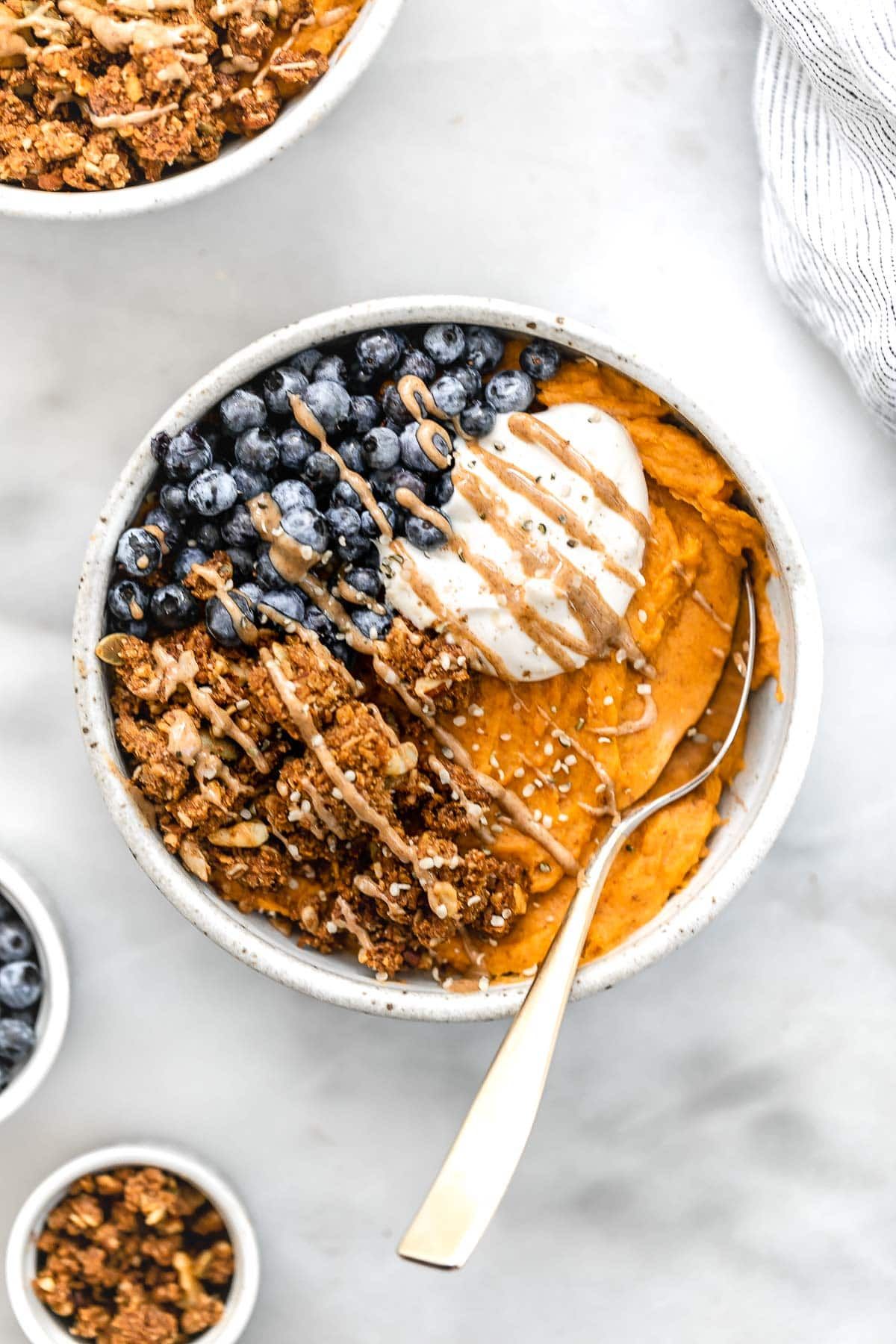 If you're a little over bacon and eggs for breakfast and would like something a little different, then Eat With Clarity's sweet potato breakfast bowl is definitely worth a try. You can add all of your favorite toppings and eat it hot or cold.
Sweet potato waffles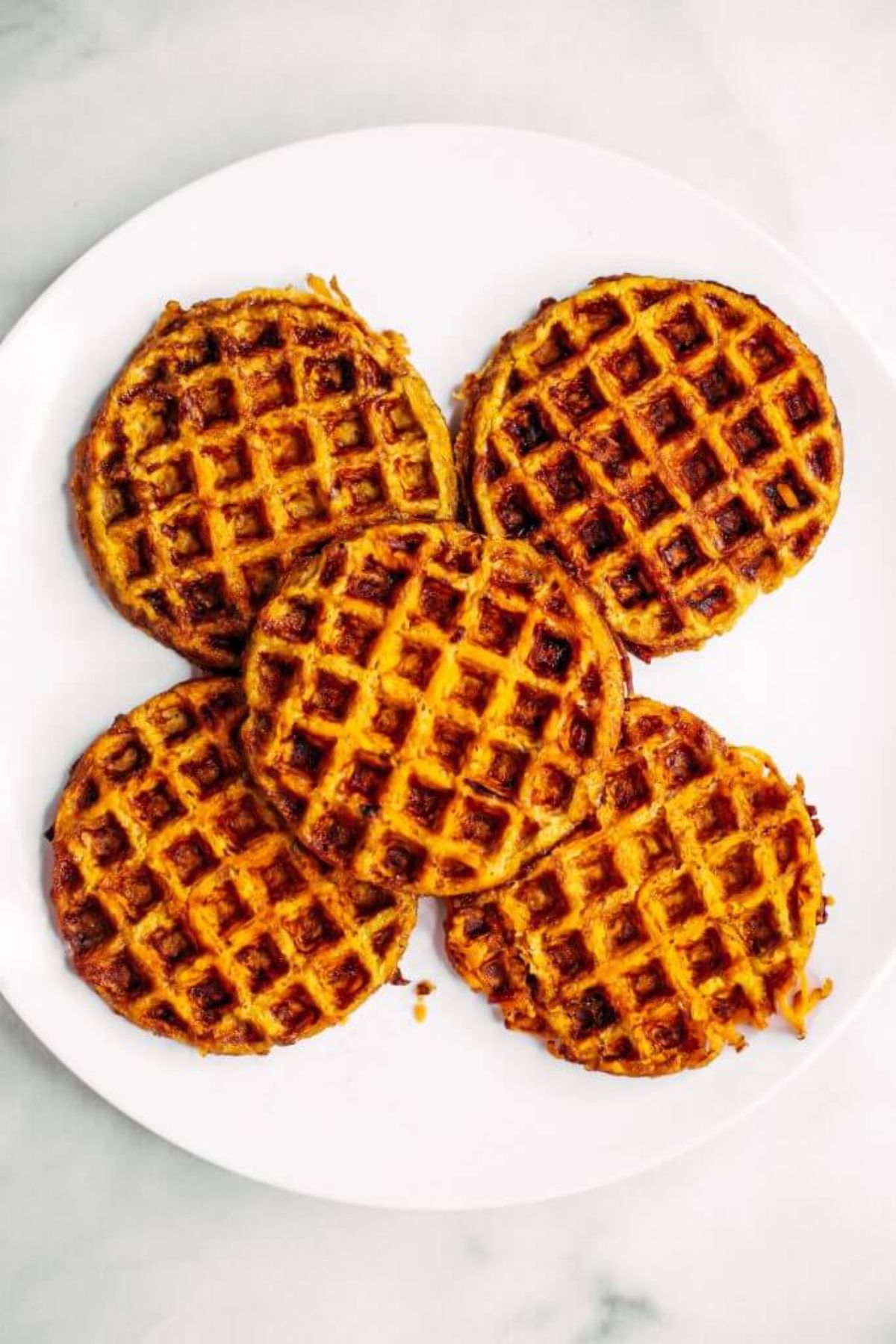 Paleo Gluten Free Eats has another tasty breakfast option with their sweet potato waffles. Add your favorite paleo toppings, and you've got yourself a breakfast that will make the whole family smile.
Paleo sweet potato bars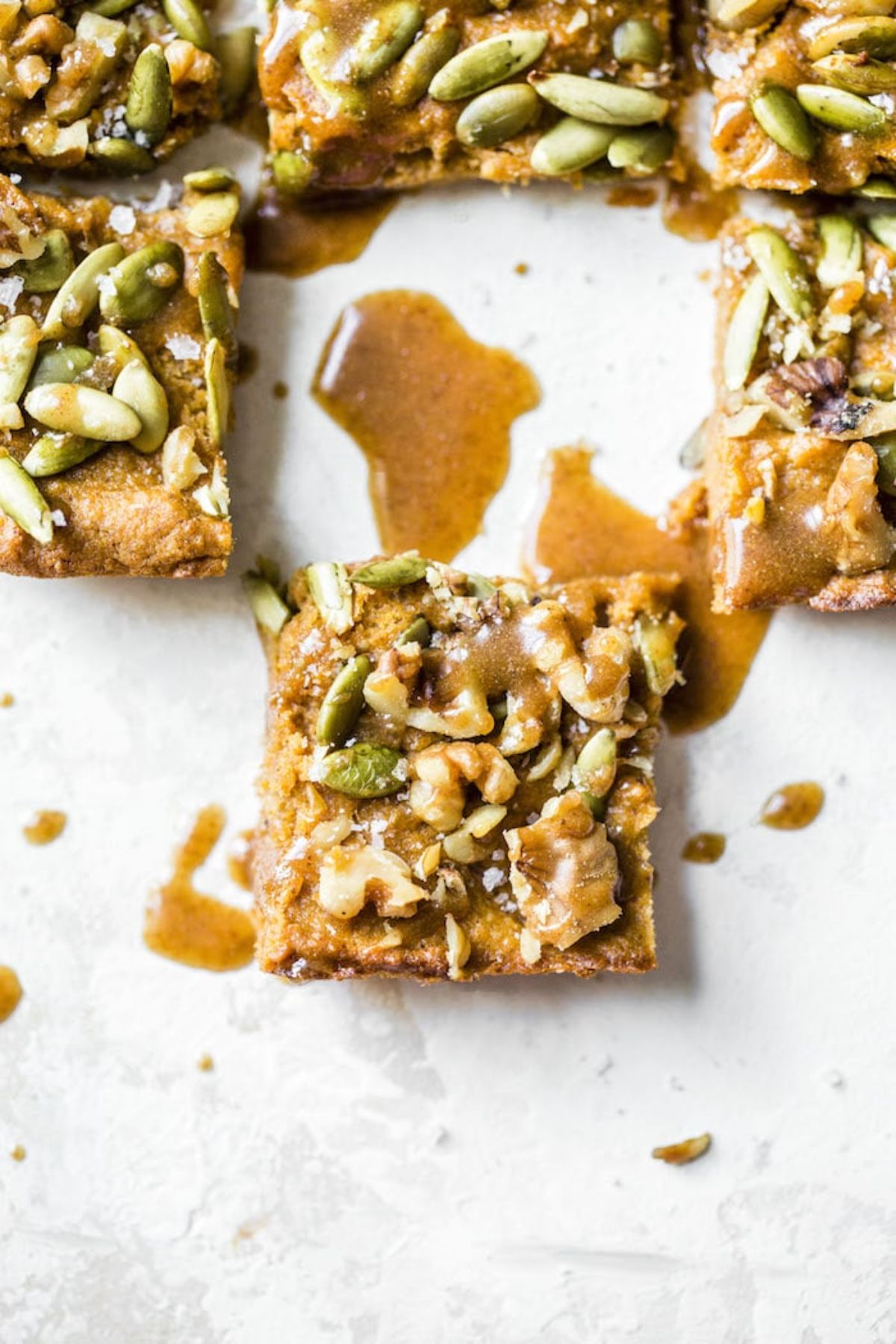 These sweet and delicious sweet potato bars from The Almond Eater are a fabulous afternoon snack or lunchbox option. They're made with mashed sweet potatoes, almond flour, and a moreish sweet maple almond drizzle.
Crustless sweet potato pie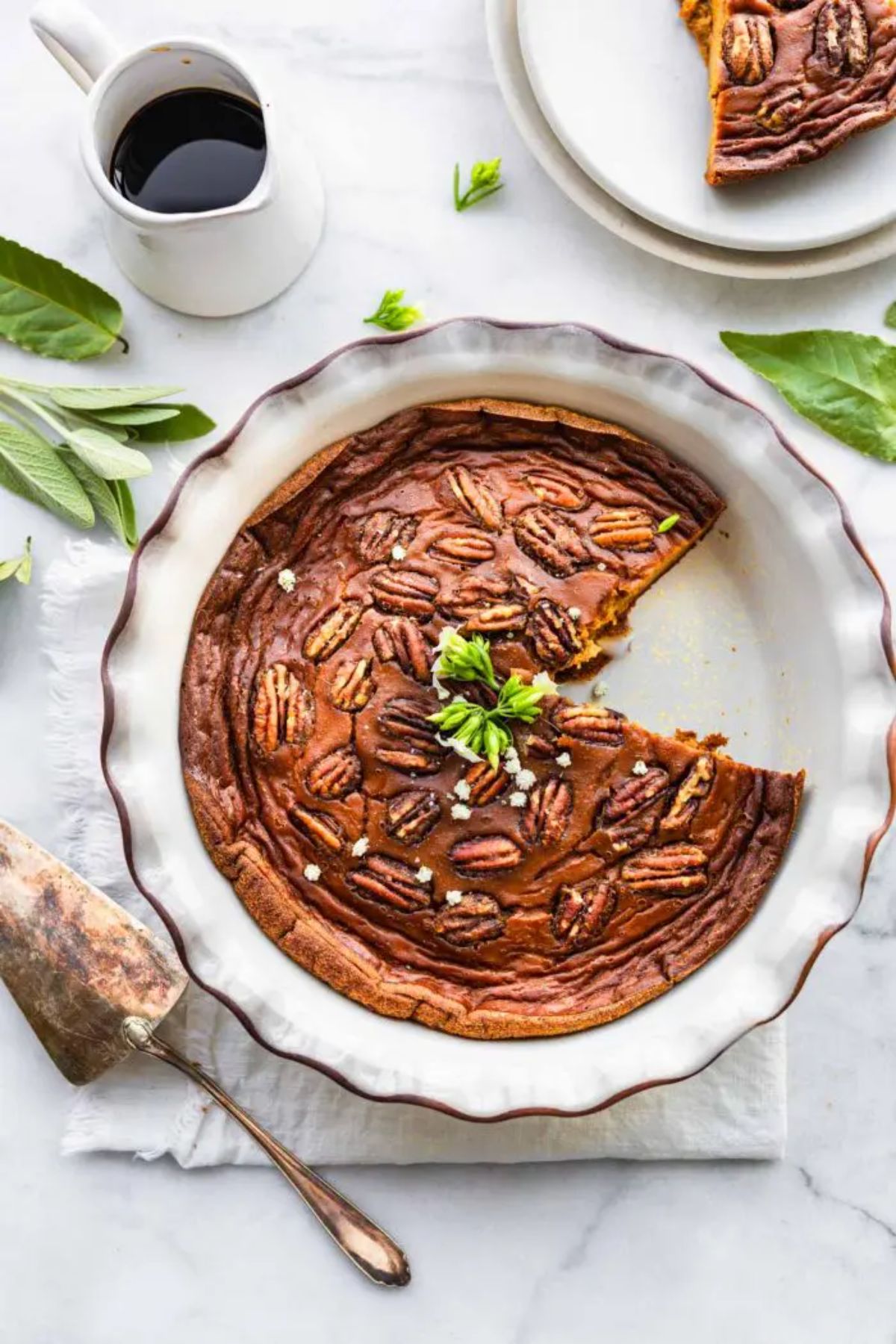 The perfect allergy-friendly holiday treat, this paleo sweet potato pie from Cotter Crunch is so easy to make that you'll want to eat it even if it isn't Thanksgiving.
Healthy blackout chocolate cake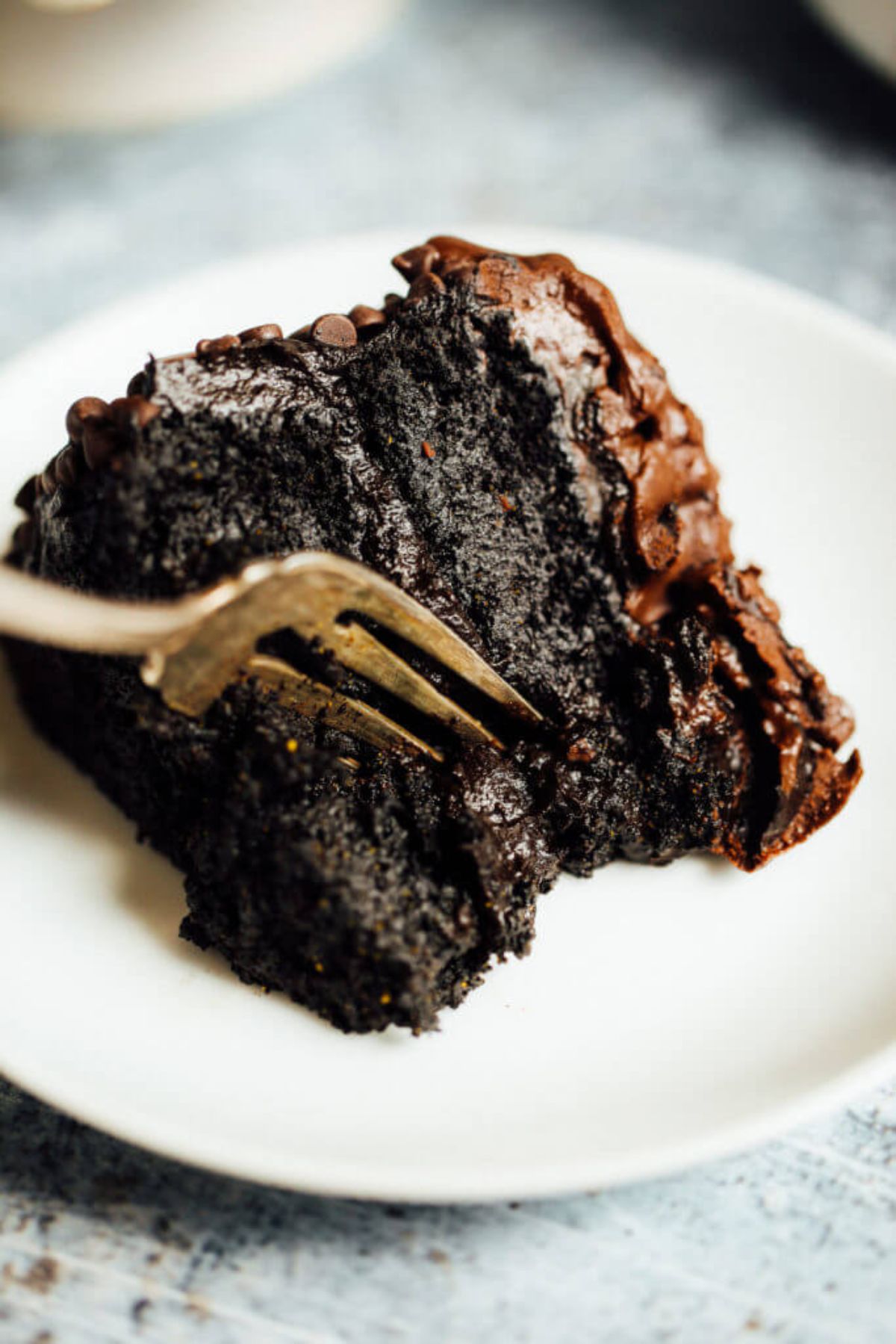 For a more decadent cake for your special occasion (or just an indulgent weekend), this blackout cake from Paleo Gluten Free Eats is an obvious choice. Made with sweet potato and avocadoes to keep it moist, you won't be disappointed.
Chocolate sweet potato pudding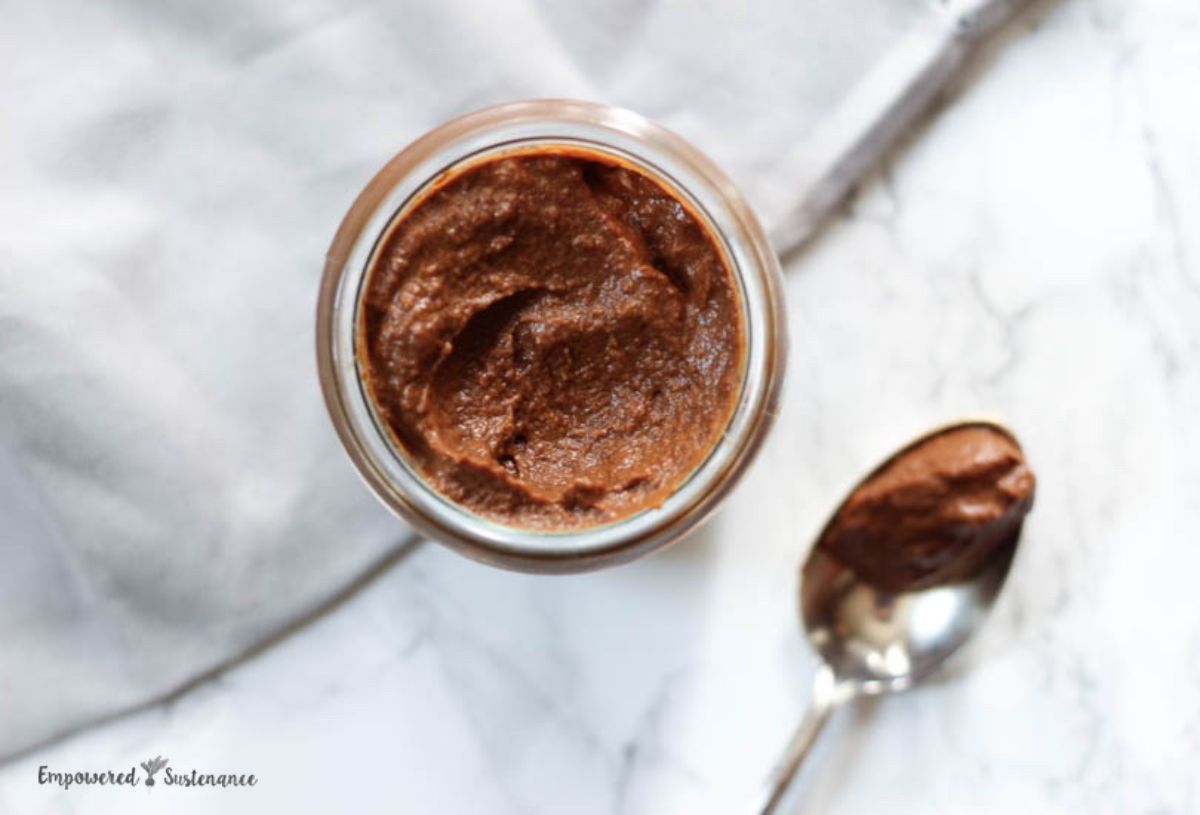 I loved a pot of chocolate pudding as an after-school snack, and now Empowered Sustenance's recipe means I can recreate the feeling while staying in my paleo diet. Creamy and nutritious, I'm sure you'll love it too.
Flourless sweet potato brownies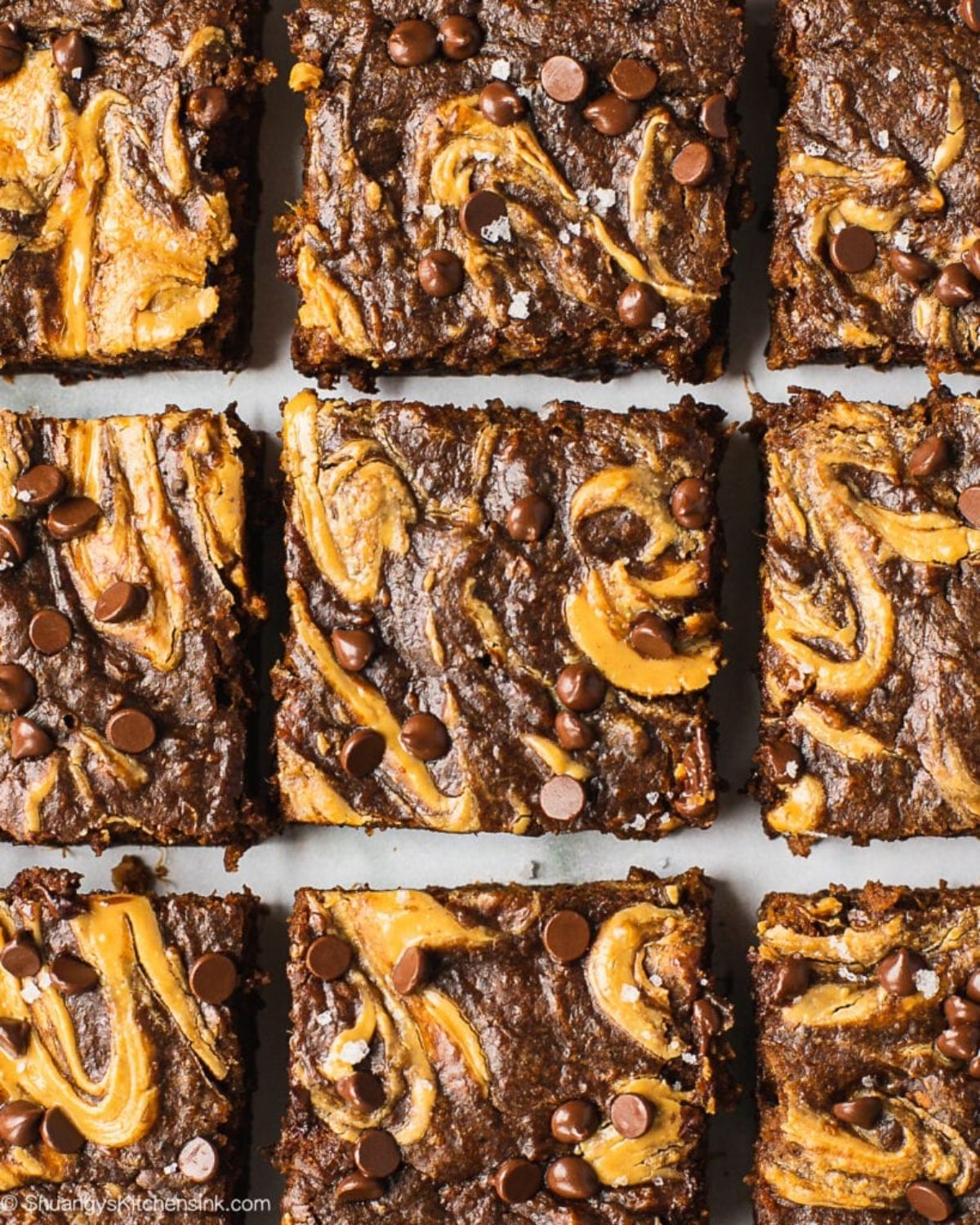 No sweet potato list would be complete without the wonder that is the sweet potato brownie. Shuangy's Kitchen Sink has a recipe that brings the fudgy, chocolatey glory that you've been waiting for. I dare you to try and stop at just one!
RECIPE CARD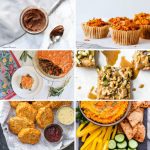 23 Paleo Sweet Potato Recipes
Enjoy the best of the best with these tasty recipes featuring the classic sweet potato! All paleo friendly and easy to make, this list is sure to add variety to your menu with zero guilt.
Ingredients
Please ensure Safari reader mode is OFF to view ingredients.
Sweet Potato Casserole

Sweet Potato Pumpkin Spice Bread

Chicken Pesto Stuffed Sweet Potatoes

Sweet Potato Gnocchi

Roasted Carrot And Sweet Potato Hummus

Sweet Potato Salad

Sweet Potato Chicken Nuggets

Sweet Potato Cauliflower Curry

Sweet Potato Hash

Mashed Sweet Potatoes

Slow Cooker Sweet Potato Chili

Sweet Potato And Fresh Greens Soup

Sweet Potato, Bacon, And Chive Muffins

Sloppy Joe Sweet Potato Fries

Sweet Potato Shepherd's Pie

Paleo Sweet Potato Tortillas

Fluffy Sweet Potato Breakfast Bowl

Sweet Potato Waffles

Paleo Sweet Potato Bars

Crustless Sweet Potato Pie

Healthy Blackout Chocolate Cake

Chocolate Sweet Potato Pudding

Flourless Sweet Potato Brownies
Click to convert between US & metric measurements:
Instructions
More TIPS about this paleo recipe in the post above!
Add the delicious sweet potato flavor to your menu with zero guilt. These paleo-friendly options include breakfast, lunch, dinner, sides, and snacks that are sure to please even the pickiest at your table!
© Copyright Wicked Spatula. We'd LOVE for you to share a link to this recipe, but please DO NOT COPY/PASTE the recipe instructions to social media or websites. You may share a photo with a link back instead.
Did you make this recipe?
Click here to leave a comment + star rating! ★★★★★
Then, share a pic on Instagram. Tag @wickedspatula or #wickedspatula!