Chicken is almost the perfect paleo protein. Lean, and versatile, it lends itself to all different cuisines and occasions. Chicken thighs may not be as lean as breast meat, but you can roast, slow cook or braise them without the fear of ending up with a dry lump of meat.
Paleo Chicken Thigh Recipes
If you've done all the things you can think of with your usual chicken breast, then why not branch out and try something a little different? Each of these 17 paleo chicken thigh recipes will delight your palate and wake up your tastebuds!
Need more PALEO inspiration? Check out the recipe collections below that are some of our favorite PALEO creations to share with you!
Authentic Greek lemon chicken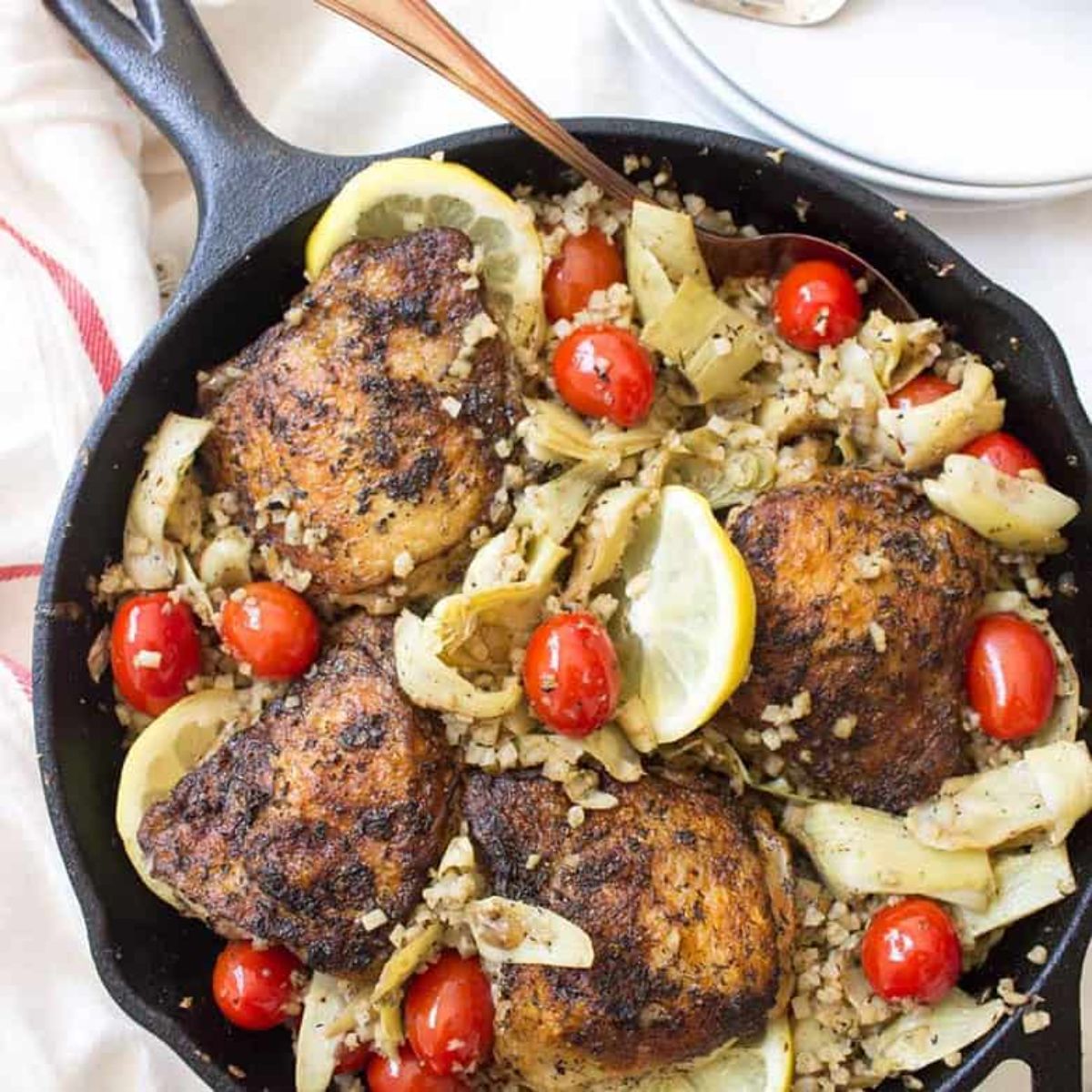 Sure, spending hours in the kitchen lovingly crafting a beautiful meal for you and your family is fine at the weekend. But, if you are strapped for time on a Tuesday, the last thing that you want to do is stand over the stove for too long. Our Greek lemon chicken is on the table in 30 minutes and is packed full of flavor.
Easy Thai baked chicken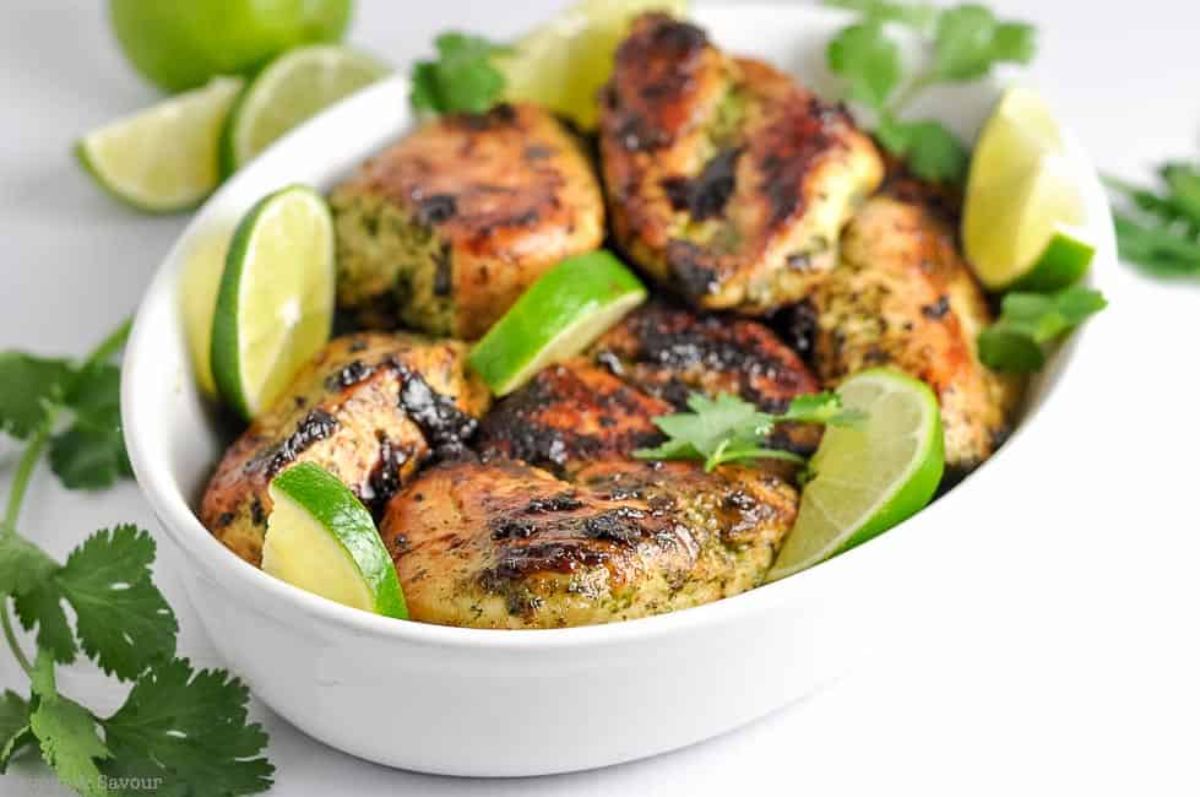 If you can find 10 minutes to put together a marinade at some point in the day, then you can prep for this delicious Thai chicken from Flavour and Savour ahead of time and grab it out of the fridge when you're ready to get cooking. It's also great pulled out of the freezer and reheated.
One-skillet Caprese chicken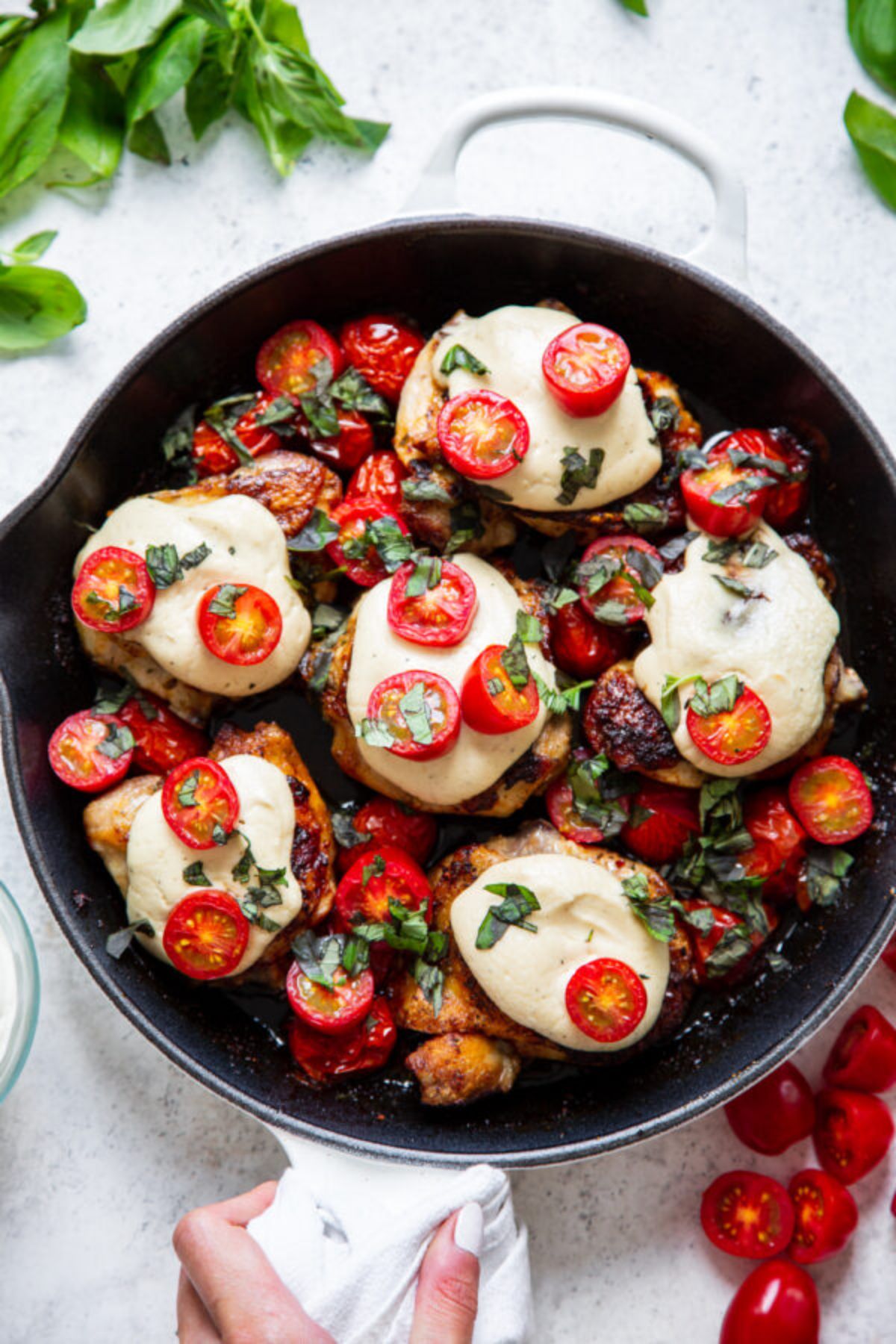 How vibrant and cheerful does this meal look? Paleo Running Momma's Caprese chicken is a real showstopper for those evenings when you want to look like you've made an effort, but you don't really have the time or the energy.
Sage and thyme crispy chicken thighs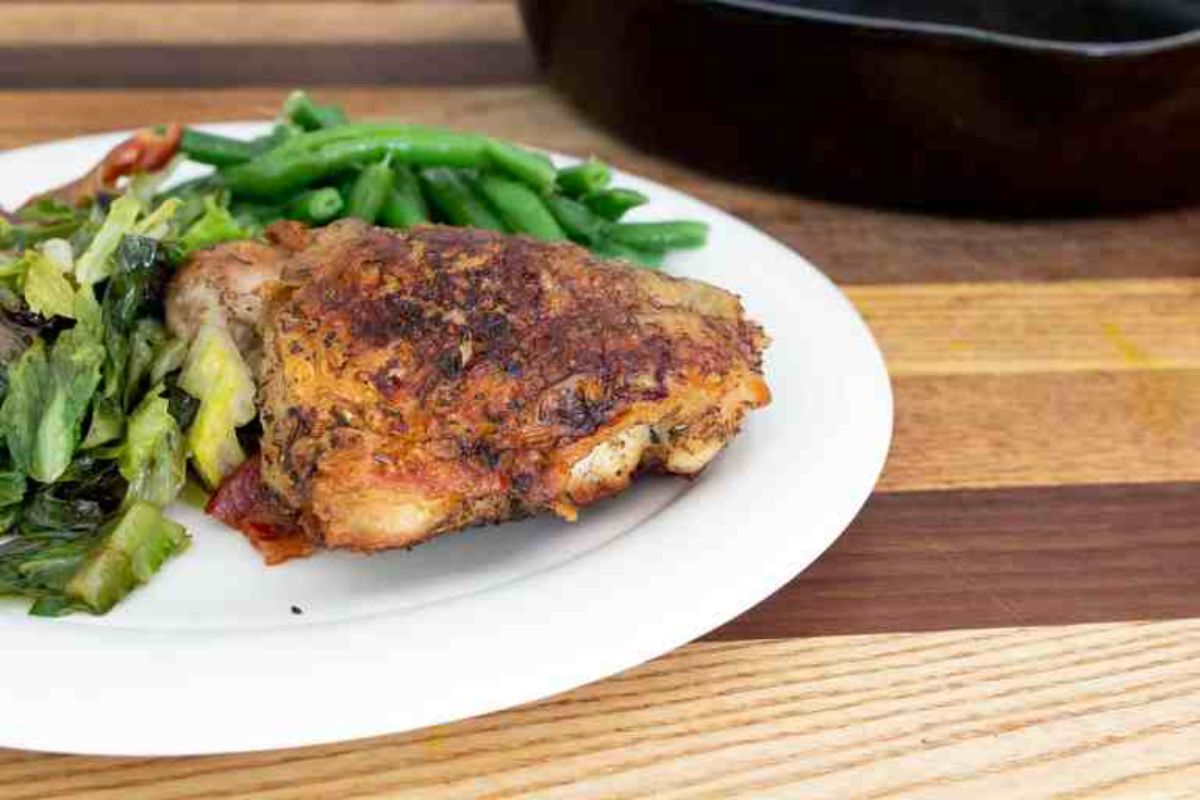 Flawed Yet Functional's crispy chicken thigh recipe is the paleo quick and easy holy grail of suppers. It takes 30 minutes to prepare and is delicious with a salad or fresh vegetables.
Sheet pan apple cinnamon chicken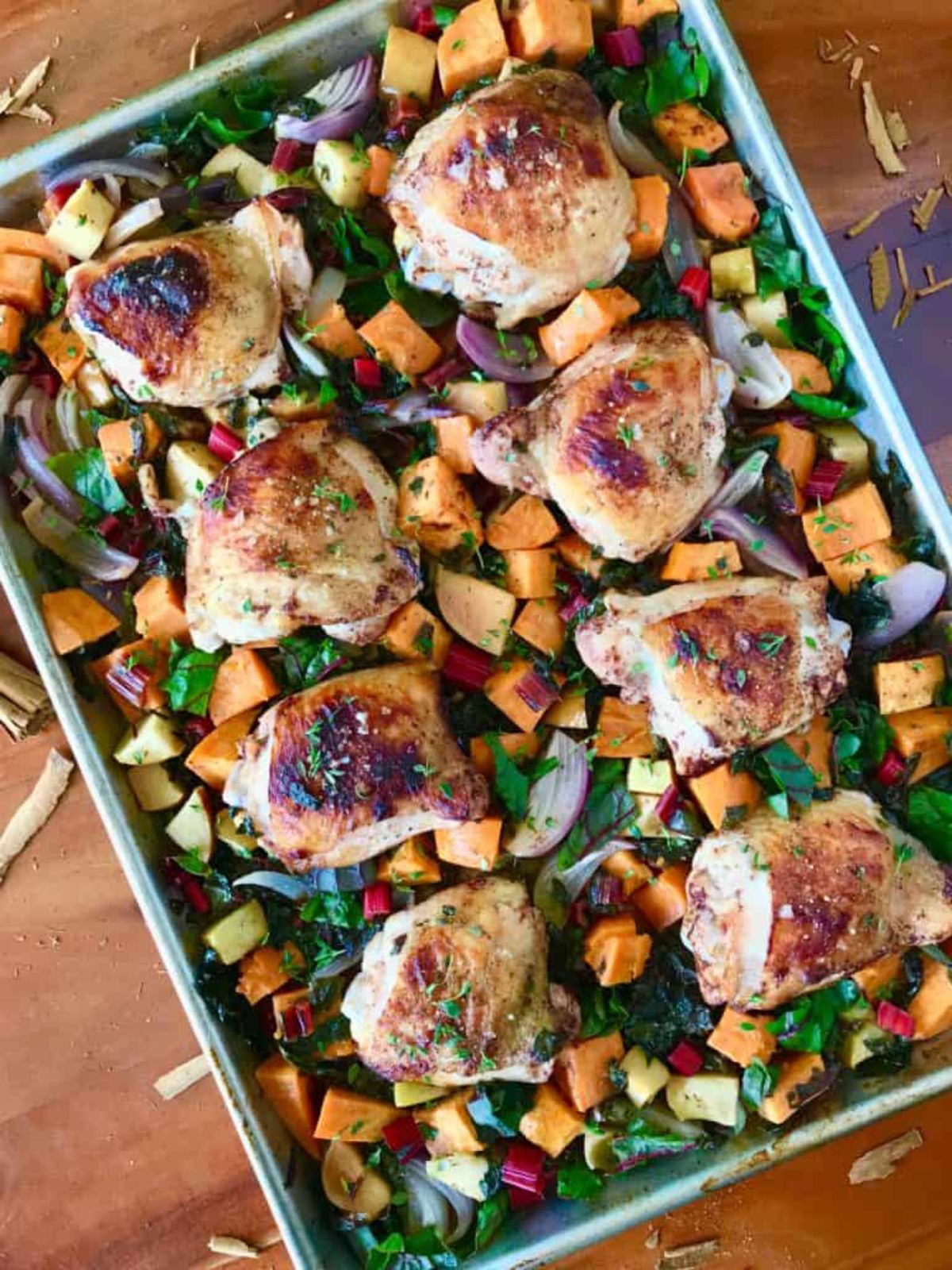 I love a sheet pan meal where you can pile all your components into a pan, and throw it in the oven, resulting in a deliciously moist and flavorsome mix of ingredients. This meal from Paleo Gluten-Free Guy certainly delivers on the flavor front, as well as being so easy to prepare.
BLueberry balsamic chicken thighs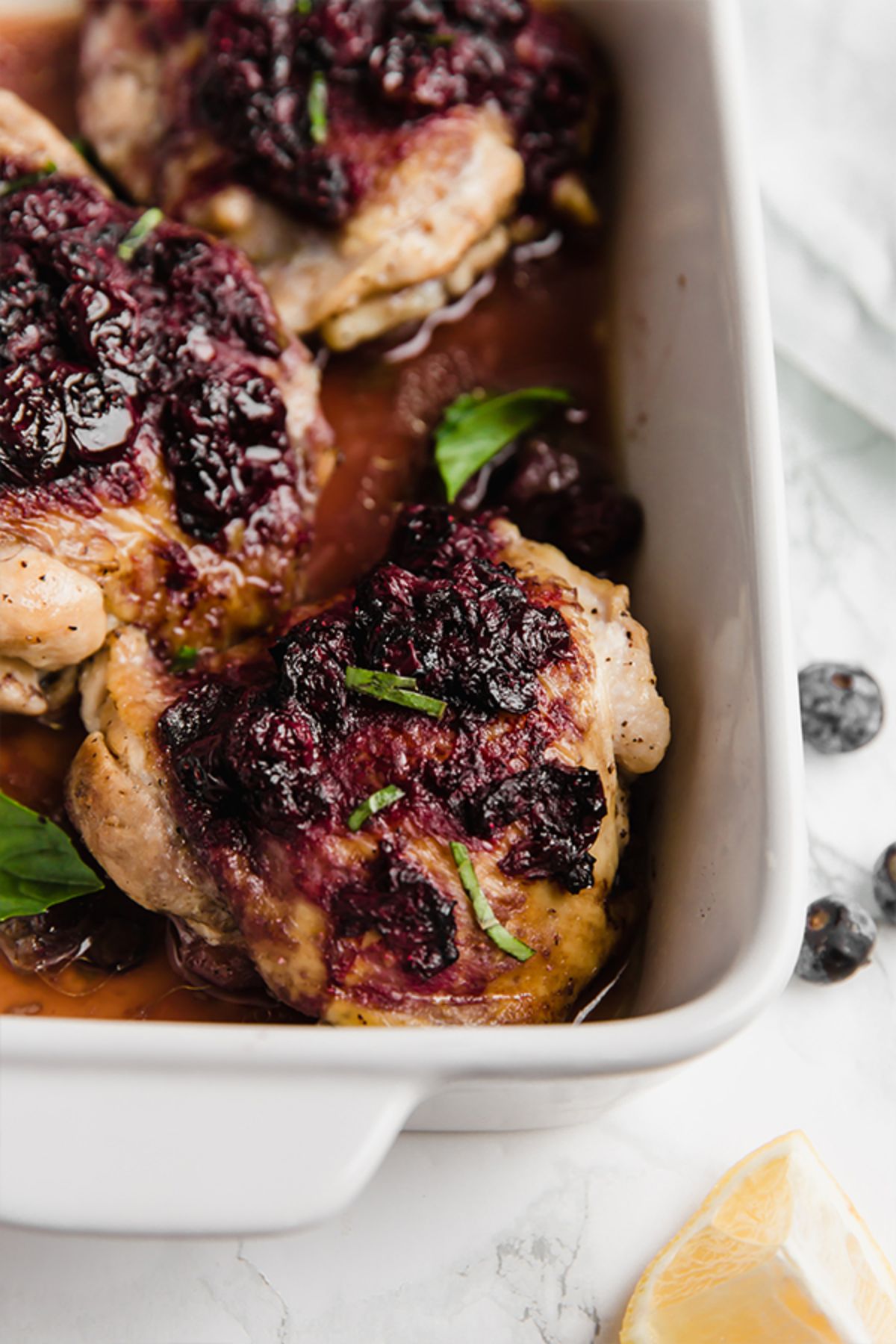 Balsamic glazes are the perfect combination of sweet and savory to wake up your tastebuds at supper. This blueberry balsamic chicken recipe from Unbound Wellness feels like summer. It's paleo-friendly and makes a nice change from burgers at the barbecue.
Braised chicken thighs with lemon and olives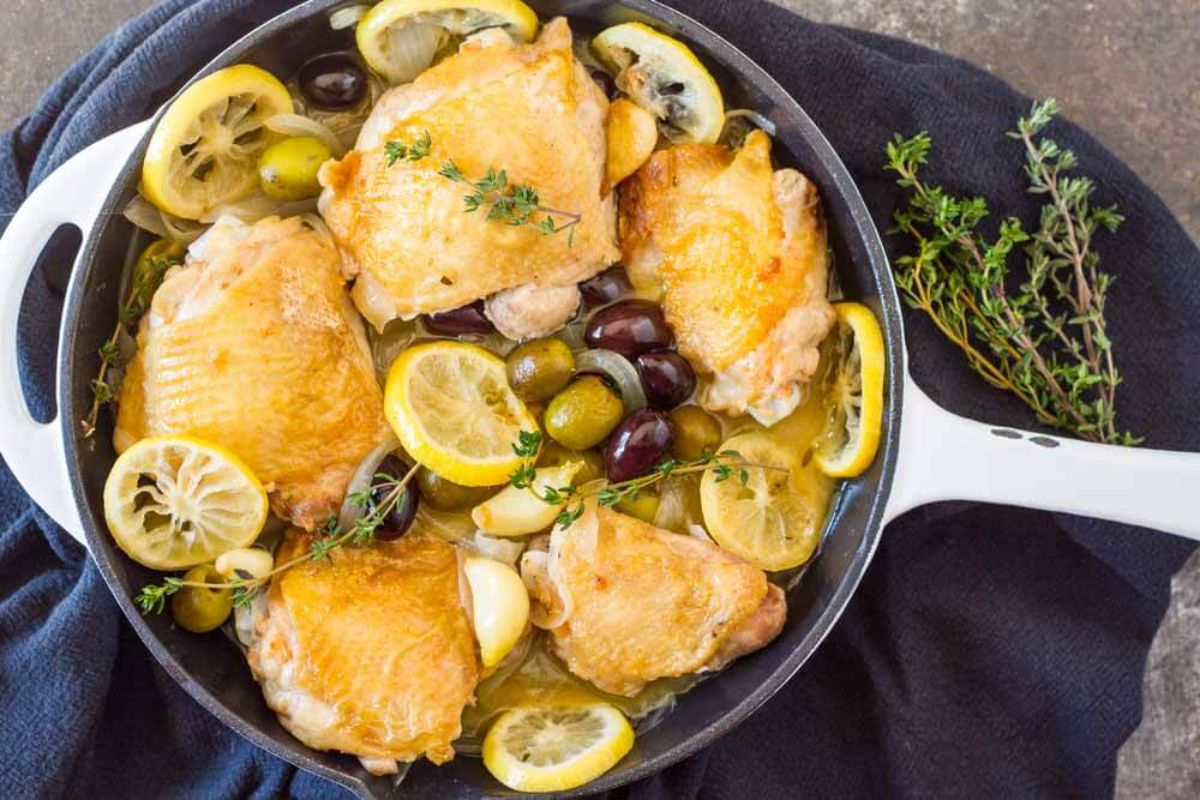 This tangy and tender lemon and olive chicken thigh recipe from Savory Lotus is a 15-minute meal that even the most novice of chefs can make. Pour the sauce over the chicken and the veggies on your plate and you'll be pretty smug about your life choices.
Spicy honey and lime chicken thighs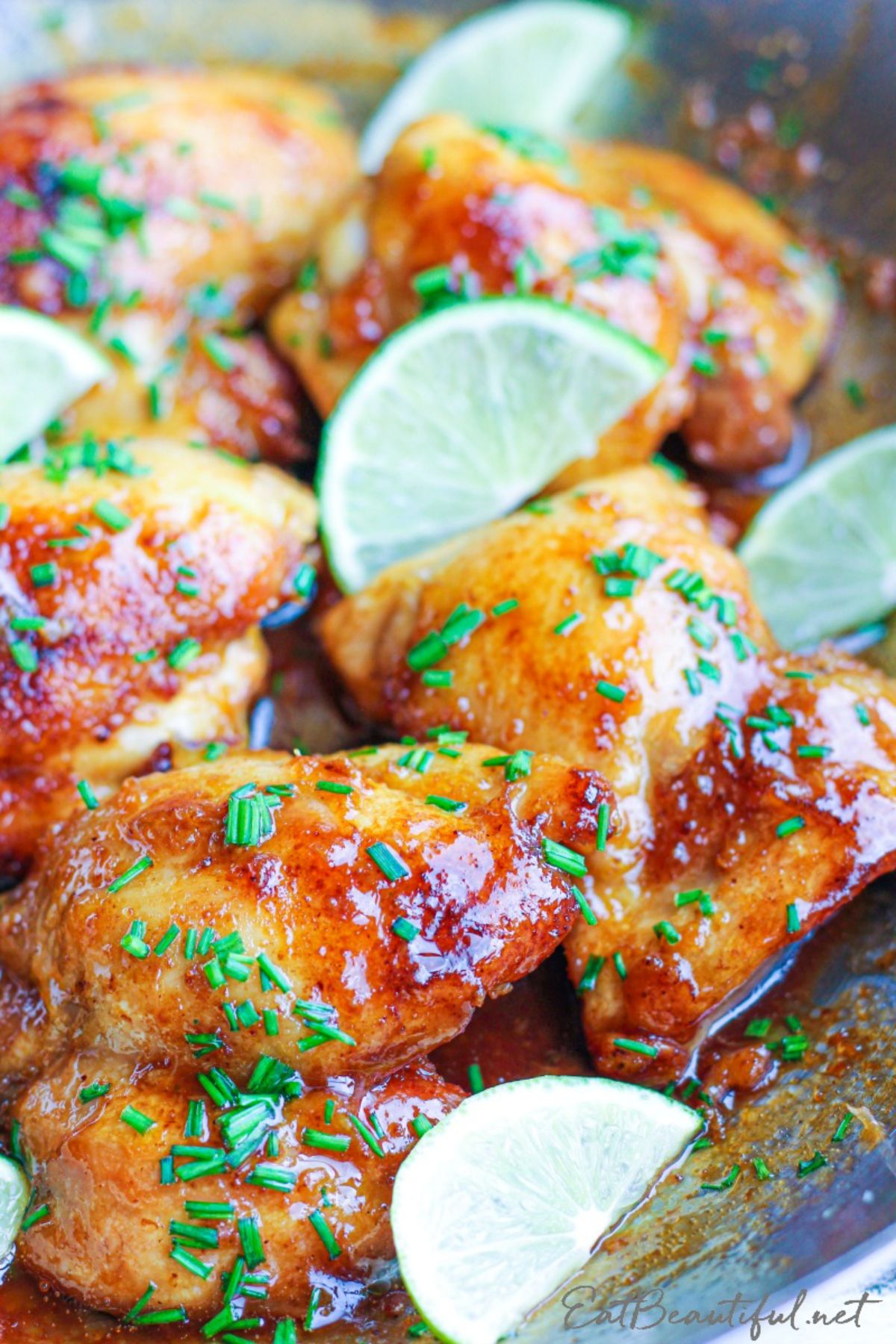 If you'd rather pack some heat into your protein, then this paleo recipe from Eat Beautiful is more your style. With variations to cater for your keto, AIP, paleo, gluten-free and low-carb friends, you can serve it to anyone, and they'll lvoe it.
Creamy bacon mushroom chicken thighs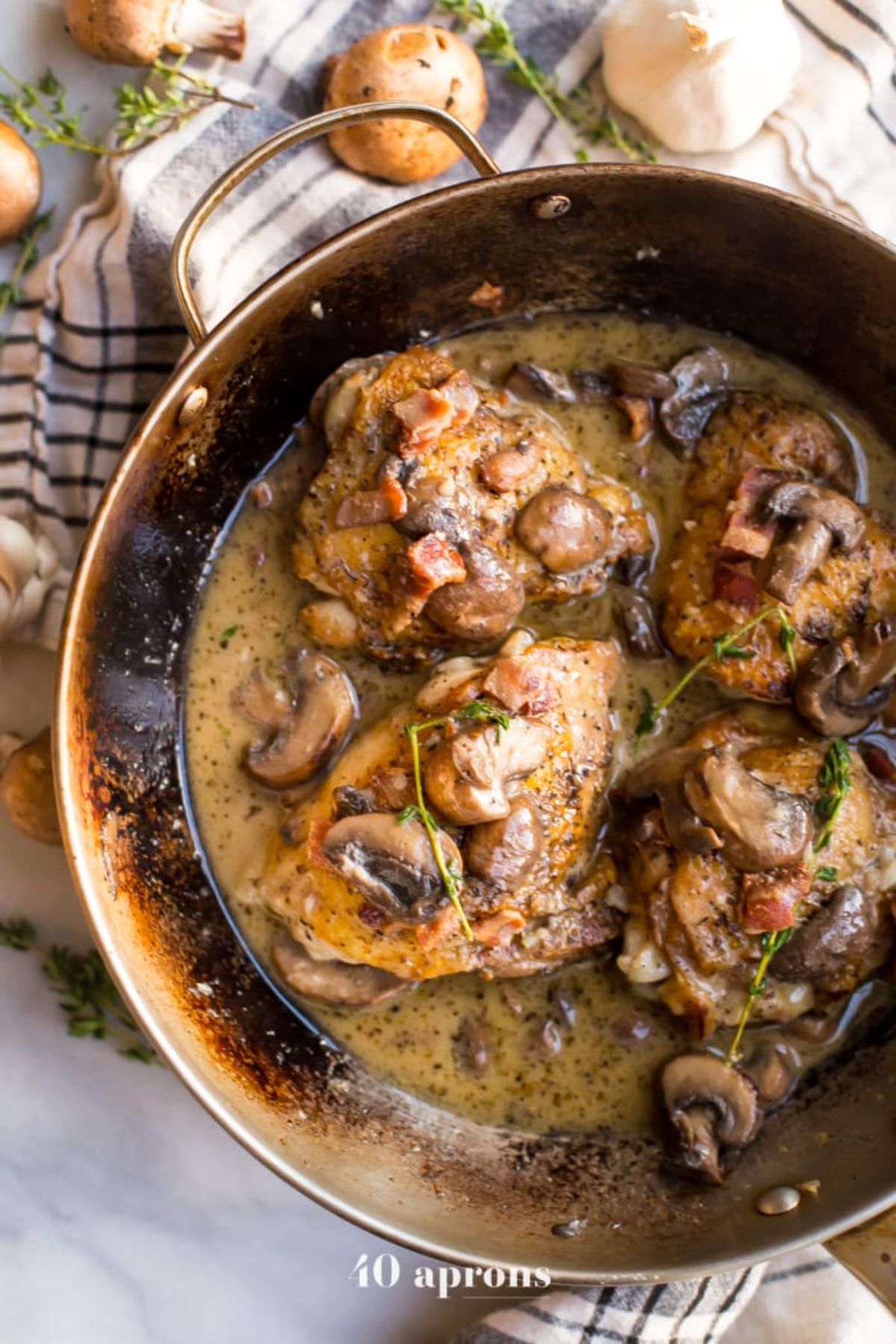 This recipe from 40 Aprons will quickly become your new favorite. Tender juicy chicken, surrounded by a creamy and rich sauce, complete with salty bacon, it fits both comfort food and dinner party criteria.
Balsamic peach chicken thighs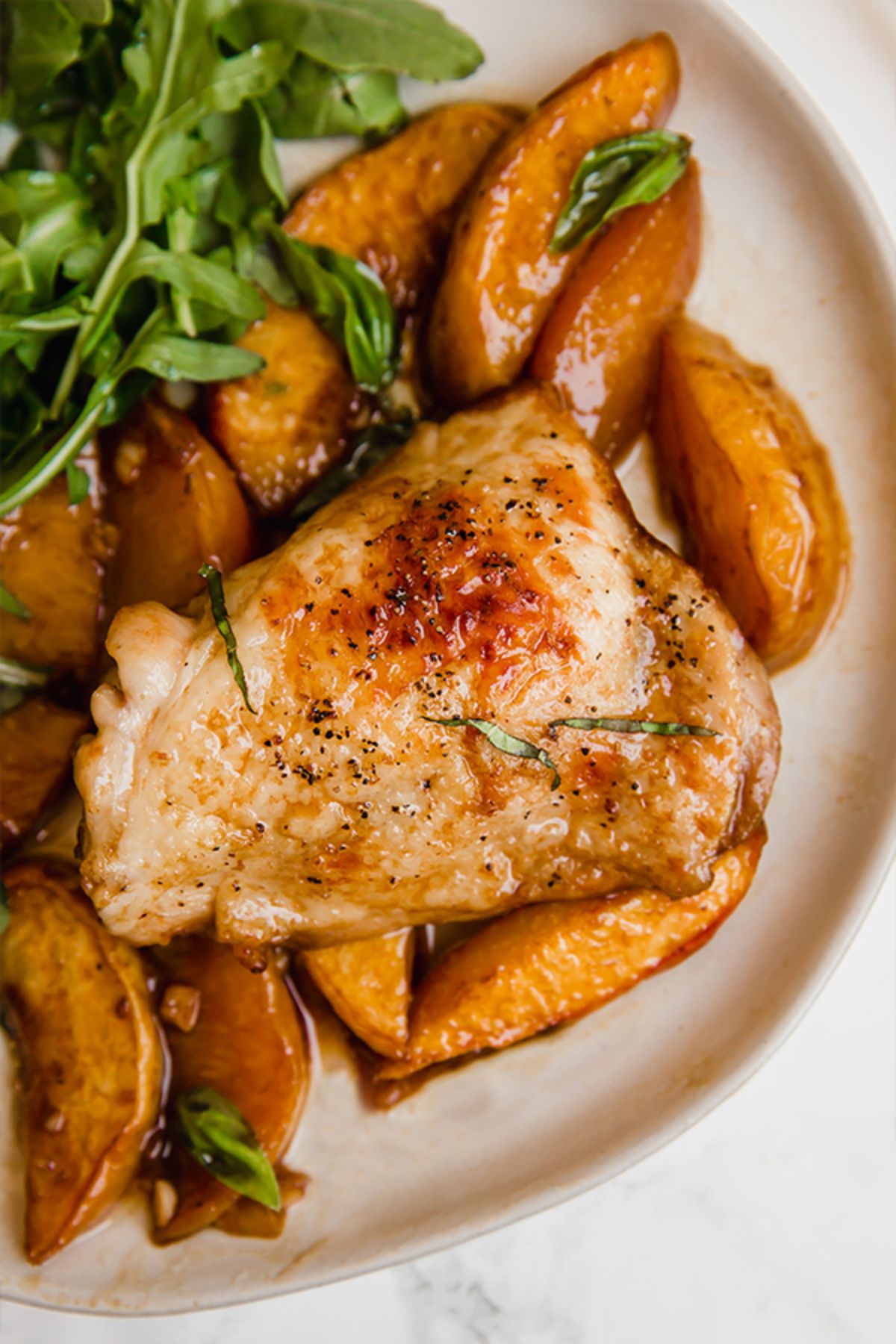 We're breaking out the balsamic again with Unbound Wellness's one-pan peach chicken thighs. It's a gorgeous combination and gives you a paleo summer supper that you can serve with your favorite paleo-friendly side.
Crock Pot orange chicken thighs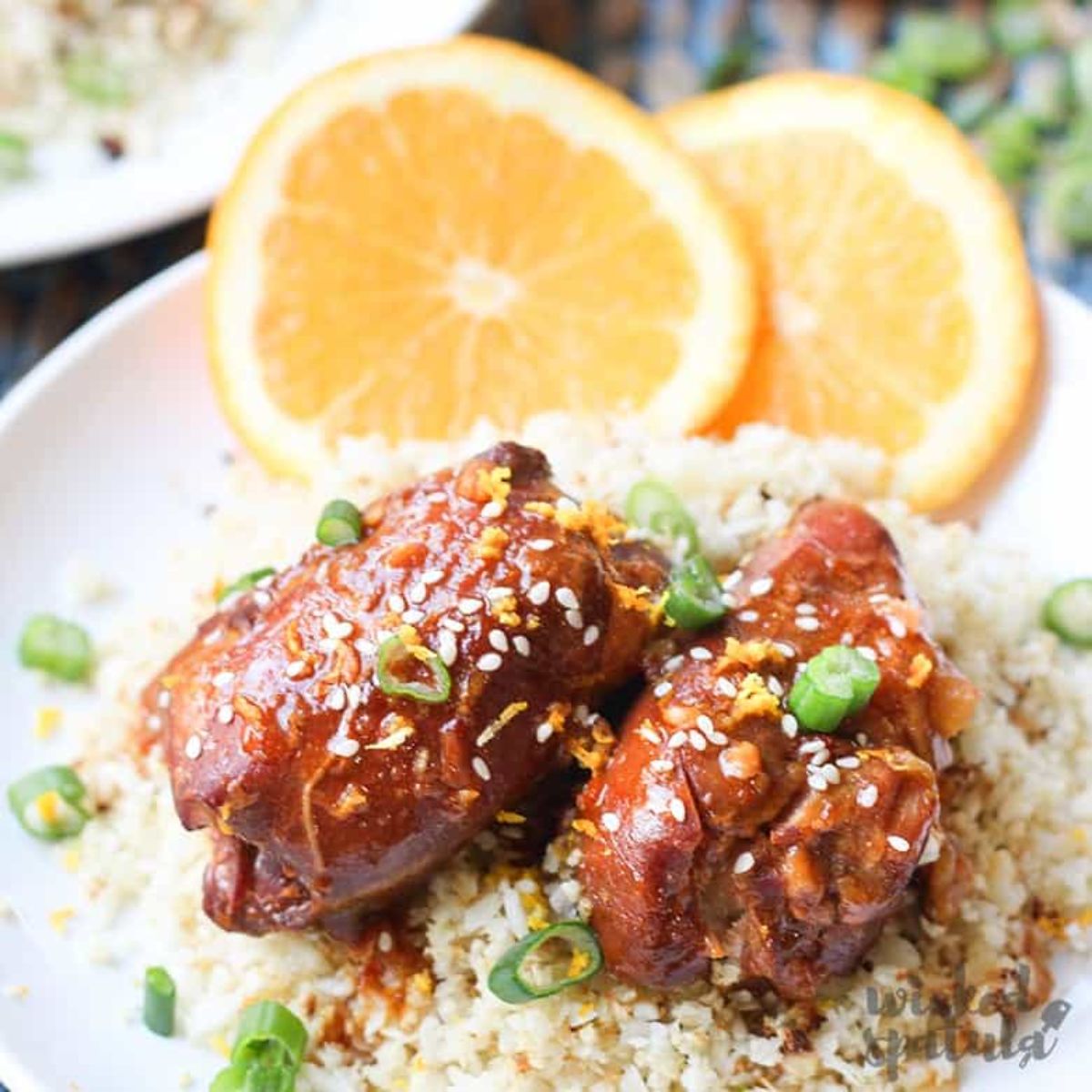 With the tang of orange marmalade, our slow cooker recipe is just the right amount of sweet (whilst still being paleo compliant. Fresh and light, rather than sickly, this orange chicken can sit in the slow cooker all day until you're ready to eat.
One-pan chicken thighs with apples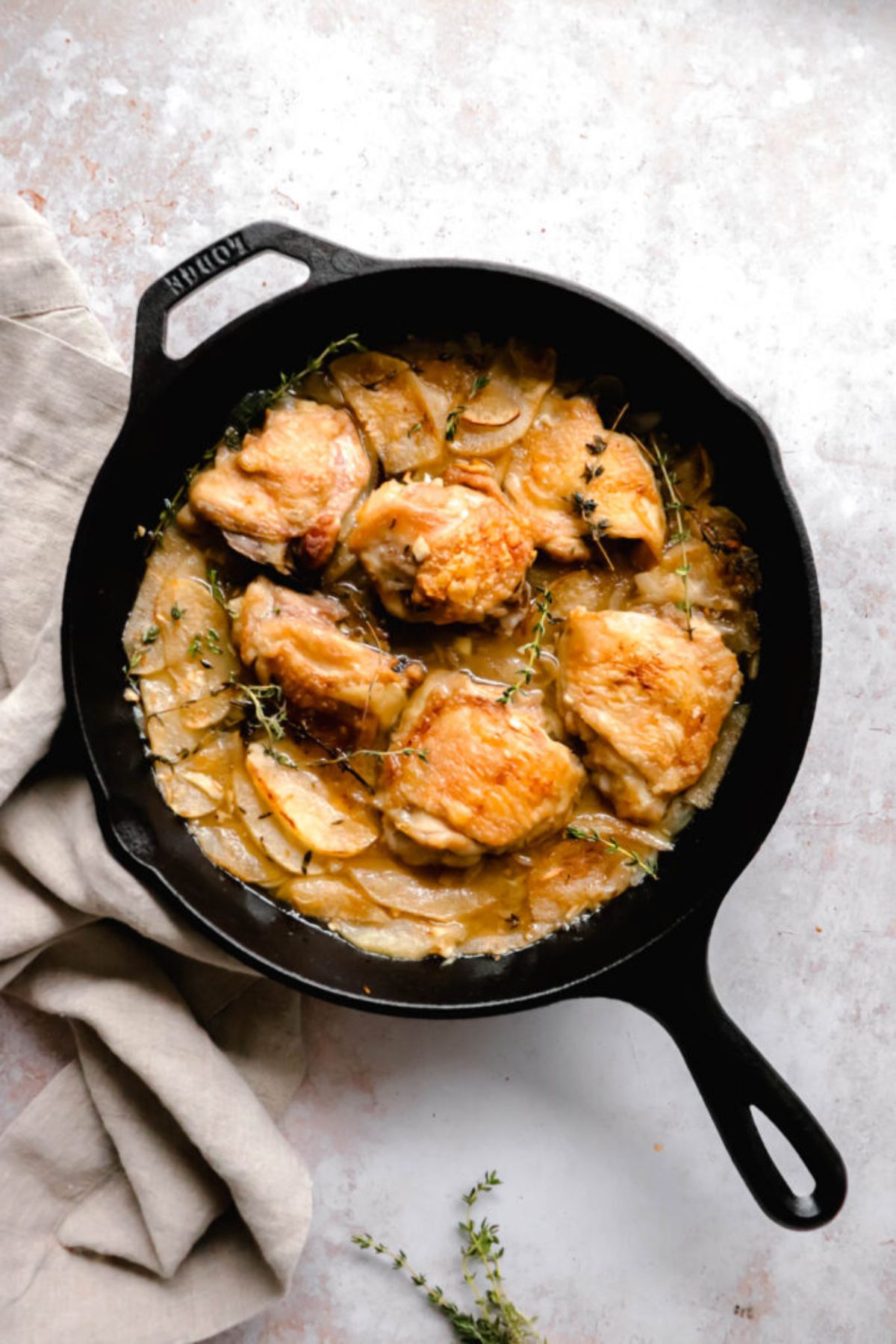 Chicken thighs with apples are a delicious combination. Heal Me Delicious adds cinnamon, bay leaves, and thyme into the mix, to create a gorgeous flavor profile that you'll love.
Creamy garlic herb chicken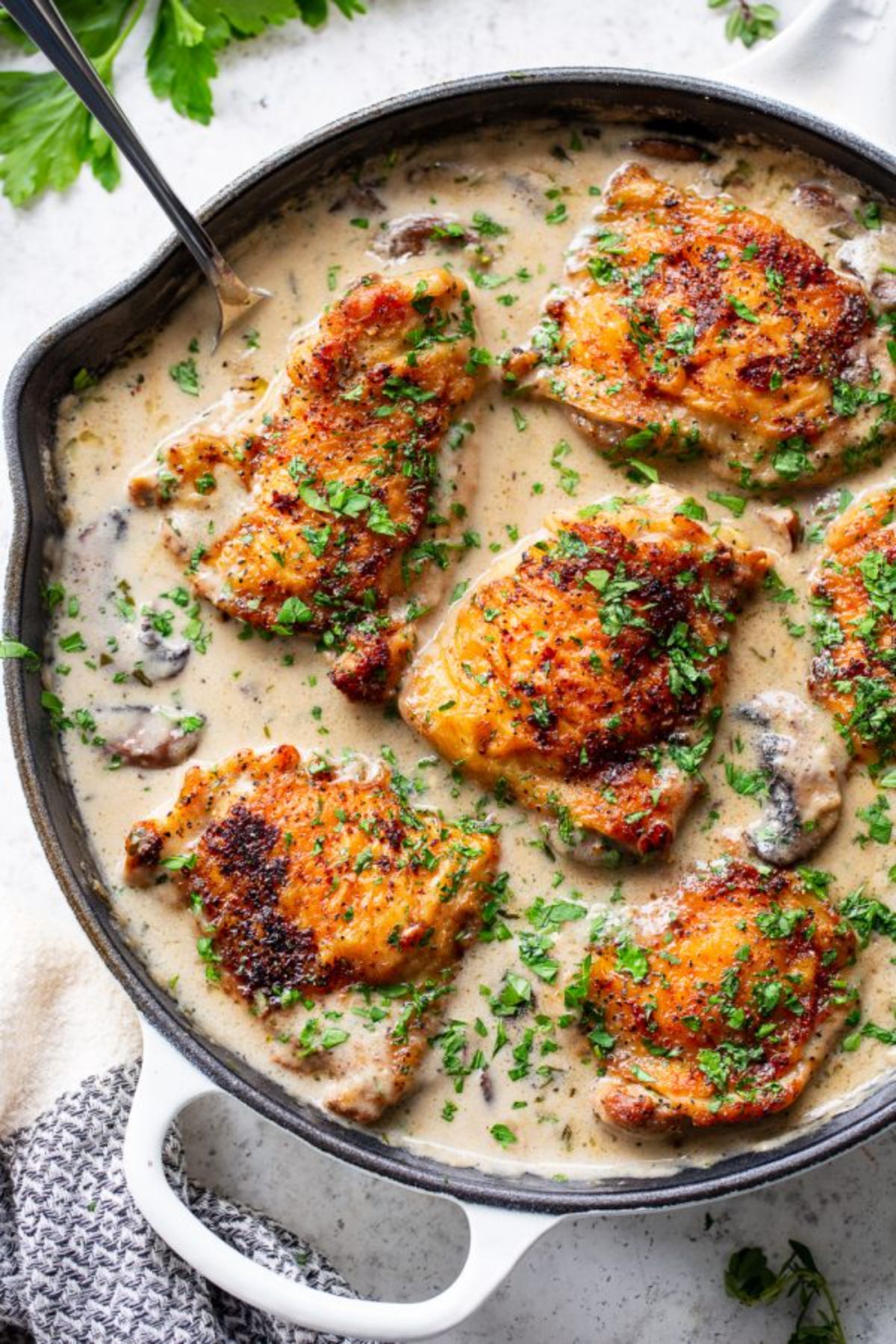 Paleo Running Momma has created such a delicious creamy sauce for this chicken dish that you'd never notice it was dairy-free! Pair it with fresh veggies, or cauliflower rice and you have a comforting supper for all the family.
Crispy garlic chili chicken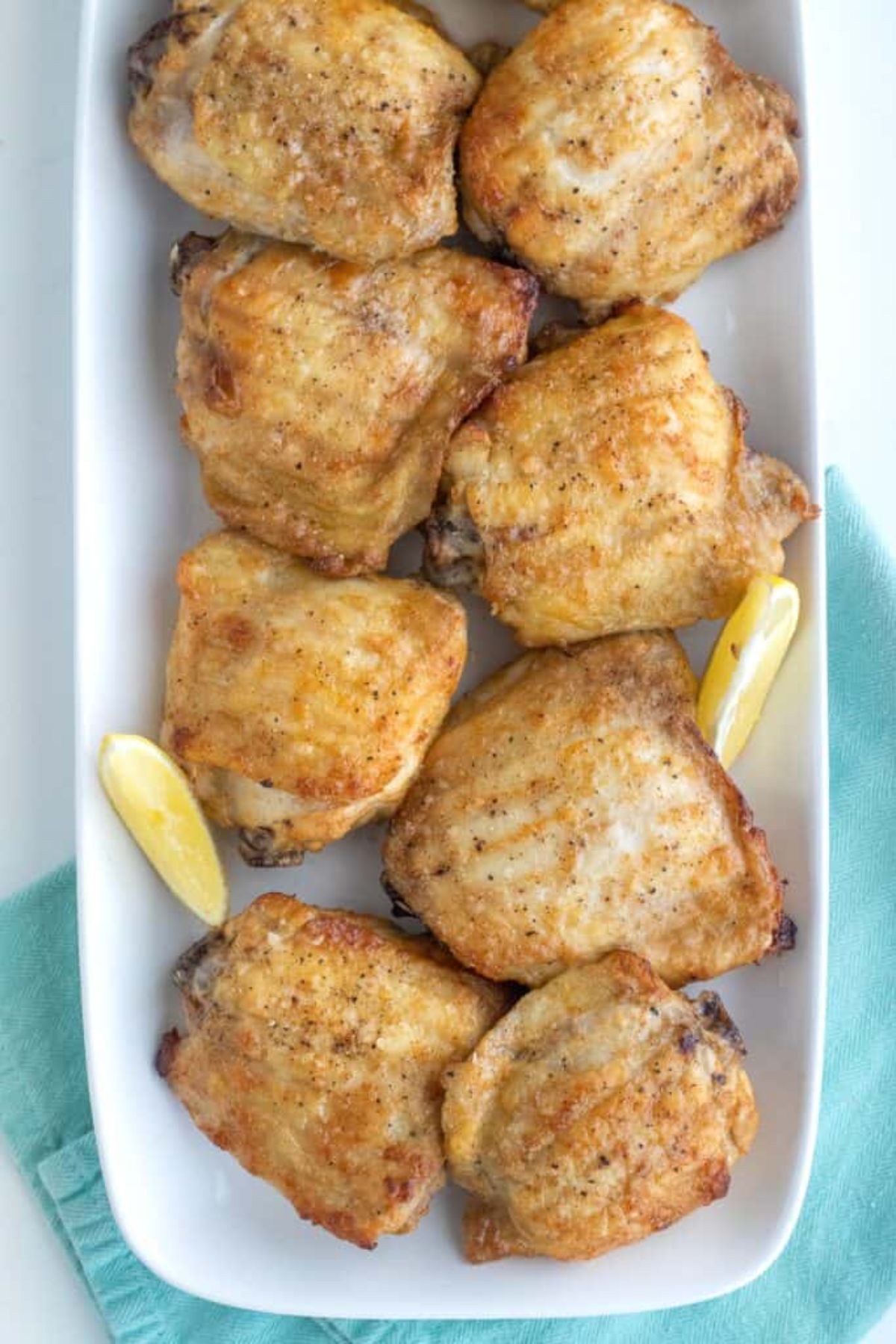 You can't get much simpler than Fixed On Fresh's garlic chili chicken thighs. Marinated and then baked, these paleo-friendly beauties pack a punch, and they'll pair oh so well with a fresh green salad.
Cilantro lime chicken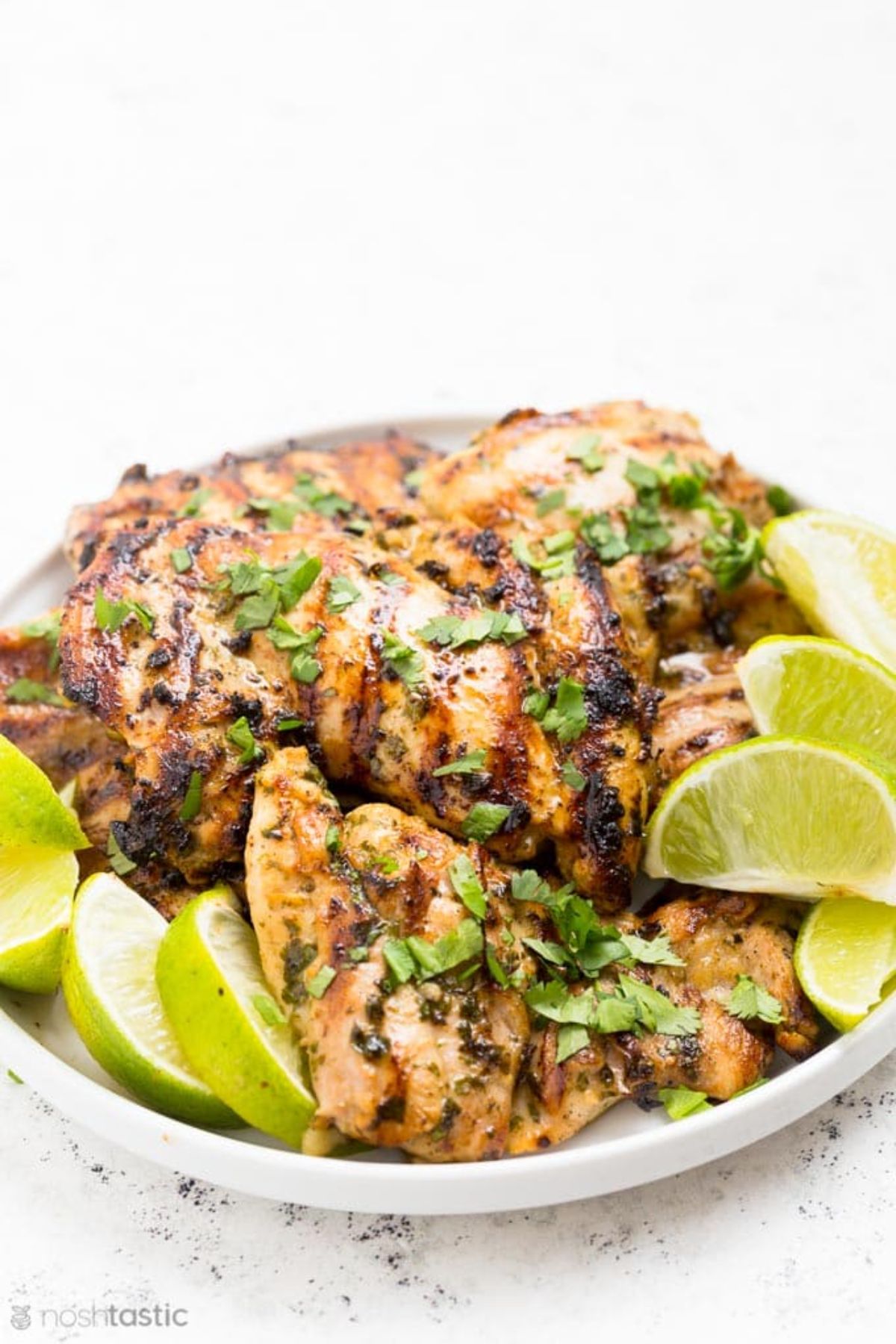 This delicious and deliciously simple marinade from Noshtastic can be used for baked, grilled, or slow-cooked chicken. Take your pick and enjoy your paleo-friendly supper!
Sweet Korean paleo chicken thighs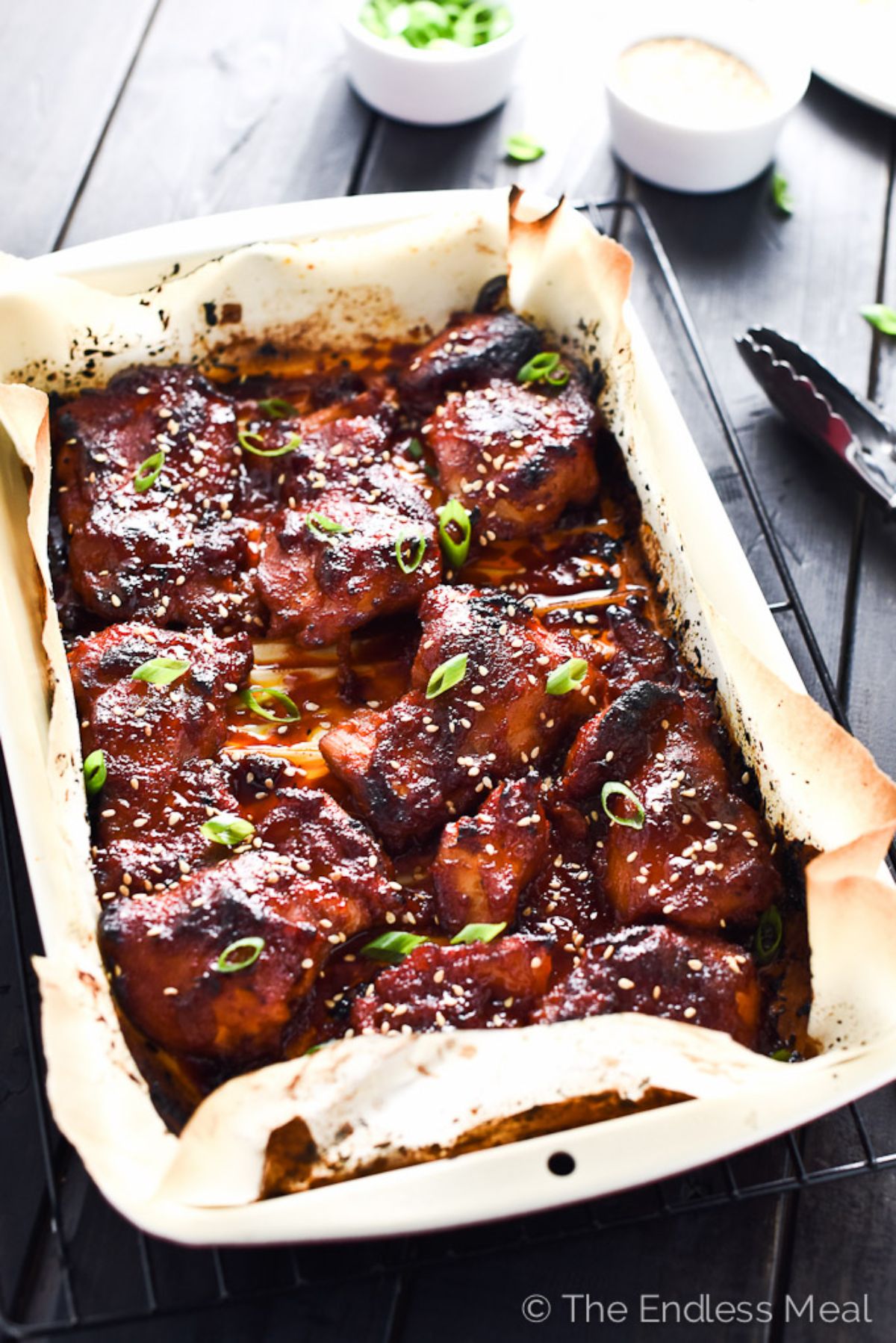 The sweet and sticky sauce that these chicken thighs are marinated in will have you dreaming about it long after the plates are clean. The Endless Meal serves them with cauliflower rice to soak up more of the yumminess.
Air-fryer lemon pepper chicken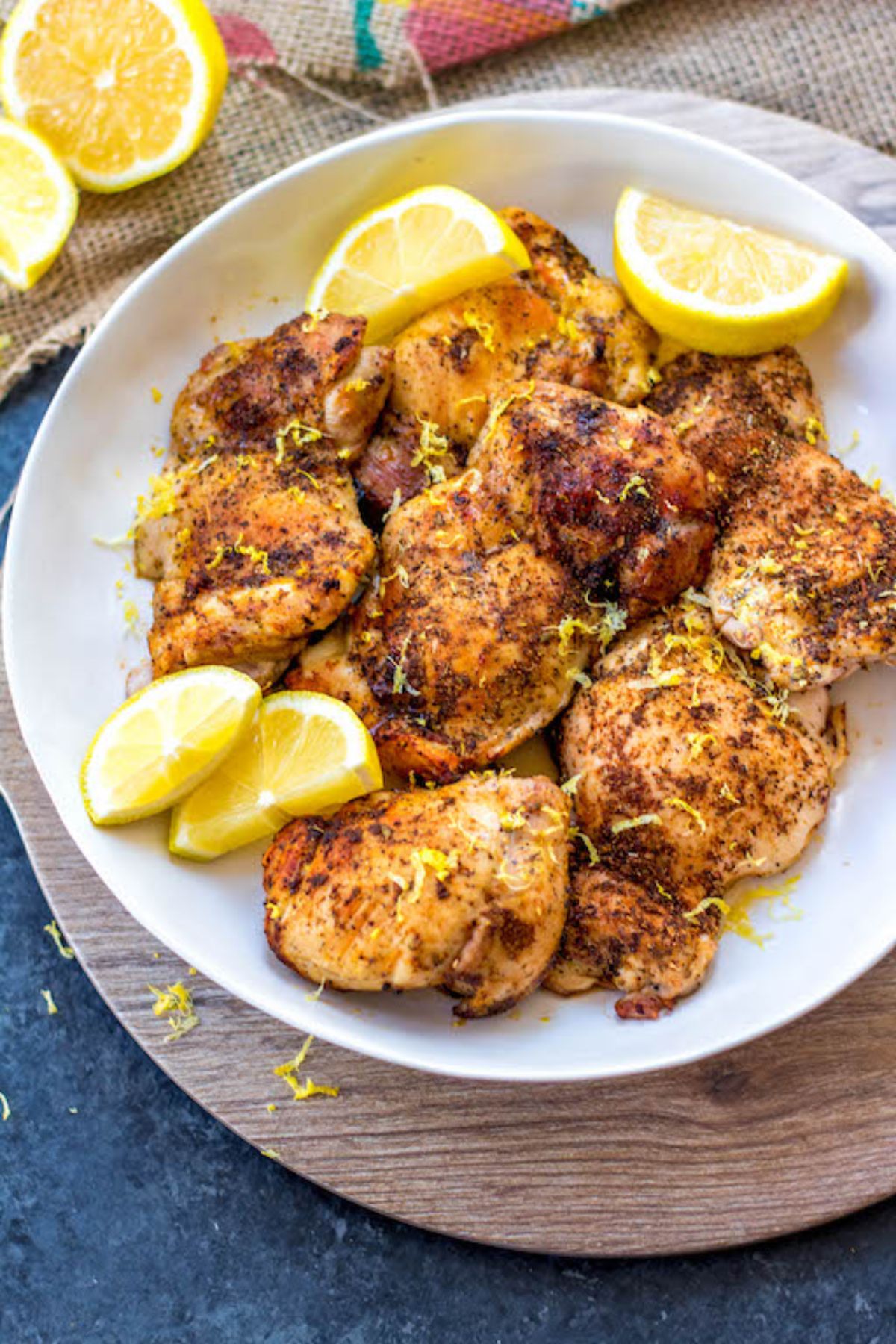 Crispy on the outside and tender in the middle, these chicken thighs from Whole Kitchen Sink are a testament to the wonder that is the air-fryer. So quick and easy, the spicy and zesty meat pairs well with almost any paleo side you can whip up!
RECIPE CARD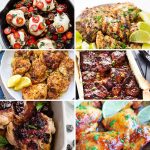 Paleo Chicken Thighs Recipes
A collection of paleo friendly and delicious chicken thigh recipes perfect for any weeknight meal.
Ingredients
Please ensure Safari reader mode is OFF to view ingredients.
Authentic Greek Lemon Chicken

Easy Thai Baked Chicken

One-Skillet Caprese Chicken

Sage And Thyme Crispy Chicken Thighs

Sheet Pan Apple Cinnamon Chicken

Blueberry Balsamic Chicken Thighs

Braised Chicken Thighs With Lemon And Olives

Spicy Honey And Lime Chicken Thighs

Creamy Bacon Mushroom Chicken Thighs

Balsamic Peach Chicken Thighs

Crock Pot Orange Chicken Thighs

One-Pan Chicken Thighs With Apples

Creamy Garlic Herb Chicken

Crispy Garlic Chili Chicken

Cilantro Lime Chicken

Sweet Korean Paleo Chicken Thighs

Air-Fryer Lemon Pepper Chicken
Click to convert between US & metric measurements:
Instructions
More TIPS about this paleo recipe in the post above!
Whether you use skin on bone in chicken or boneless skinless chicken thighs, this list of recipes is sure to bring tons of flavor to your dinner table.
© Copyright Wicked Spatula. We'd LOVE for you to share a link to this recipe, but please DO NOT COPY/PASTE the recipe instructions to social media or websites. You may share a photo with a link back instead.
Did you make this recipe?
Click here to leave a comment + star rating! ★★★★★
Then, share a pic on Instagram. Tag @wickedspatula or #wickedspatula!