Paleo pork belly tacos are so satisfying, you can't help but devour every last morsel! The showstopper of this pork belly taco recipe is the green onion sauce with pickled watermelon rind. You are going to fall in love at first bite.
This pork belly taco recipe is perfect for any time of year! Plus, these tacos are a great way to add some pizzazz to your typical recipes. I often find myself craving them, and because they are so easy to make, I can whip up a batch in no time.
Mexican pork belly tacos with watermelon rind are a bit different from your usual tacos, though. This flavor combo is really fun and unique. Hard to believe they are paleo! I also have a variation for low carb, so check that out below.
What Is Pork Belly?
Pork belly is a boneless cut of meat that is not cured, smoked or sliced. It's super tender and juicy!
Often, people hear the word belly and think that means it comes from the stomach of the pig, but that's not quite accurate. It comes from the fatty meat from the underside of the pig, not necessarily the stomach.
What Is The Difference Between Pork Belly And Bacon?
The difference between pork belly and bacon is how it is prepared. Bacon is cured and smoked while pork belly isn't.
Both bacon and pork belly comes from the same part of the pig, the belly. The belly is the flesh of the underside of the pig, precisely where you would imagine the belly to be.
If you take pork belly and cure it, brine it and smoke it, you'll end up with bacon!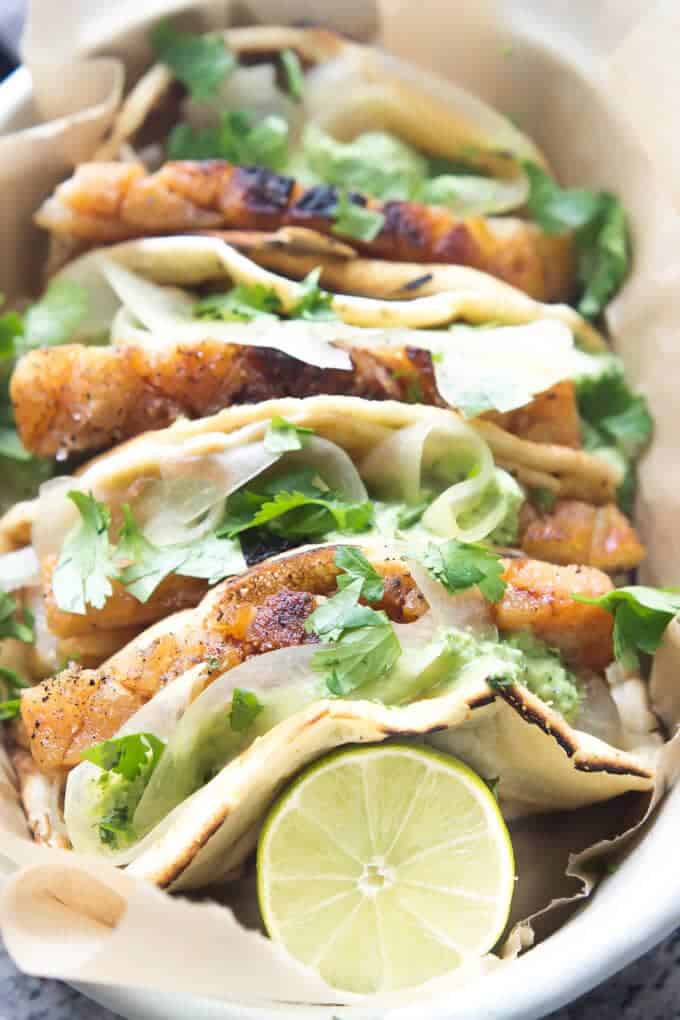 How To Make Pork Belly Tacos With Watermelon
There are three parts in making this crispy pork belly taco recipe: the pickled watermelon, the pork belly, and the tortillas.
How To Make Pickled Watermelon
First, make the pickled watermelon. Cut the watermelon in half and remove the fruit. Save the watermelon flesh for another use.
Take the green outer skin off of the watermelon with a peeler and cut the white rind into long strips.
In a medium pot over medium-high heat, combine the salt, water, vinegar, agave, and spices. Place the rind into the mix and bring to a boil until the rind starts to soften just a bit. Turn off heat and allow to cool at room temperature. Transfer to a jar and pour the sauce over the rind until it's covered.
PRO TIP: You can use any sweetener you like. Honey or maple syrup are other paleo options in addition to agave. You can make a low carb version using stevia or even powdered erythritol.
How To Bake Pork Belly
To make the pork belly, we'll use a high temperature – 425 degrees Fahrenheit. Score the top layer of fat on the pork into a crisscross pattern.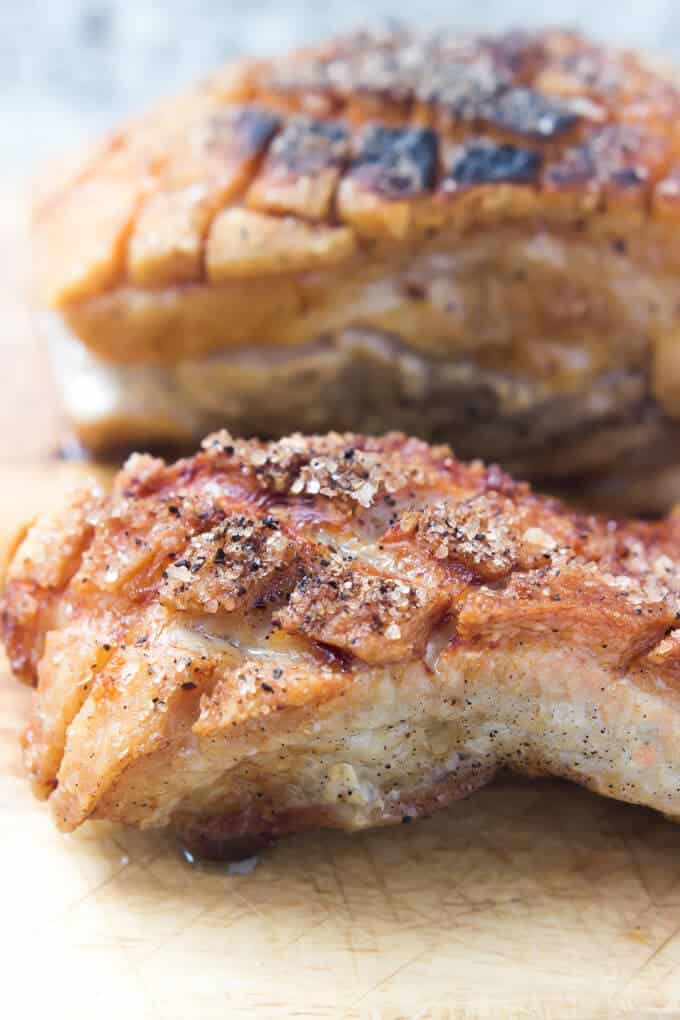 PRO TIP: When you score the pork, make sure not to pierce the meat too deeply. The point of scoring the skin is to all the excess fat to drain. Plus, if you are using a marinade, then this will allow the flavors to absorb more.
Place the meat on a baking sheet and sprinkle with salt and pepper. Bake for 30 minutes. Reduce oven temperature to 325 and cook for an additional 30 minutes.
Then finally, broil until the skin has reached the desired crispiness.
PRO TIP: Allow pork to rest for fifteen minutes before serving. This ensures that it will be super juicy!
Which Tortillas To Use?
Lastly, you will want to make a batch of tortillas. For this recipe, I used the same tortilla in my Bang Bang Shrimp Tacos and they hold up great!
Or if you would rather skip tortillas, this pork belly tastes impressive by itself. They are delicious on appetizer skewers like this: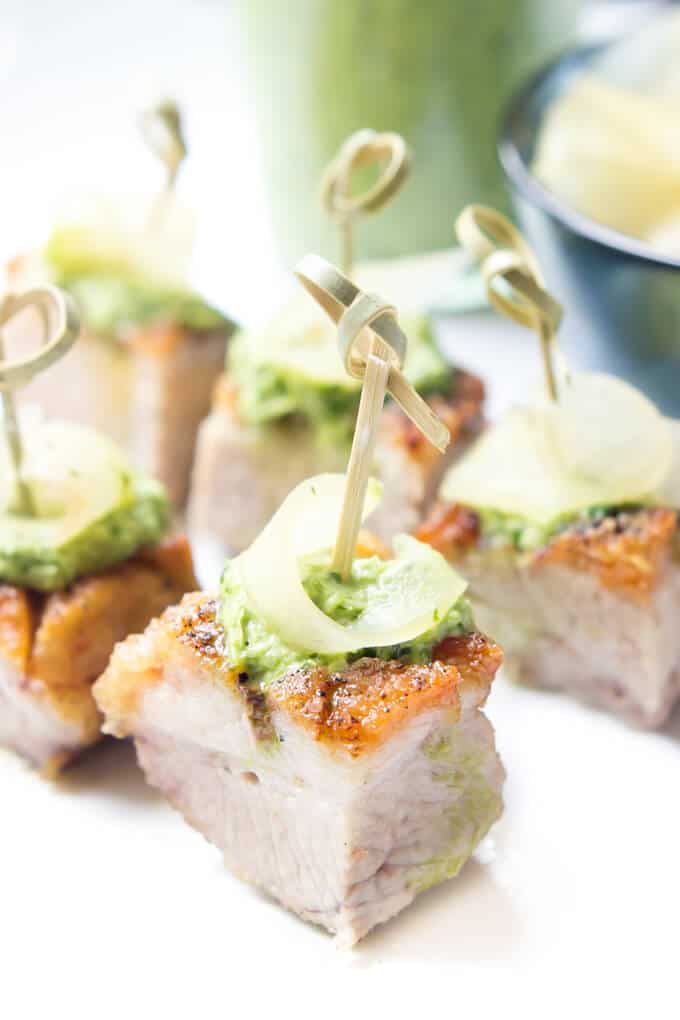 Optional Topping Ideas For This Pork Belly Taco Recipe
Looking for things to add to your paleo pork belly tacos? Try these:
Guacamole or Avocado – Adds a creamy texture to the tacos.
Salsa or Pico de Gallo- Here is a homemade Pico de Gallo recipe, or you can use your favorite store-bought salsa.
Lime Wedges – Limes compliment the flavor of the pork beautifully!
Red Onions – They have a mild to a sweet flavor that goes well on any tacos.
Fresh cilantro – Can you really eat a taco without cilantro? Add as much as you like!
Tomatoes – Adding fresh produce to the tacos not only adds even more flavor, but you are getting lots of nutrients too!
How Long Will Pork Belly Tacos Last In The Fridge?
Raw, uncooked pork belly meat will last 1 to 2 days in the fridge. If you have cooked it, then it will last up to 7 days.
I don't recommend assembling the pork tacos before putting them in the fridge, because the tortillas will end up soggy. However, you can chop and prep all the ingredients ahead of time, separately.
Can You Freeze Pork Belly?
Yes, you can freeze pork belly. Whether it is cooked or raw, you can freeze it for 6-8 months.
Make sure it is in an airtight container or plastic bag. If air gets to the meat, it can discolor it and get freezer burn. It is safe to eat if it gets freezer burn, but the flavor will not be as palatable, and it will smell different.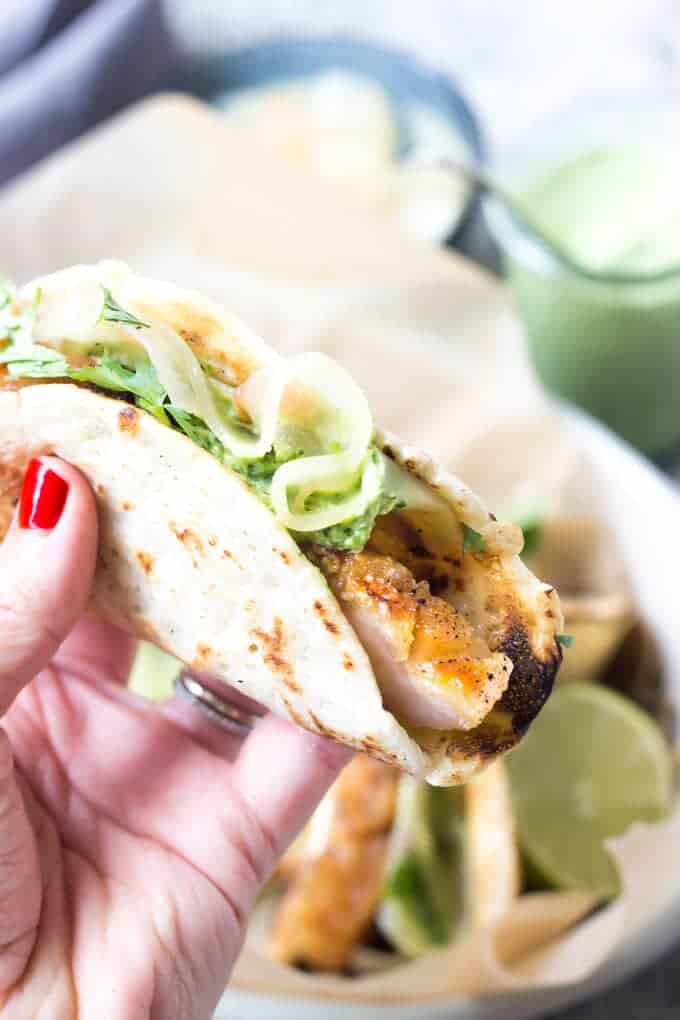 More Delicious Paleo Dinner Ideas:
RECIPE CARD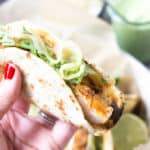 The Best Pork Belly Tacos Recipe
These EASY pork belly tacos will blow you away. Every bite of this healthy, paleo pork belly taco recipe is filled with juicy meat & green onion sauce.
Total Time
1
hour
25
minutes
Ingredients
Please ensure Safari reader mode is OFF to view ingredients.
1

batch

Paleo tortillas

(8 tortillas)

1

lb

Pork belly
Green Onion Sauce
10

medium

Green onions

1/4

cup

Avocado mayonnaise

1

tablespoon

Lime juice

1

handful

Fresh cilantro

Sea salt

(to taste)

Black pepper

(to taste)
Pickled Watermelon Rind
1/2

large

Watermelon rind

1 1/2

cup

Apple cider vinegar

1

cup

Water

6

tablespoons

Agave nectar

2

teaspoon

Sea salt

1

stick

Cinnamon

4

Whole cloves

4

Black peppercorns

2

Whole allspice
Click to convert between US & metric measurements:
Instructions
More TIPS about this paleo recipe in the post above!
Make the Pickled Watermelon:
Cut the watermelon in half. Remove the fruit from the inside and set aside for another use. Peel the green outer skin off the watermelon and using a peeler peel the white rind into long strips.

In a medium pot over medium high heat combine the vinegar, water, agave, salt, and spices. Place the rind into the mix and bring to a boil for 30 seconds - 1 minute until the rind starts to soften just a bit.


Turn off heat and allow to cool at room temperature. Transfer to a jar and pour the sauce over the rind until it's covered. Refrigerate up to 1 week.

Make the Green Onion Sauce:
Combine all ingredients in a blender and pulse until smooth. Season with salt and pepper to your taste. If it's too thick, add just a bit of water to thin out the consistency.
Make the Pork Belly:
Preheat oven to 425 degrees F. Slice the top layer of fat on the pork into a crisscross pattern making sure not to cut too deep into the meat. Season with salt and pepper and place on a wire rack on top of a baking sheet.

Bake at 425 for 30 minutes. Reduce heat to 325 and bake another 30 minutes.


If the fat still isn't crispy enough place it under your broiler for 5 minutes until golden and crispy.

Remove from oven and let sit for 15 minutes before slicing.
Assemble:
Slice the pork belly into long strips. Place each slice of pork belly into a tortilla with a dollop of green onion sauce and a few slices of pickled watermelon.
Recipe Notes
Serving size: 2 pork belly tacos, or 1/4 of the entire recipe
Note: Recipe time does not include making tortillas, but you can do that in parallel while the pork belly is in the oven.
© Copyright Wicked Spatula. We'd LOVE for you to share a link to this recipe, but please DO NOT COPY/PASTE the recipe instructions to social media or websites. You may share a photo with a link back instead.
Did you make this recipe?
Click here to leave a comment + star rating! ★★★★★
Then, share a pic on Instagram. Tag @wickedspatula or #wickedspatula!