In a world where few of us eat as many vegetables as we should, and life is busier than we'd like, smoothies have come to the rescue. With a good blender, you can throw in almost everything and end up with a fruity, delicious glass of pure health (without even really tasting the spinach!).
If your paleo smoothie recipe repertoire is getting a bit samey, never fear! Here you'll find 21 delicious ideas for your on-the-go snack. So, grab your blenders and get ready to whizz up a bright and beautiful storm!
Paleo Smoothie Recipes
Smoothies are an excellent choice for breakfast, snacks, or dessert. They can be made with so many different flavors and are super easy to customize. Don't like almond milk? Try coconut milk, hemp milk, or even oat milk instead! Need more protein? Add a paleo friendly scoop!
Need more paleo ideas? Check out these below!
Strawberry Banana smoothie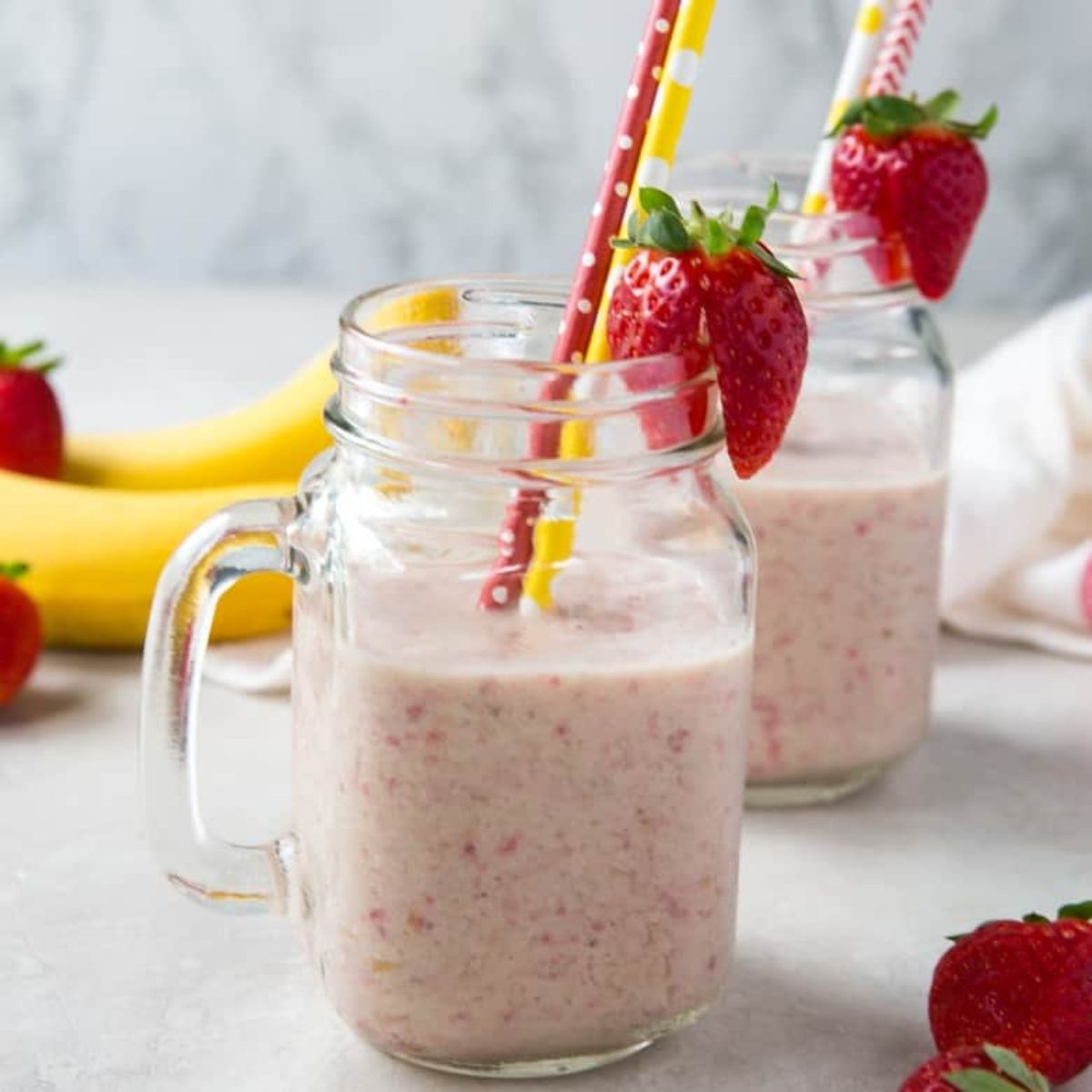 Of course, I would say that our version of the classic strawberry and banana smoothie is the best, but I'm pretty sure you'll agree with me once you've tried it! It only has 5 ingredients and it ticks the paleo, vegan, dairy, and gluten-free boxes!
Watermelon peach smoothie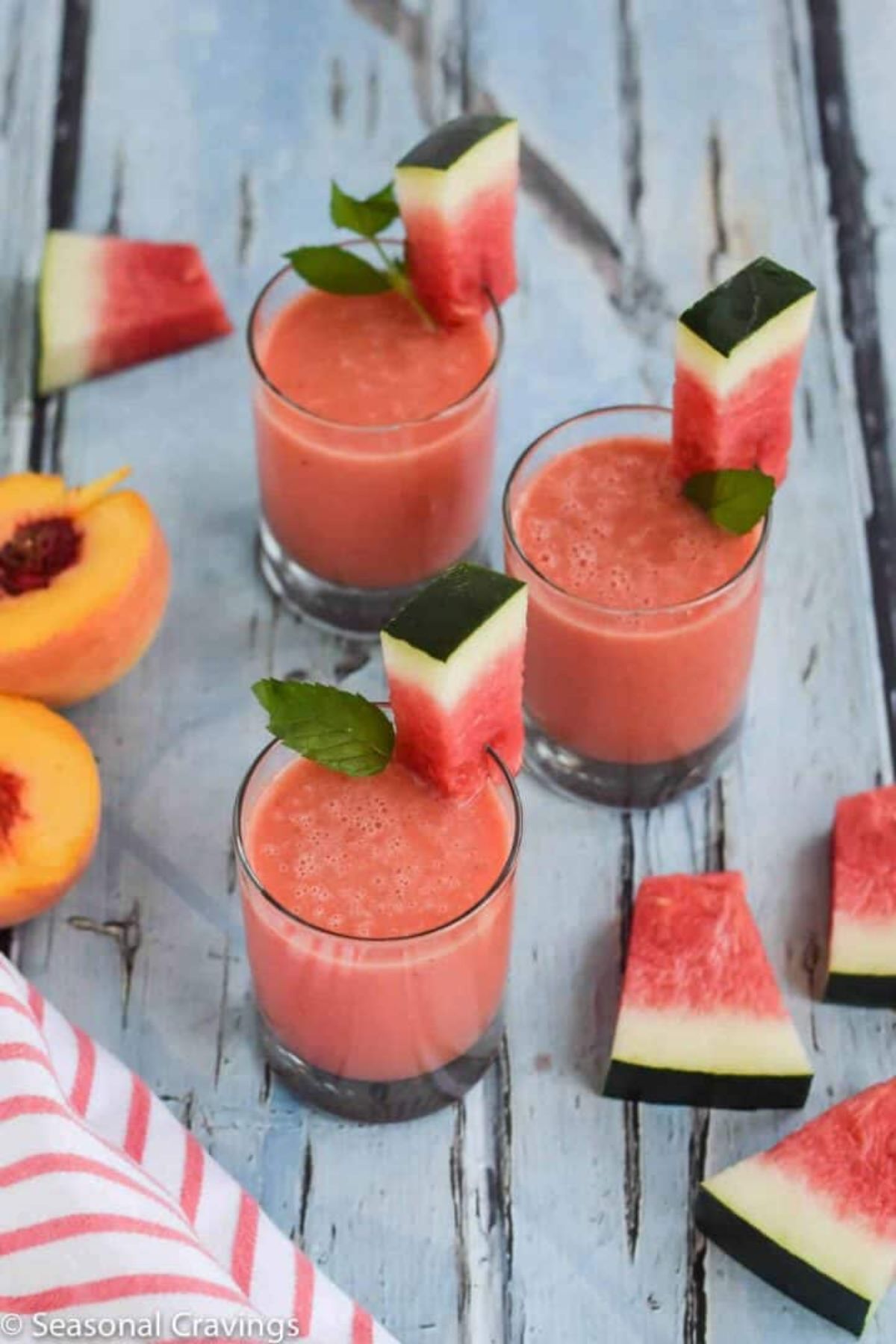 Seasonal Cravings' watermelon peach smoothie is the perfect summer afternoon snack. It will perk you up for the rest of the day and give you the best of summer vibes with every sip.
Carrot, apple, and banana smoothie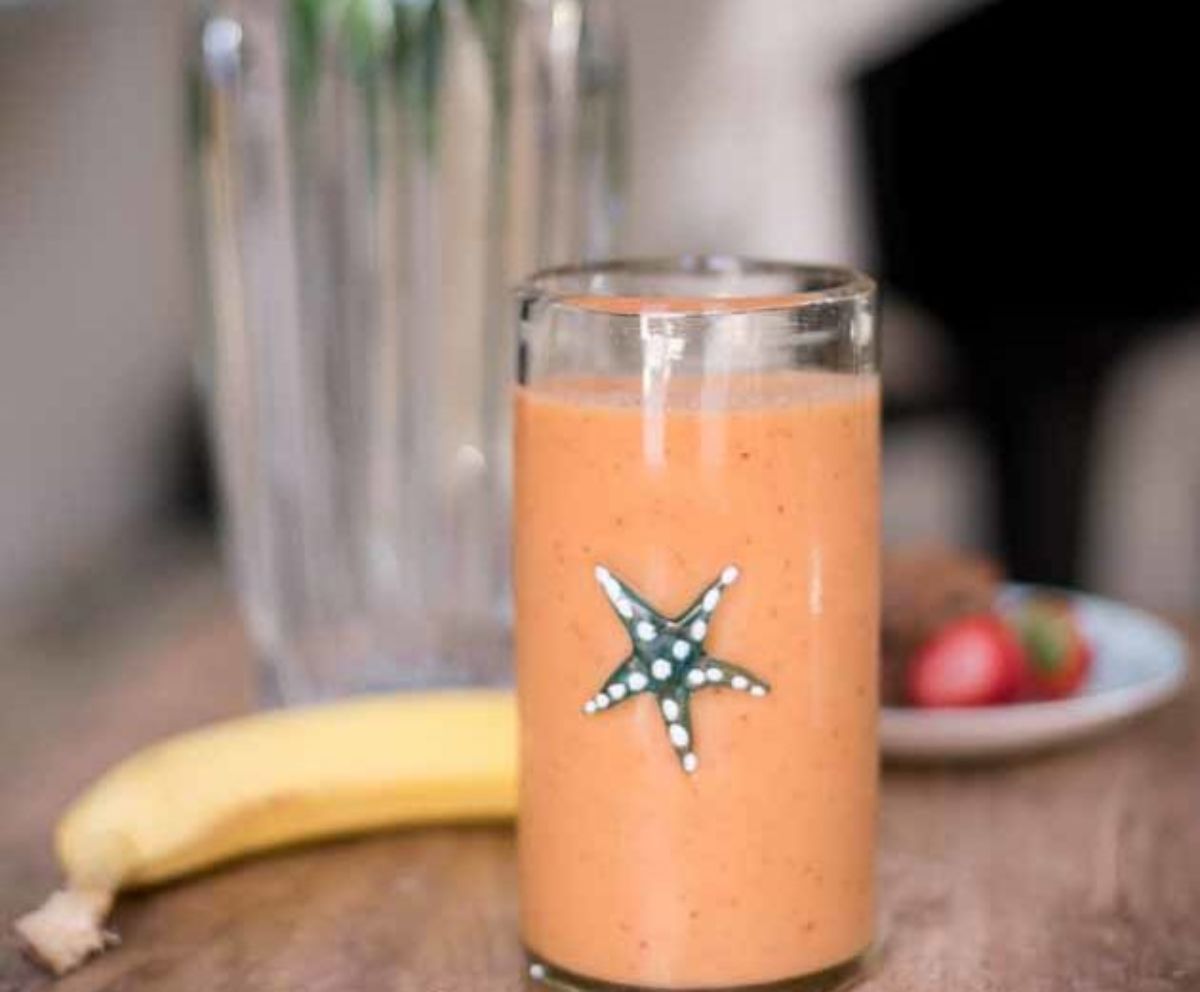 This fresh and fruity smoothie from Paleo Flourish makes me feel healthier as I eat it! Also, the golden tip of adding coconut oil to slow down the digestion of the sugar in the fruit and carrots is really helpful advice.
Kale and cherry smoothie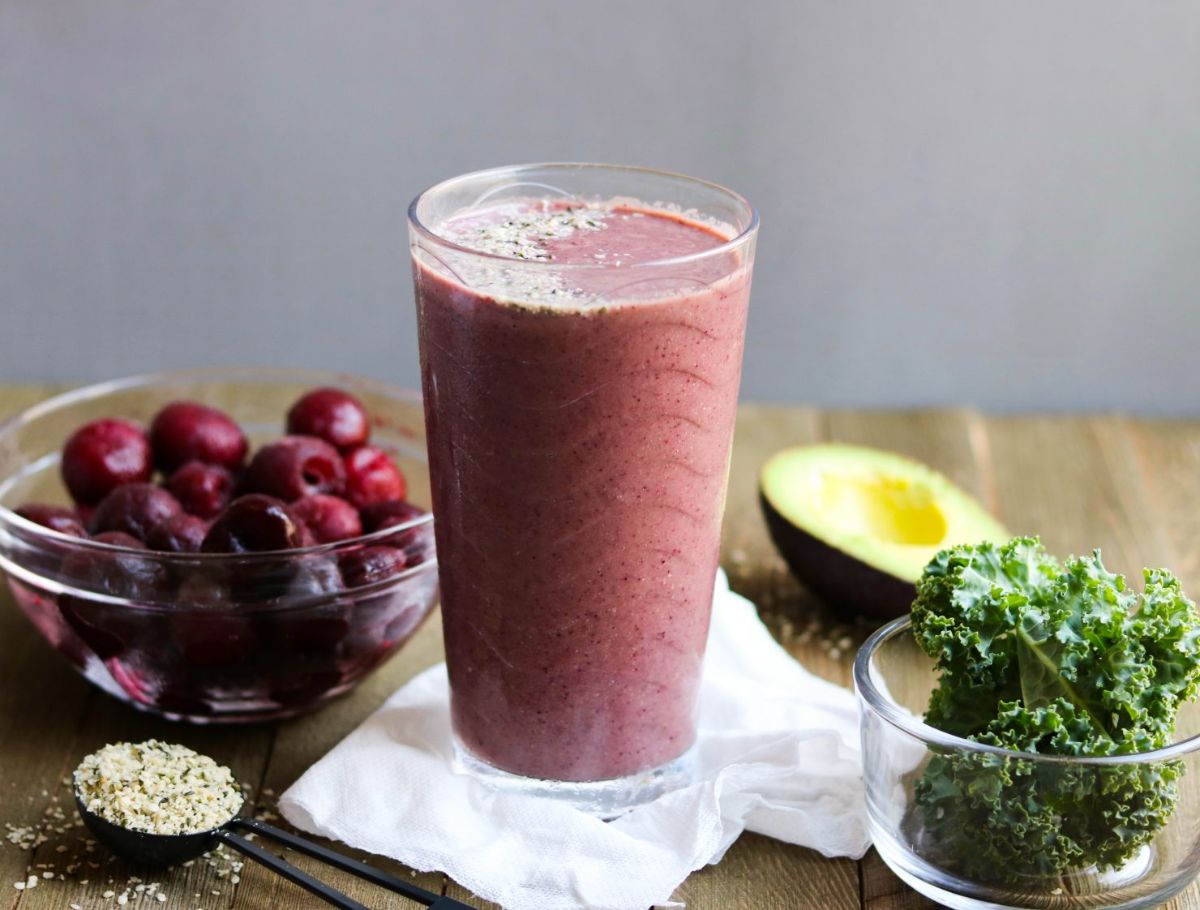 I have something to admit to you all: I'm a little bit addicted to kale. I would quite happily (and sometimes do) have it in every meal. So this smoothie recipe from Simply Fillicious is right up my street! I'm sure you'll love the flavor, and the hit of nutrients too.
Chocolate collagen smoothie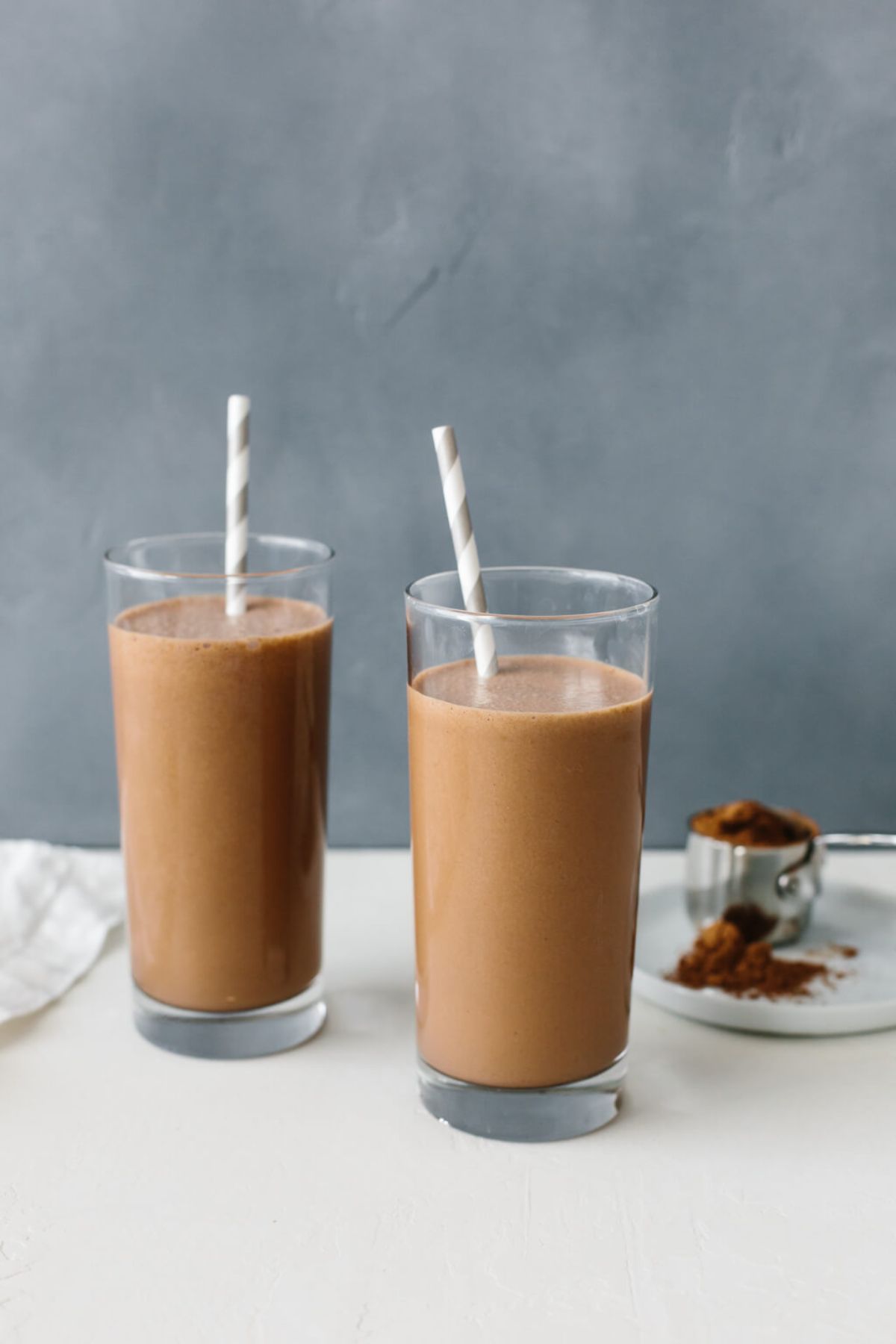 Everyone's talking about collagen right now, and so they should be. With huge benefits for your skin, hair, eyes, bones, and overall health, it's a must in any diet. So this smoothie from Downshiftology is a great way of including collagen in your food, whilst also getting your chocolate fix.
Salted mocha smoothie
This low-sugar drink is a super-healthy version of your usual Starbucks order! Hungry Hobby's salted mocha smoothie has just the right amount of caffeine to pep you up for the rest of the day.
Apple pie smoothie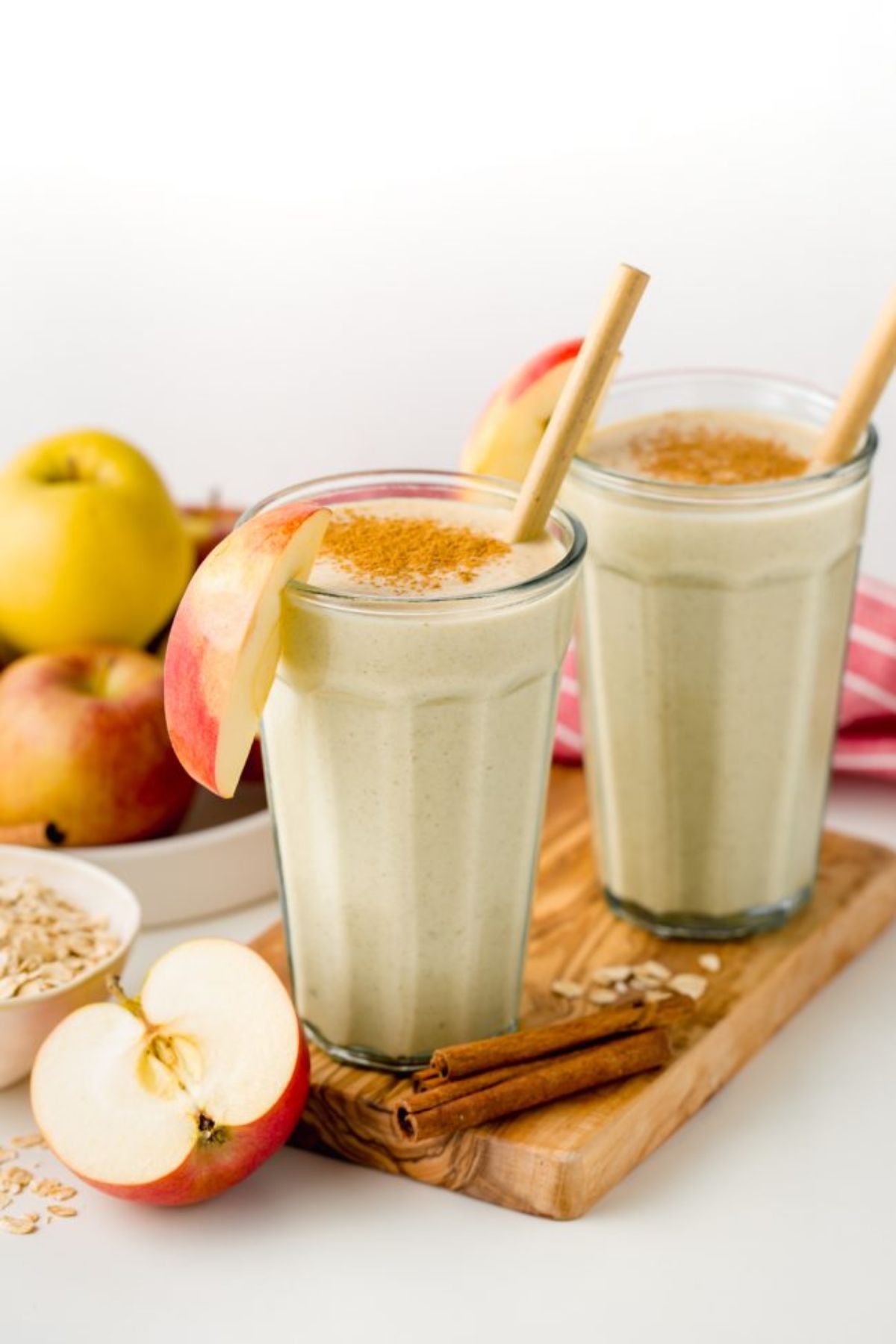 If you're on the search for something a little sweeter, then Texanerin's apple pie smoothie is thick, creamy, and delicious, whilst still being paleo-friendly and super-healthy. Now I want an actual apple pie!
Salted caramel smoothie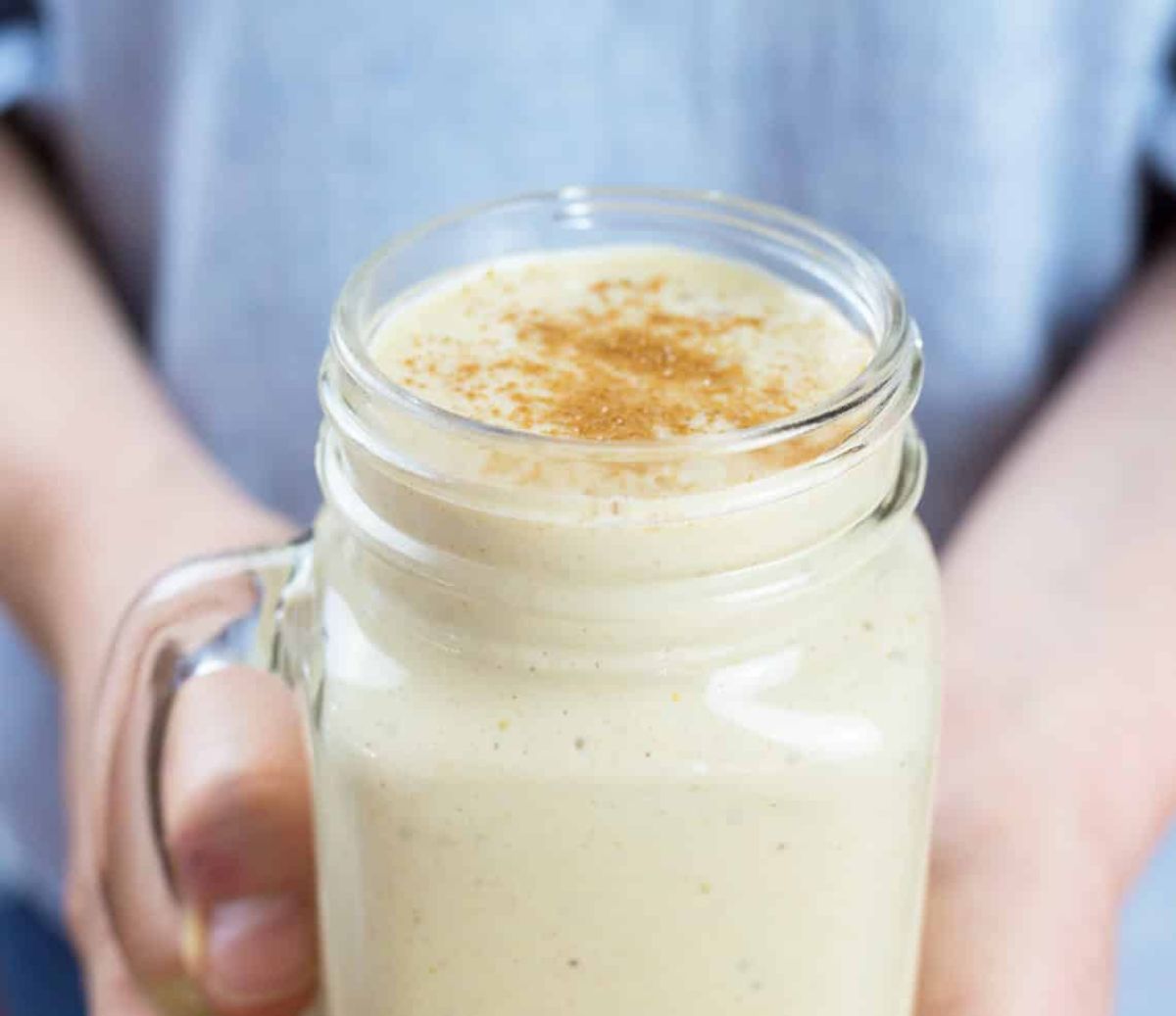 If you've fully jumped on board the salted caramel train, but don't want the coffee hit of our previous recipe, then you'll love Love Food Nourish's version of this treat. Vegan, dairy-free, and paleo, it's so delicious that it will feel like dessert.
Pineapple ginger smoothie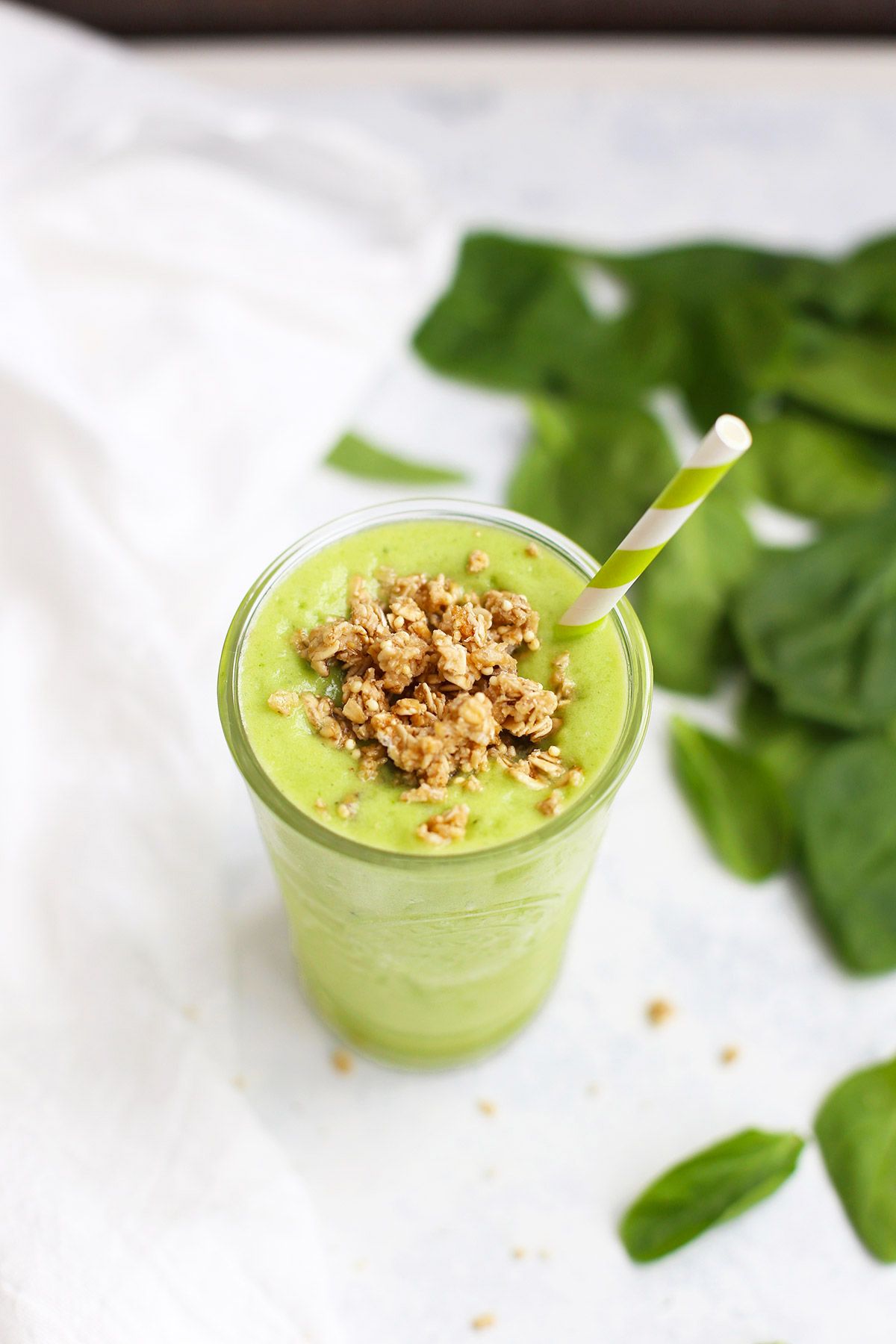 Anything with ginger in it is my go-to drink when I'm out and about. I love the zing you get from it, and the anti-oxidant benefits. So One Lovely Life's pineapple and ginger concoction is one of my new favorites. Packed full of natural pick-me-ups, it will keep you going way past dinner!
Raspberry lemonade smoothie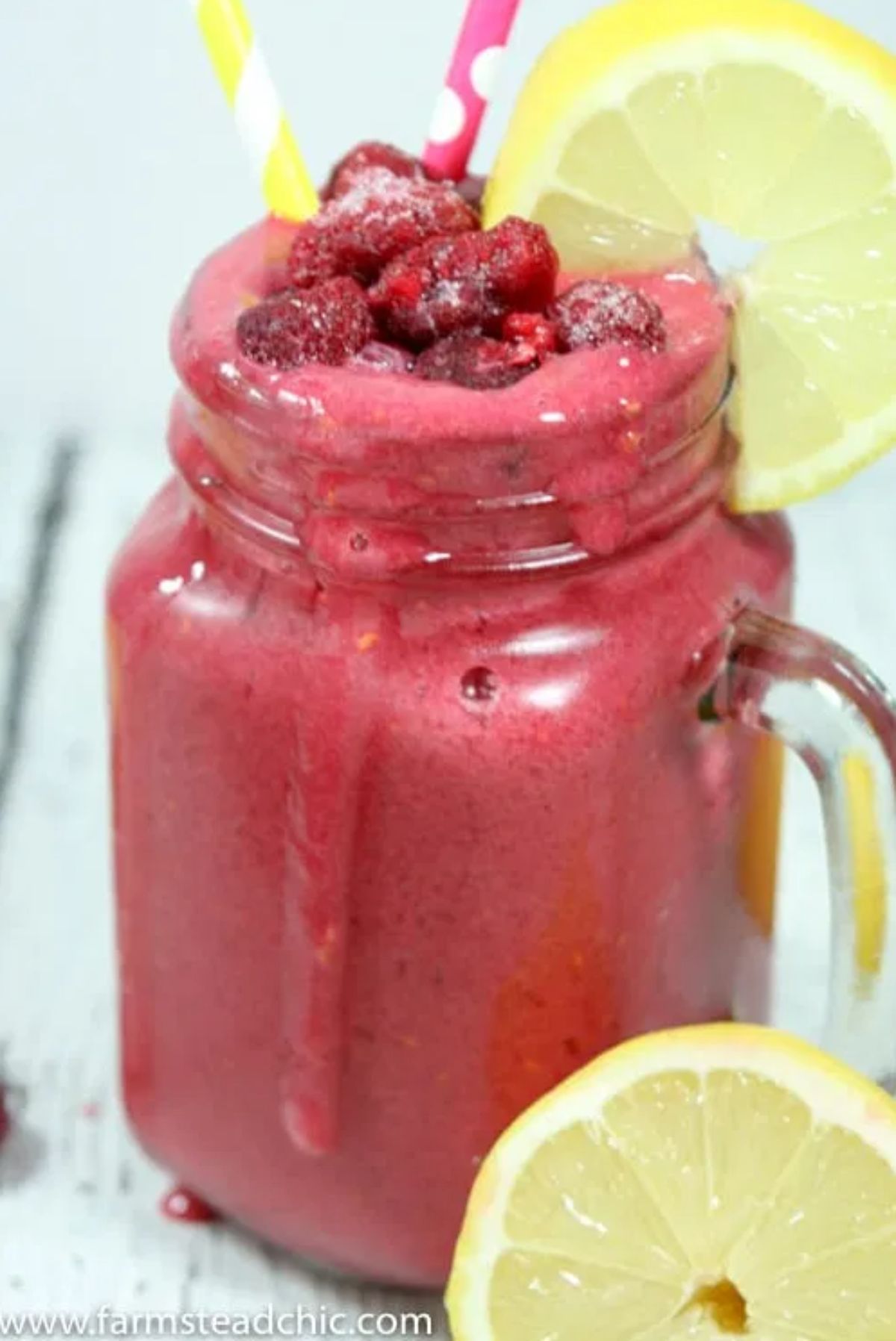 This glass of joy from Farmstead Chic is so good on a long hot day when you just want to be refreshed. The zingy lemonade and sweet berries are the perfect combination.
Caribbean sunset smoothie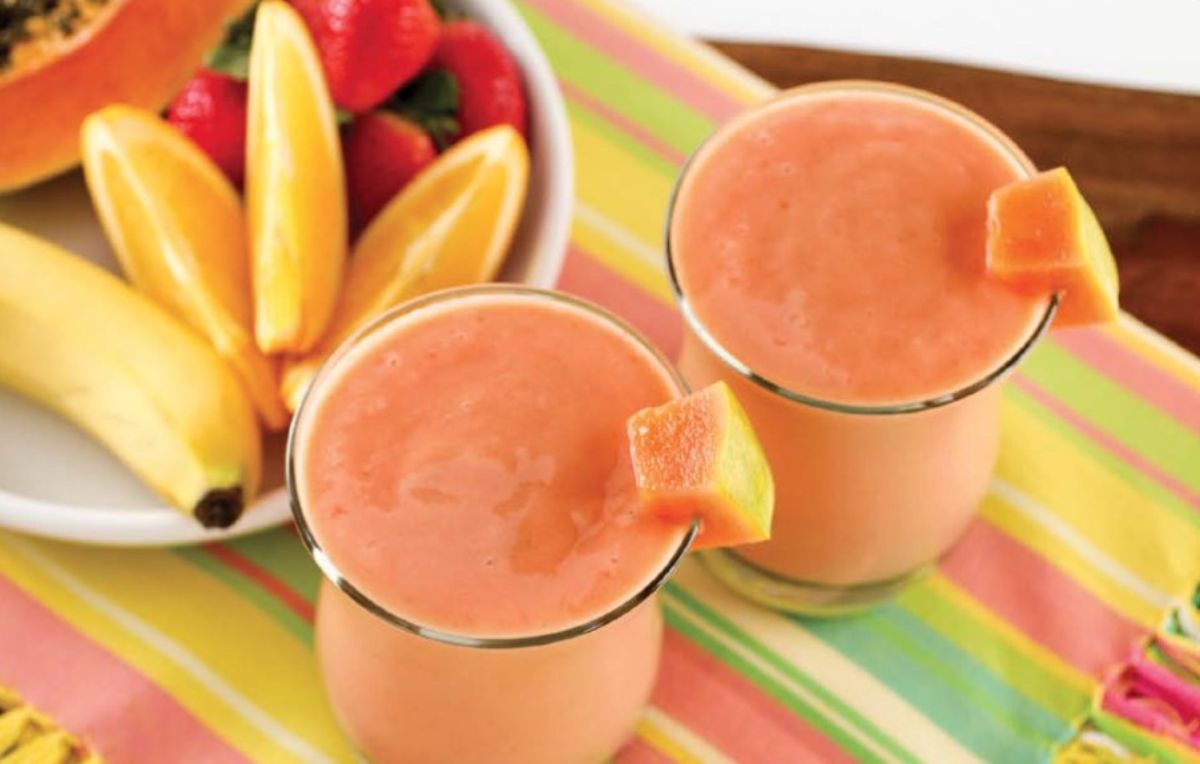 Here we have another glass of actual sunshine from Amazing Paleo. A heady mix of banana, papaya, strawberries and orange juice, this will make you feel like you're relaxing on a sun lounger without a care in the world.
5-ingredient green smoothie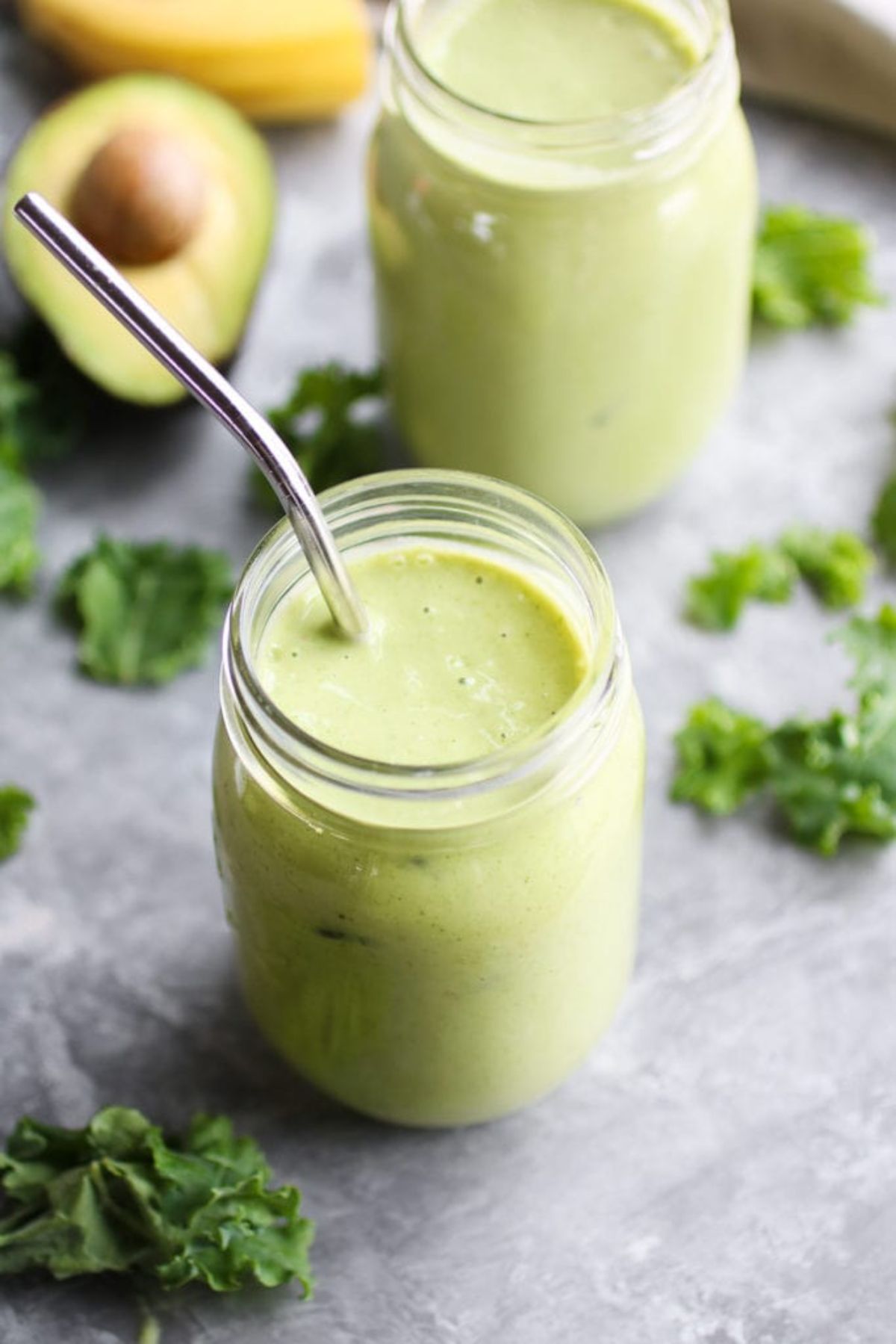 I love a green smoothie, choc-full of goodness and tastiness in every sip. The Real Food Dieticians are always great at meshing flavor and health and their green smoothie is no exception. Paleo-friendly and super-delicious, you'll be hooked.
Strawberry smoothie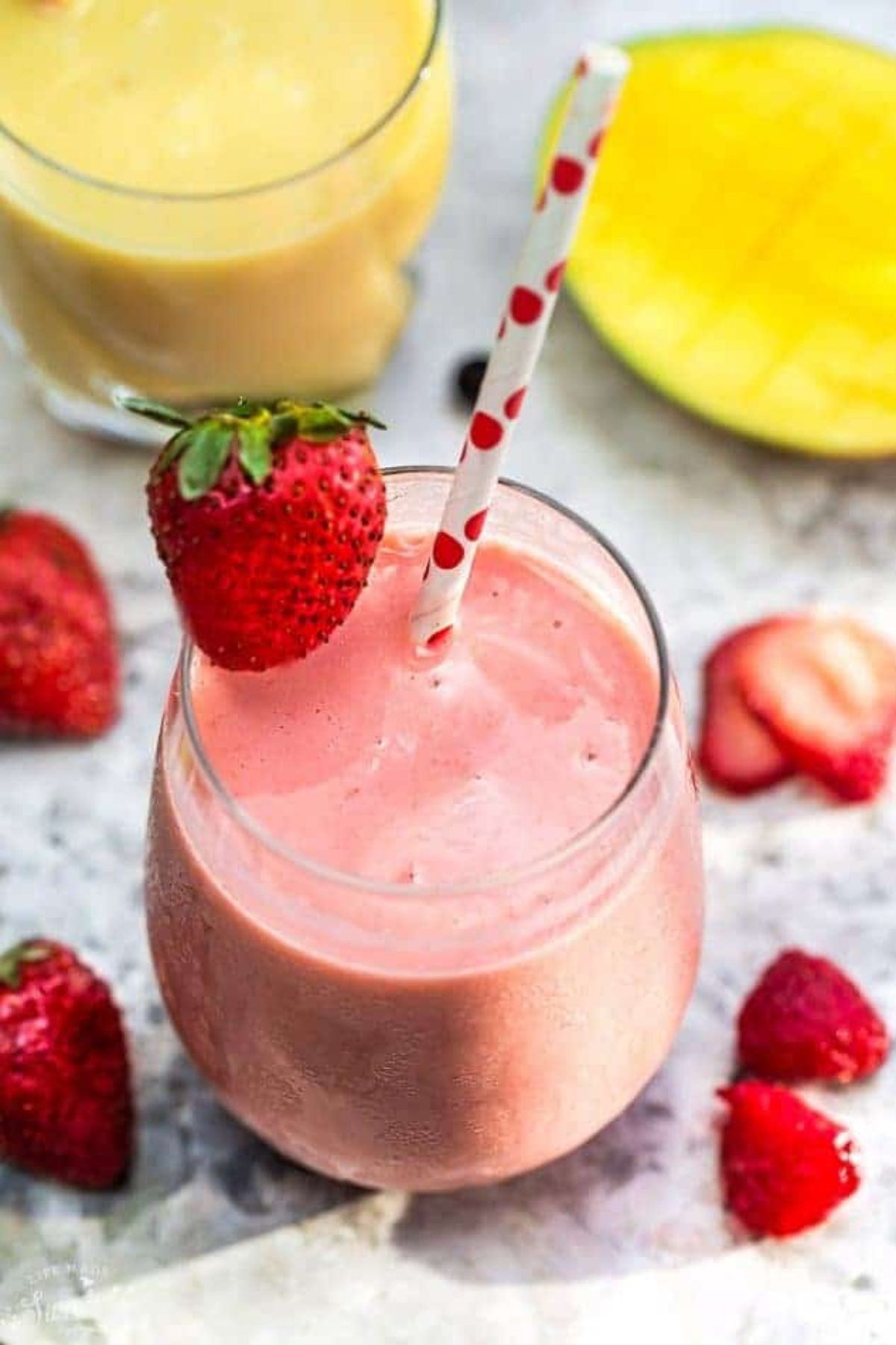 Full of fiber and protein, this strawberry smoothie from Life Made Sweeter ticks all of your paleo boxes, and the rest of your family will love it too. You can even customize it to suit every taste.
Vegan pumpkin pie smoothie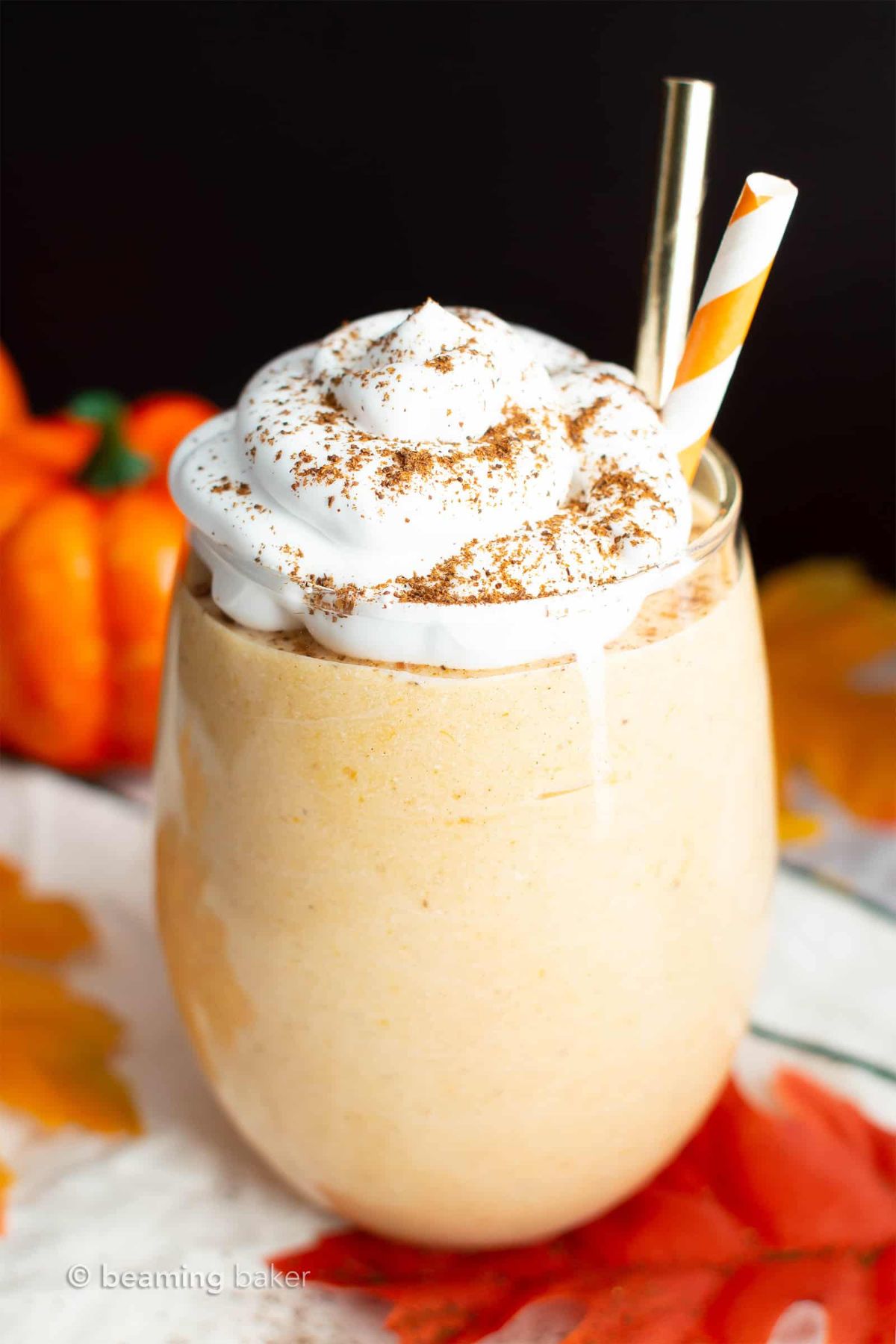 Yearning for Fall again? This pumpkin pie smoothie from Beaming Baker will take you right back to leaves falling and cosy snuggles by the fire. Perfectly spiced, it will taste just like the real thing, whilst being paleo-appropriate.
Almond butter smoothie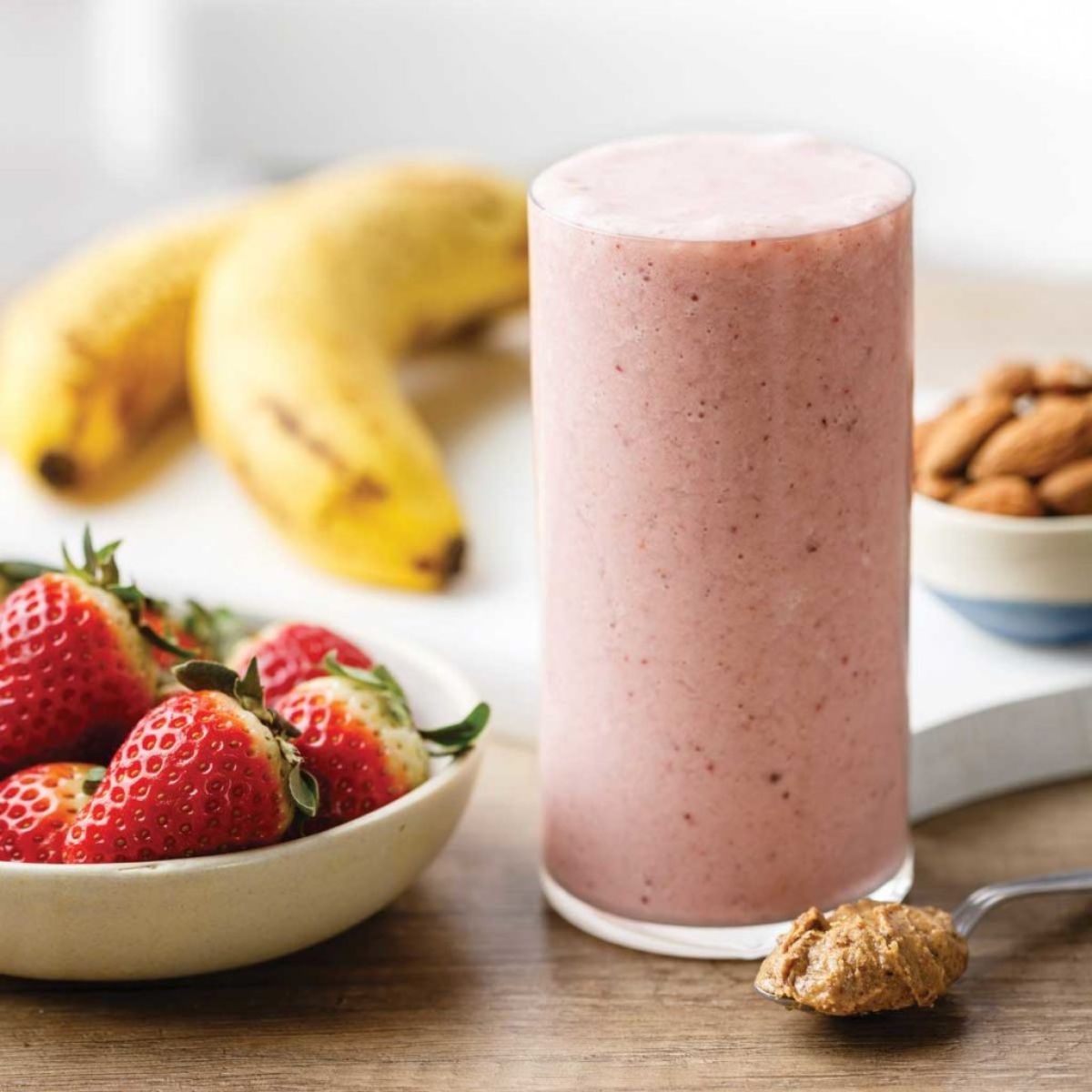 For so long the poor little sister of peanut butter, I'm so happy that almond butter has come into its own. This smoothie from Paleo Grubs highlights its fabulousness perfectly, pairing it with strawberries and bananas.
Creamy peach green smoothie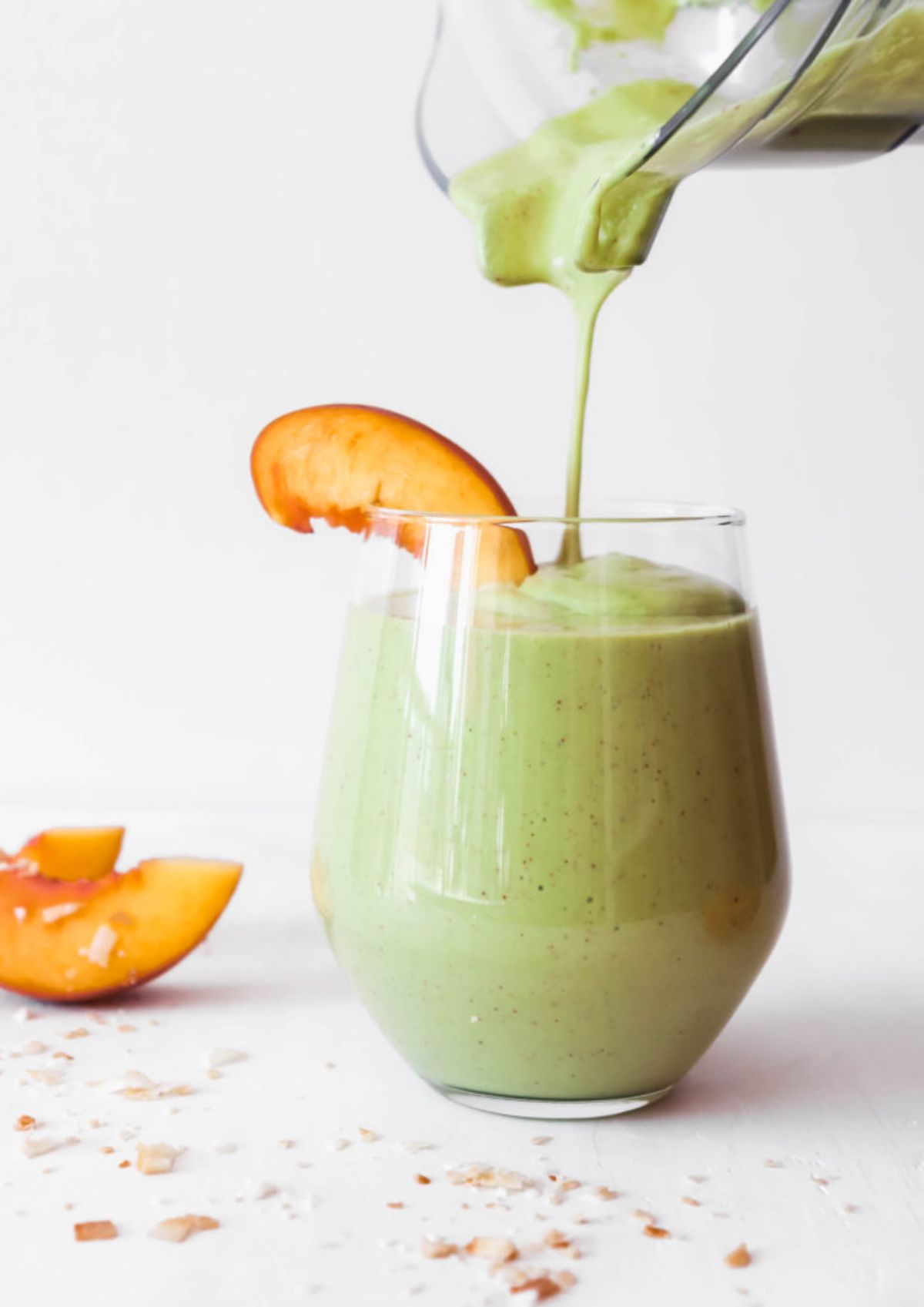 I'd happily eat peaches all year round, but if you're more of a seasonal shopper, then this smoothie from Heal Me Delicious is wonderful for when you have a glut of the tasty fruit in the summer. It's a filling breakfast option too.
Mango and ginger green smoothie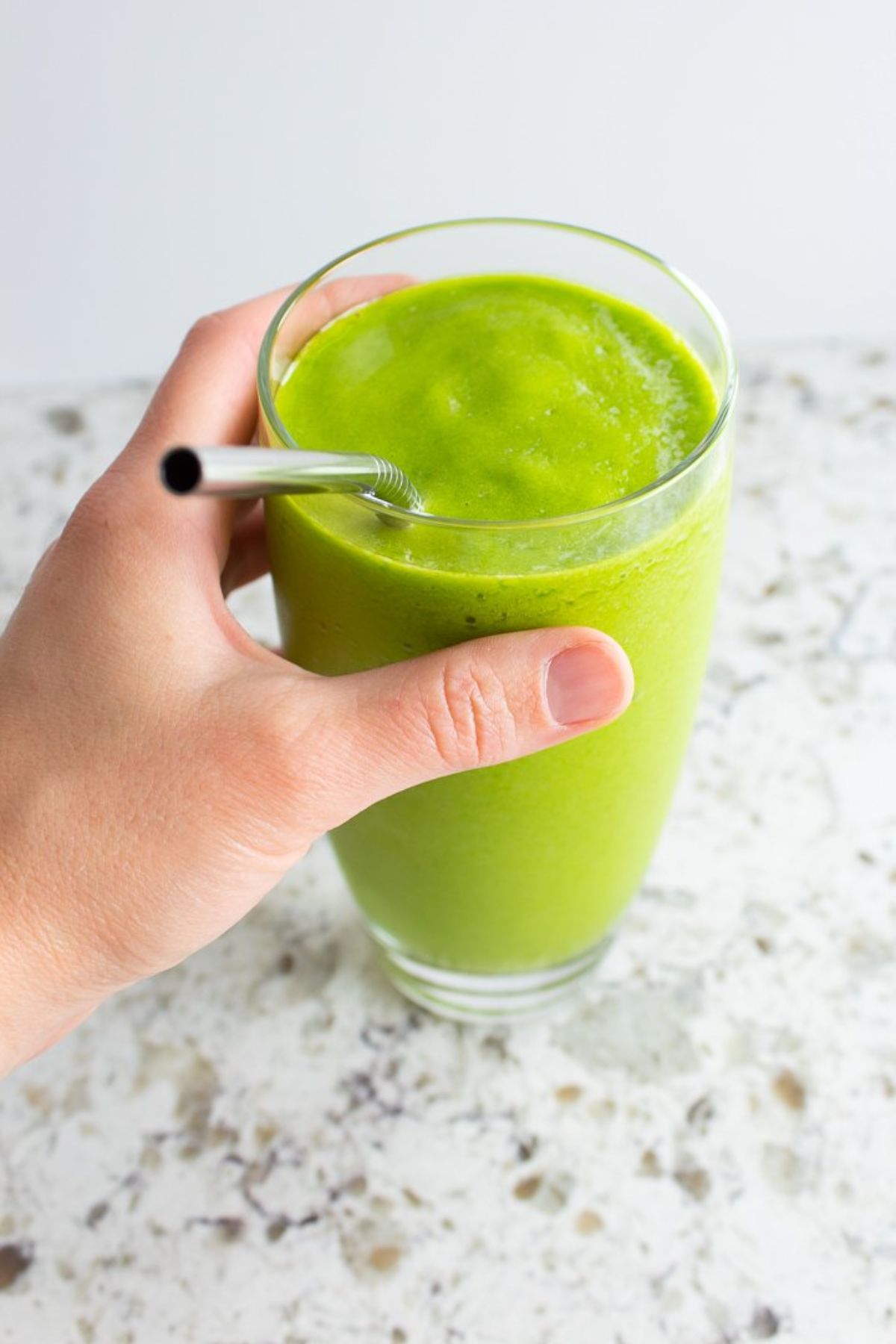 This is another delicious smoothie with added collagen. It's full of protein, vitamins, and huge amounts of taste. Hurried Health Nut's green smoothie has just the right hint of ginger for me, and I'm happy I'm getting my quota of a bunch of other healthy nutrients too.
Blueberry and peach smoothie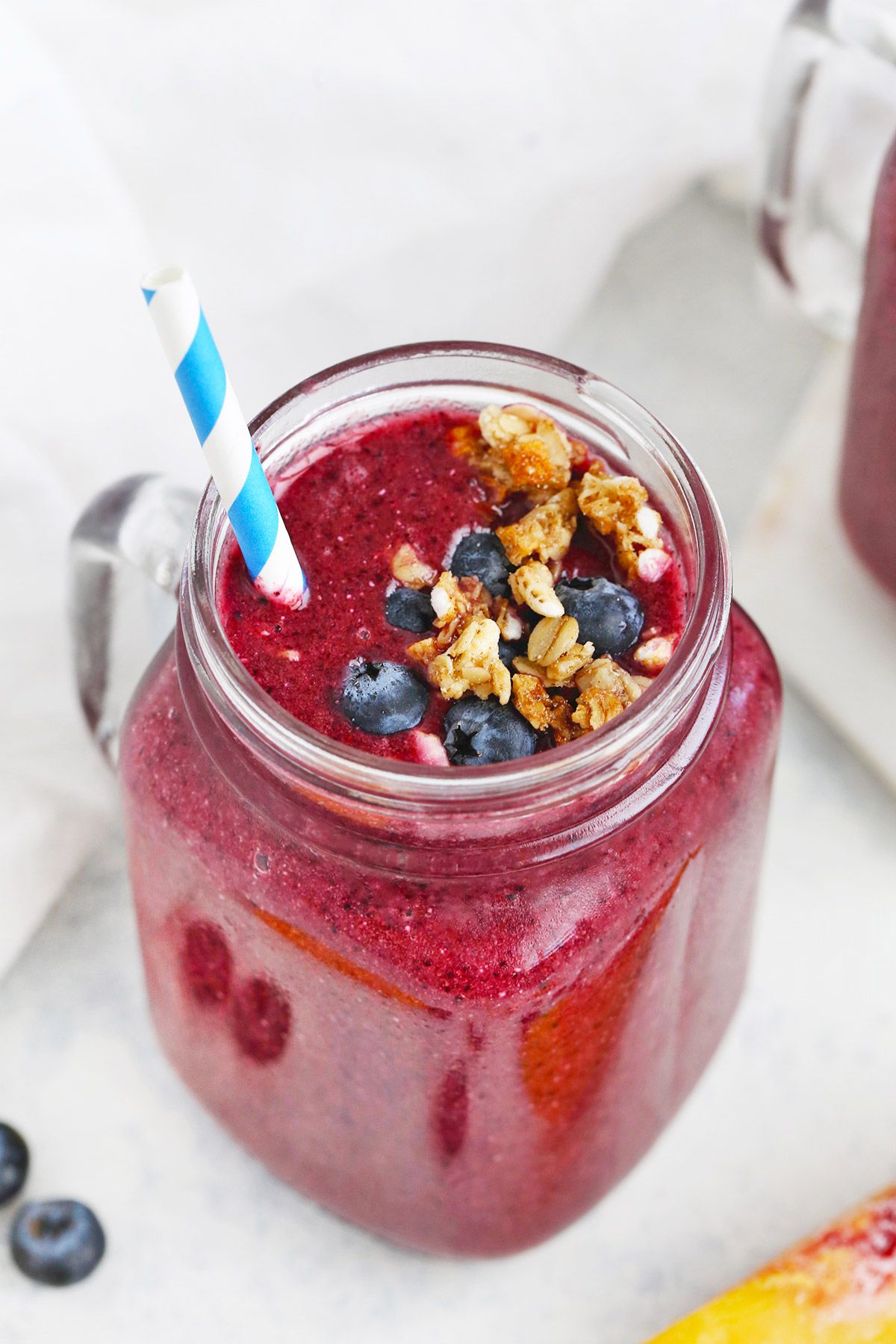 The best thing about this delicious smoothie from One Lovely Life is my kids love it, and they'll never know that it's packed with loads of healthy greens! Ah, the subterfuge involved in parenting…
Banana and coffee smoothie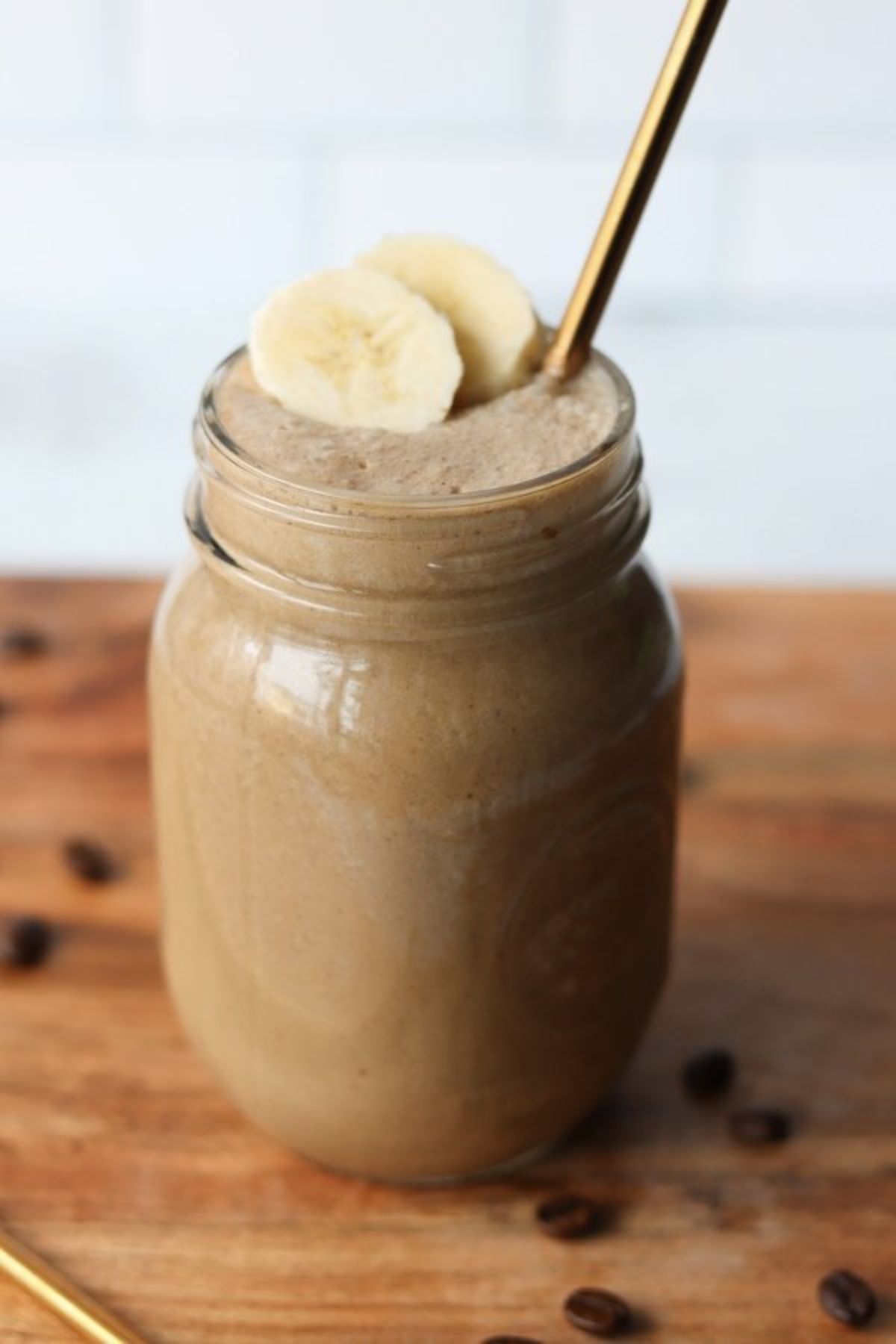 This is another one for the caffeine fiends among us. Cook At Home Mom's banana coffee smoothie is the yummiest paleo-friendly way to wake yourself up in a sustainable way without that crash half an hour later.
Cold buster citrus smoothie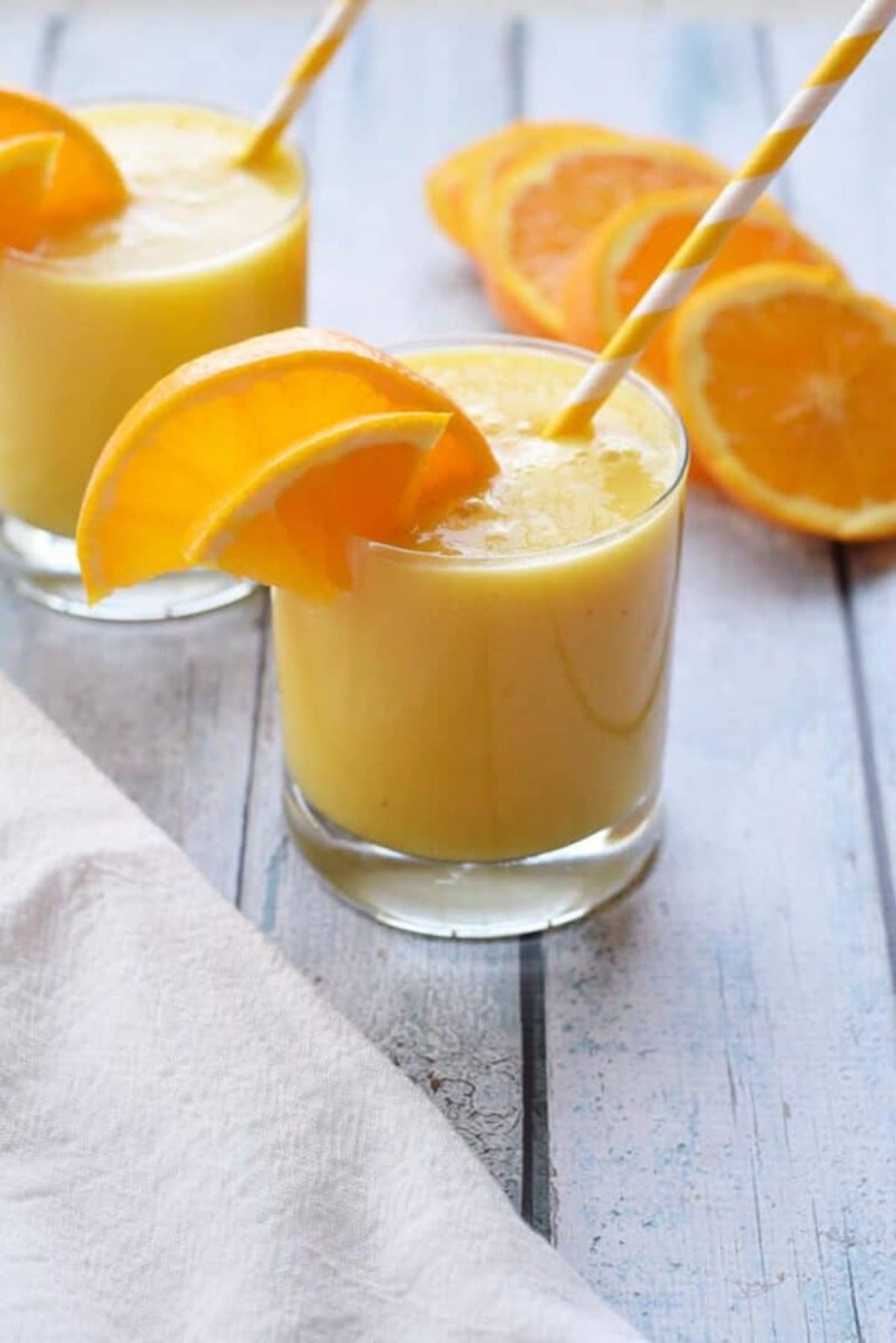 Battling a summer, or winter, cold? Then Seasonal Cravings' cold buster smoothie is the perfect antidote. Loaded with vitamin C, vitamin B, and folate, it'll knock those germs right out of the park.
Cherry smoothie bowl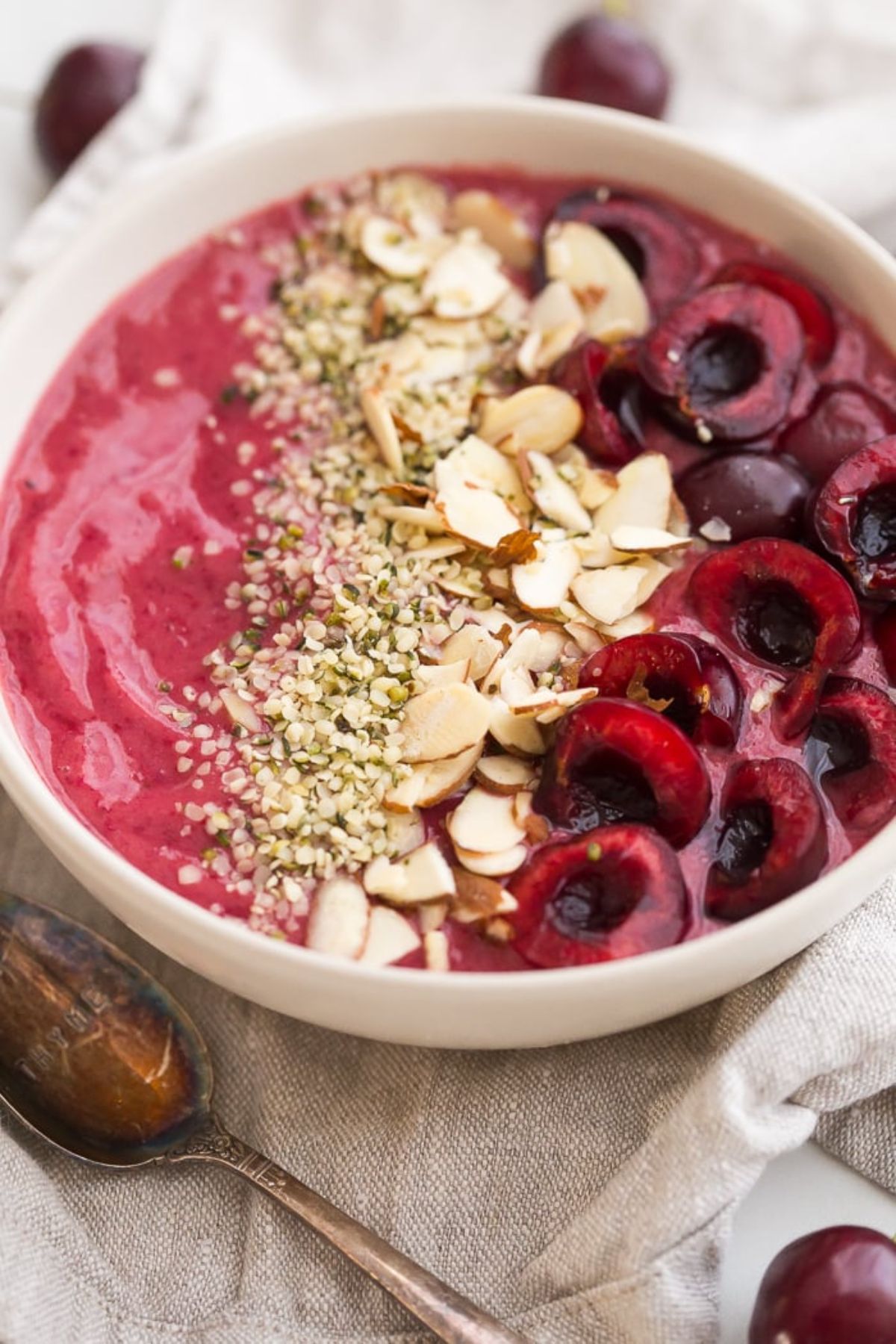 This last one is more of a treat for your special lazy Sunday than something you'll whizz up to drink on the way to work, but I love 40 Aprons' cherry smoothie bowl. It looks incredible, and it tastes just as good.
RECIPE CARD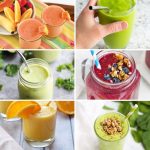 21 Of The Best Paleo Smoothie Recipes To Fend Off Your Afternoon Slump
Fall in love with smoothies when you make one or all of the great paleo friendly smoothie recipes on this list! Tons of antioxidant rich drinks ideal for breakfast, snacks, or dessert!
Ingredients
Please ensure Safari reader mode is OFF to view ingredients.
Strawberry Banana Smoothie

Watermelon Peach Smoothie

Carrot, Apple, And Banana Smoothie

Kale And Cherry Smoothie

Chocolate Collagen Smoothie

Salted Mocha Smoothie

Apple Pie Smoothie

Salted Caramel Smoothie

Pineapple Ginger Smoothie

Raspberry Lemonade Smoothie

Caribbean Sunset Smoothie

5-Ingredient Green Smoothie

Strawberry Smoothie

Vegan Pumpkin Pie Smoothie

Almond Butter Smoothie

Creamy Peach Green Smoothie

Mango And Ginger Green Smoothie

Blueberry And Peach Smoothie

Banana And Coffee Smoothie

Cold Buster Citrus Smoothie

Cherry Smoothie Bowl
Click to convert between US & metric measurements:
Instructions
More TIPS about this paleo recipe in the post above!
Whip up a great smoothie with delicious nutrient-dense ingredients in no time using these great recipes!
© Copyright Wicked Spatula. We'd LOVE for you to share a link to this recipe, but please DO NOT COPY/PASTE the recipe instructions to social media or websites. You may share a photo with a link back instead.
Did you make this recipe?
Click here to leave a comment + star rating! ★★★★★
Then, share a pic on Instagram. Tag @wickedspatula or #wickedspatula!