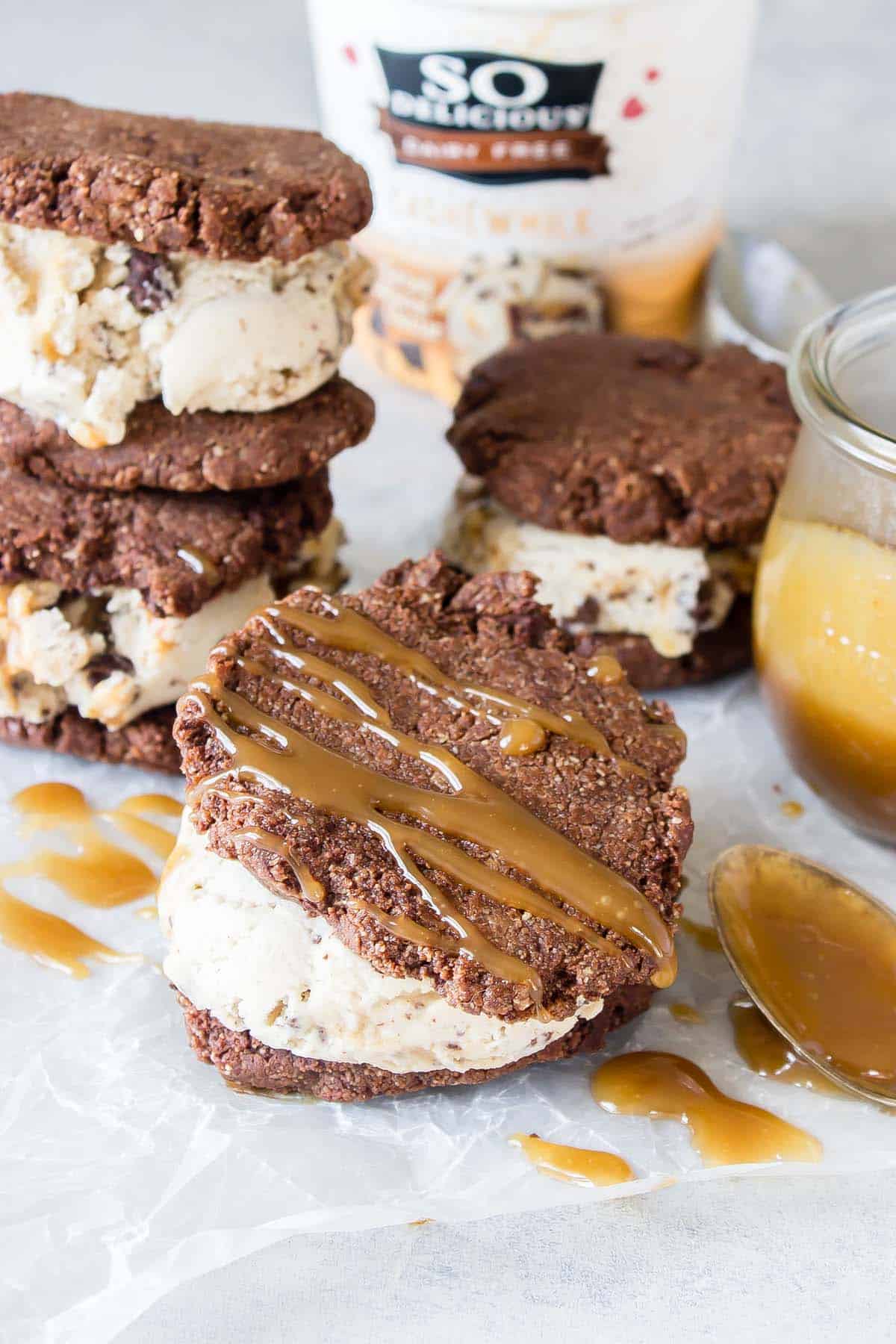 Oh man, guys. These Frozen Chocolate Caramel Ice Cream Cookie Sandwiches are the PERFECT frozen treat for these hot summer days! I'm thrilled to be participating in the Frozen Friday's recipe contest with So Delicious and Go Dairy Free!
For this sweet treat I decided to use the So Delicious Salted Caramel Cluster Ice Cream. This plant-based ice cream is made with creamy cashew milk for a silky texture that I LOVE. Also, who would pass up salted caramel?!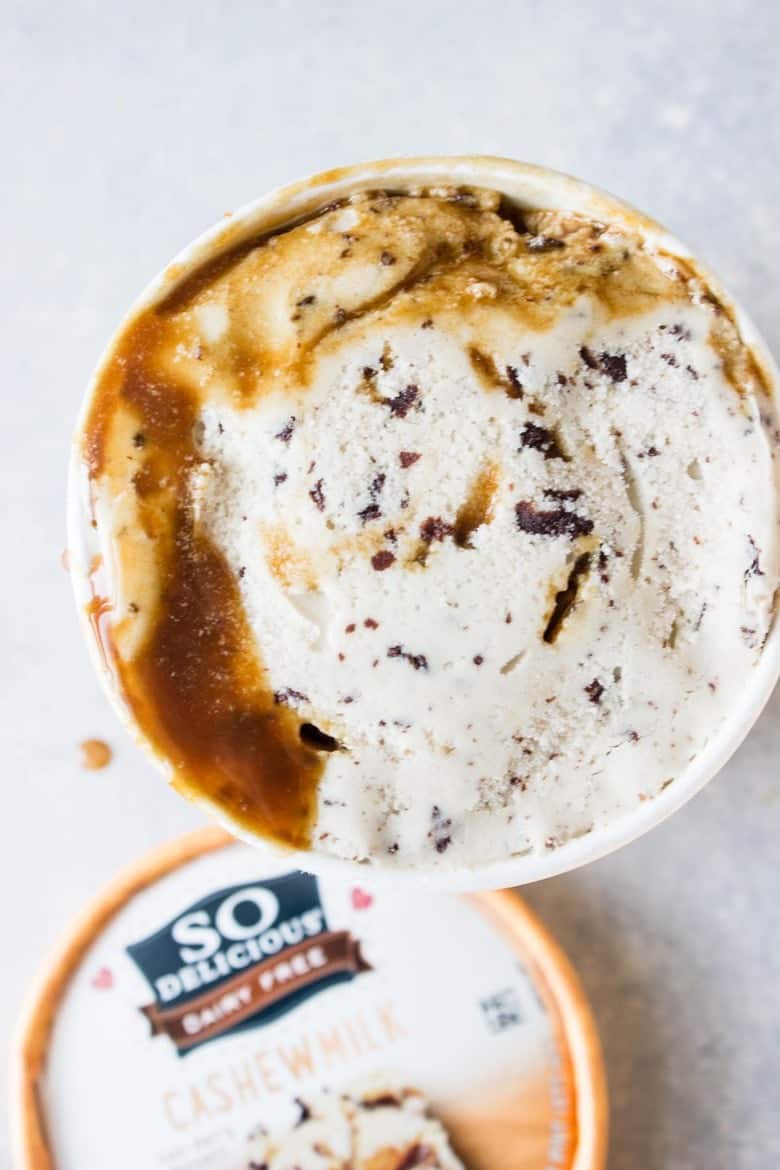 To play with these flavors I used my Paleo Chocolate Chip Cookie recipe and swapped out the oil and sweetener for homemade vegan salted caramel. BEST.DECISION.EVER. Seriously, those cookies were over the top good and when sandwiched with a thick scoop of the Salted Caramel Cluster Ice Cream? Well let's just say this is what dessert dreams are made of.
To make the cookies strong enough for smashing together with ice cream I like to freeze them after baking for about 45 minutes. They never get rock hard which makes them the perfect cookie for a frozen dessert but you may want to let them thaw for 10 minutes or so before eating if your teeth are sensitive. Biting into a frozen cookie and ice cream can send little electrical shocks through your teeth if you're like me!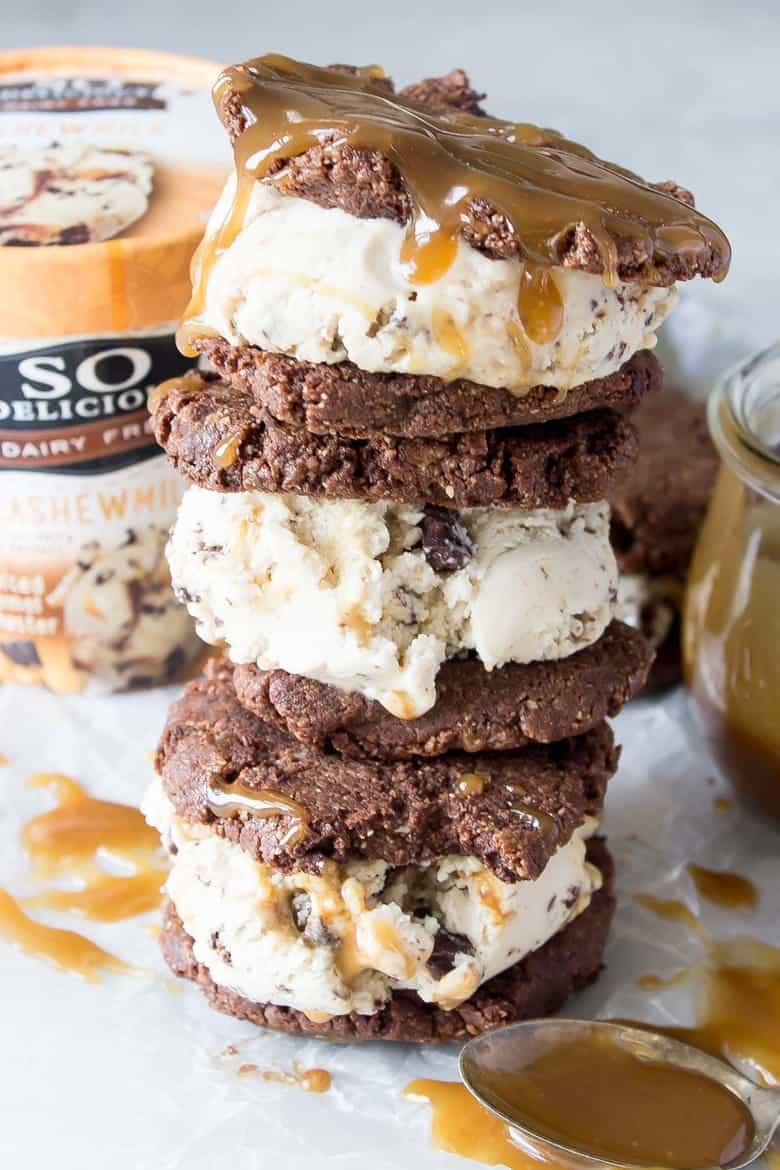 Anyways, this recipe is super simple. You'll have caramel leftover, I like to use it for an extra drizzle but you can store it in the refrigerator for up to a week if needed.
The #FrozenFridays Recipe Contest is being sponsored by So Delicious Dairy Free and hosted by Go Dairy Free. Each entrant has received free So Delicious product to help in their testing, and they will have the chance to win $500, $250, and free product prizes.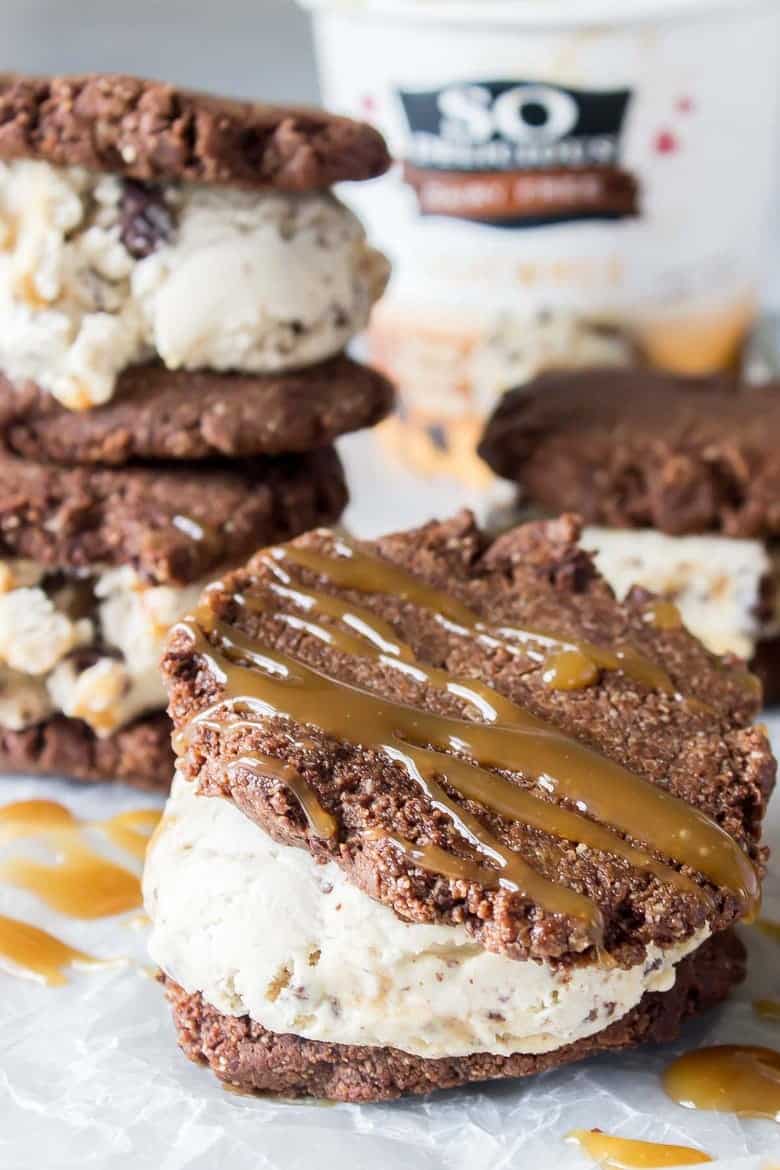 Frozen Chocolate Caramel Ice Cream Cookie Sandwiches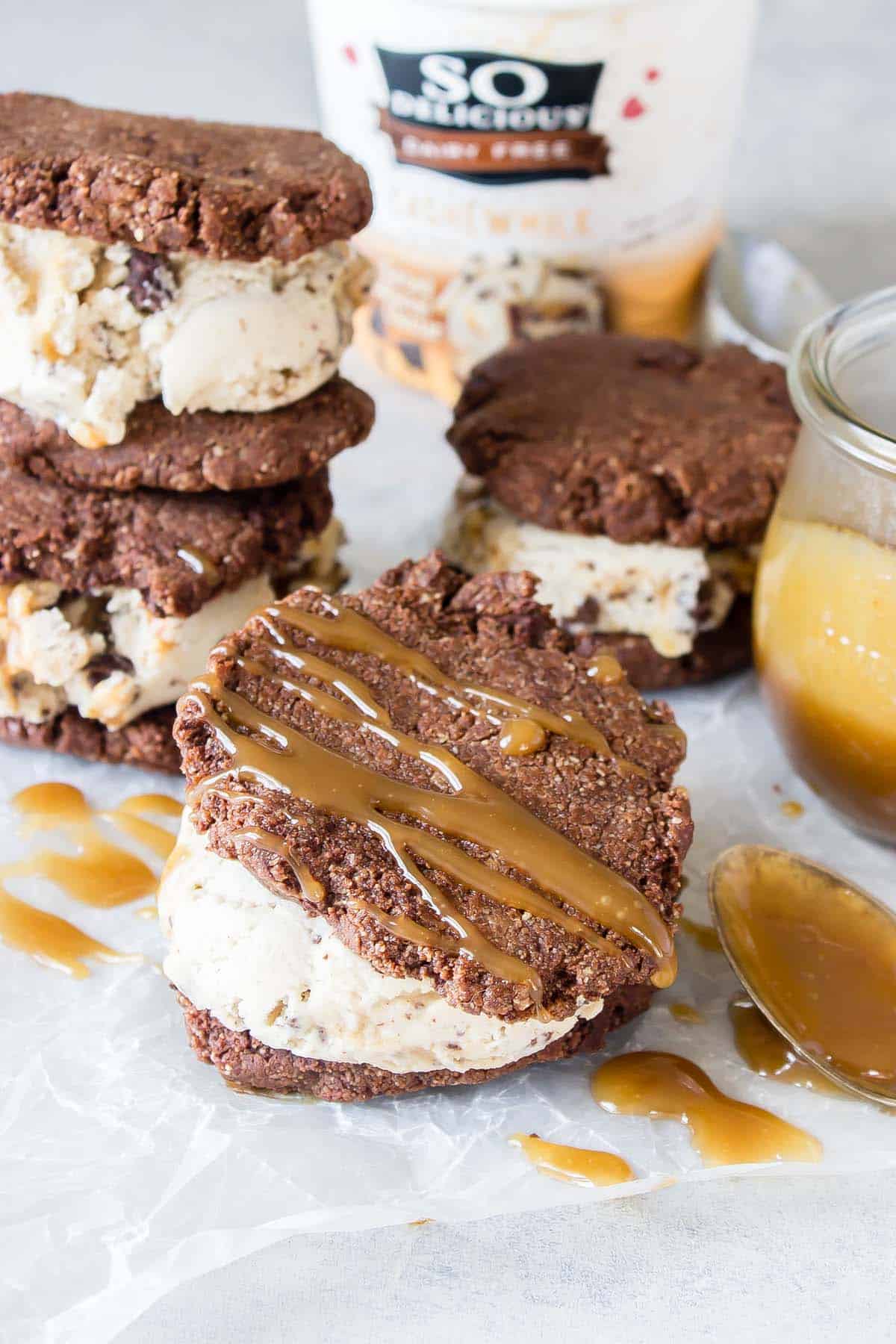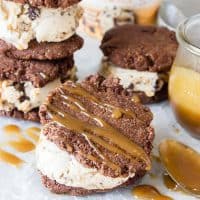 Ingredients
Cookies
1

cup packed almond meal

1/4 cup

tapioca starch

1/2

cup salted caramel (recipe below)

1

teaspoon vanilla extract

1/2 teaspoon

baking powder

1/4 teaspoon

salt

1/2 cup

dark chocolate chips or chopped dark chocolate
Salted Caramel
3/4

cup maple syrup

1

tablespoon coconut oil

1

teaspoon vanilla

1/4

teaspoon salt
Filling
1

pint So Delicious Salted Caramel Cluster Ice Cream
Instructions
Make the Caramel:
Place all caramel ingredients into a medium sauce pot and set over medium high heat. Stirring frequently bring the caramel to a boil.
Once boiling reduce heat to medium or medium low depending on your stove. You want to keep it at a simmer. Continue to stir frequently for about 15 minutes until it has reduced and thickened just enough to coat the back of a spoon. Set aside to cool.
Make the Cookies:
Combine all ingredients in a medium bowl. Roll the dough into 10 balls and place on a parchment lined baking sheet. Slightly flatten then chill for 15 minutes.
Preheat oven to 350°.
Bake cookies for 8-10 minutes. They will be soft when you take them out, carefully transfer to a cooling rack and place in the freezer for 30 minutes.
To Assemble:
Scoop a large scoop of ice cream onto one cookie and top with another cookie. Smush to combine. Transfer to a lidded freezer safe container until ready to enjoy.
by Lauren