These Paleo Coconut Shrimp are crunchy, sweet, and all around perfect!

Forget what you think you know about coconut shrimp. THESE Paleo Coconut Shrimp are the ULTIMATE version with coconut flakes, coconut flour, AND coconut oil. Nope, there's no panko bread crumbs, junky oils, or bleached flour to be seen. Just pure wholesome ingredients that make these the best paleo coconut shrimp you'll EVER have. Promise.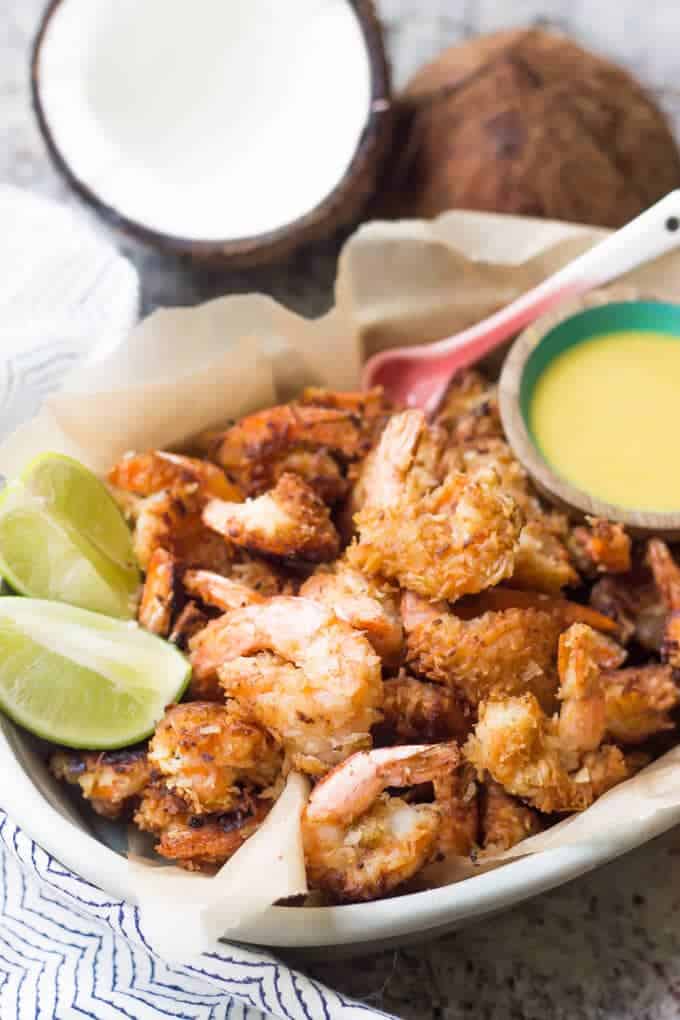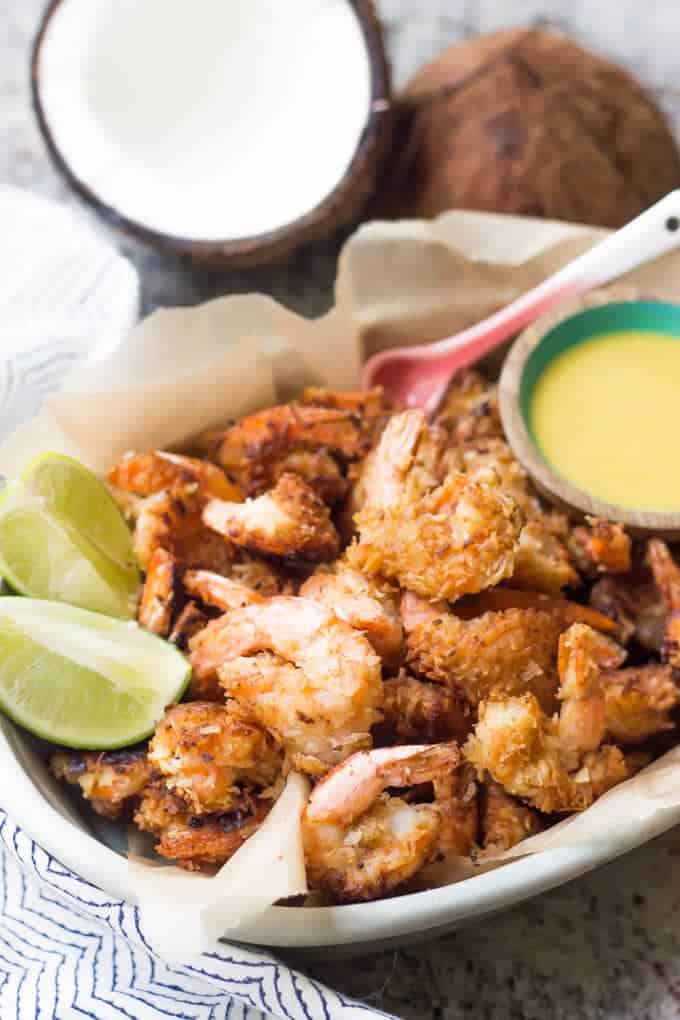 These shrimp are delicious (obviously) and the perfect amount of sweet.
They take just a few minutes to throw together and  they're a great option for a quick dinner along with a side salad. I also served them with a fruit sweetened orange marmalade. The orange marmalade gives it a great kick of citrus which I love. If you're eating paleo/keto/low carb just make sure whatever brand you buy is sweetened only with fruit and not sugar.
If you're super low carb or keto you may want to leave out the tapioca starch as well. It just helps the coconut bind to the shrimp but it's not 100% necessary so don't worry about it!
Also, if you've never butterflied shrimp before it's time to learn how! Butterflying them means more area for more coconut! Check out this tutorial to learn how to butterfly shrimp.
Paleo Coconut Shrimp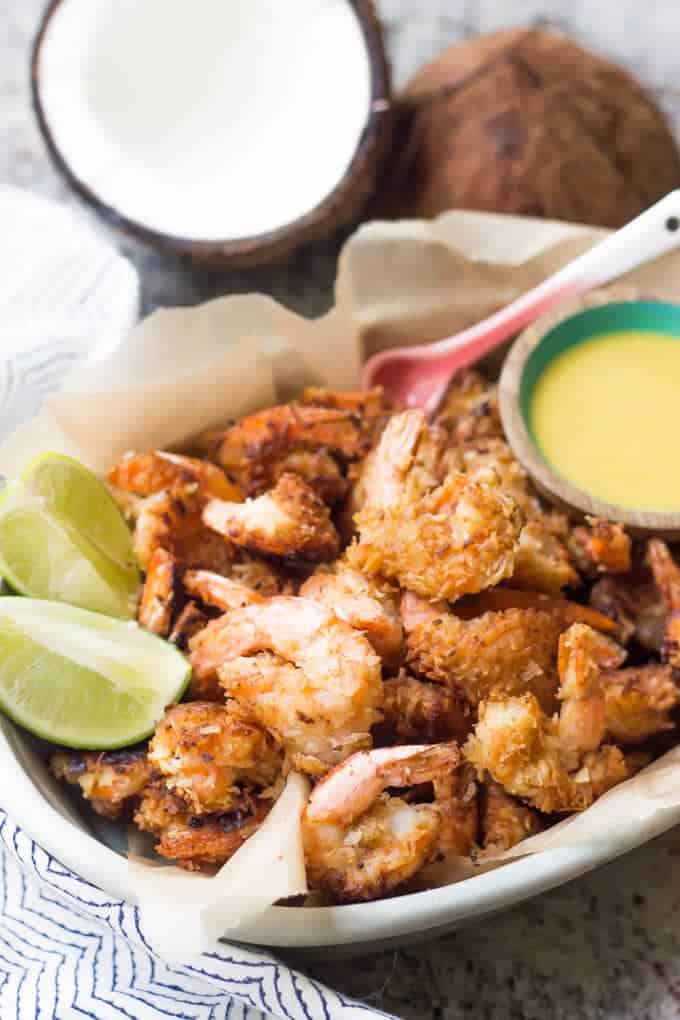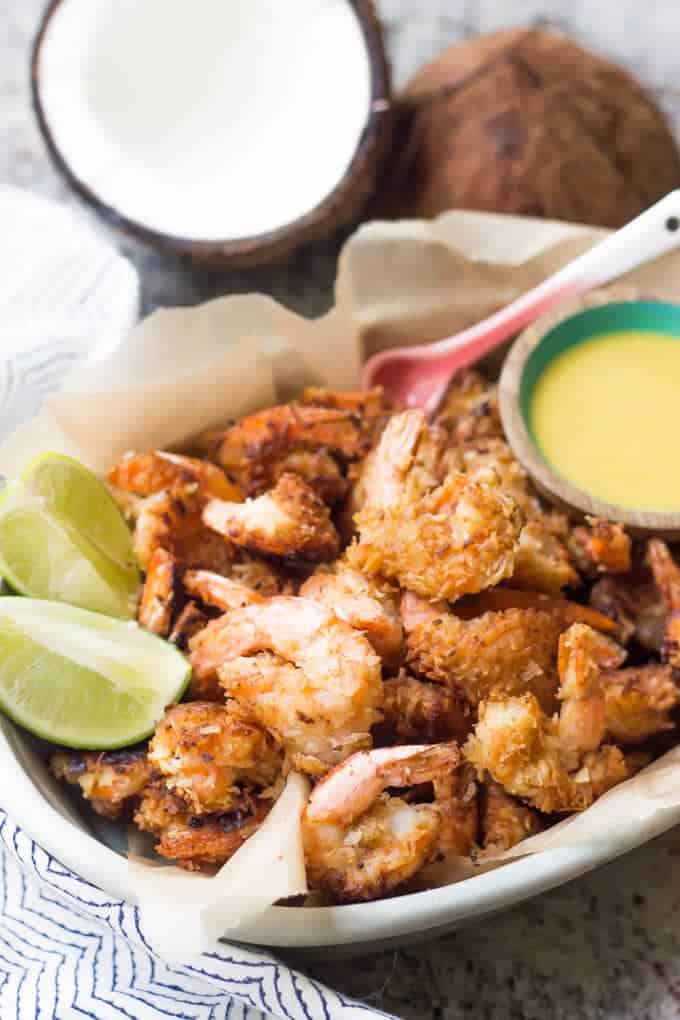 Delicious sweet coconut shrimp
Ingredients
1lb

shrimp, peeled and deveined

1

egg

1

tablespoon tapioca starch

1

cup unsweetened shredded coconut

2

tablespoons coconut flour

pinch of salt

1/4

teaspoon paprika

3

tablespoons coconut oil
Instructions
Gather two separate small bowls. In one whisk the egg and the tapioca starch together. In the other combine the coconut, coconut flour, salt and paprika.
Butterfly your shrimp by slicing down the back of them until they open up and could almost lay flat. You can choose to leave the tails on which I do to make flipping and eating easier.
In a large skillet over medium heat, melt the coconut oil.
Dip the shrimp into the egg wash, let the excess fall off then dredge through the coconut mixture.
In batches so the pan isn't too crowded fry the shrimp for 2-3 minutes per side or until they are opaque in the center and golden brown on the outside.
If the pan runs out of oil simply add 1 or 2 more tablespoons before the next batch.
Transfer cooked shrimp to a paper towel lined plate to drain excess oil.
Serve with warmed sauce.
by Lauren
Looking for more shrimp recipes? Right this way…