Low-carb vegetarian meals can be a difficult area because a lot of low-carb diets rely on meat to bulk up your protein levels. There is also the issue that a lot of starchy vegetables contain a large number of carbs themselves. All-in-all you may have struggled to find varied and tasty meals to turn to.
Don't worry, though: you can enjoy the low-carb life without eating meat. We've found 35 recipes using vegetarian protein alternatives, and they're all full of flavor! Welcome to a wonderful world of avocadoes, eggs, cheese, nuts, and so much more; you'll never be bored with your supper again!
Bell pepper pizzas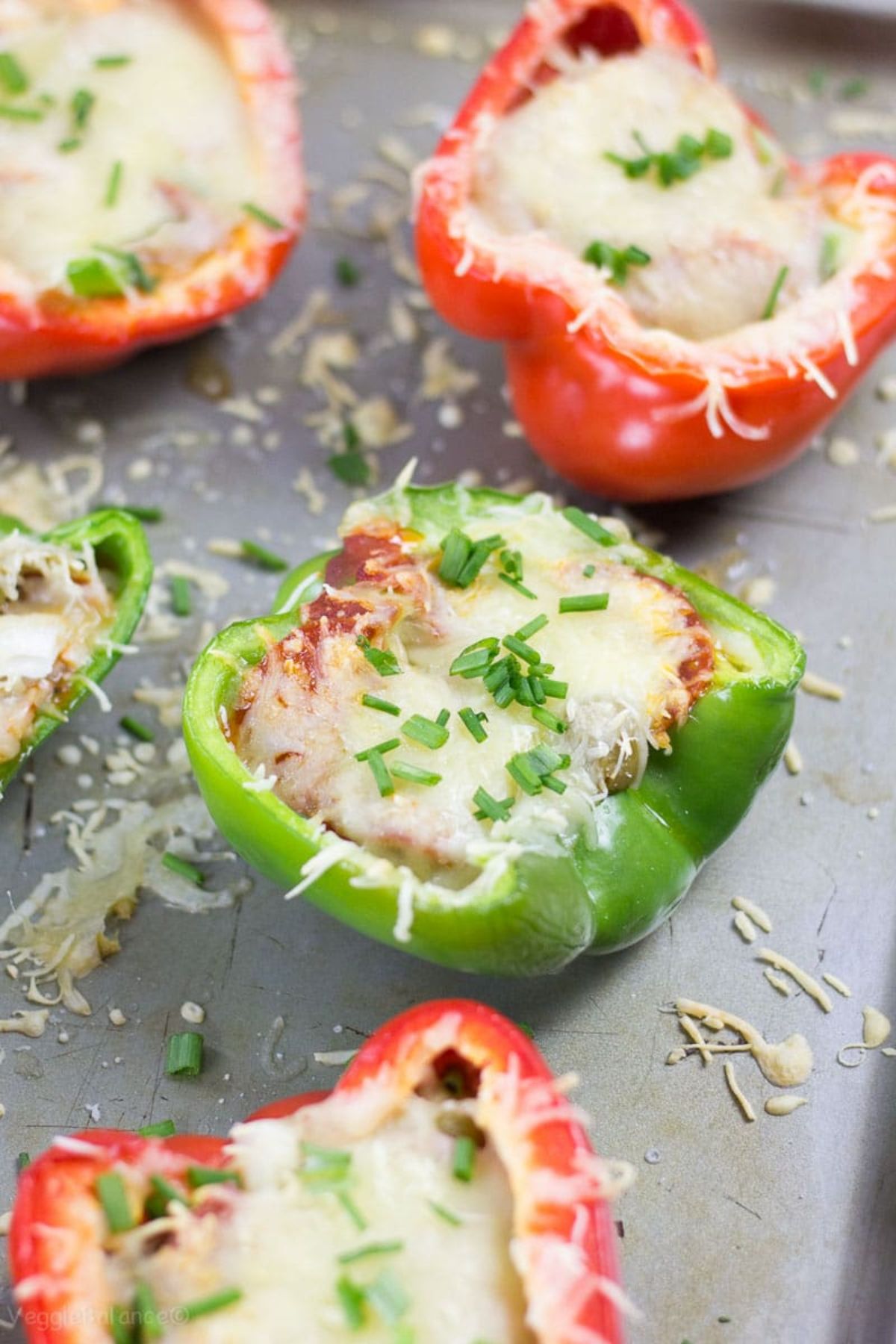 If you're been low carb for a while, then you probably know how to make your own low carb pizza crust (or where to buy it!). Have you ever stopped to wonder whether you need the pizza crust bit at all? Veggie Balance can help you make the pizza without the pizza, with this bell pepper recipe. You'll be so into the cheese that you won't even notice!
Cauliflower pizza bites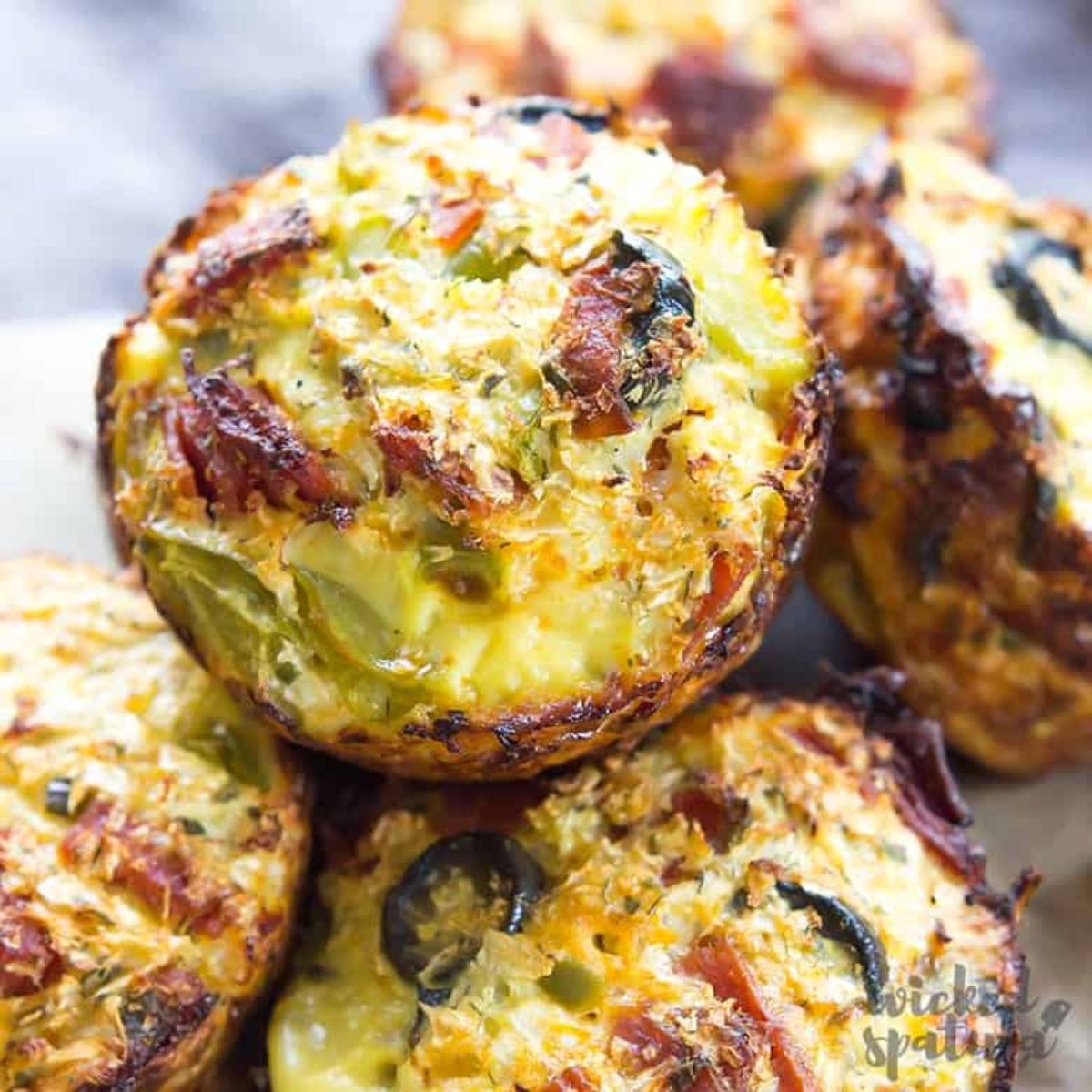 Alternatively, you could have pizza-inspired muffins! With our very wonderful recipe by Maya and only 7 ingredients, you can create the most perfect bite-sized pizza muffins that you've ever munched on. They're great for afternoon snacks, or for grabbing when you're on your way out of the door without breakfast.
Vegetarian meatballs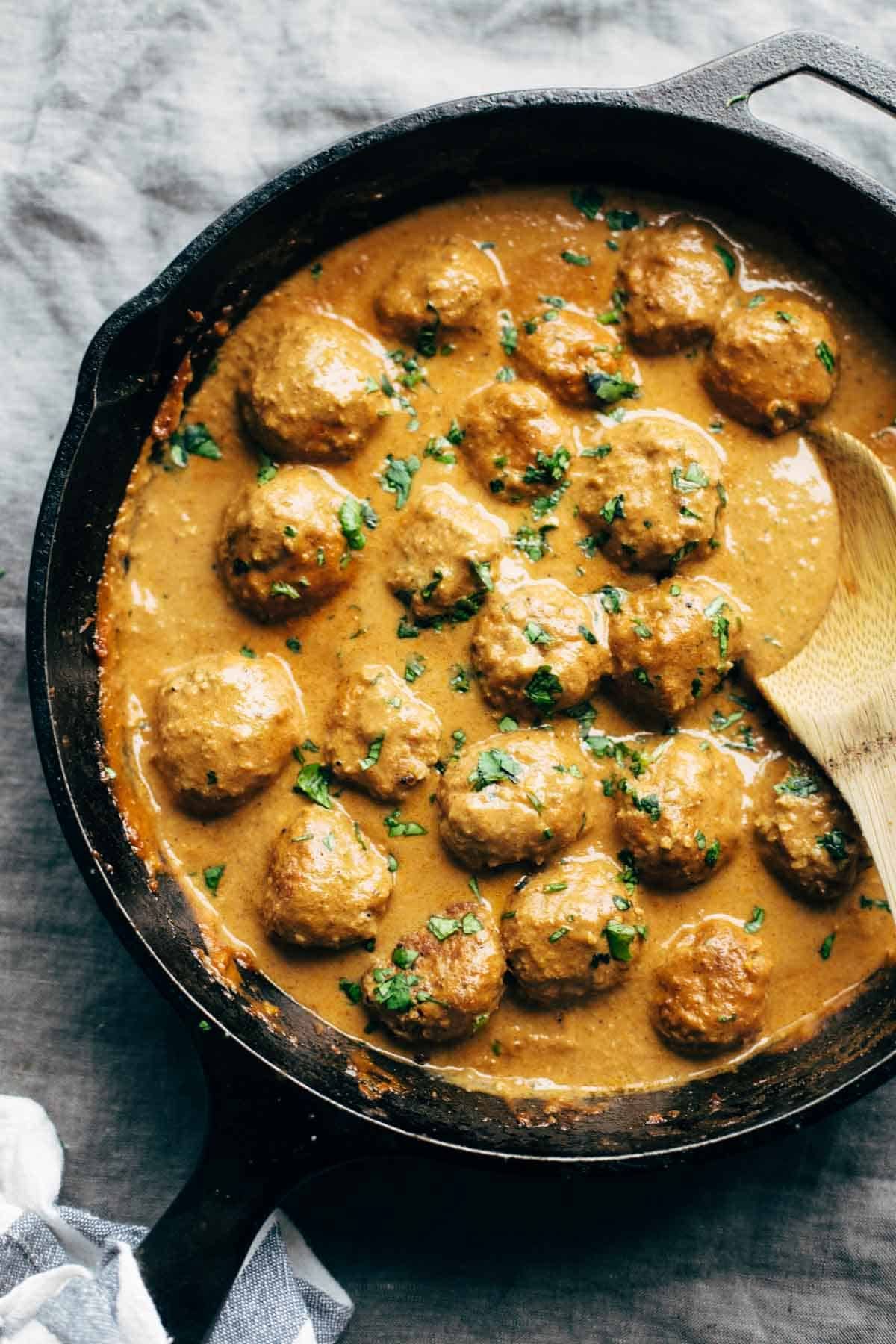 So, most vegetarian meatballs are made from some type of bean. Which is fine, but carbs can be an issue, and we all like a little bit of a change now and again. Enter Pinch of Yum's meatless meatball recipe, made with cauliflower, brown rice, and quinoa. Combined with an easy-to-follow recipe, and you've got a family favorite.
Creamy kale caesar salad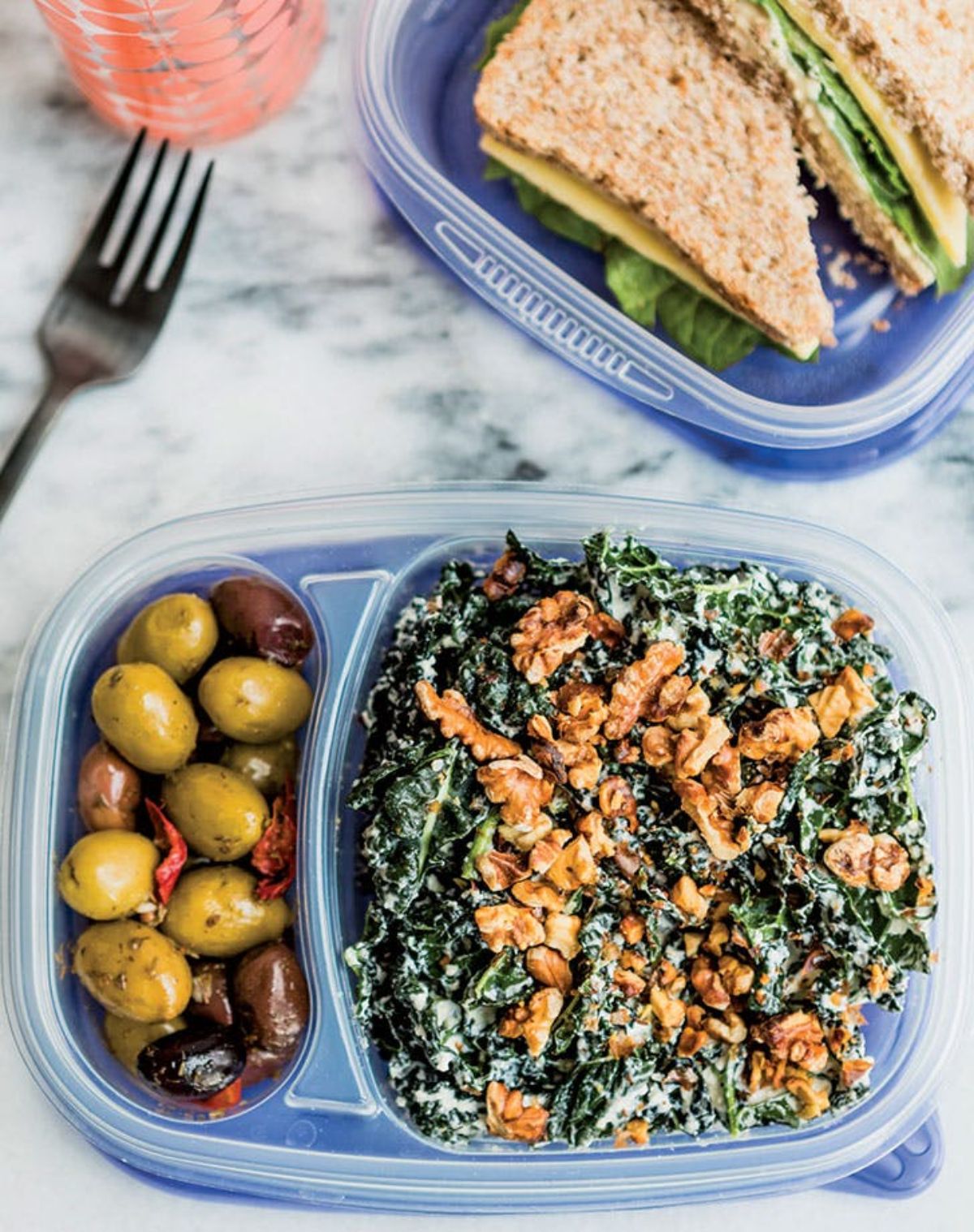 Pure Wow has devised this creamy salad for easy meal prep. It only takes 15 minutes, it will last well in the fridge, and it's a great option for days when you want something lighter. Pair with some tangy olives, and you have lunch for Kings (and Queens).
Greek cucumber salad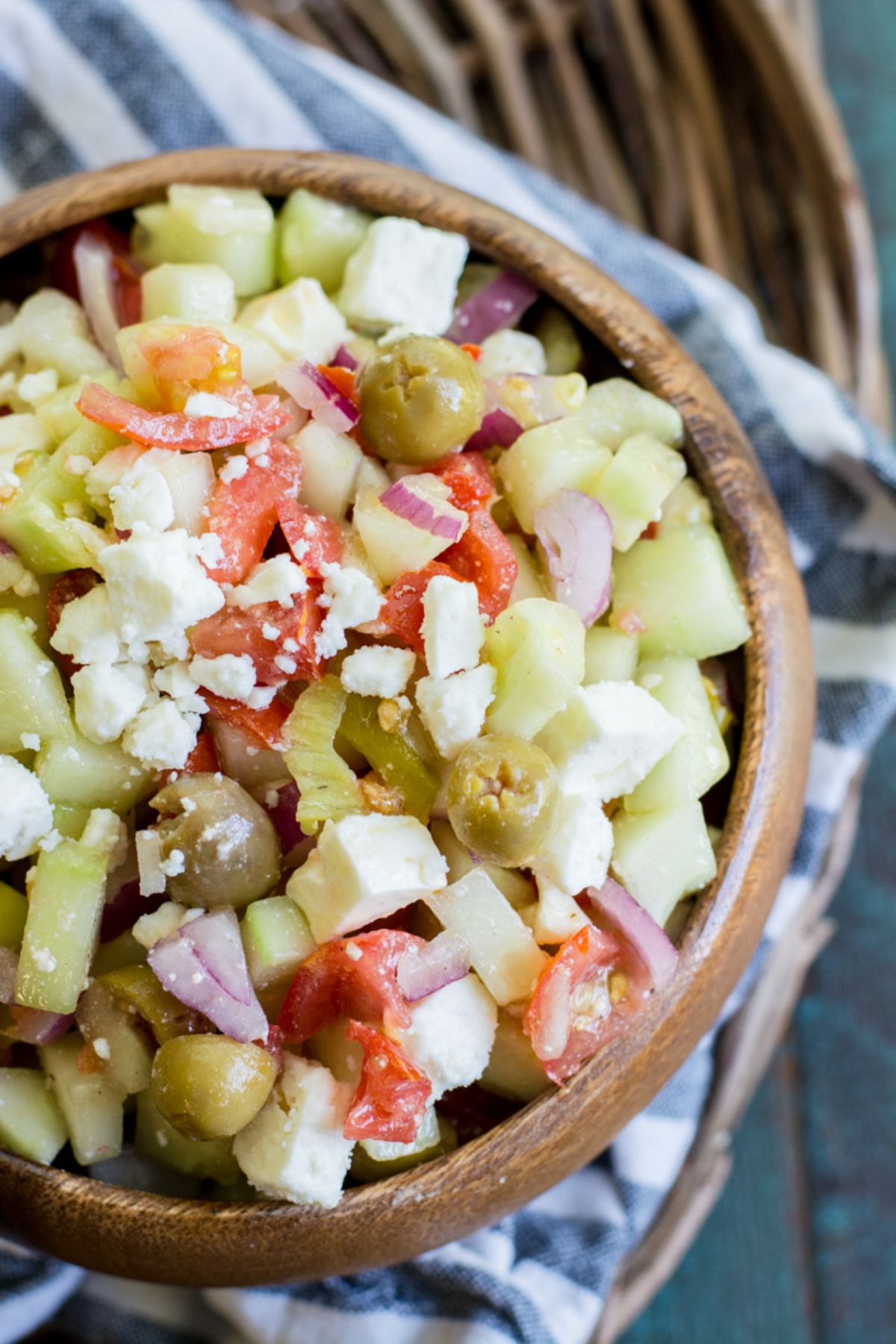 If you're already pining away for the summer, then this fresh and bright cucumber salad would be a great way to pretend it's already here! With under 4g net carbs per serving and tangy feta cheese crumbled on top, this salad by The Best Keto Recipes' tastes just as delicious as it looks.
Keto falafel nuggets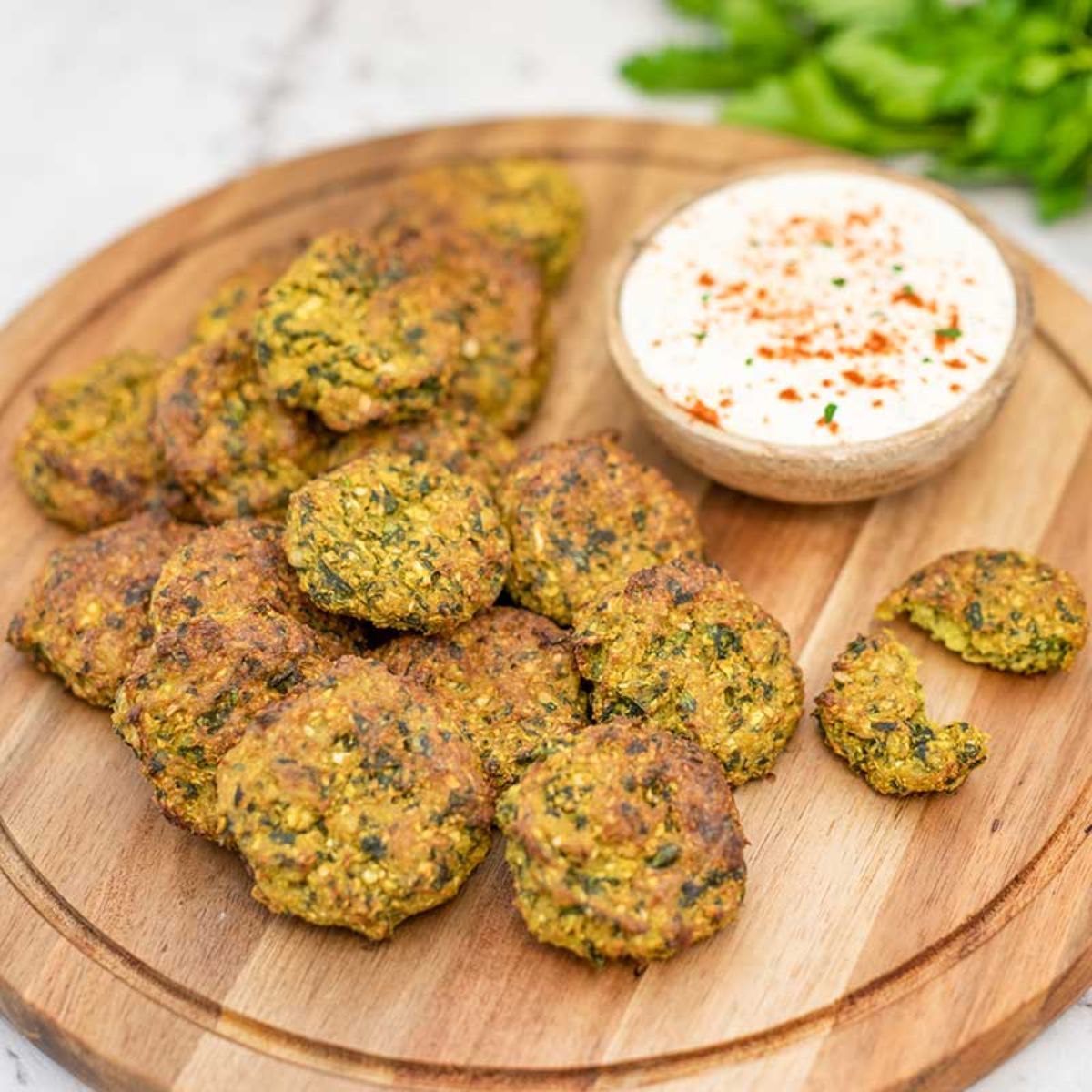 I love falafel; the flavorsome little nuggets never fail to make me smile. This low carb version of my favorite street food treat is just as delicious while coming in at a staggering 2g net carbs. My Keto Kitchen suggests pairing them with a high-fat dipping sauce, and I don't need to be asked twice!
Lettuce wraps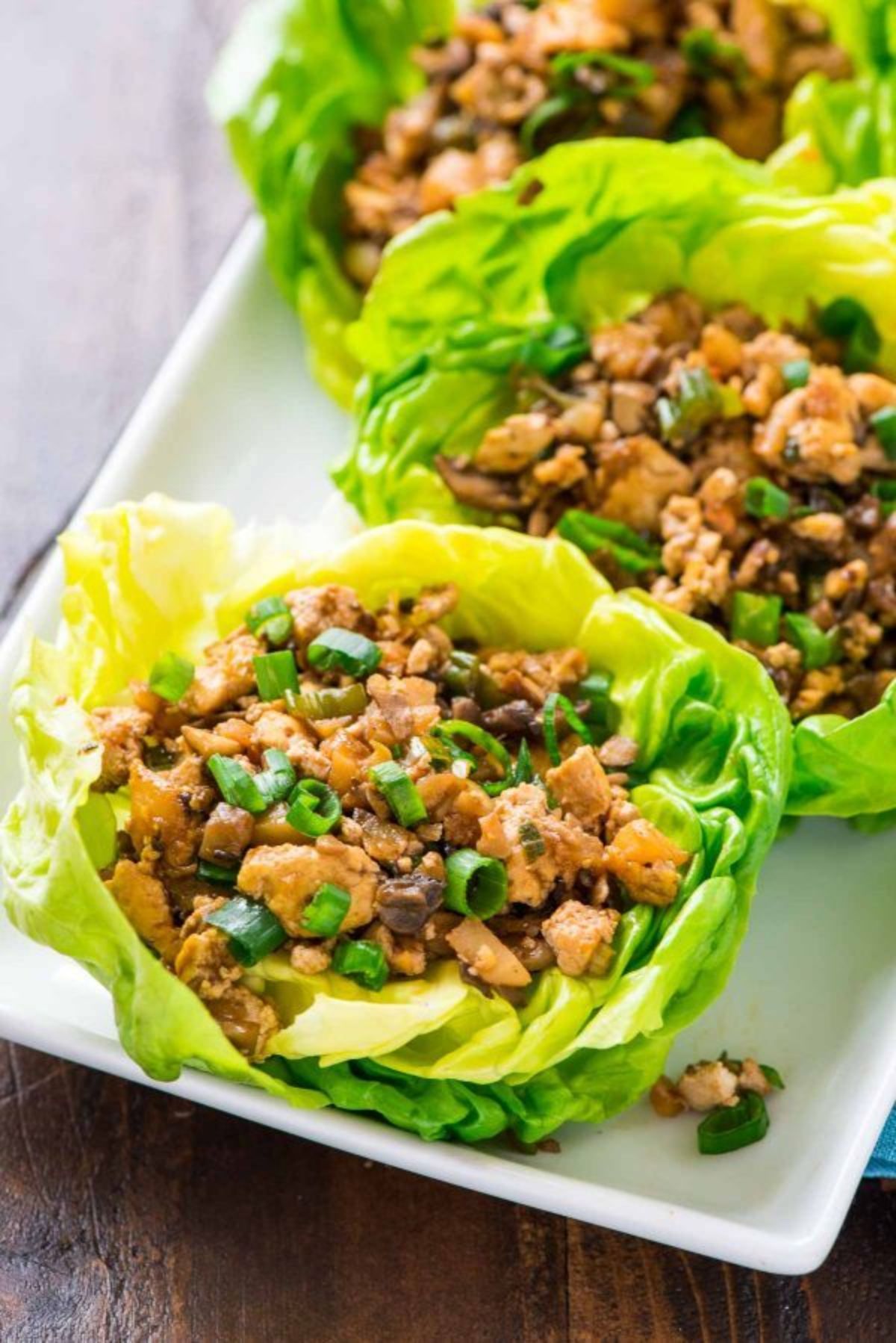 A low carb cop of PF Chang's famous lettuce wraps, these vegetarian versions weigh in at less than 200 calories, and the serving is huge! Well Plated has created a meatless version of this favorite appetizer, and it tastes even better than the real thing. The sauce is heavenly!
Spaghetti squash with vegetables and feta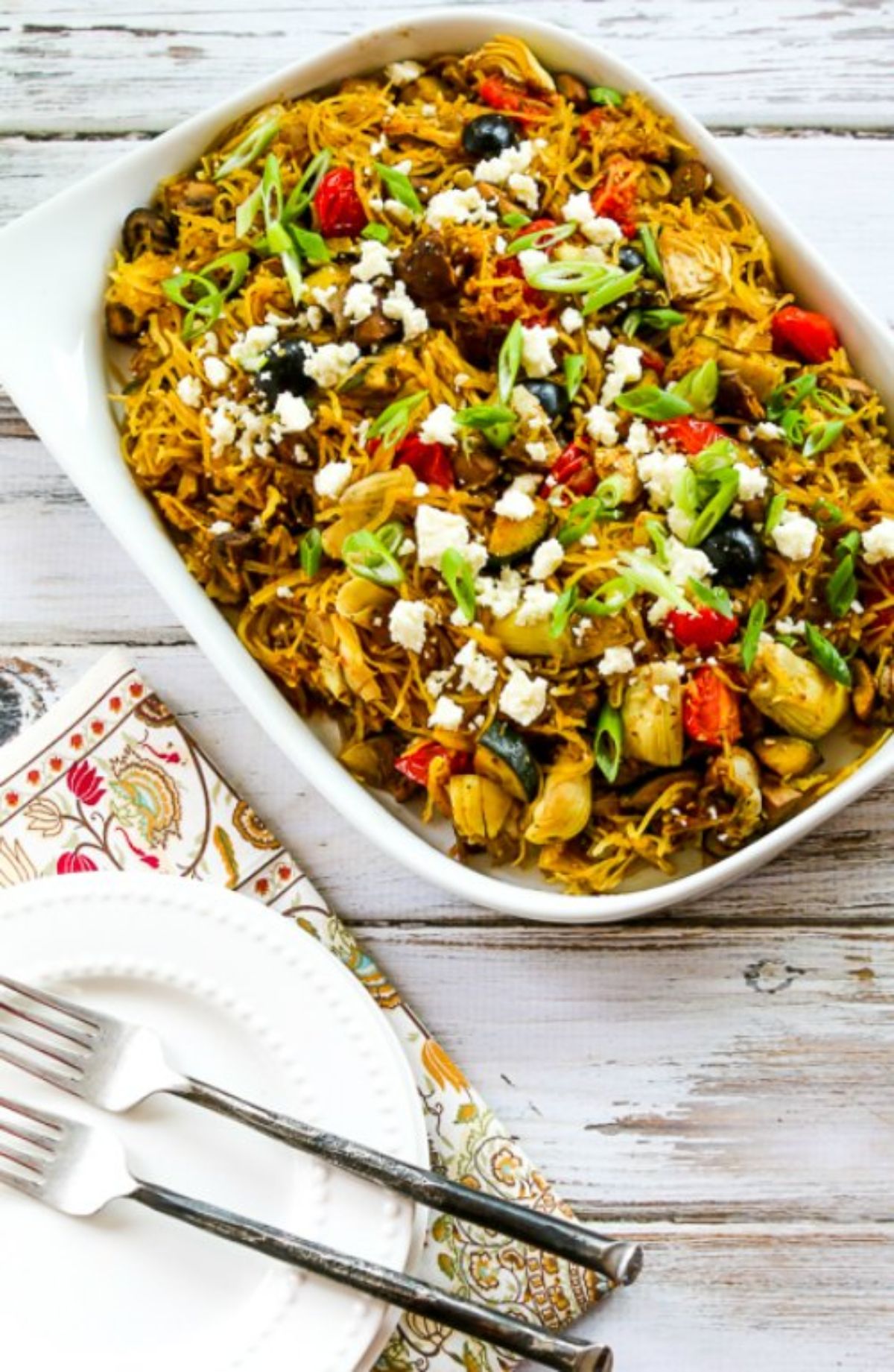 This delicious concoction from Kalyn's Kitchen is great as a side dish for your next meat-free dinner party and filling enough to be your lunch the next day. We're a big fan of the cook once, eat twice philosophy here, and this is a great contender.
Zucchini noodles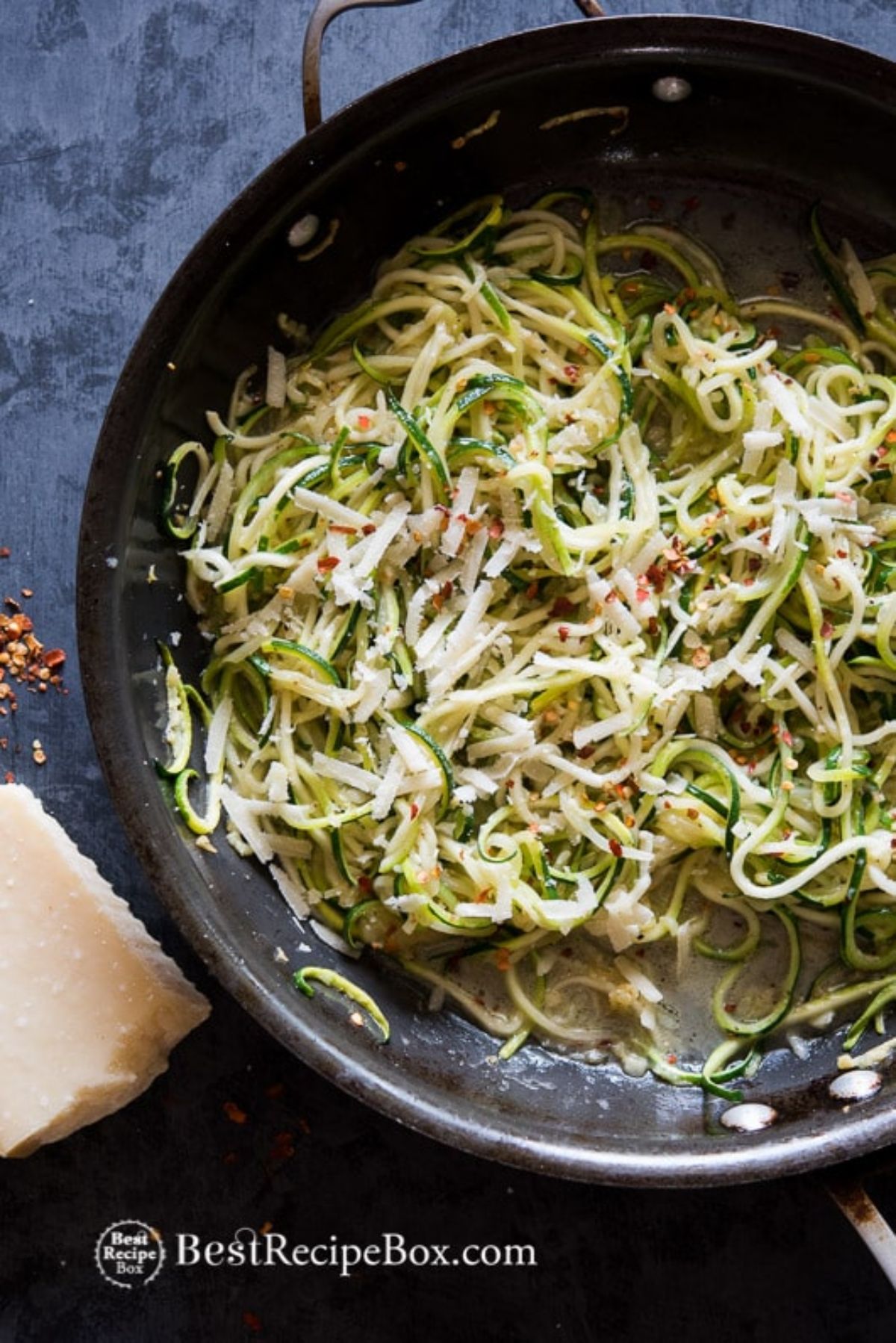 As a base for all your delicious low carb sauces, zucchini noodles (or zoodles) are hard to beat. Much lower in carbs than regular pasta, and firm enough to hold up in creamy sauces, you need to know how to make them. Best Recipe Box has the easiest recipe, that you can drench in garlic butter and sprinkle with parmesan. To be honest, you'll probably eat it straight out of the pan.
Quiche with gluten-free sweet potato crust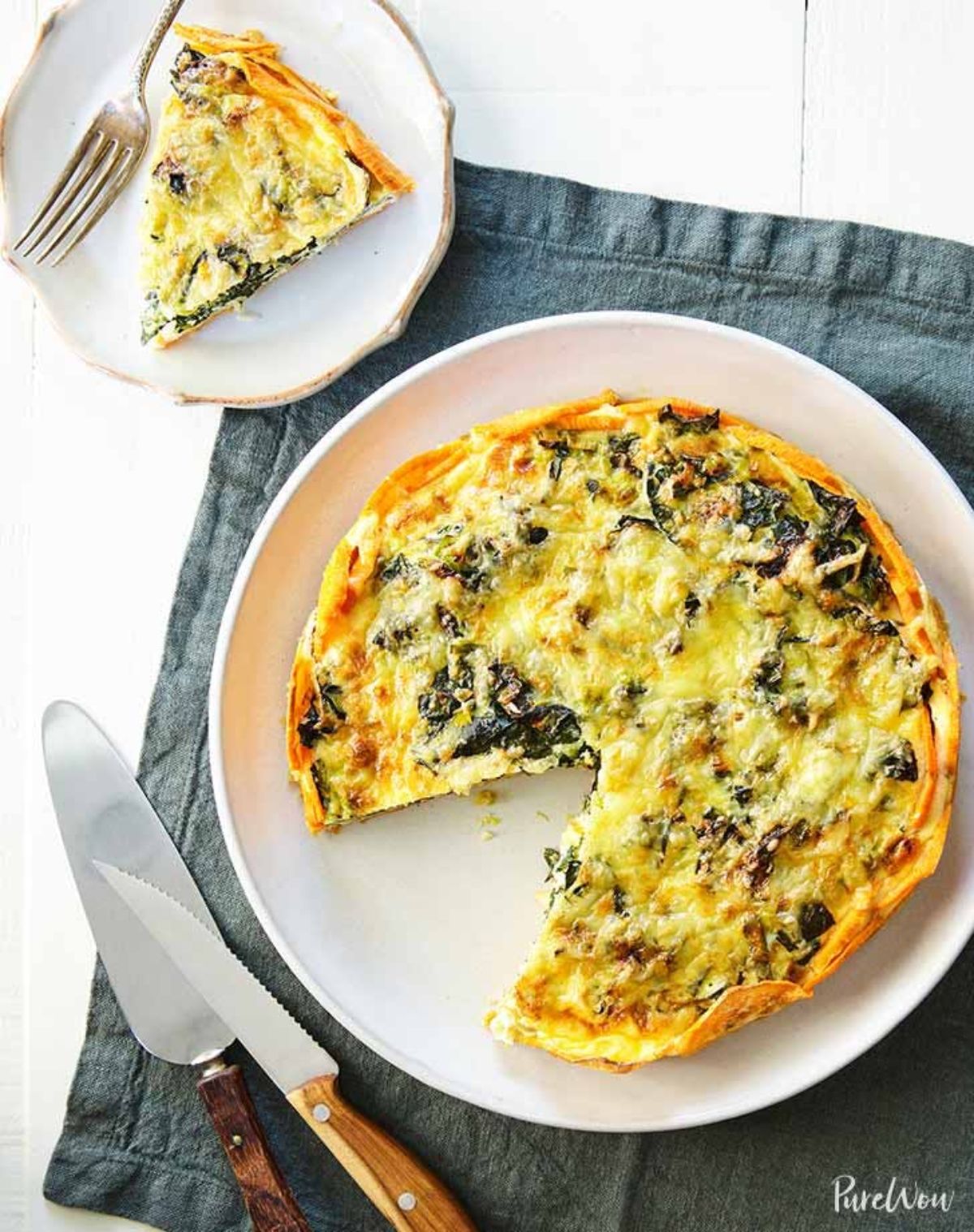 Dragging quiche kicking and screaming into the 21st Century, Pure Wow has delivered a quiche that is low-carb. gluten-free and far more modern than its soggy cousins. Made with a sliced sweet potato crust, and a delicious cheesy filling, you'll want to eat this for breakfast, lunch, and dinner, and you can!
Cauliflower curry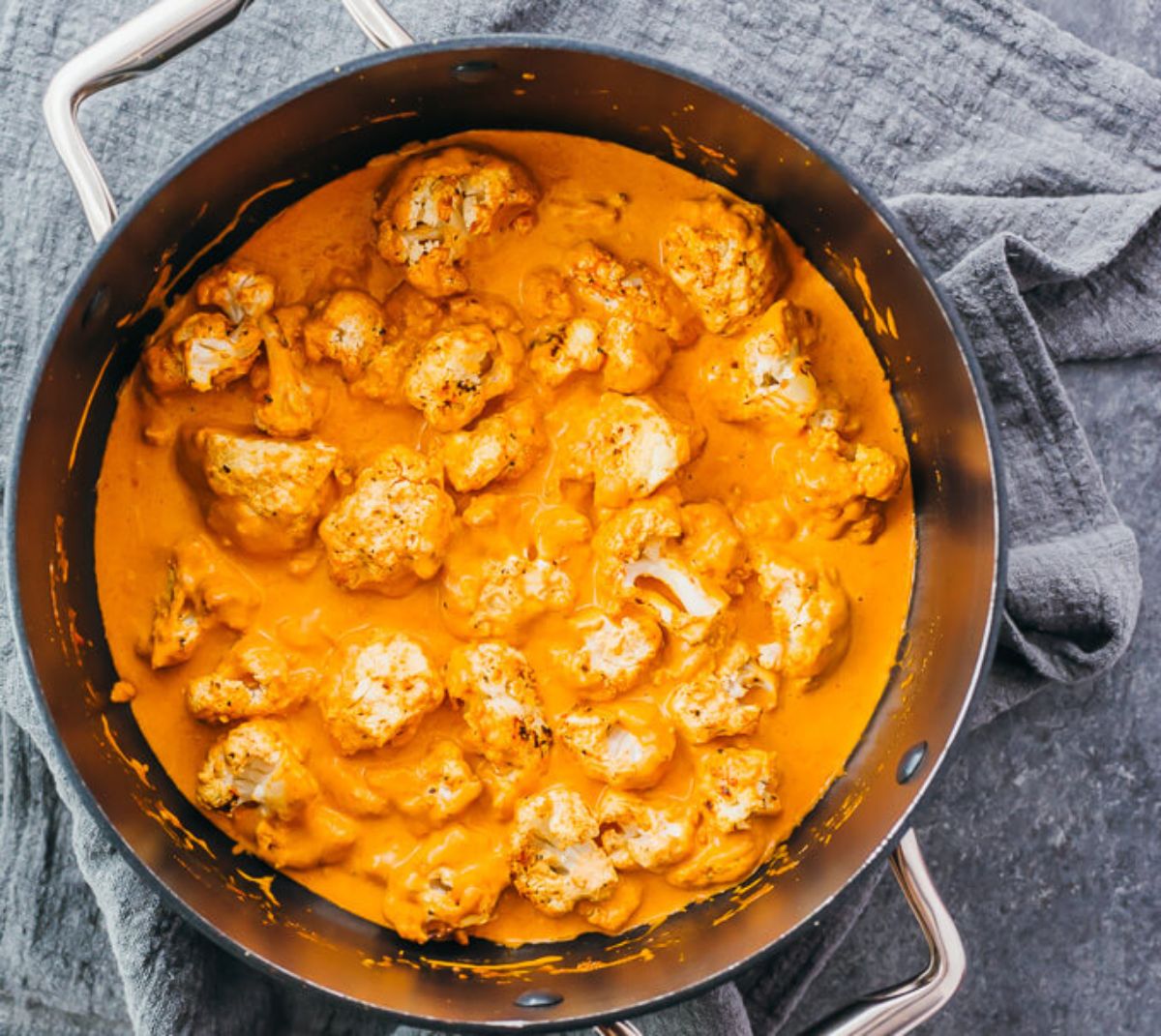 Making your own curry from scratch can seem like a daunting task, with all the spices and complicated ingredients. But Savory Tooth has a simple and relatively speedy recipe for the creamiest Cauliflower tikka masala you've ever tasted. This wouldn't look out of place at your favorite Indian restaurant, so you can serve it up at any dinner party and look pretty smug!
Vegetable samosas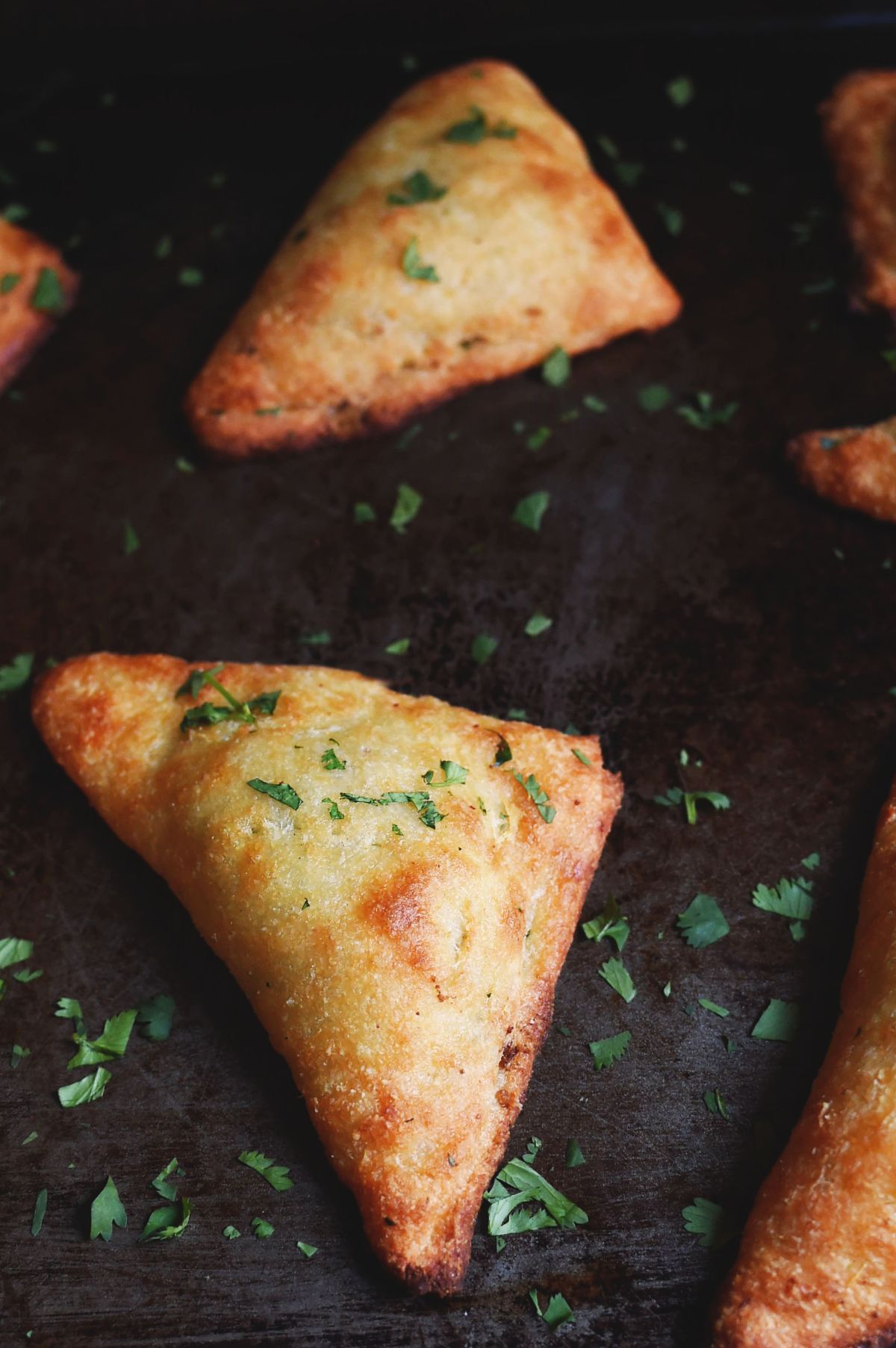 Looking for a Keto-friendly appetizer for your next gathering that's also vegetarian? Then these vegetable samosas are your new best friend Low-carb, Gluten-free, Keto-friendly, and also suitable for diabetics, you can serve them up to anyone! Simply So Healthy has all the instructions to make these little parcels of flavor on their site.
Cauliflower potato salad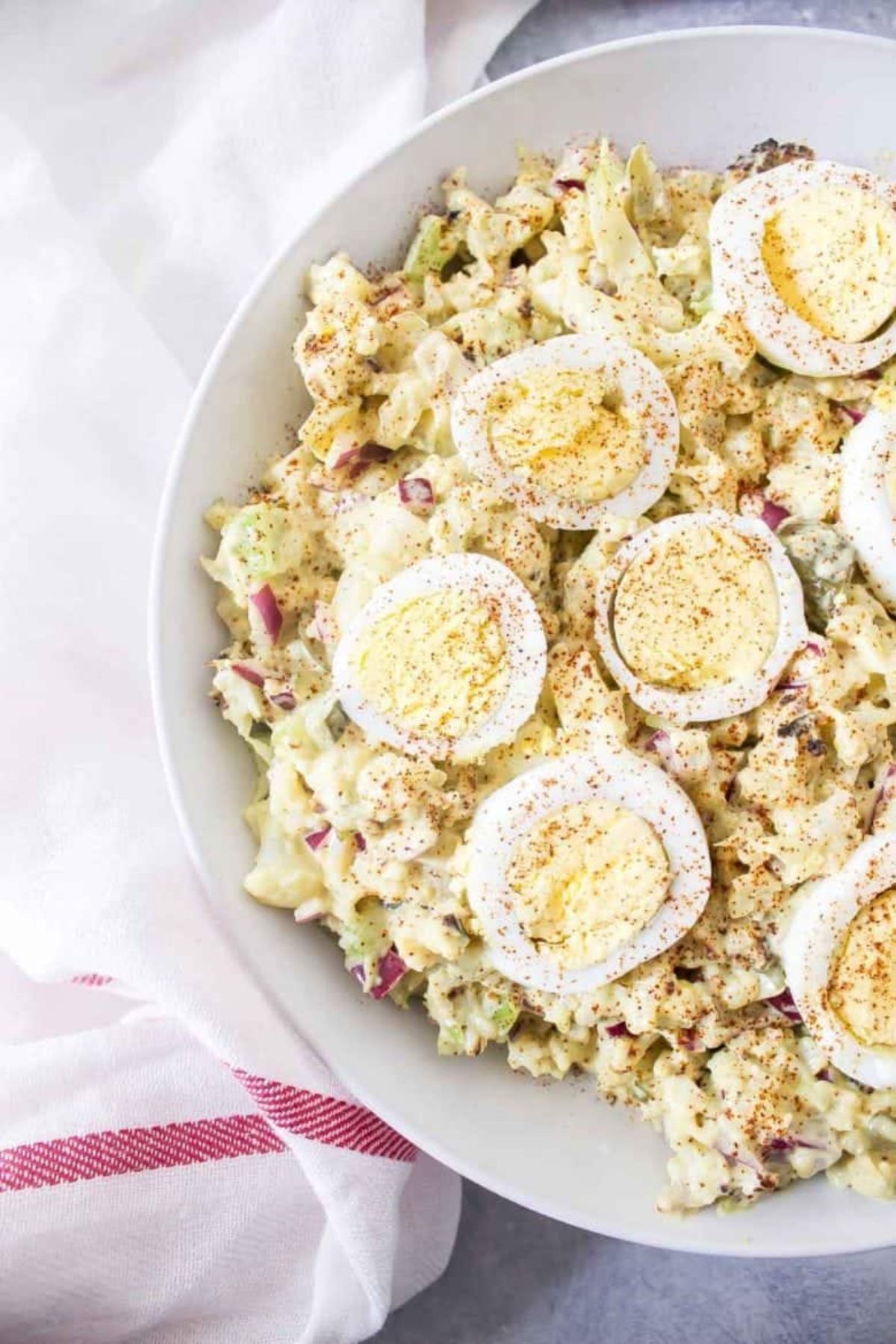 Even if we say so ourselves, our potato salad alternative is pretty ingenious. Swapping in cauliflower chunks for the usual potato lowers the carb count in your favorite BBQ side considerably. Our dressing is to die for, and you can load it onto your plate next to your burgers with no qualms at all.
Creamy vegetable soup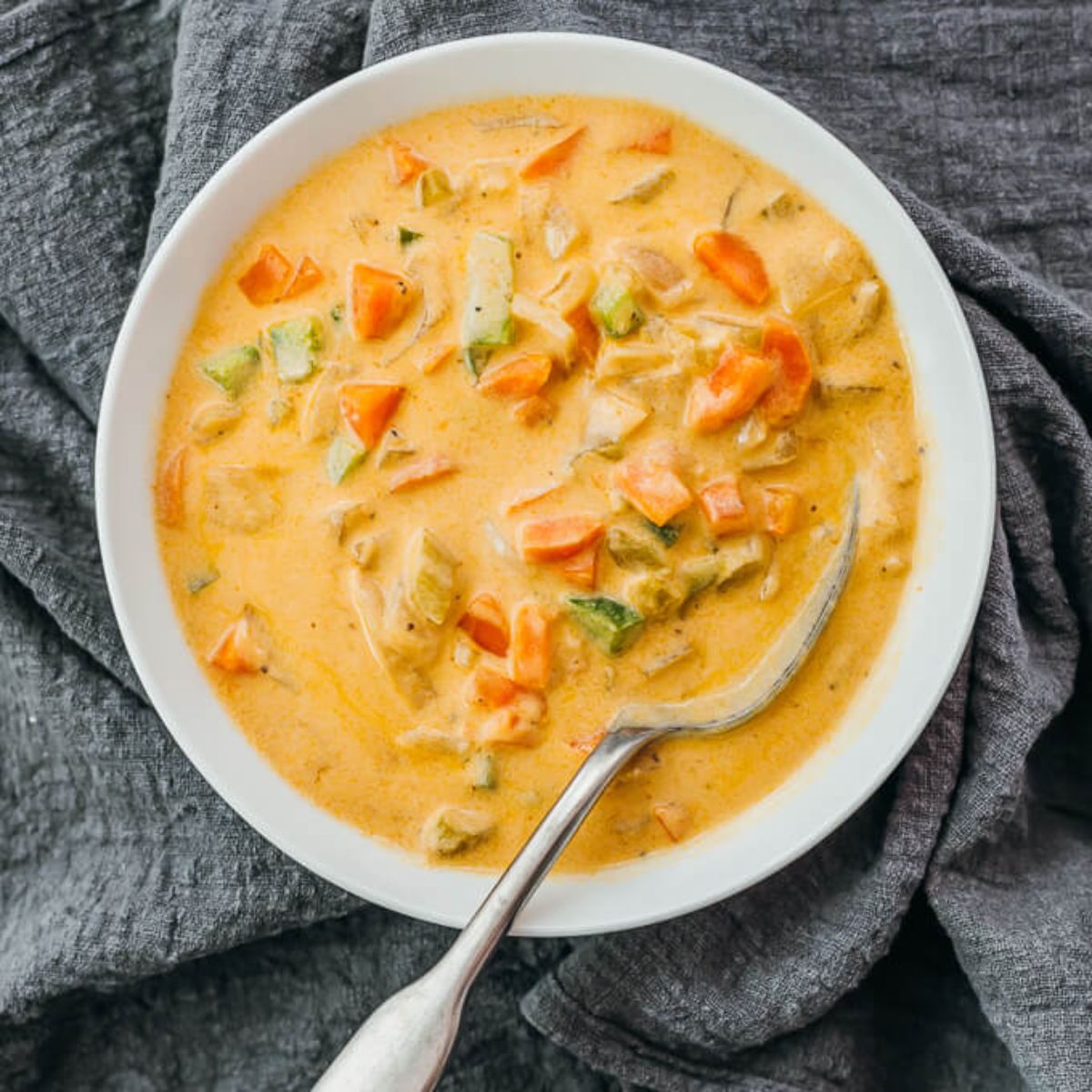 Ah, one-pot meals, how we love you! Less washing up, a quicker result, and all the lovely flavors melding together in one bowl. Perfect! This vegetable soup from Savory Tooth is creamy and rich, with 75% of the calories coming from fat, so your keto diet will thank you.
Mushroom and spinach cauliflower rice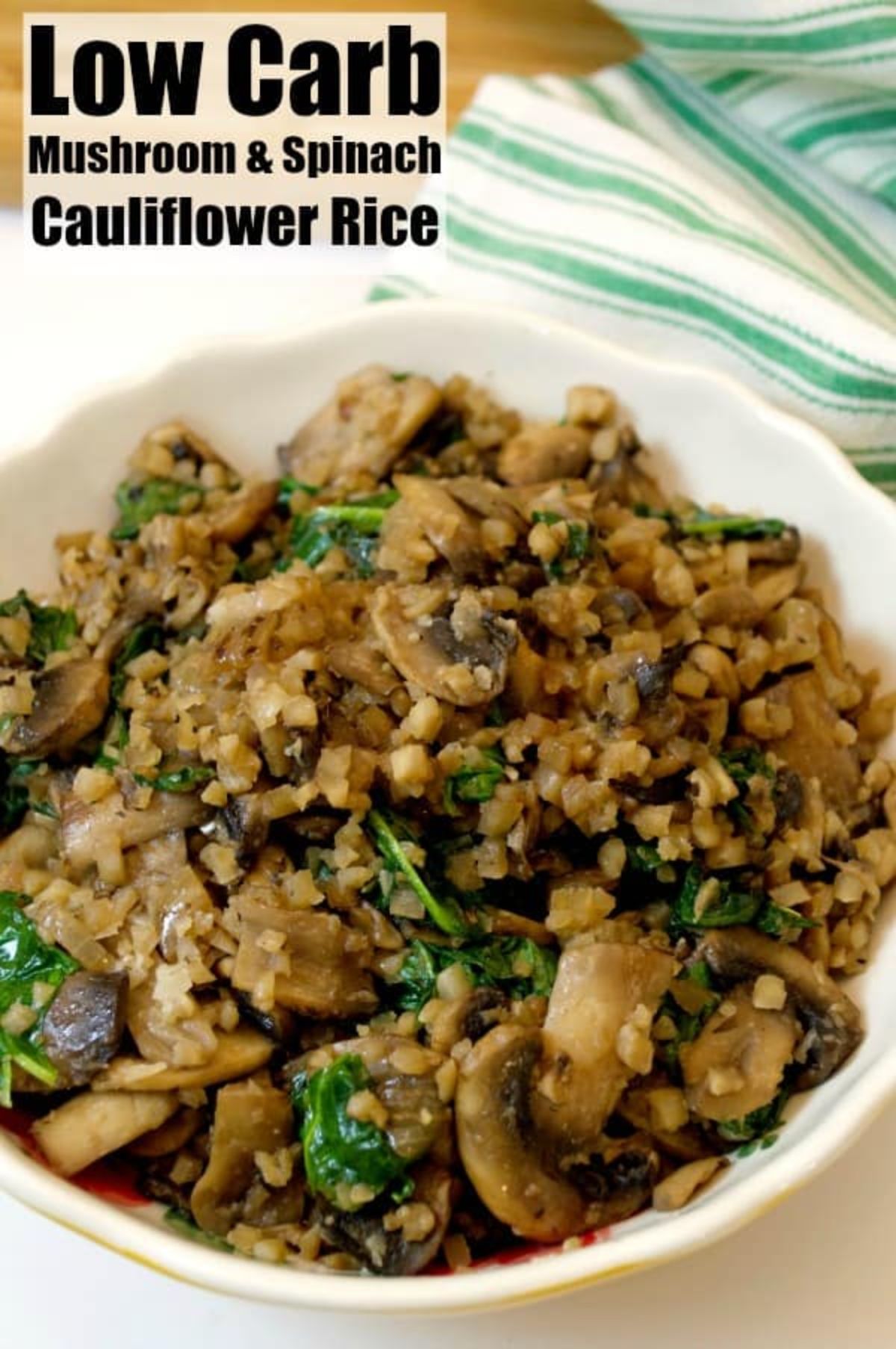 This will quickly become your go-to side dish for all family occasions. Stylish Cravings made it to go with her Thanksgiving meal, but it's too good to be confined to the holiday season. Low carb, with the lightness of cauliflower rice and the heft of mushrooms, you'll be eating this all year round.
Vegan dinner bowl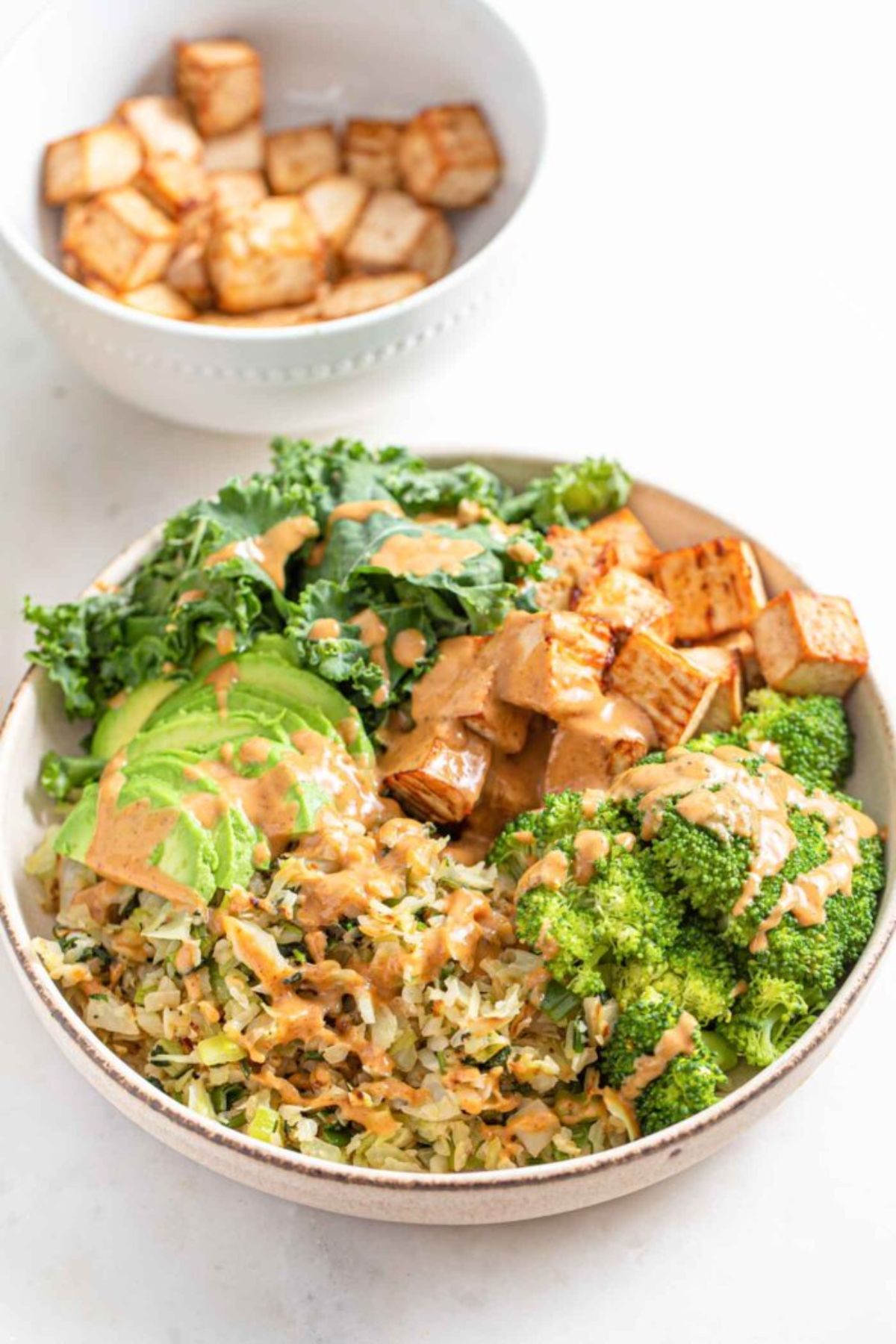 If you're hosting someone who's vegan, or your adding more vegan meals into your regular rotation, then have a look at Running On Real Food's dinner bowl. It's packed with cabbage, kale, tofu, and topped with the most delicious vegan satay sauce you've ever tasted. Meet your new low-carb, high-protein vegan lunch.
Mushroom walnut loaf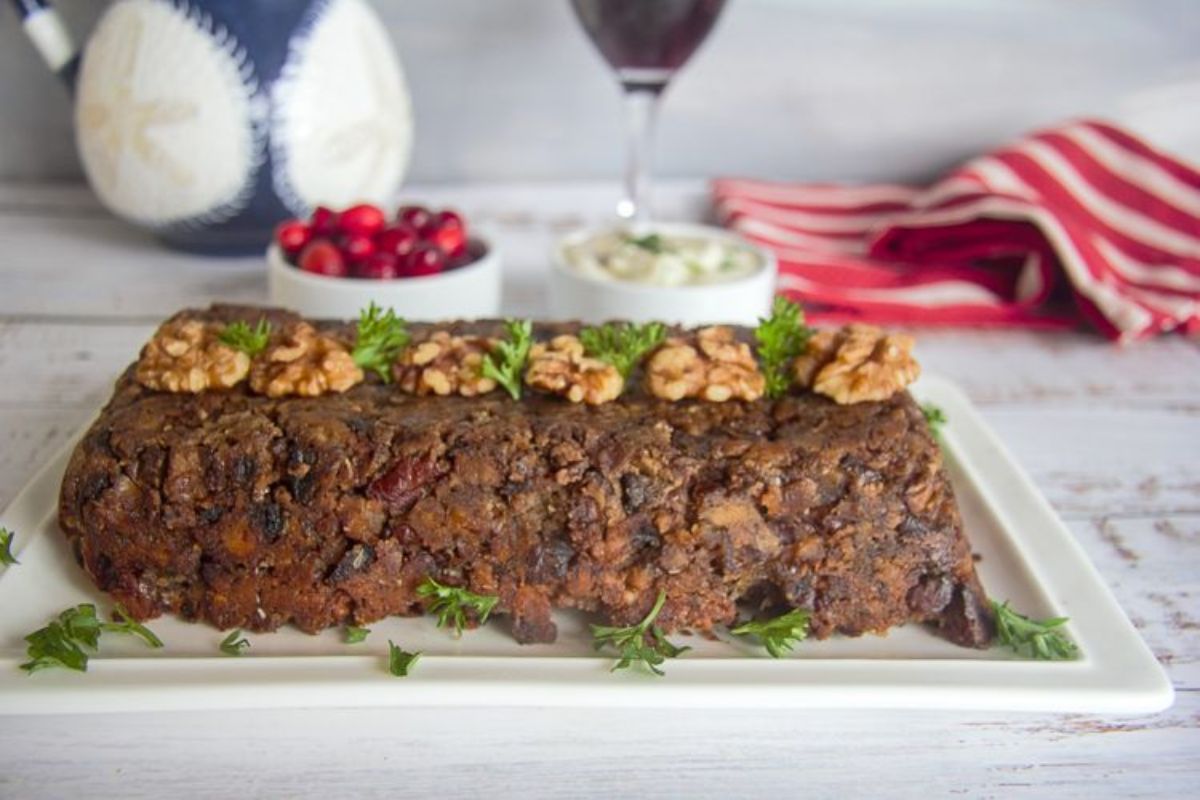 The low-carb vegetarians among us may have waved a sad goodbye to the traditional nut roast with its rice or breadcrumb base. But Keto Vegetarian Recipes will bring it back into your life with their low carb alternative. You can make it with or without eggs, depending on whether you're bothered about a crumbly texture. Then serve it with a creamy mushroom sauce, for added deliciousness.
Spaghetti squash, asparagus, ricotta, lemon and thyme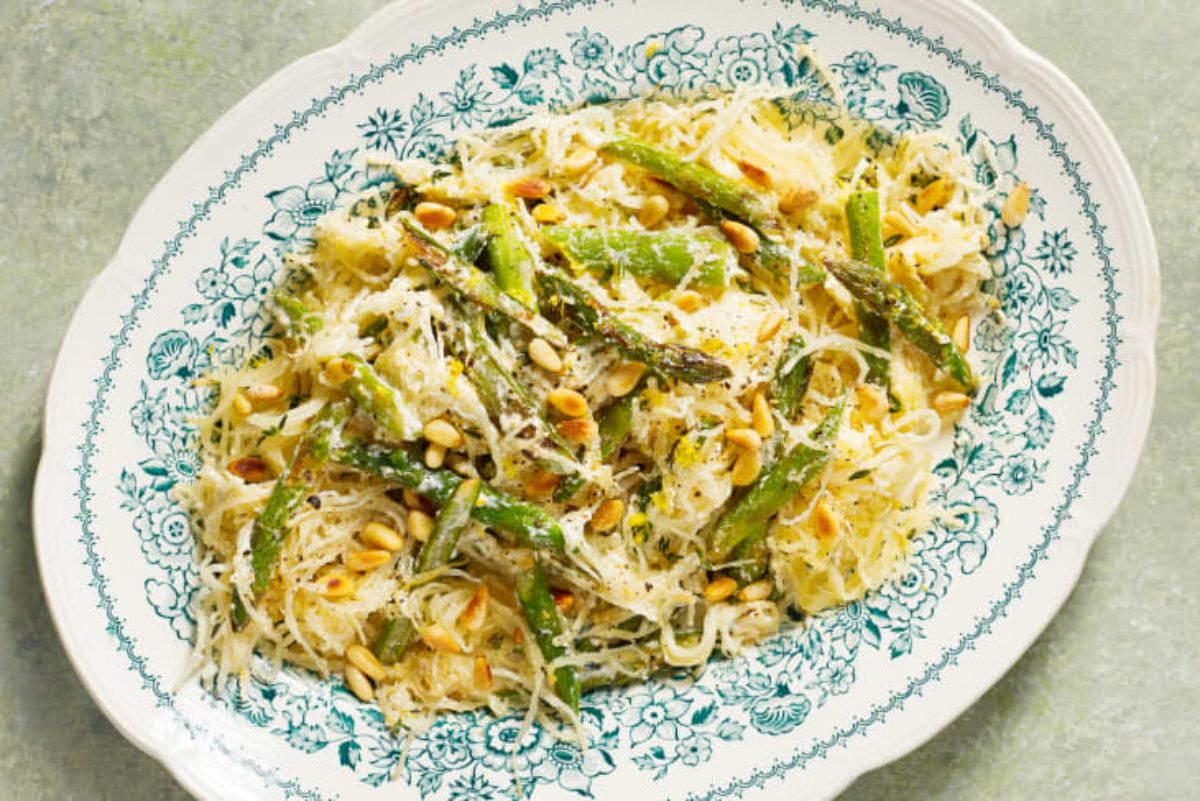 We're walking slowly into the asparagus season, which I'm very excited about. I love this tender, and sweet vegetable and I'd happily put it in everything! The Kitchn has married it with low carb spaghetti squash, creamy ricotta, tangy lemon, and savory thyme. It's a wonderful spring and summer dish that looks stunning on your table.
Thai Peanut Zucchini noodles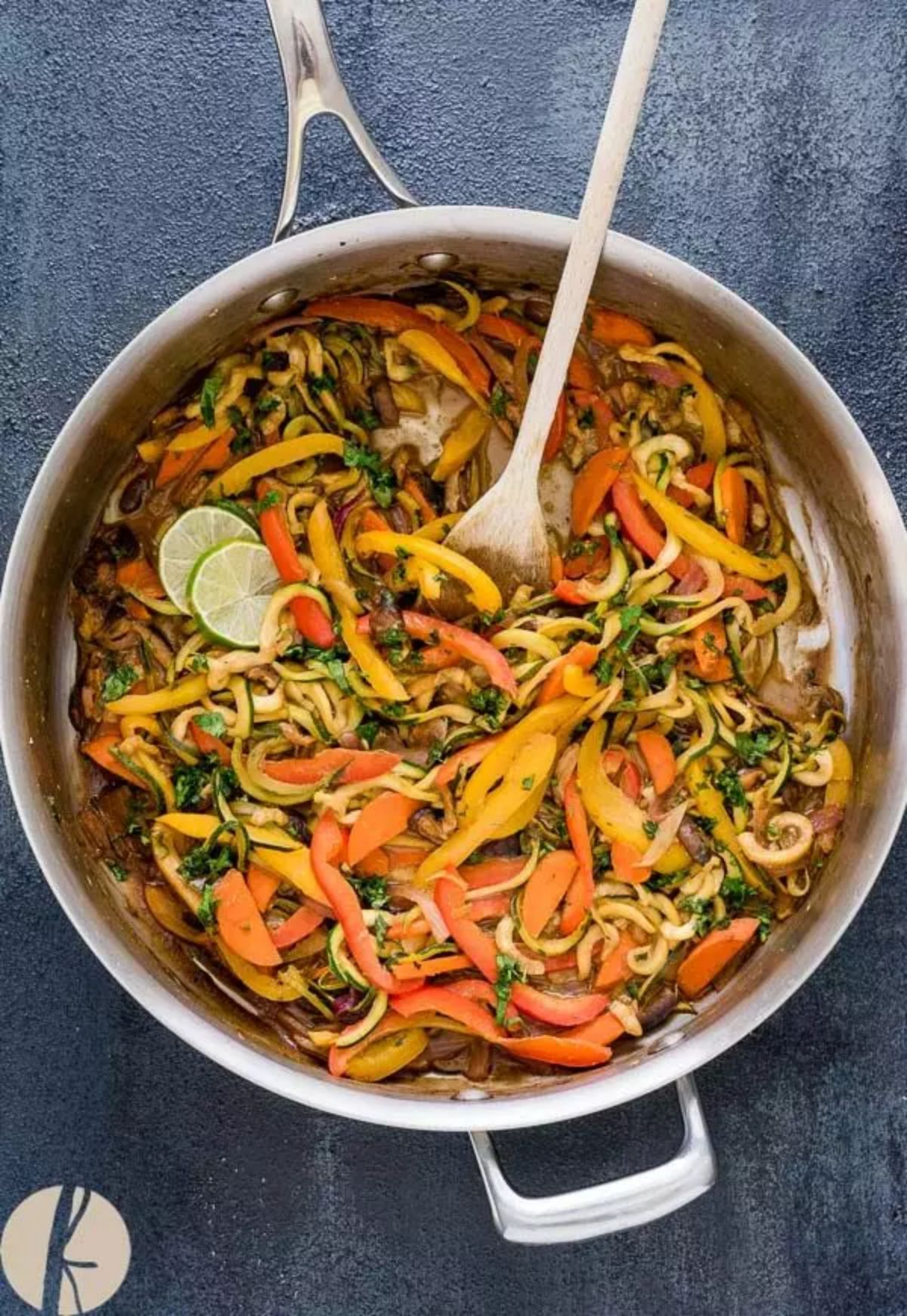 This colorful dish from Flavor The Moments is a great light alternative if you're not feeling a salad right now. Full of Thai flavors, crunchy vegetables and tangy lime, it will look great and taste great without messing up your macros.
Georgian baby pepper salad with zucchini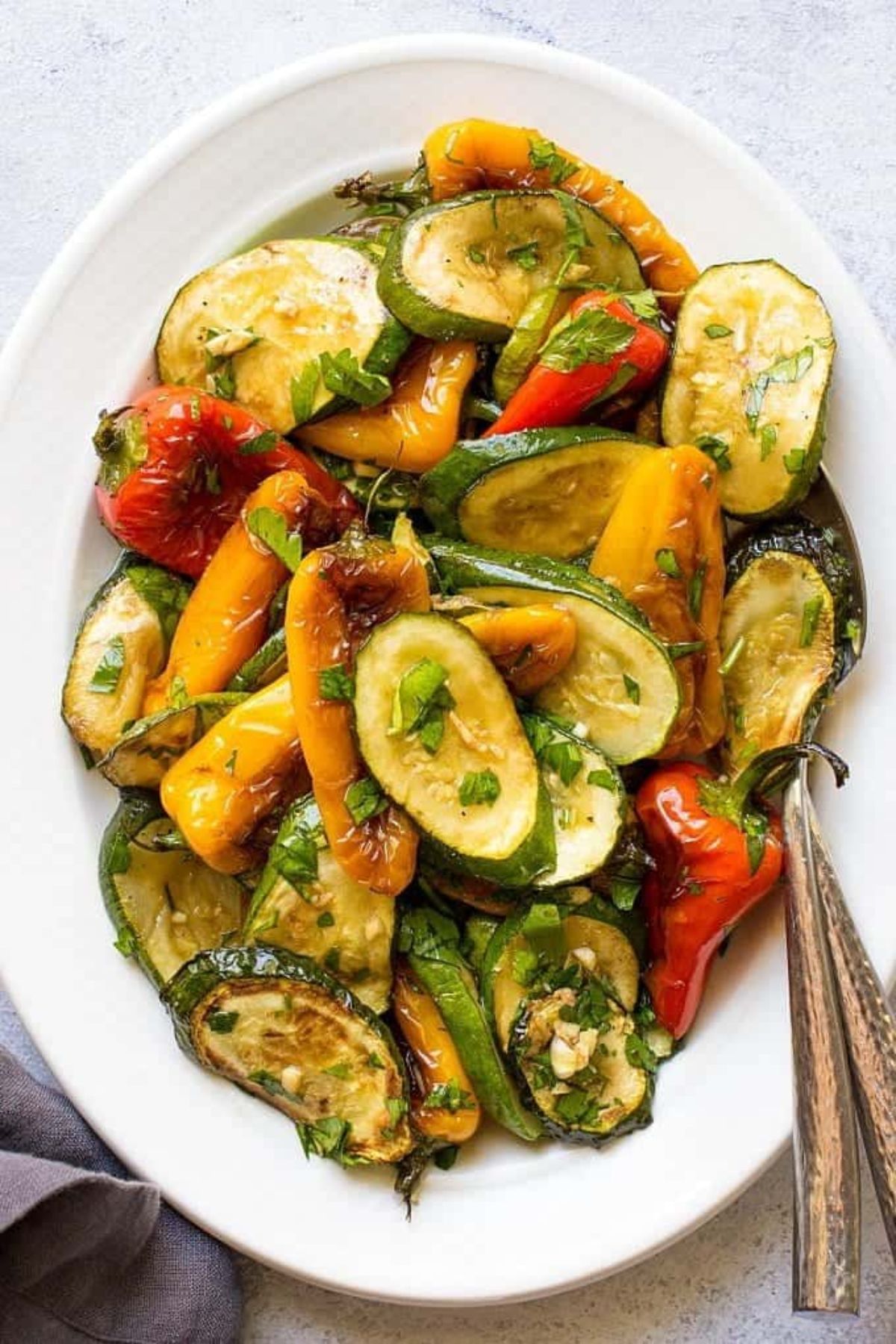 Lavender and Macarons has shared her mom's recipe for Georgian salad with baby sweet peppers and zucchini, and it's delicious. If you're a fan of warm salads (or if you're wishing for Spring but it's not quite here yet), then you'll love the classic rich Georgian flavors. Also, it only takes 20 minutes, which makes it a great midweek supper.
Roasted cauliflower with red pepper tahini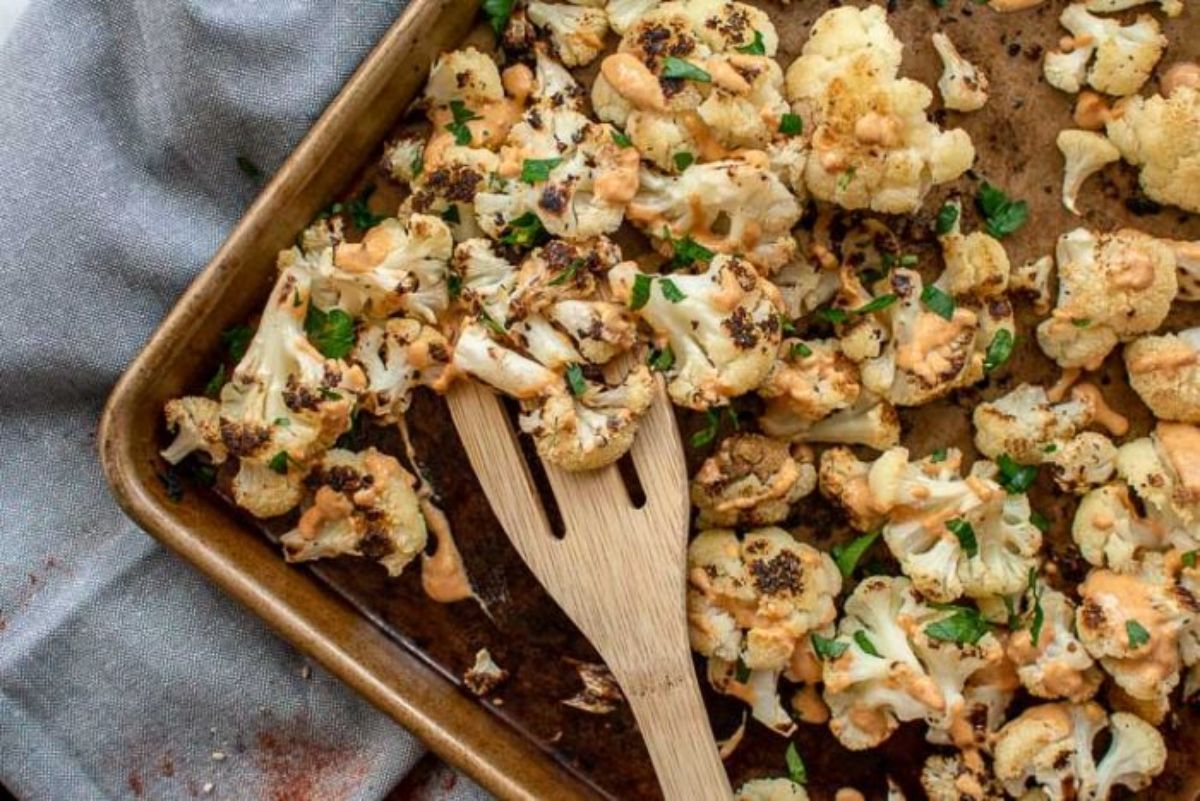 Cover anything in tahini and I'm right there with a fork, no messing! I love that little jar of nutty creaminess. Savor and Savvy has elevated the simple tray-baed cauliflower with their recipe for red pepper tahini, and I am totally here for it.
Grilled eggplant salad with halloumi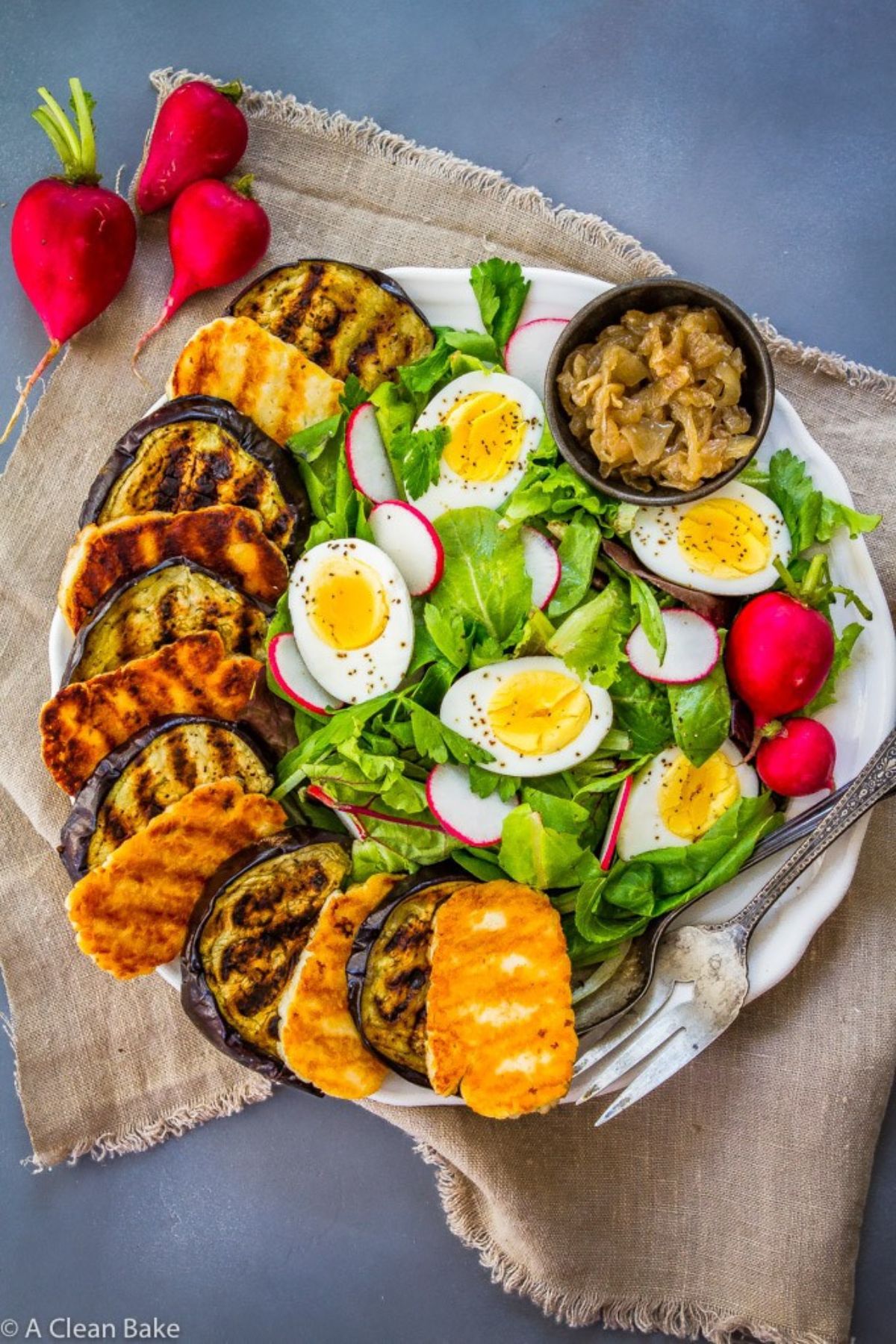 Have you ever seen a plate of food more vibrant and inviting? This eggplant and halloumi salad from A Clean Bake is super quick, full of healthy fats, and filling enough to last you until supper. If you're looking to impress your friends at your next gathering, then you need this recipe.
Broccoli cheese casserole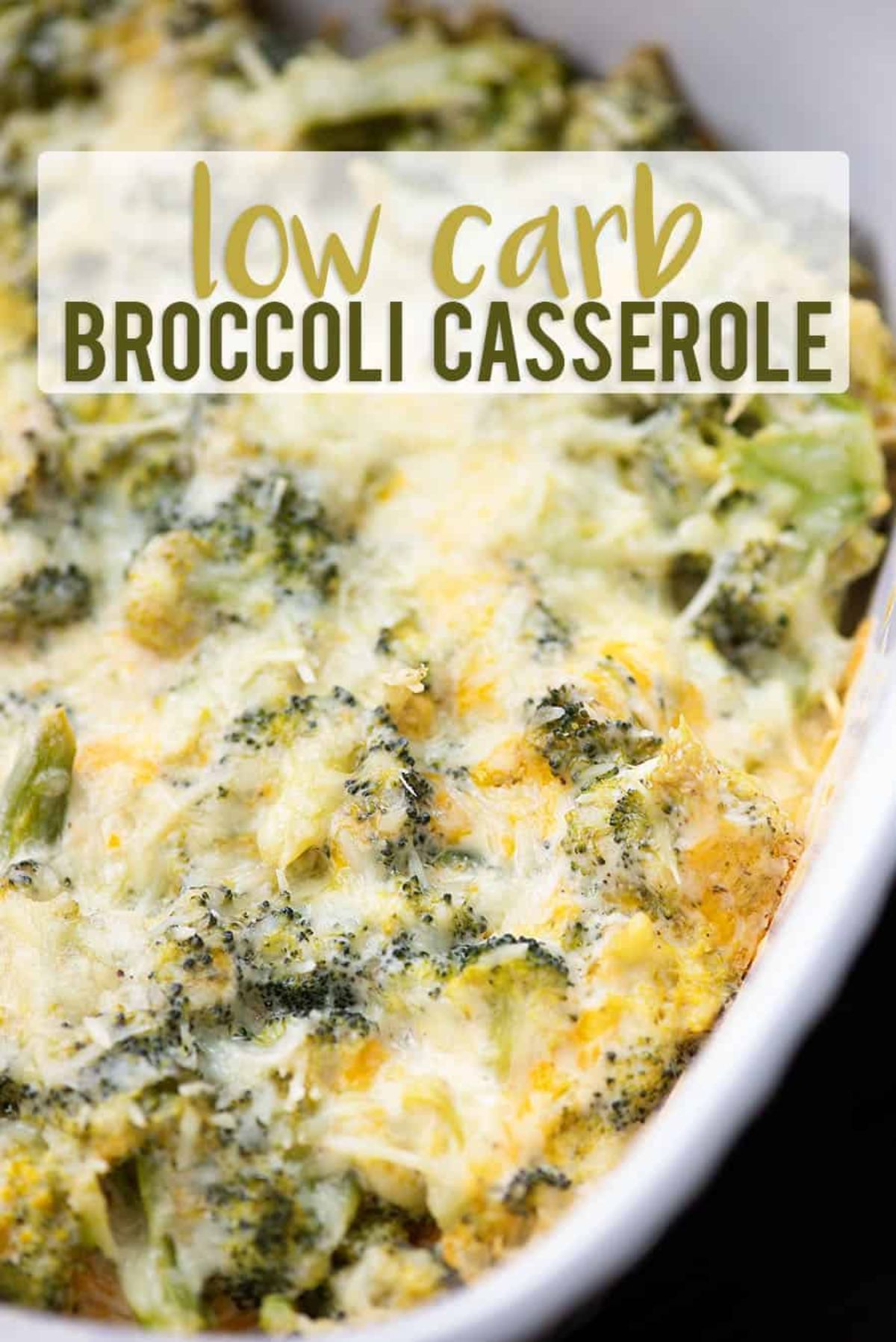 The pairing of broccoli and cheese never stops giving, it's just too delicious not to cook. That Low Carb Life has the instructions for the richest casserole you've had in a while. Serve it up as a side for your Sunday dinner, or as a quick lunch reheated the next day.
Crustless spinach cheese pie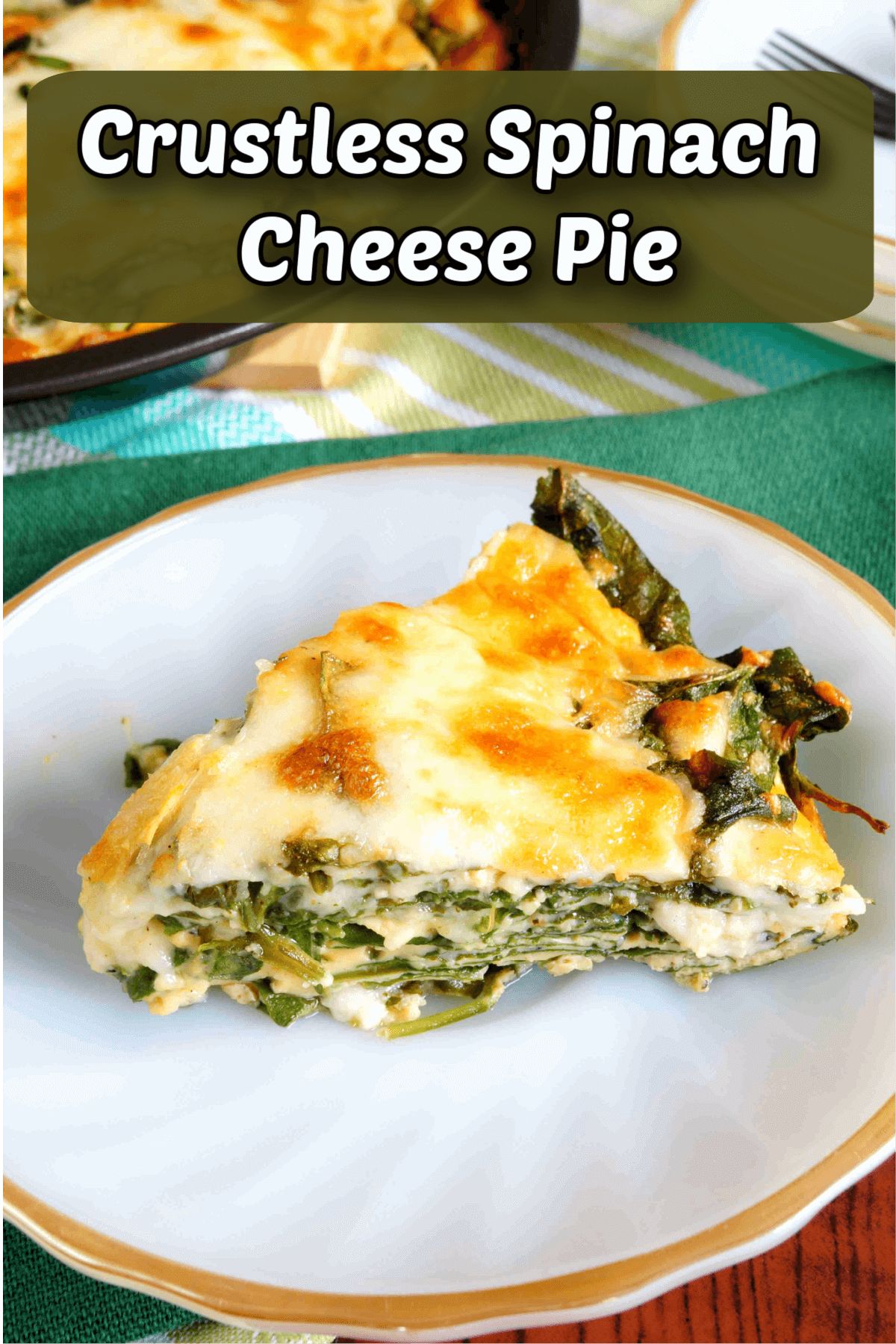 This delicious pie by Low Carb Yum only has 2g net carbs and is super simple. So if you're just starting out on your low carb diet journey, then it's a great place to start. Also, it's a one-pan dish and you know how I feel about one-pan dishes!
Baked eggs in avocado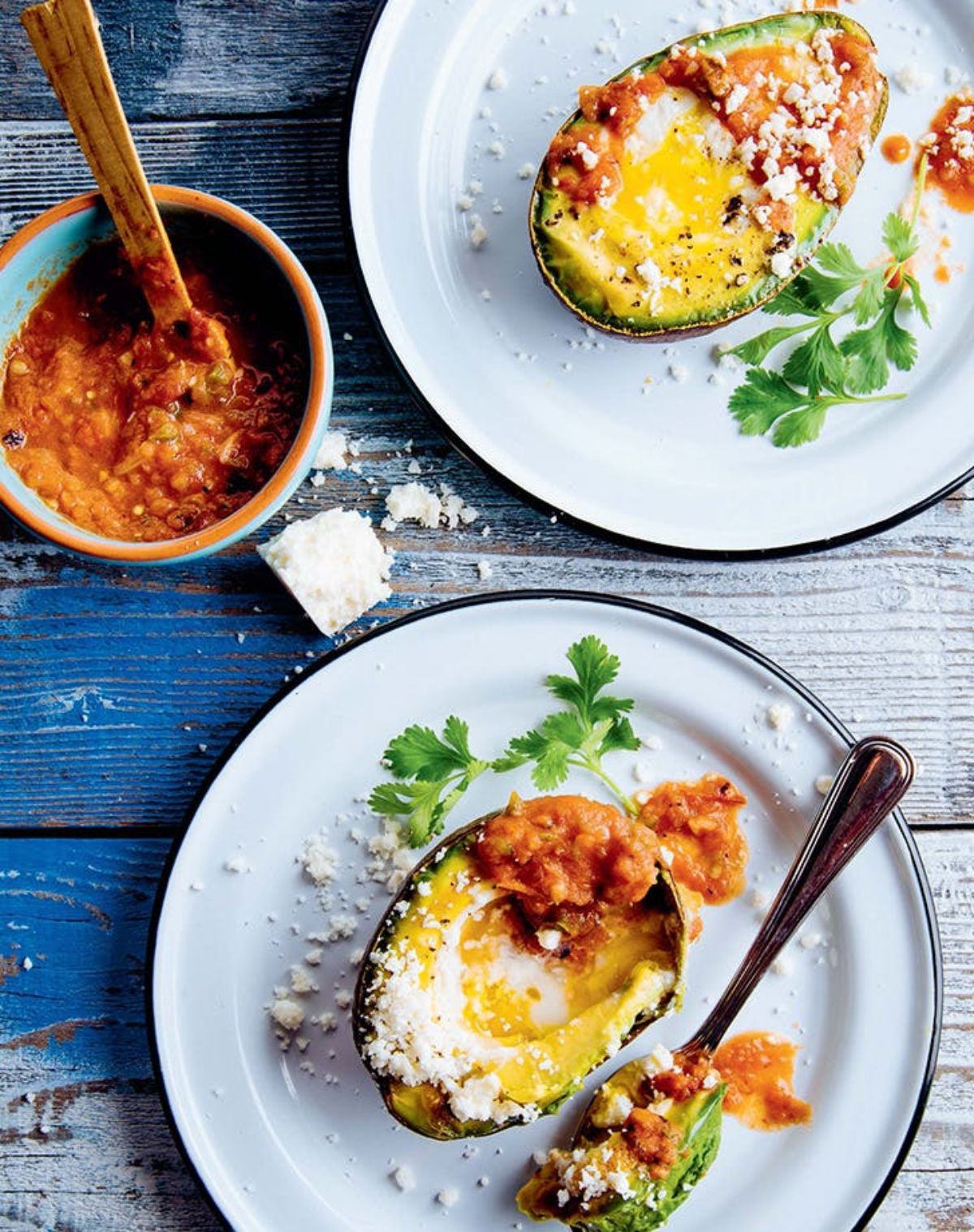 If your usual breakfasts are boring you to tears, then Pure Wow can brighten up your mornings with their baked eggs in avocado. Full of flavor, healthy fats, and stunning to look at, you could serve it up at your next brunch with friends, or you could just eat it all yourself.
Italian stuffed zucchini boats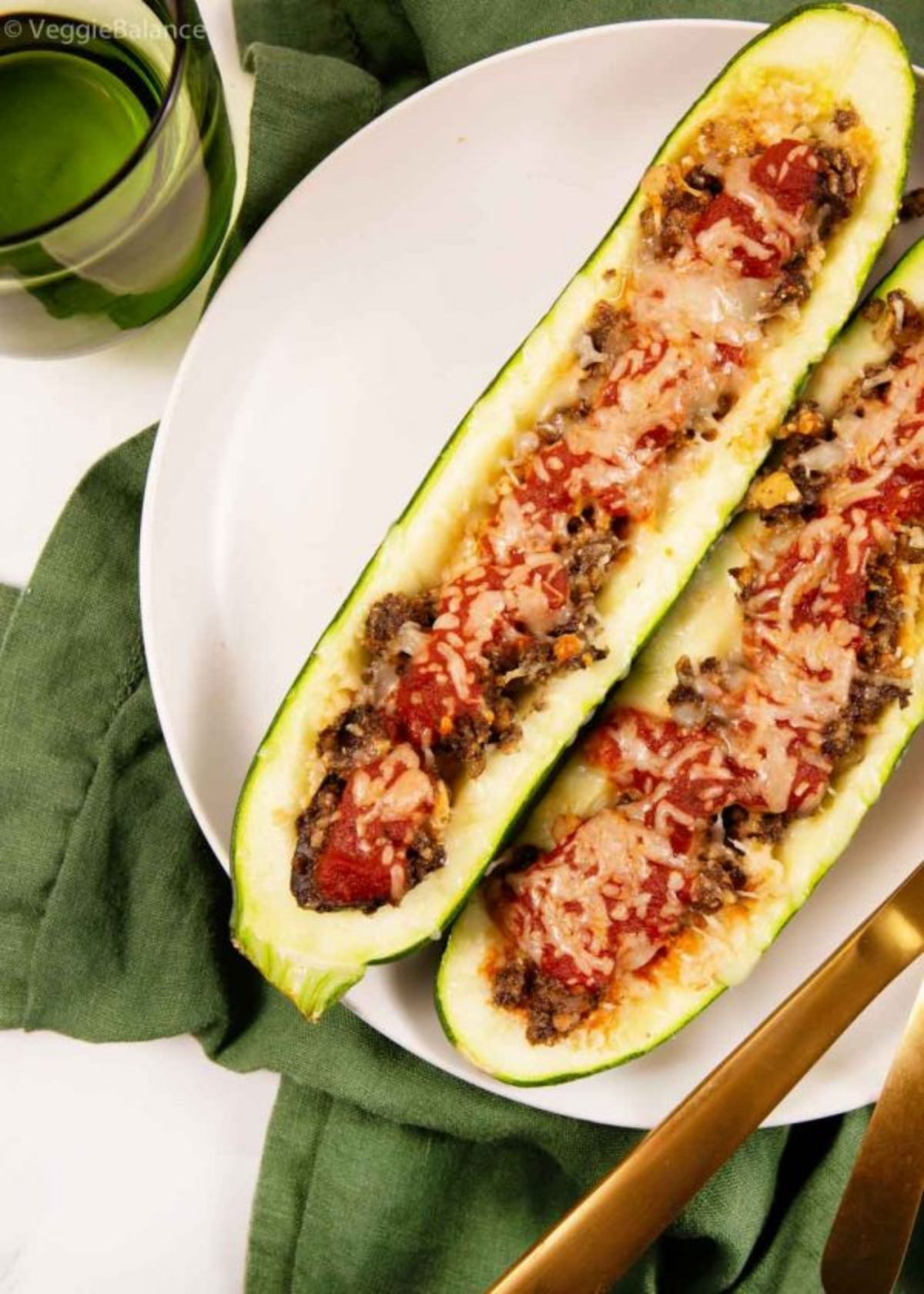 Veggie Balance has created their own delicious vegetarian meat base perfect for all sorts of recipes, but definitely just right for these stuffed zucchini boats. Their crumbled vegan ricotta cheese is the perfect final touch.
Spinach feta savory pancakes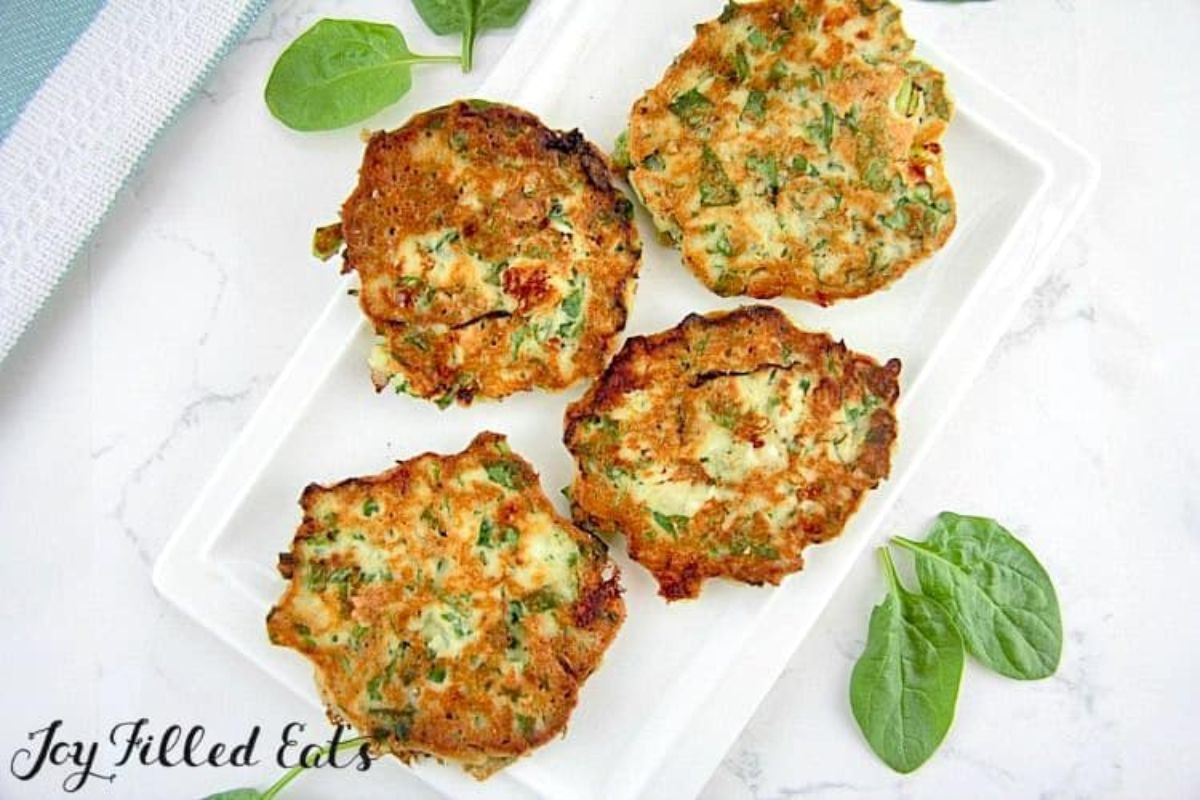 I love making mini pancakes. They're great for lunch with a side salad or cauliflower rice. They're also my favorite grab-and-go snack as they're super portable. This recipe from Joy Filled Eats delivers tiny parcels of tangy cheese and nutritious spinach. Pop them in your handbag and you're set until supper.
Cauliflower hash browns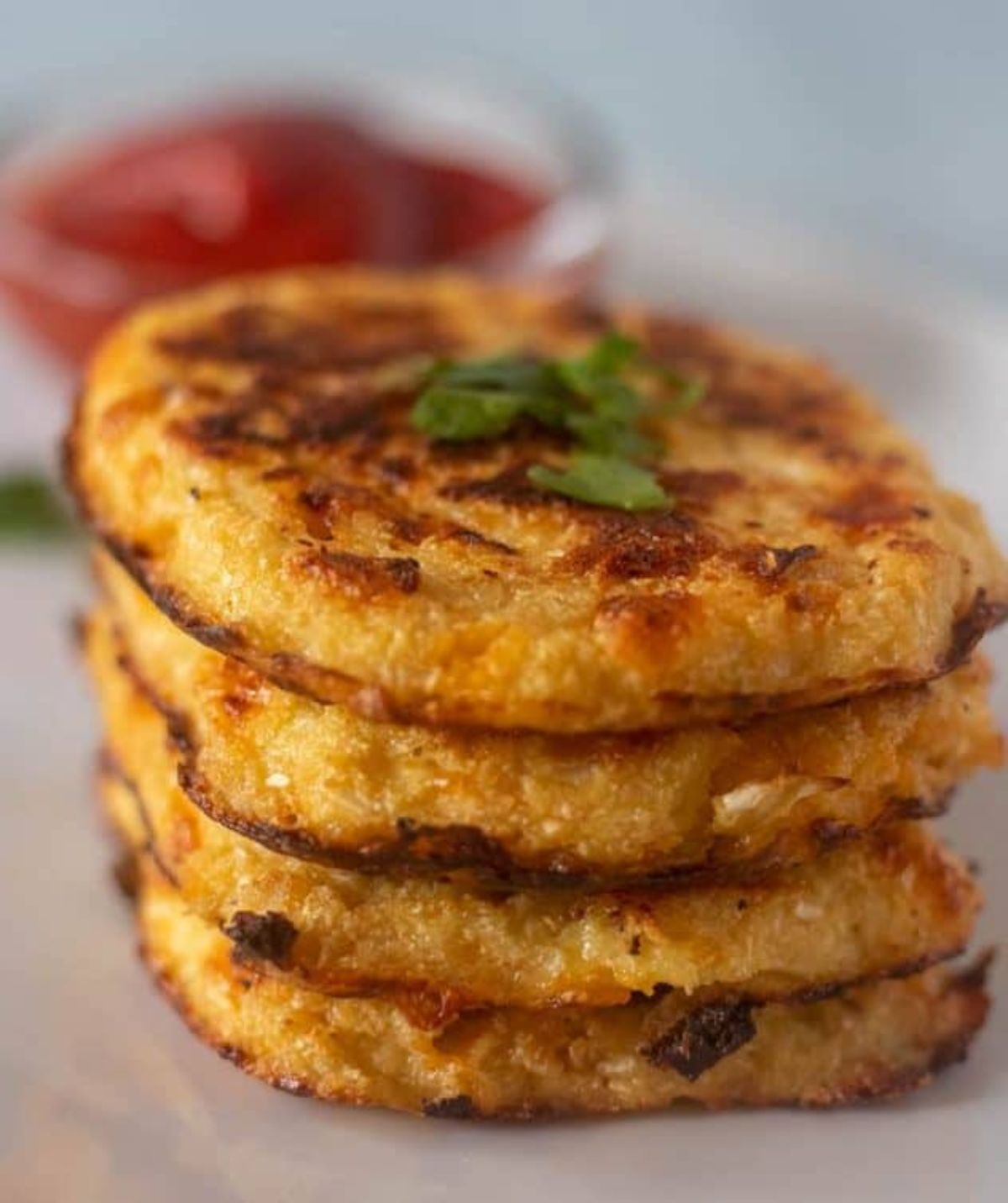 Nearly as awesome as mini pancakes are hash browns, and this low-carb version from Apple for CJ switches riced potatoes for riced cauliflower. Cauliflower is epic: it's high in fiber, full of antioxidants, and low in carbohydrates. These are great with brunch, or when you're having a peckish morning.
Cheesy spinach calzone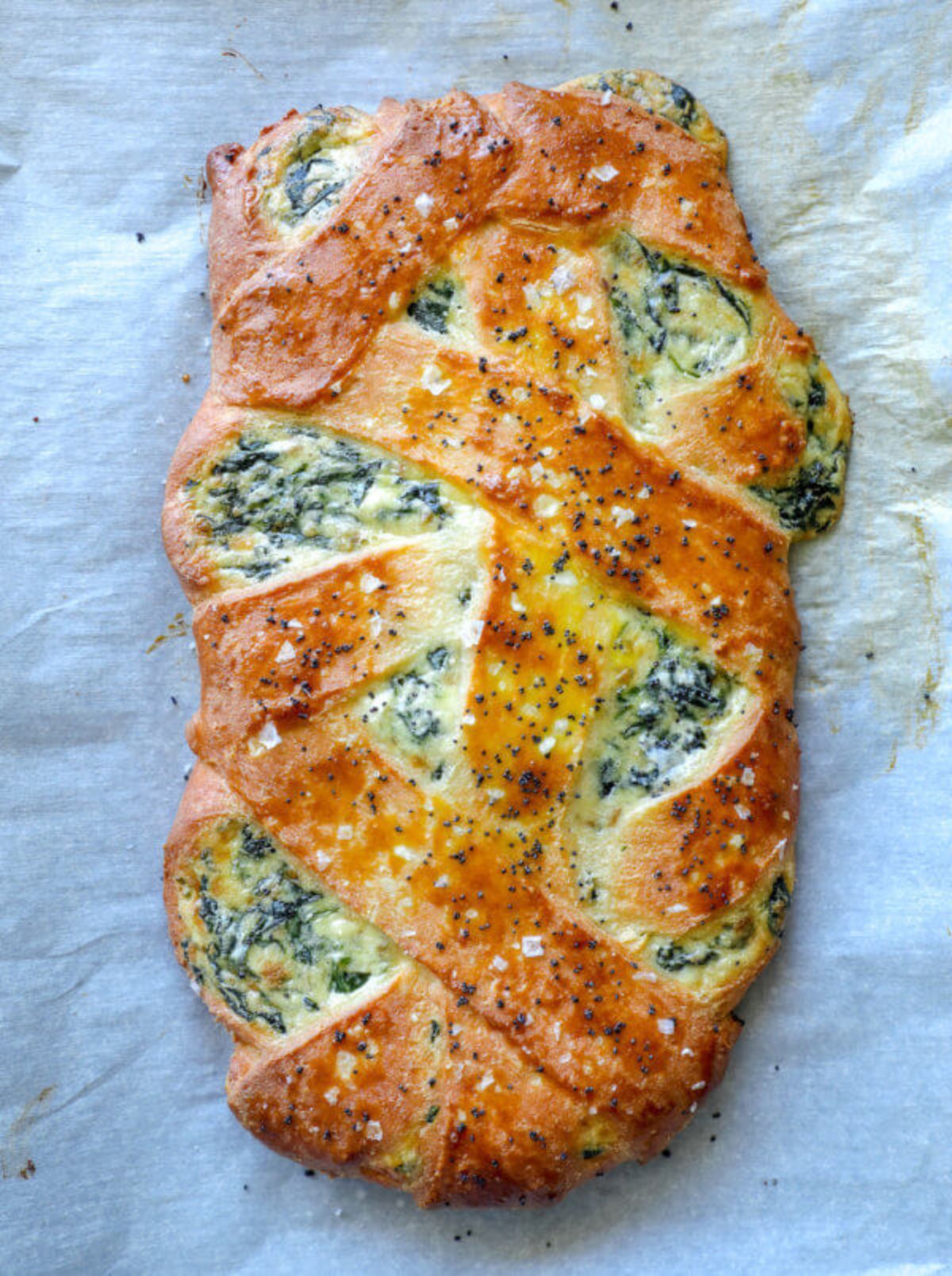 How amazing does this parcel of cheesiness look? I'm not a pizza girl, but this calzone would keep me happy for a long time. Not only is it low-carb and vegetarian, but it's gluten-free too! Made with a modified mozzarella dough, I Breathe I'm Hungry has easy-to-follow instructions and loads of adaptations over on her page.
Broccoli tater tots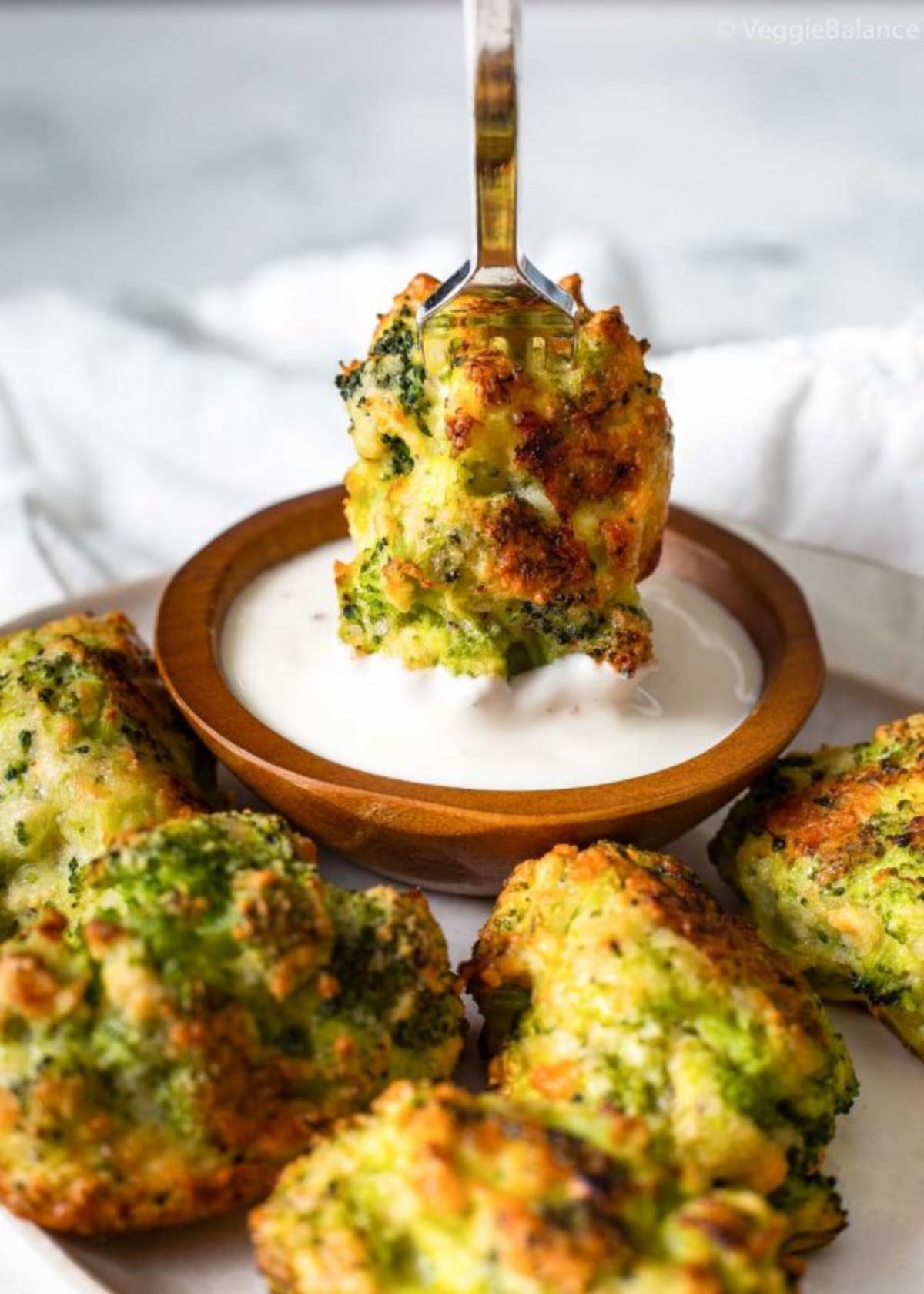 Now I'm winding up this fabulous list of low carb veggie inspiration with these cute little bundles of flavor. Veggie Balance's Broccoli tater tots are the sweetest little appetizer, baked in the oven, and freezable in case you're prepping for another day. They're great for a dinner party, or you could go and make them now if you're a bit peckish!
RECIPE CARD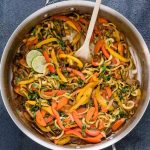 30 Low-Carb Vegetarian Meals That Are Full Of Flavor!
Enjoy low-carb meals that are also vegetarian with this list of amazing choices filled with flavor and sure to satisfy even the meat eaters at your dinner table.
Ingredients
Please ensure Safari reader mode is OFF to view ingredients.
Bell Pepper Pizzas

Cauliflower Pizza Bites

Vegetarian Meatballs

Creamy Kale Caesar Salad

Greek Cucumber Salad

Keto Falafel Nuggets

Lettuce Wraps

Spaghetti Squash With Vegetables And Feta

Zucchini Noodles

Quiche With Gluten-Free Sweet Potato Crust

Cauliflower Curry

Vegetable Samosas

Cauliflower Potato Salad

Creamy Vegetable Soup

Mushroom And Spinach Cauliflower Rice

Vegan Dinner Bowl

Mushroom Walnut Loaf

Spaghetti Squash, Asparagus, Ricotta, Lemon And Thyme

Thai Peanut Zucchini Noodles

Georgian Baby Pepper Salad With Zucchini

Roasted Cauliflower With Red Pepper Tahini

Grilled Eggplant Salad With Halloumi

Broccoli Cheese Casserole

Crustless Spinach Cheese Pie

Baked Eggs In Avocado

Italian Stuffed Zucchini Boats

Spinach Feta Savory Pancakes

Cauliflower Hash Browns

Cheesy Spinach Calzone

Broccoli Tater Tots
Click to convert between US & metric measurements:
Instructions
More TIPS about this paleo recipe in the post above!
Fill your menu with delicious vegetarian-friendly options that are perfect for even the meat eaters at your dinner table.
© Copyright Wicked Spatula. We'd LOVE for you to share a link to this recipe, but please DO NOT COPY/PASTE the recipe instructions to social media or websites. You may share a photo with a link back instead.
Did you make this recipe?
Click here to leave a comment + star rating! ★★★★★
Then, share a pic on Instagram. Tag @wickedspatula or #wickedspatula!