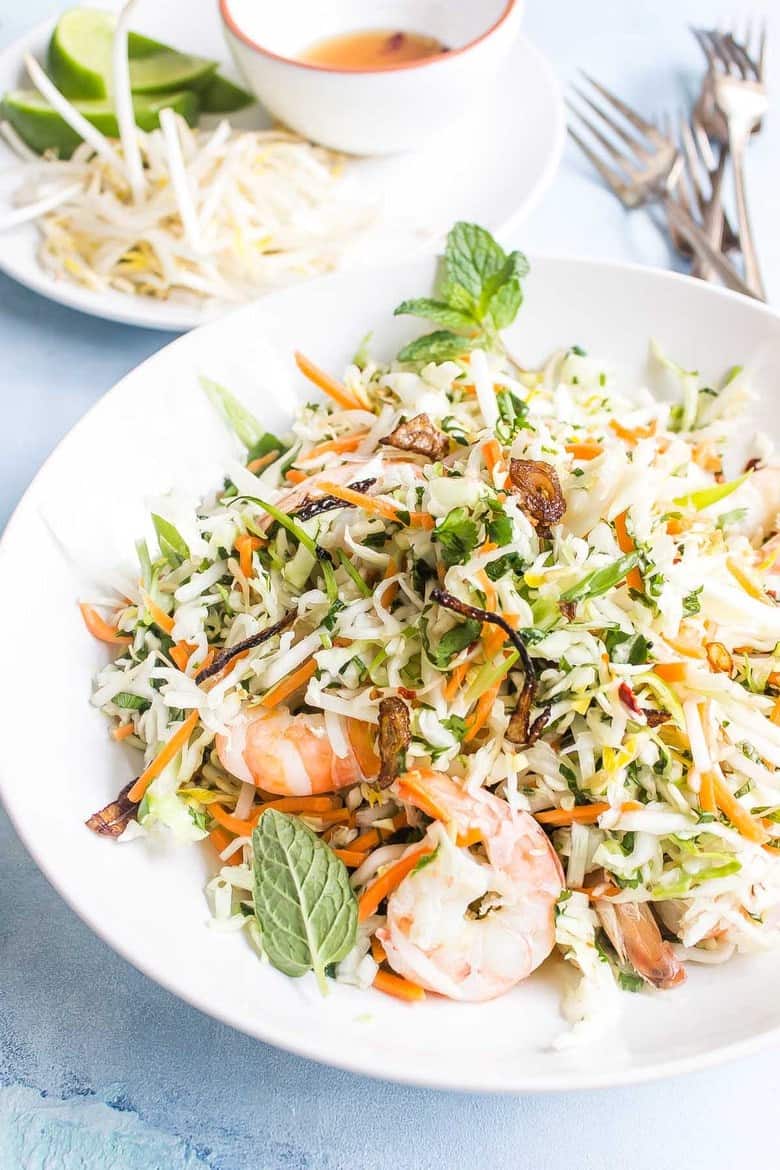 Back in college I worked at a Thai restaurant that had the BEST fresh spring rolls that were loaded with mint, basil, shrimp, and fresh crunch vegetables, they were always my go-to lunch when working a shift and I still get a craving for those flavors from time to time. Recently a new Vietnamese restaurant opened up near me and while they do have fresh spring rolls it was nothing like what I remembered. What was delicious was their Goi Shrimp Salad.
The goi salad was so tremendously flavorful I knew that I had to recreate it at home. Duh.
The base of the salad is basically a cabbage slaw with a touch of sweetness and savoriness from the fish sauce. DON'T BE SCARED. Fish sauce is the bee's knees when it comes to adding some umami flavor to dishes and it creates the perfect vinaigrette along with some rice wine vinegar, a little organic cane sugar, lime juice, garlic, ginger, green onions, and chili flakes. My favorite part though is a handful of fresh herbs that add a bright and vibrant flavor to the dish.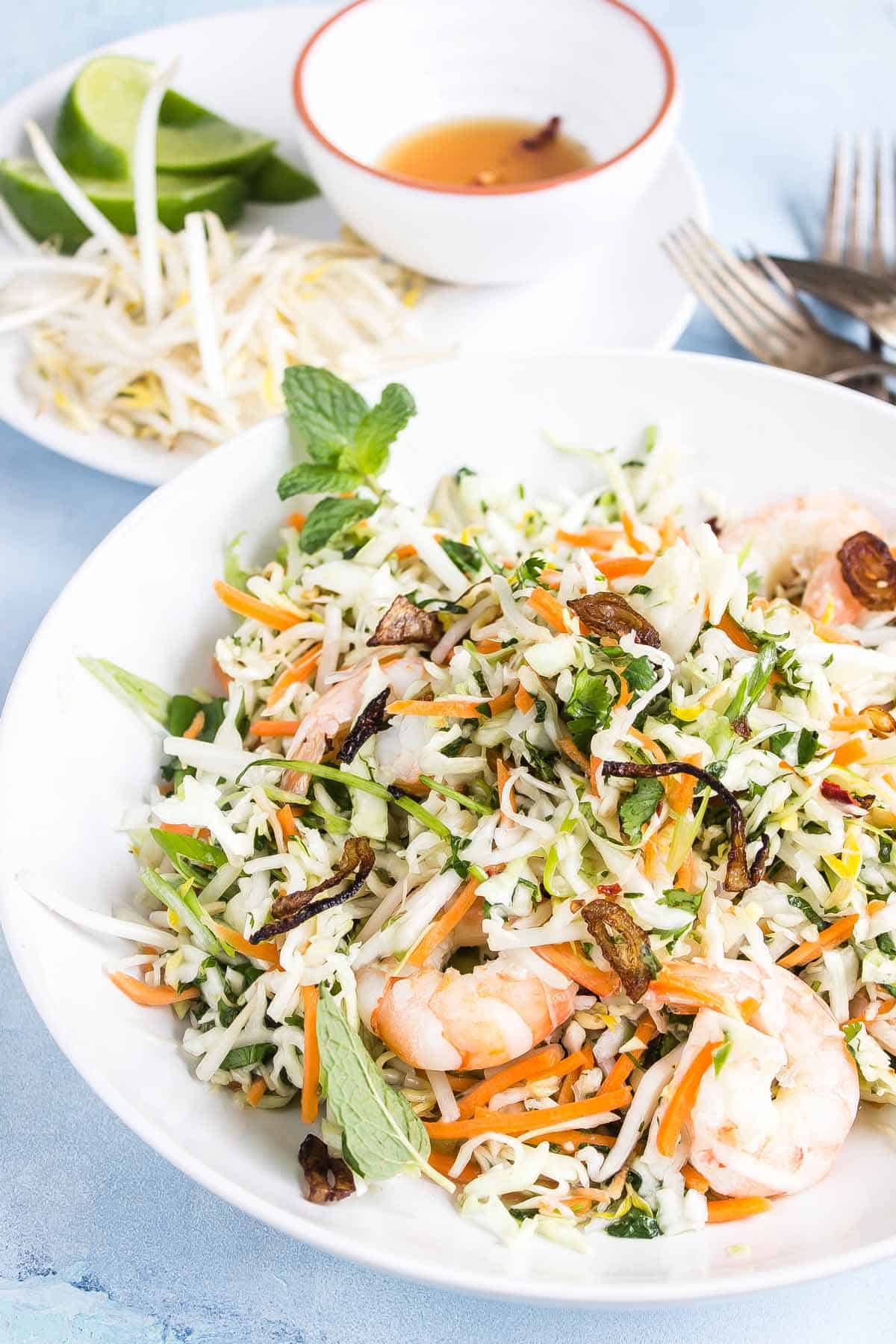 If you're looking to make this a more filling entree, you could add rice noodles to bulk it up, or if you are trying to restrict calories or carbohydrates, you could substitute kelp noodles instead. You can also use whatever protein you prefer, chicken or shrimp would be my choice, but feel free to add all the organic tofu, pork, or whatever else your heart desires.
I am always excited when I find a dish at a restaurant that is simple and delicious like this one, it makes recreating it so much fun. The only downside is, I know I'll make it like twenty times over the next month until I am utterly sick of it and I'll never want it again. I always do that with my favorite dishes, I need to work on spacing them out better. Does anybody else do that or am I the only one?
Vietnamese Shrimp Salad (Goi Tom)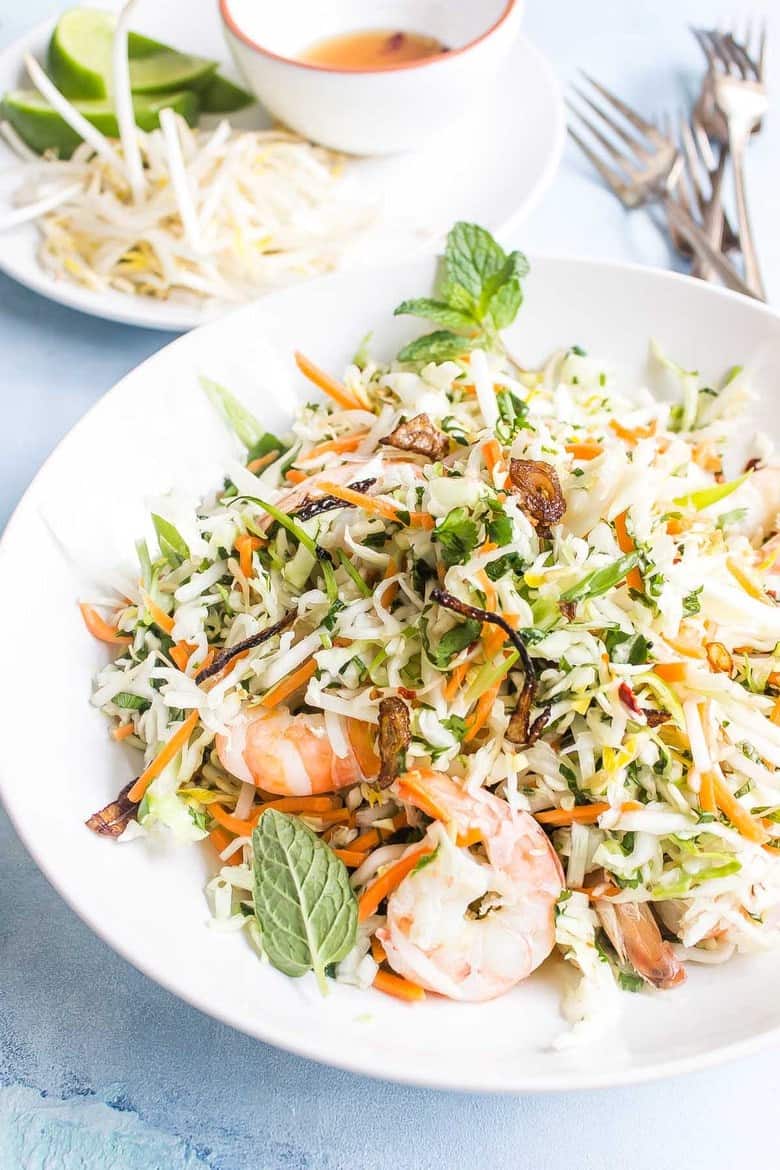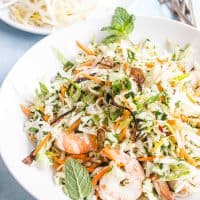 Ingredients
2

cups shredded cabbage (or slaw mix with carrots then omit carrots)

1/4

cup bean sprouts

1/4

cup shredded carrots

2

tablespoons minced mint

2

tablespoons minced Thai basil

2

tablespoons minced cilantro

1

large shallot, thinly sliced

Coconut oil, for frying shallots

1/2

lb cooked and chilled shrimp (I buy steamed shrimp or simply steam them and allow to chill for a few hours before making the salad)
Dressing
2

tablespoons fish sauce

1

tablespoon lime juice

1

tablespoon rice wine vinegar

2

teaspoons organic cane sugar (or coconut sugar)

2

green onions, minced

1

clove garlic, minced

1

inch piece of ginger, minced

 
Instructions
Heat about 2 tablespoons of coconut oil over high heat in a small skillet. Once hot fry the sliced shallot for about 1 minute until golden and crispy. Drain on paper towels.
In a small bowl whisk together the dressing ingredients.
In a large bowl toss together the cabbage, sprouts, carrots, mint, basil, cilantro, shrimp, and fried shallot.
Drizzle the dressing over the salad and toss. Divide between 4 plates and serve.
by Lauren