I have loved my slow cooker lately. Our gas oven decided it had had enough cooking in its lifetime a few weeks ago so I've been reliant on my slow cooker, awesome toaster oven
, and stove. Thank God our stove didn't break too! I don't think I would've handled that hurdle too well.
I'm kinda sorta thankful it happened because I've come to appreciate dinner already being made and ready for eating at 5 o'clock. It's nice to cook once in the morning and forget about it until dinner rolls around. Well, not really forget about it. The smell of this sesame orange chicken was just about unbearable all day. I wanted to dive right in without it even being done. But you know, the whole salmonella thing doesn't really appeal to me.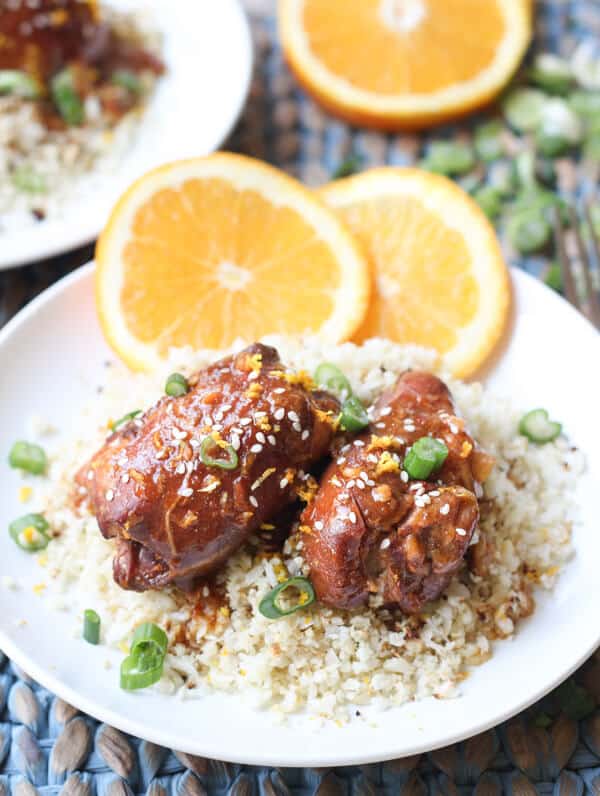 I'm a huge fan of orange chicken but it's usually super sugary and kind of sickly sweet. This one is not. It has no added sugar of any kind. No honey, agave, or coconut sugar. Nothing. It's sweetened by the fresh orange juice and the orange marmalade. I buy the marmalade that also has no added sweetener.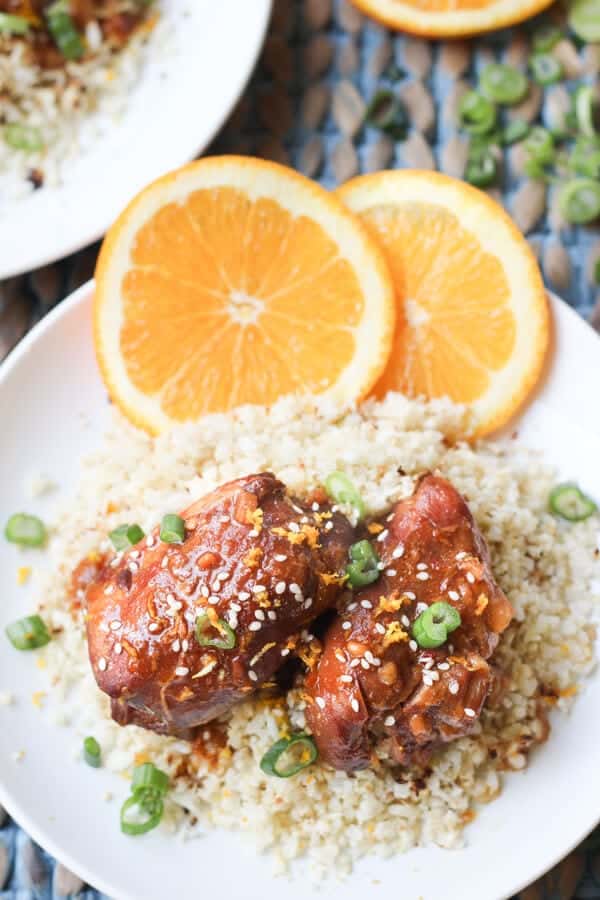 It's perfect and the orange flavor is bright and bold. After cooking away for about 5 hours on low the chicken is fall apart tender and has soaked up all the flavors.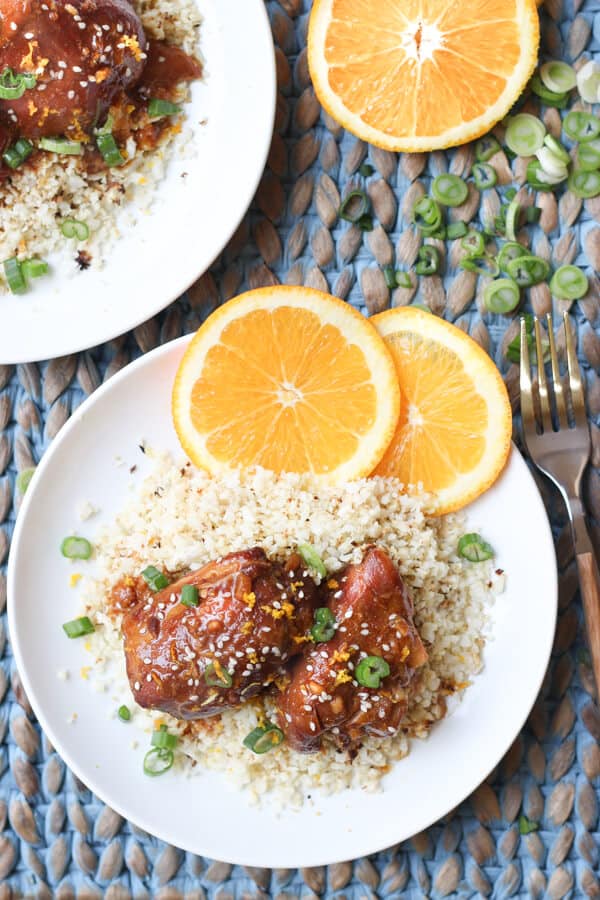 I served the chicken with a quick cauliflower rice that I swear tastes just like rice! And that's coming from someone who HATES cauliflower. Or used to at least. I still can't eat it raw by itself. So even if you normally don't like cauliflower I urge you to try this version.
What's your favorite slow cooker recipe? This slow cooker sesame orange chicken is definitely one of mine! Or maybe this awesome pot roast as well!
Slow Cooker Sesame Orange Chicken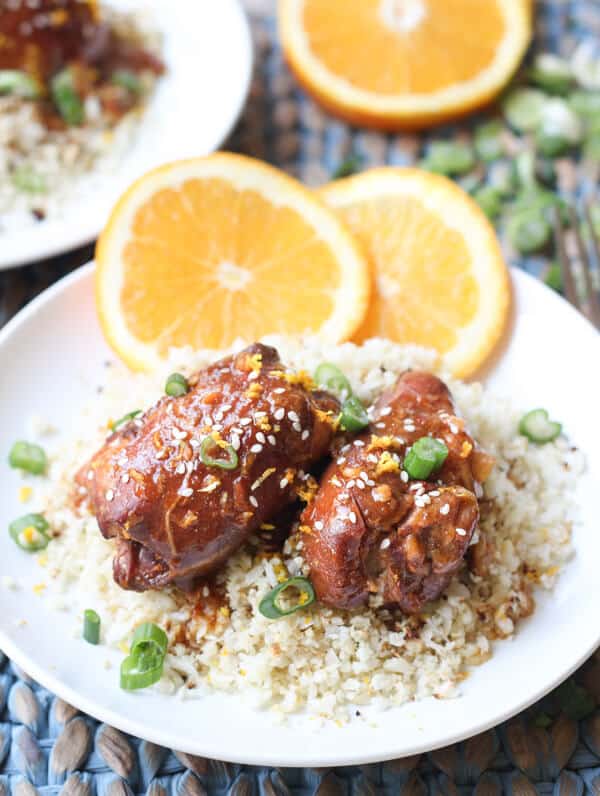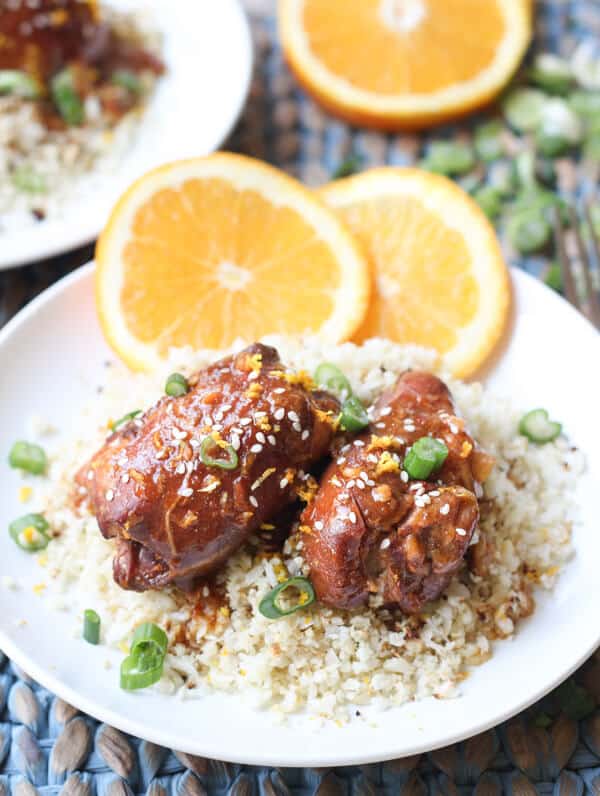 Bold and bright sesame orange chicken.
Ingredients
Ingredients for the Sesame Orange Chicken
6

chicken thighs

1/2

cup orange marmalade

1/2

cup fresh orange juice

1

tablespoon sesame oil

2

tablespoons coconut aminos

2

cloves garlic, minced

1\'\'

slice of fresh ginger, grated

1/2

teaspoon red pepper flakes

1

tablespoon tapioca flour or arrowroot powder

Sesame seeds for topping

Green onion, for topping
Ingredients for the Cauliflower Rice
1

large head of cauliflower
Instructions
Directions for the Sesame Orange Chicken

Place chicken thighs in slow cooker and turn to low.
Whisk together the marmalade, orange juice, sesame oil, coconut aminos, minced garlic, ginger, and the red pepper flakes.
Pour sauce over chicken, cover and let cook for 5 hours on low.
Remove chicken from slow cooker and transfer liquid to a small pot over medium high heat.
Whisk in the tablespoon of tapioca flour or arrowroot powder until the sauce becomes thick, about 1 minute.
Place chicken on bed of cauliflower rice and spoon sauce over chicken.
Sprinkle with sesame seeds and green onions.

Directions for the Cauliflower Rice

Preheat oven to 425.
Cut cauliflower into smaller chunks and place in food processor. Blend in pulses until riced. It will be finely minced.
Spread cauliflower onto a baking sheet lined with foil or parchment paper.
Bake for 20 minutes flipping once halfway through.
by Lauren