With gardening season vastly approaching I've been thinking about what to plant this year. Tomatoes are always a given (I could eat them like apples) along with peppers and herbs. Those were the three plants we grew last year and while we encountered many problems (mainly due to my black as coal thumb) we enjoyed gardening tremendously.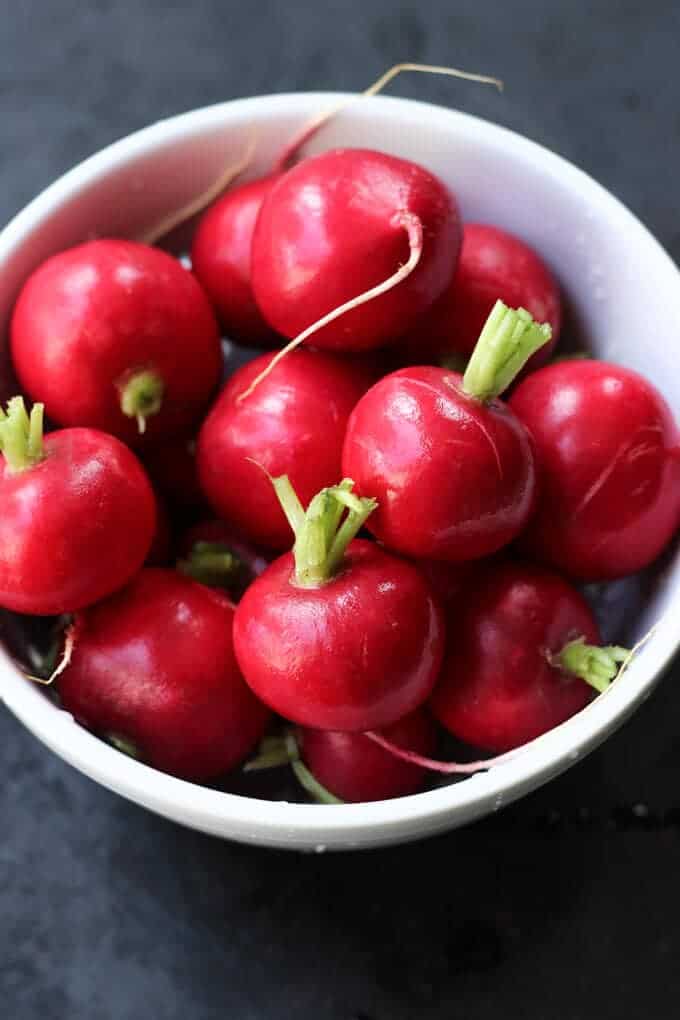 We've been talking about the garden for months. We have big plans to expand our little 10 X 3 garden into another 2 or three of those. Alex also spent the better part of two days ripping weeds, brush, and trees gone awry from our back fence which we'll use as sort of a trellis for the tomatoes. Along with these grand plans there's also the little issue of actually starting the seeds.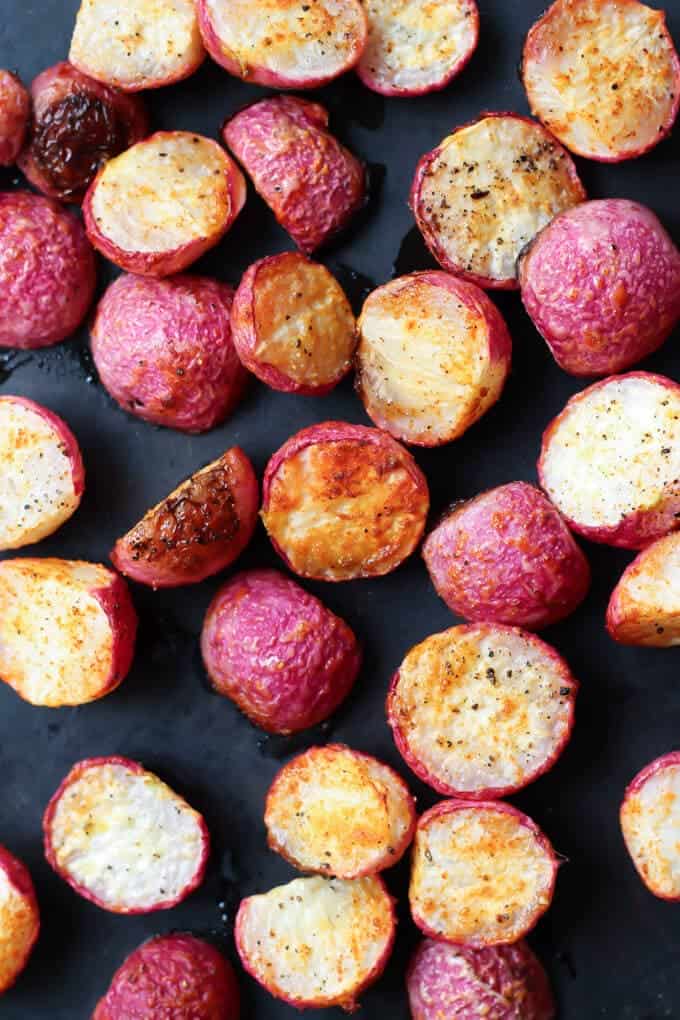 Apartment therapy had an article a few weeks ago about growing micro greens. Intrigued I quickly took a trip to Home Depot, bought my supplies, and quickly planted them as soon as I got home. Now, according to the article I should have seen growth within a few days…and be able to harvest in as little as a week. On day 8 I still hadn't seen the least little bit of sprouting. Chalking it up to my black thumb I felt defeated. If I couldn't grow as something as small as micro greens how in the world did I expect to have a full fledged garden this year?
In the 9th day of waiting for those little seeds to sprout we were sitting at the kitchen table for breakfast when the cat joyfully hopped right into the micro green tray at the windowsill. She looked like a baby bird taking a bath for the first time, splashing dirt and seeds everywhere. Or maybe a better analogy would be a pig rolling around in the mud the way she was flipping and flopping trying to cover every square inch of her in dirt. I couldn't really be angry. I guess it's sort of like when a toddler does something terrible but yet they're so dang cute you don't punish them. I actually felt relieved that it wasn't my fault they didn't sprout. Needless to say I'll be buying plants from the farmers market this year instead of sprouting our own seeds.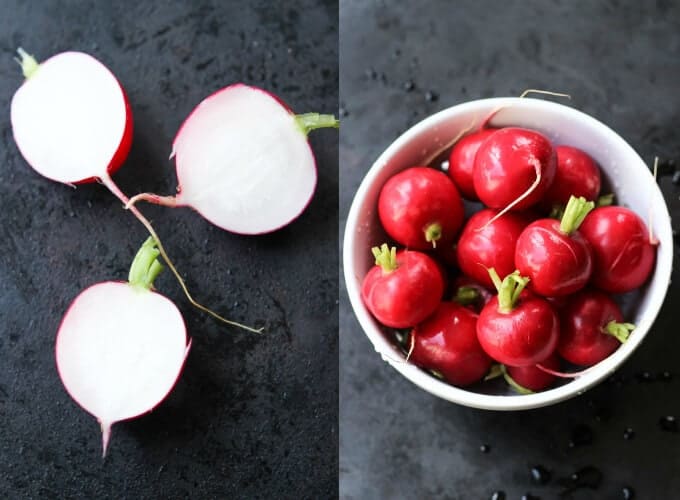 One thing I'm wanting to grow this year are radishes. I love the sweet peppery crunch they add to salads and I've recently fell in love with roasting them. The outside gets crispy yet the inside stays creamy. Sort of like a potato but radishes have so much water they're even creamier. A quick splash of olive oil and a few choice seasonings and you've got a delicious side dish.
Crispy Roasted Radishes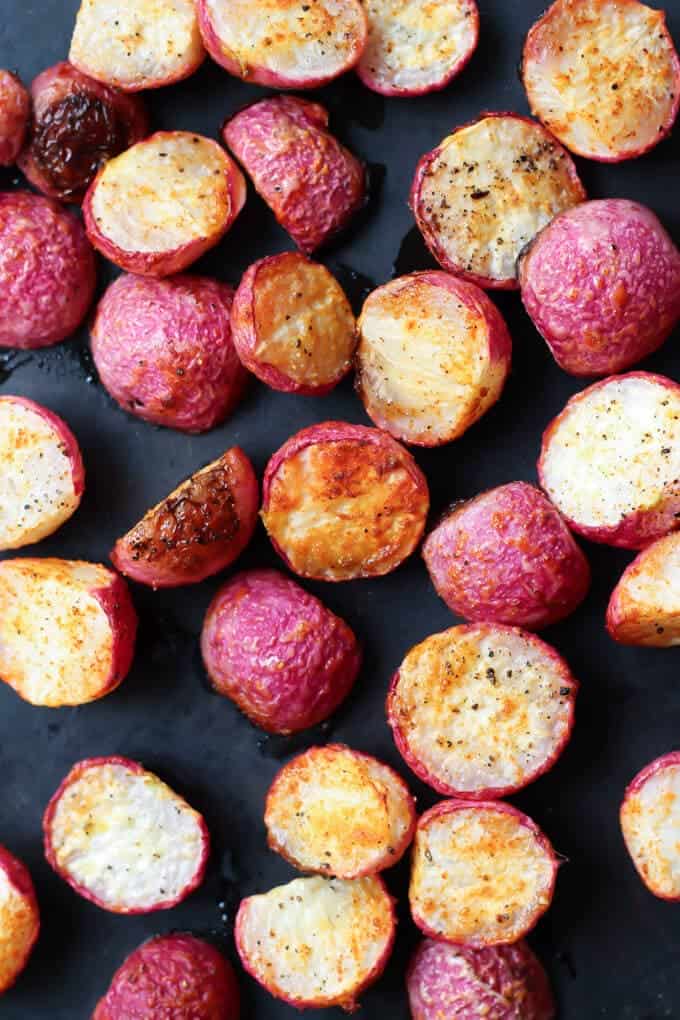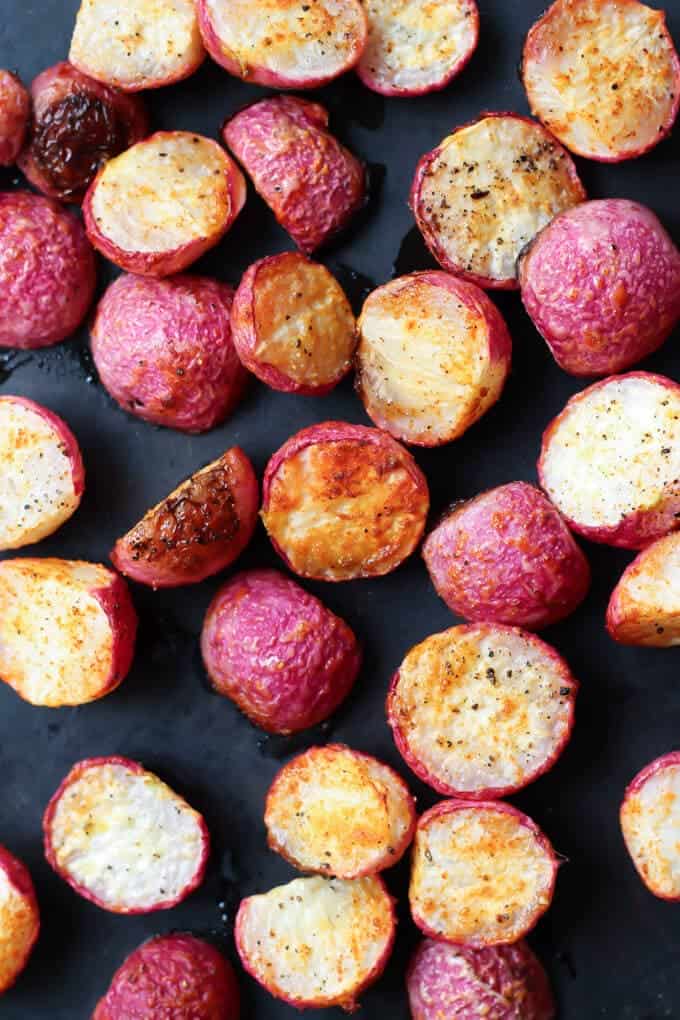 Ingredients
2

bunches radishes (about 20), halved

3-4

tablespoons olive oil

1/4

teaspoon salt (plus more to taste when done)

1/4

teaspoon black pepper

1/4

teaspoon smoked paprika

1/4

teaspoon onion powder

1/4

teaspoon garlic powder
Instructions
Preheat oven to 400°
Toss radishes with olive oil and spices. Roast for 30-40 minutes until golden and crispy. Season with extra salt to taste.
by Lauren