Delicious grilled chicken, avocado, red onions, and tomato smothered in chipotle mayo sandwiched between a crispy plantain waffle to create a waffle slider you'll dream about….Did that sentence make you hungry? It sure did me. This is a spoof on a sandwich I used to make ALL the time before going Paleo. With just a little improv for the bread I made it pretty darn close to the original and dare I say it's a million times tastier?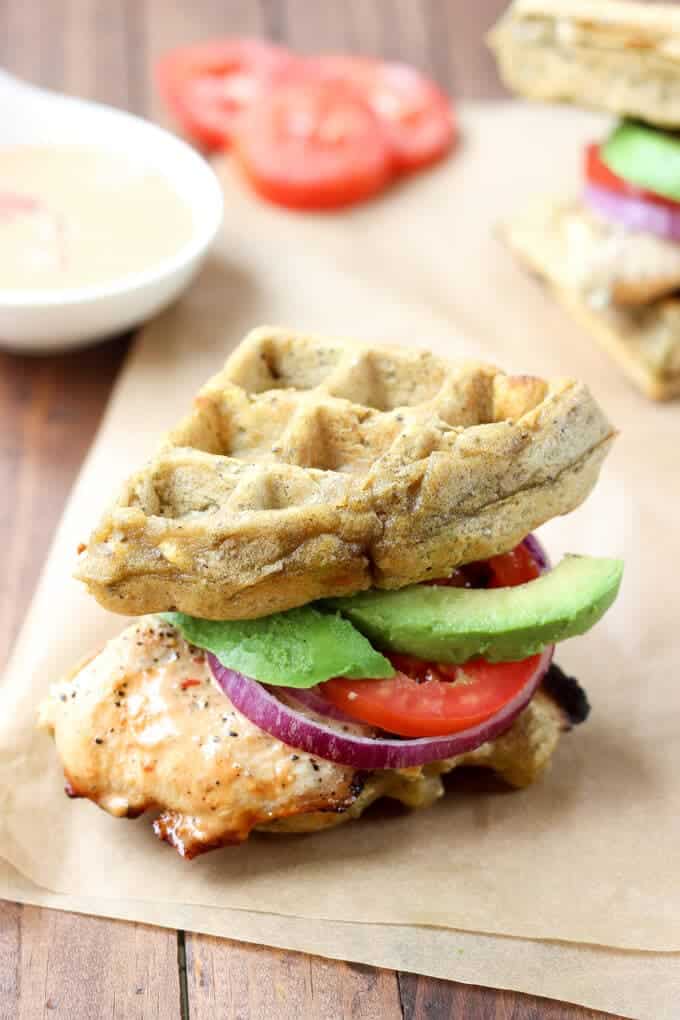 I don't know how I came up with this waffle recipe but I'm sure glad I did. It's the EASIEST waffle I've ever made and cooked perfectly. I hate when I use the waffle iron and the batter is a sticky mess that clings to the grates. Not this one. This batter cooks up fluffy and soft and slips right out when it's done. A quick toast in the toaster and it's the perfect substitute for bread. You can totally eat it as a normal waffle drizzled with buttery maple syrup as well. I guess you're really getting two recipes in one today!
I've been wanting to make a waffle sandwich since Alex and I ate at The Paleo Cafe in Knoxville, TN a few months ago. I had an egg, bacon, and avocado waffle sandwich that was to die for and I knew I had to recreate it one day. How cool is that though that 100% Paleo restaurants are starting to pop up? We were in Knoxville for a week for Alex's work so we took advantage and ate there every day. I loved knowing that I could have anything on their menu without worrying about cross contamination from gluten or asking ingredient specifics. I also have this irrational fear when dinning out that I'll order something gluten free but they'll forget and give me regular pizza crust, bread, or whatever. I probably verify that whatever I ordered is gluten free at least 4 times before I'm satisfied with their answer. I'm sure I annoy the crap out of our servers! That's my OCD and general fear of gluten for ya.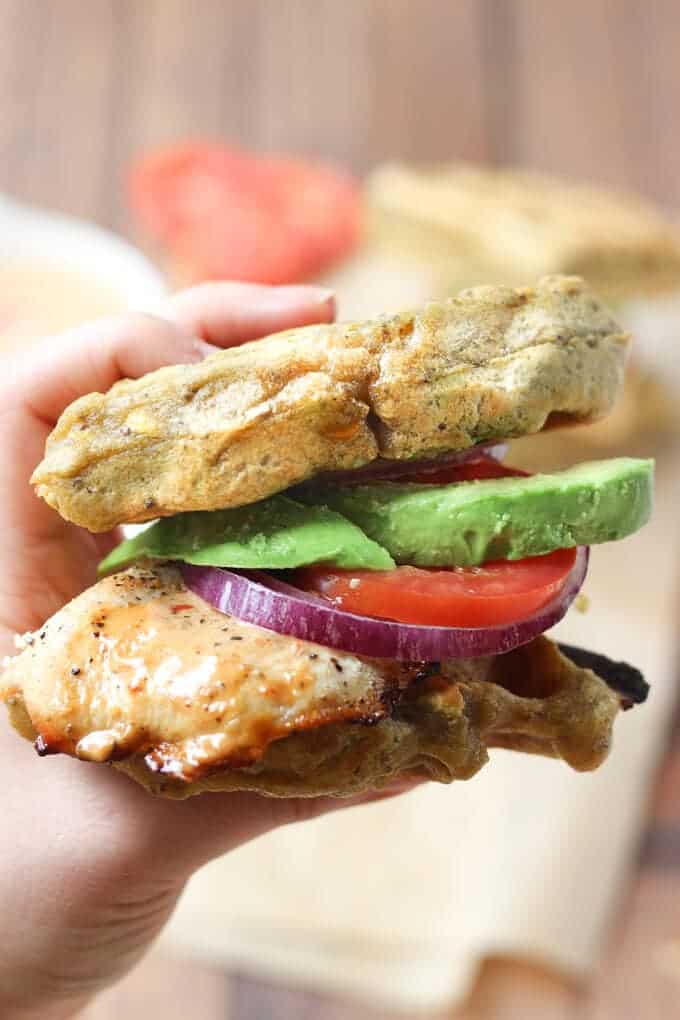 This waffle would be great made into a sweeter sandwich as well. Maybe some ham or turkey with cranberry preserves? I'll have to remember that come Easter leftovers. I call them waffle sliders because they're small but I'm telling you one is enough for lunch. My waffle iron is on the larger side so one waffle creates two sandwiches. If yours is smaller just use your judgement. While they look like they would be difficult to eat they're really not. Despite the height of them they smash down pretty easily.
Any other cool sandwich ideas you think would be great as waffle sliders? Leave em' in the comments!
Chipotle Chicken Waffle Sliders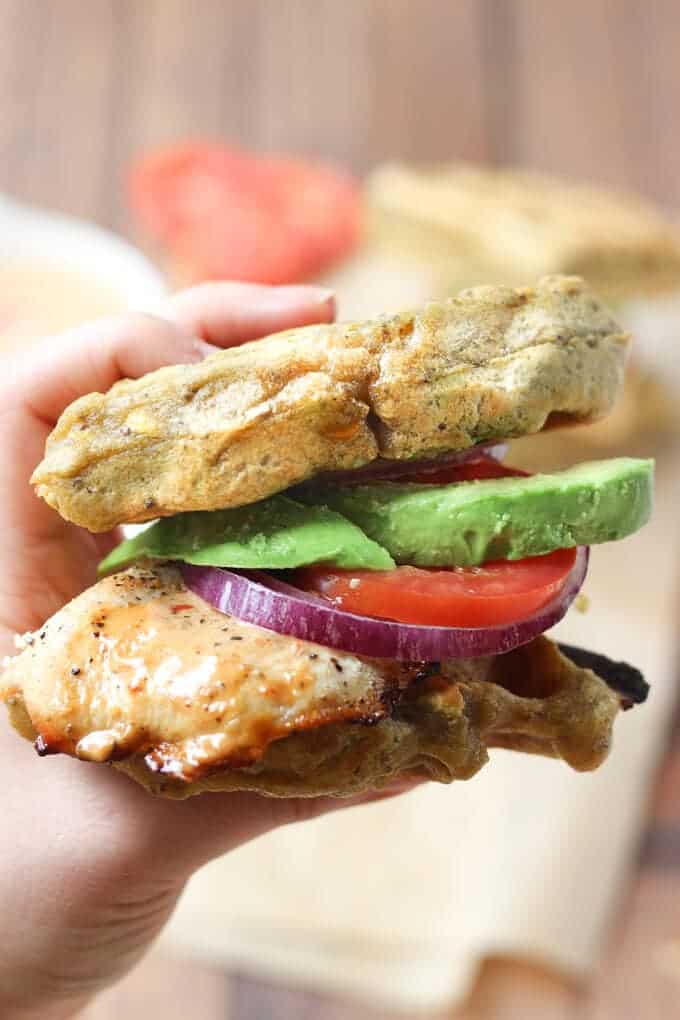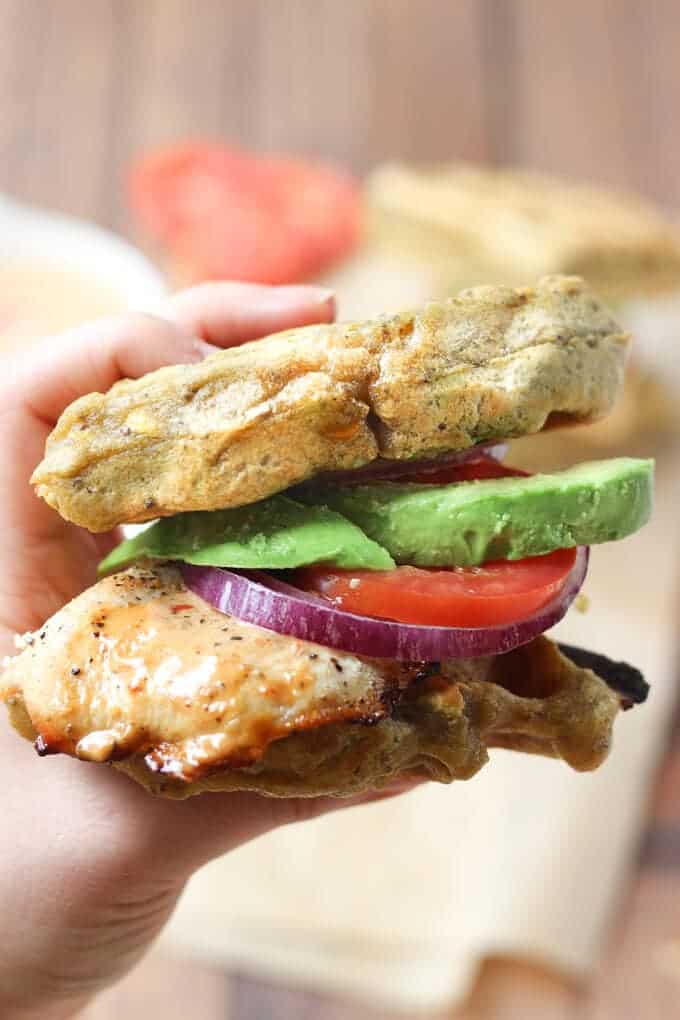 The EASIEST waffle you'll ever make!
Ingredients
Ingredients for the Waffle
2

green plantains

1/4

cup tapioca flour

1

tablespoon coconut flour

1/2

cup coconut milk

1

tablespoon chia seeds

Dash of sea salt
Ingredients for the Sandwich
1

chicken breast

1

avocado, sliced

Sliced red onion

Sliced tomato

4

tablespoons mayonnaise

2

tablespoons adobo chipotle peppers, minced
Instructions
In a blender process all of the waffle batter ingredients until smooth. Set aside for a few minutes and prep your other sandwich ingredients. (If you are just making the waffles just allow the batter to sit for 3-4 minutes so the coconut flour can soak up some moisture)
Preheat your waffle iron according to its directions.
Slice the chicken in half and flatten any super thick parts with a meat mallet. Heat a bit of coconut oil over medium high heat, season chicken with salt and pepper and cook 4 minutes per side or until cooked through.
Slice the onion, tomato, and avocado. Mix the chipotle peppers in with the mayo.
Pour batter into waffle maker and cook according to your brands directions. I usually add 1 or two minutes to my 4 minute recommended time.
Place waffles in toaster of toaster oven to crisp up a bit. Assemble by spreading mayo onto waffle and topping with chicken, tomato, onion, and avocado.
by Lauren