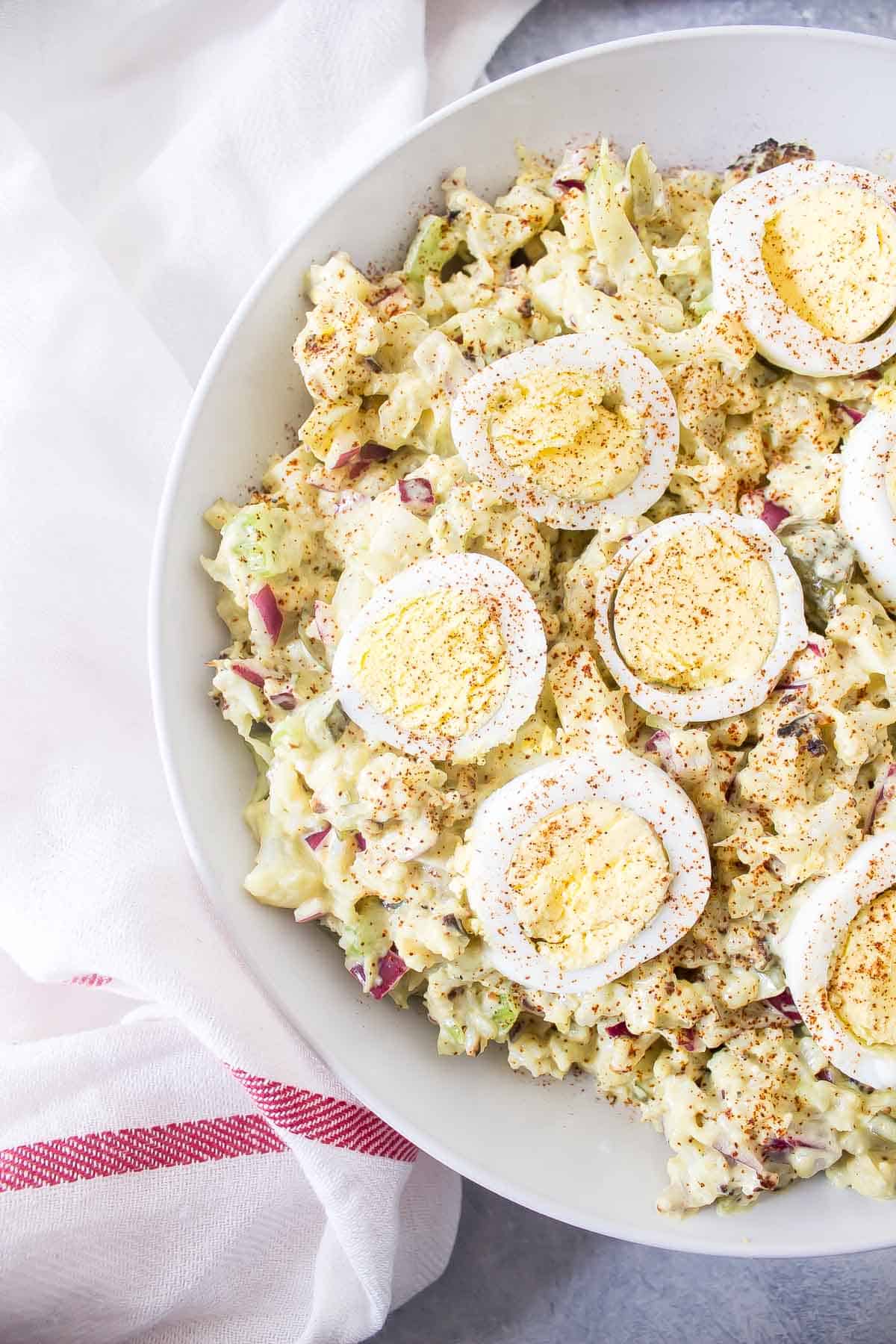 This Cauliflower "Potato" Salad tastes just like the classic potato salad that you're used to, just with way less carbs and healthier ingredients!
Recently I've been making this cauliflower salad for family get-togethers where I know I'll be tempted by my grandmother's ridiculously good potato salad. You know the kind…the kind that's studded with hardboiled eggs, onion, pickles, and just the right ratio of mayonnaise to mustard? Yeah, since starting Keto a few weeks ago I knew I'd have to come up with a similar tasting recipe, especially for Easter that fell in that first transition week. If not, I knew I'd be face first in that bowl of potato salad before you could say "pass the potato salad."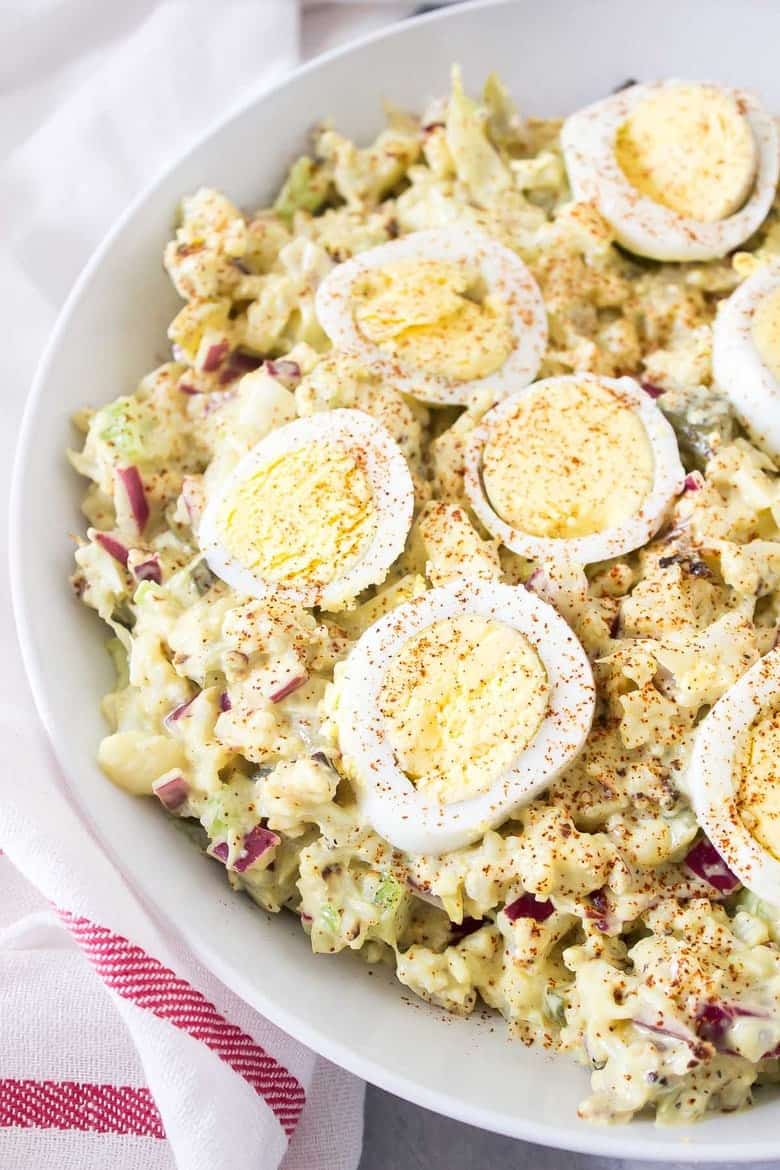 Now don't get me wrong, I'm not going to sit here and tell you that this Cauliflower "Potato" Salad is in any way better that actual potato salad but it is damn delicious and takes the place perfectly for anyone on a lower carb diet. I used the exact same ingredients you would with potato salad so the only real difference is the cauliflower. Don't fret though if you're not a cauliflower lover (I'm definitely NOT), if you follow the instructions and cut the cauliflower into cubes like potatoes would be then they'll be similar in texture.
A scoop, or two, of this salad with some ham and green beans on Easter and I was one happy ketoer <— not a word, I know.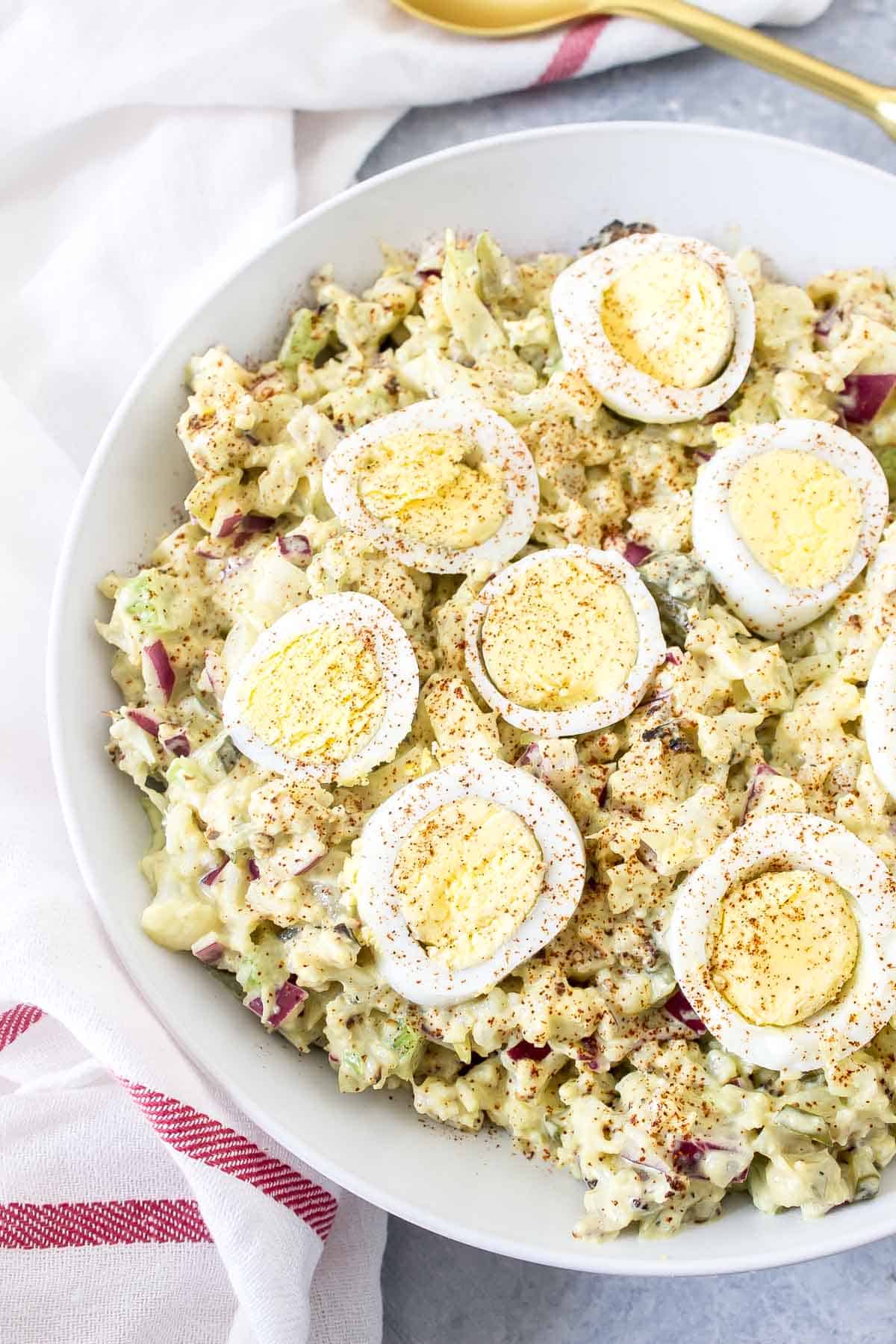 Cauliflower Potato Salad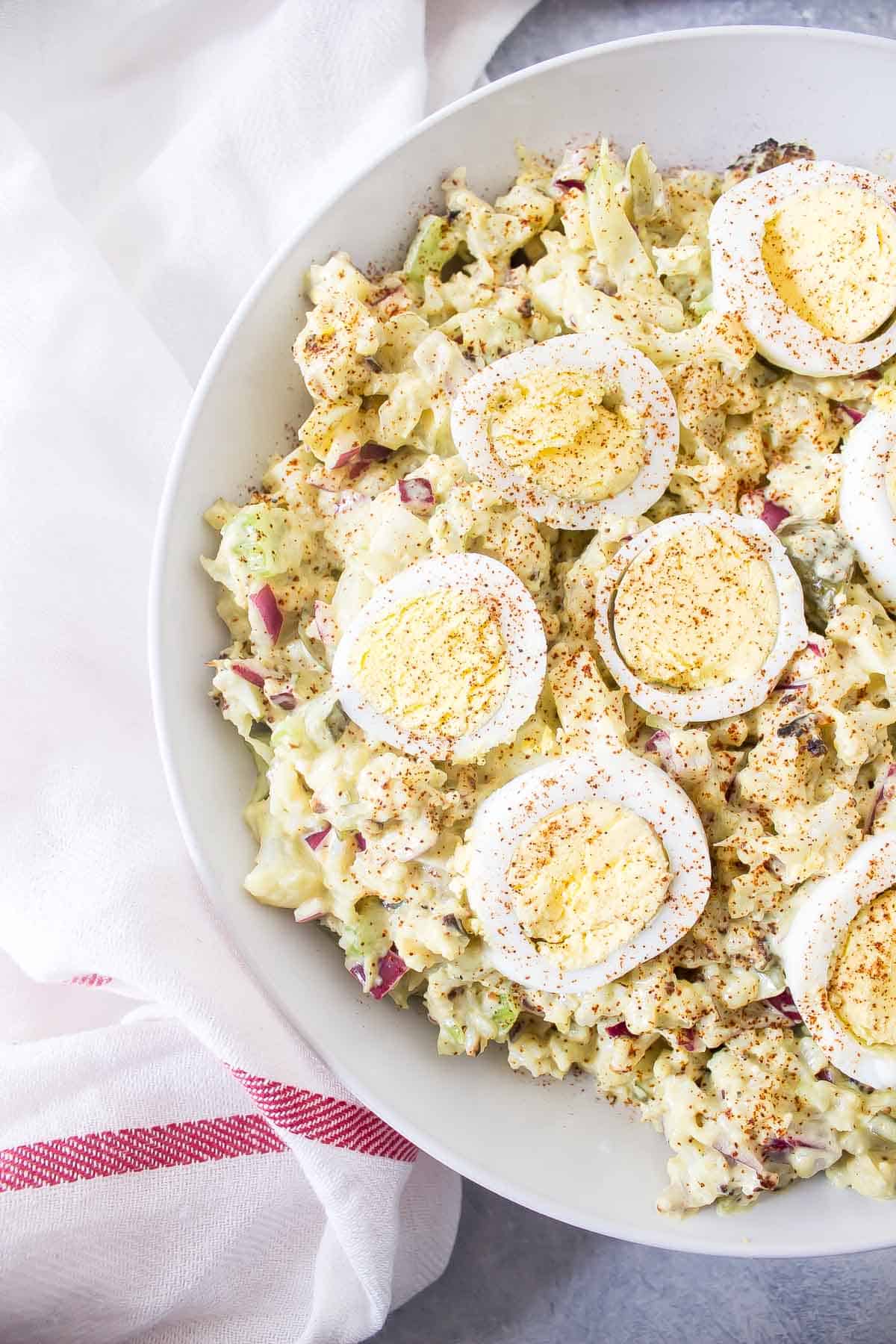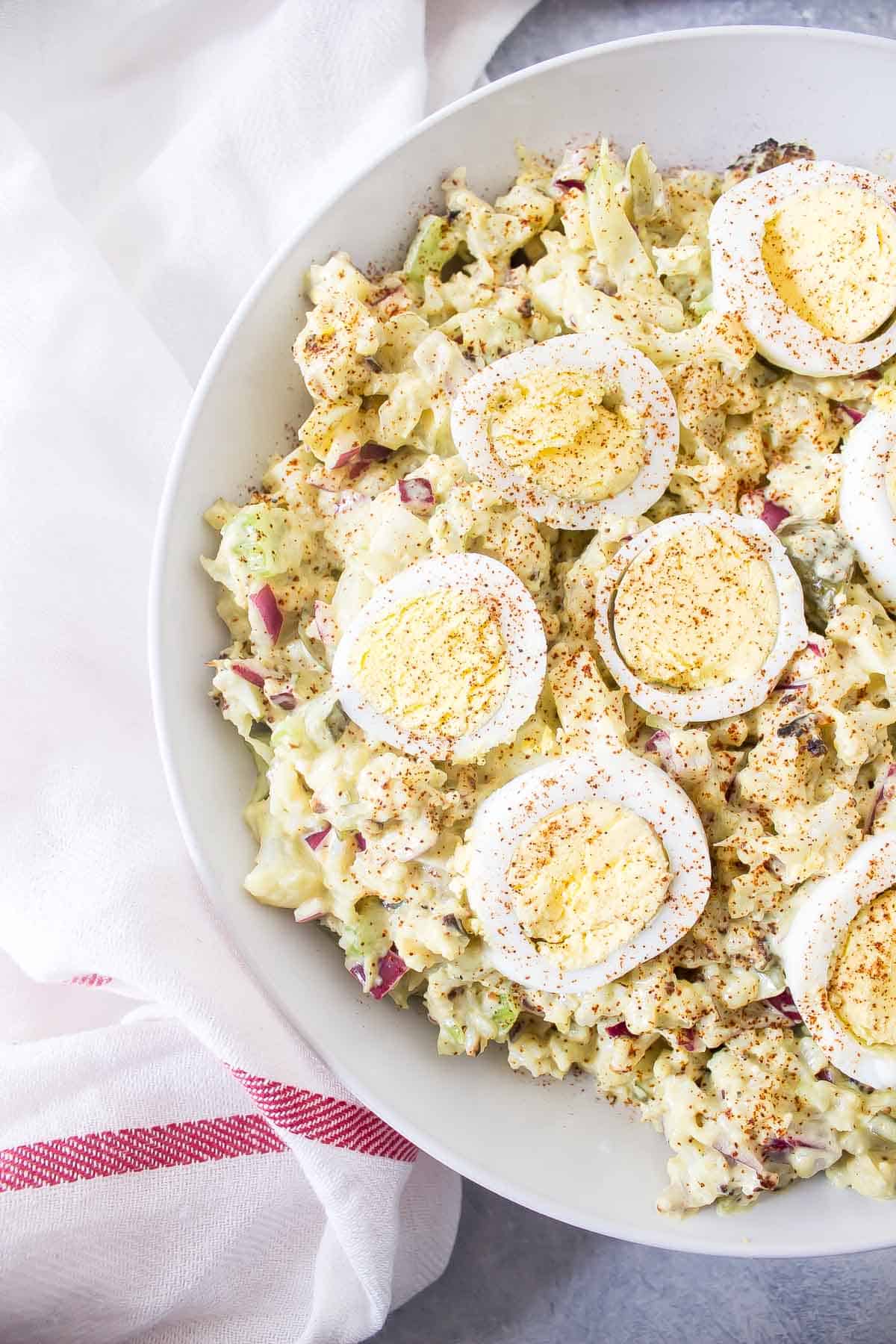 Ingredients
2

heads of cauliflower, diced (about 10 cups)

2

tablespoon olive oil

1/2

teaspoon salt and pepper

1.5

cups mayonnaise

1/4

cup yellow mustard

1

cup diced dill pickles

1

cup minced white onion

1/2

cup diced celery

6

hardboiled eggs

1

tablespoon apple cider vinegar or white vinegar

Paprika, for topping
Instructions
Preheat the oven to 375° F. Line 2 large  baking sheets with parchment.
Dice the cauliflower into 1 inch cubes and toss with olive oil and salt and pepper. Spread onto the baking sheets in a single layer. Bake for 30 minutes (flipping halfway through) until the tops are just starting to turn golden. Let cool.
While the cauliflower is baking hard boil your eggs.
In a large bowl combine the remaining ingredients, add it the cauliflower and 4 diced eggs, toss to coat. Taste for salt and pepper and add more if needed. Layer the salad into a serving dish, thinly slice the remaining eggs and lay them across the top. Sprinkle with paprika, chill until ready to serve.
by Lauren