I'm so excited to show you my EASY method for how to make an iced caramel macchiato at home. An iced macchiato is the perfect way to start a hot summer day… or let's be real, any day! Even though the winters are cold here in Minnesota, there is never a bad time for this skinny iced caramel macchiato recipe. That's how good it is!
I've always love iced coffee. And then when we add caramel and almond milk to the mix? Yeah, that's what I call heaven on earth. It's creamy, rich, sweet, and overall perfection. Starbucks has nothing on this skinny iced caramel macchiato!
What is the difference between my version and one that you might find at a coffee shop? There are two big differences (and benefits):
1. No artificial ingredients.
I was so excited when Starbucks announced that they were starting to serve coconut milk. Then someone leaked a picture of the coconut milk ingredient list and my excitement quickly disappeared. The ingredients were:
filtered water, coconut cream, sugar, tricalcium phosphate, carageenan, gellan gum, sea salt, natural flavor, vitamin A, palmitate, vitamin D2, vitamin B12
No, thank you. I'll take my iced macchiato at home where I know what the ingredients are. And really, I think my version tastes much better anyway so it's a win-win.
But, it turns out that there's another benefit of my at-home caramel macchiato recipe:
2. Less expensive.
My caramel macchiato recipe is SO much cheaper than getting it at a coffee shop. And by my logic, this means I can have one every morning. Right?
Coffee drinks out are so expensive and if you have a daily habit? The cost adds up quickly. Try this simple swap of making it yourself. It's healthier and will help you save money!
How To Make A Skinny Iced Caramel Macchiato
You won't believe how easy it is to make a skinny iced caramel macchiato at home. The name may sound a bit fancy, but we're keeping it really easy and you don't even need an espresso maker. Instead of the traditional espresso route, we're going to use cold brew which I think is a great option and alternative.
Of course, if you have an espresso machine at home you can use that but since a lot of us don't, cold brew works really well. It has a delicious, smooth flavor and it's already chilled so it works well in this iced macchiato.
Okay, let's make this skinny iced caramel macchiato with almond milk! First, you'll want to make a batch of my paleo caramel sauce.
Then, it's as easy as mixing the cold brew coffee with a little almond milk, and a spoonful of the caramel sauce. Pour it over ice and give it a stir. Sip away and you might be able to momentarily forget about the to-do list ahead of you!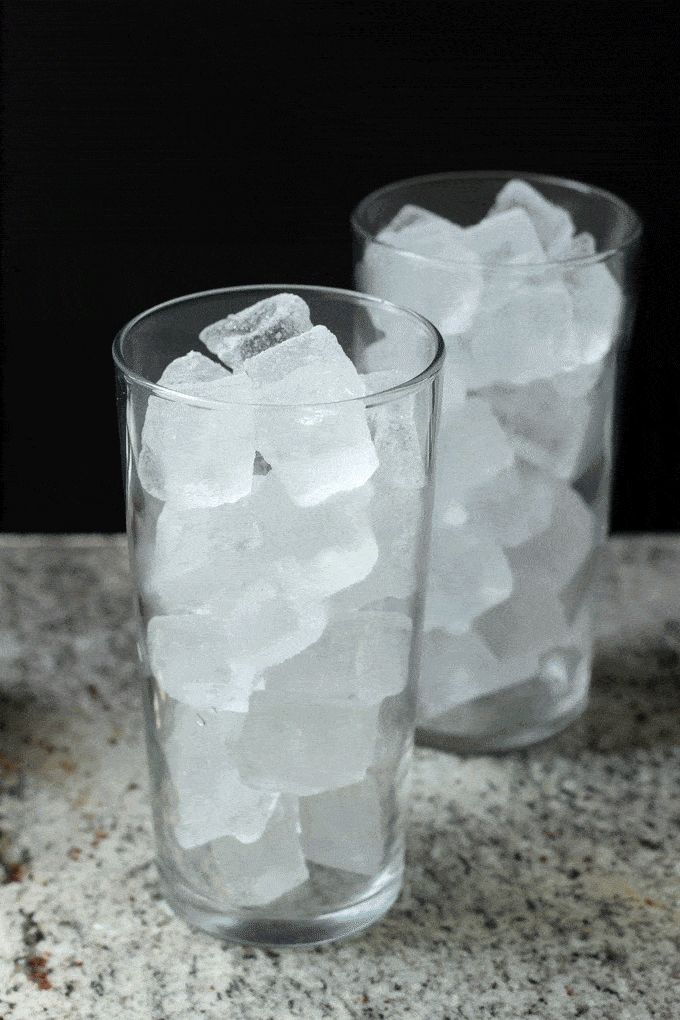 You can also buy cold brew from the store, it's usually available in the refrigerated coffee/juice section or in the coffee aisle. I'm also sharing instructions below for how to make it yourself below.
TIP: The cold brew does need to be made ahead of time (it soaks for 12-24 hours), so make sure you give yourself enough time to make your coffee so that it's ready for you!
And the leftover caramel sauce? Feel free to eat with a spoon. I would never judge.
What Is An Iced Skinny Caramel Macchiato?
An iced skinny caramel macchiato with almond milk is a creamy and caramel-y sweet cold coffee drink. In this recipe, we're combining cold brew coffee, almond milk, and paleo caramel sauce for an easy at-home version – with NO REFINED SUGAR. It's fantastic and crave-worthy.
Traditionally though, a macchiato is an espresso-based coffee drink with a small amount of milk that is usually foamed. In Italian, macchiato means "marked" so it essentially means that it's "marked" with milk, but it's a small amount and much less than what you would find in a latte or cappuccino.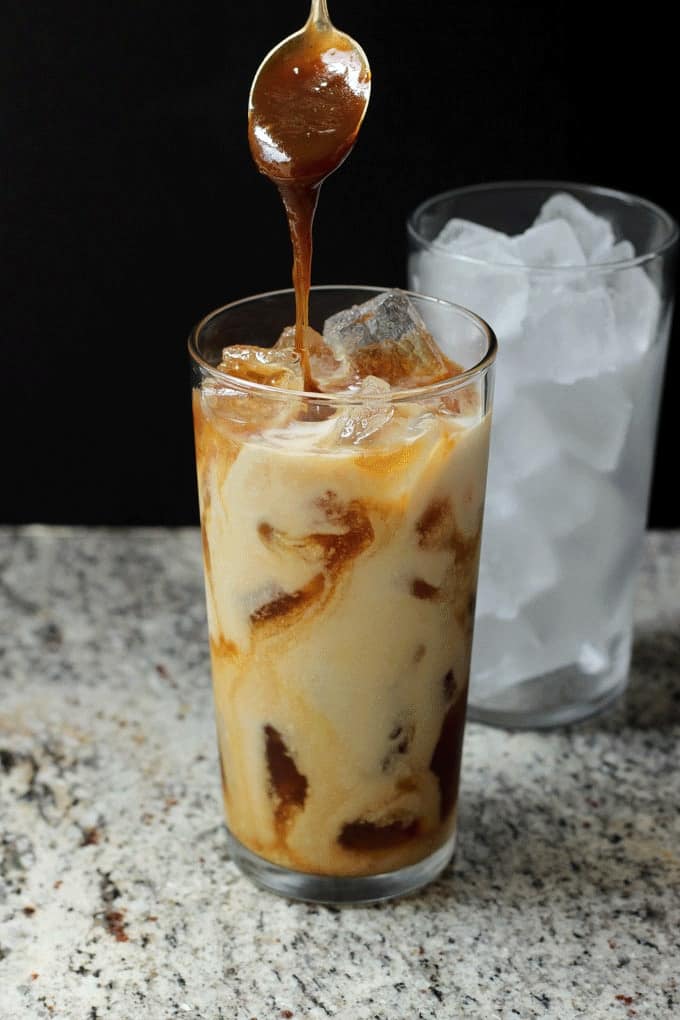 How Many Calories Are In A Skinny Iced Caramel Macchiato?
At Starbucks, iced caramel macchiato calories clock in at 250 and 33 grams of sugar for a grande size.
But, if you want a better, healthier version made without chemicals and unnecessary ingredients, then you've got to make my iced skinny caramel macchiato with almond milk.
This paleo caramel macchiato recipe has 202 calories and 18 grams of sugar, so it's still lower in calories than most coffee drinks. And, you can feel good knowing that the NATURAL sugar comes from pure maple syrup and not artificial flavors or sweeteners.
Of course the skinny iced caramel macchiato calories will also depend on what kind of milk you use. I suggest using unsweetened almond milk or coconut milk. Since I used my coconut caramel, I usually opt for almond milk (unsweetened vanilla is my favorite!) but if you're wanting a stronger coconut flavor, totally go with coconut milk. You really can't go wrong.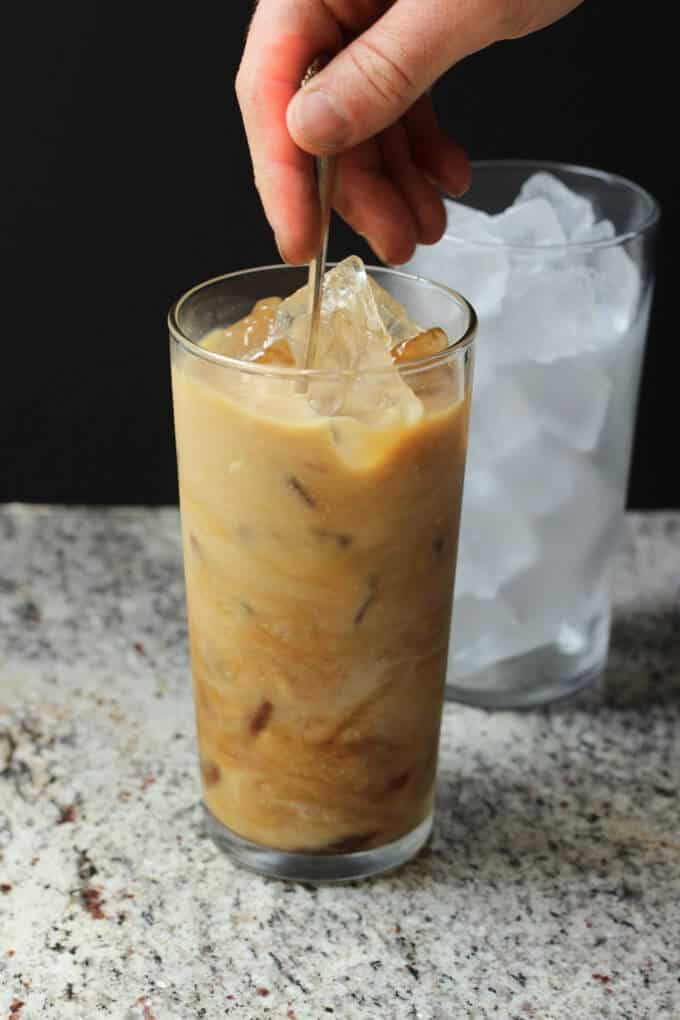 What To Serve With a Skinny Iced Caramel Macchiato
One cannot subsist on coffee alone! Try one of these paleo breakfast ideas:
Grab more paleo breakfast recipes here!
RECIPE CARD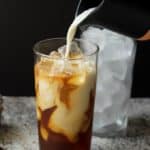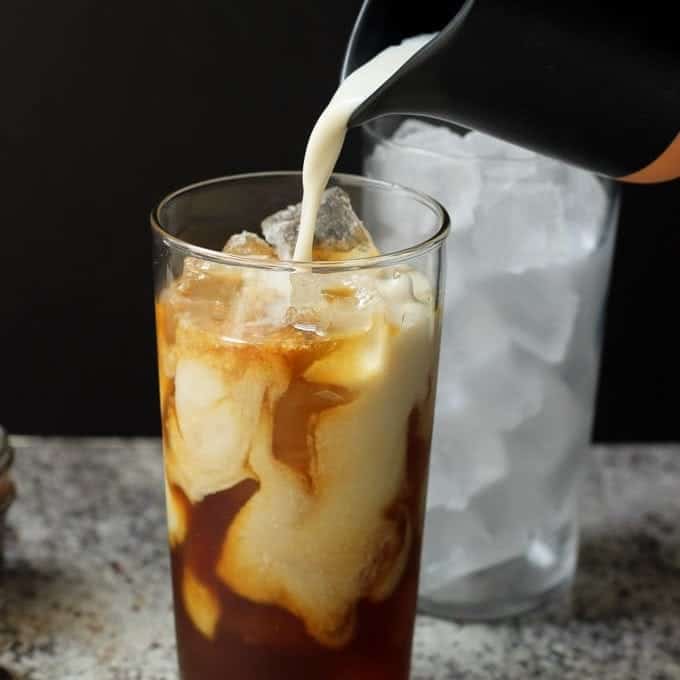 Skinny Iced Caramel Macchiato Recipe
This Skinny Iced Caramel Macchiato Recipe is creamy and naturally sweetened! Learn my EASY method for how to make an iced caramel macchiato at home in 2 minutes!
Recipe Video
Click or tap on the image below to play the video and learn how to make this recipe!
Ingredients
Please ensure Safari reader mode is OFF to view ingredients.
8

oz

Cold brewed coffee

2

tablespoons

Paleo caramel sauce

2

oz

Unsweetened almond milk

Ice
Click to convert between US & metric measurements:
Instructions
More TIPS about this paleo recipe in the post above!
Fill a glass with ice. Pour in coffee until it's a little less than 3/4 of the way full.

Pour in almond milk leaving about an inch at the top.

Stir in caramel...enjoy!
Recipe Notes
Serving Size: 1 glass with ice
How To Make Cold Brew: To make your own cold brew coffee simply mix together 1/2 lb finely ground coffee beans and 12 cups of filtered water. Let soak for 12 hours or more. Strain through a fine mesh sieve and store in the refrigerator up to two weeks.
Video Showing How To Make a Skinny Iced Caramel Macchiato:
Don't miss the VIDEO above - it's the easiest way to learn how to make a Skinny Iced Caramel Macchiato!
Nutrition Information Per Serving
Nutrition Facts
Amount per serving. Serving size in recipe notes above.
Where does nutrition info come from? Nutrition facts are provided as a courtesy, sourced from the USDA Food Database. Net carb count excludes both fiber and sugar alcohols (though the latter are rarely seen on this site), because these do not affect blood sugar in most people. We try to be accurate, but feel free to make your own calculations.
© Copyright Wicked Spatula. We'd LOVE for you to share a link to this recipe, but please DO NOT COPY/PASTE the recipe instructions to social media or websites. You may share a photo with a link back instead.
Did you make this recipe?
Click here to leave a comment + star rating! ★★★★★
Then, share a pic on Instagram. Tag @wickedspatula or #wickedspatula!