Oh Yes. I went there.
I may have a *slight* addiction to buffalo sauce. The tangy spiciness is good on just about everything; eggs, tacos, casseroles, salads, meat, you name it and I've probably drenched it in buffalo sauce at some point in my life.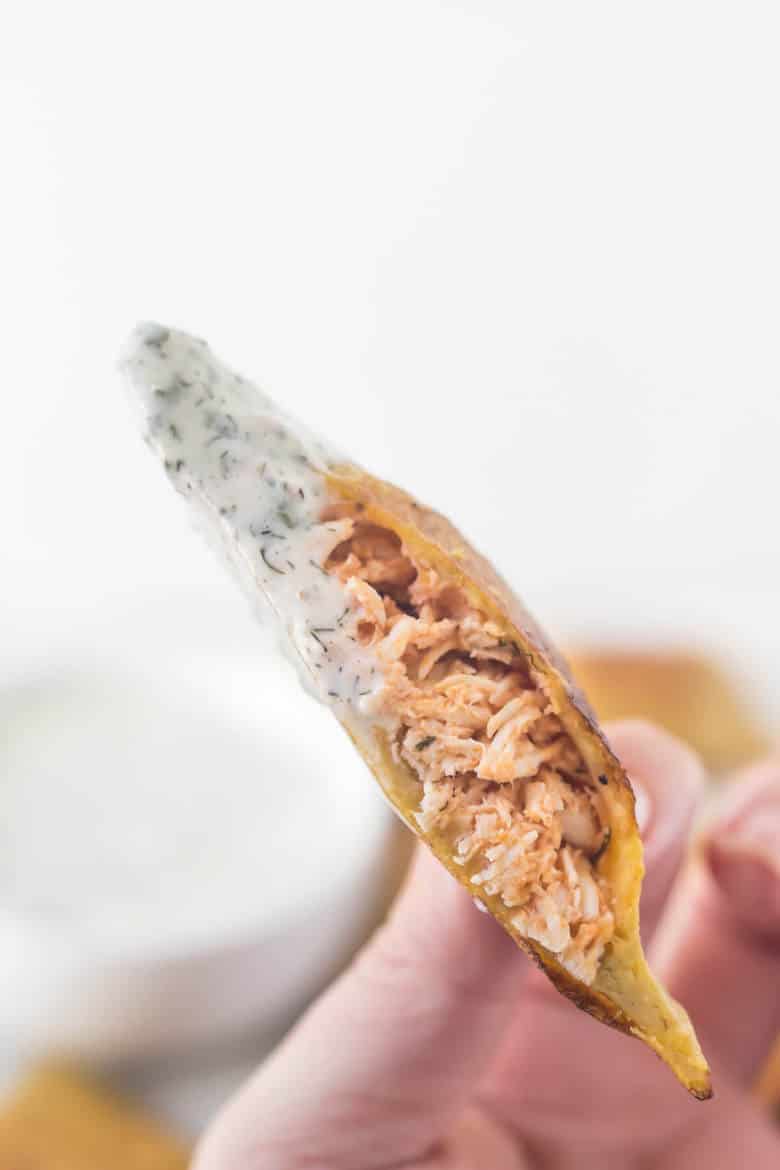 I guess it's the same as people dousing everything in ranch dressing (which I'm totally guilty of as well). Of course you can do that with these pizza poppers too. If you love ranch and buffalo sauce equally then this recipe might just be your dream come true.
And if you're paleo, you don't have to give up either one! Just make your own dairy-free ranch dressing and follow this buffalo sauce recipe.
So the idea with this started with me wanting to make a paleo buffalo chicken dip for the Super Bowl in a few weeks. Then I also thought about making pizza poppers and BOOM it came to me…BUFFALO CHICKEN PIZZA POPPER. Insane deliciousness is what the title should really be named.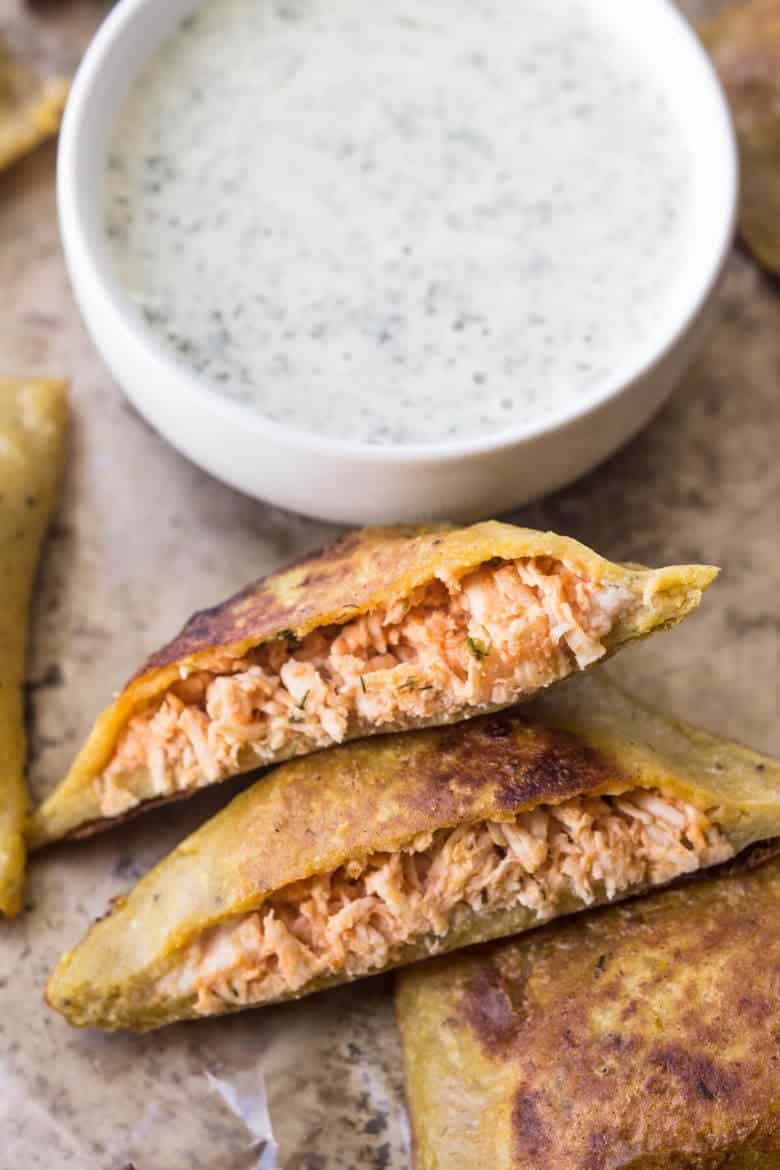 And it gets better. The dough? Yeah, it's only one ingredient…ONE! Like, how does that even happen in the Paleo world?
I've been working on a tortilla recipe, wait can you call it a recipe if it's only one ingredient?? Anyways, after realizing that when you puree a boiled plantain it becomes a dough and you can roll it out into just about any shape for tacos, tortillas, and even pizza dough I was thrilled. Mind you it's not the easiest mixture to work with intially. It sticks to just about everything but once you get it rolled out it doesn't tear, it's not gummy like tapioca, and it holds up very very well. See…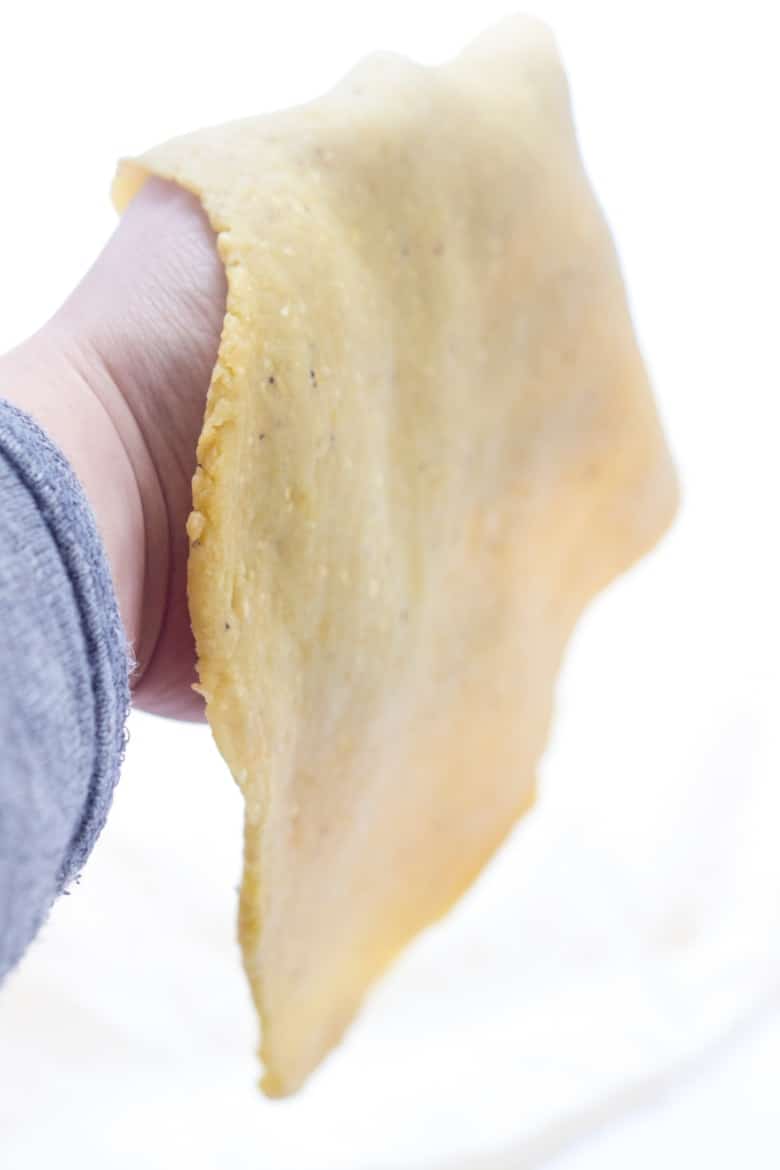 Perfection. So what I did to make the lovely little poppers was boil a few plantains and mash them into dough, roll it out, and fill with cashew cheese, buffalo chicken, and ranch seasoning. Easy! Here's a look at what I did so you can visualize…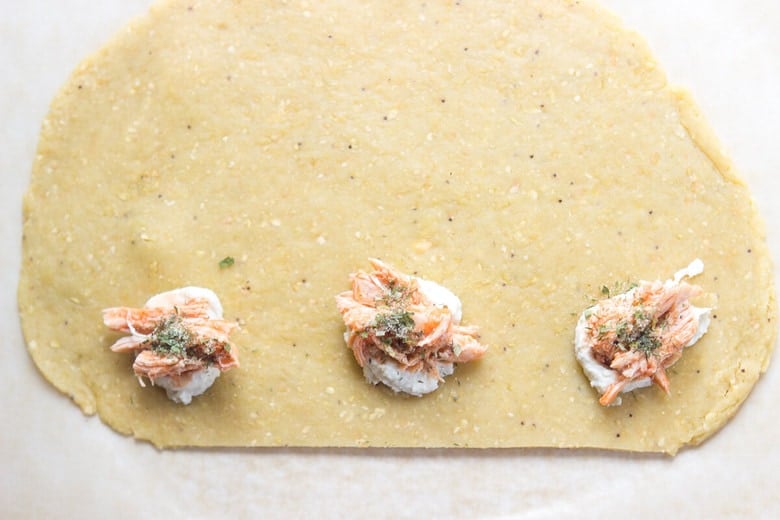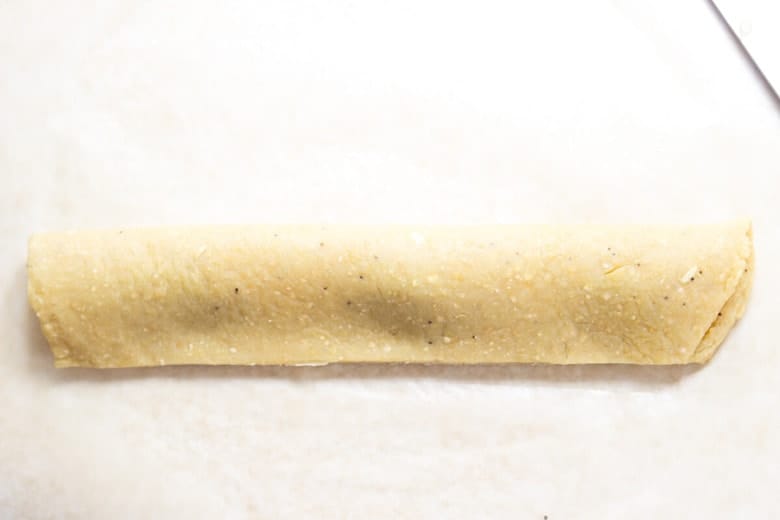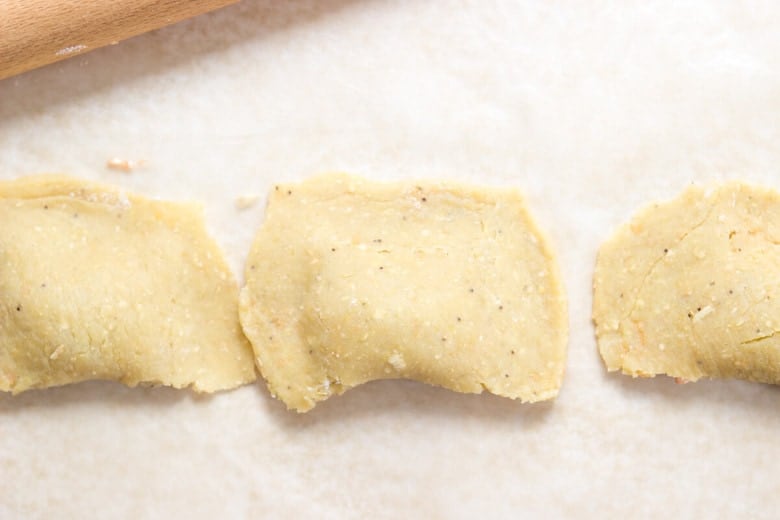 Try to roll the dough out pretty thin, the ones pictured here are a little thick so I adjusted it just a bit and they were easier to bend and the backs didn't crack. It may take a few times to play with them and see what works for you. Even if they do crack the filling doesn't really run out while frying so you'll be fine. Out of about 25 poppers I had about 6 crack a bit but they were A-OK.
After they're all formed I fried them in a bit of coconut oil until they're golden perfection. I also tried baking them in the oven if you're wondering if you can do that and you totally can but they become a bit soft and not like classic pizza rolls that are crunchy and a bit chewy. Plus frying the is so much quicker!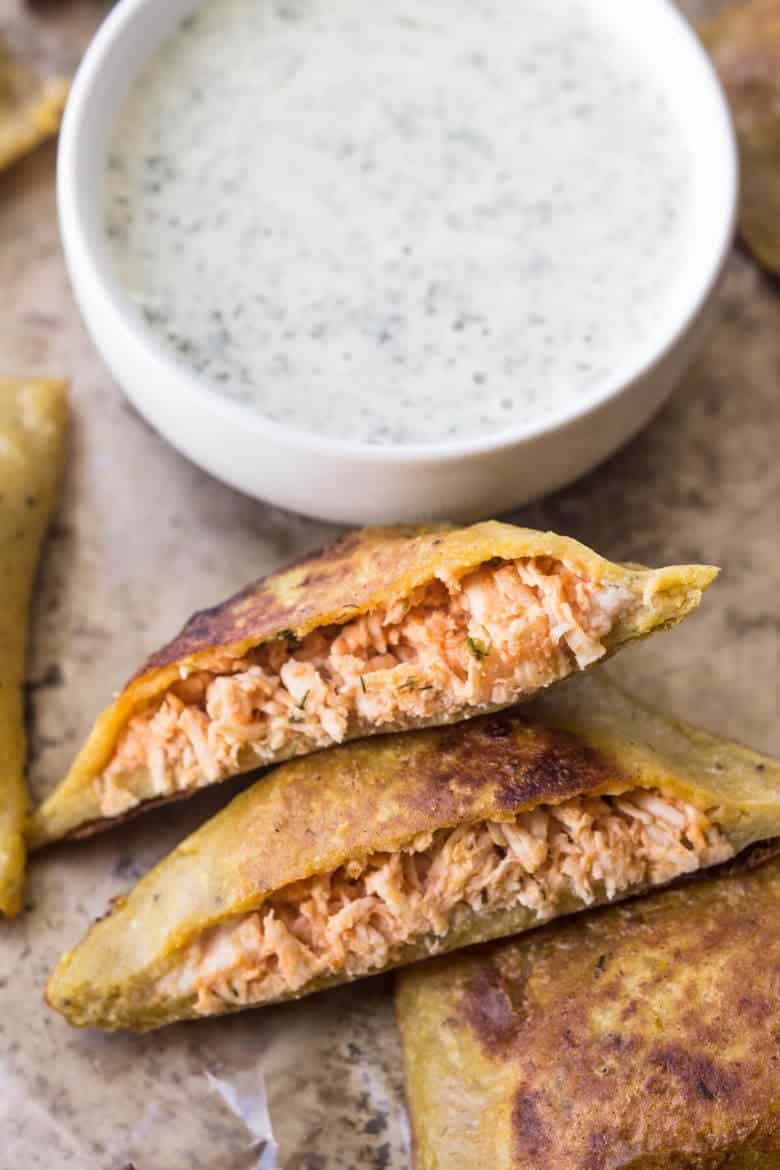 Be sure to serve them with some ranch for all dipping purposes and I can guarantee these will be the hit of any Super Bowl party, kids lunch box, or your heck even your lunch box.
P.S you can totally make a full size calzone out of this recipe too…It's a little harder to maneuver in the skillet when frying but where there's a will there's a way 😉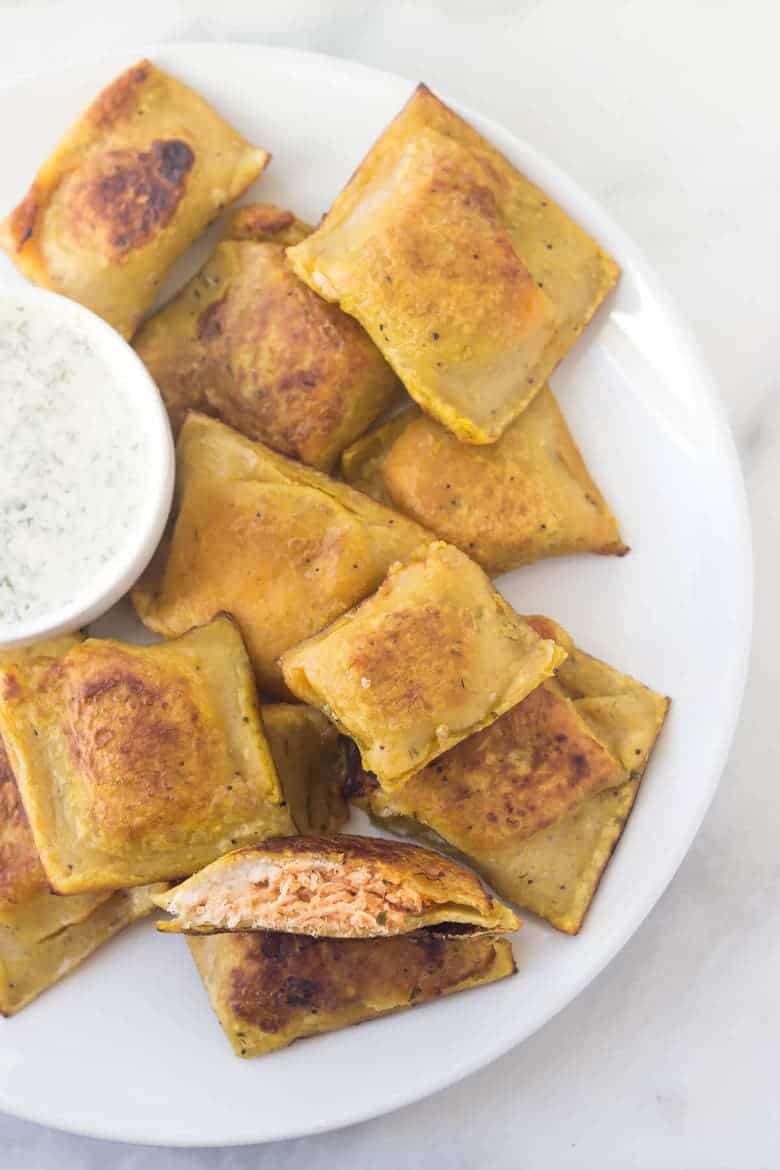 RECIPE CARD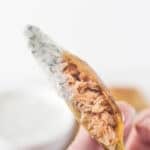 Paleo Buffalo Chicken Pizza Poppers
If you love ranch and buffalo sauce equally then this recipe might just be your dream come true.
Ingredients
Please ensure Safari reader mode is OFF to view ingredients.
3

GREEN unripe plantains

they have to be green and hard

3/4

pound

boneless skinless chicken breast

1

cup

buffalo sauce

I use Frank's Red Hot

Coconut oil

for frying
Cashew Cheese
1/2

cup

cashews

1/2

teaspoon

olive oil

1/2

teaspoon

lemon juice
Ranch Dressing - make a double batch, one for inside the poppers and one for the ranch dipping sauce
1

tablespoon

dried parsley

1

teaspoon

garlic powder

1

teaspoon

onion powder

1

teaspoon

dried dill

1

teaspoon

dried chives

1/2

teaspoon

black pepper

1/2

teaspoon

Himalayan salt

2/3

cup

Avocado mayonnaise

1/2

lemon

juiced

Water to thin out
Click to convert between US & metric measurements:
Instructions
More TIPS about this paleo recipe in the post above!
Bring two large pots of water to a boil. Place the chicken breast in one. Cut the ends off of the plantains. Cut the plantain into 2" pieces and boil until tender. Peel and place in a food processor or blender. Blend until it just forms a dough, a few seconds at most.

While the chicken and plantains are boiling bring a small post of water to a boil and boil the cashews for 6 minutes or until soft. Drain and transfer to a food processor. Pour in the olive oil, and lemon. Blend until smooth and creamy. If it's too thick add a bit of hot water a little at a time. Set aside.

Shred the chicken and place in the food processor with the buffalo sauce. Pulse until minced but not creamy or mushy. Set aside.

Combine all of the seasoning for the ranch (just the seasoning, not the mayo, lemon, or water - that will be used for the ranch dressing), set aside.

Between two pieces of plastic (I used a gallon ziplock bag cut in half) pull off a little large piece than a golf ball sized piece of dough until it's about 1/6 - 1/4 inch thick. This size should be enough to fill two poppers. You can roll out a larger piece of dough but it's more manageable to do two at a time.

Put a teaspoon of cashew cheese down and top with about 2-3 teaspoons of chicken. Sprinkle with ranch seasoning and carefully fold over the dough. Cut down the middle to separate the two poppers. Place the plastic back over the popper and use the rolling pin to seal the sides. Cut off the excess and set the poppers aside. Add the excess back to the dough pile and repeat until you've used all the dough and fillings.

Heat a large cast iron skillet over medium high heat with about 3 tablespoons of coconut oil. Fry the poppers 1-2 minutes per side until crisp and golden brown. Drain on paper towels and repeat until all have been cooked. **You may have to add extra coconut oil between batches.

Mix together the second batch of ranch seasoning and mix in the mayo, lemon, and desired amount of water to thin out to your consistency preference.
© Copyright Wicked Spatula. We'd LOVE for you to share a link to this recipe, but please DO NOT COPY/PASTE the recipe instructions to social media or websites. You may share a photo with a link back instead.
Did you make this recipe?
Click here to leave a comment + star rating! ★★★★★
Then, share a pic on Instagram. Tag @wickedspatula or #wickedspatula!