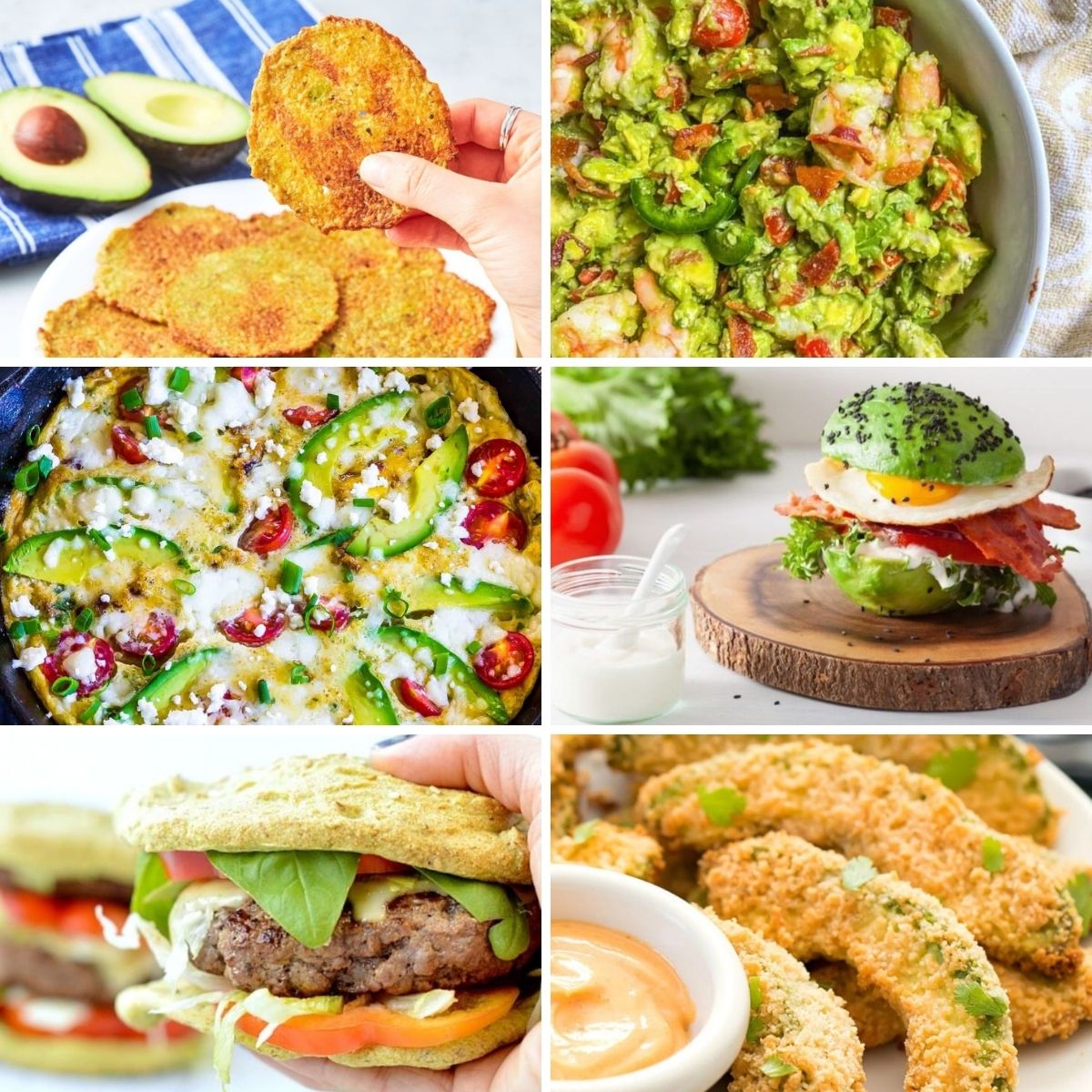 The humble avocado is anything but humble. Avocados have a high fat to carb ratio, with 13g of fiber in each creamy fruit. They're full of so many nutrients that you're pretty much taking a daily multivitamin if you include them regularly in your diet.
In fact, if you're on a keto diet, then you should be having one of these bad boys every day. But, if you're sick to the back teeth of guacamole, then you really haven't run out of options. Here we have 35 of the tastiest keto avocado recipes for you to try out. We've got you covered for breakfasts, lunches, suppers, snacks, and desserts.
Bacon and guacamole fat bombs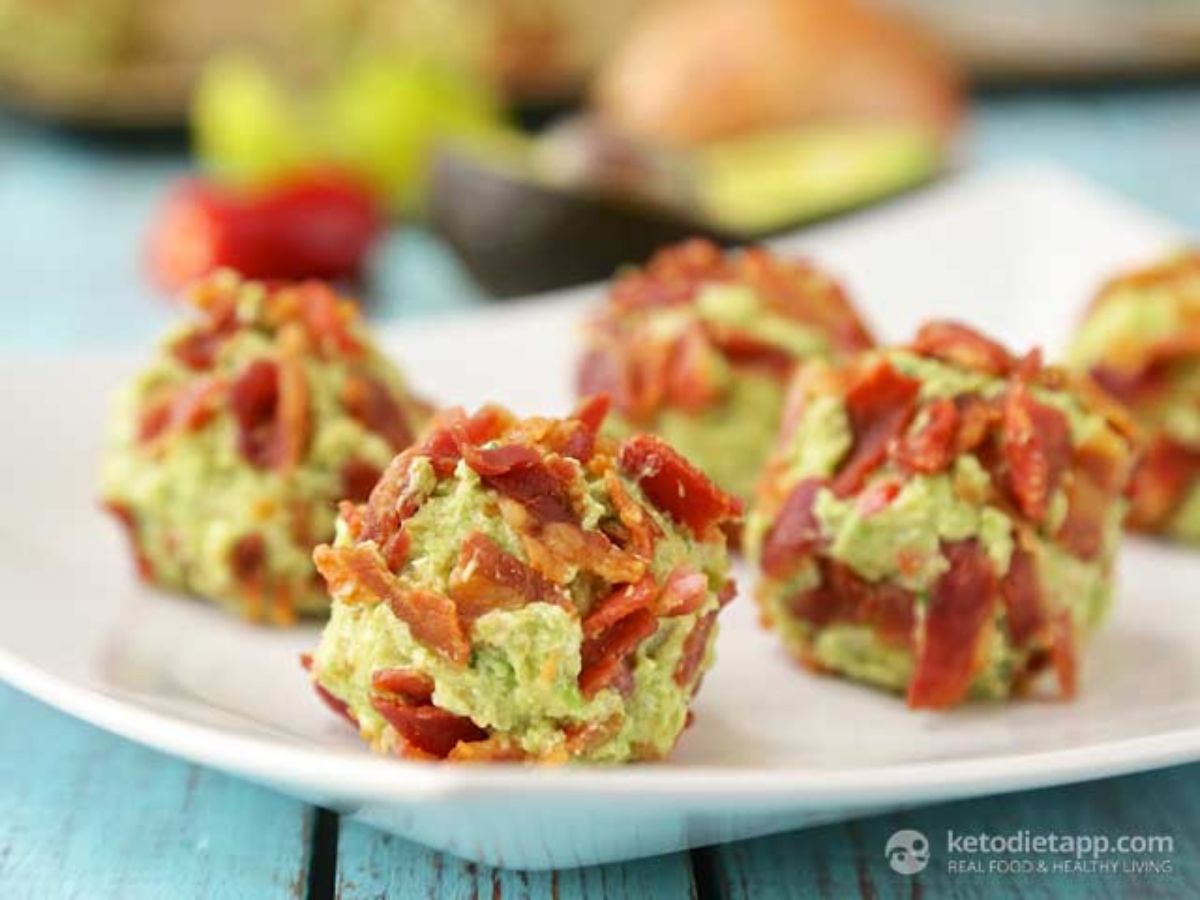 Contrary to popular belief, you don't actually need to eat fat bombs if you're on a keto diet. They are helpful in some situations, however, including if you're on a fat fast or if you're refueling after a heavy workout. These fat bombs from Keto Diet App are unusual in being savory, so you can tuck in if you're not feeling your sweet tooth today.
Turkey bacon and avocado taquitos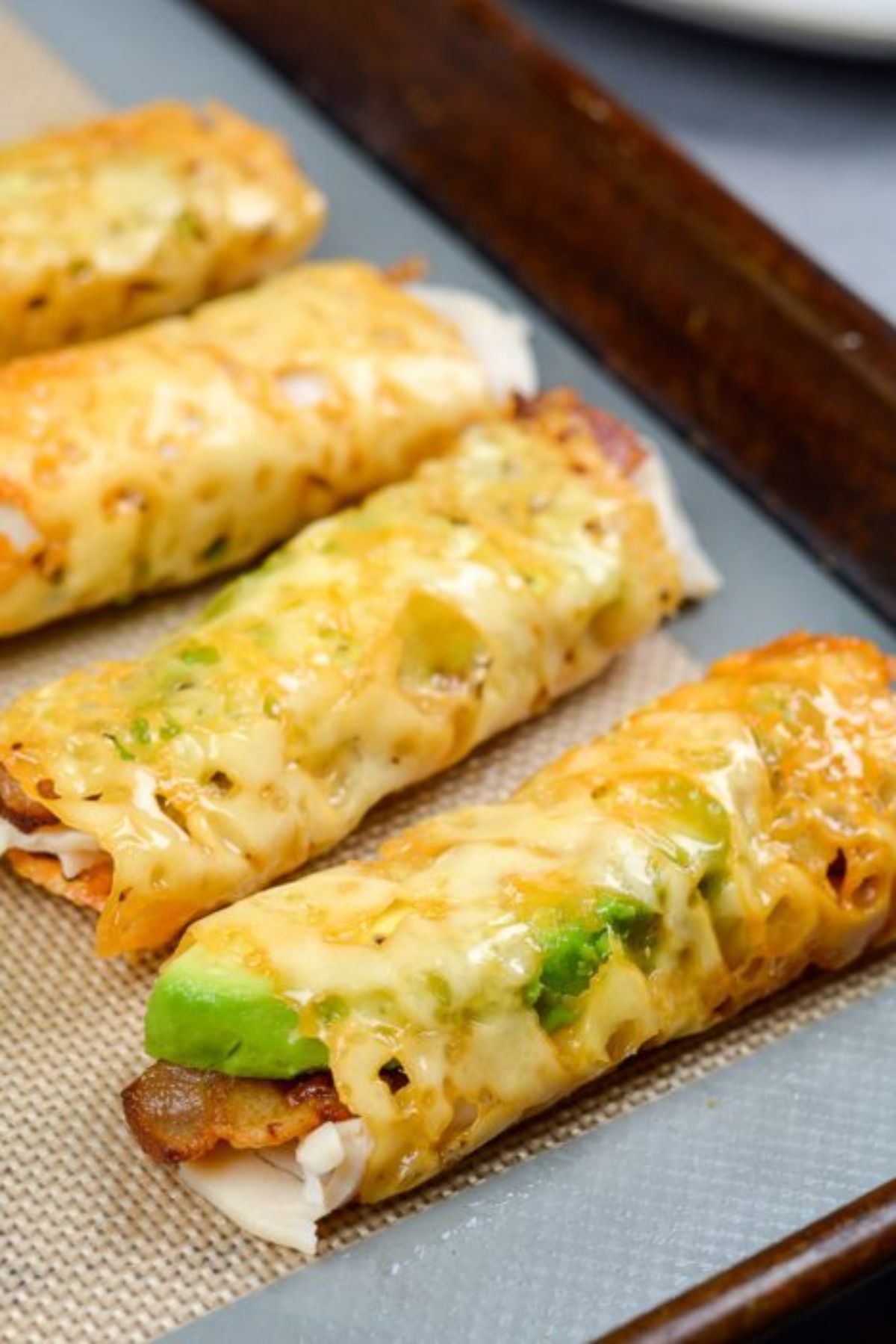 With 4 ingredients and coming in at only 1g net carb per serving, these taquitos are a great quick and easy keto-friendly lunch option. Maebells dips them in ranch dressing and they are scrumptious.
Sushi smoked salmon roll-ups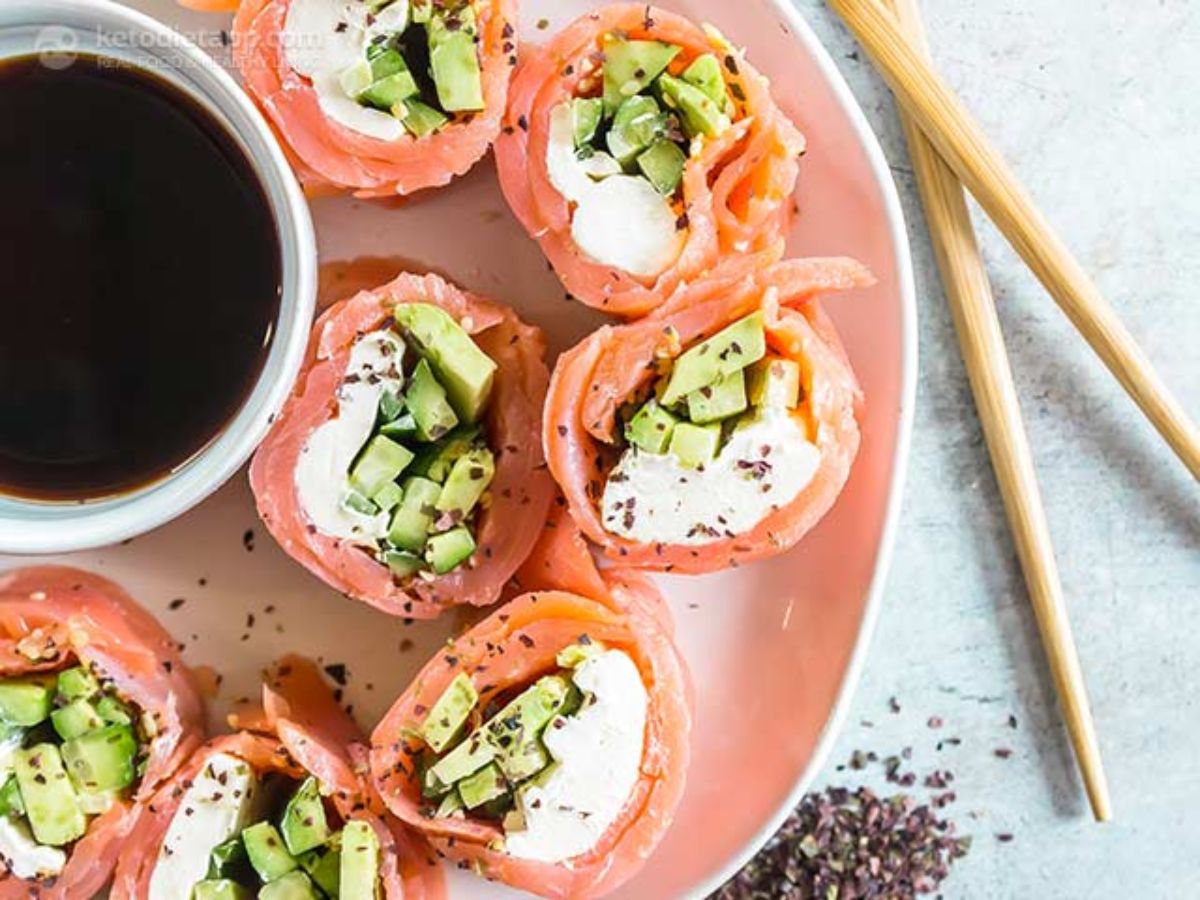 If you're missing sushi on your keto diet, or you're looking for something that looks great to lay on the table at a party, then Keto Diet App has the perfect appetizer recipe for you. These smoked salmon roll-ups are full of healthy fats and amazing flavor.
Caprese baked avocados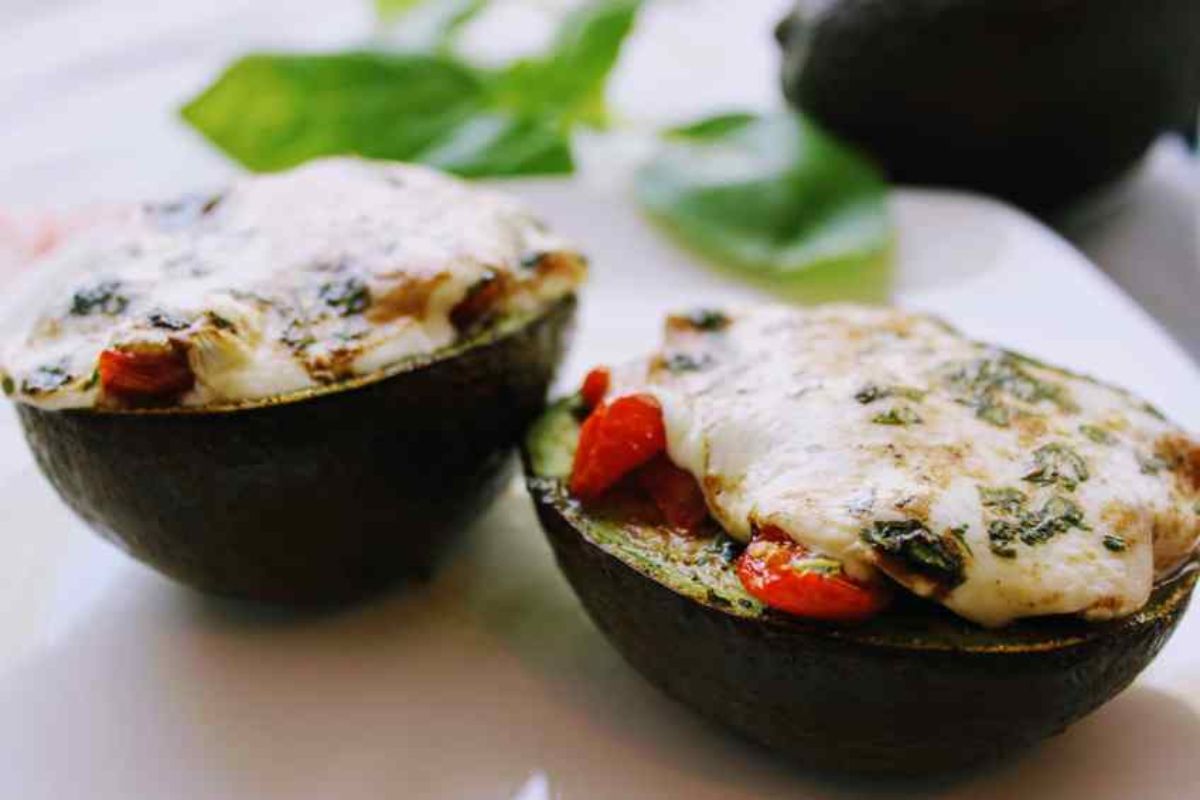 For those of you who aren't familiar, Caprese salad is an Italian salad made up of delicious fresh basil, mozzarella cheese, tomato, olive oil, and balsamic vinegar. It's delicious on its own, but Keen for Keto has a recipe that will knock your socks off. A baked Caprese stuffed avocado, that's perfectly keto-friendly.
The keto breakfast burger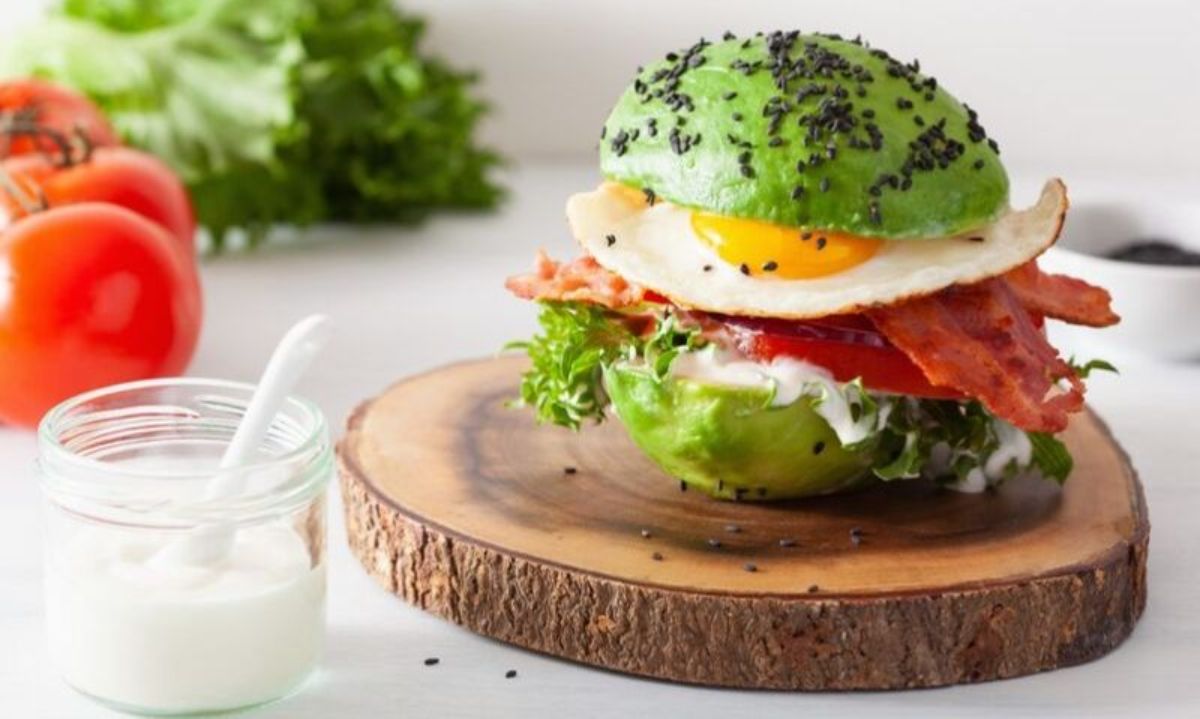 Ok, so eating this with your hands might be a bridge too far, but other than that this recipe from Keto Diet Rule is the perfect keto substitute for a normal breakfast burger. It's a delicious breakfast or makes a pretty stunning brunch to serve to your friends.
Avocado egg salad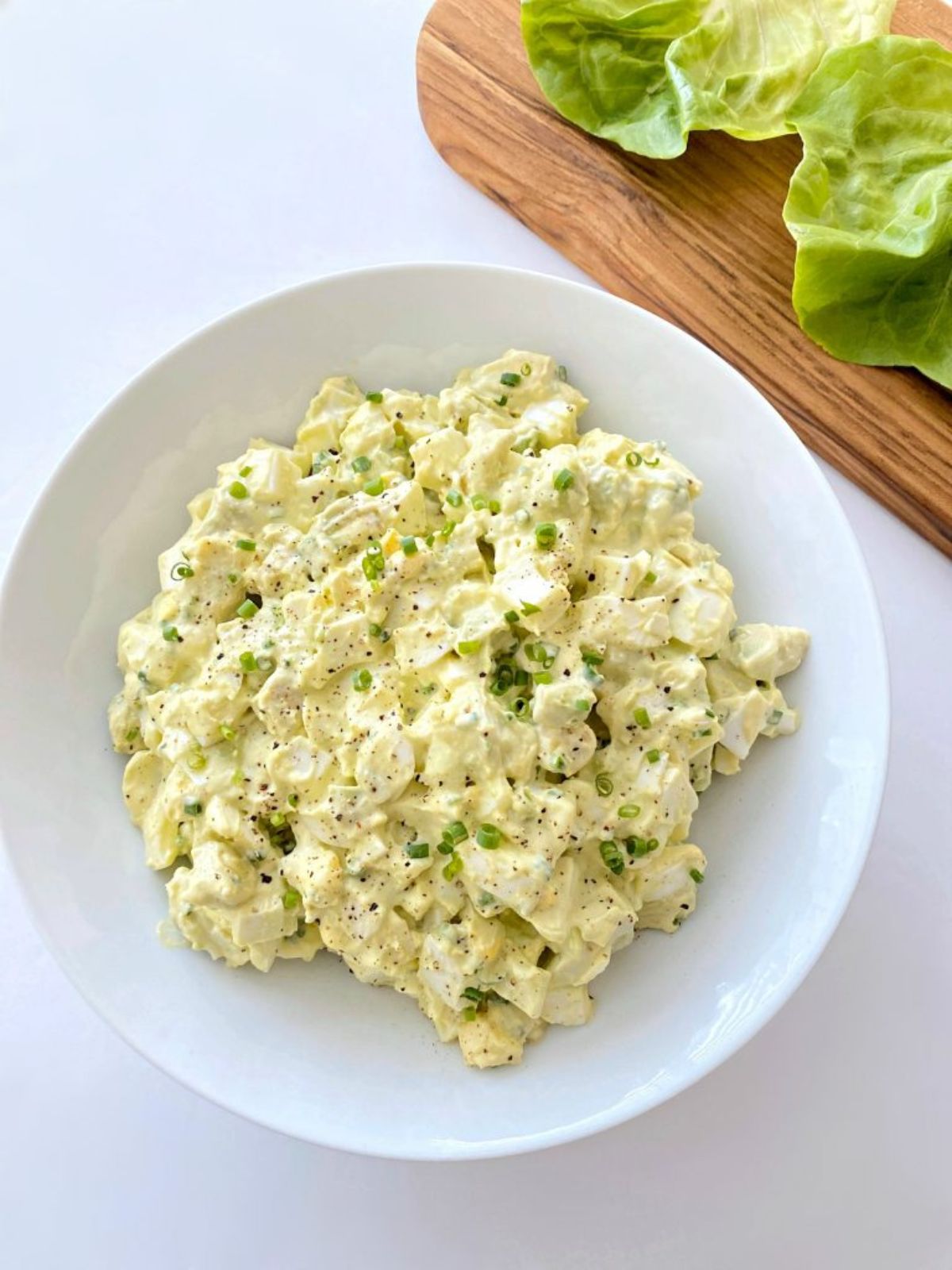 Stylish Craving's avocado egg salad is a firm favorite in our house. It's a great quick lunch for the family, and it's always well-received when we take it to pot lucks. I'm sure that you'll love it as much as we do.
Avocado fries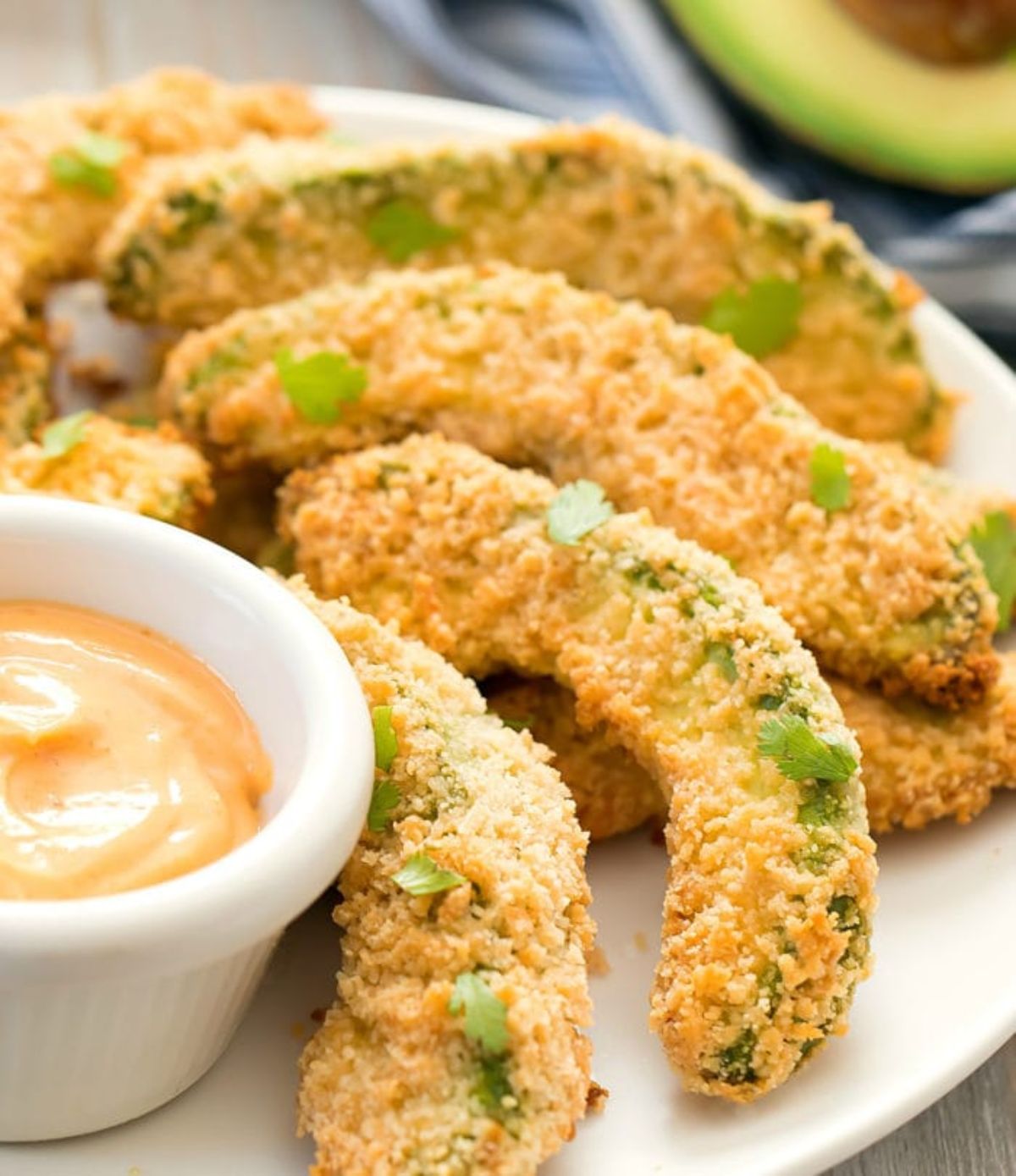 The first of two avocado fries recipes in our round-up, this one from Kirbie's Cravings uses almond flour and parmesan coating before being baked or put in the air fryer. Dip them in a yummy spicy mayonnaise for a tasty afternoon snack, or as a side for one of our keto mains.
Avocado bacon chicken salad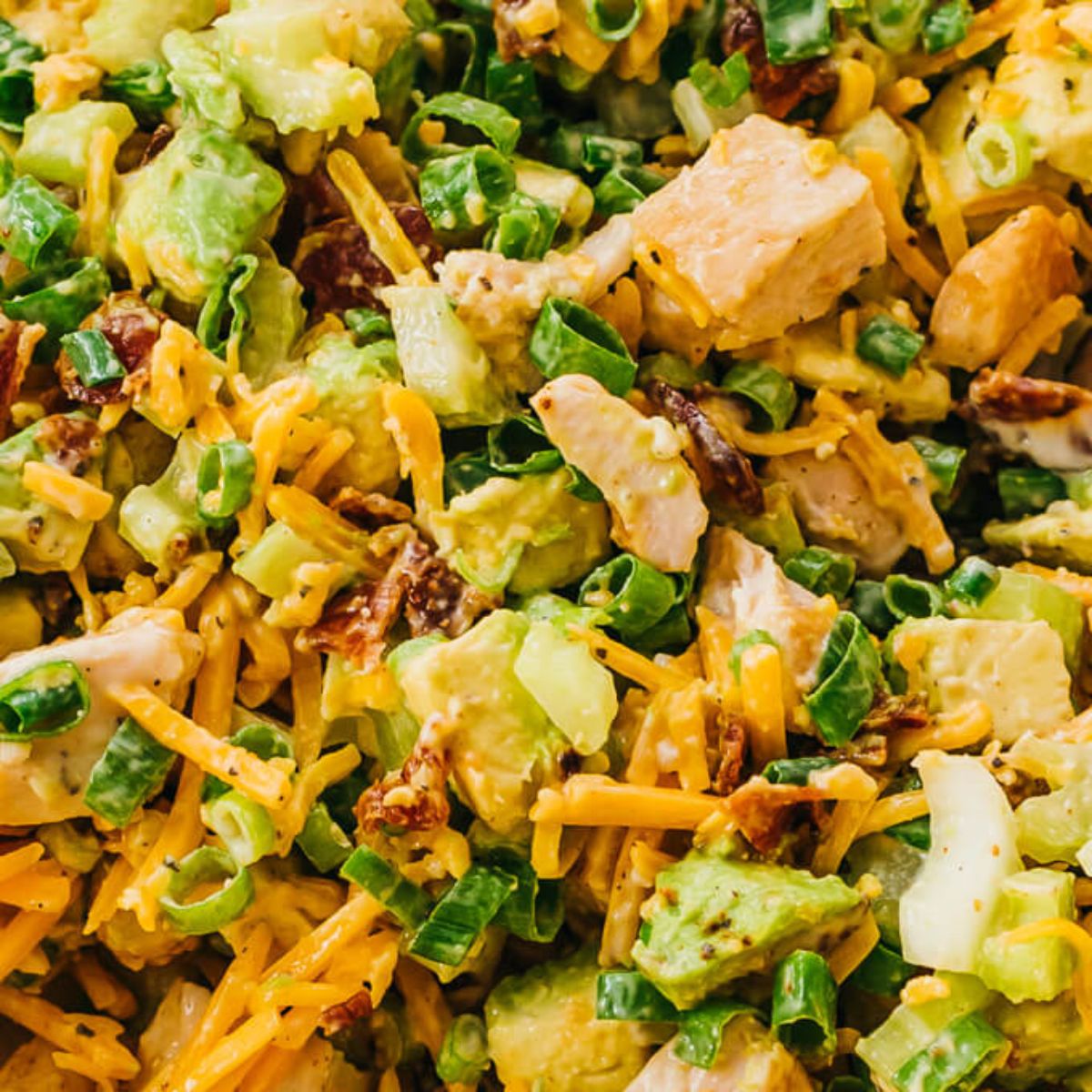 With every ingredient in Savory Tooth's delicious salad chosen for its keto compatibility, you really can't go wrong. It has 3g of net carbs per serving and only takes 15 minutes to prepare.
Avocado chips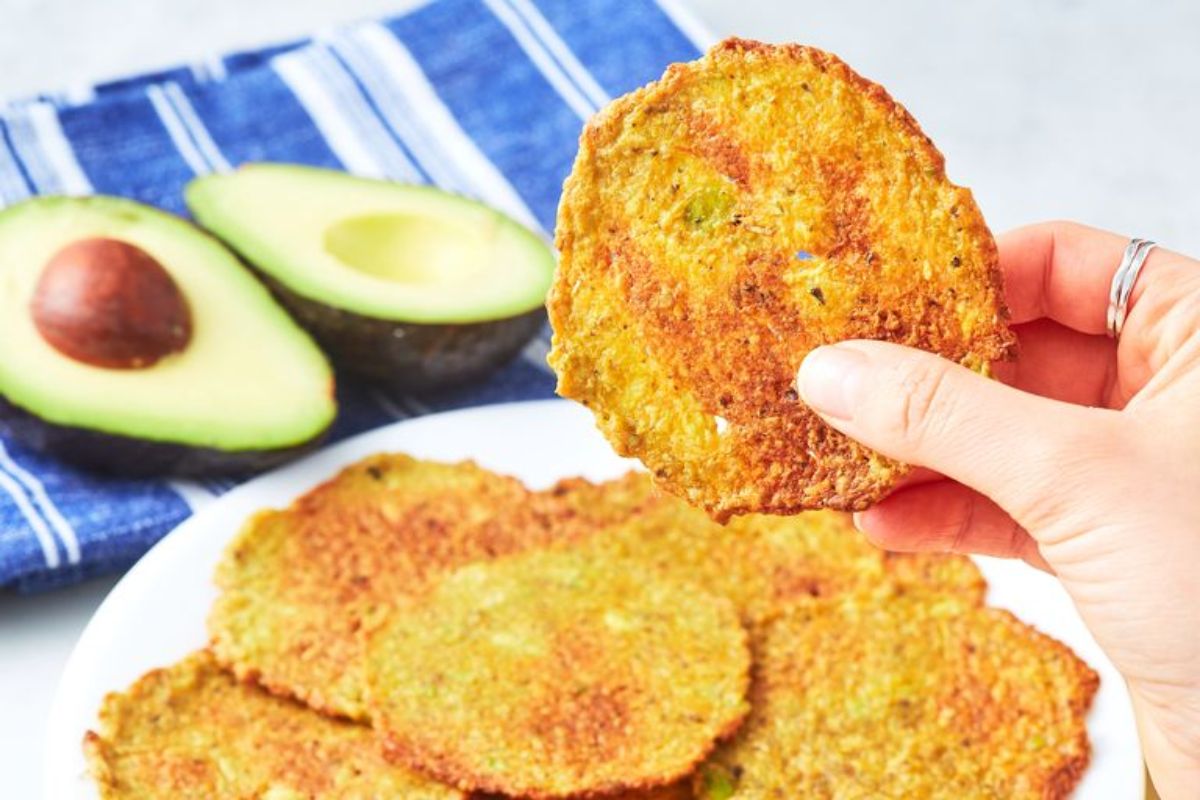 Another ingenious snack idea here, from Delish.com. Baked avocado and parmesan chips. They're perfect for low-carb nibbling, and for dipping into yummy sauces.
Pulled pork stuffed avocado boats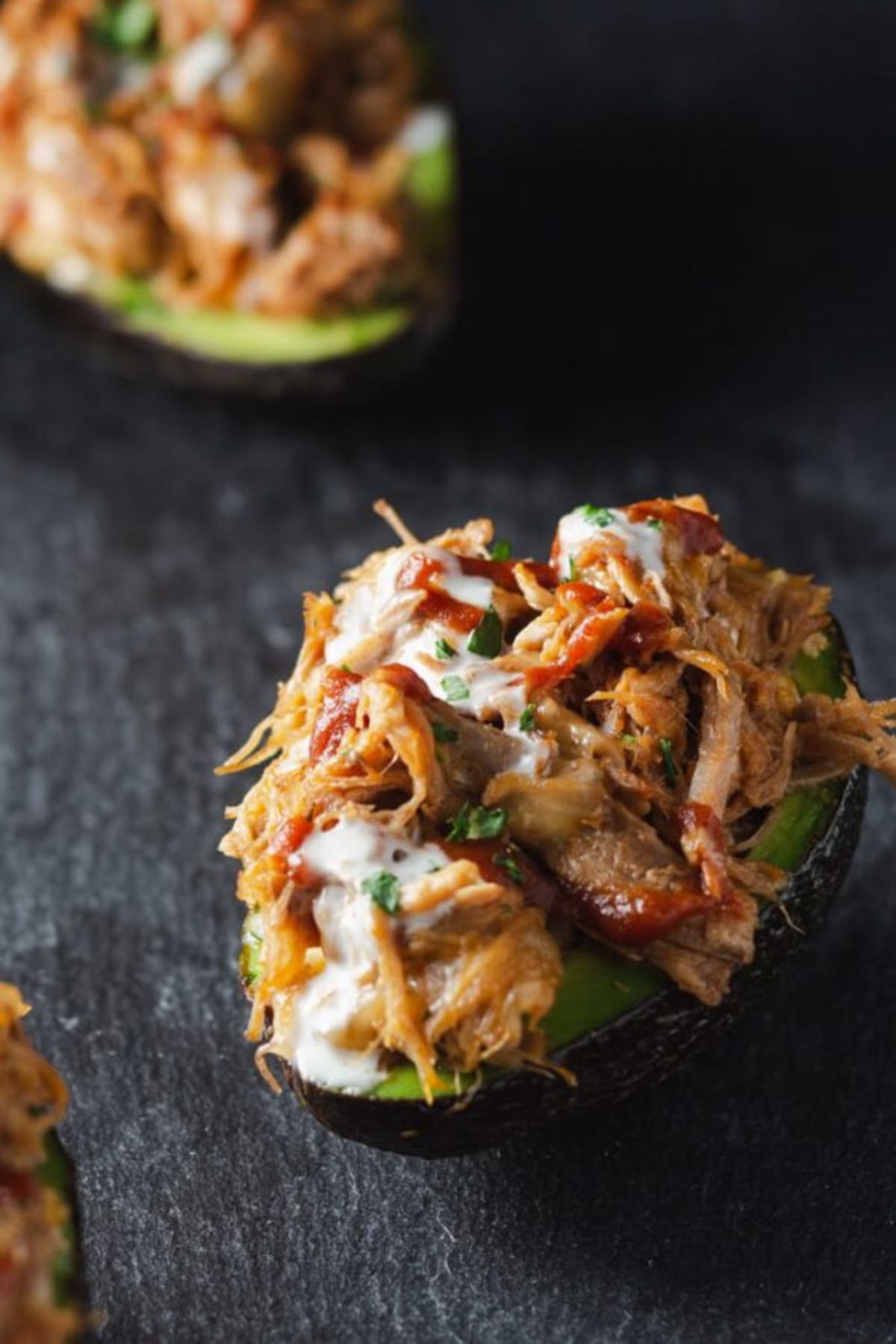 This is a great idea if you have some pulled pork leftovers from a previous meal and you're struggling to know what to do with it. But, if you don't have some in the fridge already, then Low Carb Maven has a flavorful recipe of her own for you to dig into.
Avocado shrimp salad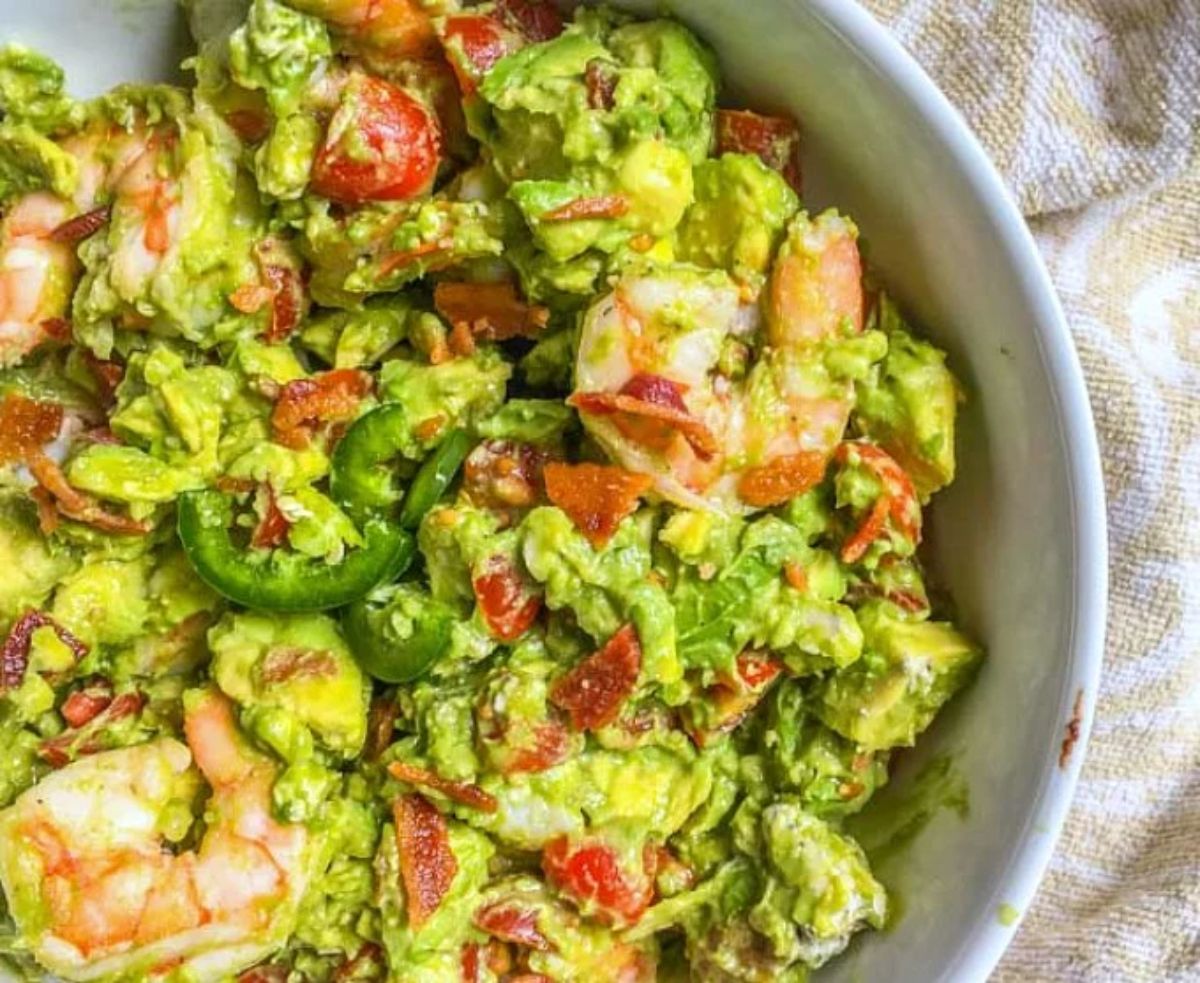 At only 2.4g net carbs per serving, I'm going to be eating this scrumptious salad all day! My Life Cookbook's avocado, shrimp salad with bacon is a dreamy creamy mix of blue cheese, salty bacon, and smooth avocado. It's my new favorite thing.
Avocado tuna salad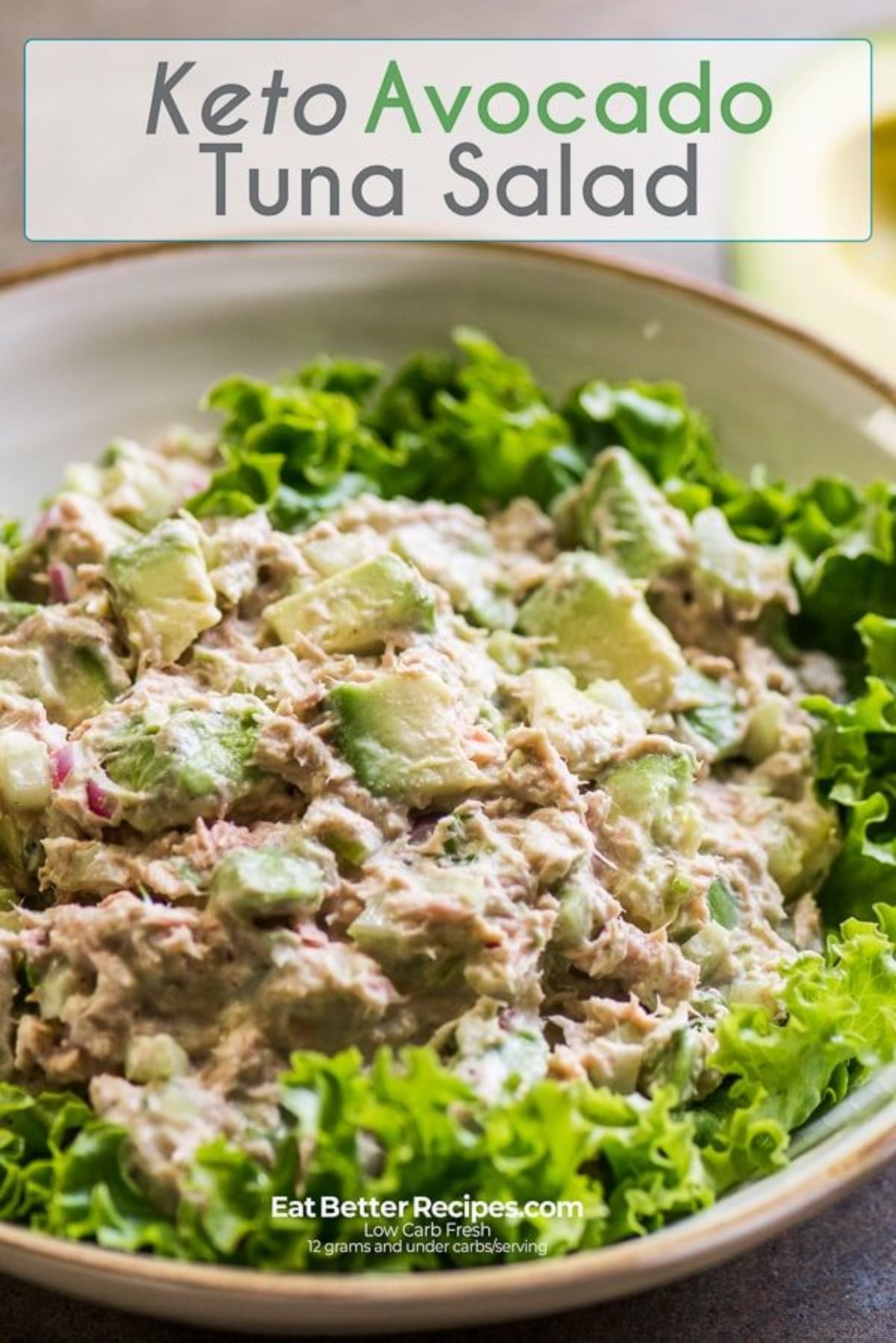 Not feeling like bacon today? Eat Better Recipes has a salad option that might be more your style. Their avocado tuna salad is ready in minutes and will keep everyone (keto or not) happy at the table.
Caprese stuffed avocado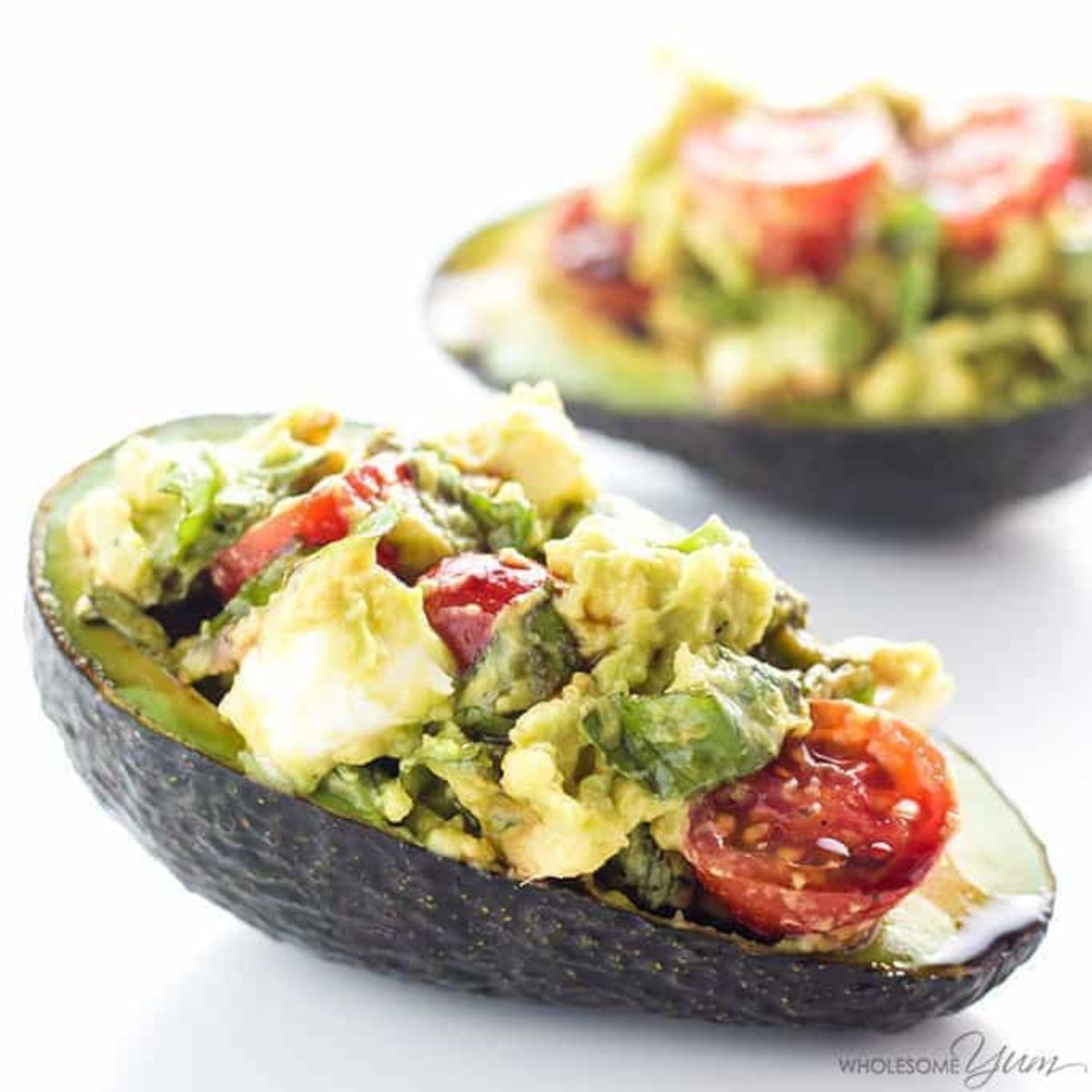 Unlike our earlier offering, this Caprese stuffed avocado recipe from Wholesome Yum skips the baked part. It's a great option if you're off to a picnic, or if it's a beautiful sunny day and you don't fancy turning on the oven.
Bacon avocado soup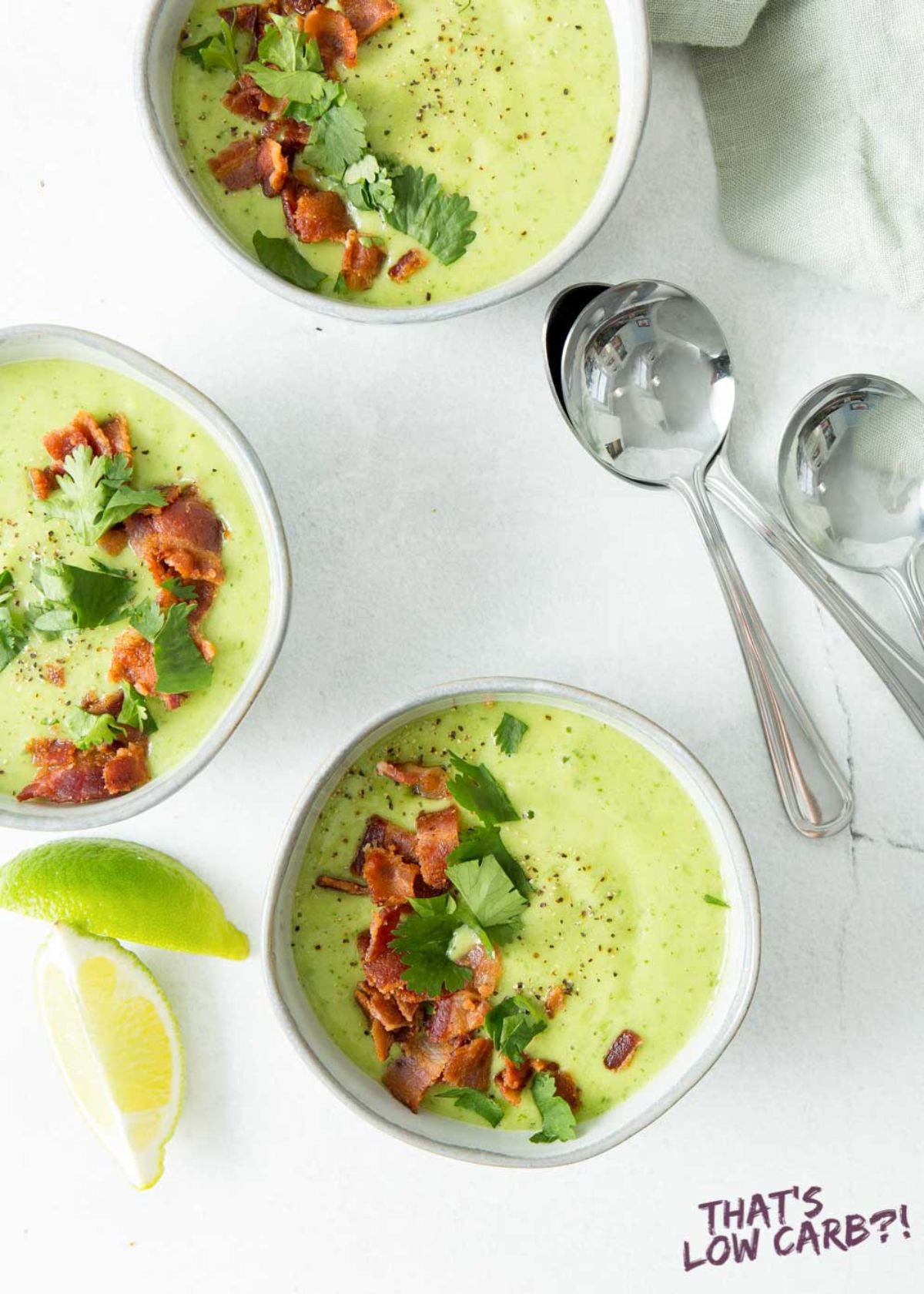 If you're looking for the Holy Grail of keto soups then you've come to the right place. This delicious concoction by That's Low Carb can be served hot or cold, so if you're in a gazpacho frame of mind then you can prepare accordingly! I think it's just as yummy at either temperature.
Keto avocado toast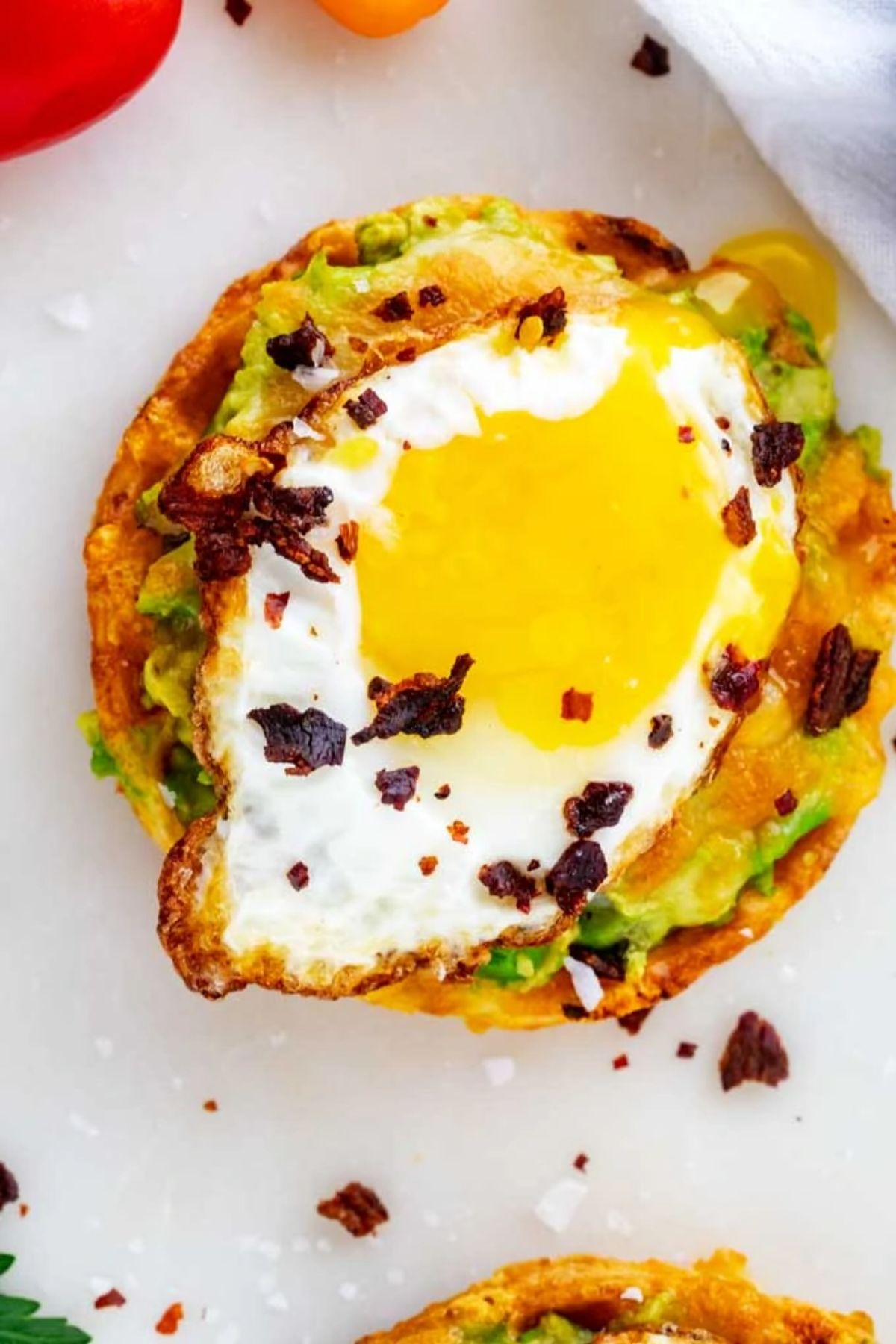 Chaffles are crazy-good vehicles for shoveling yummy food into my mouth! Kicking Carbs top theirs with avocado, cheddar, fried egg, and bacon, for a creamy salty hit of goodness.
Grilled chicken with avocado salsa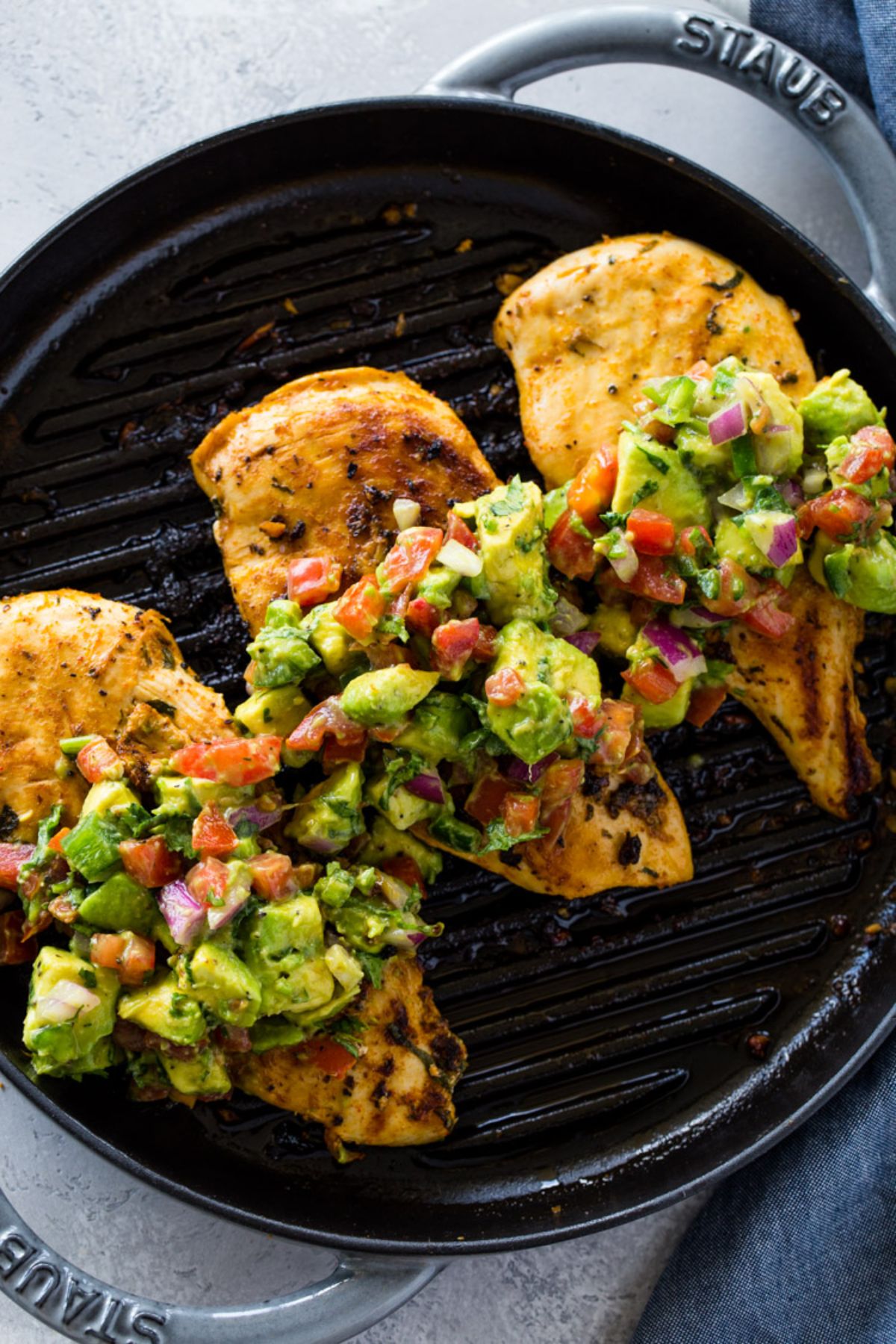 Sometimes grilled chicken can need a little spicing up, and Gimme Delicious have the perfect thing. Their Cilantro Lime chicken is topped with the tangiest avocado salsa. Your tastebuds will be doing a little dance in between every bite.
Bacon-wrapped avocado fries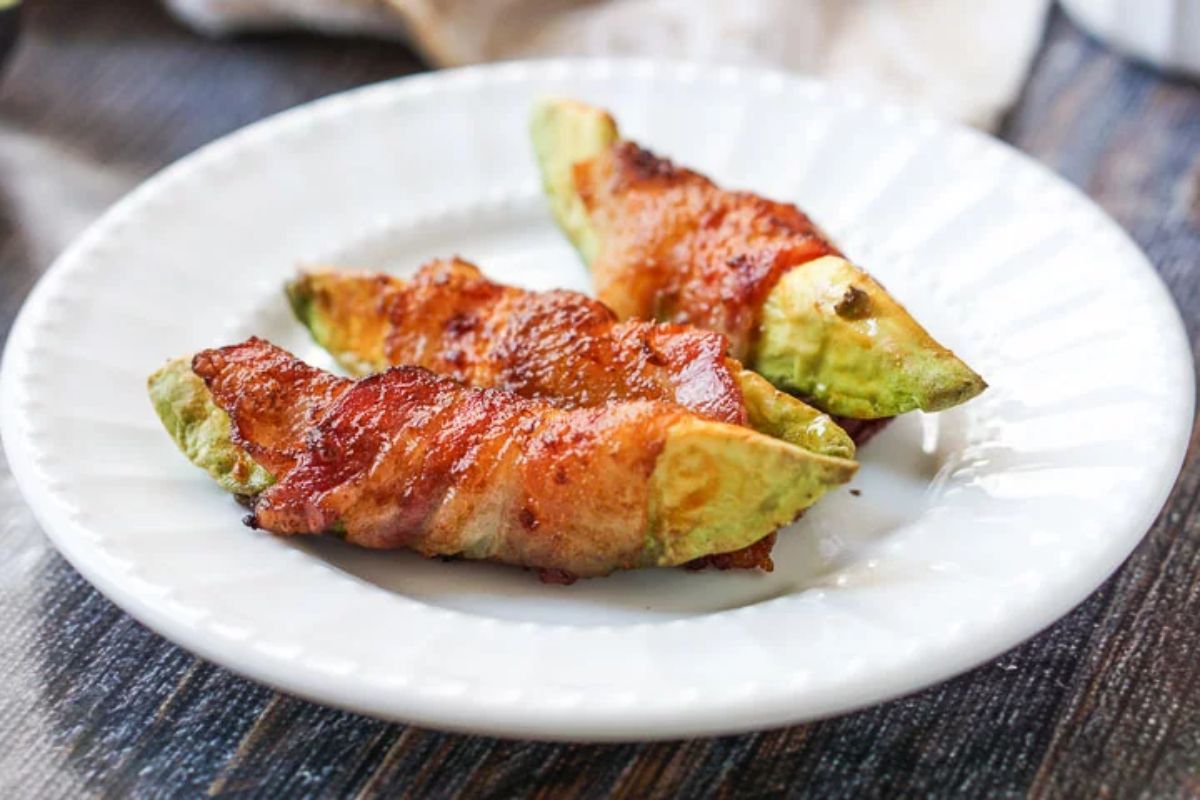 If you're looking for another excuse to use your favorite kitchen gadget, then these avocado fries are it. Whip out your air fryer and whip up these bacon-wrapped morsels in just 15 minutes with My Life Cookbook's easy-to-follow recipe!
Avocado and tomato salad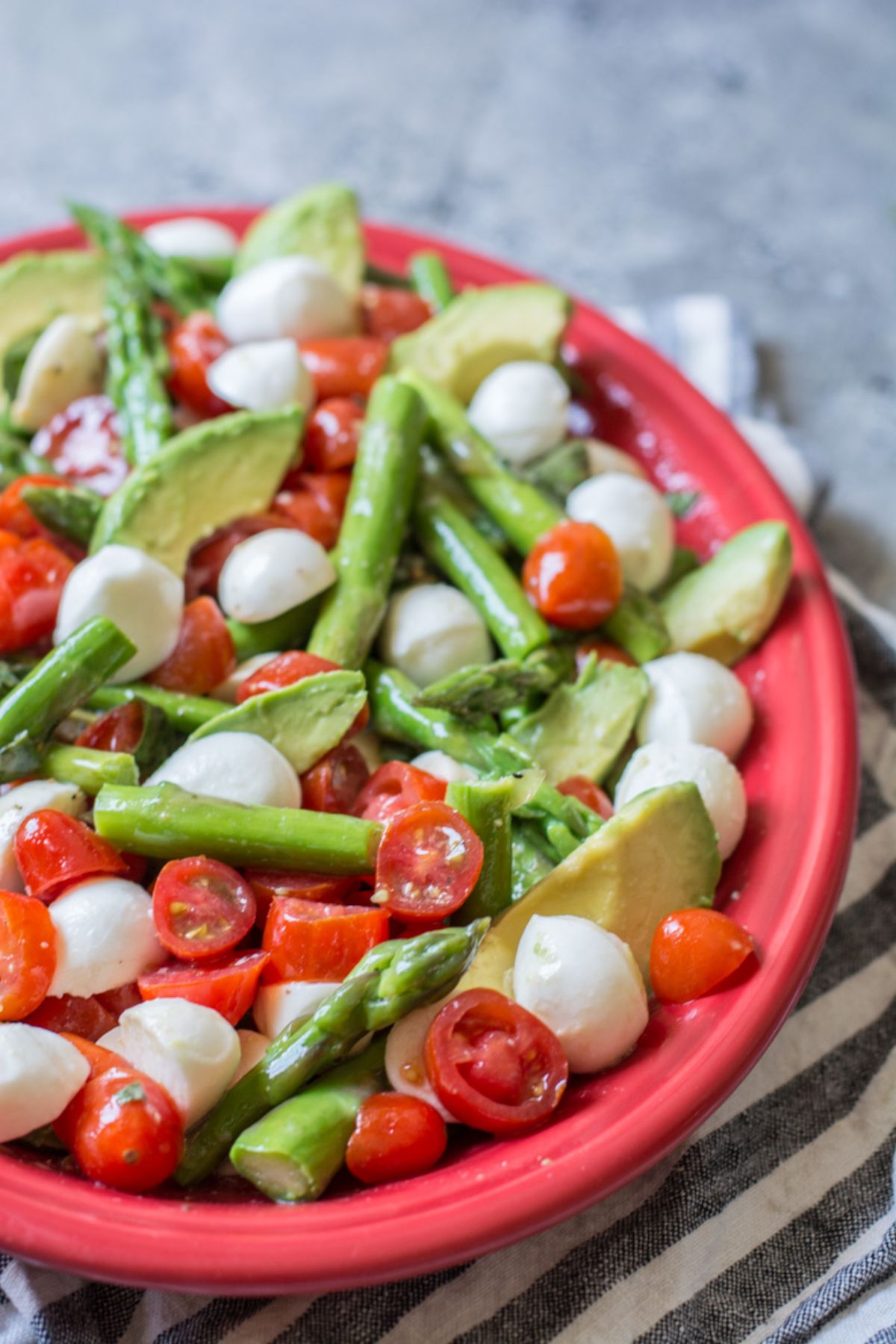 This summer salad from Maebells will make you smile with its fresh taste and creamy lemon dressing. I'm a sucker for mozzarella, and I love asparagus season, so I can't wait for this to grace my summer barbecues.
Bacon-wrapped avocado burger bombs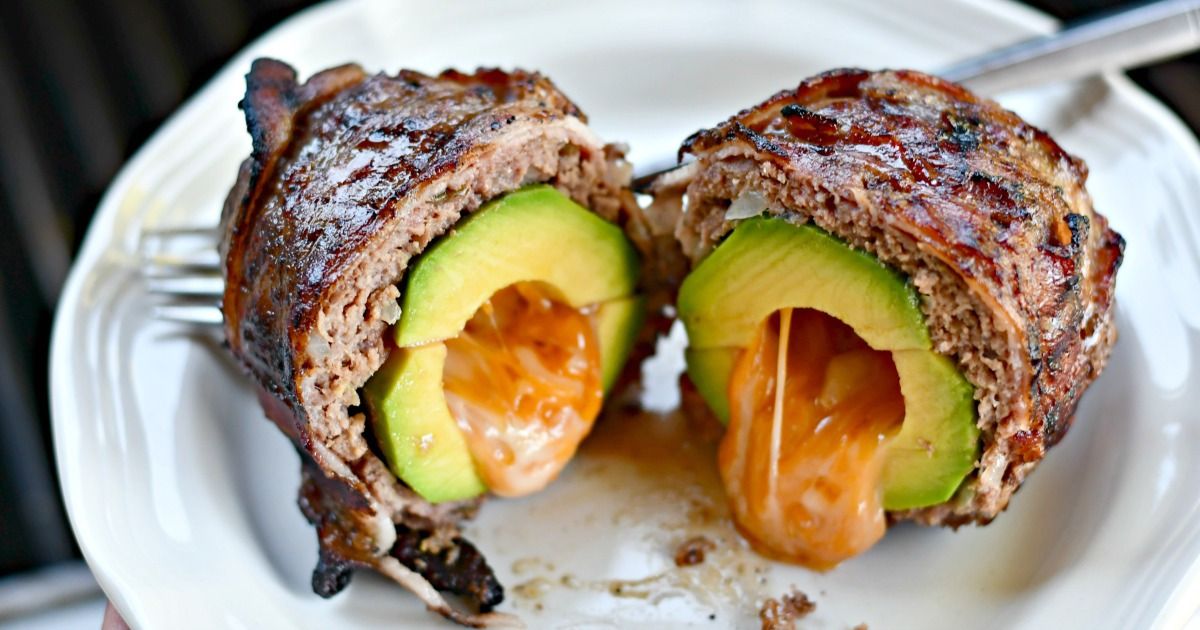 Just when you thought I'd run out of things to wrap in bacon… along come Hip2Keto's incredible burger bombs. Fun to make and fun to cut into, these burger bombs taste great straight off the grill.
Cucumber avocado and feta salad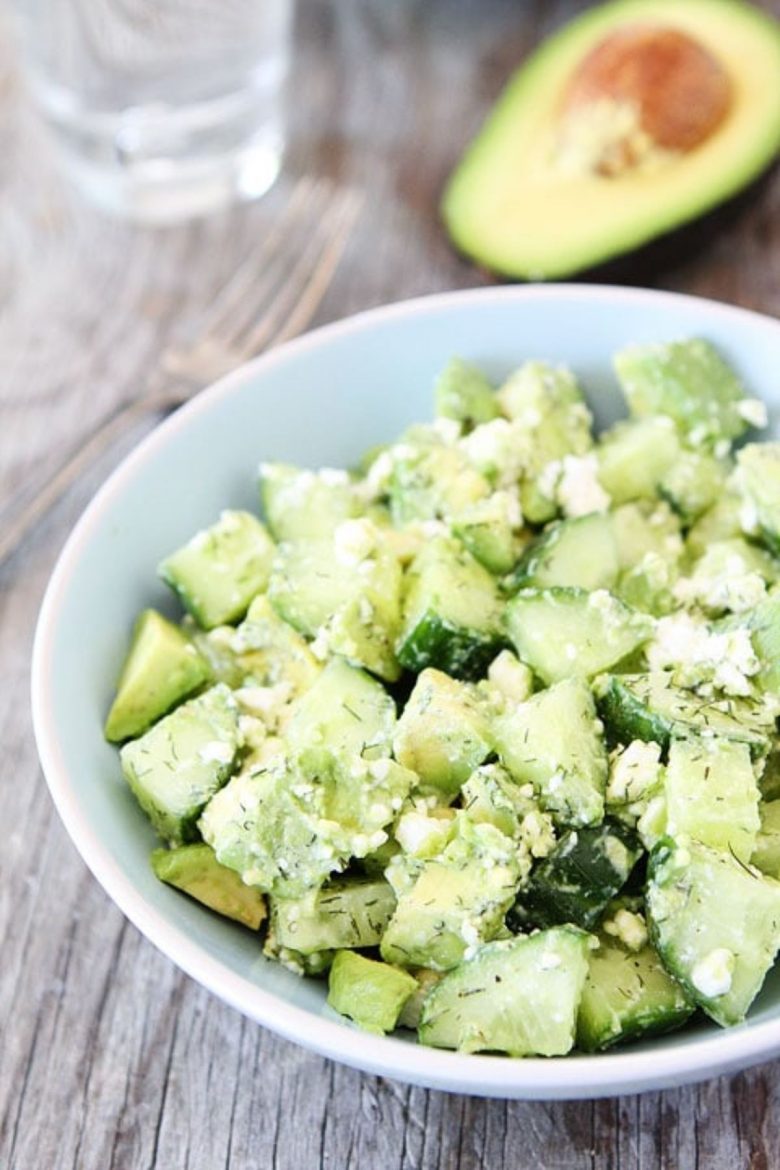 And if you're looking for a salad to serve with those bad boys, then may I humbly suggest Two Peas & Their Pod's cucumber, avocado, and feta salad? It will only take you 5 minutes and 5 ingredients.
Avocado breakfast muffins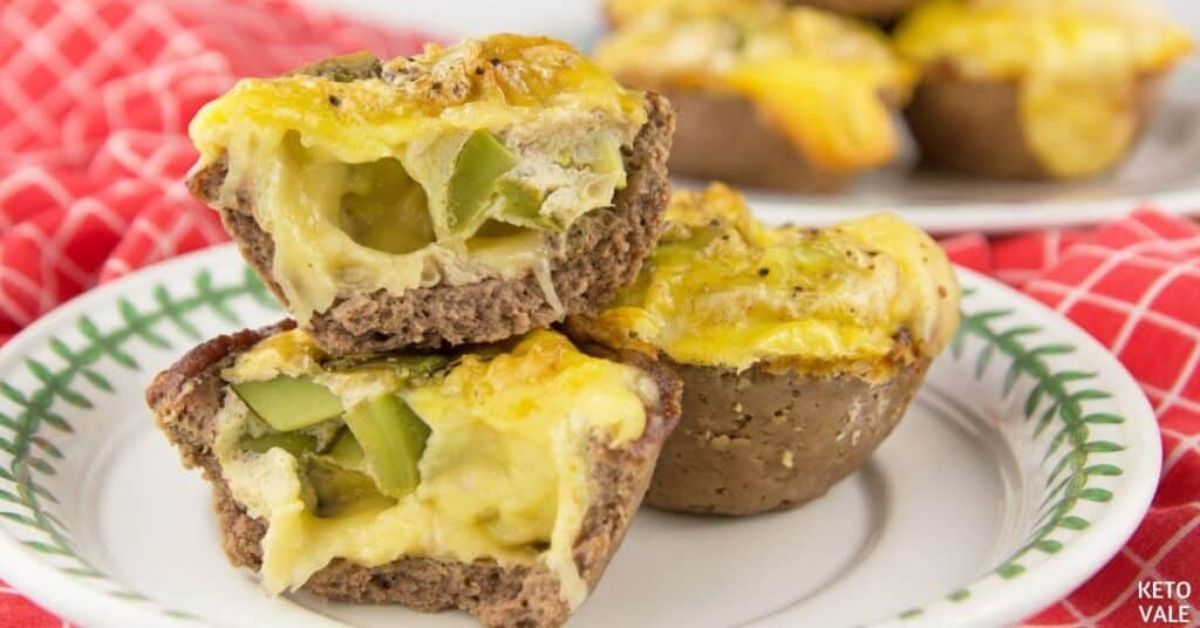 If you're looking to shake up your usual breakfast fare, whilst making sure you meet your macros, then these breakfast muffins from Ketovale are a great choice. Beef sausage, avocado, and heavy cream make these the friendliest keto muffins you can find.
Avocado coleslaw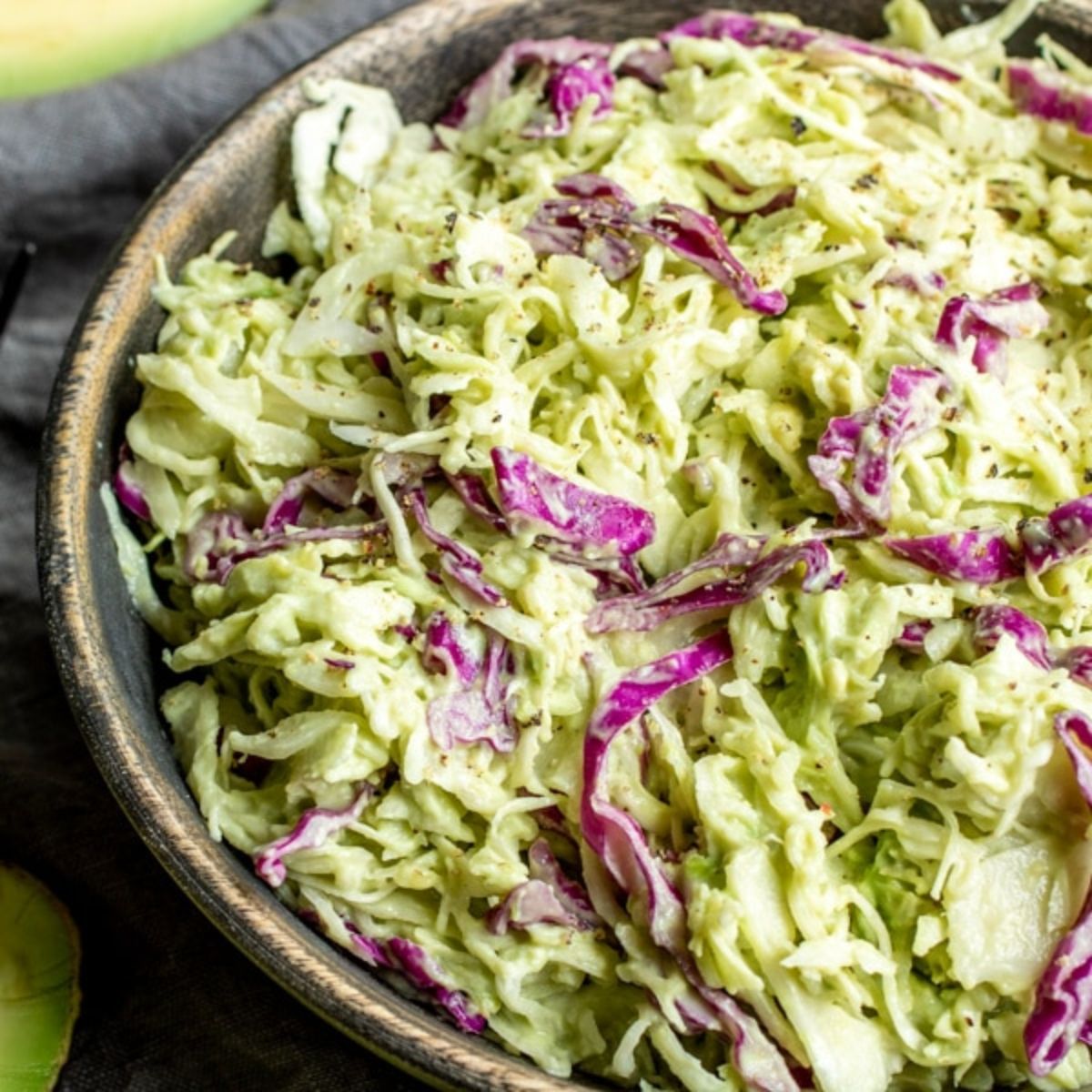 Using avocado in their coleslaw recipe means that Home Made Interest can have a creamy delicious side without using mayo. Great for your summer parties, it's easy to make and never disappointing.
Frittata with avocado and queso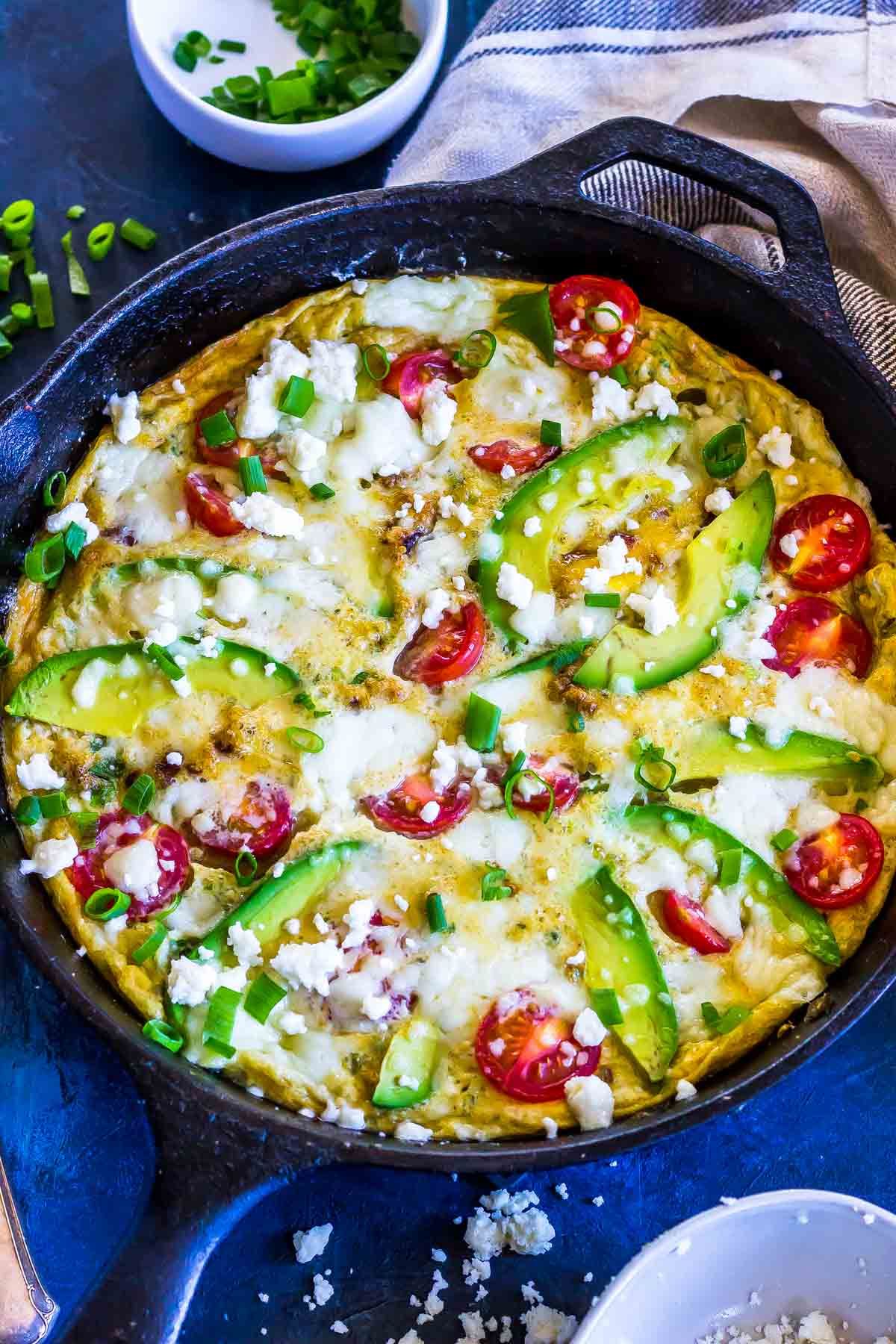 Cast Iron Keto's frittata is full of healthy fats, a good dose of protein, and fresh vegetables: all you need to wake yourself up in the morning. It's also a great addition to your next brunch.
Avocado fries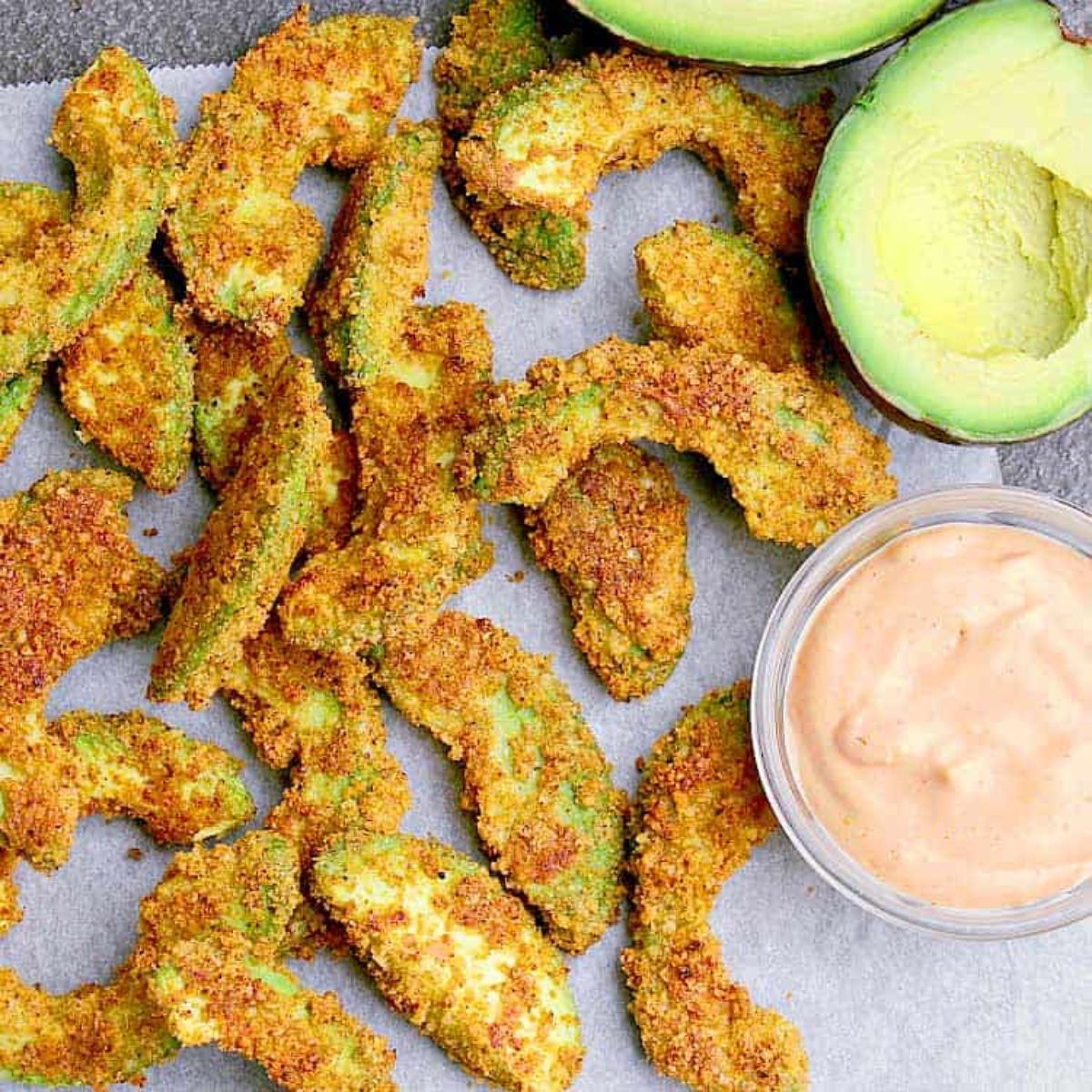 Our second version of avocado fries, these tasty morsels from Mama Bear's Cookbook are covered in blitzed pork rinds instead of almond flour, giving them a crunchy salty taste that you won't be able to stop eating.
Avocado lime cilantro ranch dressing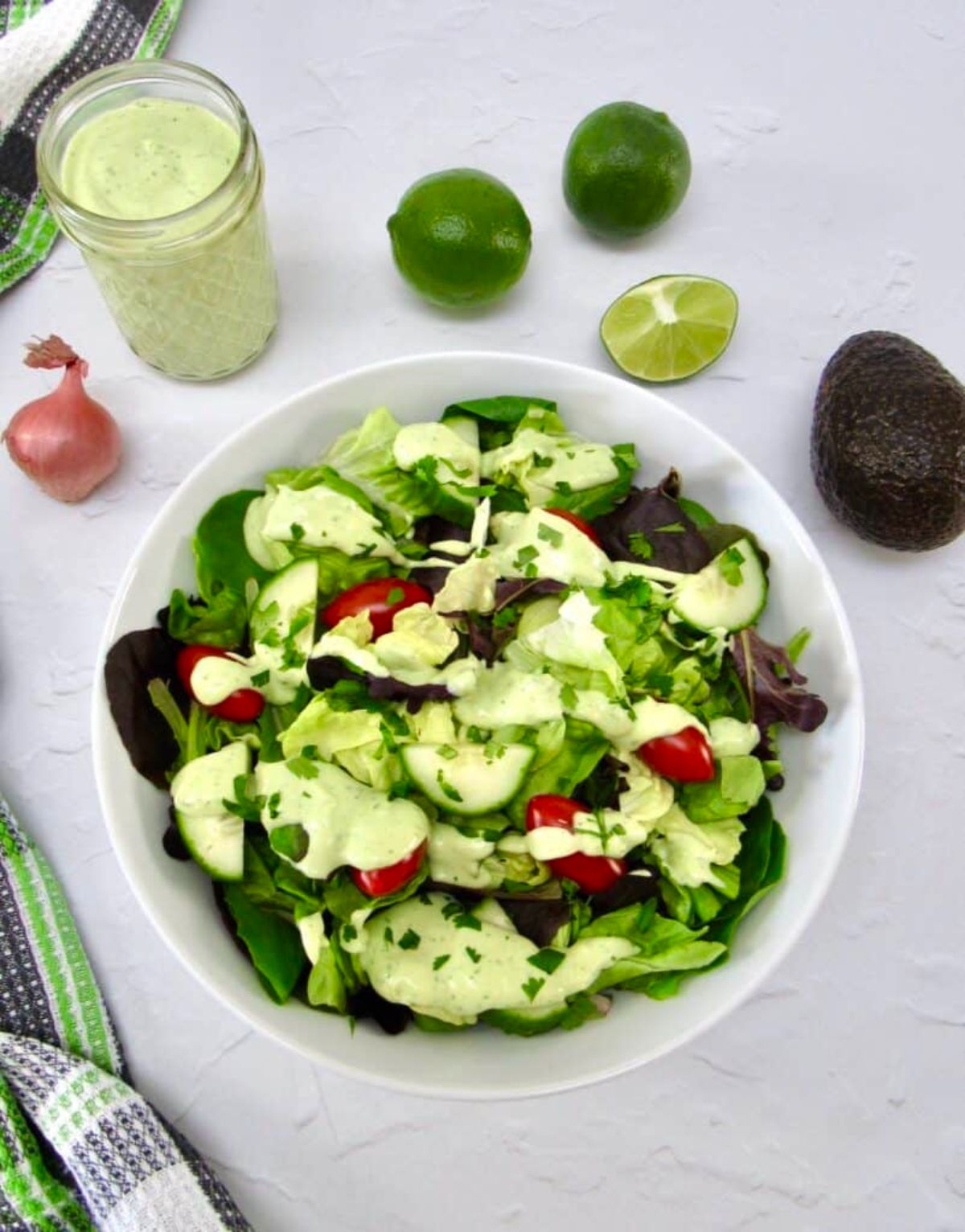 I'm just throwing in a couple of delicious dressings here, as the creaminess of avocado lends itself to drizzling over your favorite meals. Keto Cooking Christian has a simple recipe for a yummy ranch dip that you can spoon over tacos, salads, or even steak.
Keto guacamole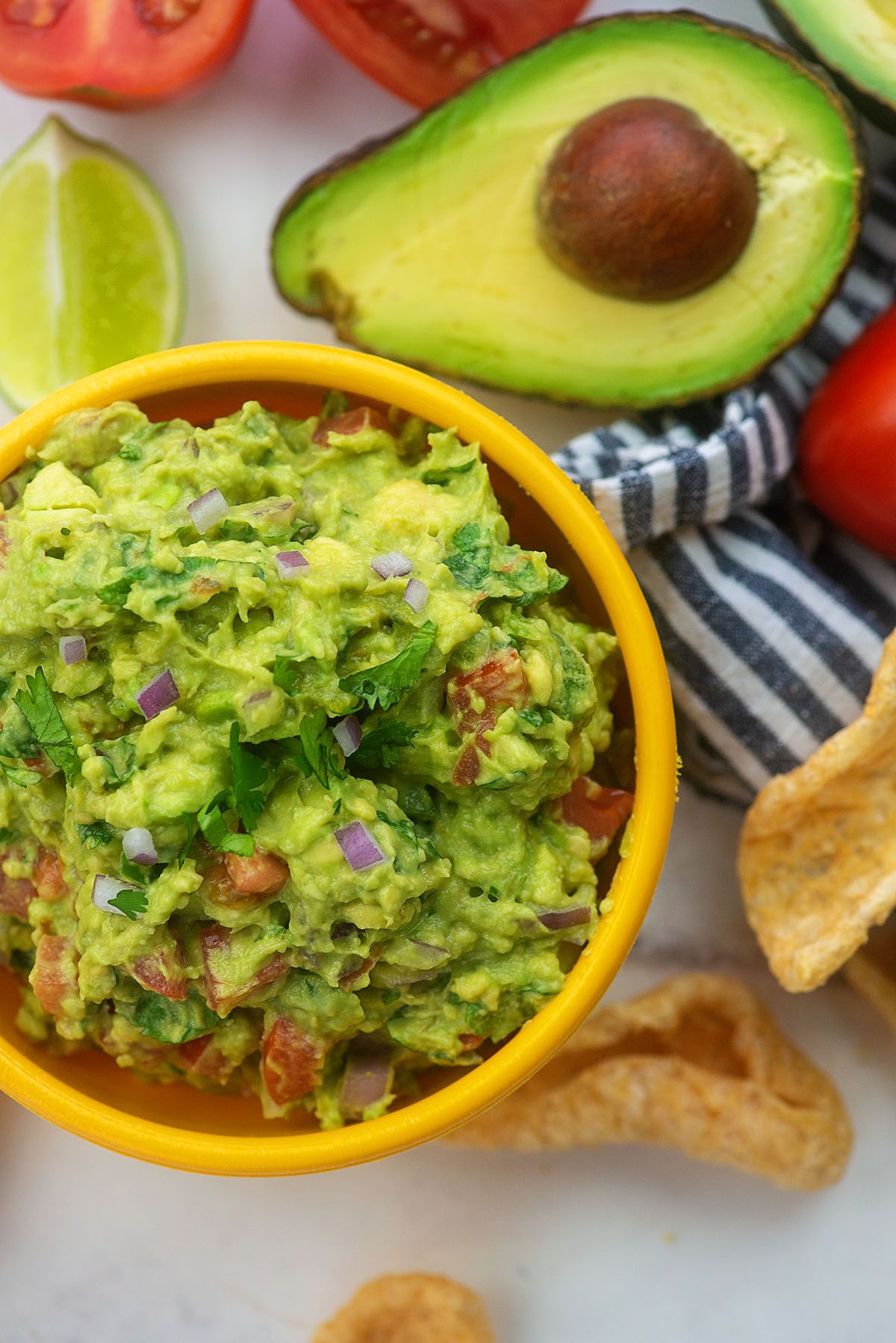 It's just not possible to put together a round-up of keto avocado recipes, without including guacamole. I know that the tangy mix of lime, tomatoes, cilantro, and avocado is not to everyone's taste, but I could have it with everything! And That Low Carb Life's version of keto guacamole is simply delicious.
4 ingredient avocado bread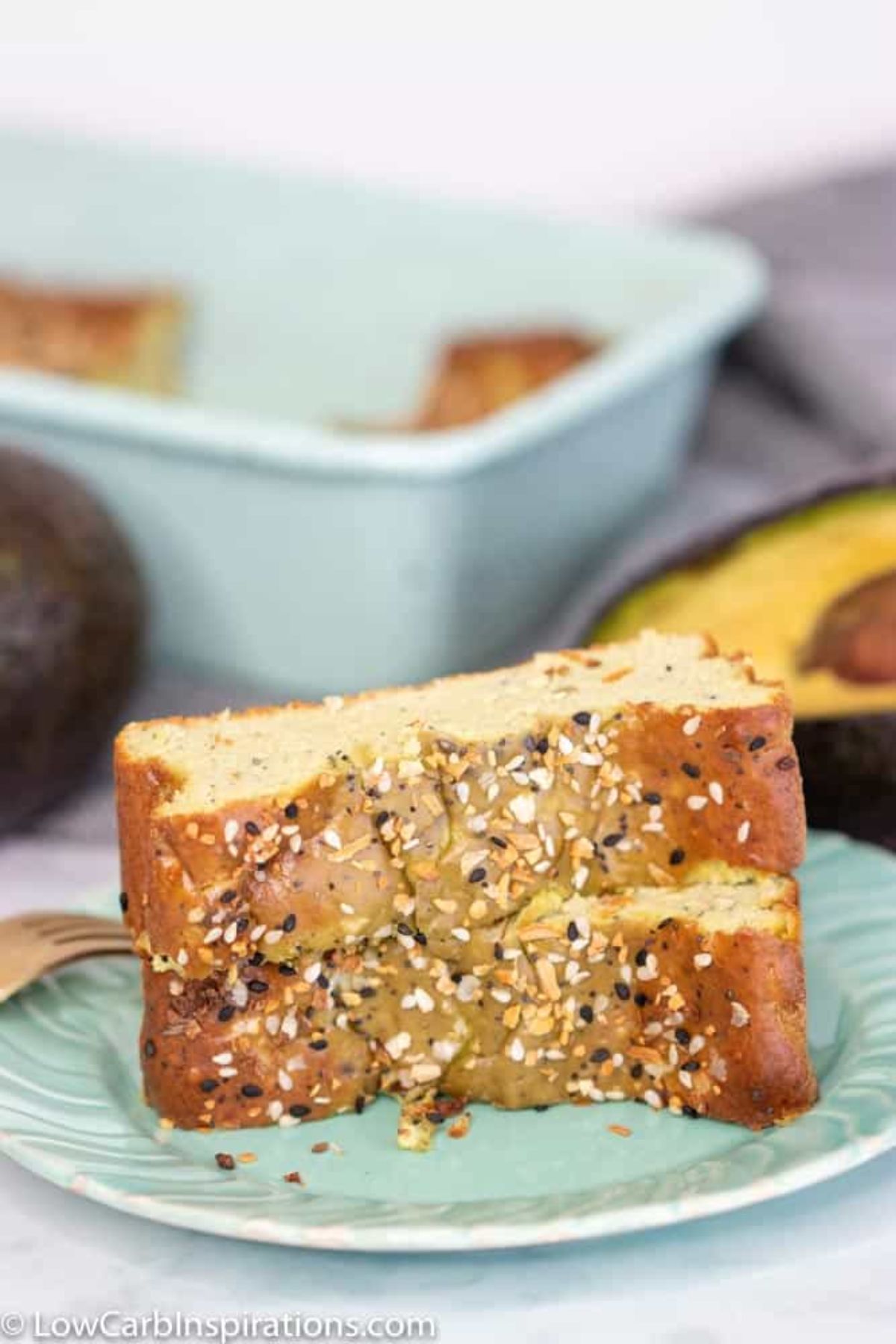 Just as it says on the tin, this recipe from Low Carb Inspirations makes fluffy avocado keto bread with just 4 ingredients. If you've got a decent blender then you can whip up this recipe in 30 minutes, and you'll be eating a BLT before you know it.
Keto cloud bread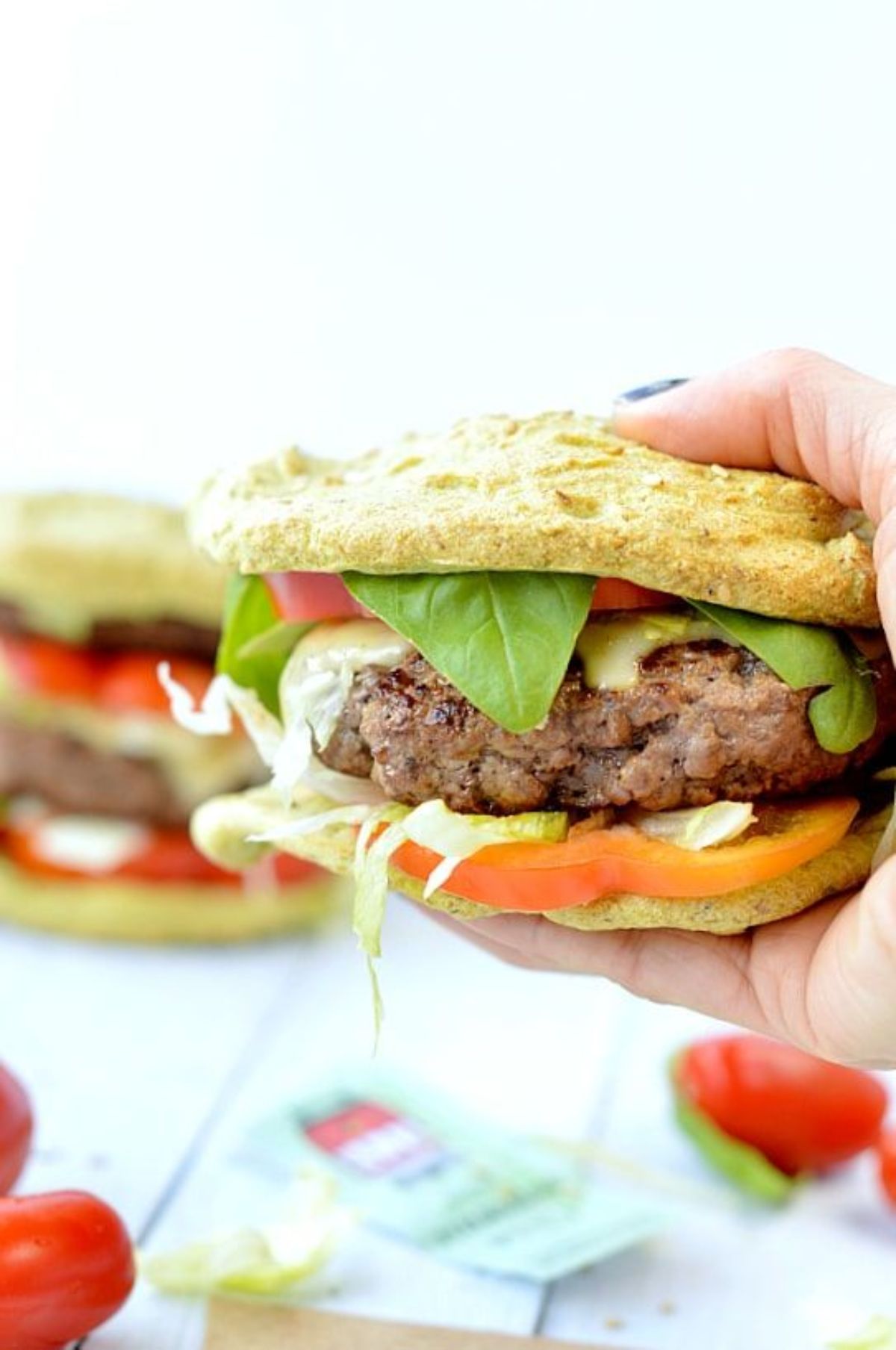 If you'd like something a little lighter to wrap around your hamburger then Sweet as Honey has a cloud bread (or oopsie bread) that is low-carb, dairy-free, and only takes 25 minutes. It's easy to make and has enough structural integrity for you to fill it with delicious bacon!
Avocado chocolate brownies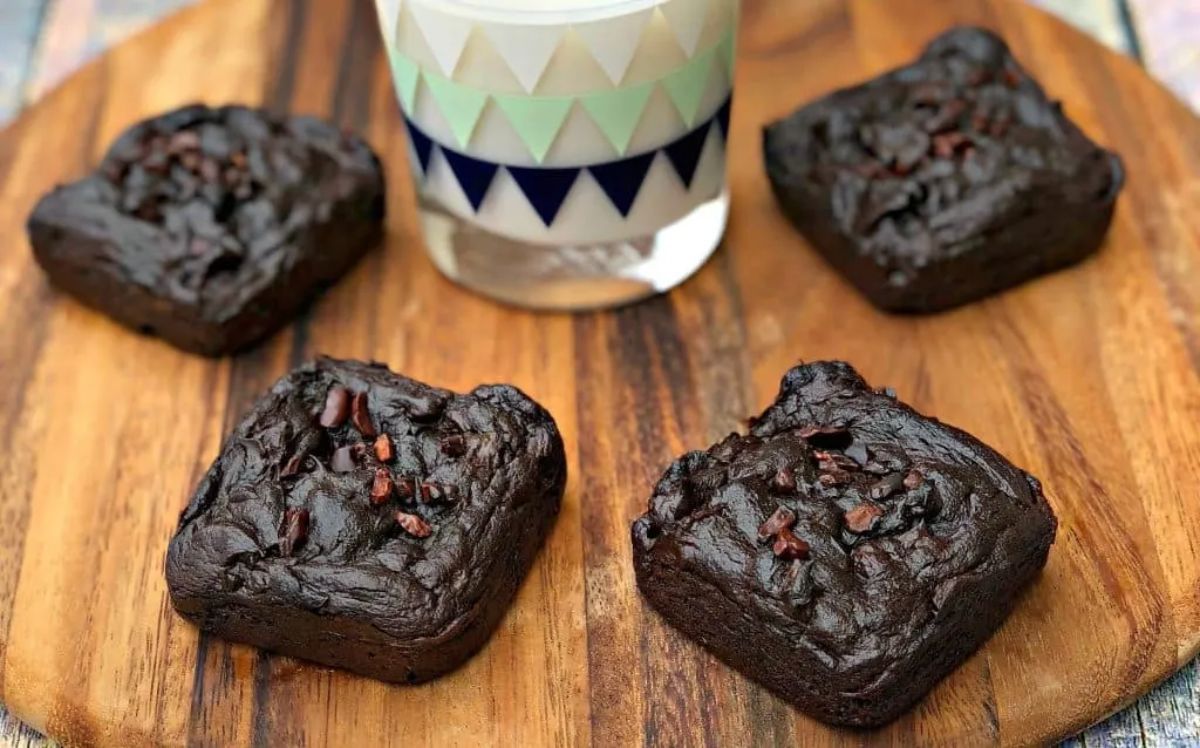 Moving on to desserts now, let's begin with these decadent, fudgy brownies from Stay Snatched. Gluten-free, dairy-free, but definitely not taste-free, they are the perfect after-dinner pick me up for your keto pleasure.
Dark chocolate avocado pudding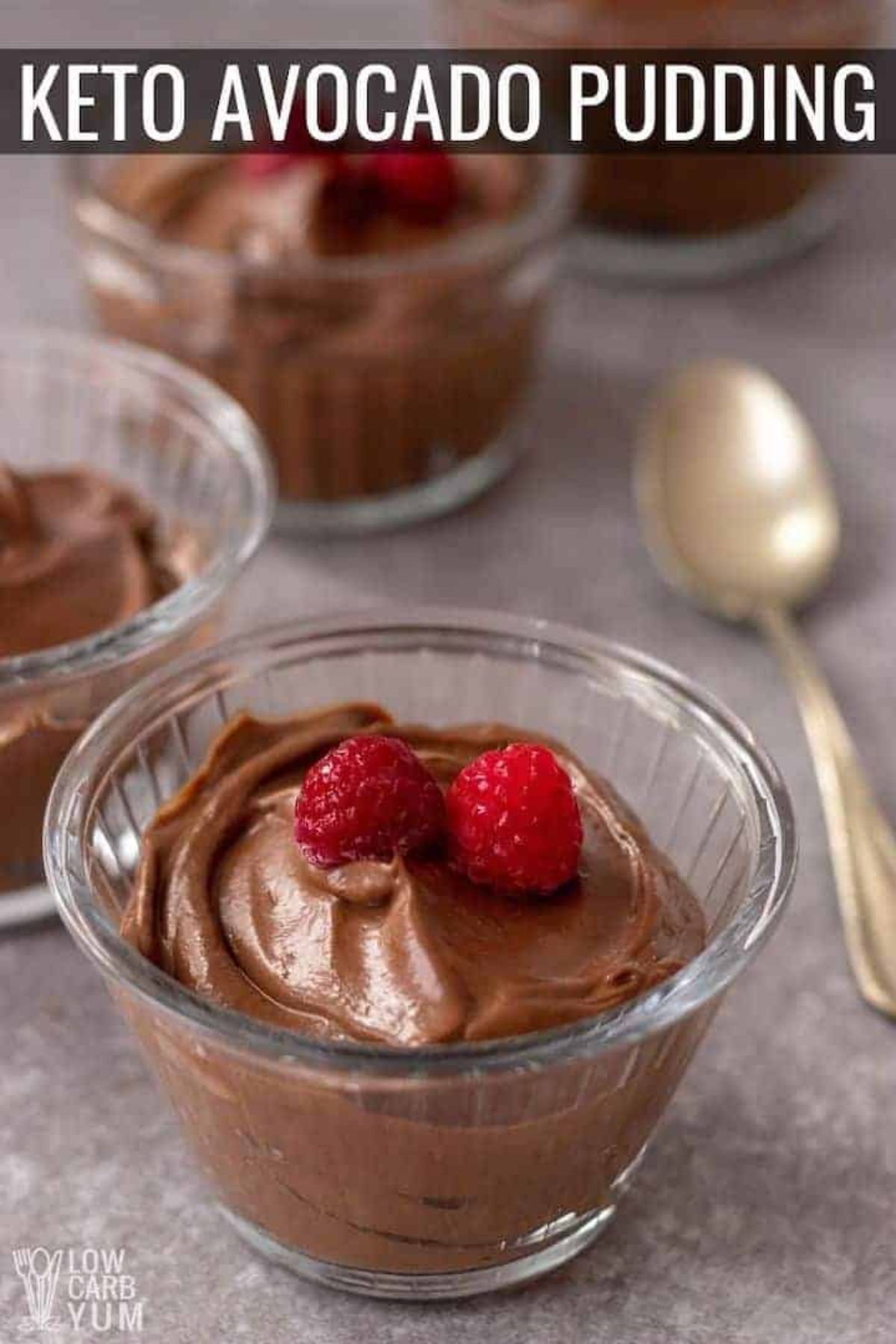 This delectable dessert from Low Carb Yum is so good that no-one will realize it's keto. It only has 5g of net carbs, is packed full of healthy fats, and feels so rich. You'll want to eat it after every meal!
No-churn Avocado ice cream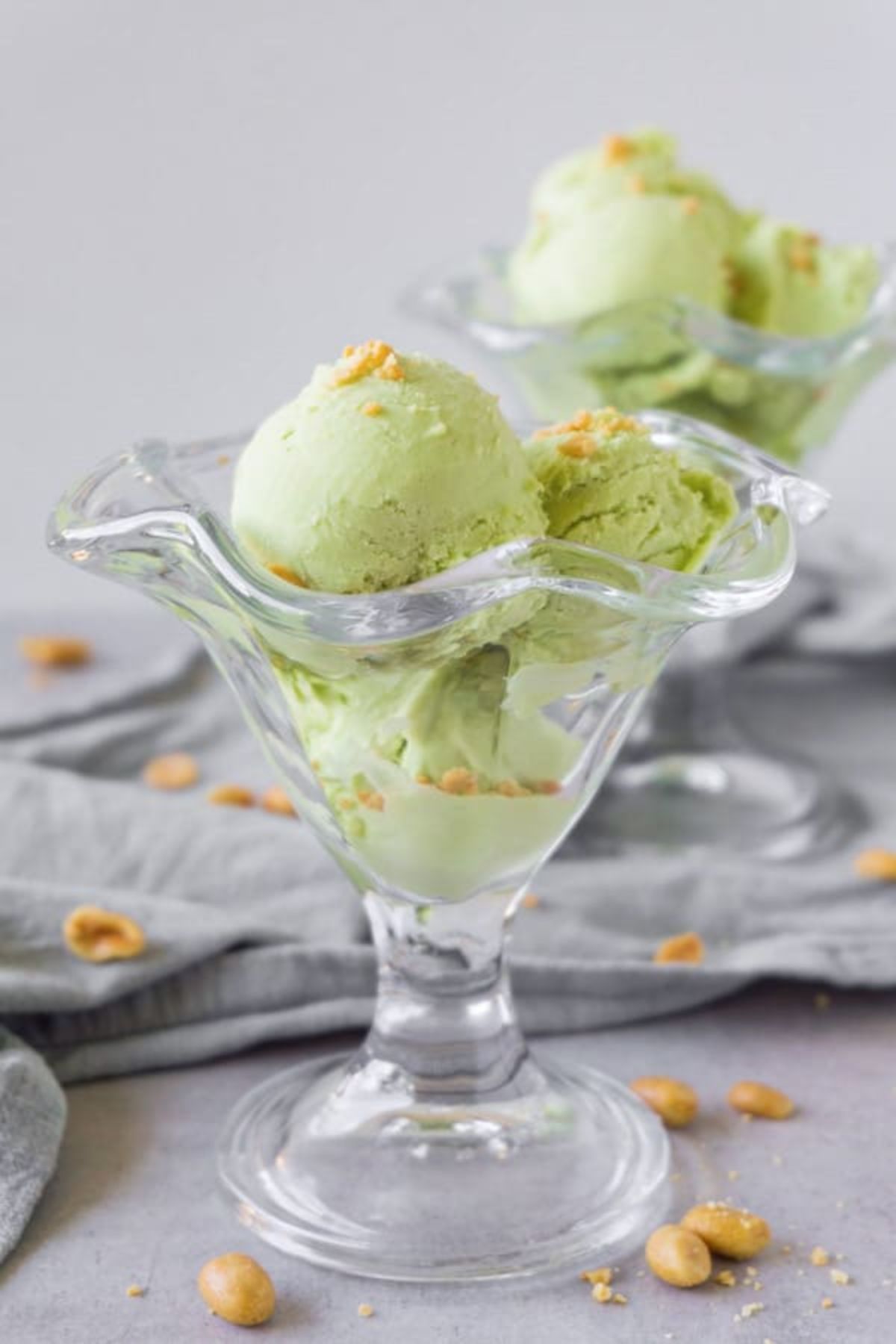 When you need a refreshing dessert and you have nothing in the fridge, this no-churn ice cream is so easy to make that you could make it up every day. Here to Cook's recipe only takes 5 minutes of actual work, and then 6 hours to freeze. I promise that it's worth the wait.
Avocado fudge cookies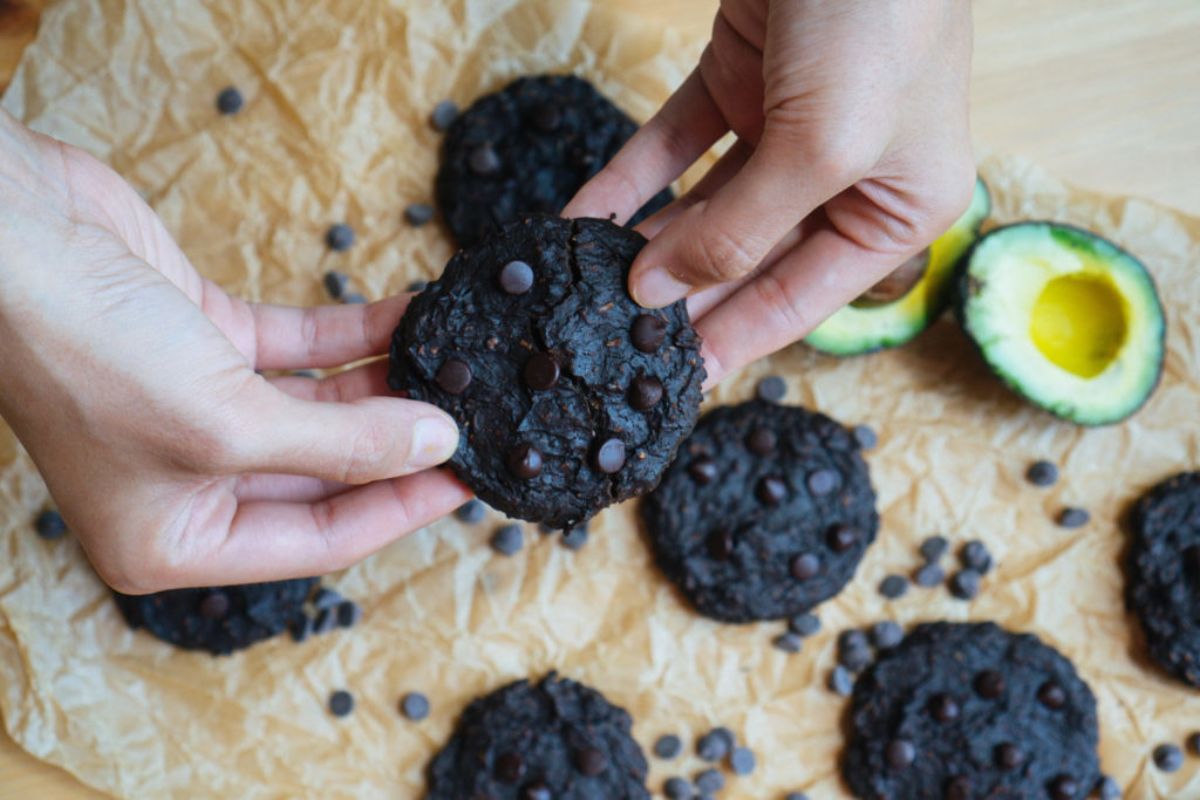 Keto Connect makes these from their leftover avocados. To be honest, I can't remember the last time I had leftover avocados, but I'd happily go out and buy some more to make some of these little beauties. Ready in only 20 minutes, you'll be guilt-free snacking before you know it.
Avocado popsicles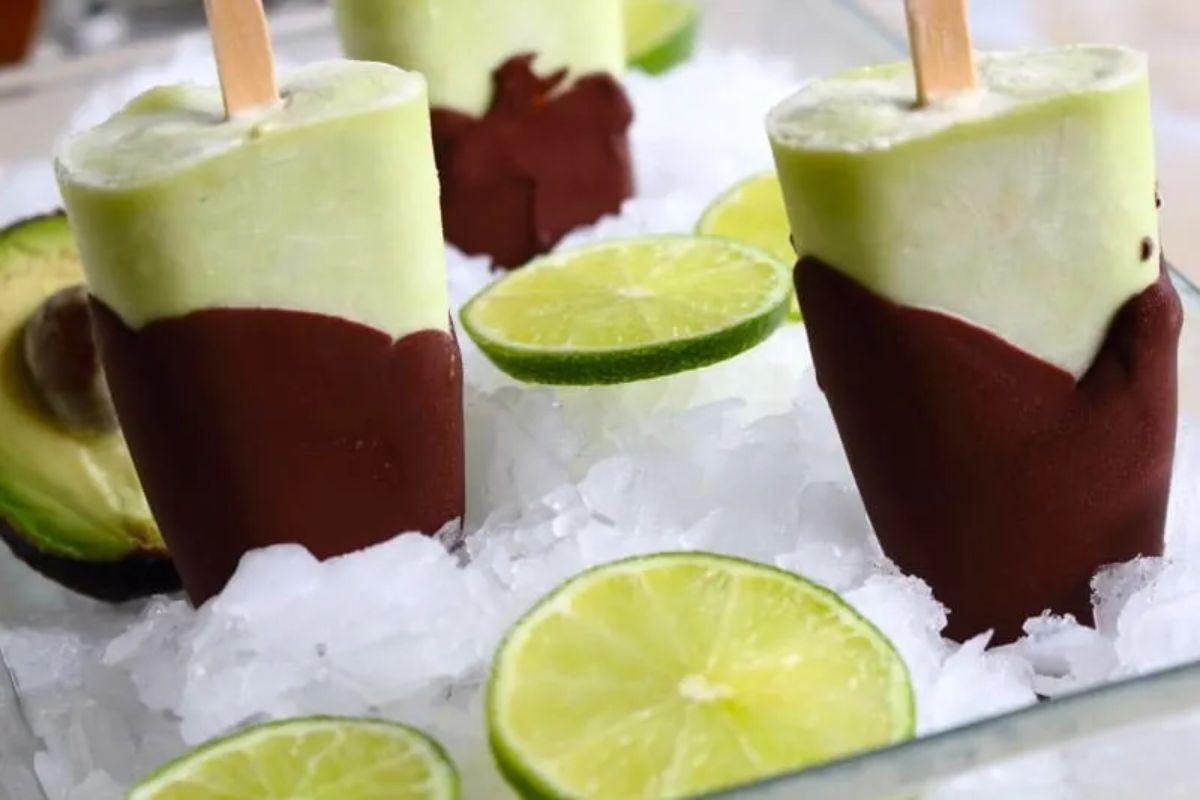 Sometimes on a hot day, all you want is a popsicle and Low Carb No Carb has the perfect recipe. Easy to follow, great for when you've got an avocado glut, and full of healthy fats, they can be made with any low-carb milk alternative if you have a need.
Avocado cheesecake with lime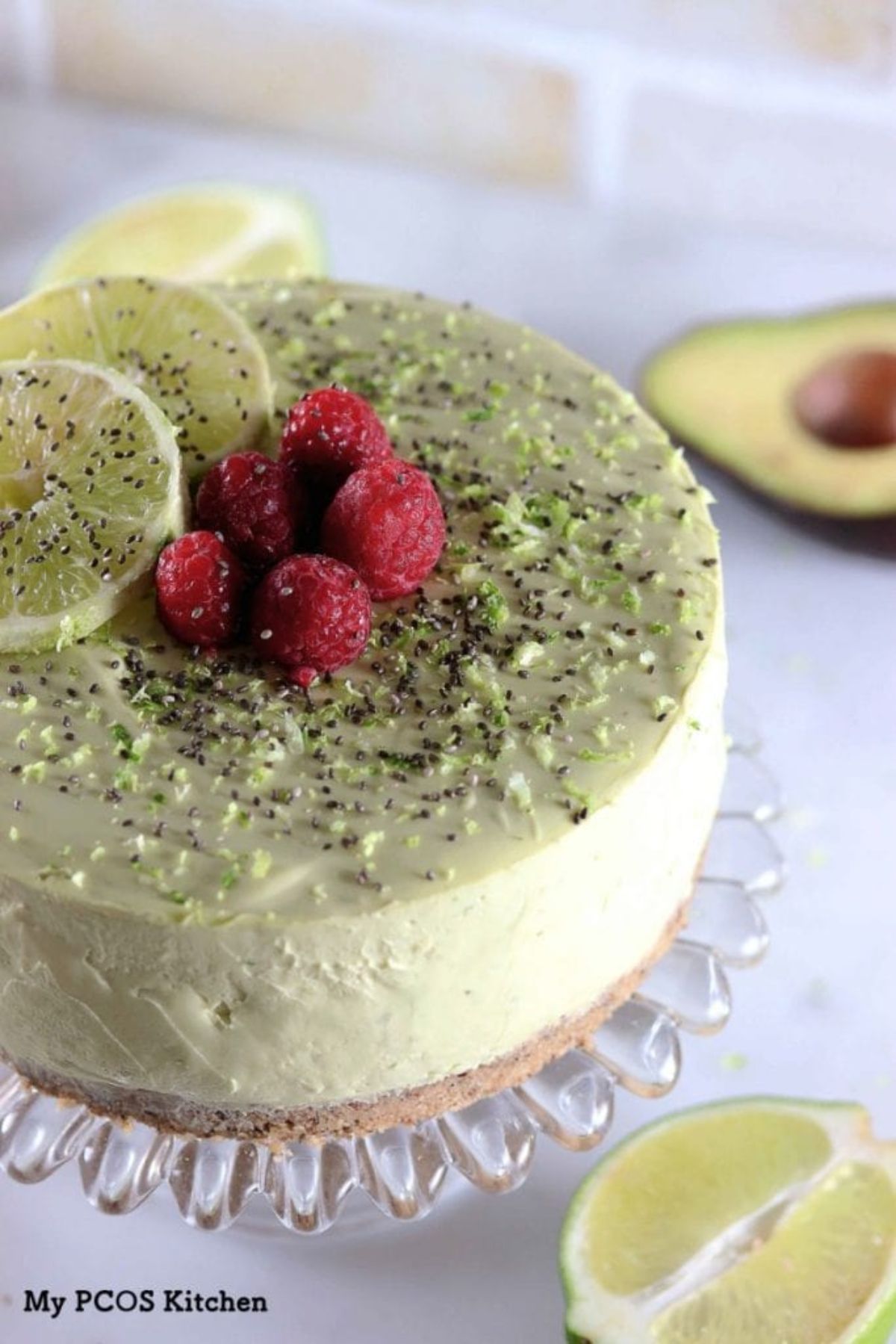 Who doesn't love a cheesecake? And this list wouldn't be complete with a creamy avocado offering. My PCOS Kitchen's avocado lime cheesecake is no-bake, meaning you're not messing around with a water bath, and the tangy lime cuts through the creamy avocado just enough. It's wonderful!
Chocolate avocado cake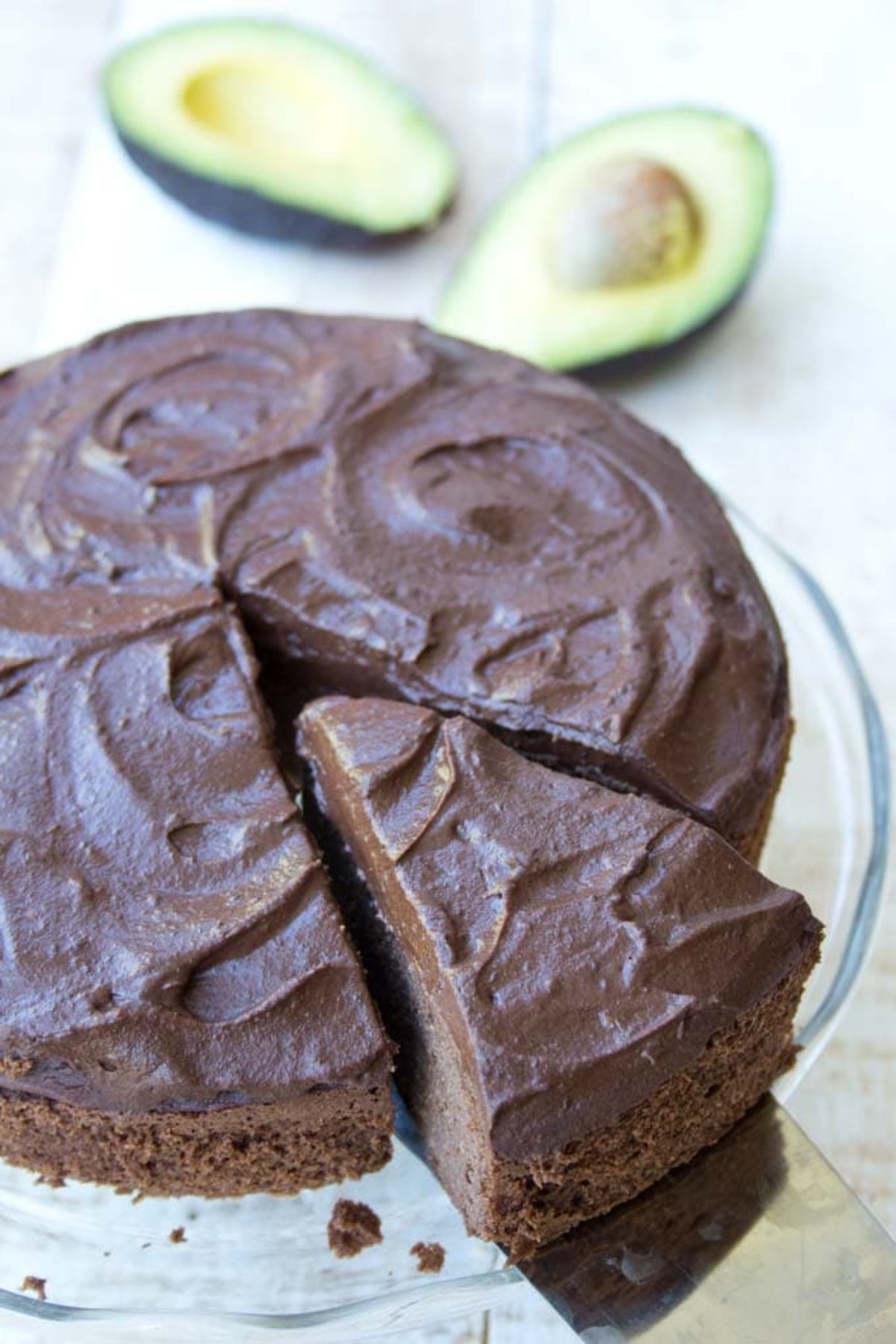 If you're after a dessert for a special occasion, or you're looking for something that tastes devilishly decadent, then Sugar-Free Londoner's fudgy avocado chocolate cake should be the next on your baking list. You can't taste the avocado, but its inclusion means this is the moistest cake you've ever eaten.
RECIPE CARD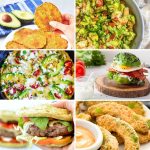 35 Super Creamy Keto Avocado Recipes
Enjoy delicious flavor and healthy fats while staying true to keto using this list of amazing keto avocado recipes! More than just guacamole!
Ingredients
Please ensure Safari reader mode is OFF to view ingredients.
Bacon And Guacamole Fat Bombs

Turkey Bacon And Avocado Taquitos

Sushi Smoked Salmon Roll-Ups

Caprese Baked Avocados

The Keto Breakfast Burger

Avocado Egg Salad

Avocado Fries

Avocado Bacon Chicken Salad

Avocado Chips

Pulled Pork Stuffed Avocado Boats

Avocado Shrimp Salad

Avocado Tuna Salad

Caprese Stuffed Avocado

Bacon Avocado Soup

Keto Avocado Toast

Grilled Chicken With Avocado Salsa

Bacon-Wrapped Avocado Fries

Avocado And Tomato Salad

Bacon-Wrapped Avocado Burger Bombs

Cucumber Avocado And Feta Salad

Avocado Breakfast Muffins

Avocado Coleslaw

Frittata With Avocado And Queso

Avocado Fries

Avocado Lime Cilantro Ranch Dressing

Keto Guacamole

4 Ingredient Avocado Bread

Keto Cloud Bread

Avocado Chocolate Brownies

Dark Chocolate Avocado Pudding

No-Churn Avocado Ice Cream

Avocado Fudge Cookies

Avocado Popsicles

Avocado Cheesecake With Lime

Chocolate Avocado Cake
Click to convert between US & metric measurements:
Instructions
More TIPS about this paleo recipe in the post above!
Add one or all of these delicious avocado based recipes to your meal plan and create delicious flavors with great healthy fats!
© Copyright Wicked Spatula. We'd LOVE for you to share a link to this recipe, but please DO NOT COPY/PASTE the recipe instructions to social media or websites. You may share a photo with a link back instead.
Did you make this recipe?
Click here to leave a comment + star rating! ★★★★★
Then, share a pic on Instagram. Tag @wickedspatula or #wickedspatula!