Easy one-pot casseroles are the perfect solution for the "What's for dinner?" conundrum. To help you out, we've gathered the best keto casserole recipes from around the web. We've picked out both veggie and meat options, so we have delicious low carb recipes for whatever you feel like eating this evening.
All these keto casseroles combine protein with healthy fats and nutritious veggies, so you know that you're fuelling your body right, whilst keeping your tastebuds happy.
Scroll away, prepare to drool, and then march straight to the kitchen to get going on supper!
Healthy sweet potato casserole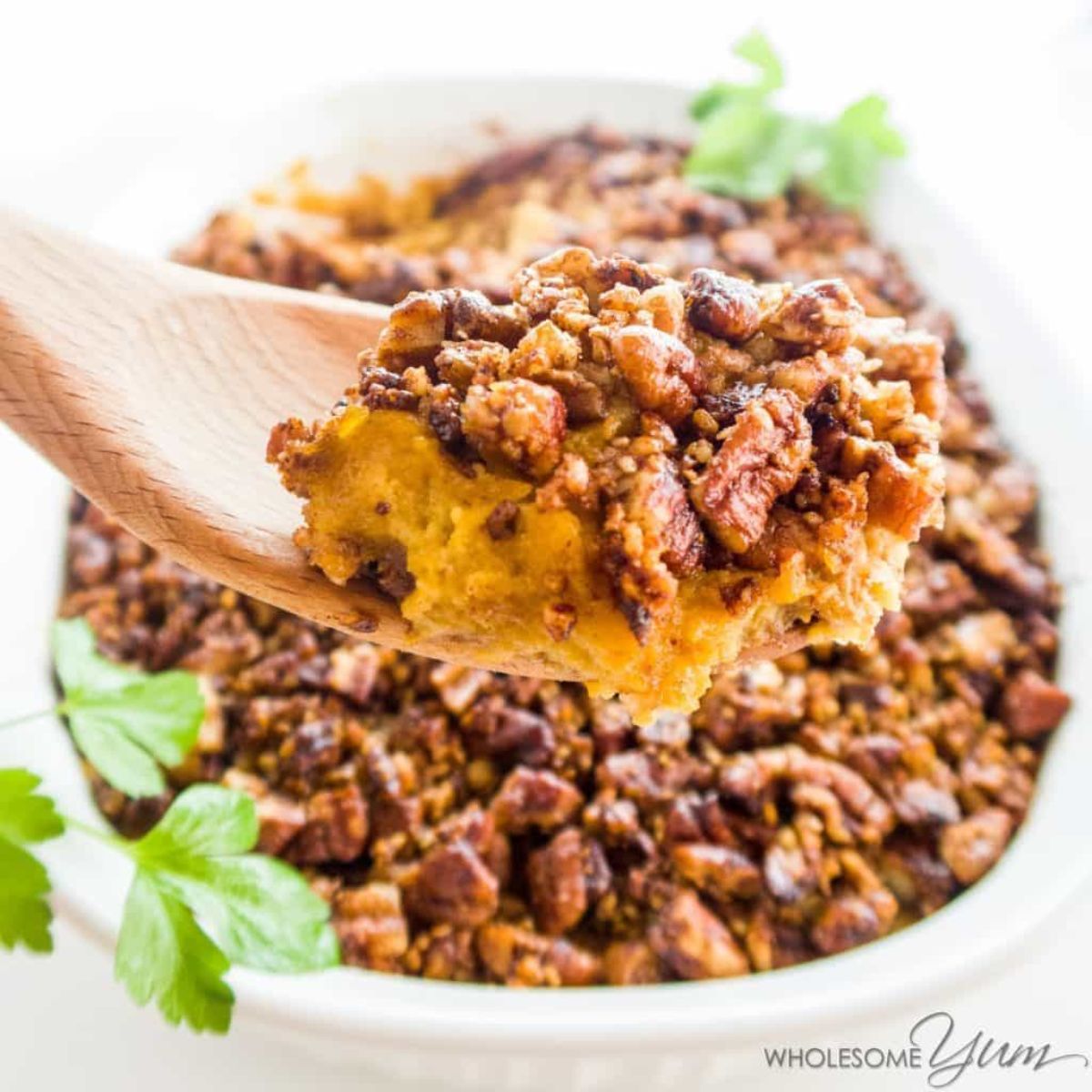 Now, don't worry, we know that actual sweet potatoes are too carb-heavy to feature in your keto diet. But Wholesome Yum has a hack that will fool you into thinking you're enjoying their deliciousness in this casserole. She subs in cauliflower and butternut squash, and believe us that it totally works.
Cauliflower au Gratin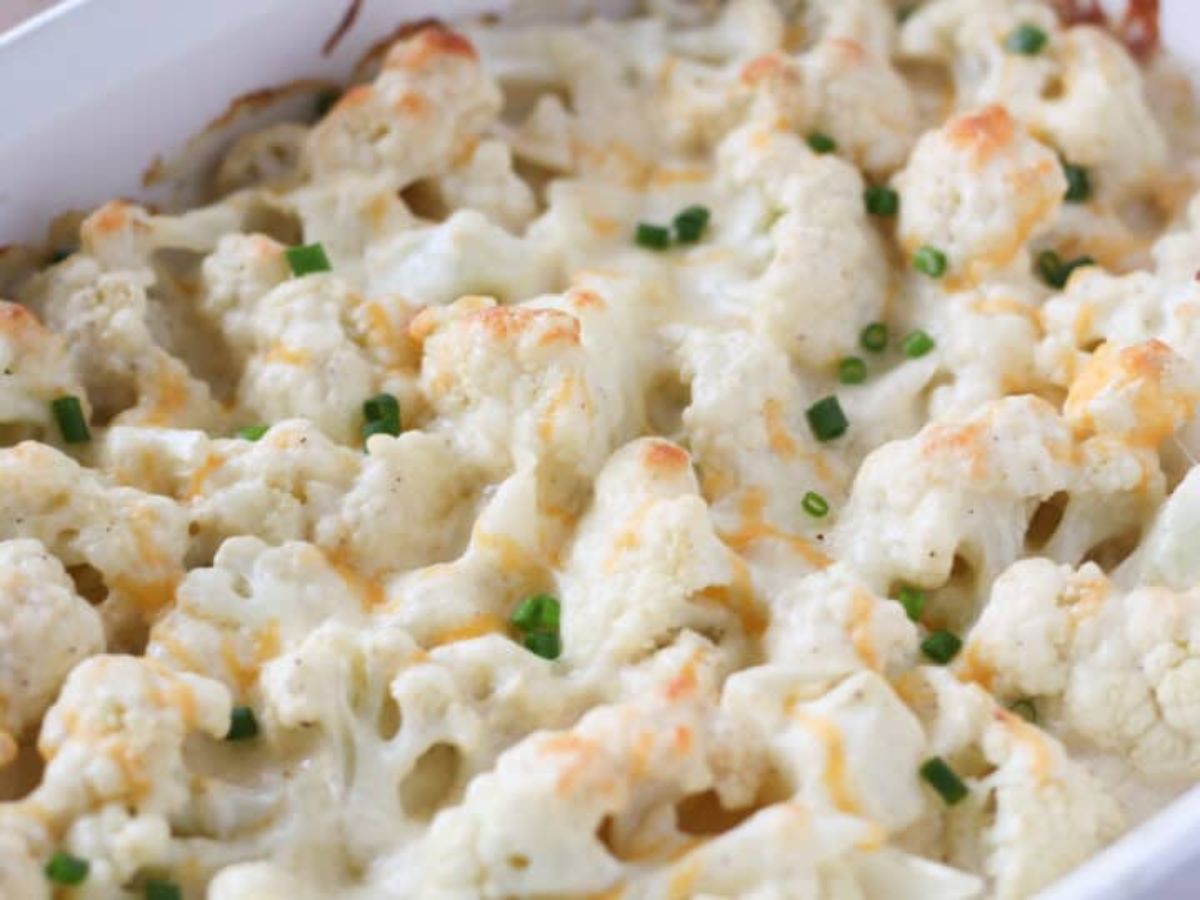 Another delicious and easy vegetarian casserole from Wholesome Yum, this cauliflower au gratin is a great side dish for a roast dinner, and only takes 35 minutes. Also, it clocks in at only 3g net carbs, so it's a perfect complement to your keto diet.
Gluten-free bean casserole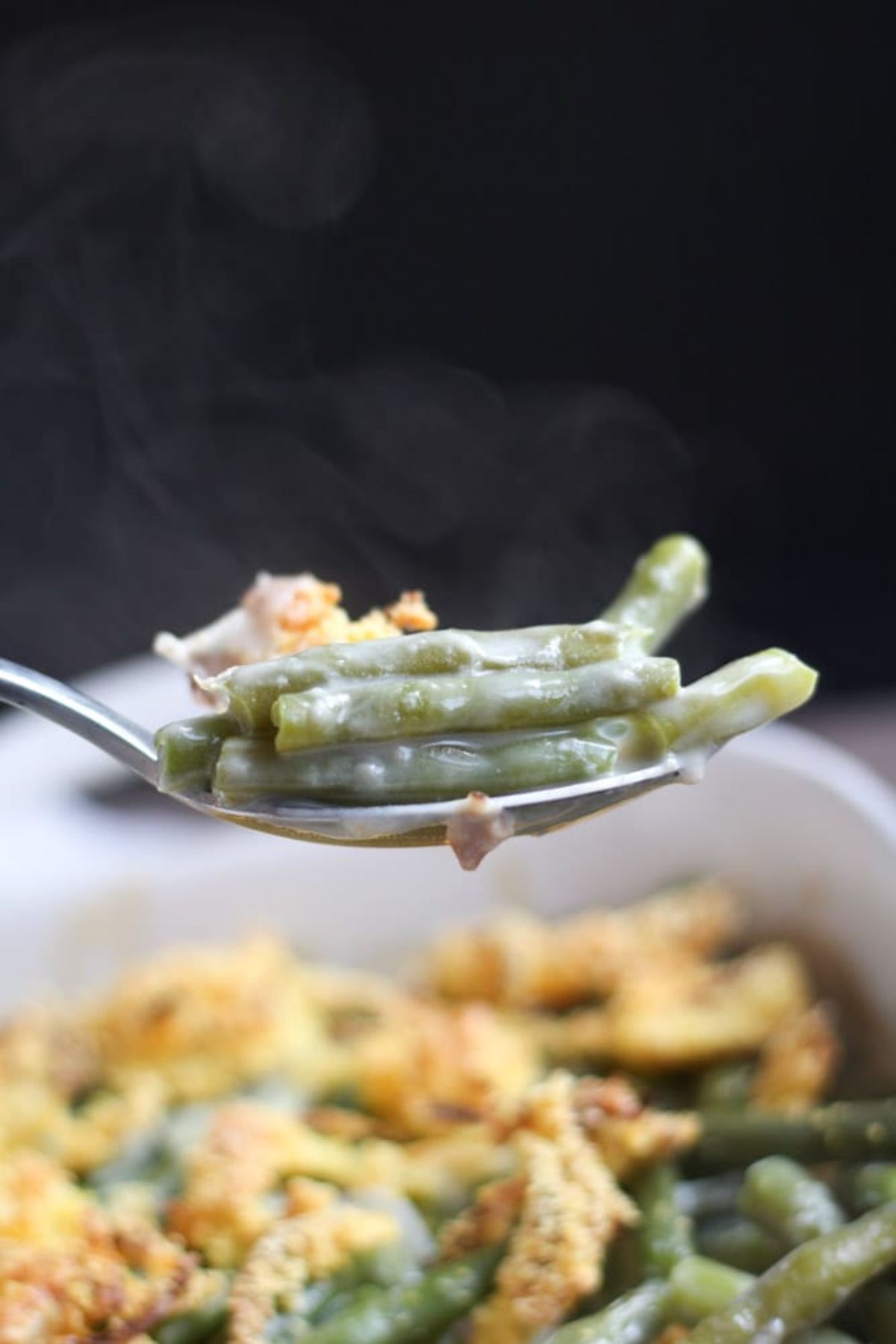 With a winning combination of creamy mushroom sauce, fresh vegetables, and crunchy onion topping, this veggie casserole is one to serve to the whole family. Veggie Balance has created the perfect holiday dish, which is also a great speedy weeknight supper.
Low carb veggie casserole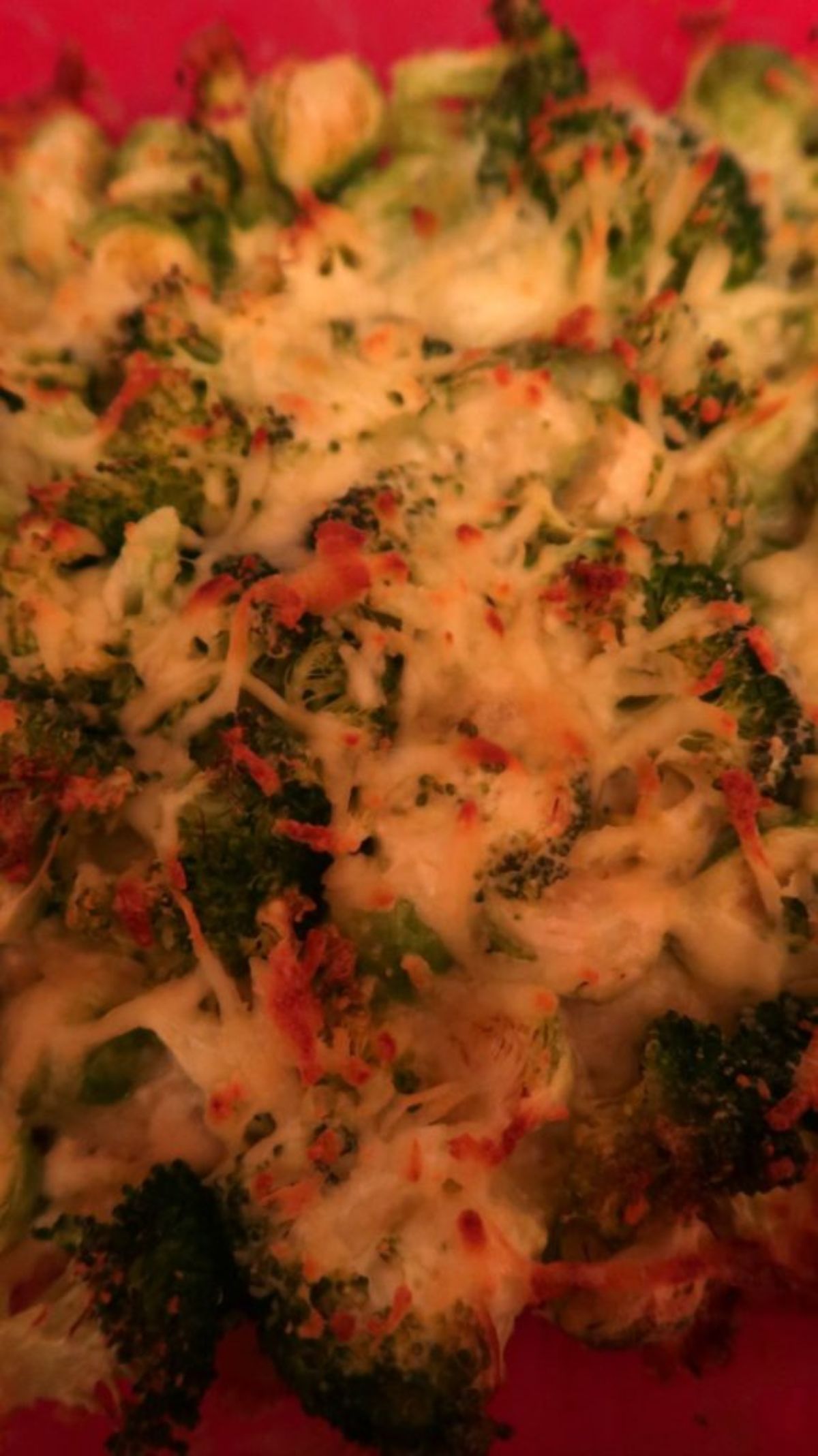 Packed full of broccoli, Brussels sprouts, and cheesy sauce, this veggie casserole from Easy Keto Living will keep you warm even on the coldest nights. There are also handy swaps so you can choose veg that's in season, or that you prefer. We do like it when people are flexible!
Broccoli casserole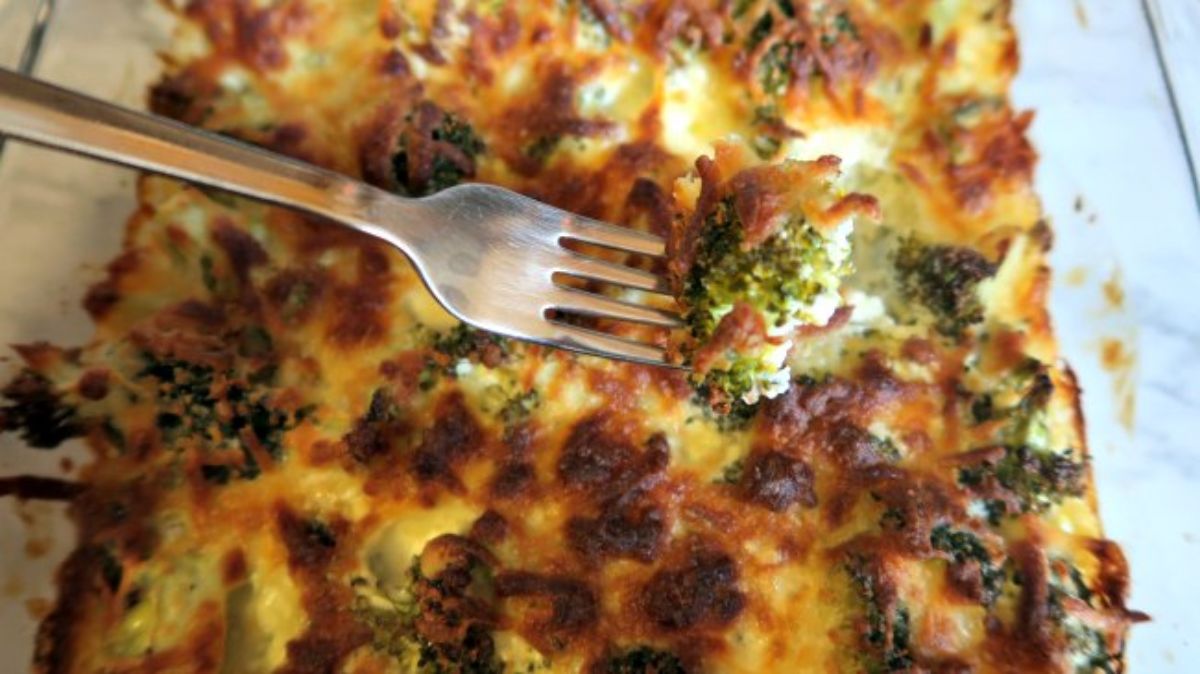 The perfect veggie comfort food dinner, this broccoli casserole from Yummy Inspirations only contains 4 ingredients! You know the day before grocery shopping when you're trying to clear out the fridge? This is what you need to make on those days.
Cauliflower mac and cheese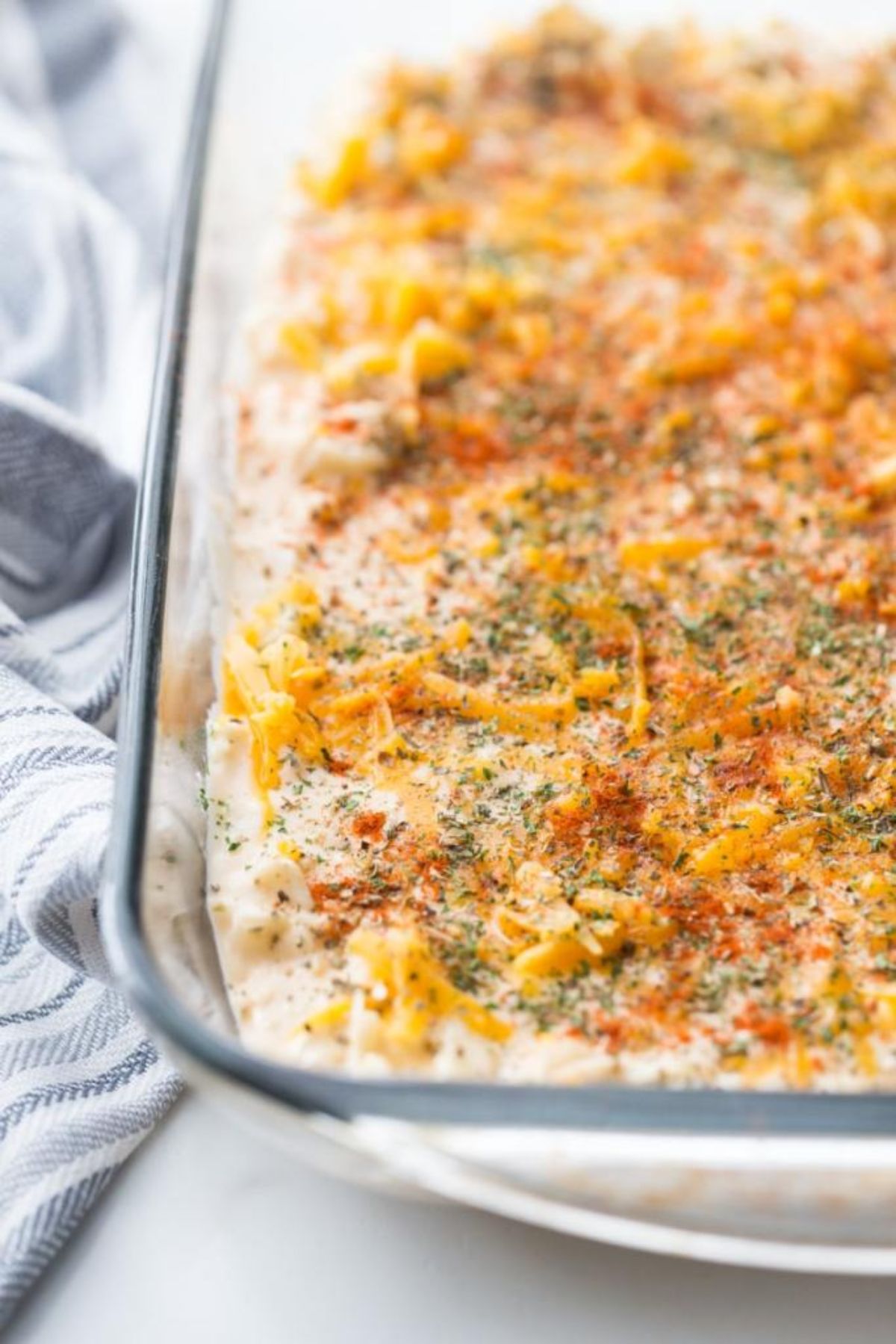 By replacing the traditional macaroni pasta with cauliflower in this recipe, Kasey Trenum has handed you the ultimate in keto-friendly comfort food. With only 4g net carbs per serving and an easy-to-follow video, you'll be enjoying yummy cheesiness in no time at all.
Cheesy zucchini casserole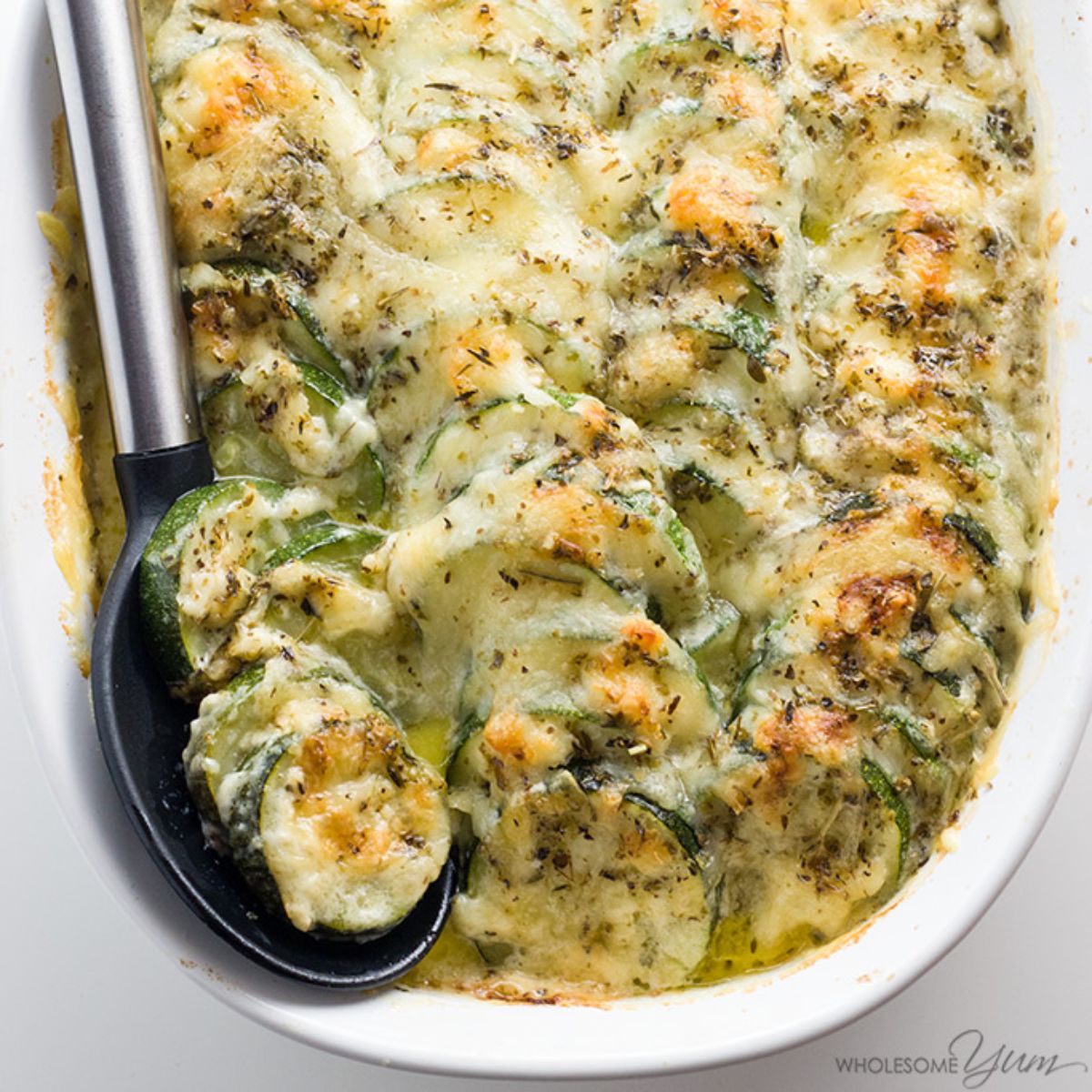 In the summer we always have a glut of zucchini, and as much as I like the little green darlings, I do quickly run out of things to do with them. Wholesome Yum's cheesy zucchini casserole recipe will definitely be making it onto my list. 10 minutes to prepare and then you can sit back and relax while it cooks.
Sour cream beef bake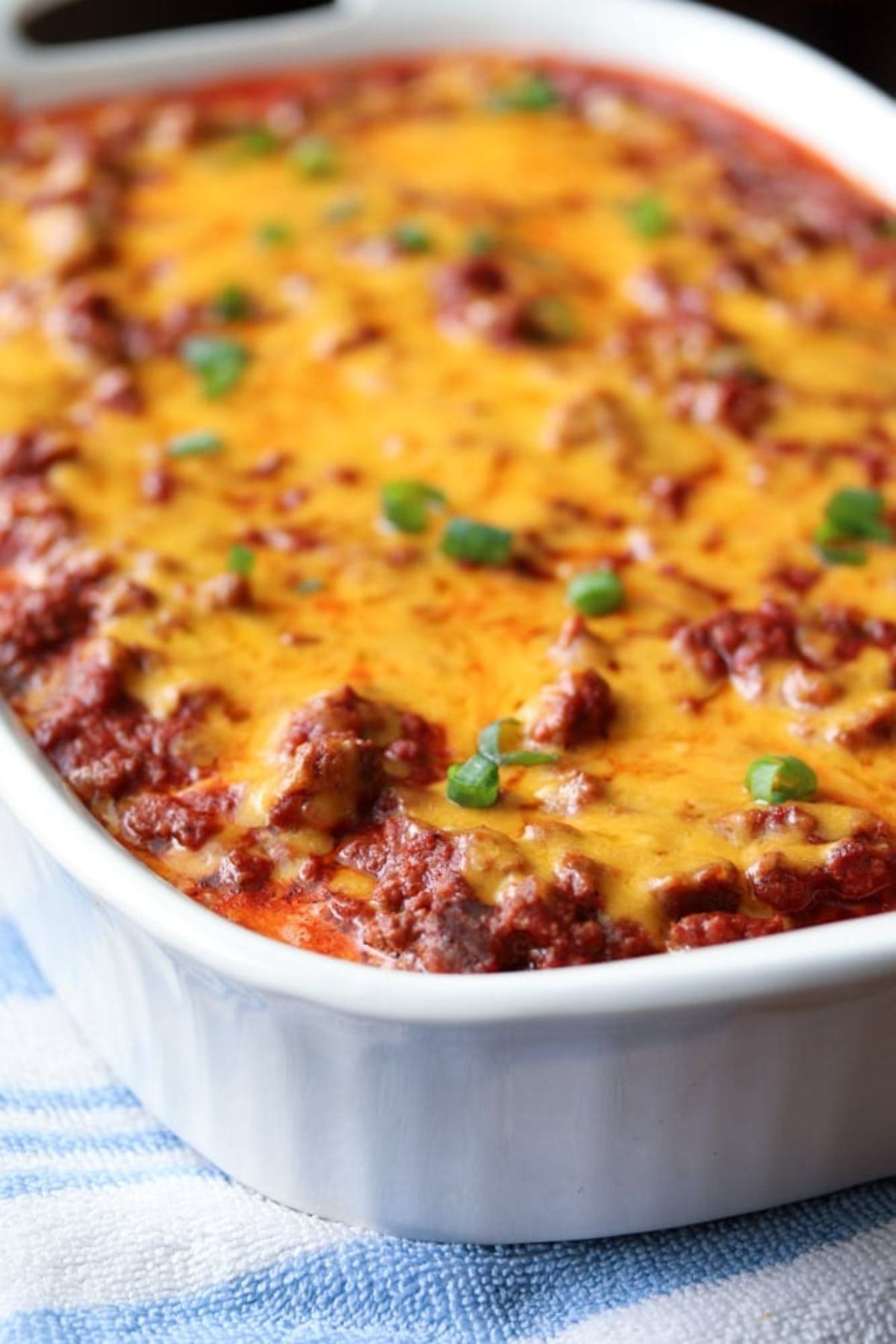 Moving on to the meat options now, and there are so many tasty recipes to choose from. This sour cream beef bake from This Gal Cooks is based on The Pioneer Woman's recipe, but subs in cauliflower rice for the egg noodles. You can halve the recipe if you don't need any leftovers, but who doesn't need leftovers?!
Reuben casserole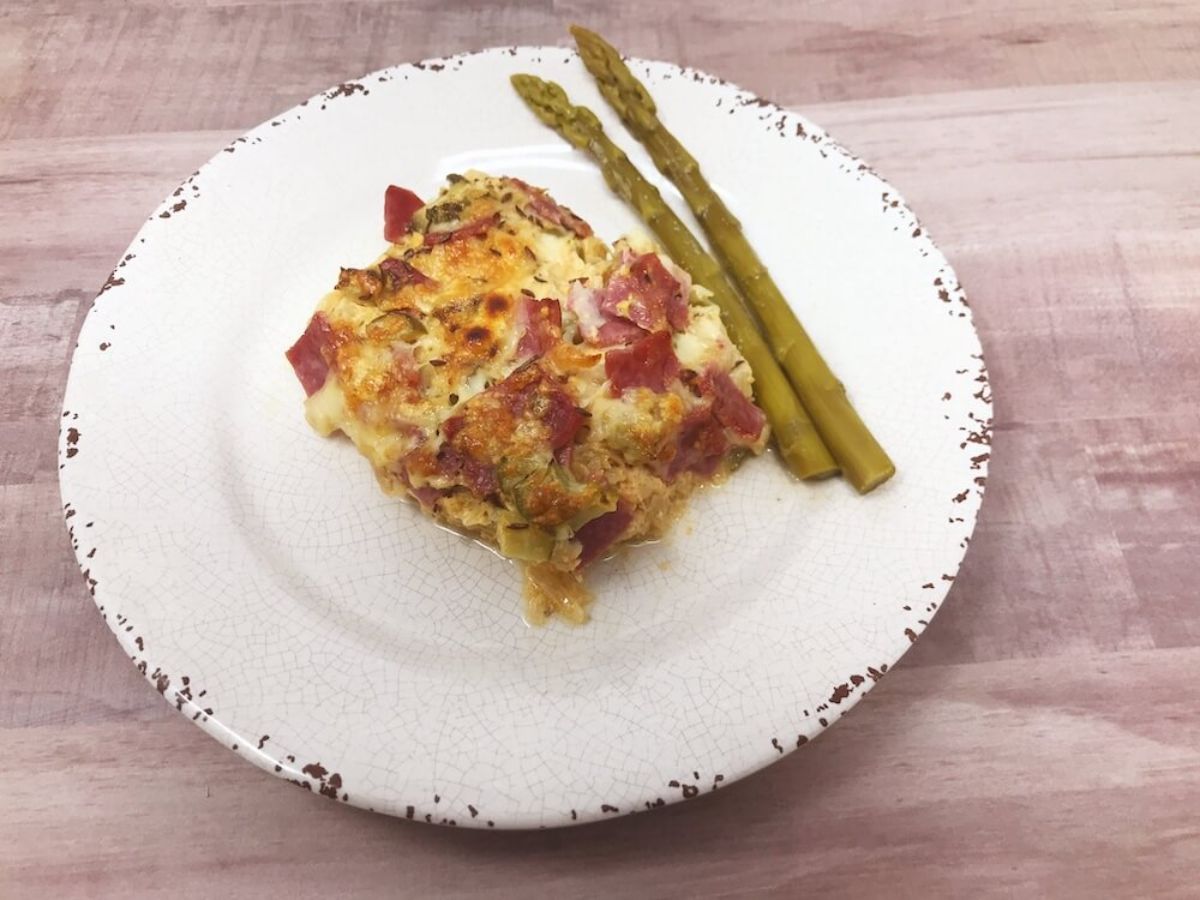 Chances are that if you've been doing keto for a while you're missing sandwiches. Well, KetoWize has the answer to your craving: this casserole based on a Reuben sandwich will make you forget you were ever dreaming of bread. 3g net carbs per serving, and the genius addition of caraway seeds to give you all the flavor of your usual rye bread.
Crock-pot taco casserole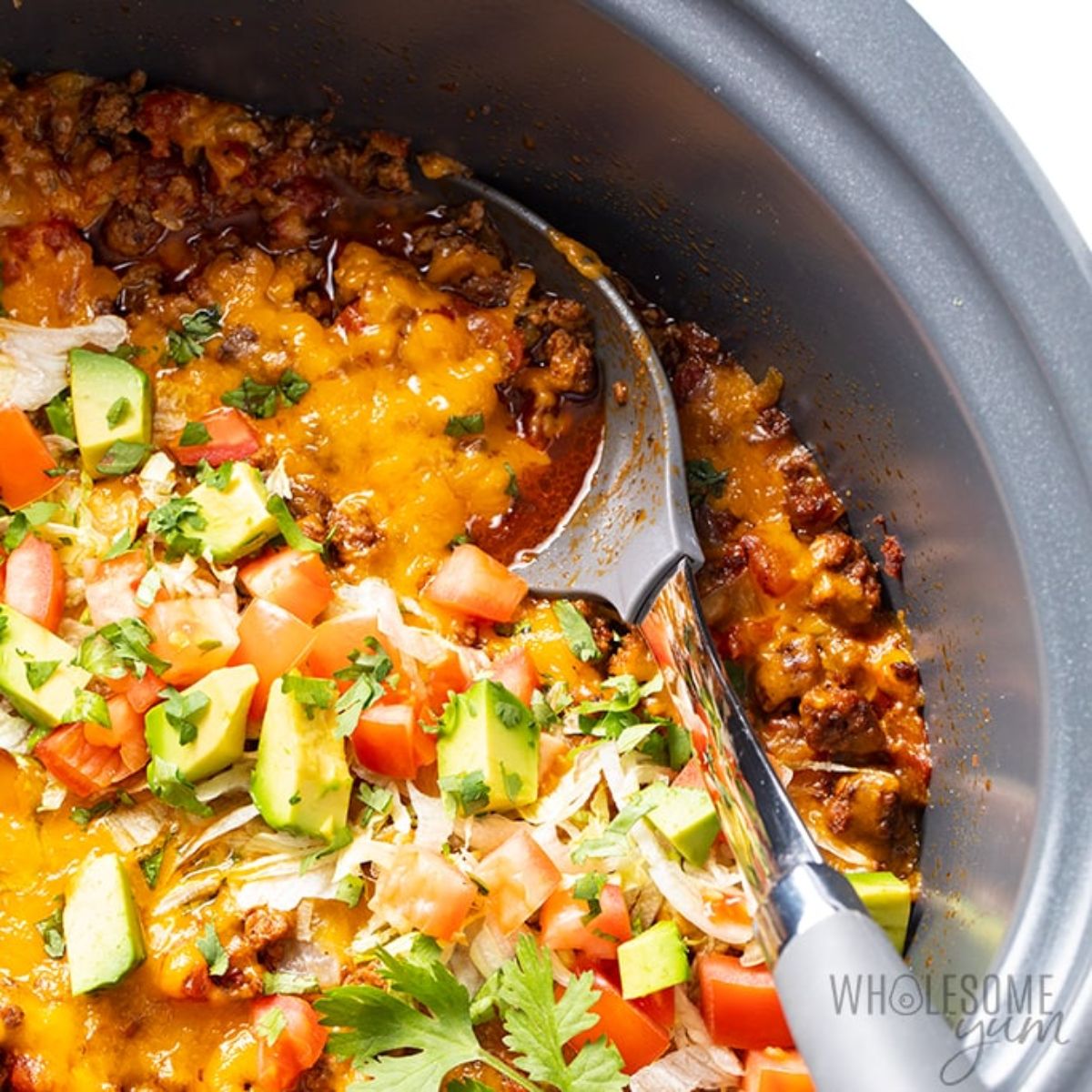 The joy of crock-pots is knowing that your supper is cooking whilst you're getting on with the rest of your day. This recipe from Wholesome Yum is no exception. 10 minutes prep and then 4 hours of doing nothing (or racing through your chores if you prefer) is my kind of cooking.
Crustless taco pie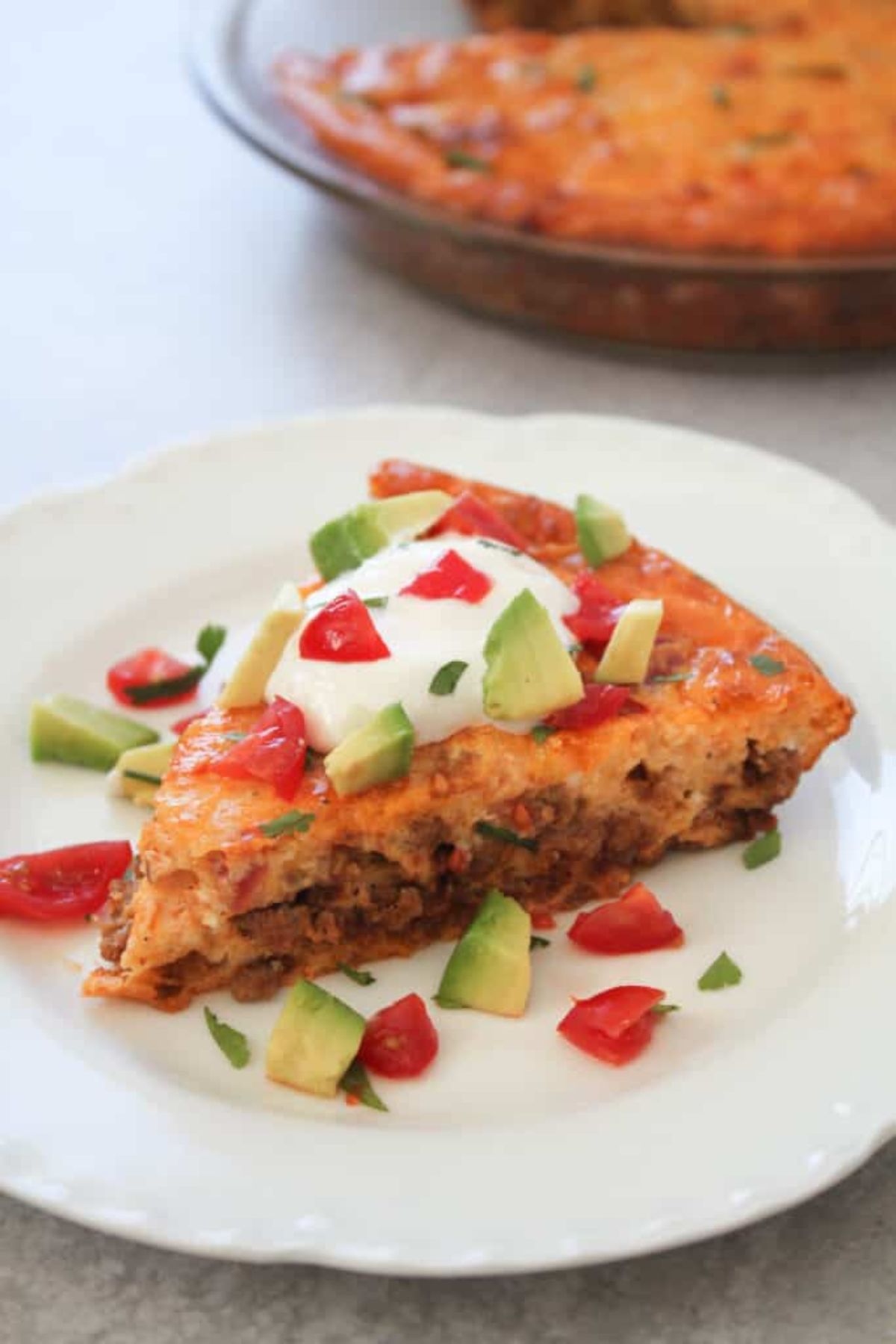 If you haven't yet discovered the wonder of crock-pots, but you still want tacos, then Whole Lotta Yum has provided us with an egg-free taco pie that gives you the flavor of your favorite corn tortillas, without the carbs.
Keto moussaka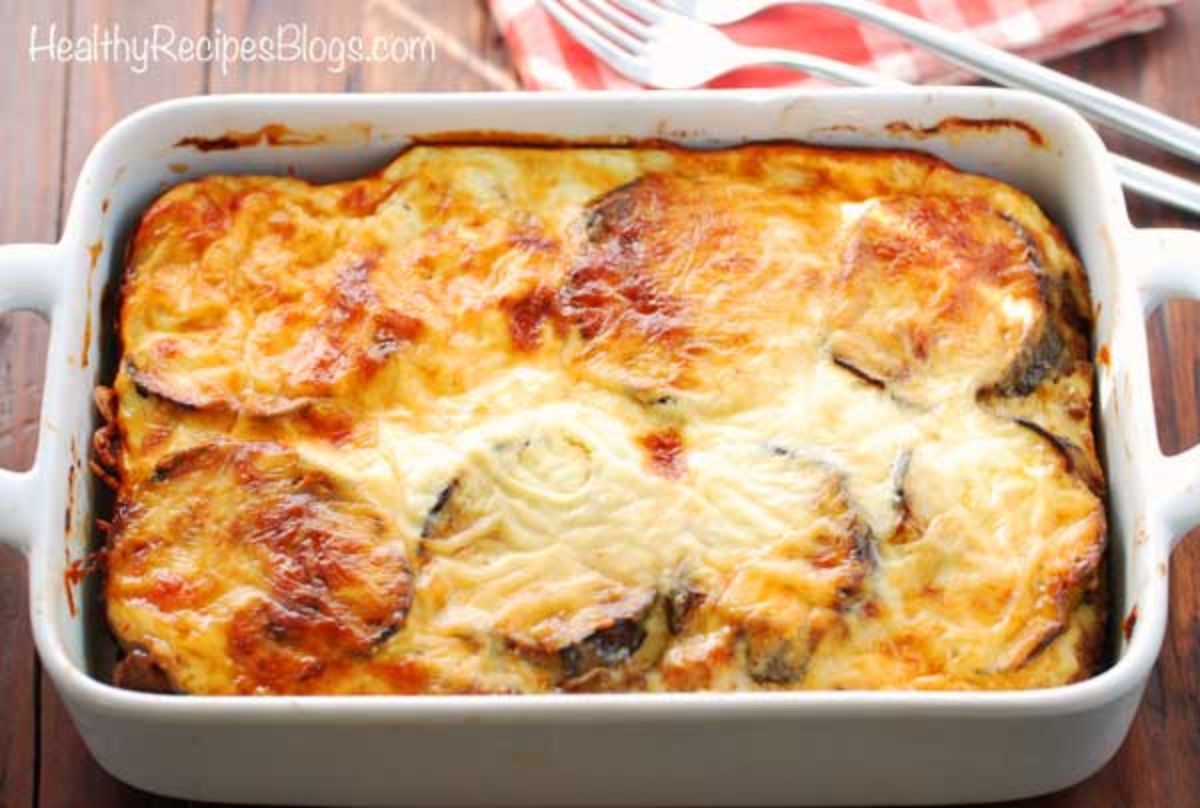 Looking for something a little more involved, for when you've got time to potter about in the kitchen for a bit? You need this moussaka by Healthy Recipes. She uses Greek Yoghurt as the base for her creamy sauce, rather than milk and flower, but it tastes just as good.
Big Mac casserole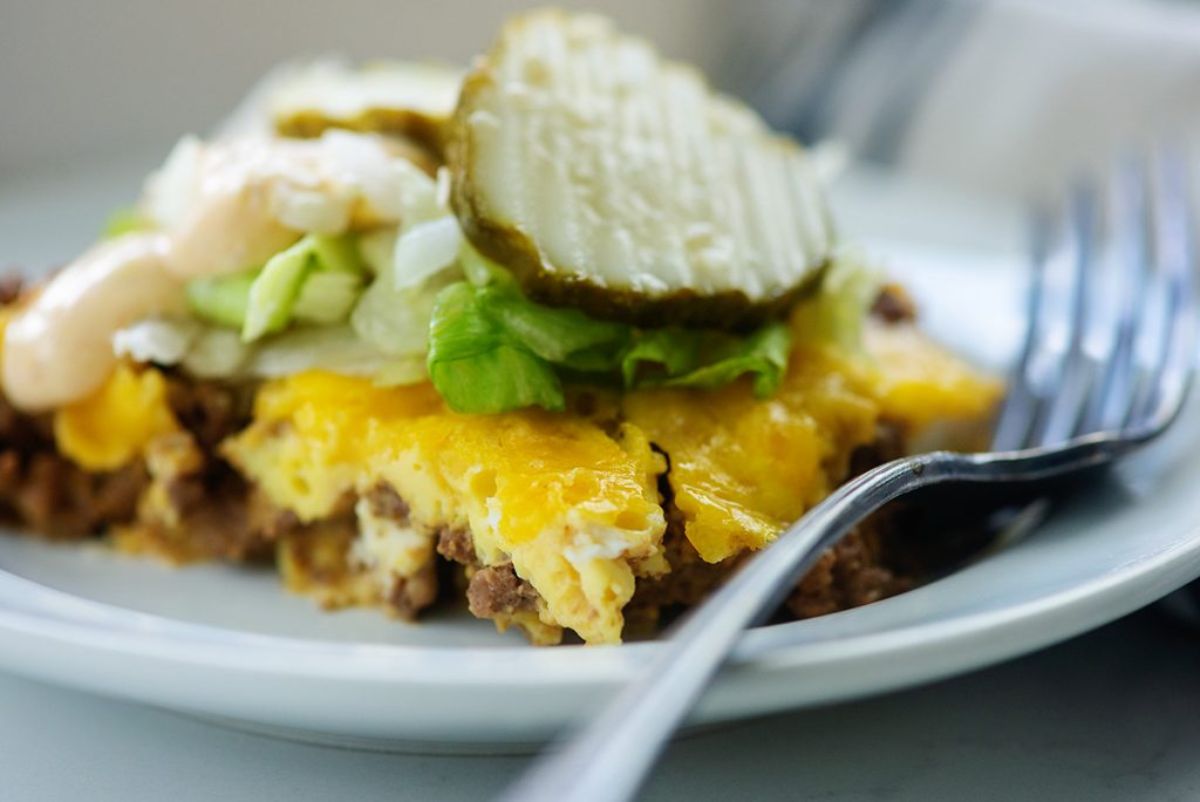 For when you just want a burger, you should definitely just make this Big Mav casserole from That Low Carb Life instead. Complete with pickles, and a homemade burger sauce, this is pretty close to the real thing, and much better for you.
Philly Cheesesteak casserole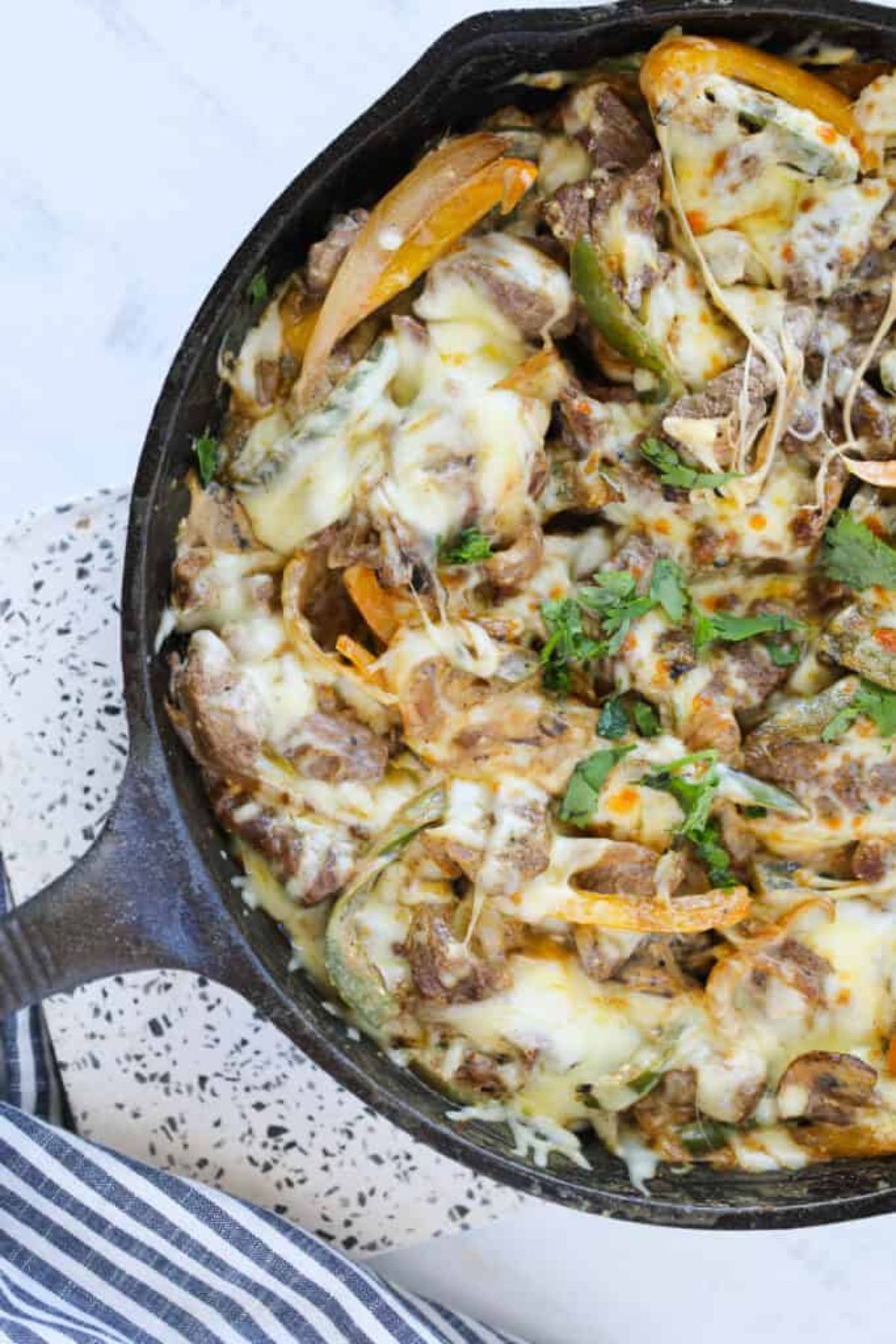 Another healthy alternative for when what you crave just doesn't fit into your keto lifestyle. Whole Lotta Yum's version of the Philly Cheesesteak in a delicious casserole is all done in 30 minutes, and won't leave you with the bloated feeling of all that gluten. It's my new go-to Friday night treat.
Creamed cabbage and ground beef casserole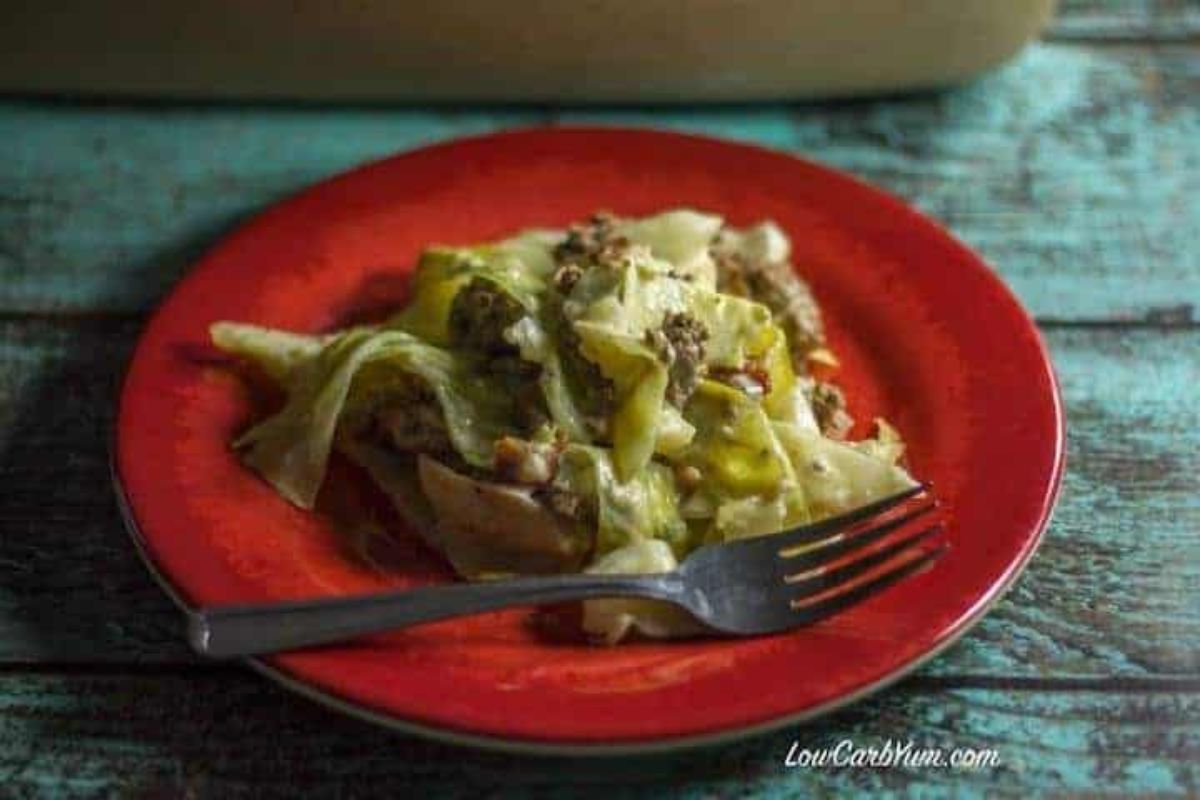 With only 4.8g net carbs, and a creamy Cajun-inspired sauce, this ground beef casserole from Low Carb Yum is a great way to spice up your supper plans. You can even find the instructions for making your own homemade cajun seasoning too!
Ground beef and broccoli casserole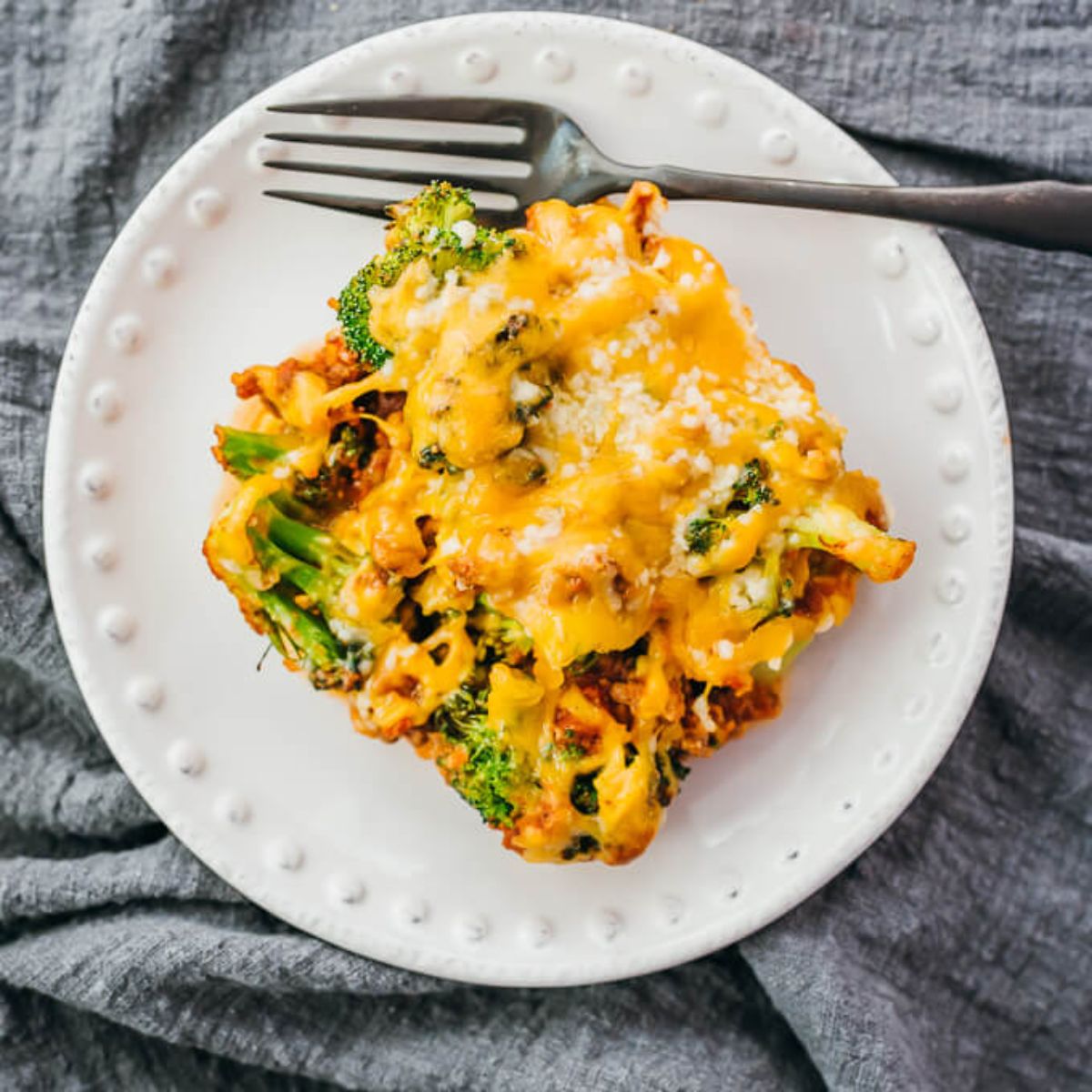 For a different way to serve your ground beef, Savory Tooth has a delicious casserole that she bills as halfway between a cheeseburger and a lasagne. So, if that's what you're after, then this healthy recipe is all yours. Add in some delicious and nutritious broccoli, and you're all sorted with a supper to impress.
Easy reuben casserole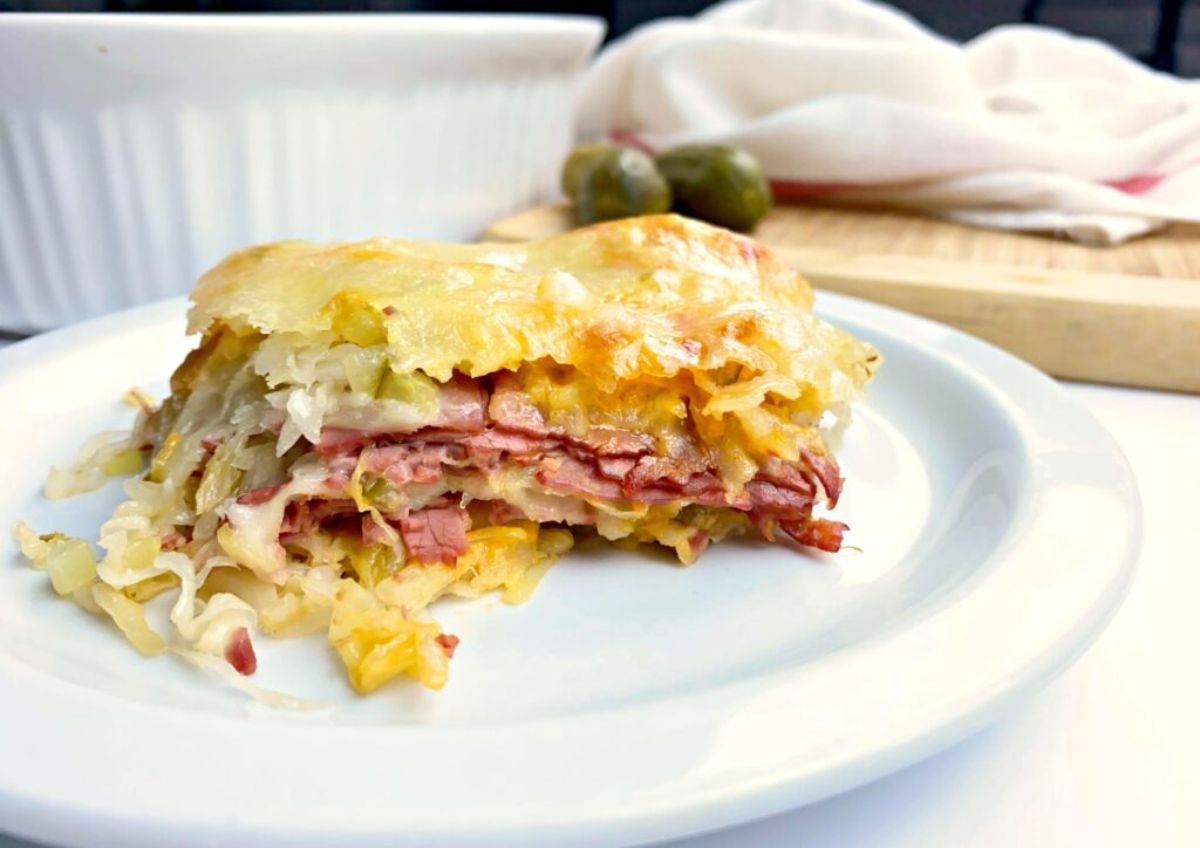 Perfect for reheating, this Reuben casserole from Stylish Cravings is the easy solution to a week's meal prep. Just make a batch, portion, and refrigerate – simple! Serve with keto cheesy garlic bread, and asparagus, and you'll never notice you're missing the sandwich part of your Reuben.
Mushroom cheeseburger casserole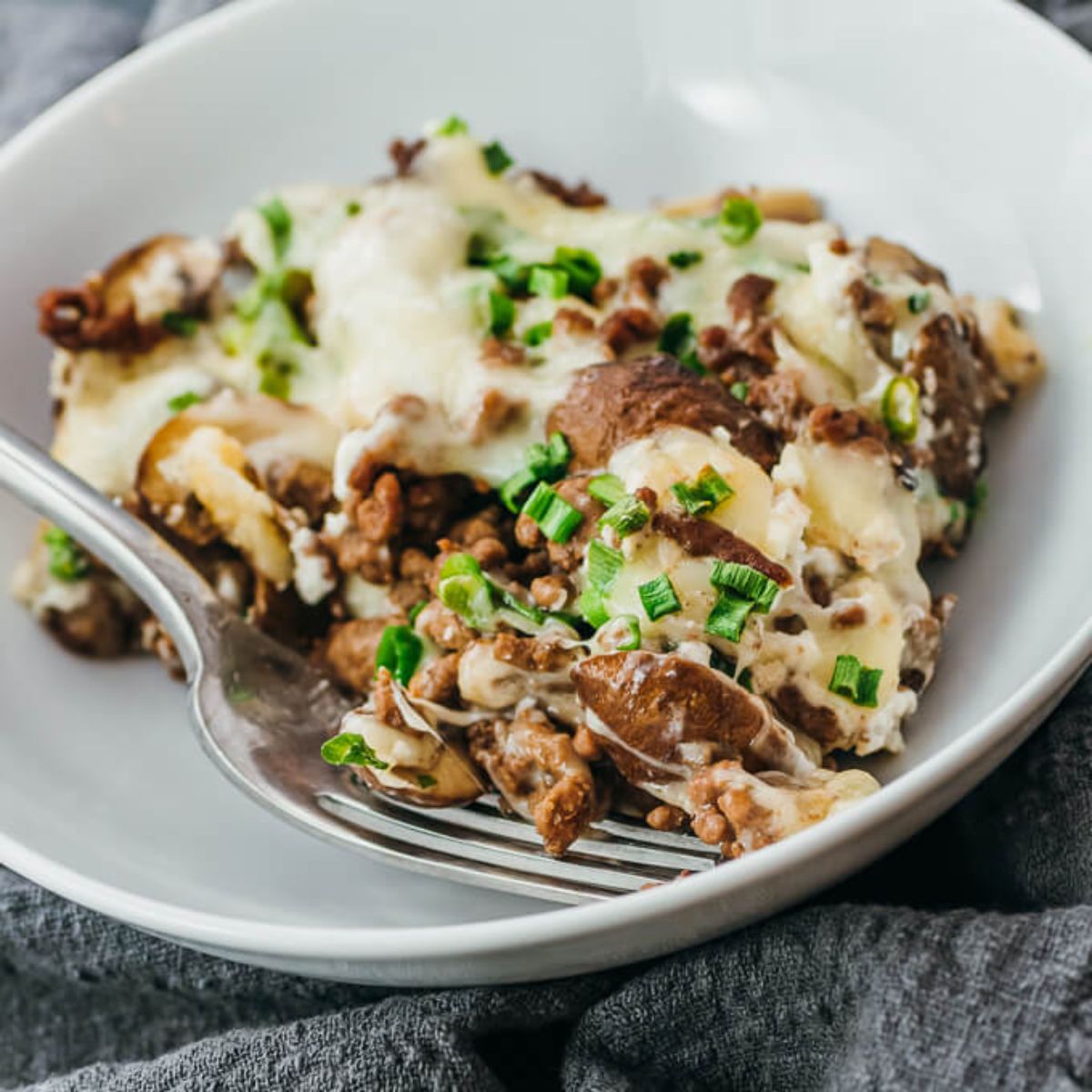 The clever mix of swiss and goats' cheese in this recipe by Savory Tooth gives the casserole a unique flavor that's utterly moreish. In addition, you get to eat loads of mushrooms in a cheesy, creamy sauce: what's not to love? 7 ingredients, only 20 minutes of prep, dinner sorted.
White keto lasagna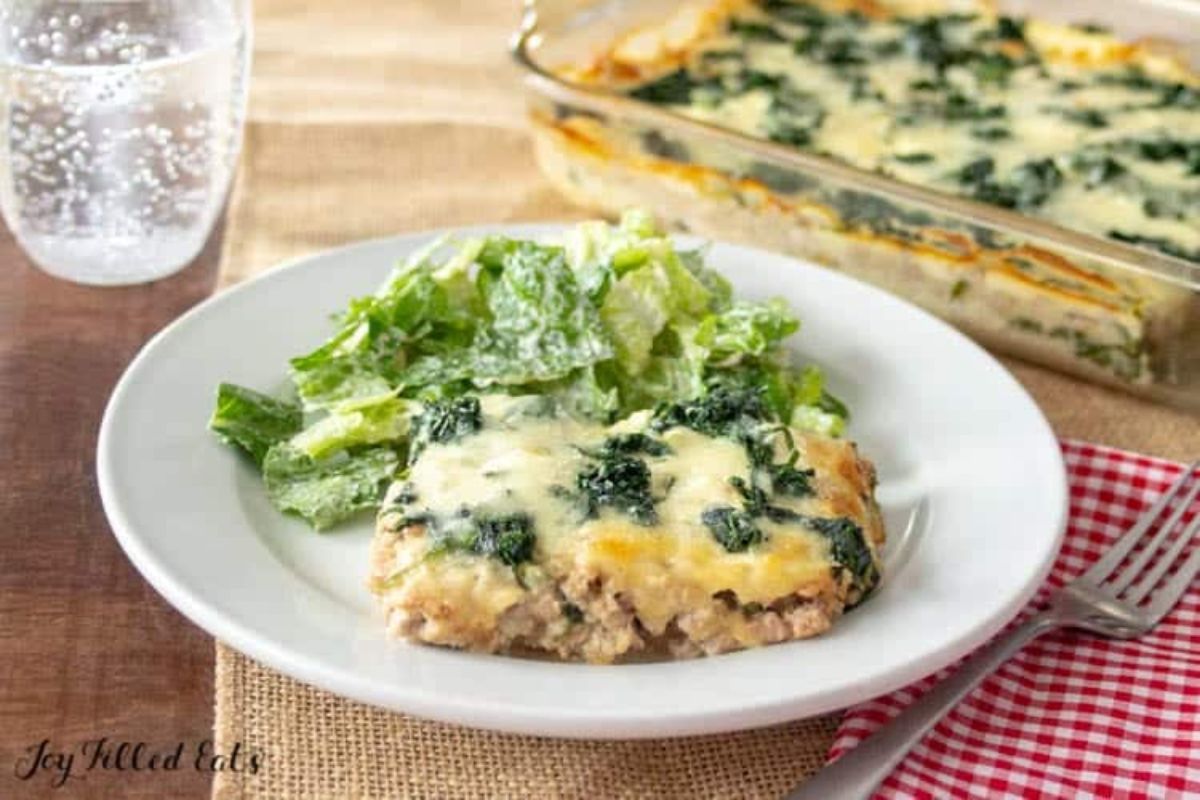 Yummy alfredo sauce, delicious cheese, and spinach instead of noodles make this lasagne from Joy Filled Eats much easier to make, as well as keto-friendly. There are even instructions on the site to turn this lasagne veggie if you feel that way inclined.
Tuna zoodle casserole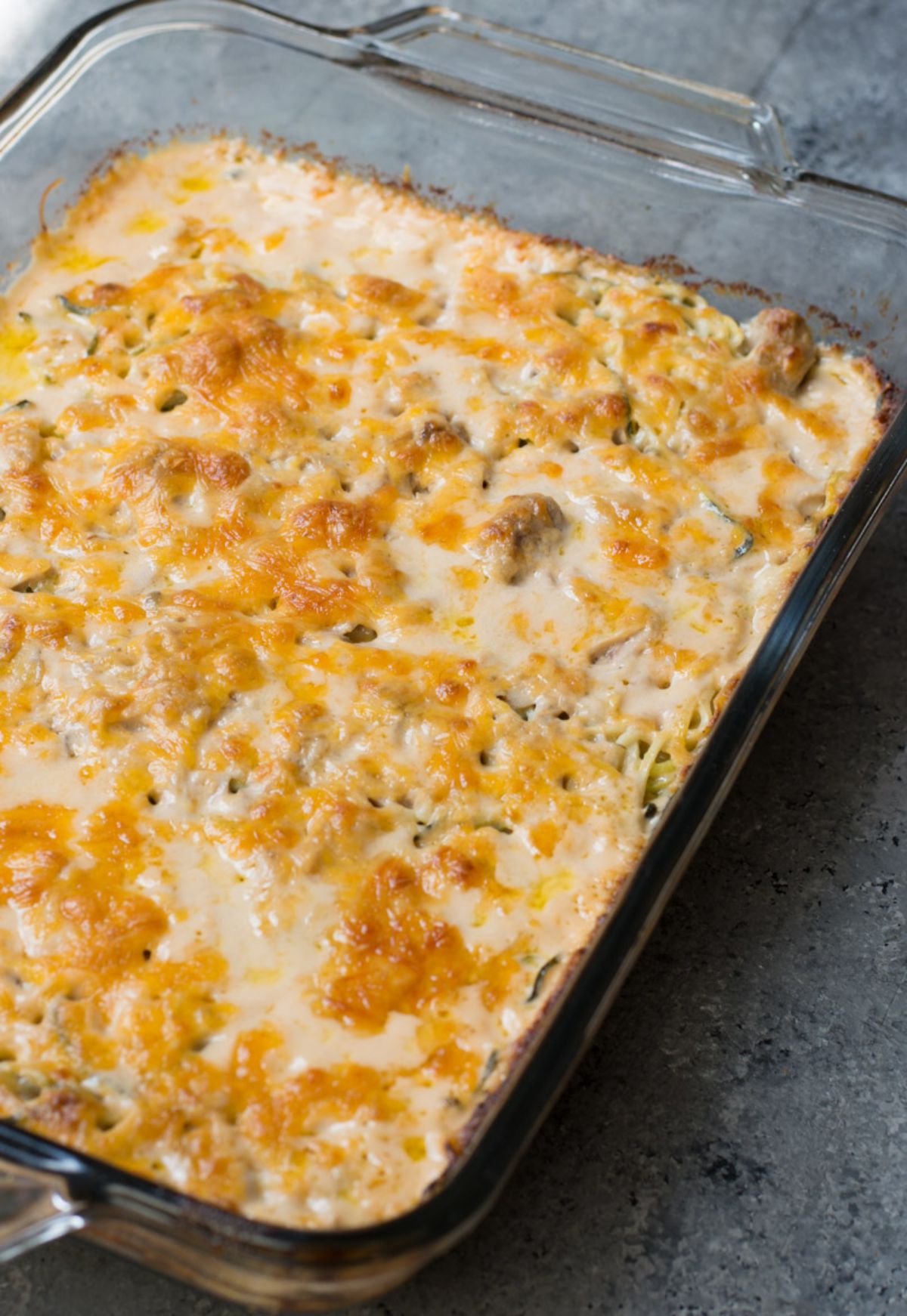 Remarkably, with only 3.4g net carbs, this creamy tuna casserole is a fabulous Friday night comfort food for the whole family. Even your picky little darlings will tuck into this recipe from Mae Bells with relish, and ask for seconds! We bet that they won't even notice the lack of noodles.
Tuna cauliflower casserole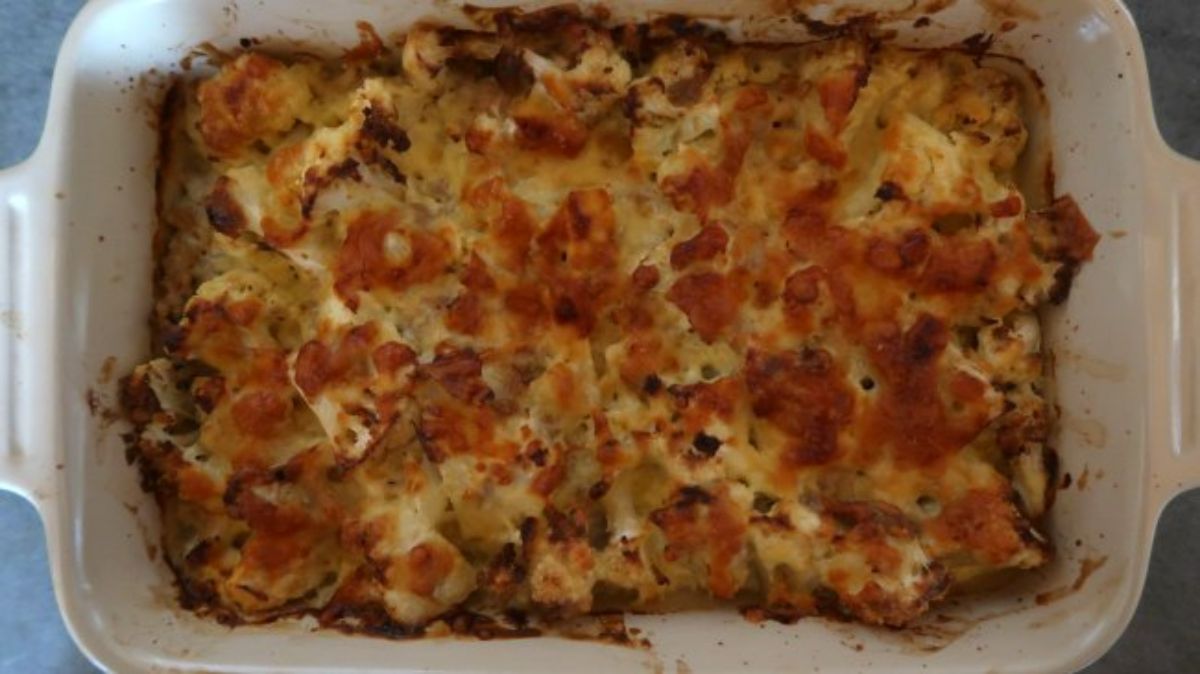 Yummy Inspirations has a great 5 ingredient casserole recipe for when you're running low on supper ideas and haven't managed to get to the store. The addition of cauliflower bulks out the recipe and gets you eating more veggies: always better when they're covered in cheese!
Tuna broccoli ranch casserole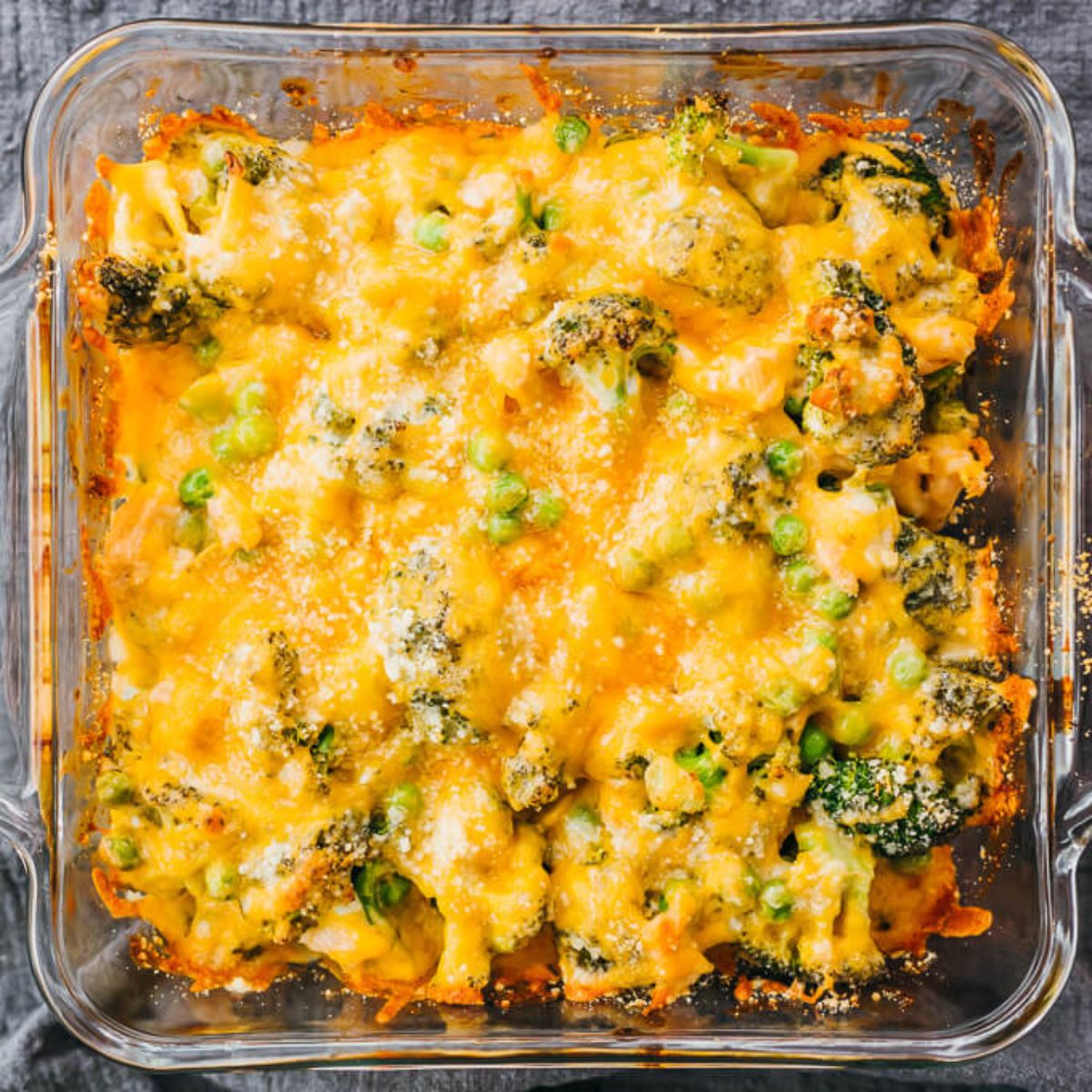 Switching in broccoli this 6 ingredient tuna casserole recipe from Savory Tooth includes Ranch dressing (that you can make from scratch or buy from the store). Broccoli and green peas add lots of fiber to the dish, and albacore tuna is full of important nutrients, so you can't go wrong.
Chili dog keto casserole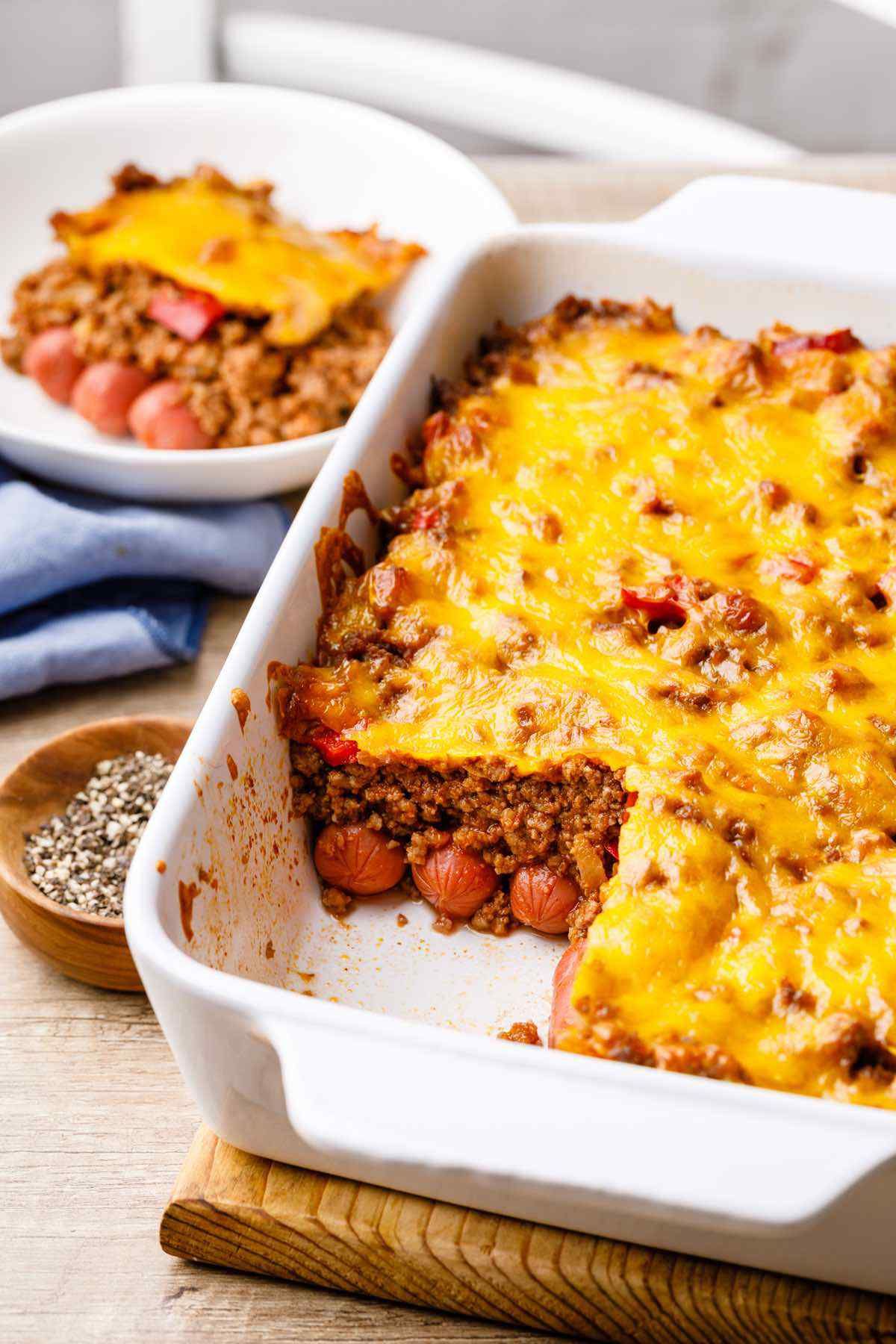 Ok, now bear with us, we know it sounds unlikely. But you can actually make a healthy and delicious casserole with hot dogs. Keto Pots will show you how, with their cheesy, spicy, and protein-filled supper recipe. Hot dogs, herbs, spices, and low carb veggies make this a well-rounded dish that all the family will love.
Baked Italian sausage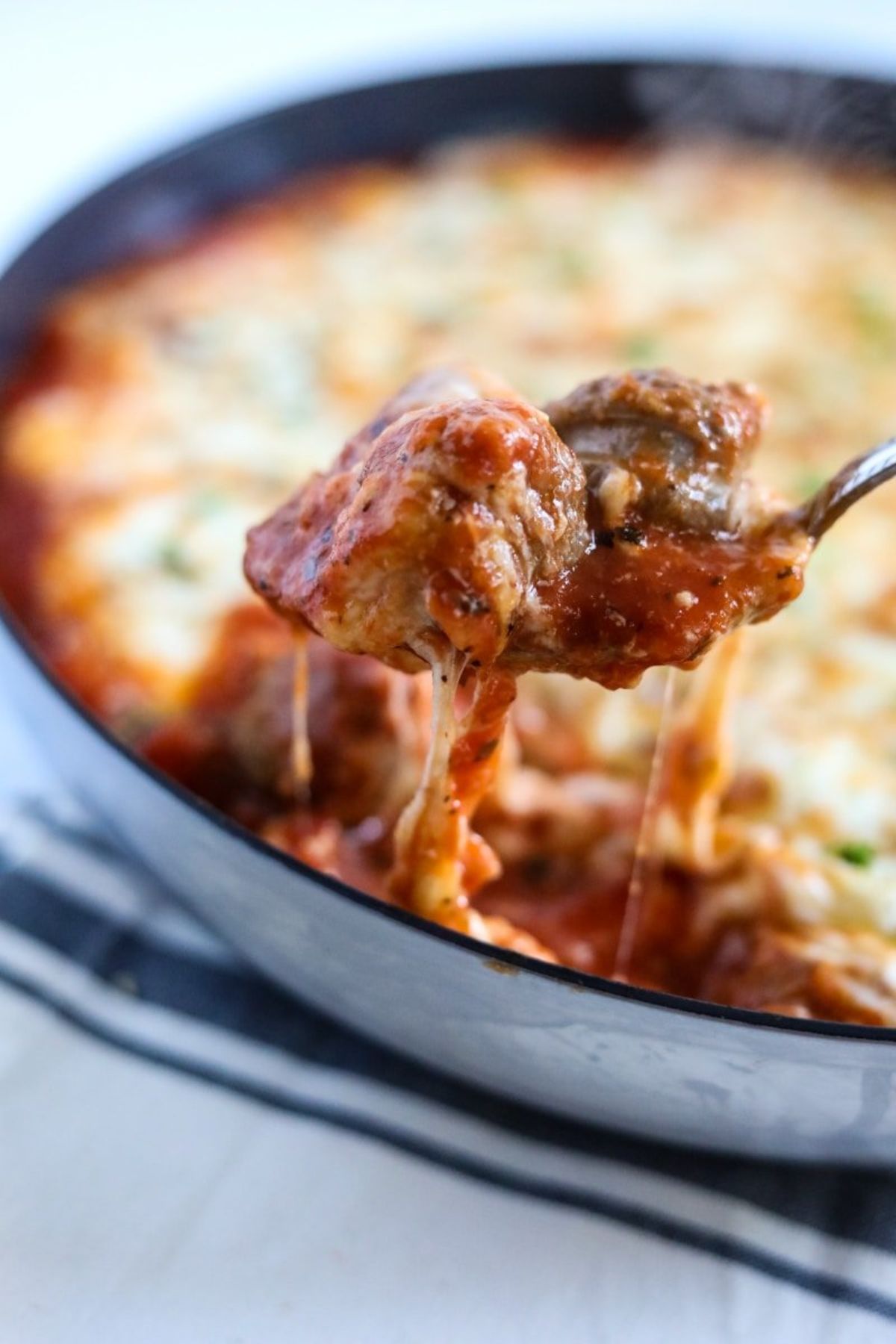 As well as creating a meaty, cheesy, delicious casserole recipe, Kasey Trenum also provides us with a list of low carb marinara sauce brands that you can buy at your local store, and a golden tip for searing your sausage chunks before putting them in the casserole. Head over to her site for all the details.
Turkey sausage breakfast casserole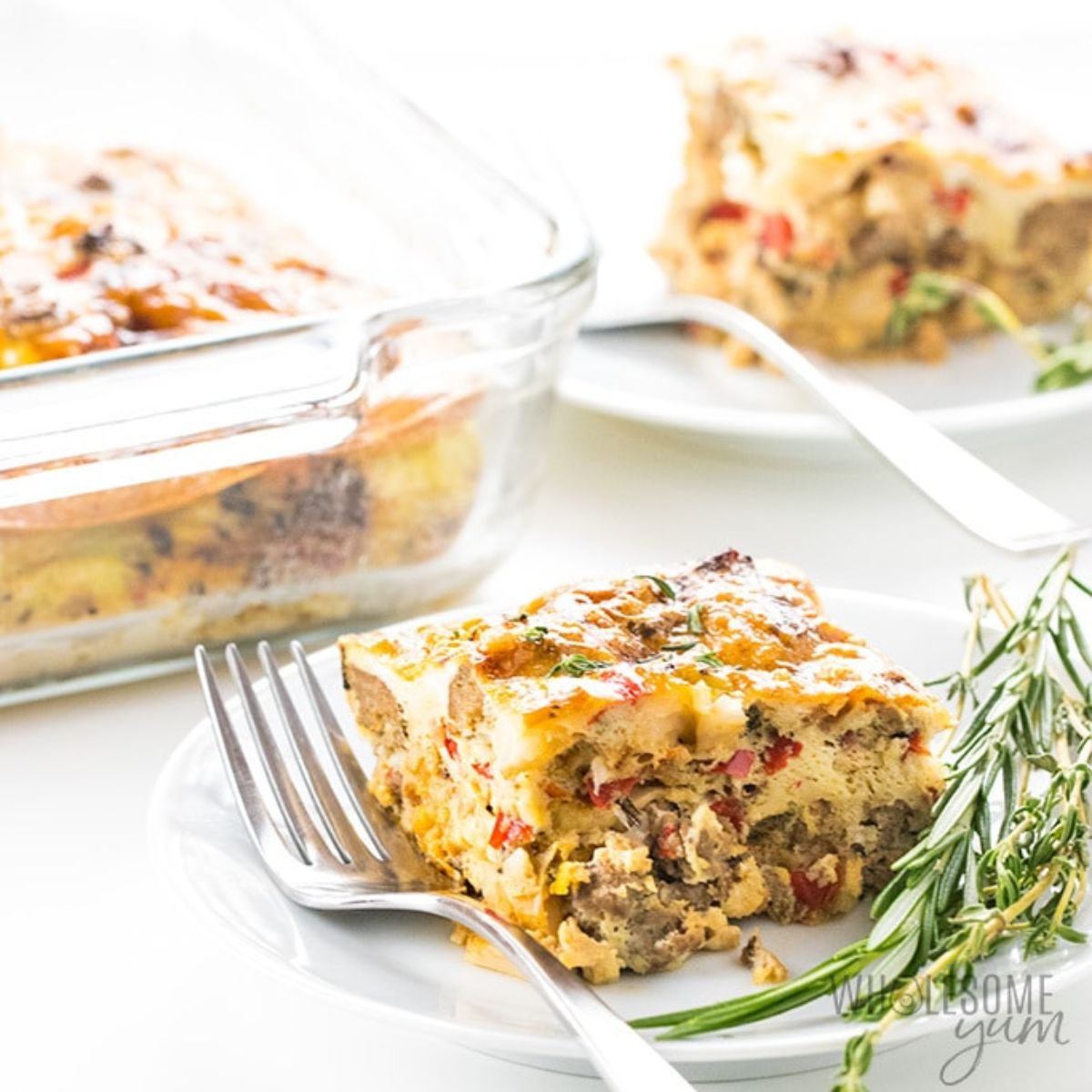 The best weekend breakfasts are warm, cozy, and indulgent. This breakfast casserole from Wholesome Yum is warm, cozy, and still feels indulgent whilst actually being super-healthy! Result! This is great for whipping out of the fridge and reheating when the weather is colder than you thought it would be and eggs alone won't do.
Ham casserole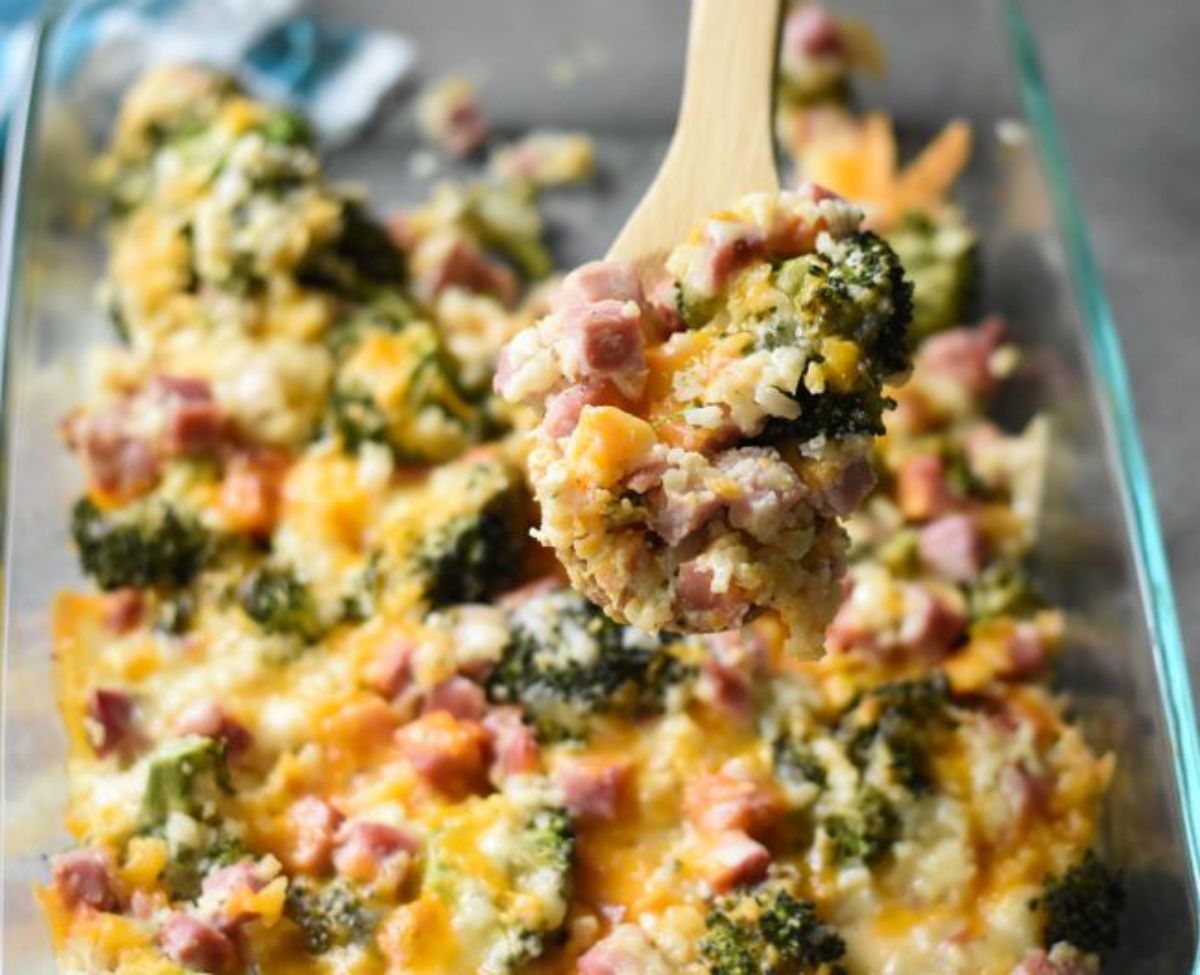 Complete with juicy ham chunks and nutritious broccoli, this casserole will keep you feeling full for longer with the inclusion of cauliflower rice. Covered in tasty cheddar cheese, and ready in 30 minutes, Curbing Carbs has created a recipe worthy of the casserole Hall of Fame.
Easy chicken gren chili casserole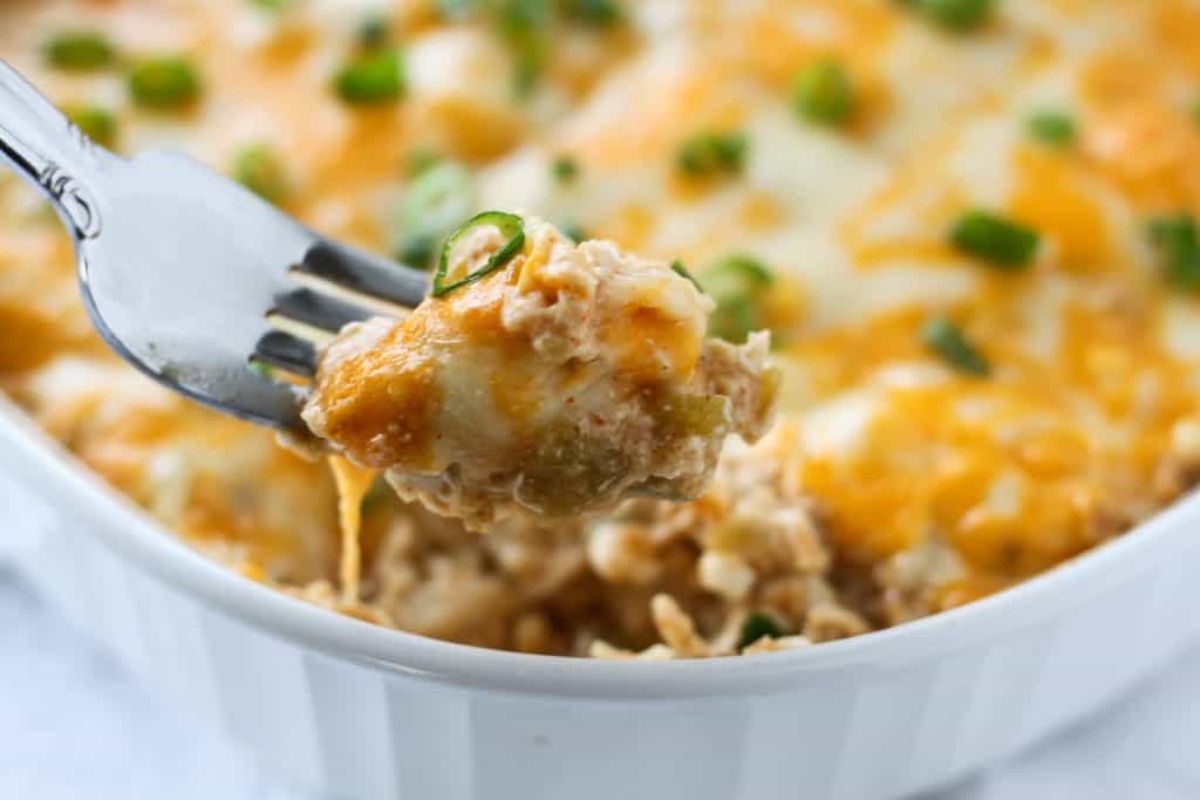 Ready in 20 minutes and using 5 ingredients, you can make this green chili casserole for that last-minute supper you've just agreed to host. All your friends will tuck into it with relish, whether they're keto or not. Whole Lotta Yum will make sure that this recipe makes it onto your regular weekly menu.
Buffalo chicken casserole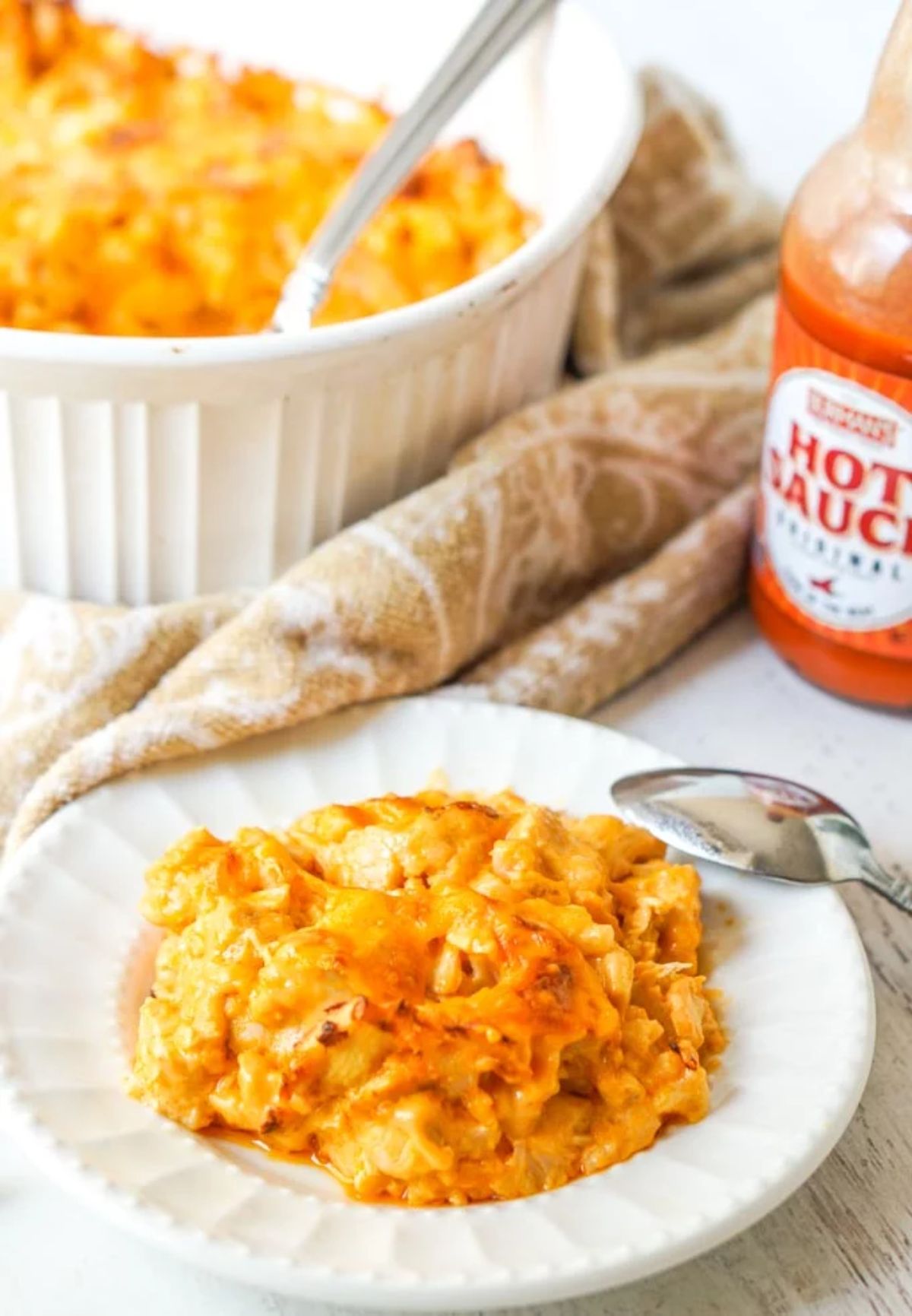 Spicy buffalo sauce is my jam, it is my dream taste. I would drown everything in it if I could, and My Life Cookbook has come up with a casserole based on my dream taste. I may never eat anything else again, especially as it has only 3g net carbs. If you love chicken. cauliflower and cheese then I bet you'll be joining me right here.
Spaghetti squash casserole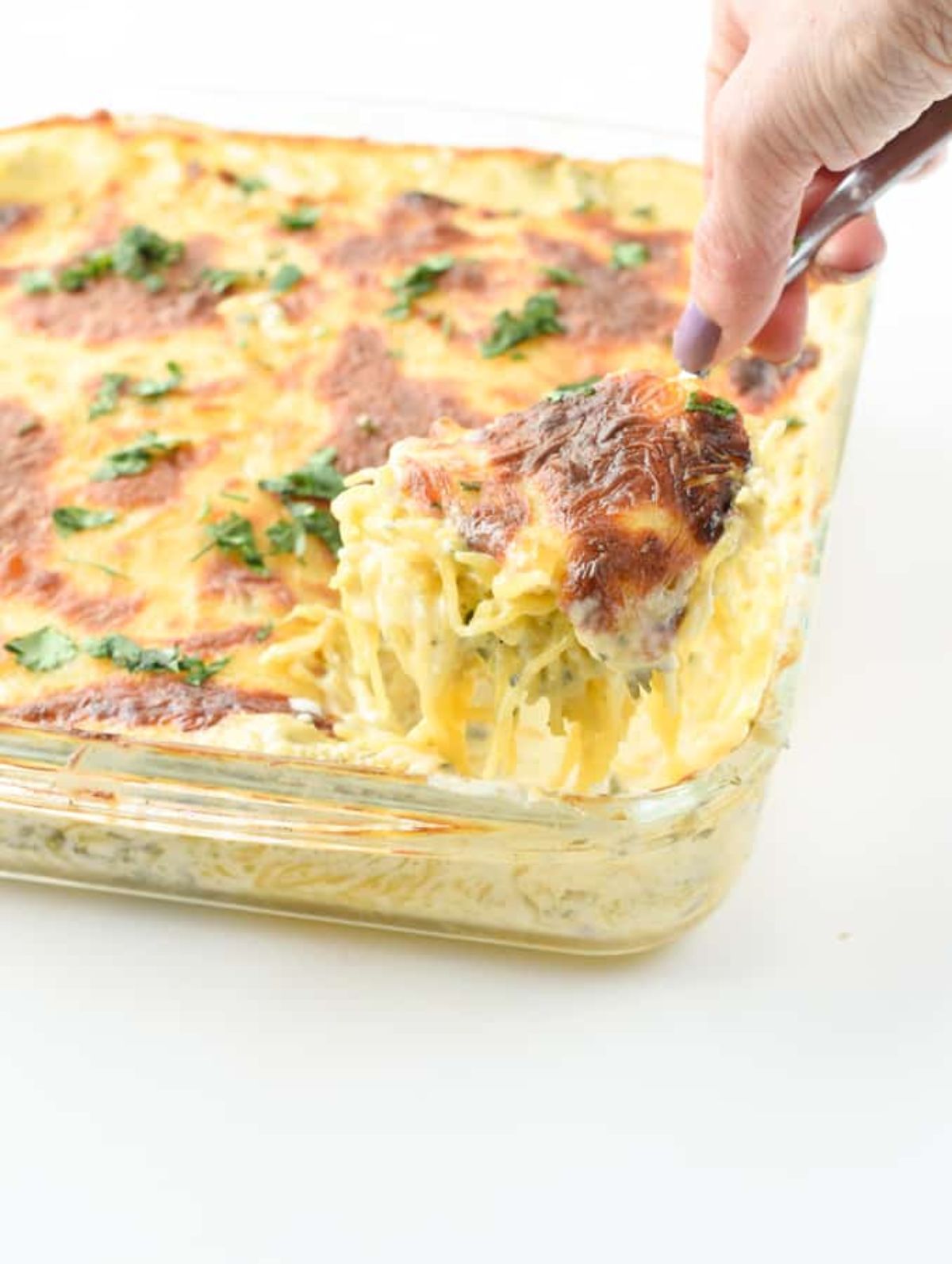 Spaghetti squash might just be the perfect vegetable. It makes you think you're eating pasta, but it doesn't bloat you (or mess up your keto diet plan) like pasta. Cover it in creamy alfredo sauce, like Sweet as Honey has, and you've got yourself a winner.
Chicken fajita bake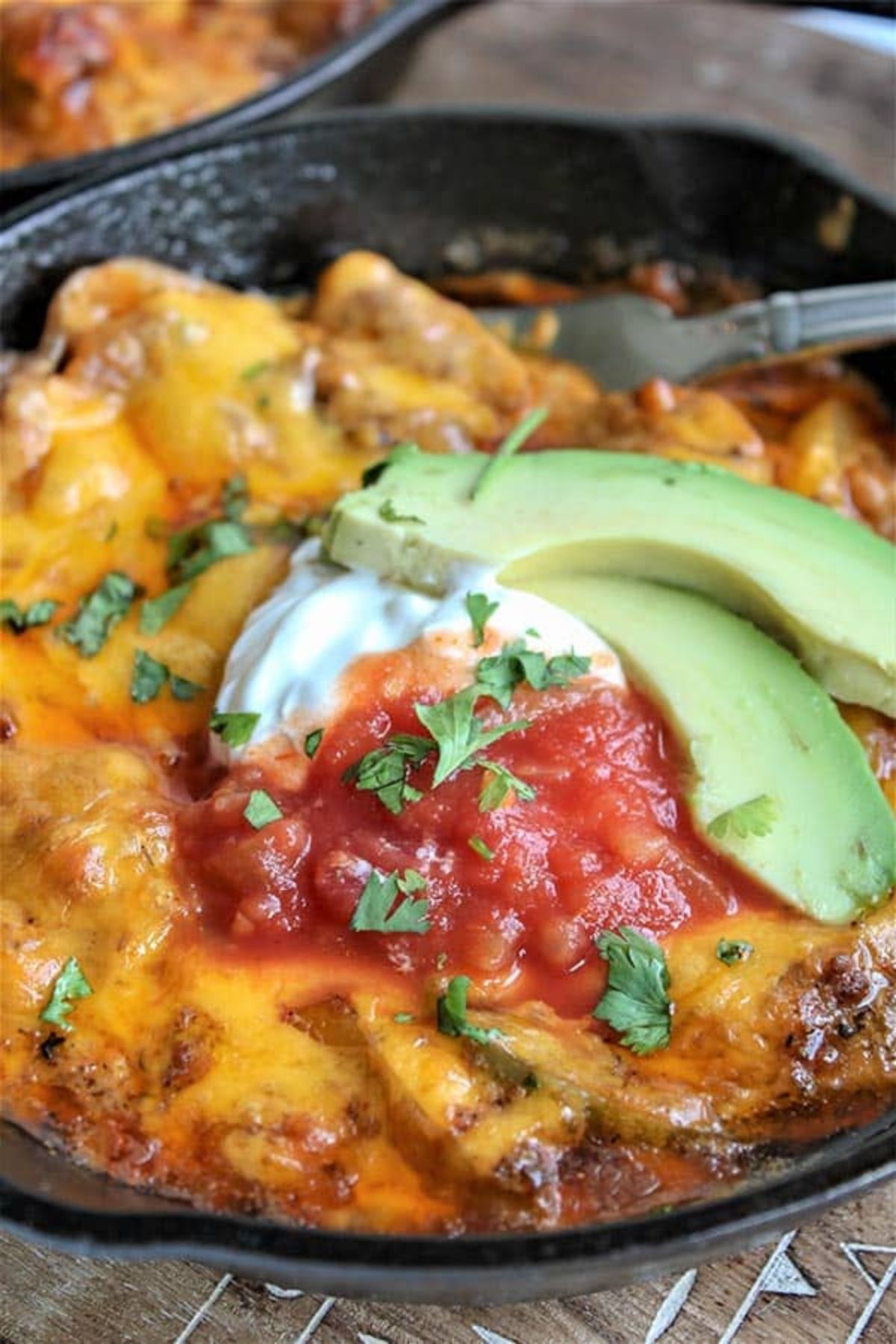 When I was at college I'd eat fajitas all day long. The peppers and the onions, the spicy seasoning, the chicken or the beef all wrapped up in little pockets of guacamole and sour cream. Well, this casserole from Seeking Good Eats is just like all those tasty dinners of mine, but without the unhelpful tortillas. Dive in and enjoy!
Chicken and broccoli casserole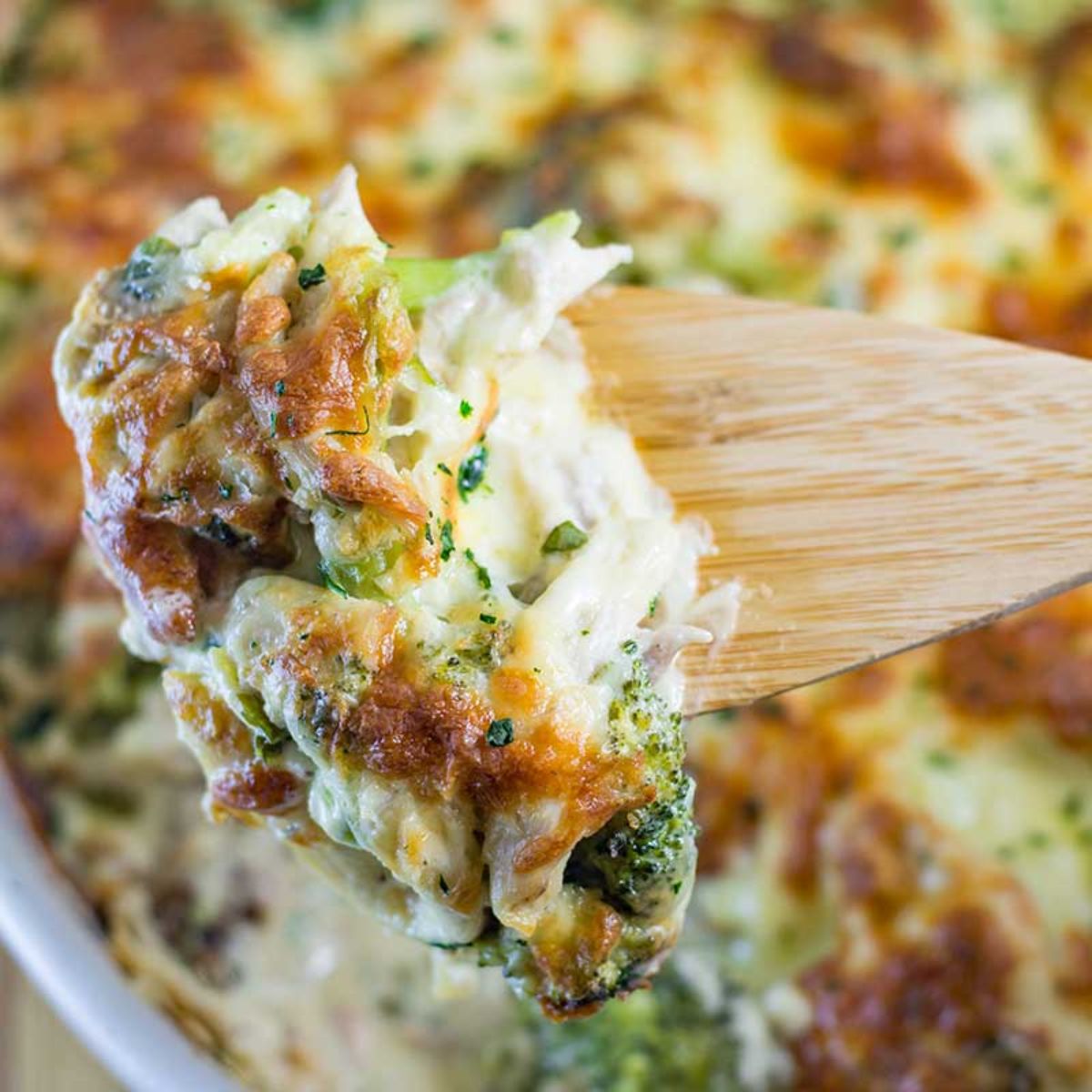 This chicken and broccoli bake is the quintessential quick and easy midweek supper. With only 4g net carbs, you can serve this up to the entire family, watch them tuck in, and then relax knowing that you're not breaking your keto principles. My Keto Kitchen has a foolproof how-to on their site.
Chicken alfredo casserole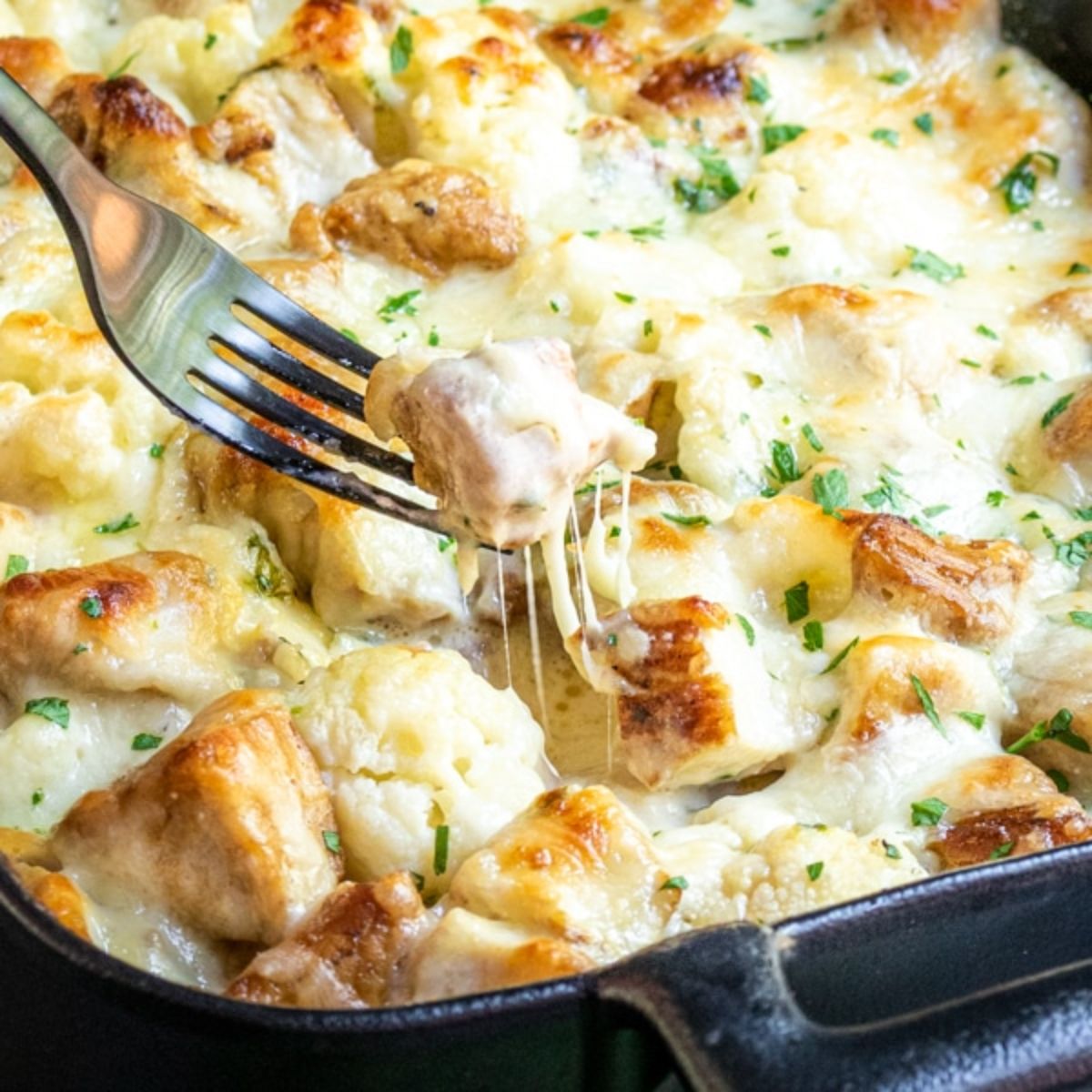 Alfredo sauce is another one of my favorite supper tools that you can throw over anything. Home Made Interest has thrown it over cauliflower and chicken, and it is glorious. They even give you a hack for an even quicker casserole with cauliflower rice instead of florets, in case you're short on time.
Buffalo chicken casserole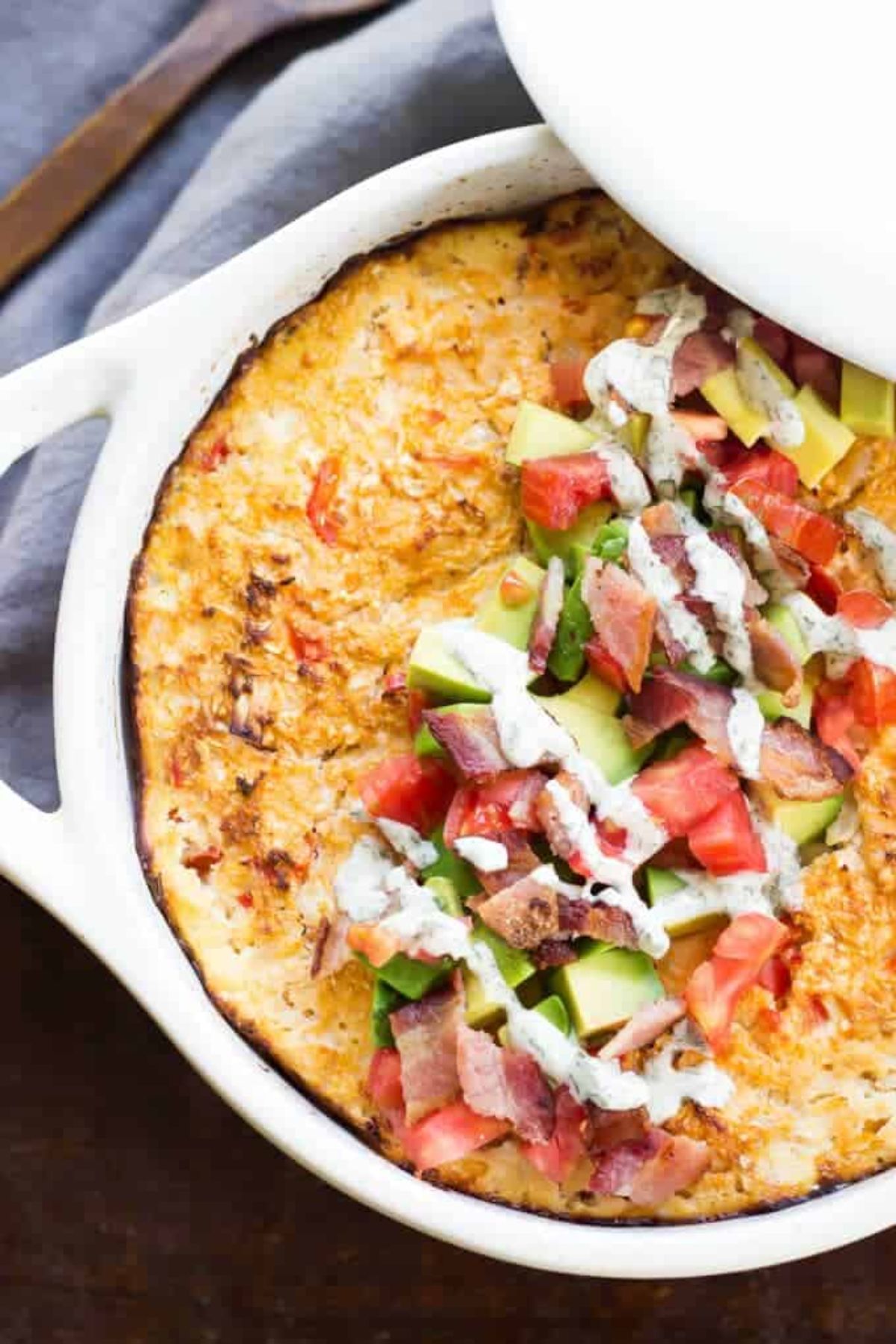 Another delicious buffalo chicken casserole here, one of our very own. I love toppings and this casserole is definitely focused on toppings. That's not to say that we've neglected the rest of the recipe; the whole thing is full of flavor, and we've included a load of possible variations if you have veg to use up, or you're missing a particular ingredient.
Low carb chicken spaghetti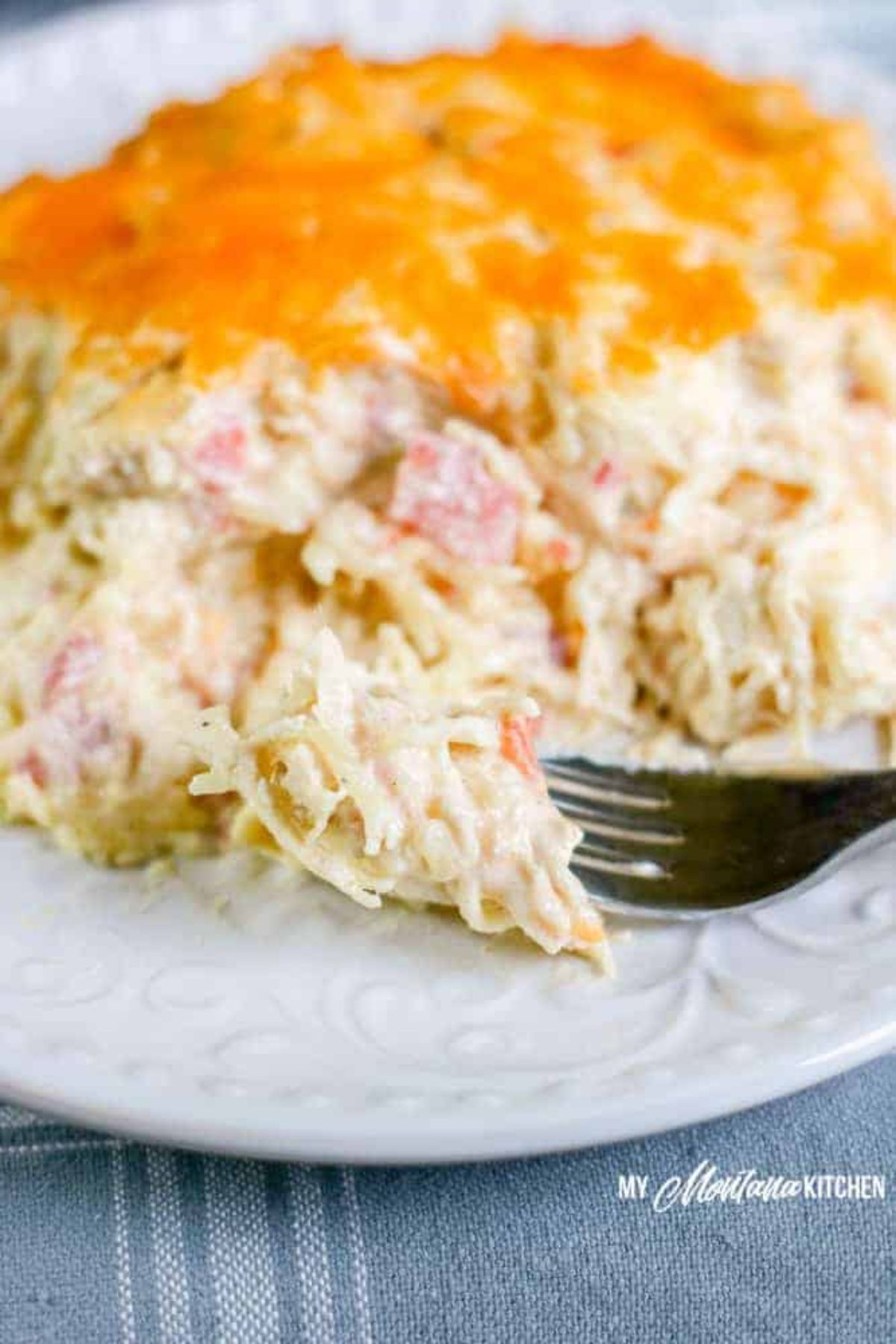 We're reaching for the spaghetti squash again to make this creamy chicken spaghetti from My Montana Kitchen. Made with pre-cooked chicken this is a great way to use up the remains of your Sunday roast (or the rotisserie chicken that you just couldn't walk past at the store.
Cheesy pesto chicken casserole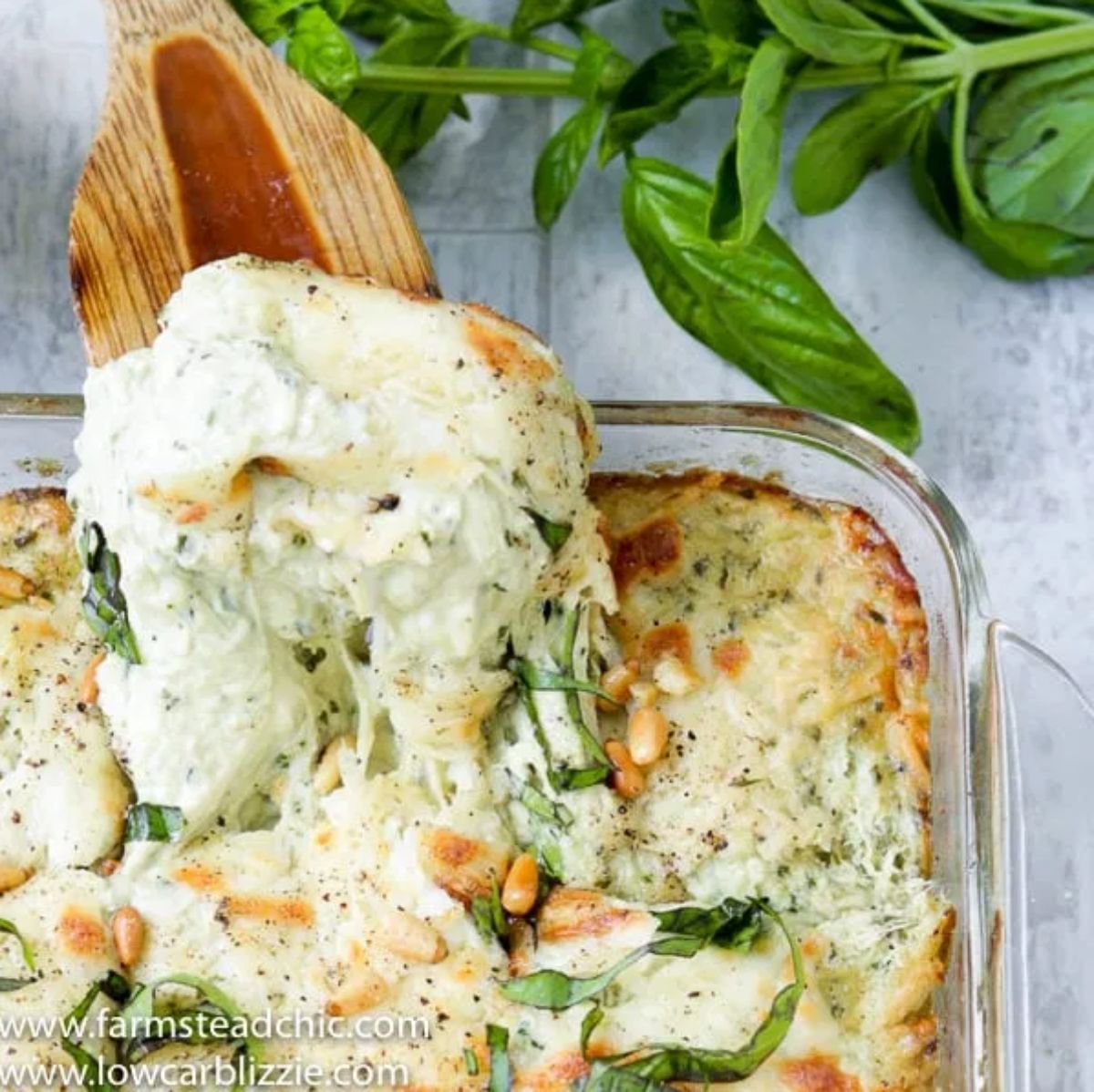 If you have your own basil plants in the garden, like Farmstead Chic, then your pesto chicken casserole will thank you. Although, it is perfectly acceptable to throw some in the basket while you're at the store (and a lot quicker). Simple and easy to prep in advance, this is a great way to indulge in pest without the usual carb hit of pasta.
RECIPE CARD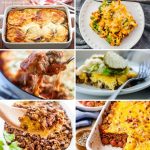 Keto Casseroles That Are Delicious And Easy-To-Make
The easiest keto casseroles anyone can make! Create something delicious within an hour and enjoy the delicious meal.
Ingredients
Please ensure Safari reader mode is OFF to view ingredients.
Healthy Sweet Potato Casserole

Cauliflower Au Gratin

Gluten-Free Bean Casserole

Low Carb Veggie Casserole

Broccoli Casserole

Cauliflower Mac And Cheese

Cheesy Zucchini Casserole

Sour Cream Beef Bake

Reuben Casserole

Crock-Pot Taco Casserole

Crustless Taco Pie

Keto Moussaka

Big Mac Casserole

Philly Cheesesteak Casserole

Creamed Cabbage And Ground Beef Casserole

Ground Beef And Broccoli Casserole

Easy Reuben Casserole

Chicken Fajita Bake

Cheesy Pesto Chicken Casserole
Click to convert between US & metric measurements:
Instructions
More TIPS about this paleo recipe in the post above!
Prepare and cook any of these easy keto casseroles anytime!
© Copyright Wicked Spatula. We'd LOVE for you to share a link to this recipe, but please DO NOT COPY/PASTE the recipe instructions to social media or websites. You may share a photo with a link back instead.
Did you make this recipe?
Click here to leave a comment + star rating! ★★★★★
Then, share a pic on Instagram. Tag @wickedspatula or #wickedspatula!