If you've tuned in to the air fryer craze then either you've bought yourself one of these kitchen miracles, or you've been gifted one. So – you've got the gear, but now you're stood there thinking: "What keto dish do I cook in my air fryer?" Cooking low-carb food in your air fryer is great for all you meal preppers out there, as it's super-fast.
Air fryers are brilliant for anyone on the ketogenic diet. You can ditch the traditional breadcrumbs and cook things in much more keto-friendly coatings, in a minuscule amount of time, with much less mess. Even though oil isn't something to shy away from on the keto diet, I don't always want to be dealing with things dripping all over my kitchen.
So, feast your eyes on these 35 delicious ways to discover the power of the air fryer! We've got low-carb options for vegetables, chicken, bread, brownies, and everything in between.
Cinnamon sugar donut holes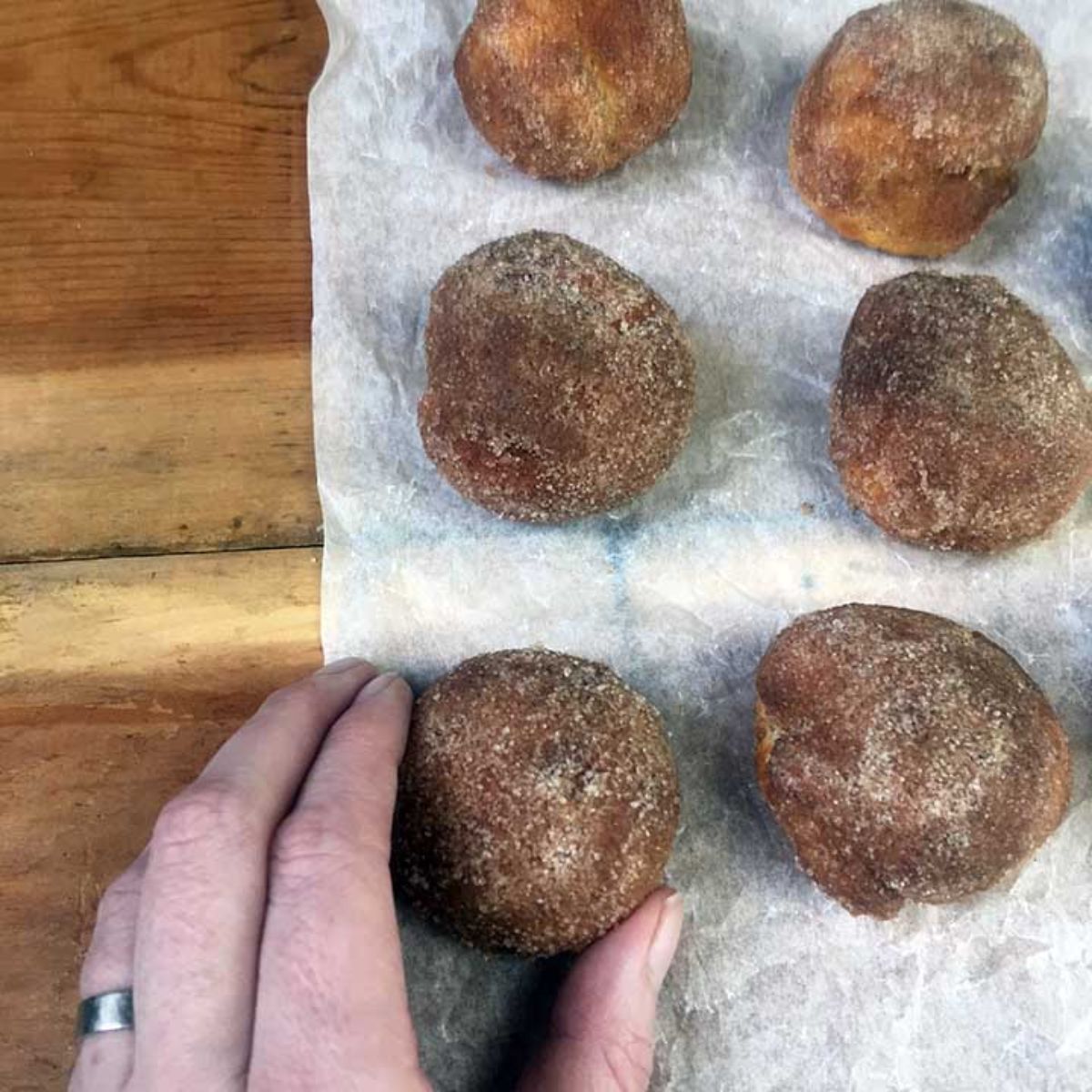 Isn't it great in life when you can learn from other people's mistakes, instead of making your own? Well, when it comes to the timing and ingredients for the perfect air-fried donut hole, Resolution Eats has done all the hard work for you. You can jump in at the last yard and take credit for all her hard work!
Easy air fryer biscuits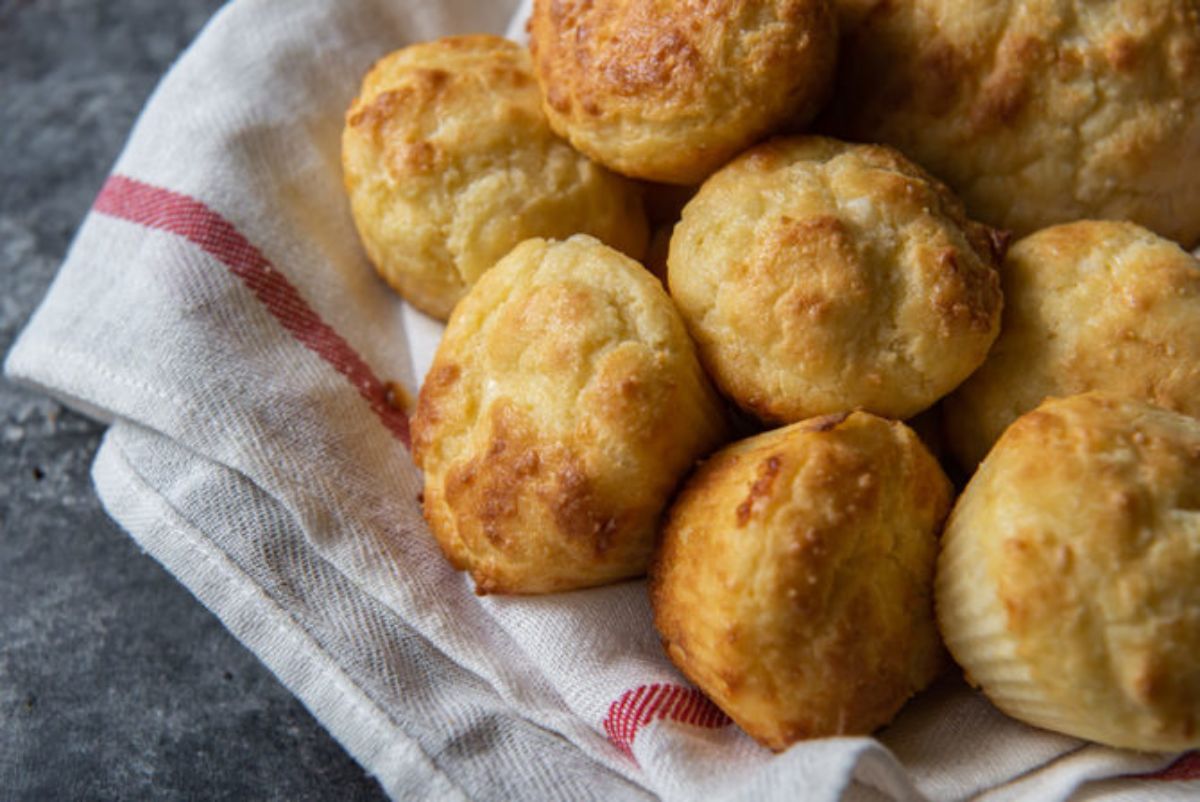 Now, I'd be quite happy to munch on these by themselves, but Keto Connect has created them to serve as a keto-friendly side to pair with your healthy protein option. They'd be great with steak and eggs, or the pork chops that we've featured further down the list.
Garlic cheese bread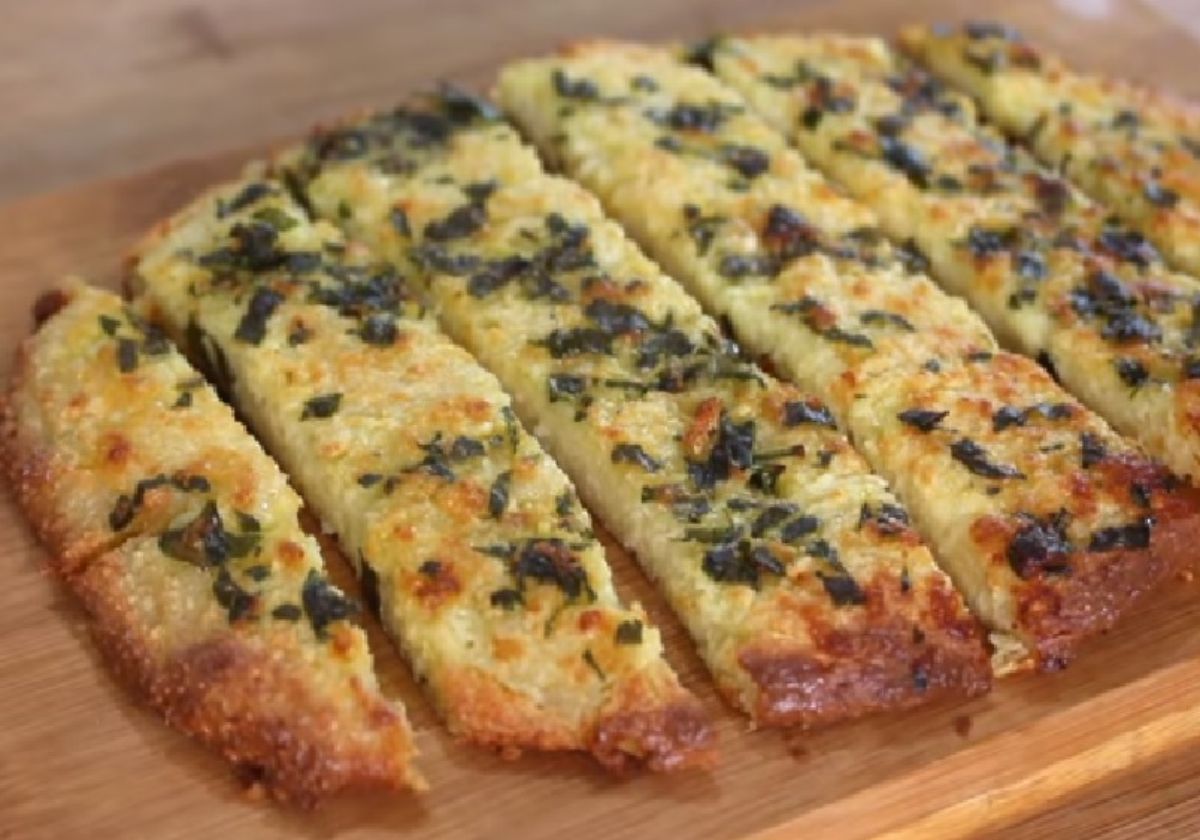 As great as the keto diet is for your health, we've all gotten used to eating so much bread that it's hard to curb the craving. Air Fryer Recipes has the perfect side for you when you're in the situation. Their Garlic cheesy bread is so easy, and really delicious. You'll never miss bread again!
Keto onion rings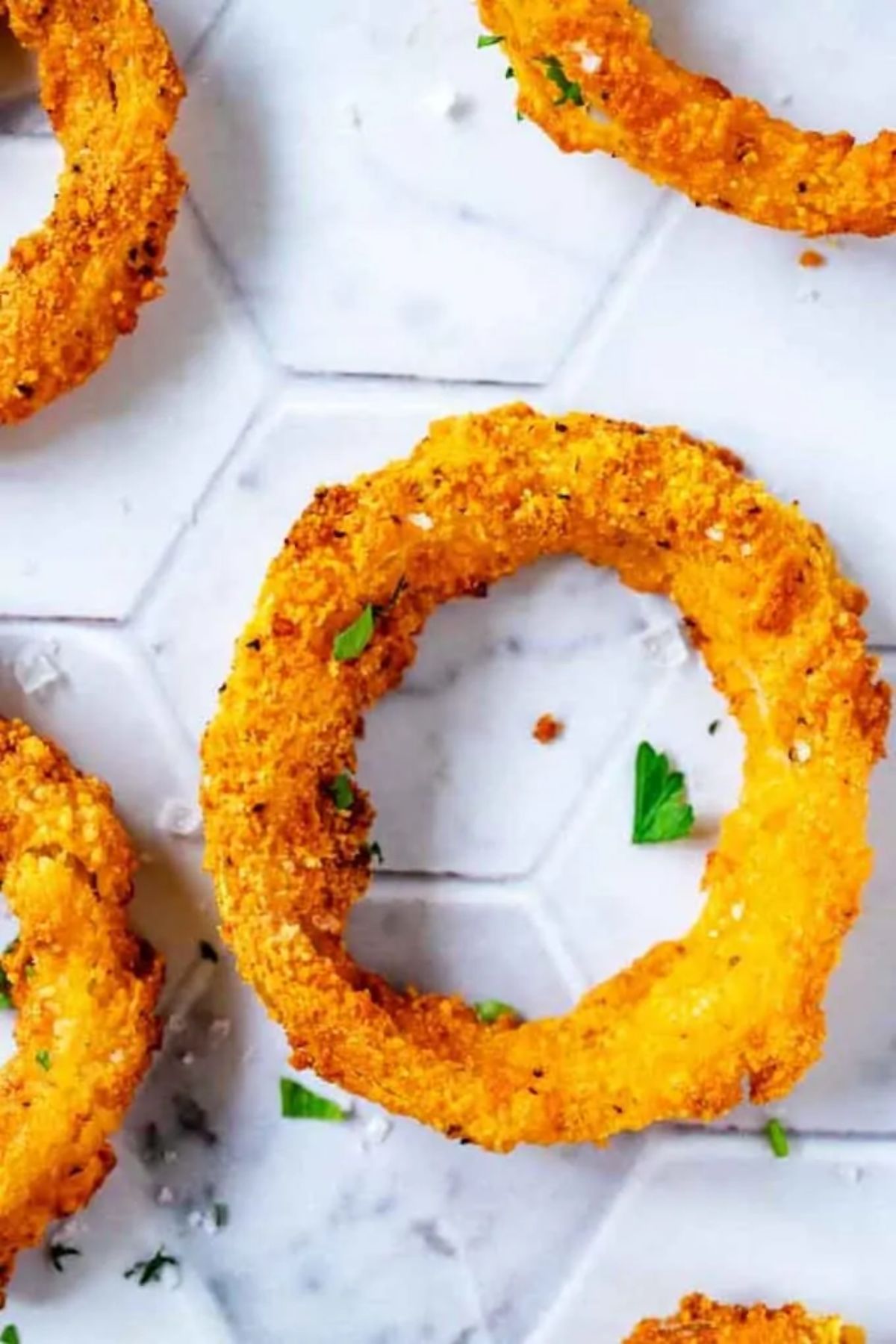 Good for game night, or just for snacking on in front of your favorite box set, these onion rings by Kicking Carbs are a great treat. Onions are a little high in carbs for an everyday indulgence, but these are tasty enough to make it worth a one-off munch.
Cheesy zucchini noodles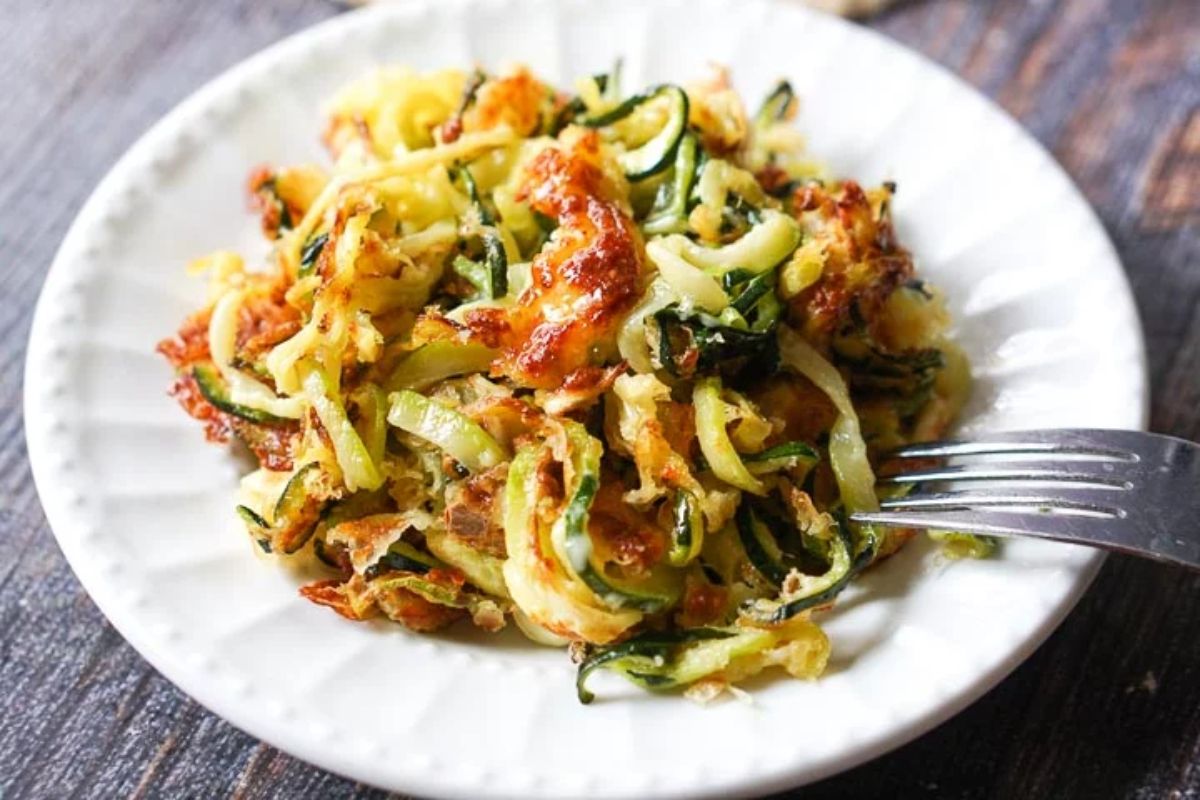 Getting home from work late can mean choosing a healthy dinner is just one thing too many to think about. This is where the air fryer comes into its own. With My Life Cookbook's recipe for keto cheesy zucchini noodles, you can have a tasty plate of comfort food in 15 minutes!
Air-fried kale chips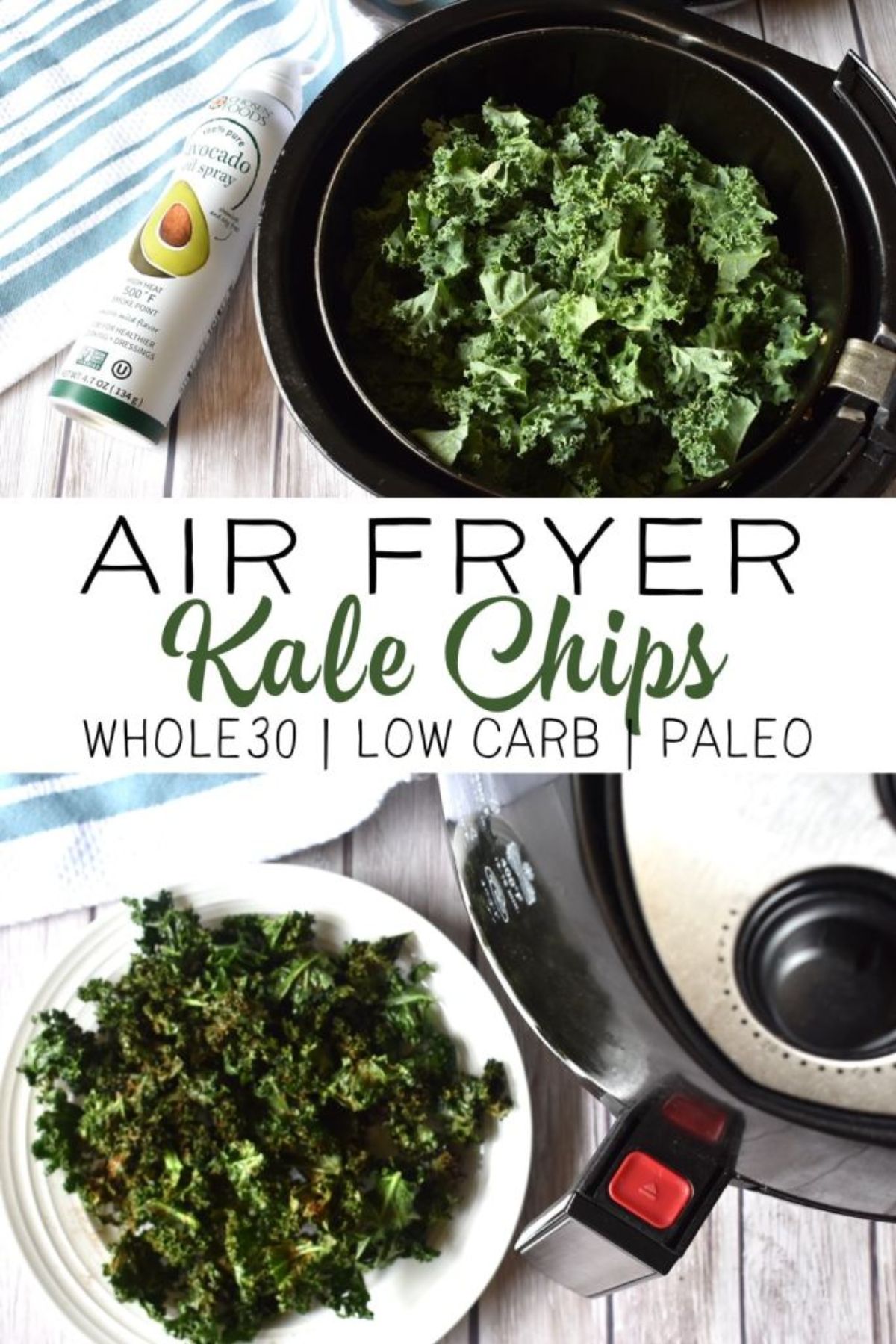 Crunchy, spicy, and moreish, Beauty and the Benchpress's air-fried kale chips are a great evening snack, and super-quick to whip up. The added chili powder gives them just the kick they need to set them apart from all the rest.
Air-fried mushrooms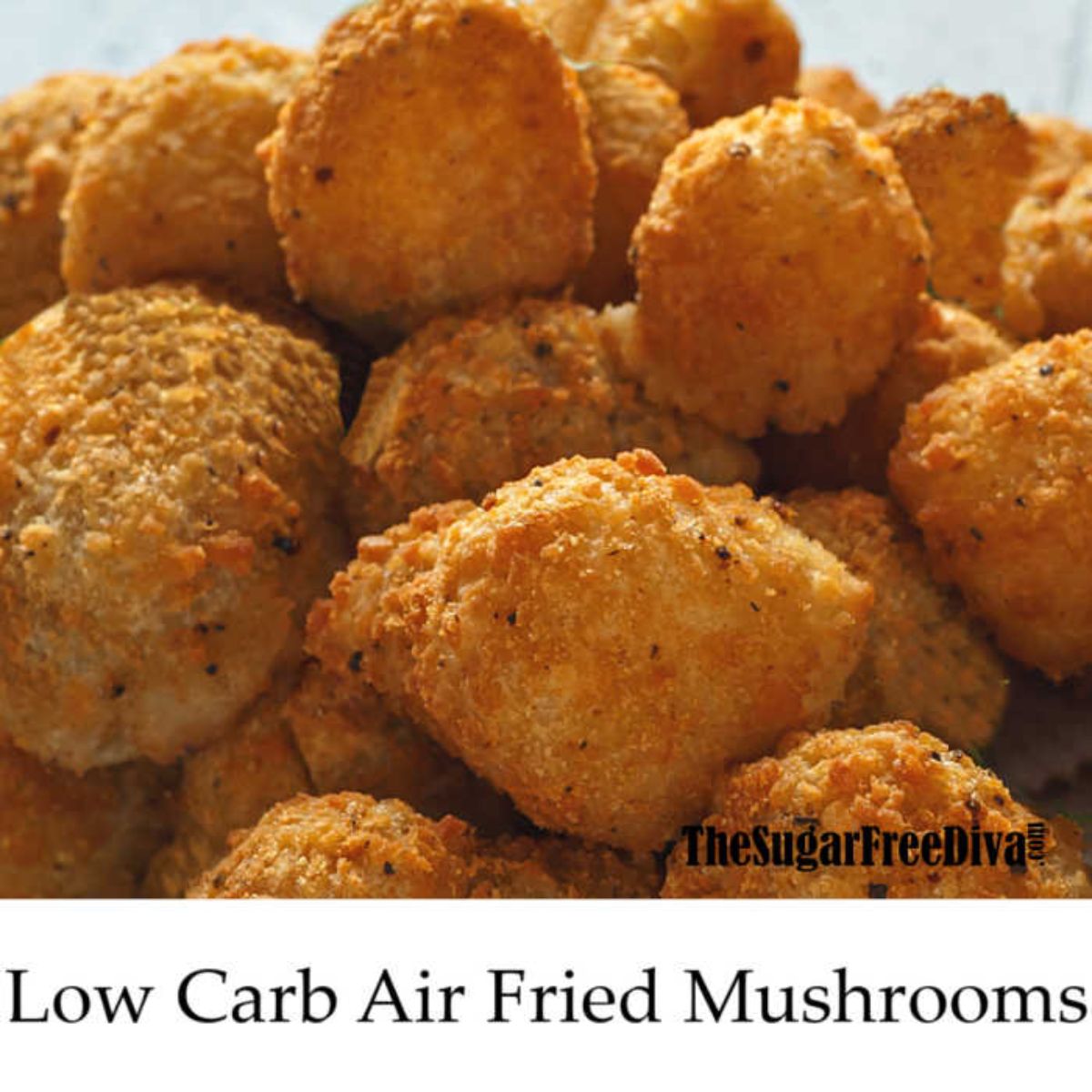 This low-carb appetizer is definitely going to make it onto your regular meal rotation. The Sugar-Free Diva uses her air fryer to ensure these little morsels stay crunchy without all the carbs. Only 2g of net carbs per serving, to be precise.
Crispy air fryer brussels sprouts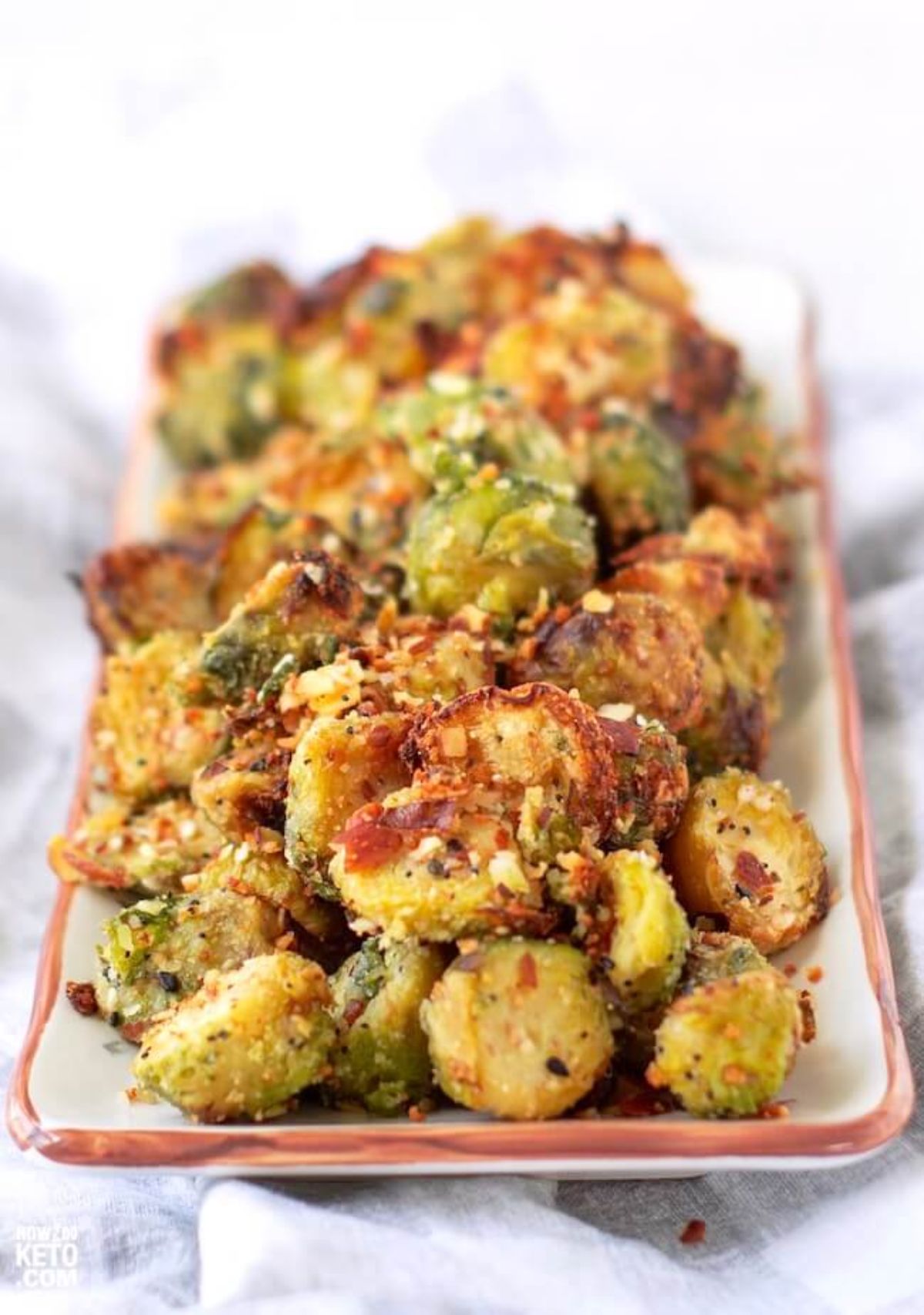 I'm holding my hand up here: I've never been a fan of brussels sprouts. I'd push them around my plate at Christmas, and eat a few if I was a guest somewhere, but they are probably my least favorite vegetable. With this recipe by How 2 Do Keto, I might be converted. Crispy, cheesy, and keto-friendly, I will eat a whole portion, without hiding them inside my cauliflower rice.
Air fryer pickles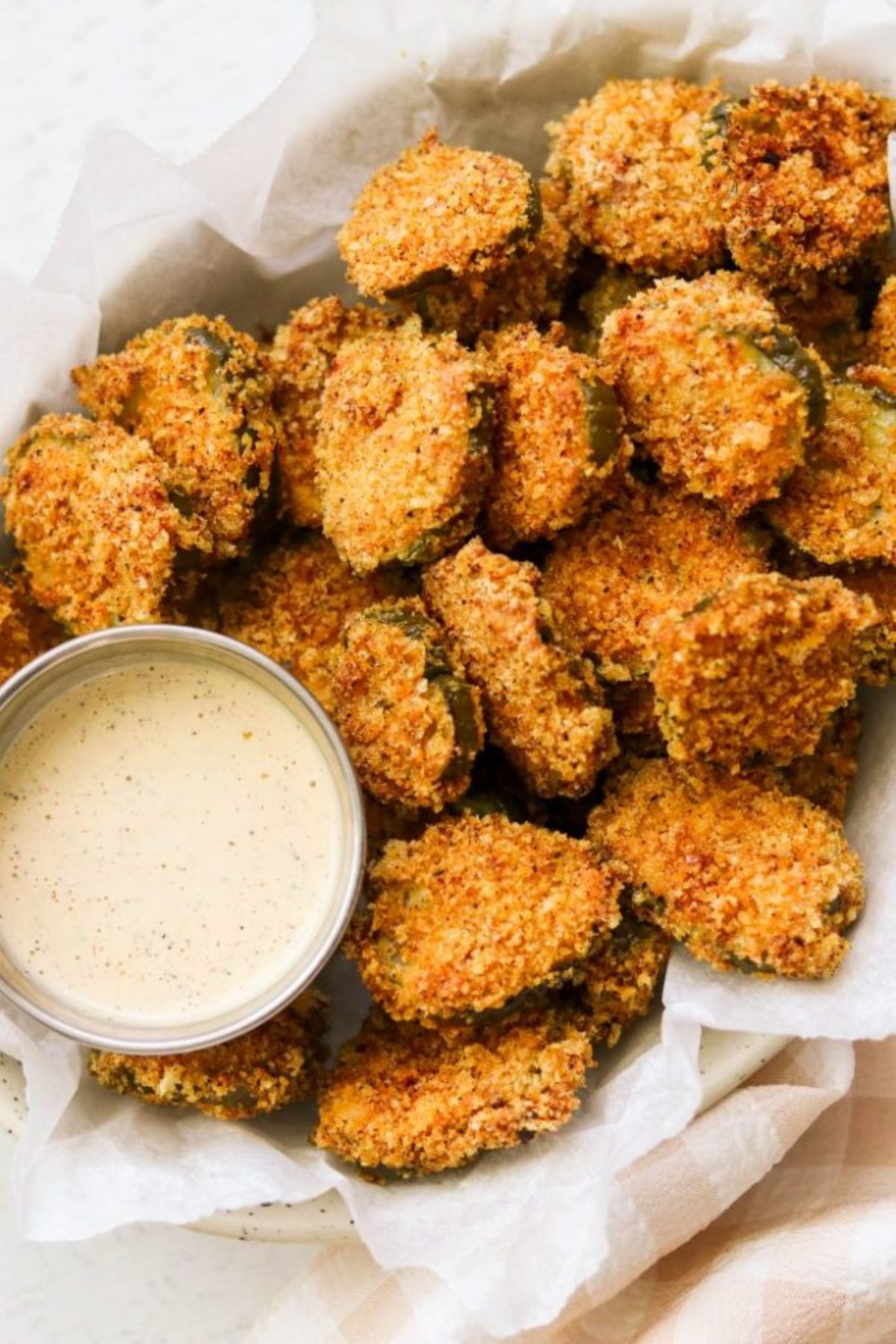 If you love fried pickles as much as What Great Grandma Ate does, then her keto-friendly version, covered in blitzed pork rinds, instead of breadcrumbs, will make you do a little dance of joy! Crunchy, salty, and so quick to make in the air fryer, you'll find yourself munching on them every weekend.
Zucchini fries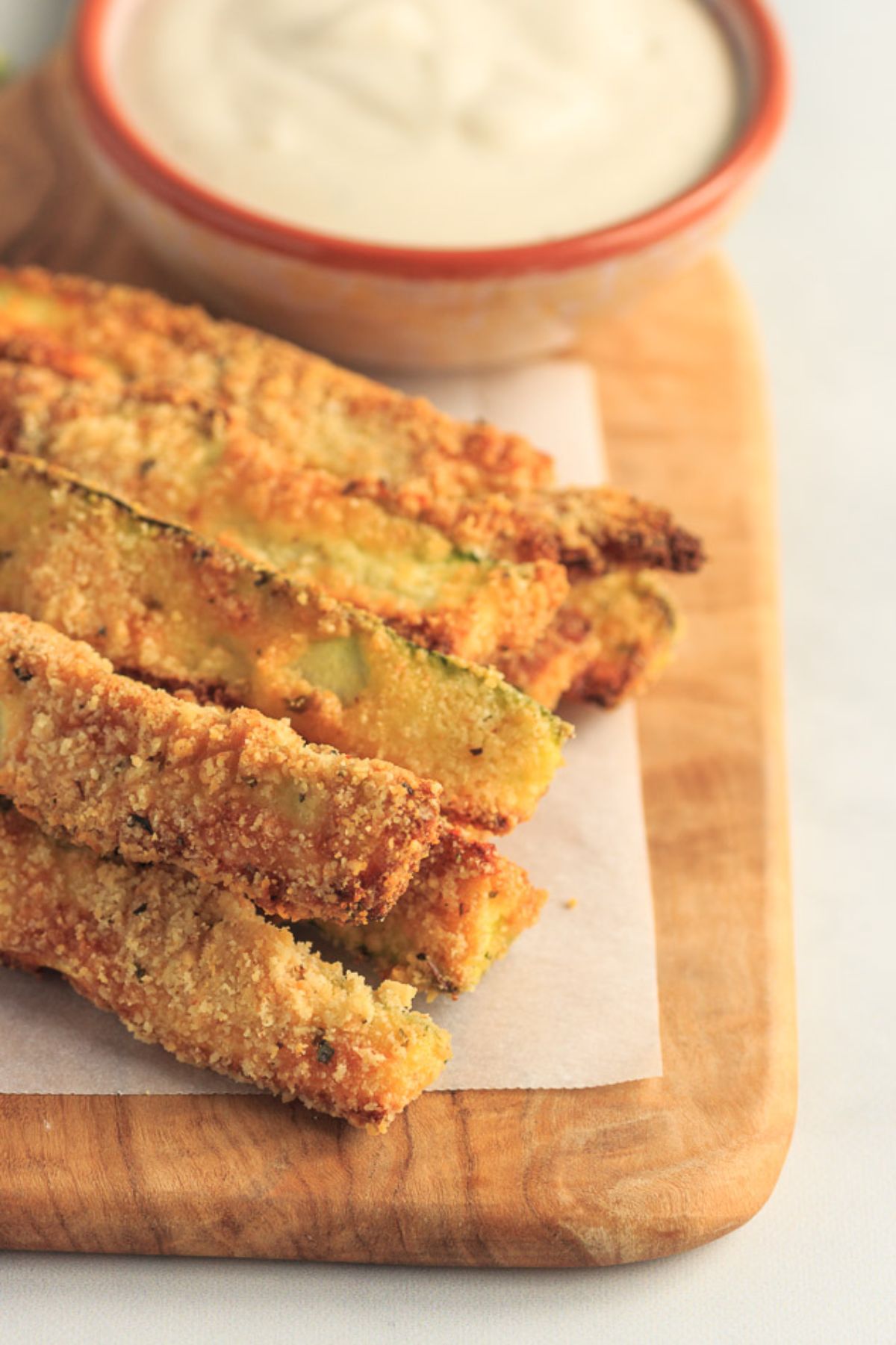 If you're used to making your zucchini fries in the oven, then come over here and let me blow your mind! With these instructions from Beauty and the Foodie, you can make them in the air fryer in only 10 minutes!
Cauliflower rice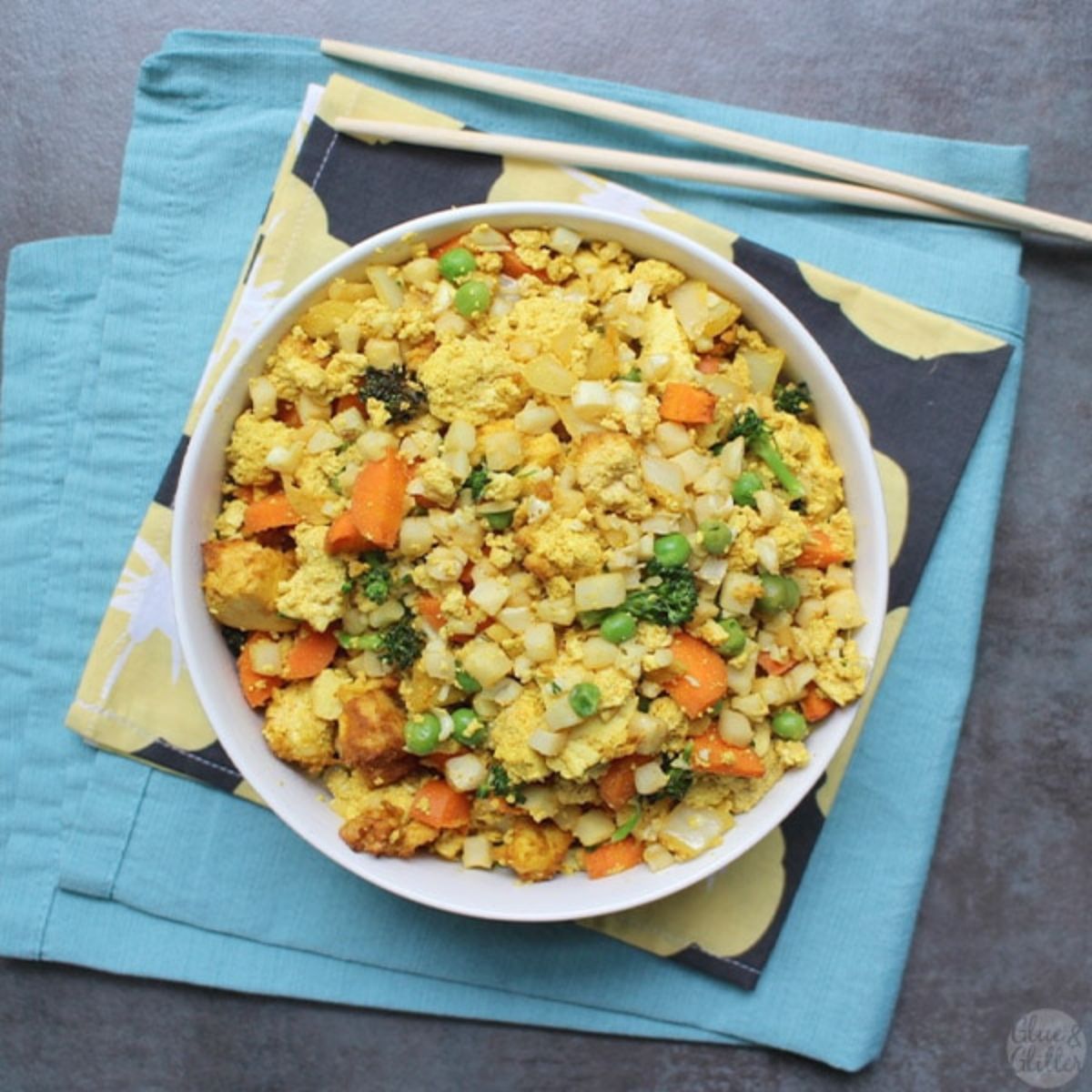 You'll have been keto for all of 5 minutes before you heard someone talk about cauliflower rice! It's the best way to feel like you're bulking out your meals, and to soak up all the delicious sauces you'll be cooking. Glue and Glitter has a great air fryer recipe for your cauliflower rice that you can adapt with your favorite veggies.
Green bean fries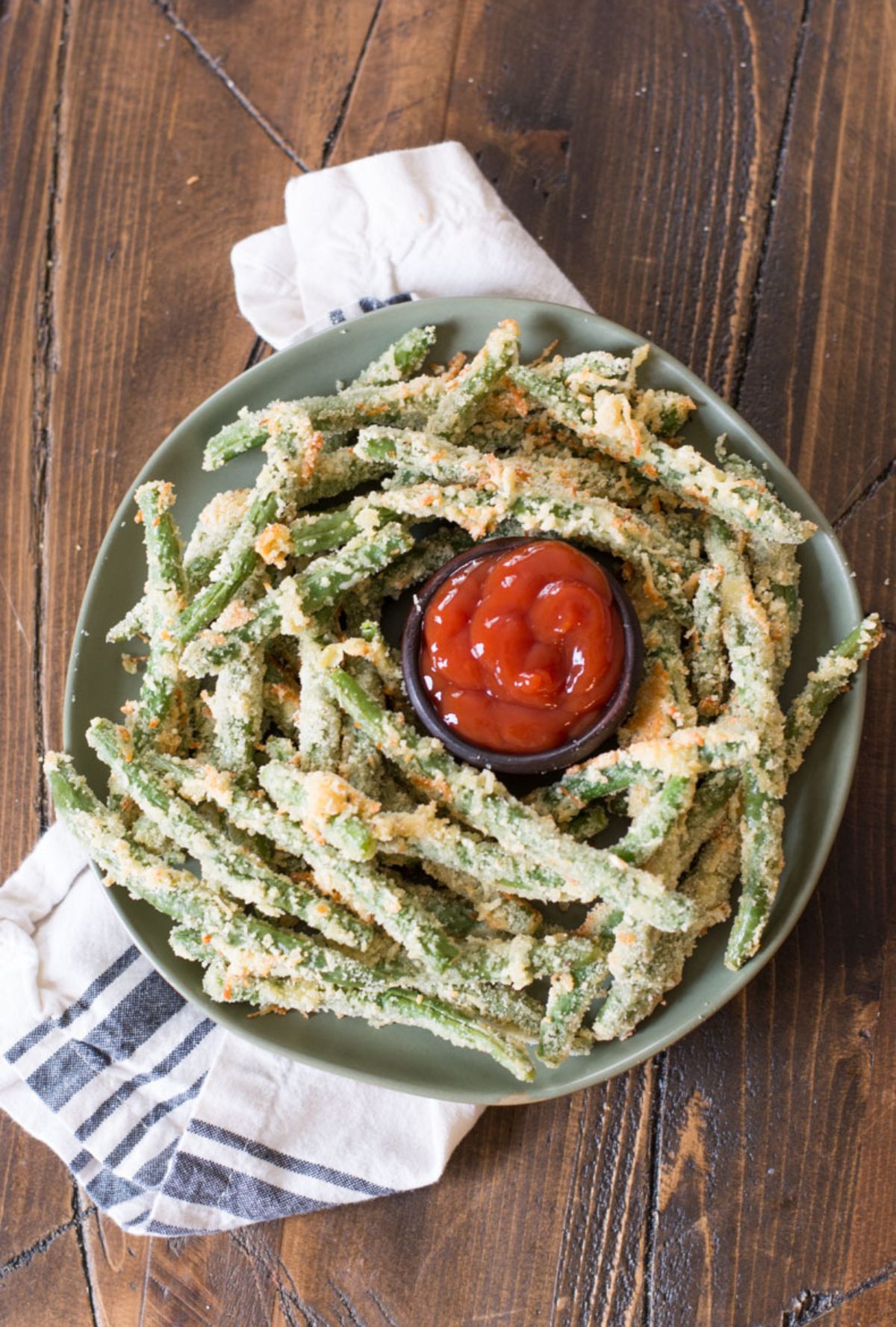 Maebells has come up with another brilliant appetizer for when you're craving a salty crunch. Green bean fries are crispy on the outside and gorgeously tender in the middle, and you can dip them in your favorite sauce to make them even tastier.
Turkey and mushroom patties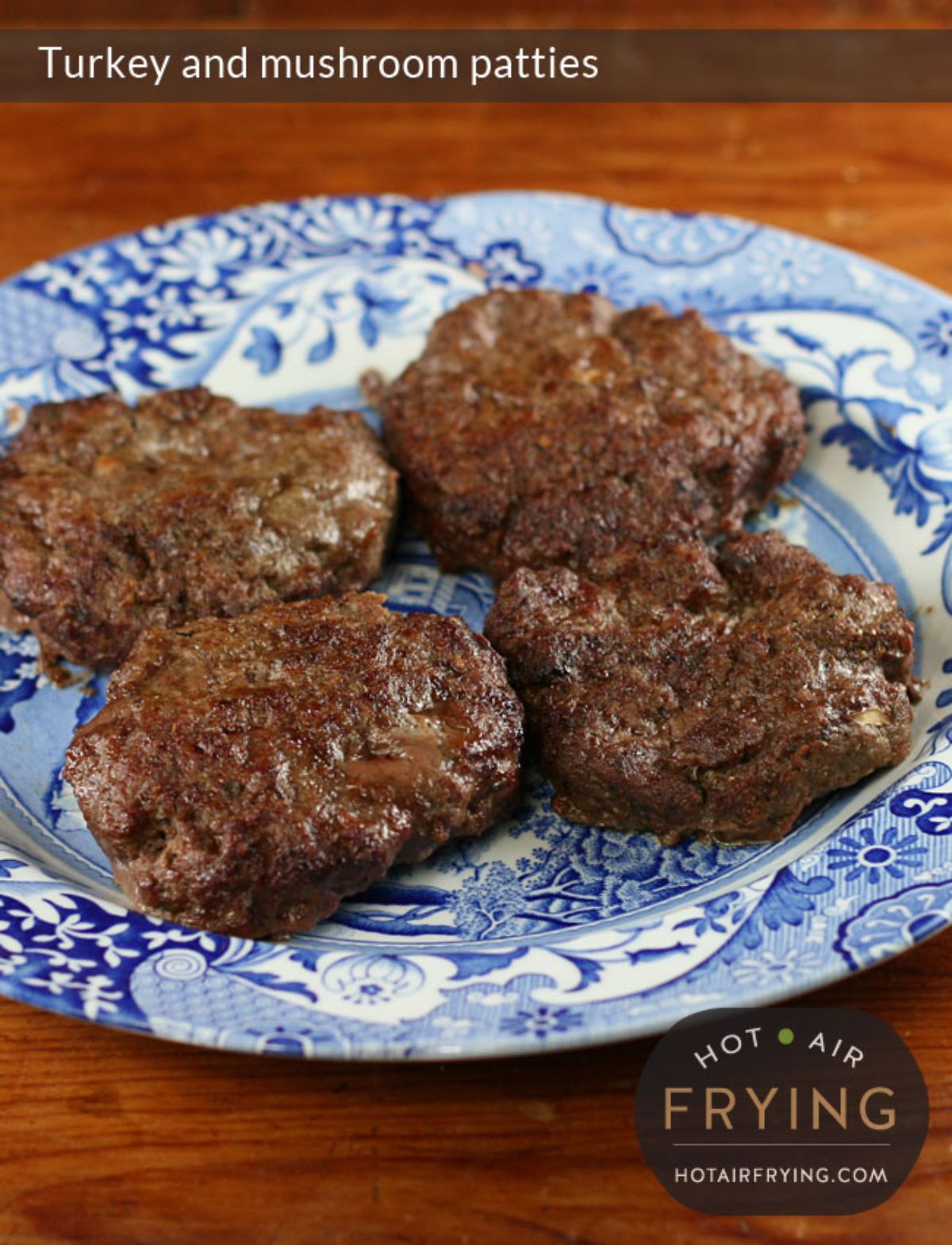 Looking for an alternative to your usual burger? This delicious patty from Hot Air Frying can be made in your air fryer in 20 minutes, and you can swap in your meat of choice to mix with the mushrooms.
Keto chicken parmesan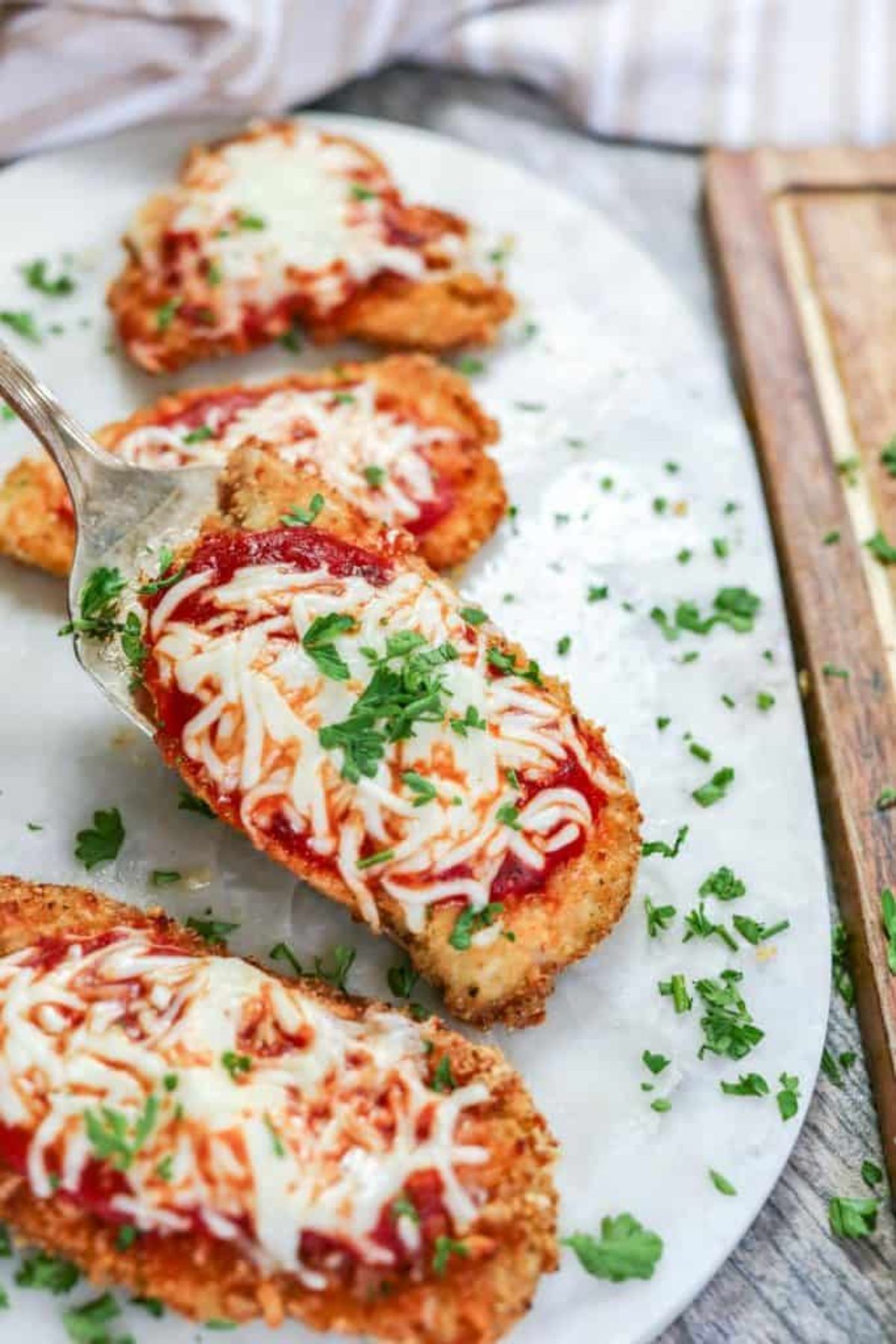 This is a great midweek keto-friendly dinner that all the family will love, and it only takes 30 minutes to make! The great thing about making something like this for your family dinner is that you can chow down on the chicken and some zoodles, whereas the rest of the family can have it with pasta. Stylish Cravings has all the info on their page.
Everything bagel chicken tenders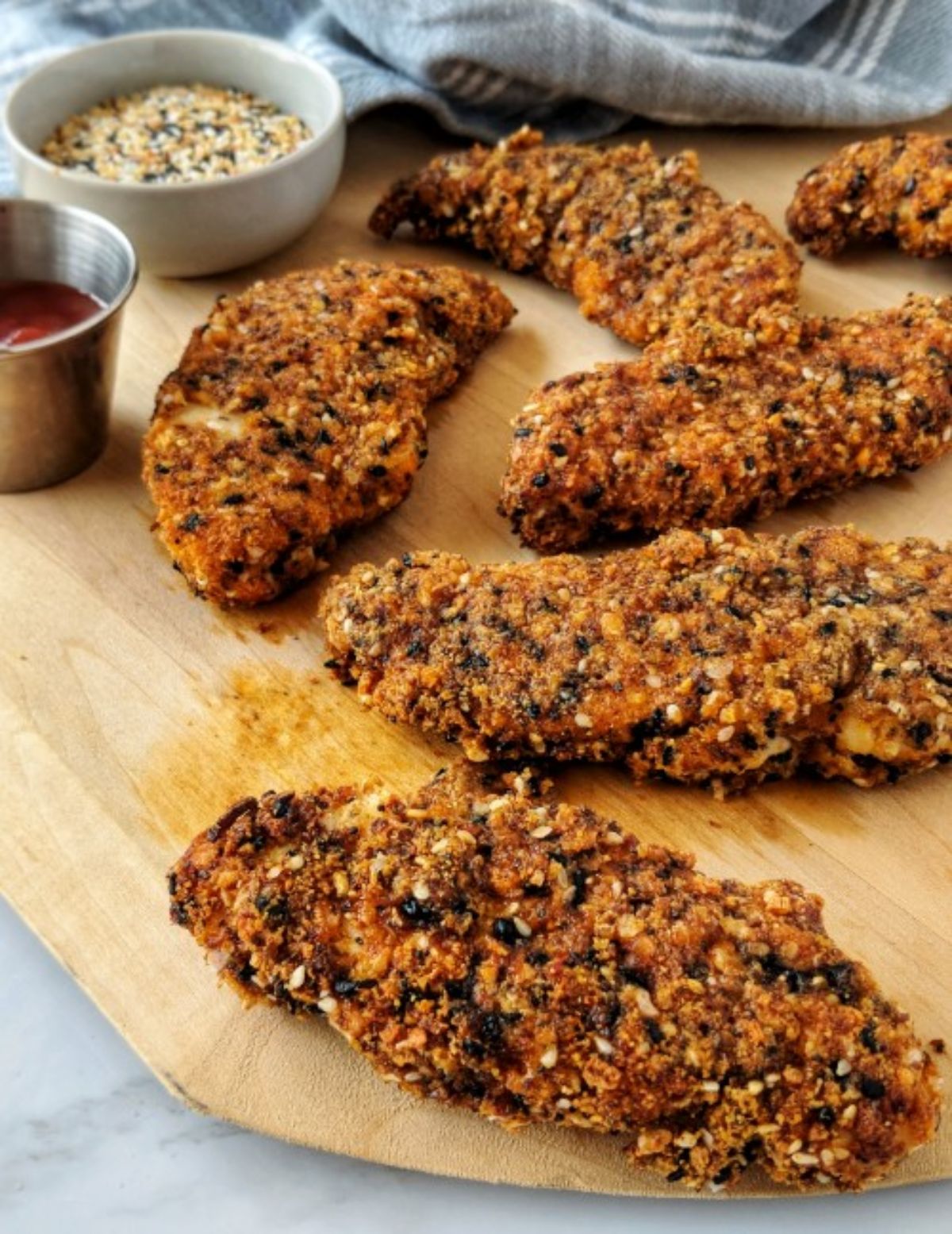 This gluten-free chicken recipe from Paleoish Kitchen is a great way to use everything bagel seasoning (one of my favorites!). Cooking them in the air fryer means they stay wonderfully juicy in the middle and crispy on the outside: just what you need for dipping into your favorite sauce. These are going to be your new keto afternoon snack!
Chicken cordon bleu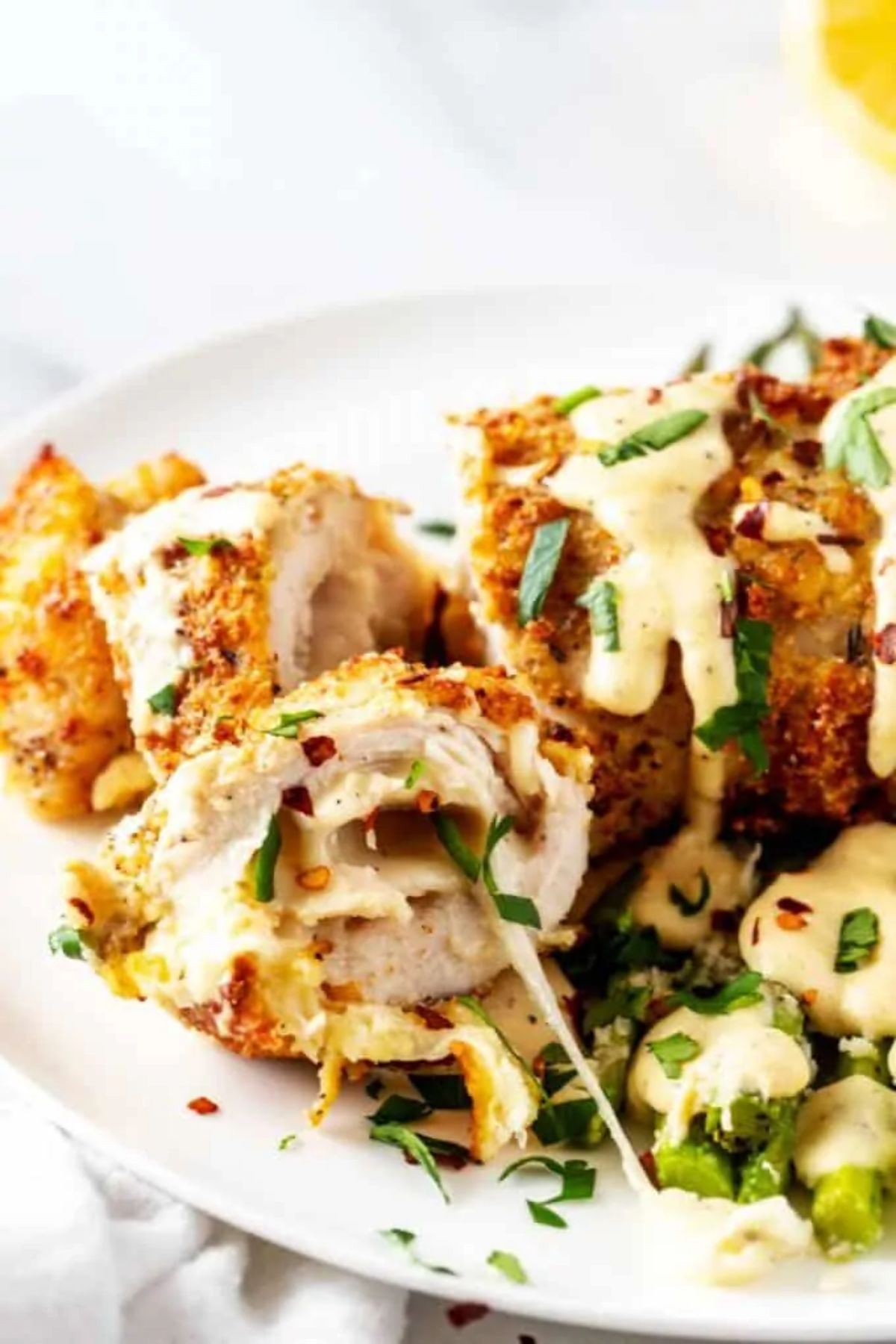 Are you looking for something a little bit fancy that you can make in your air fryer and serve up for the in-laws? Kicking Carbs' Keto Chicken Cordon Bleu is so easy that you won't break a sweat, and so delicious that everyone will be impressed.
Air fryer chicken wings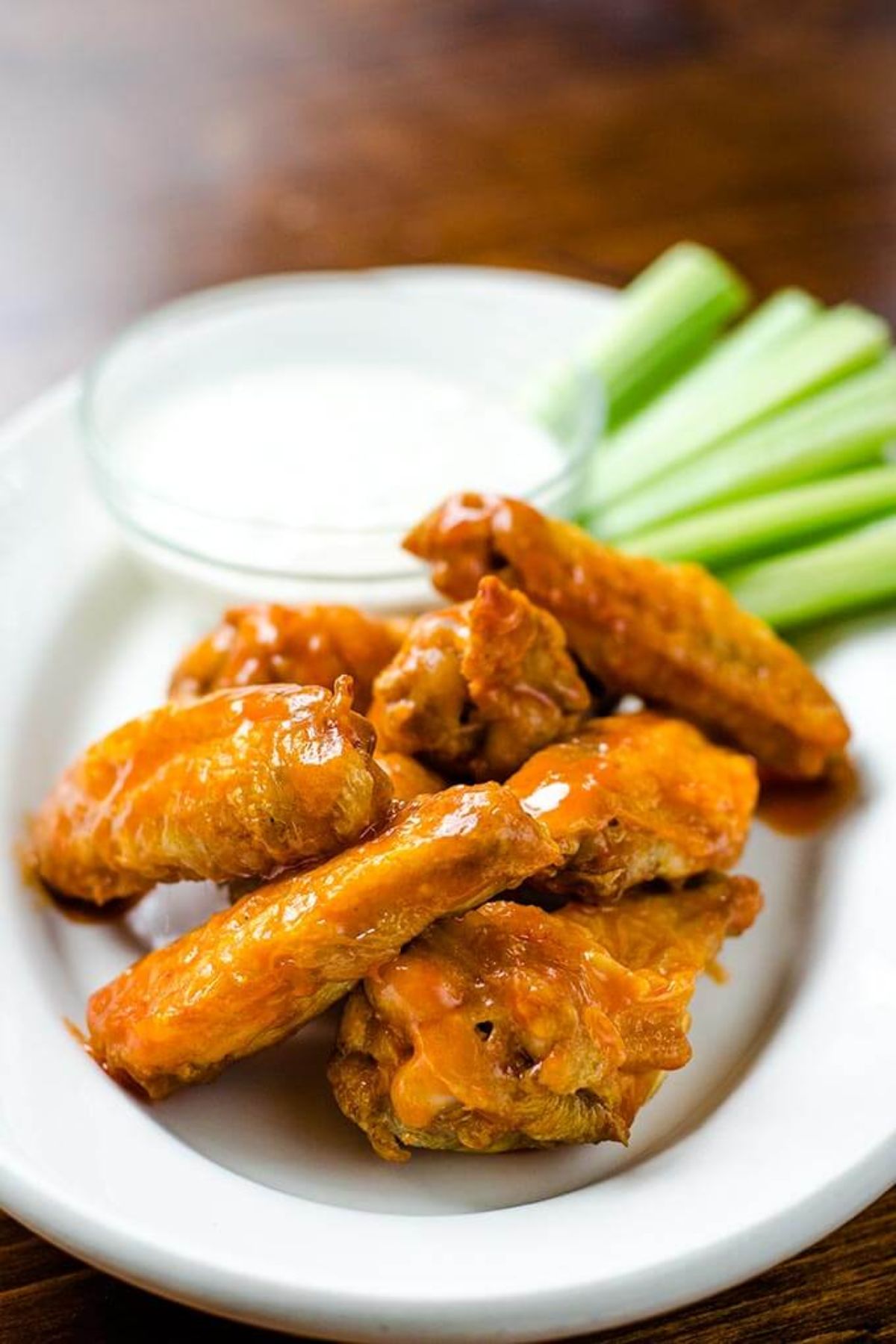 With a recipe for 2-ingredient Buffalo wing sauce, these chicken wings will keep all of your keto friends super-happy. Taking 30 minutes to cook, you can whip up the sauce in the meantime (and maybe pour some drinks). Cook Eat Paleo has your back.
Herb-marinated chicken thighs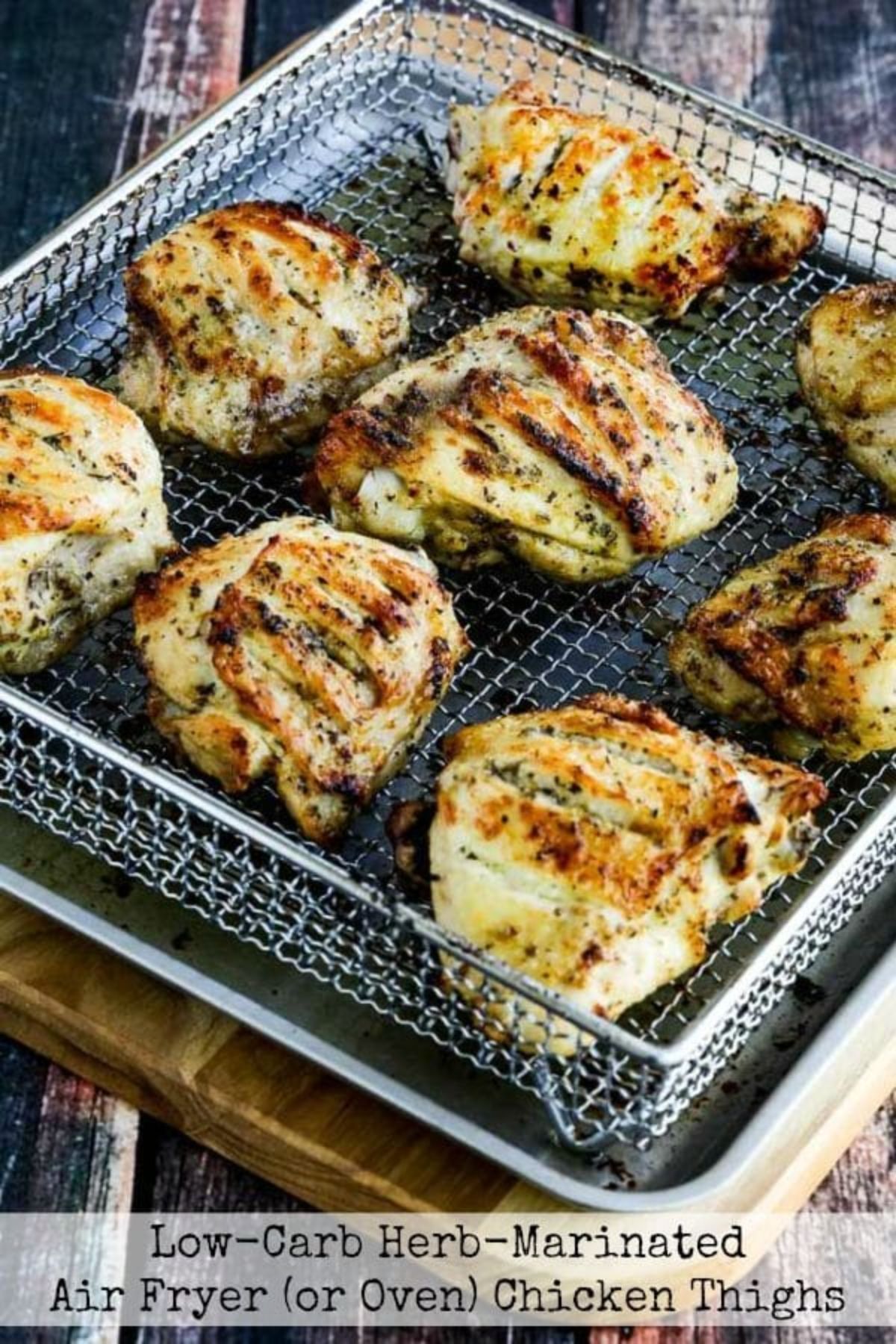 Kalyn's Kitchen has a chicken recipe that will have you rolling your eyes in delight at crispy skin and moist, flavorful meat. The garlic, lemon, and herb marinade is delicious and there are oven instructions too (if you're using your beloved air fryer for something else).
Chicken nuggets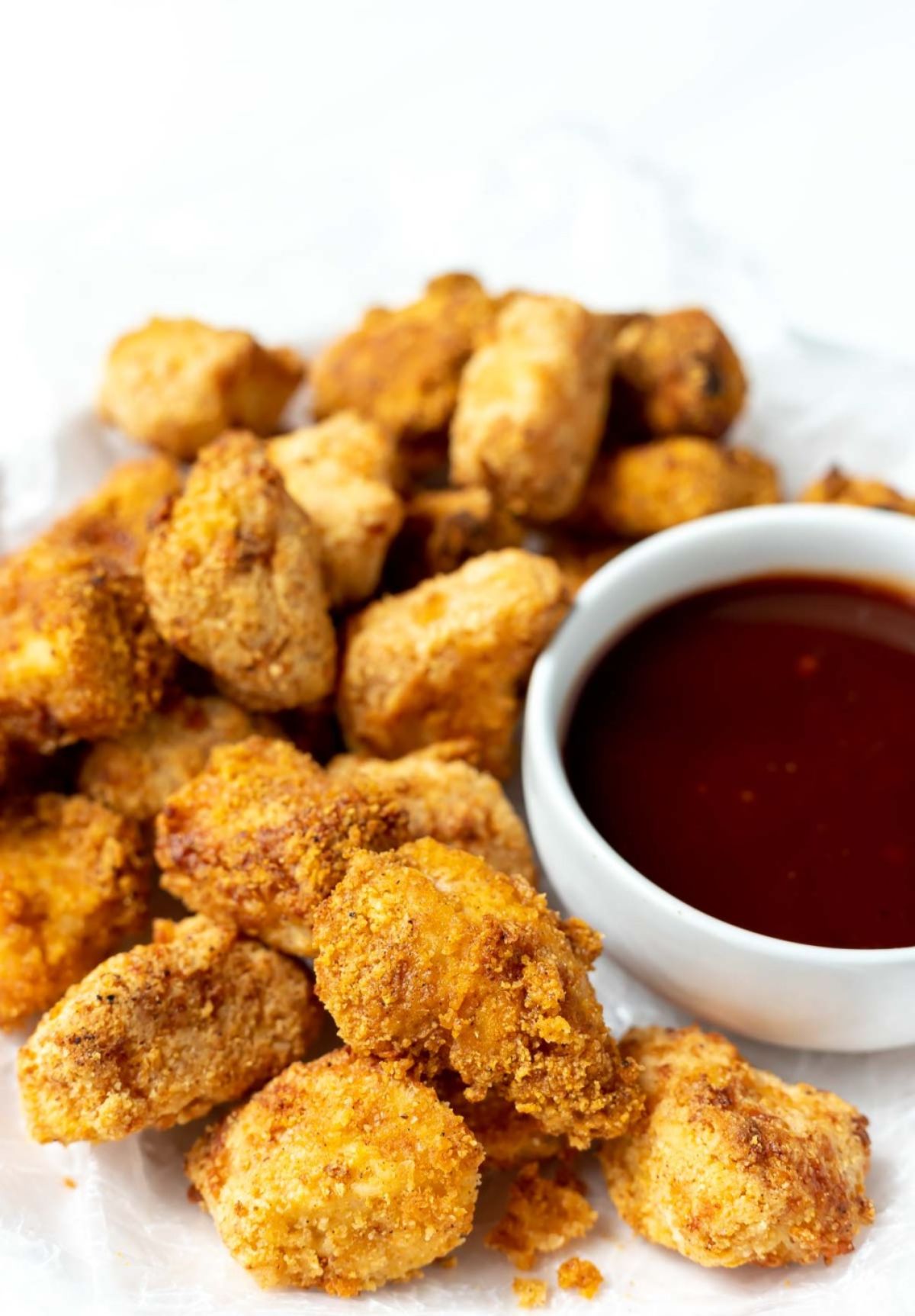 Delicious chicken nuggets without having to go to the drive-thru, or compromising your macros? Check! Wonky Wonderful can show you how to make these little balls of yumminess in the air fryer, and even your kids will love them!
Coconut chicken meatballs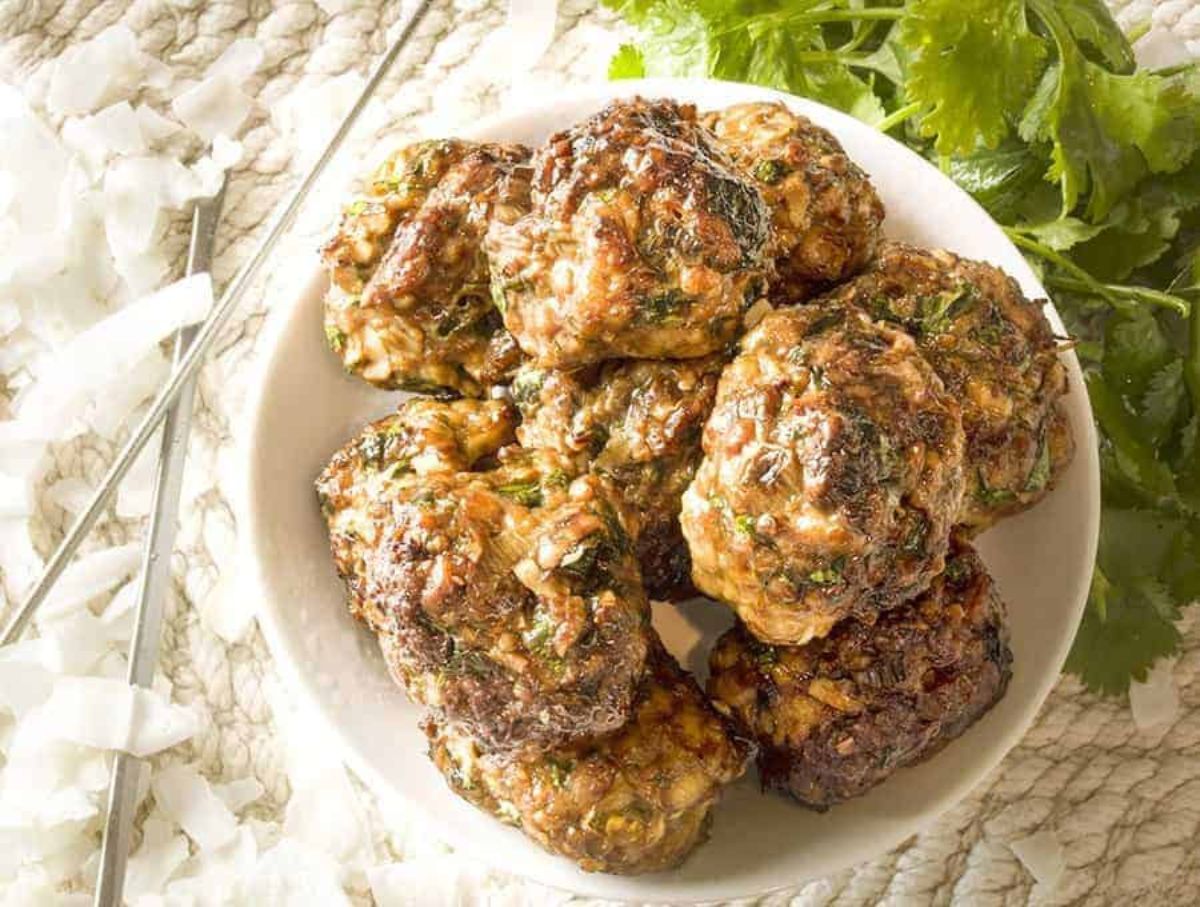 For melt-in-your-mouth chicken meatballs that fit easily into your keto diet, you can't do better than Two Sleevers' coconut chicken meatballs. They're delicious and so easy to make that you'll be cooking up batches all the time!
Buffalo chicken zucchini boats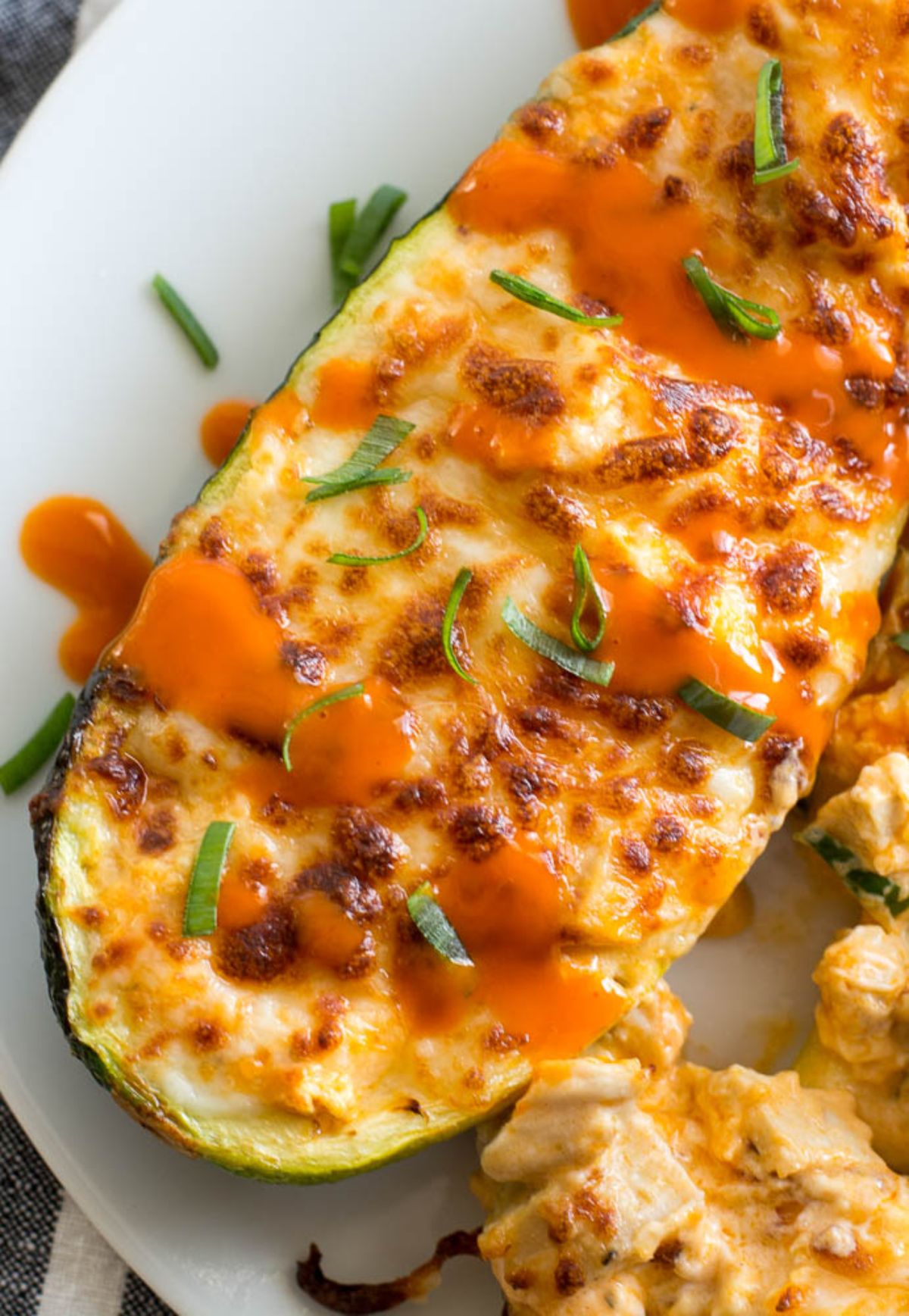 I do love a new and tasty way of using up my zucchinis These cheese-filled boats from Maebells are loaded with tangy buffalo sauce and delicious chicken, giving you all of the healthy fats and all of the taste that you'd want for the perfect supper.
Chinese-style spareribs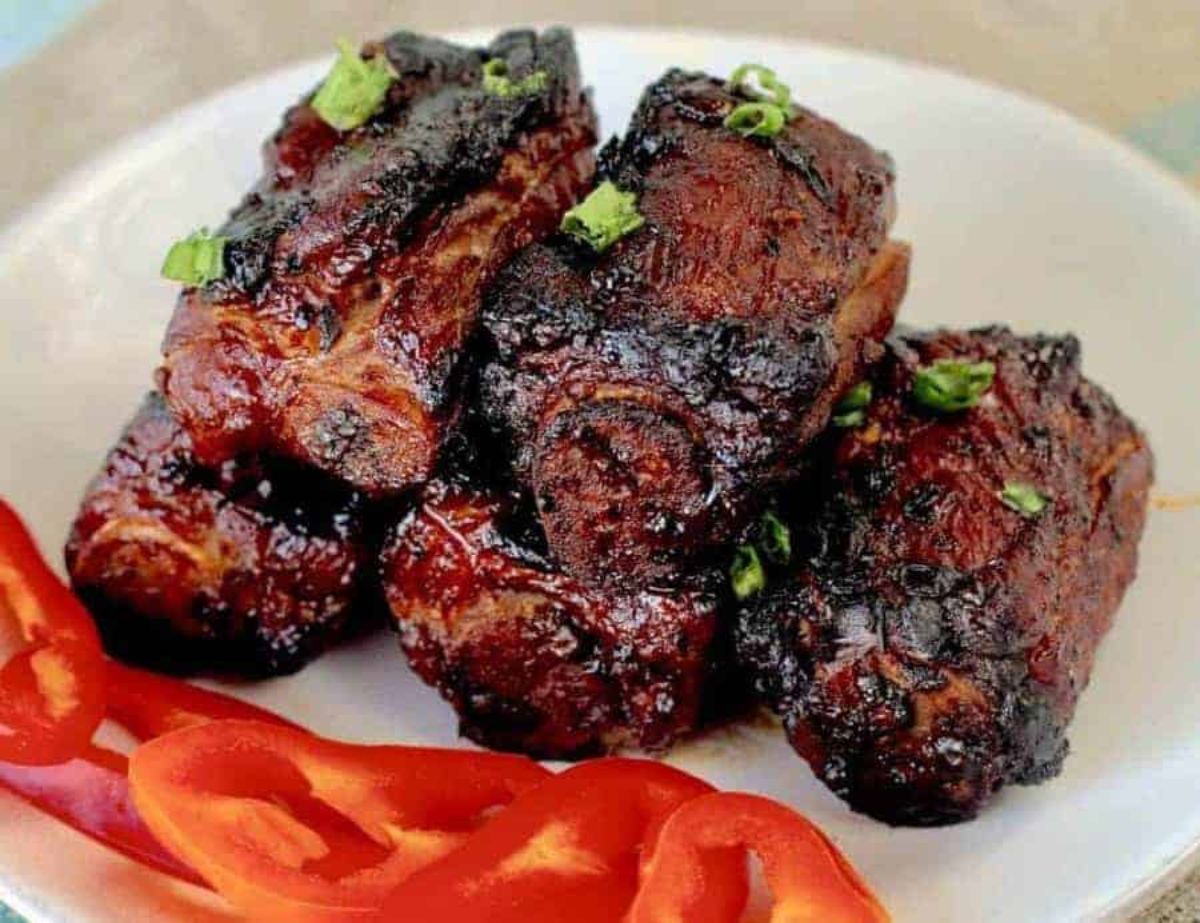 Coated in mouthwatering black bean sauce, these ribs from Two Sleevers use the magic of the air fryer to come out tender and chewy. Once you've introduced them into your household, you'll be fending off requests for them all the time.
Air fryer sausage balls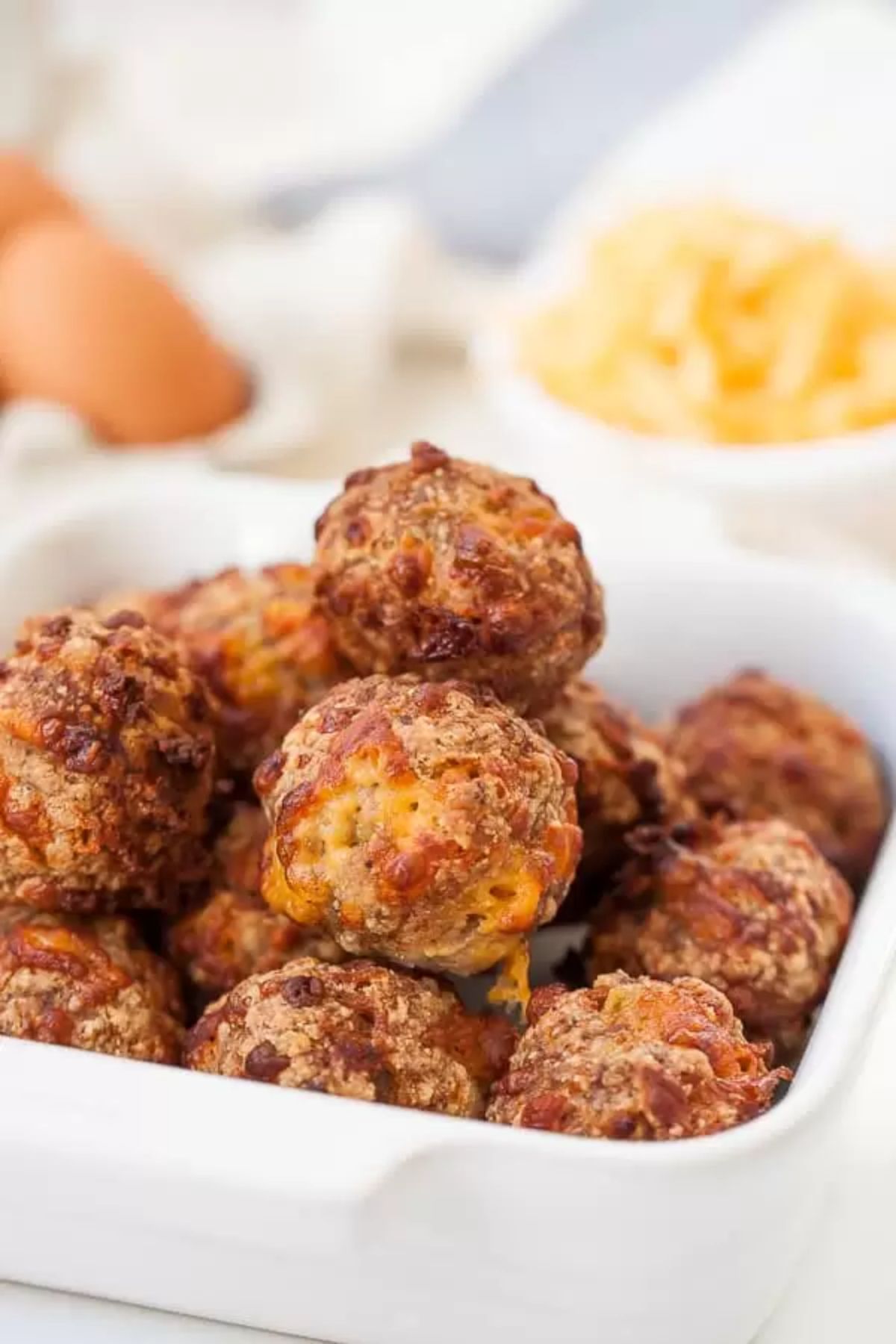 I would never have guessed that these balls of savory deliciousness only have 3 ingredients and take 20 minutes to cook! This is why the air fryer is awesome. Thyme and Joy have the recipe for this yummy keto game day snack over on their page.
Air fryer pork chops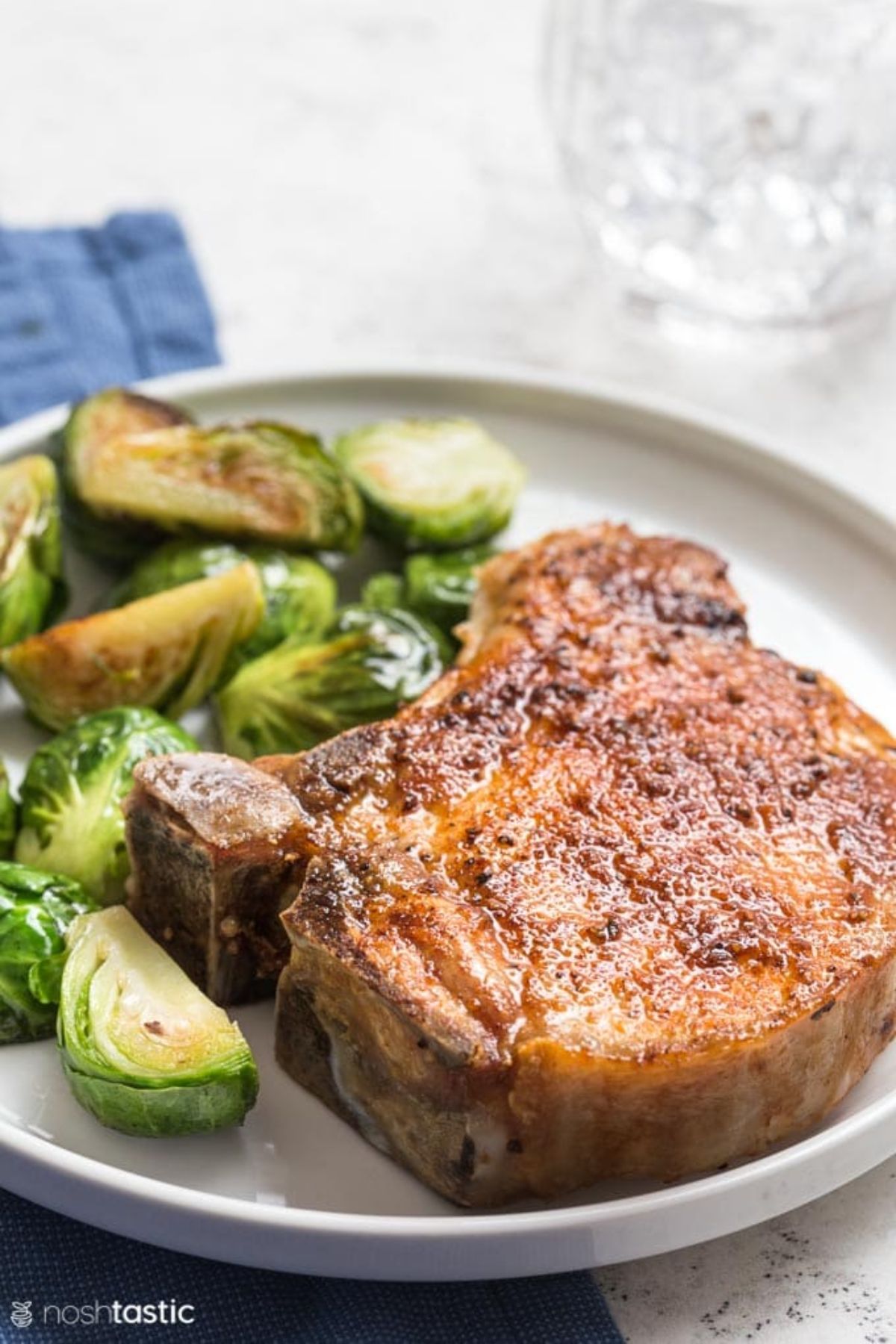 I adore pork chops. I could eat them all day, with butter, or apple sauce…yum! Noshtastic's air fryer pork chops recipe is totally keto-friendly and perfectly flavored with an easy-to-make seasoning blend. Sounds great to me!
Air fryer steak with garlic herb butter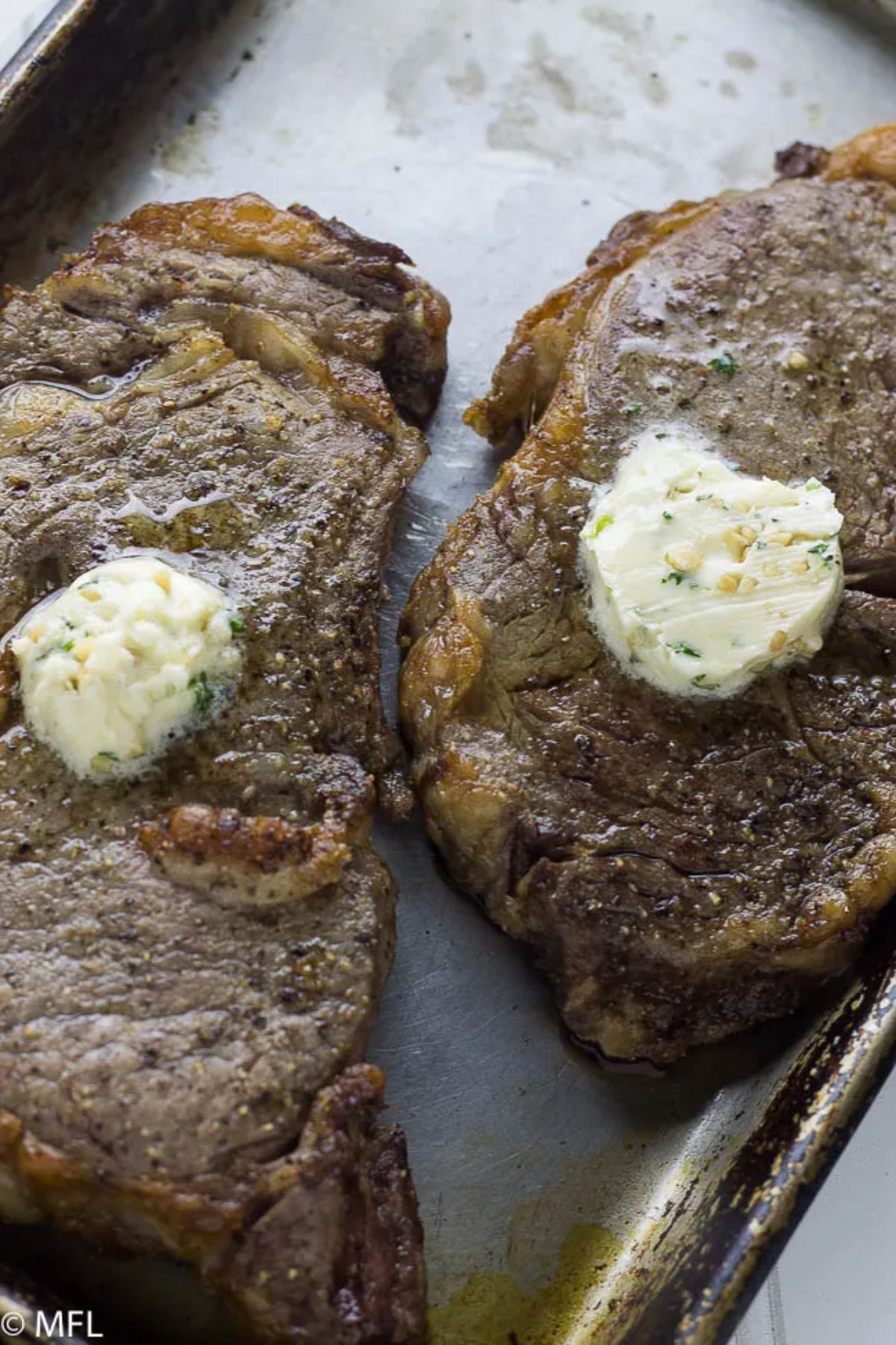 If beef is more your thing, then My Forking Life takes you through how your air fryer can make the perfect steak. Juicy and flavorful every time, the garlic herb butter is the finishing touch you've been looking for. Serve with some green bean fries, or cauliflower rice and you've got a dinner to be proud of.
Air-fried beef satay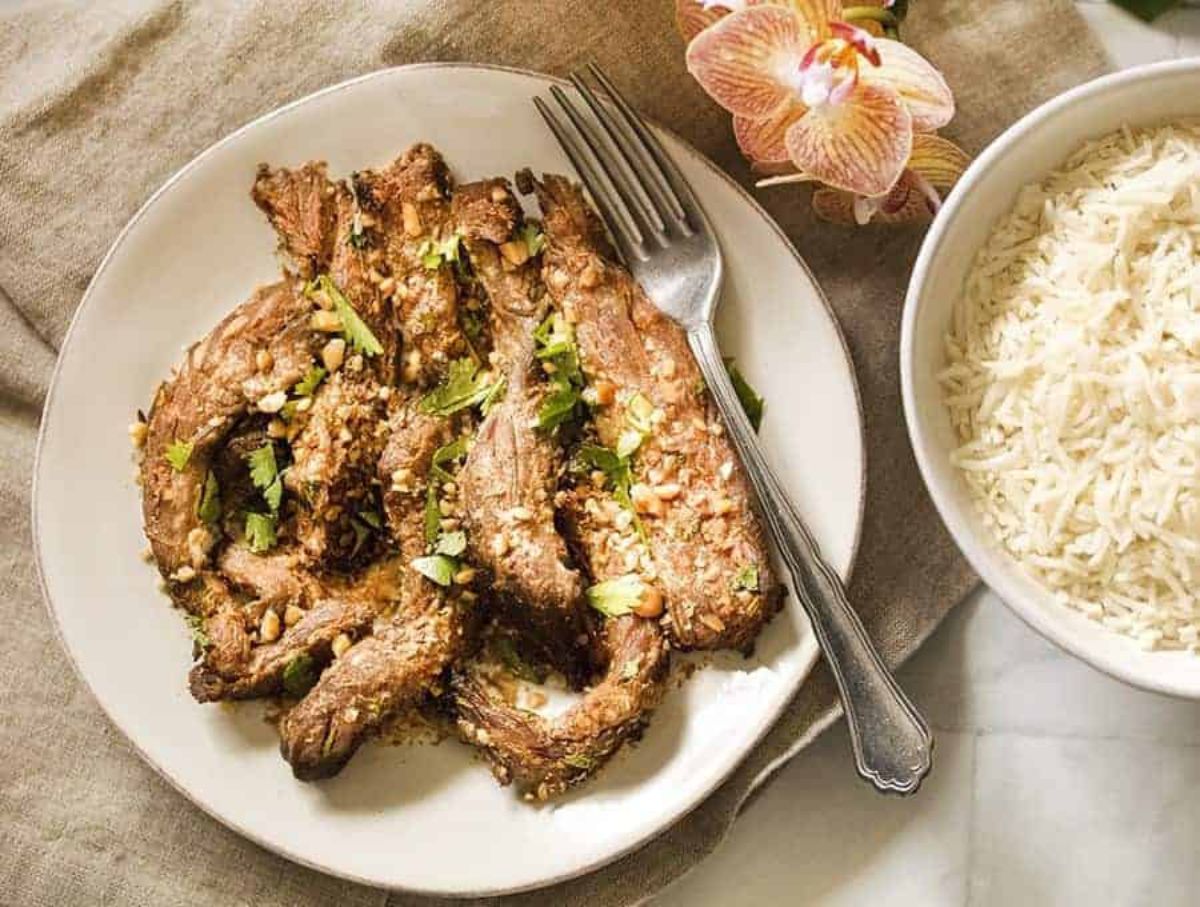 After 30 minutes of marinading in the most delicious mix of flavors, this authentic beef satay cooks in 10 minutes. Best served with cauliflower rice, it's perfectly keto-friendly using a sweetener equivalent that Two Sleevers recommends.
Keto coconut shrimp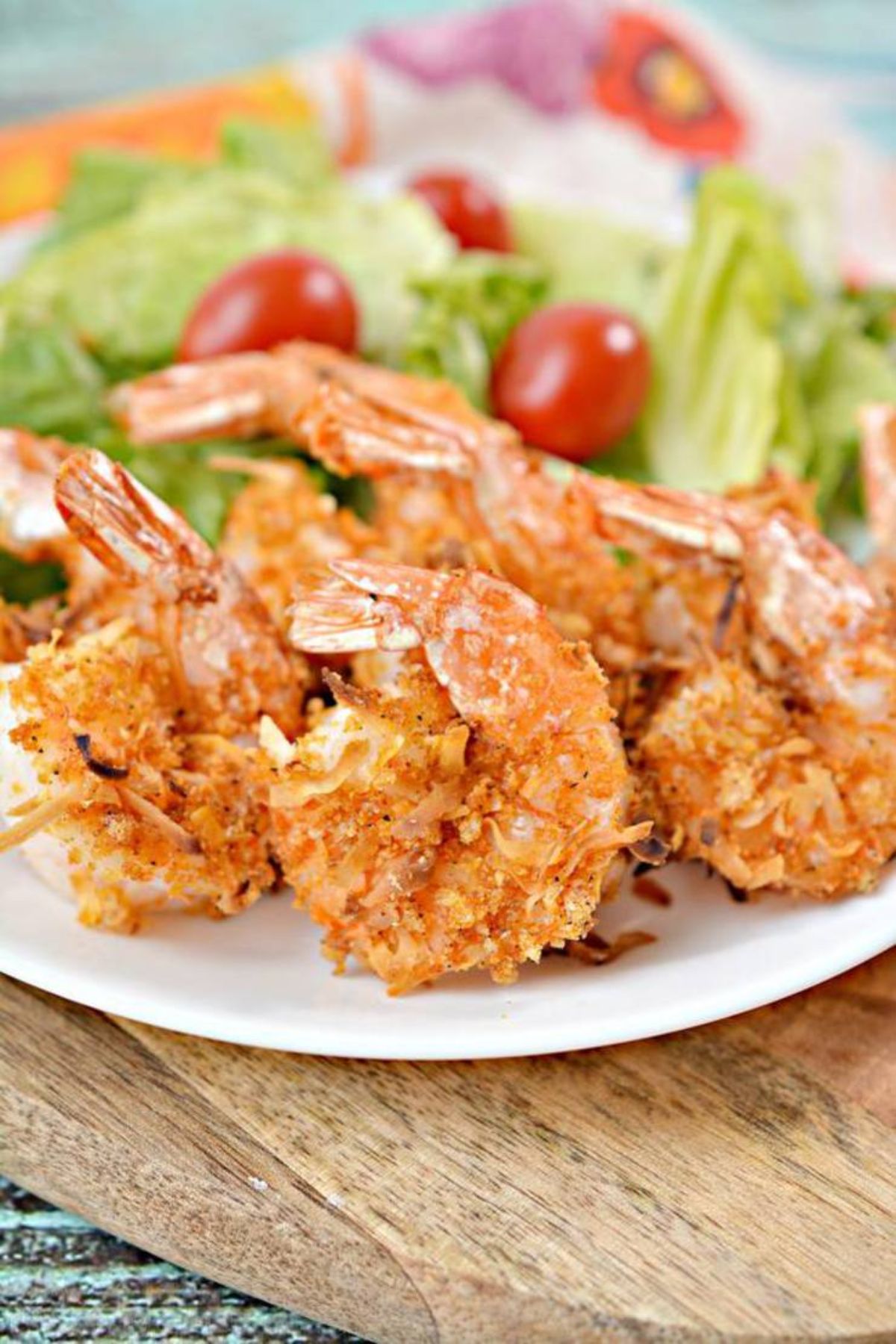 This low-carb appetizer from Kimspired DIY is completely keto-friendly, looks fabulous, and only takes 15 minutes. The shrimp are covered in coconut and pork rind mixture, and you'll need to make double because they're so tasty!
Air fryer crab cakes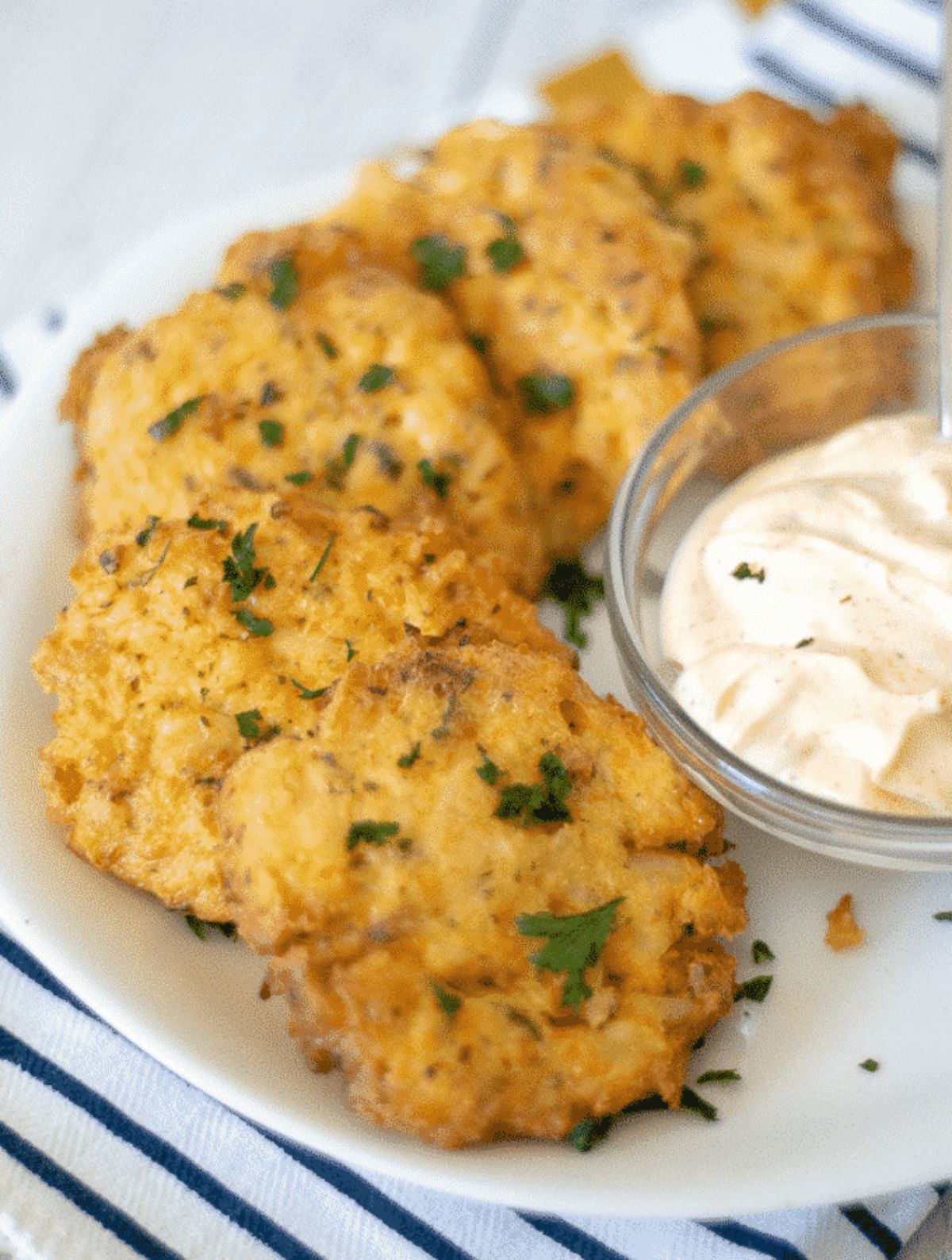 Continuing the fishy theme, these crab cakes by This Mom's Menu are so light and crispy that you'll eat 5 before you've realized. She also shows you how to make a silky and creamy lemon aioli dip to die for.
Easy air fryer salmon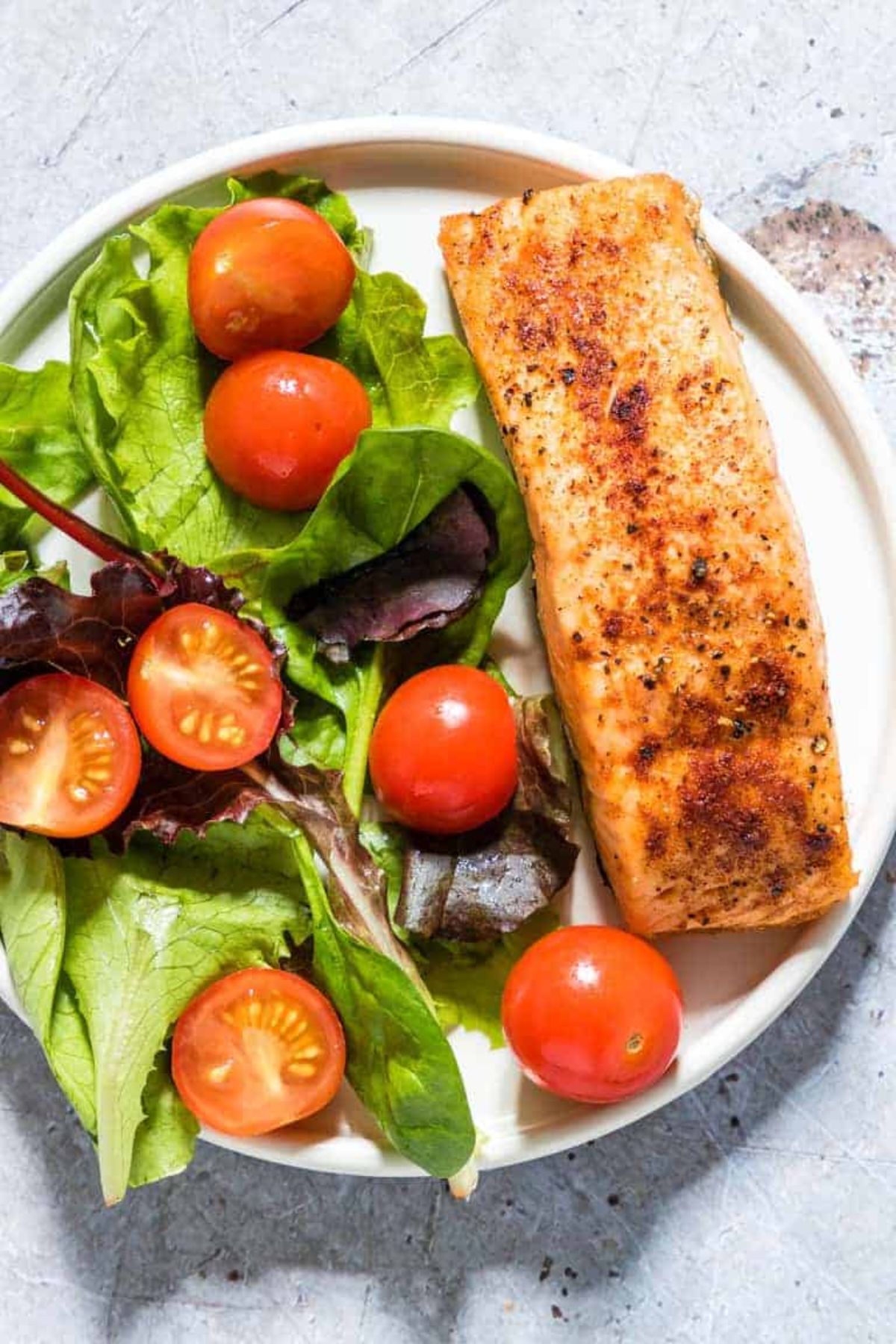 Ever wondered how you can make juicy salmon fillets in your air fryer? Head to Recipes from a Pantry to find out. This keto salmon recipe is ready in less than 15 minutes and the whole family will tuck in happily. You can add whatever your current favorite sides are to complete your meal.
Keto fish sticks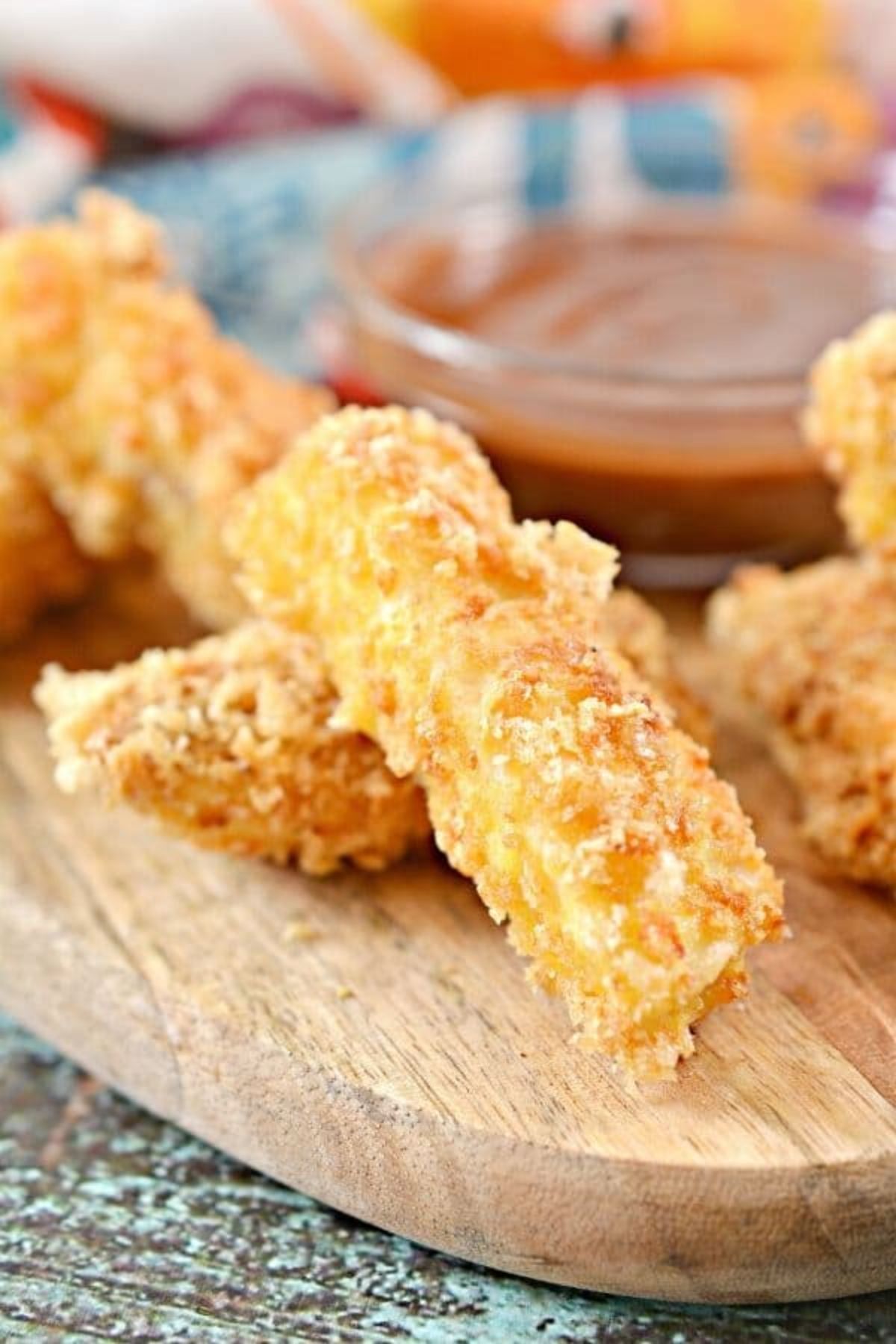 For the deep-fried fish stick flavor without the bread, or the excess oil dripping everywhere, Bake Me Some Sugar's recipe is great. You can use any firm white fish, and it has the salty delicious flavor of pork rinds as the covering.
Broiled tilapia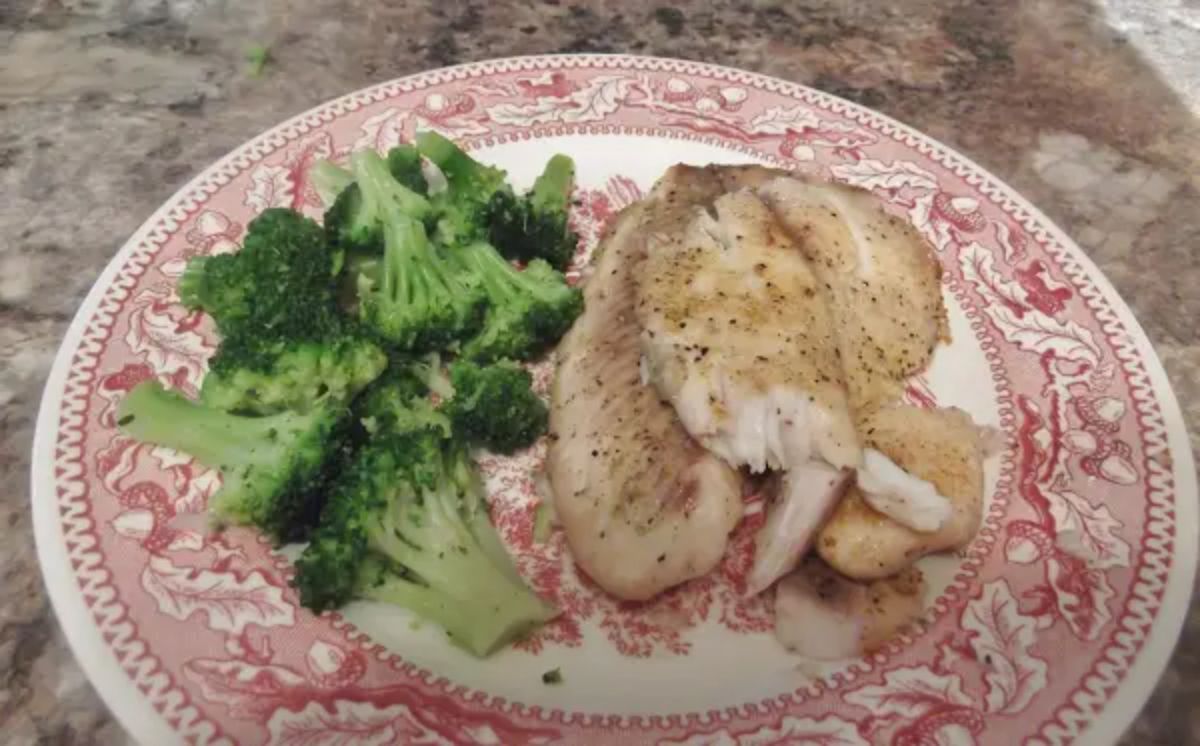 Some nights you just want something a little simple for supper. Just a Pinch shows you how to broil tilapia fillets in your air fryer in no time at all, without frying it out. You can load it with sauce if you like, or keep things simple with some green vegetables. Either way, it's delicious.
Air fryer mozzarella sticks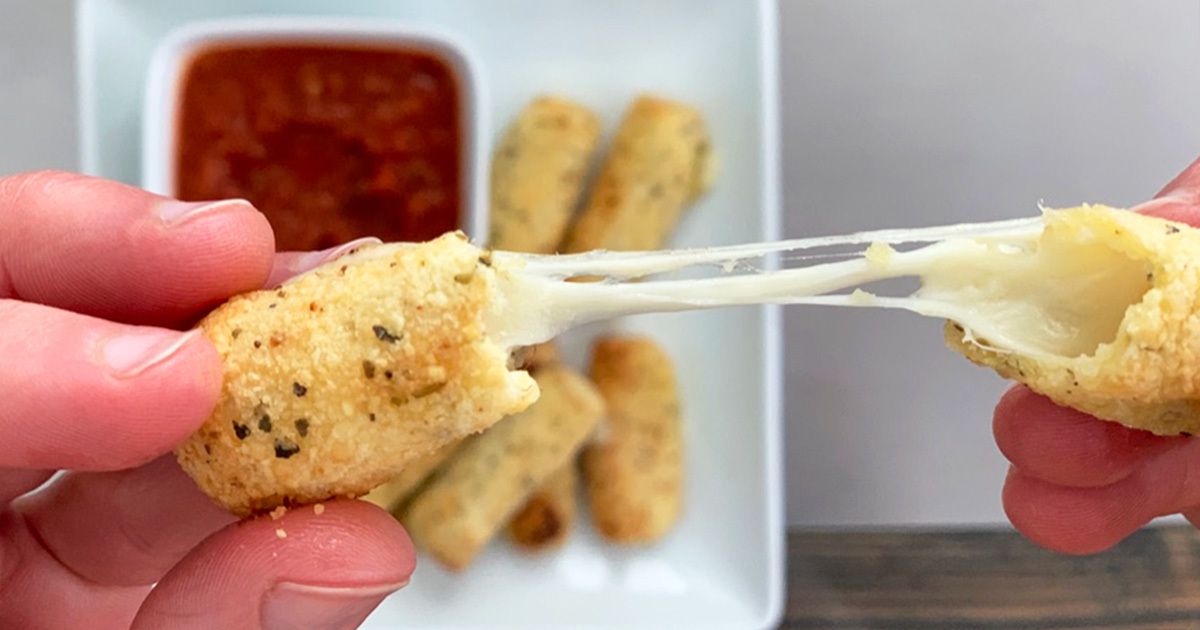 Not only has Hip 2 Keto provided a recipe for these gooey, crispy cheese sticks, but there are also a list of no-fail cooking tips and a How-To video, just to cover all bases! If you love fried cheese as much as I do (which is a LOT!) then you'll love these keto mozzarella sticks.
Air fryer scotch eggs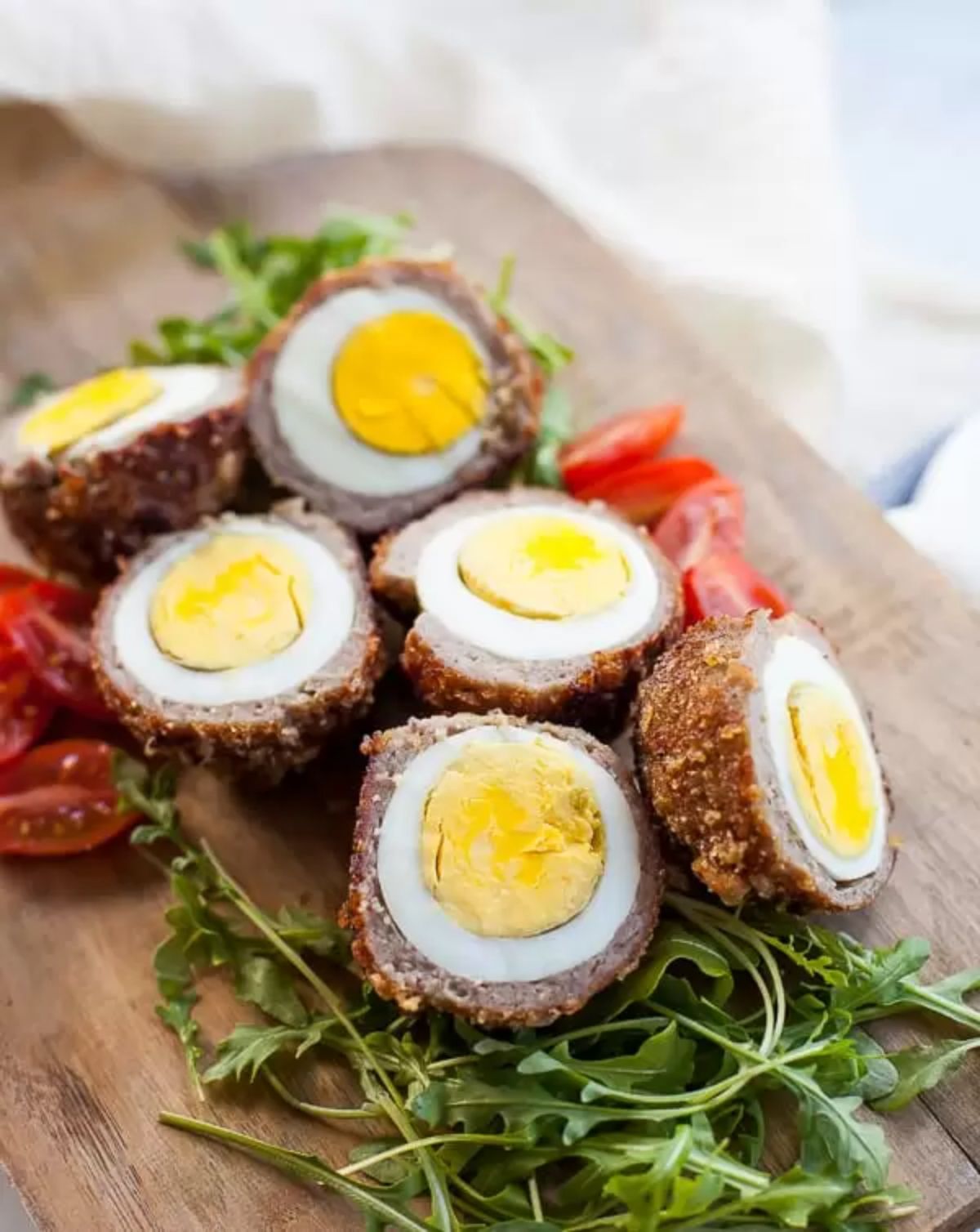 I tried to make scotch eggs once before and gave up in a huff as it all fell apart. These air fryer scotch eggs from Thyme and Joy were a whole different story: 3 ingredients, an air fryer, and no disintegrating snacks! Everyone loved them, and I was very pleased with the result.
Air fryer hard-boiled eggs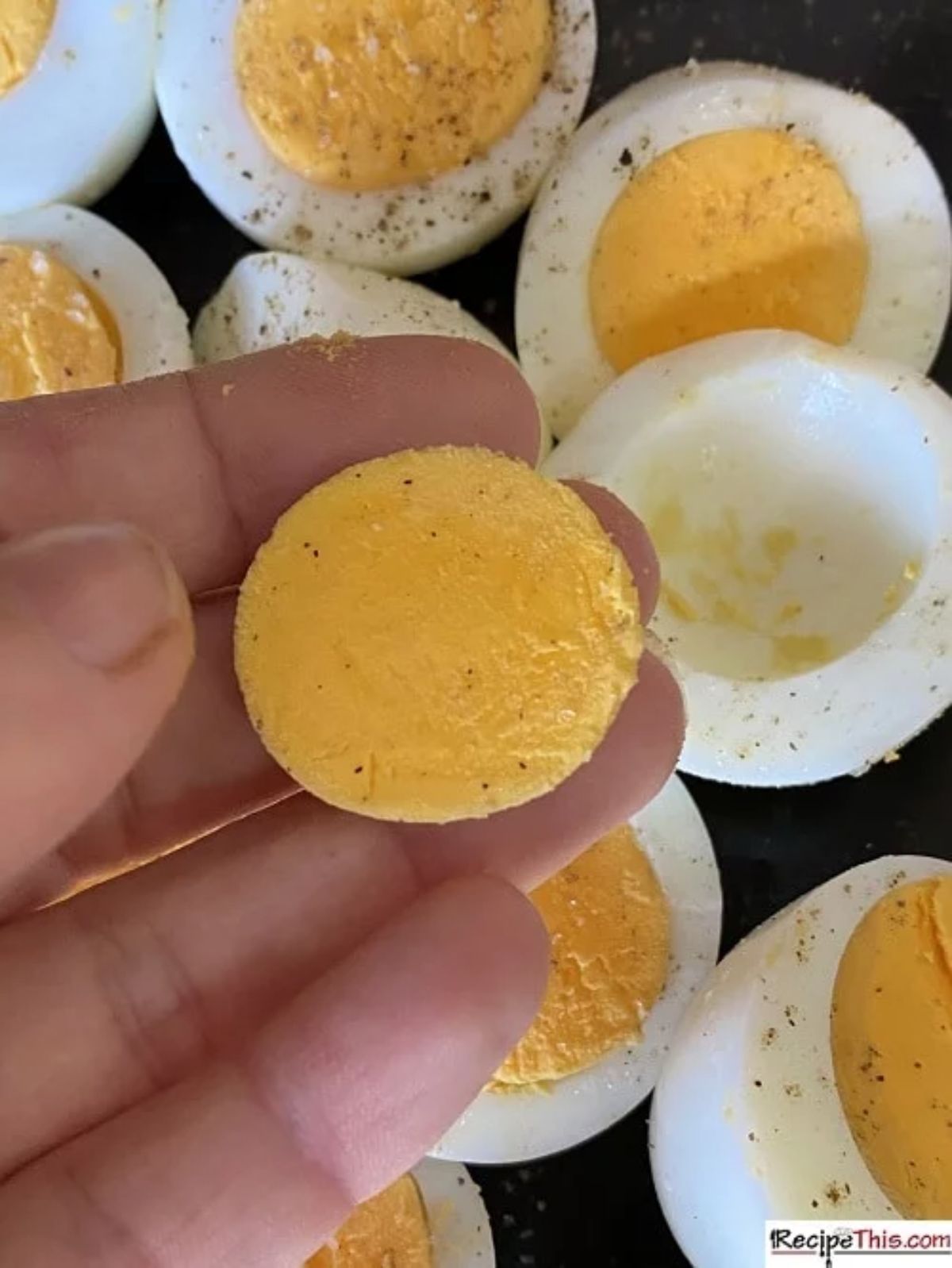 I know, this might sound bonkers, but you really can cook hard-boiled eggs in the air fryer! Recipe This shows you how to use this real cooking hack, which will mean boiled eggs for your salads are just minutes away.
Air fryer brownies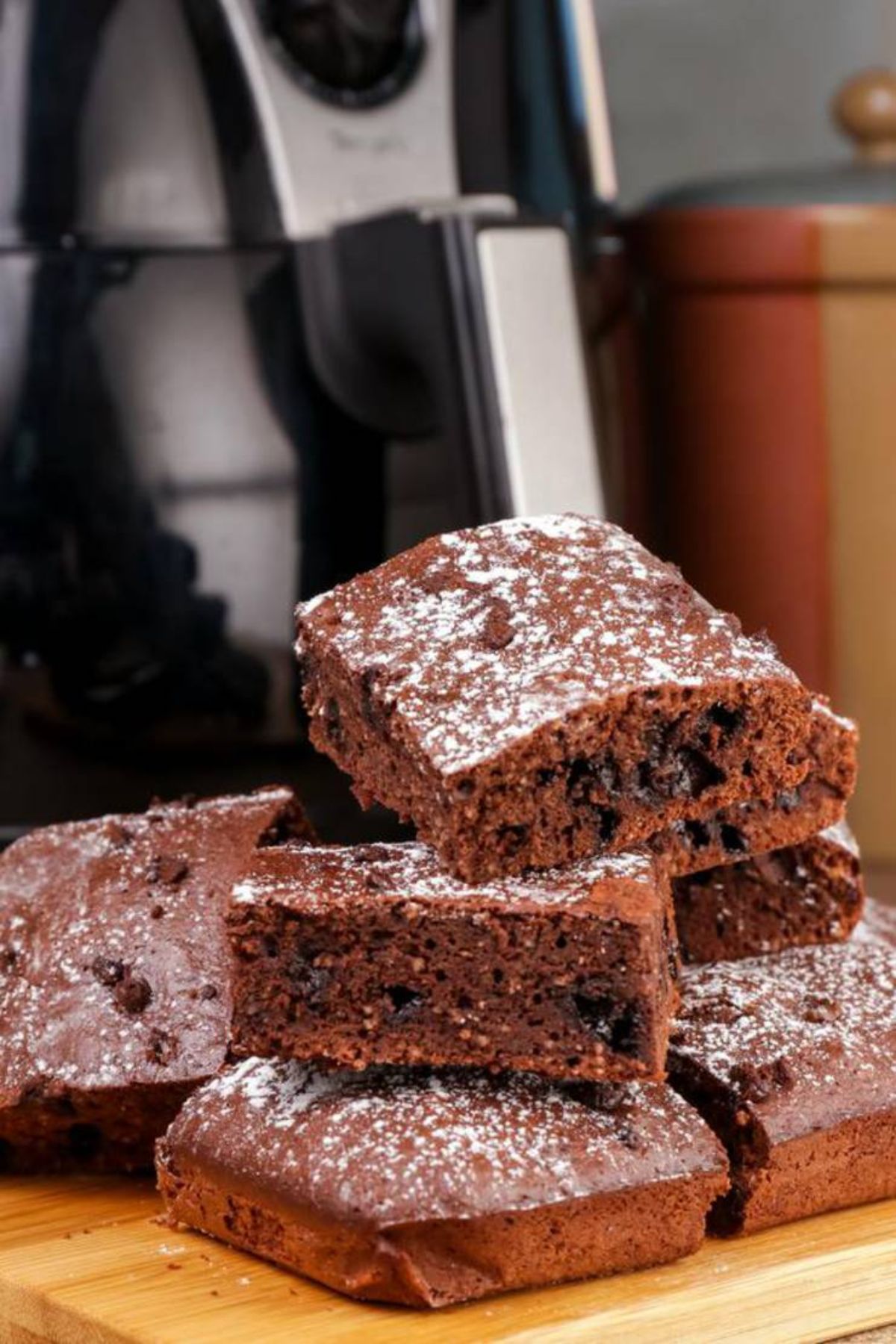 I couldn't finish this round-up without giving you this little treat at the end. Brownies made in your air fryer! Kimspired DIY's keto brownie recipe will give you fudgy brownies, full of flavor without being full of carbs. You're welcome!