There are days when the only thing that will satisfy is something sweet, creamy, and filling. Cinnamon donuts are great, so are brownies, and sure you could snack on a boiled egg.
But when you really want something that feels indulgent but fits with your diet, then you need to know how to make keto cheesecake. Thankfully, we've scoured the web for the best keto cheesecakes out there. You can thank us later!
New York Cheesecake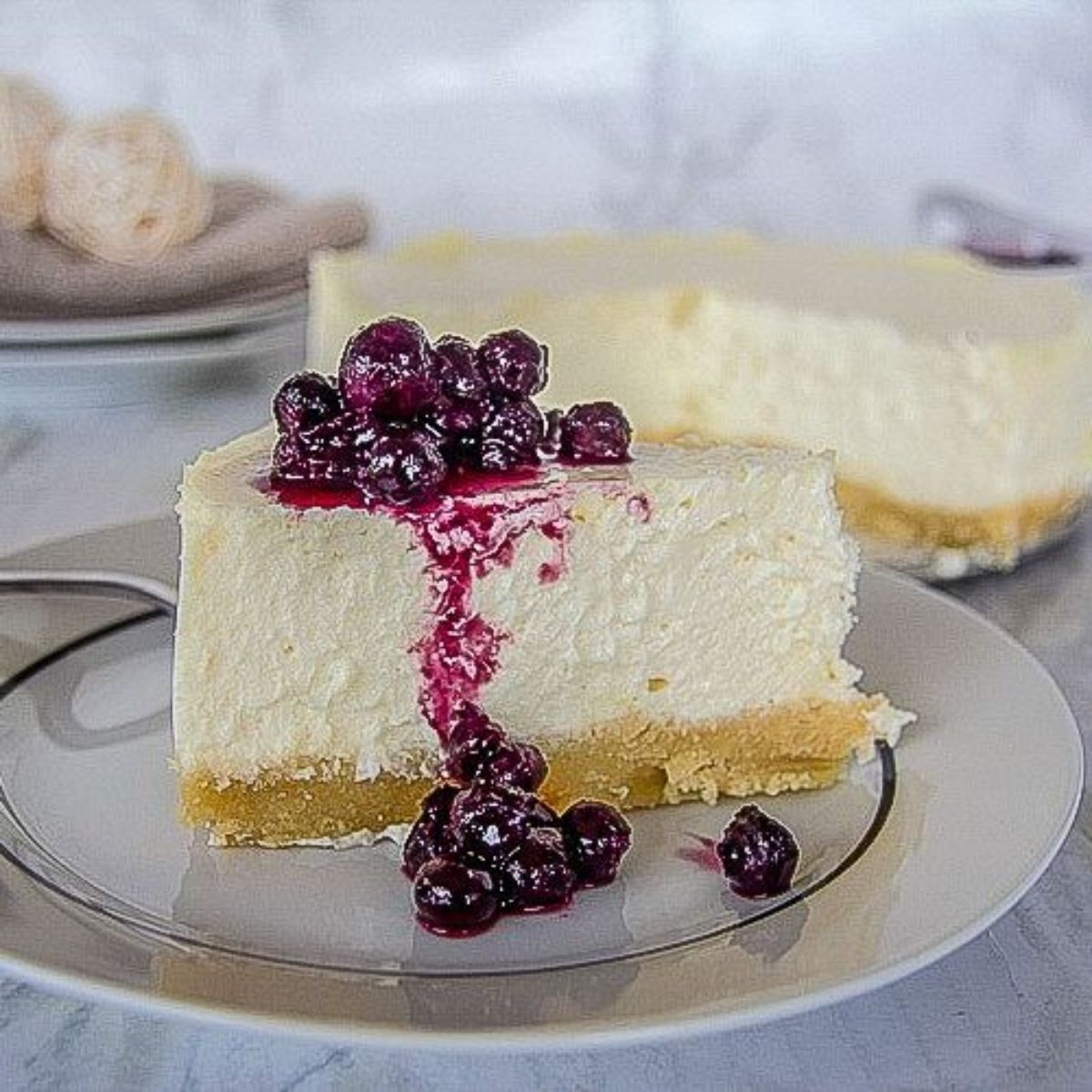 The classics are the best, and this New York cheesecake from Divalicious Recipes is super-simple and made using a water bath to keep it really creamy.
Key lime no-bake cheesecake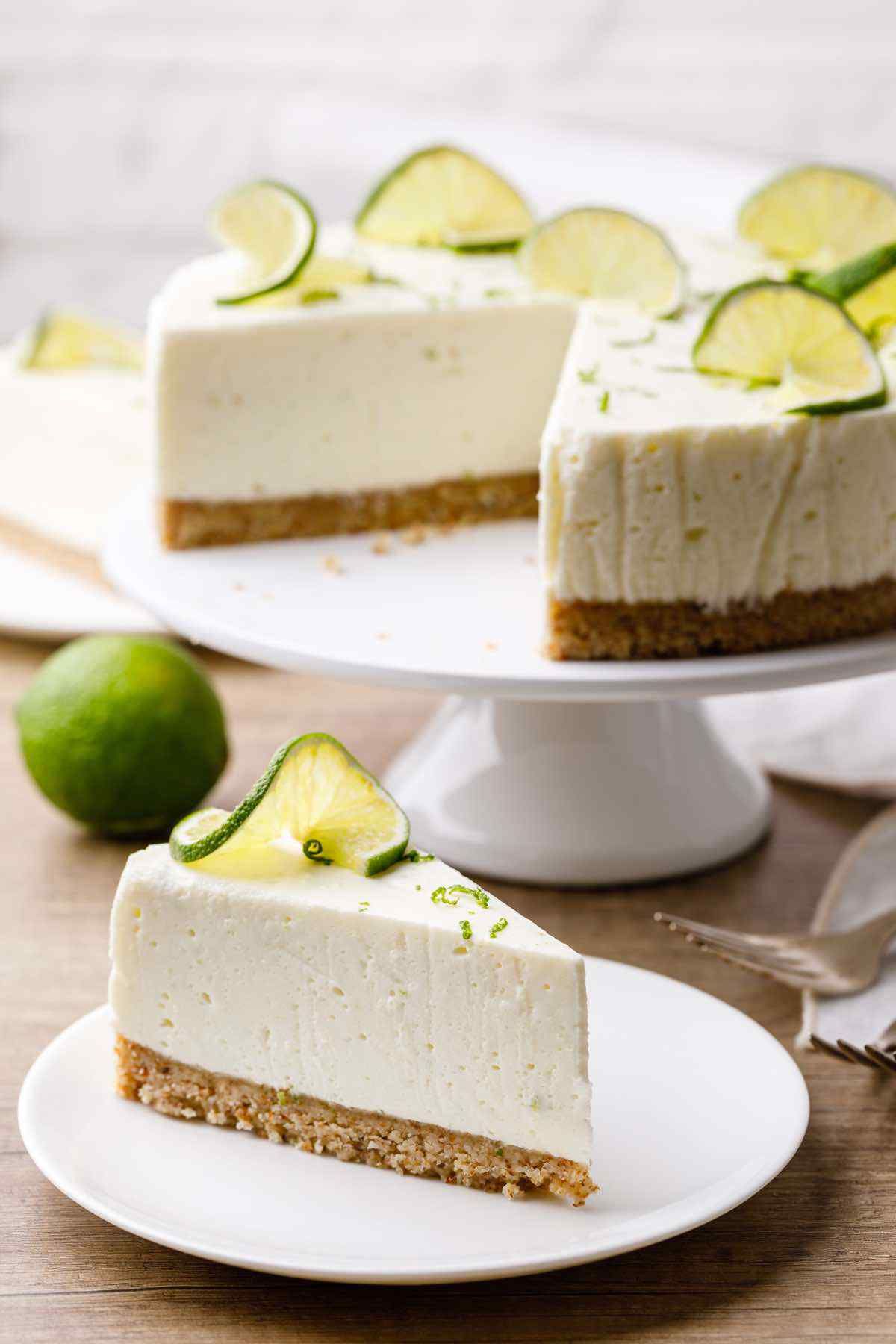 Keto Pots has all your cravings covered with the perfect mix of sweetness and tanginess in their creamy no-bake cheesecake. Full of healthy fats with an easy-to-make crust, it's definitely a winner in our book.
Gluten-Free Vanilla Cheesecake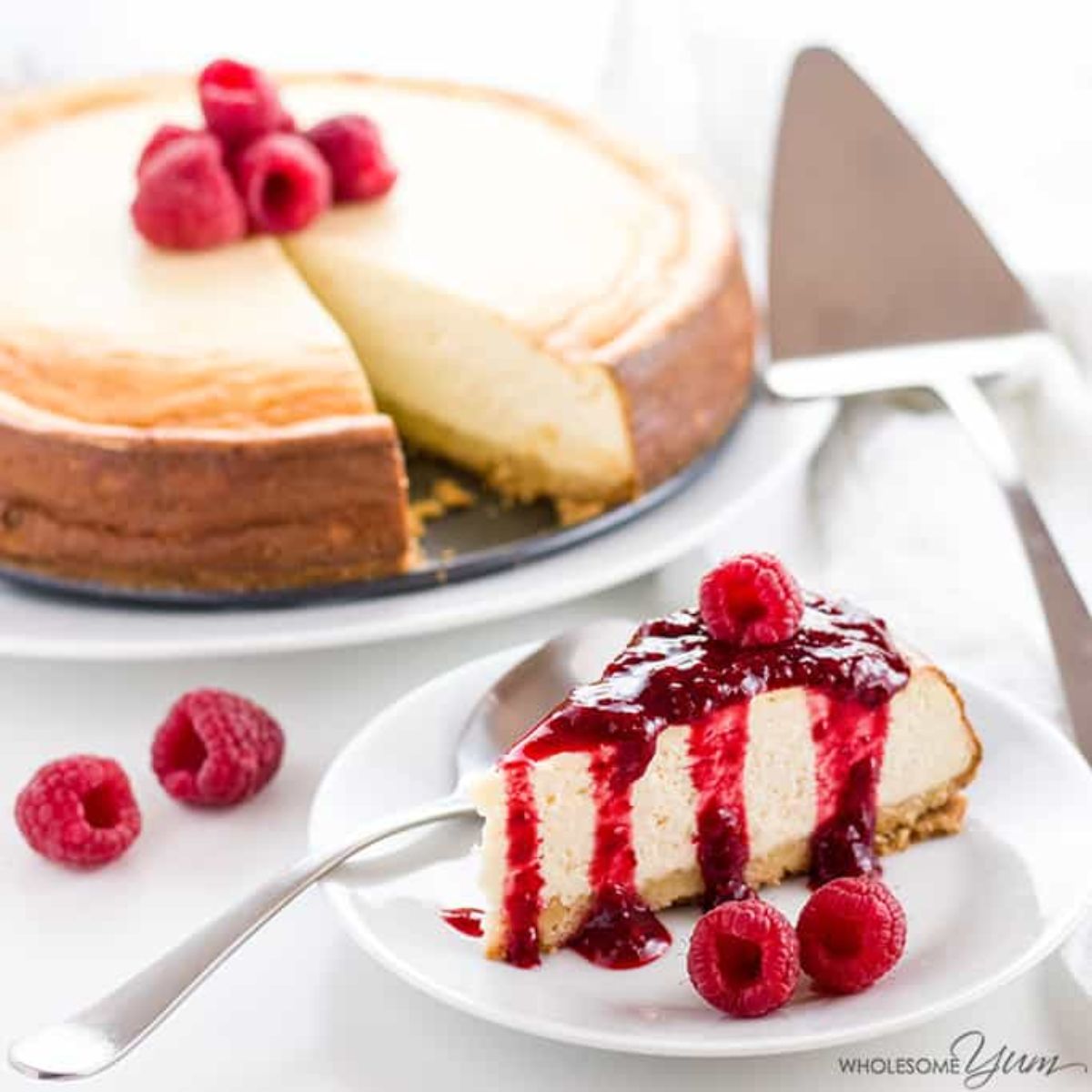 If you need a gluten-free option for your snacking pleasure, then Wholesome Yum has a simple, 8 ingredient recipe that you'll return to again and again. With only 5 grams net carbs, you could even have it for breakfast!
No-bake peanut butter and chocolate cheesecake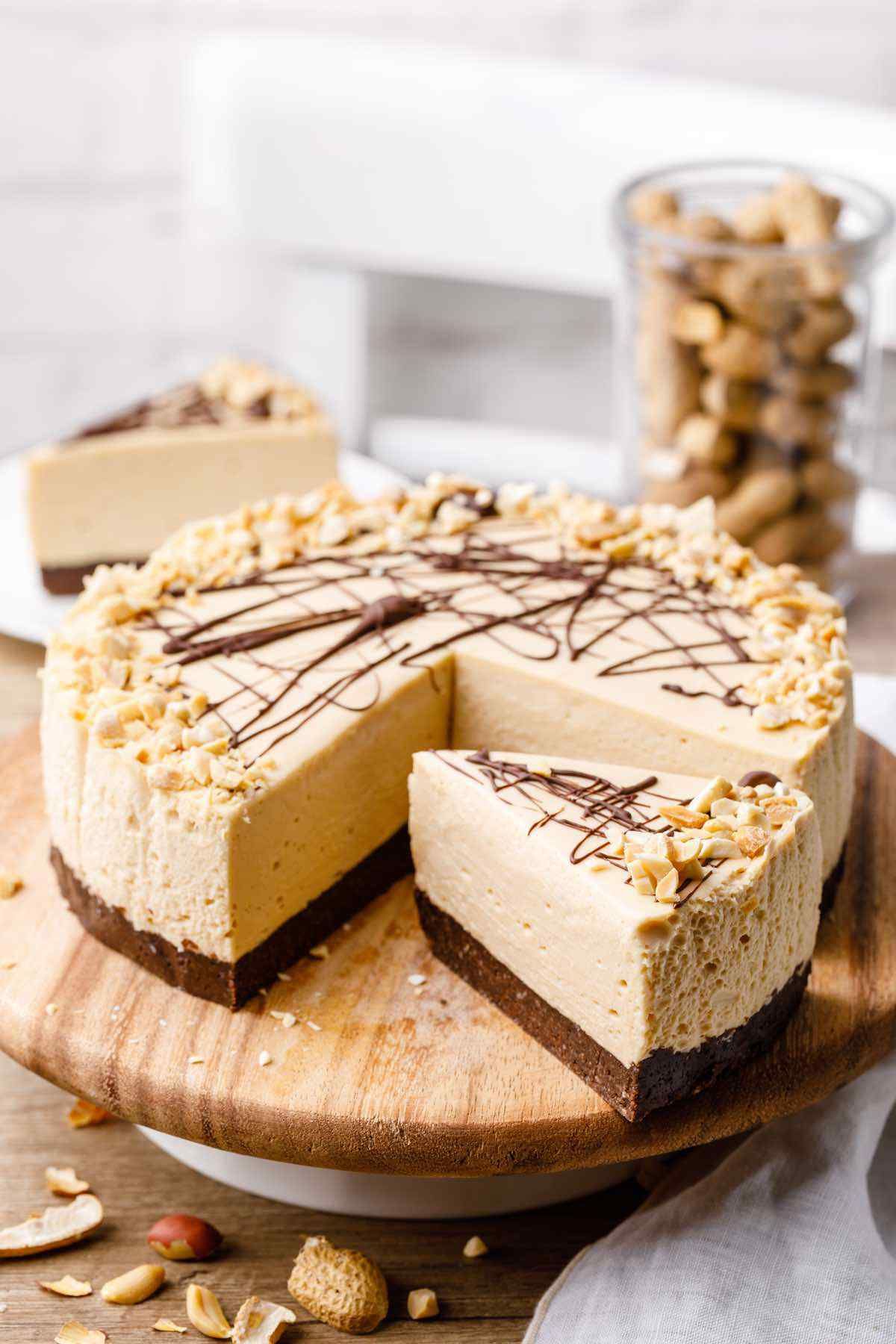 There is no greater combination than peanut butter and chocolate (in my humble opinion, that is!). This cheesecake recipe from Keto Pots takes the classic pairing and swap all the processed ingredients for things like cocoa powder and all-natural peanut butter. It's well worth a look.
Cookies and cream cheesecake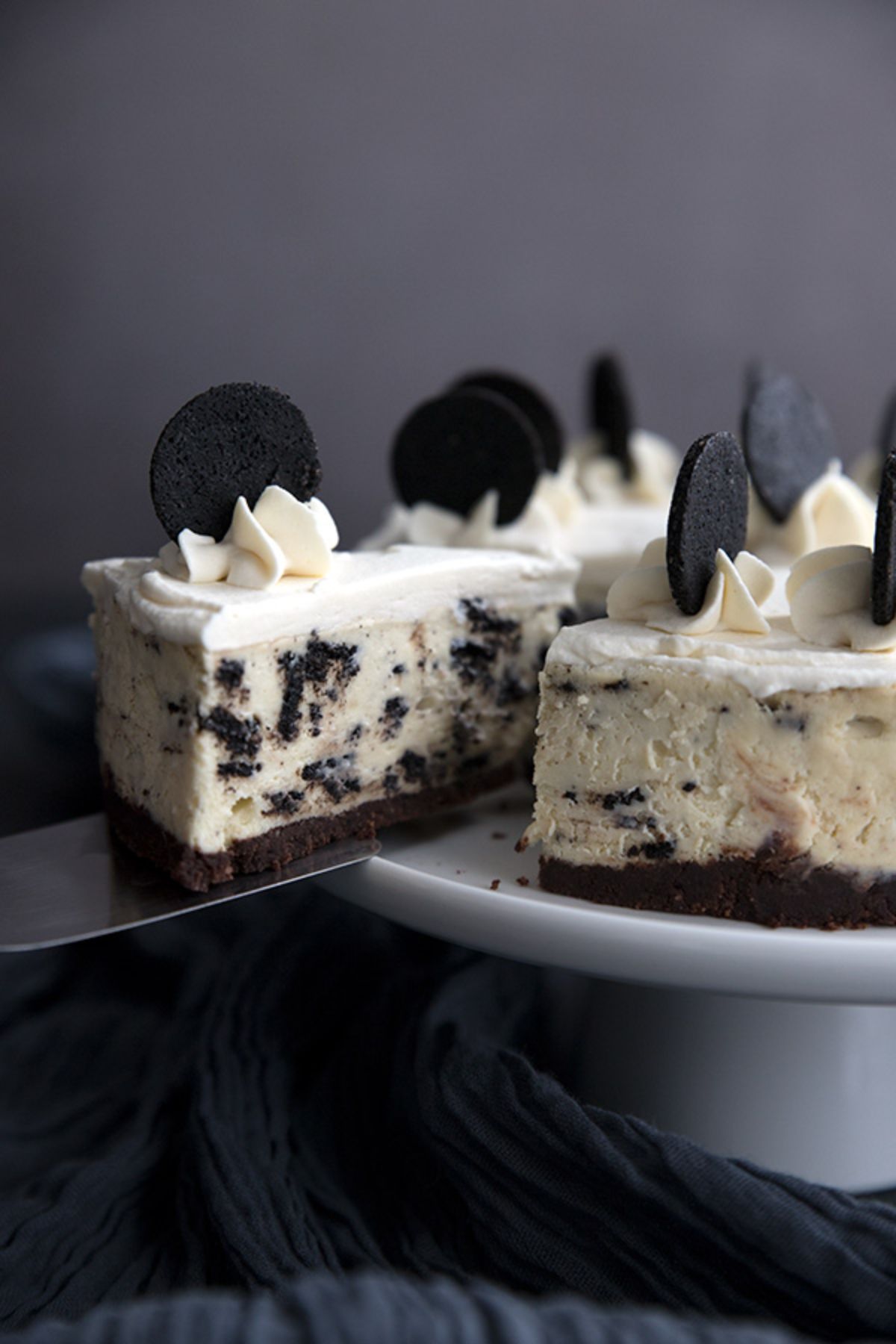 This more-ish cookies and cream cheesecake is made in an Instant Pot, of all things! All Day I Dream About Food includes oven instructions for those who don't have this particular piece of kit, but either way, we think it tastes just like Oreos!
5 ingredient cheesecake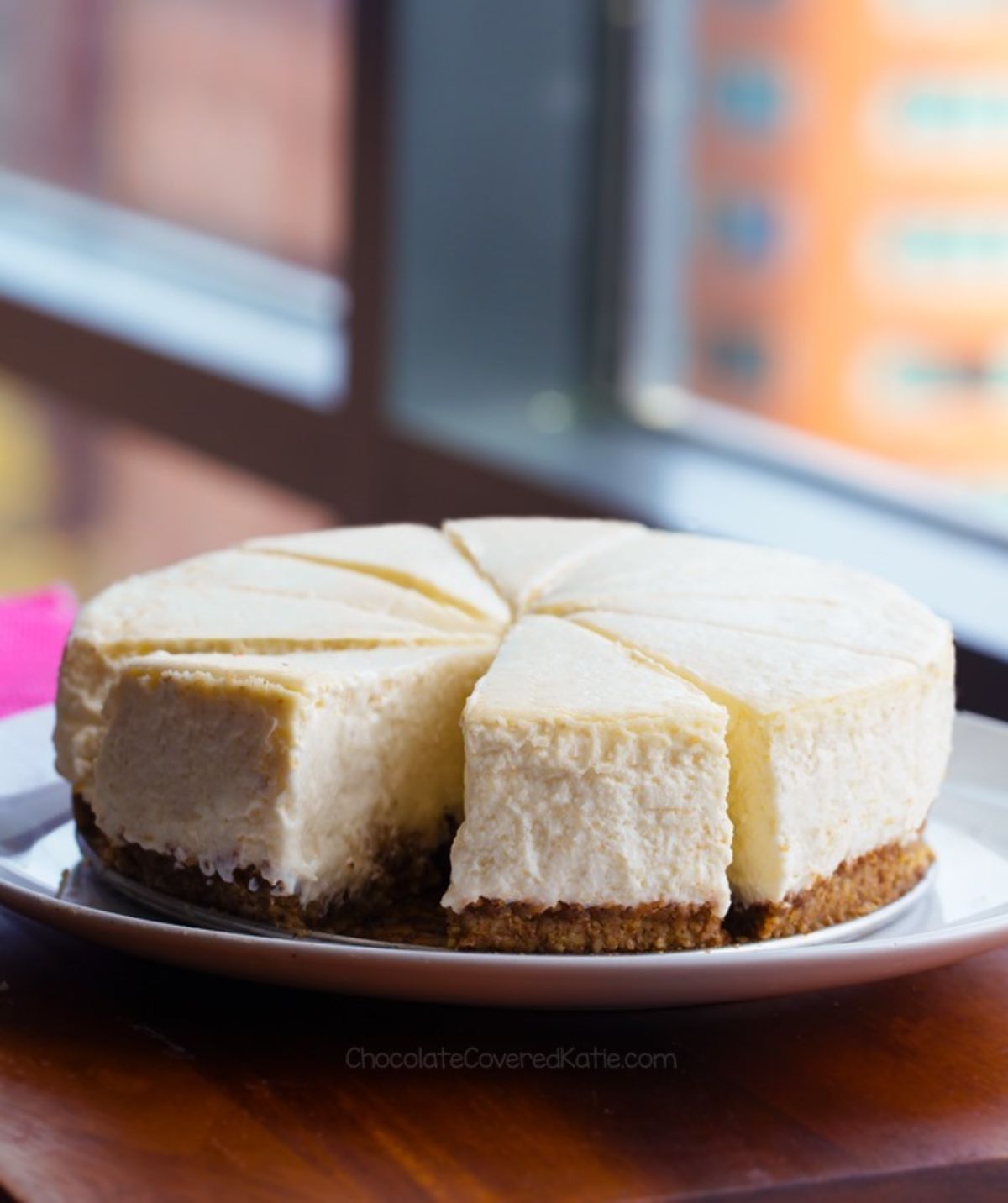 Even easier to make than usual, this New York cheesecake from Chocolate Covered Katie only uses 5 ingredients! The creamy result would fool even the pickiest cheesecake connoisseurs. And even better, each slice is only 1.5g net carbs.
Keto mug cheesecake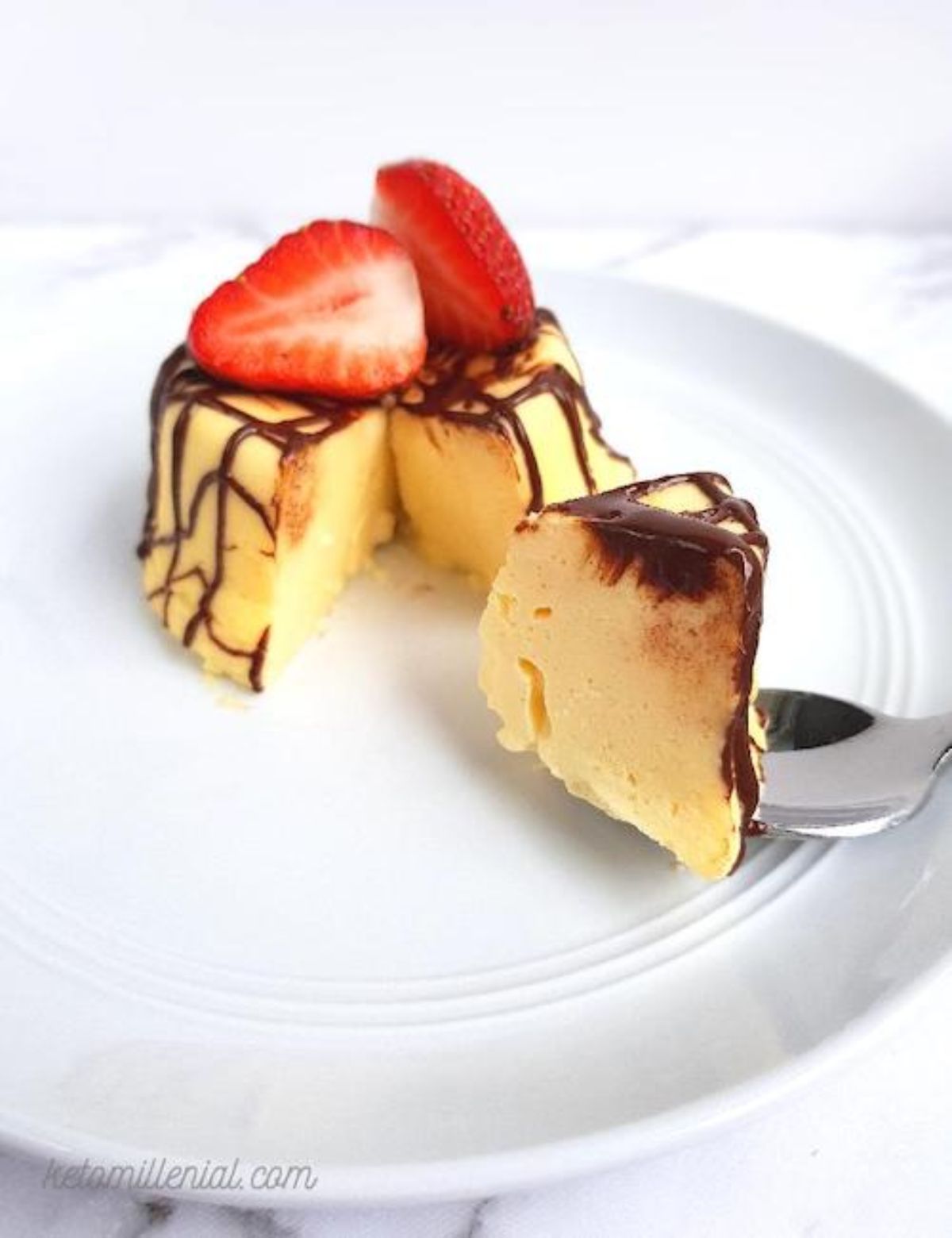 If you're running low on time, or you just need something sweet really quickly, then Keto Millenial has the perfect 4 ingredient cheesecake that you can actually make in a mug, in the microwave. Yes, that's right: it only takes 90 seconds to make, and it's delicious!
Peanut butter brownie cheesecake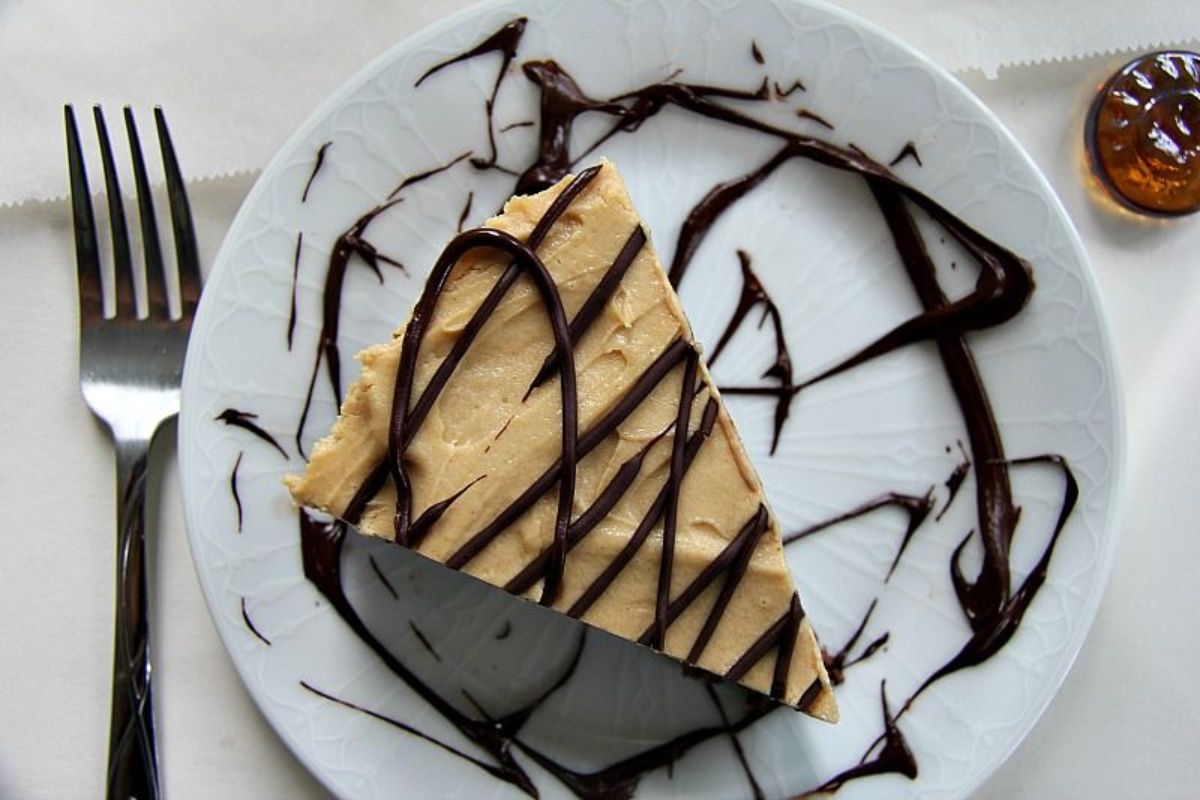 The best of both worlds. For when you just can't decide, Divalicious Recipes have created a peanut butter cheesecake that sits on top of a chocolate brownie base. This no-bake delight will keep the hungriest bellies satisfied.
Raspberry cheesecake cups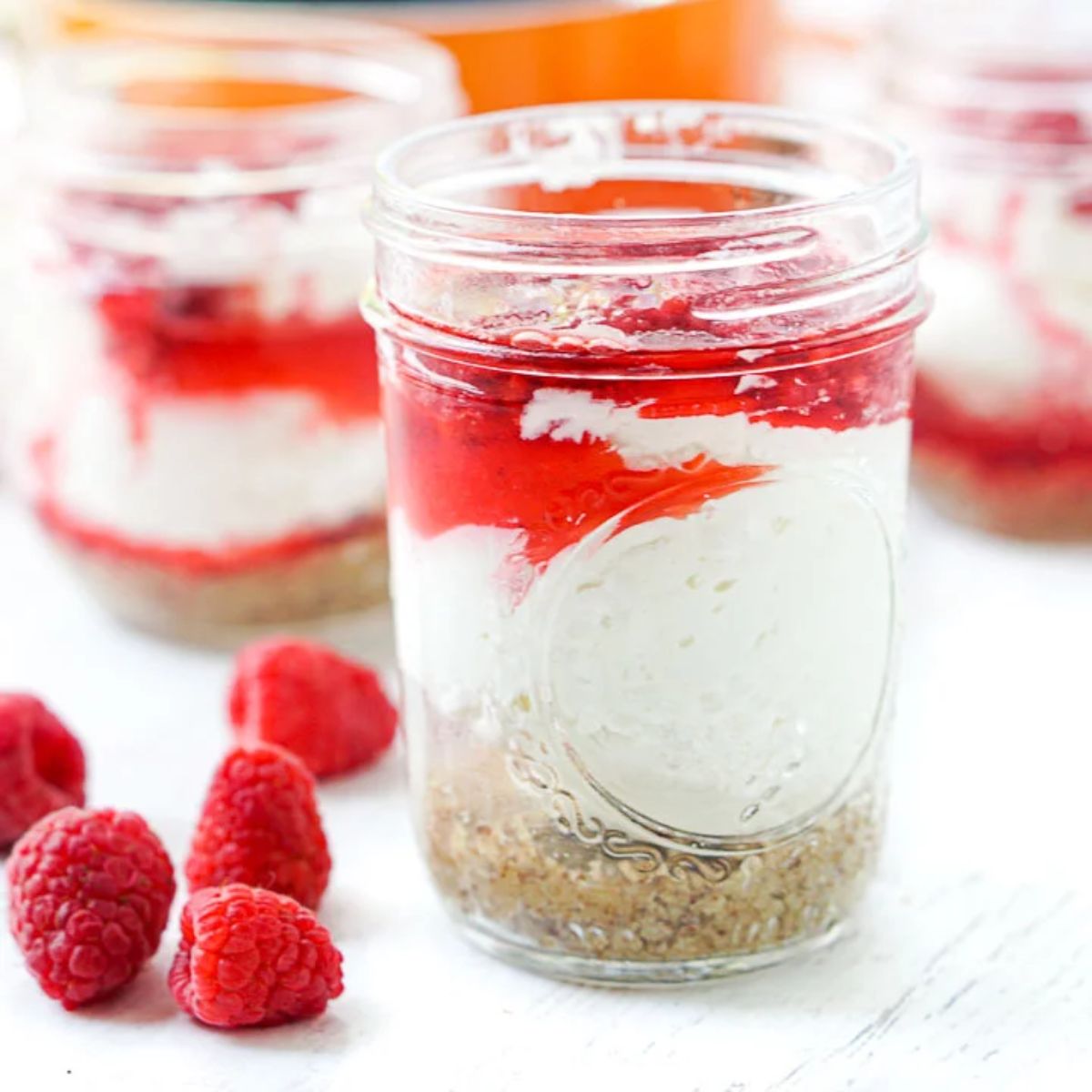 Only 5.7g net carbs per serving, these cute little cheesecake pots are the perfect dessert to serve up at your keto dinner party. My Life Cookbook has taken a basic recipe and tweaked it to use lower carb nuts and fruit. Cue yumminess!
Death by chocolate cheesecake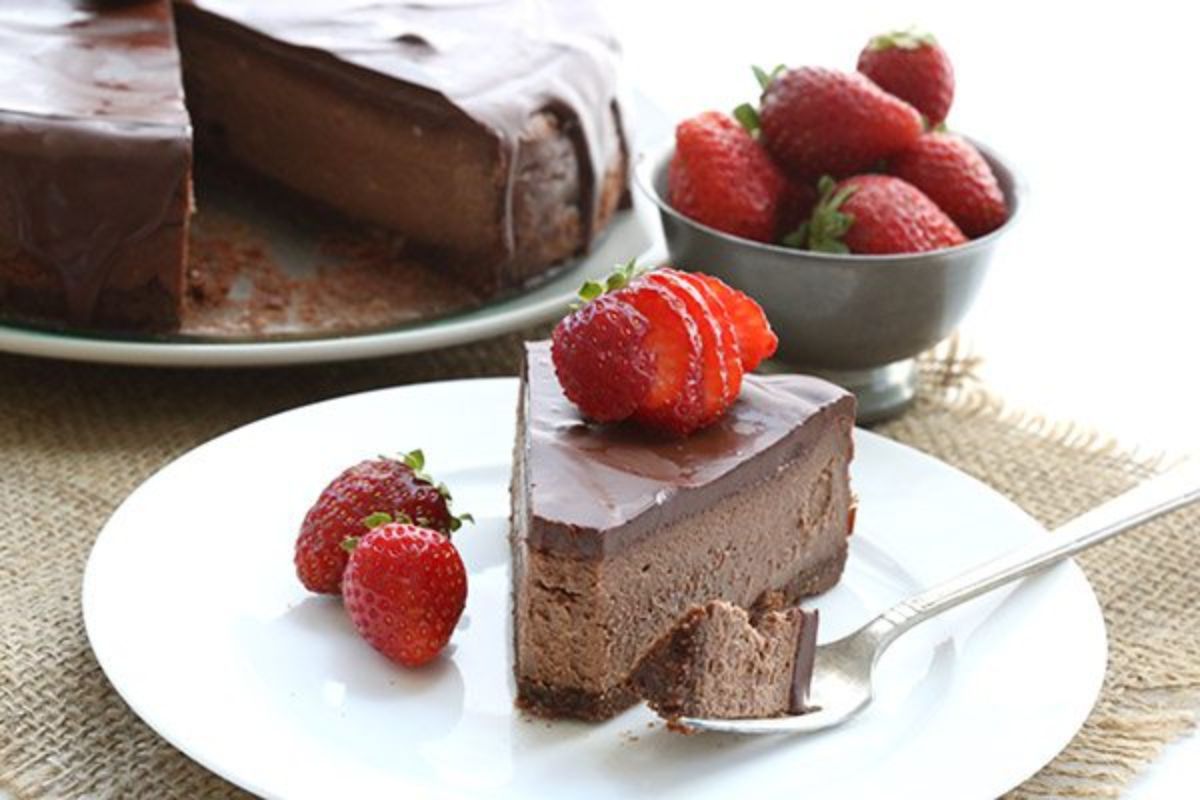 Ah, the friendliest named cheesecake makes an appearance! The recipe certainly lives up to its name: slaying any chocolate lovers within a mile radius with its creamy, cocoa taste. All Day I Dream About Food's recipe is a little higher in carbs than usual, but this isn't something you'd be able to eat every day. Enjoy the splurge.
Carrot cake cheesecake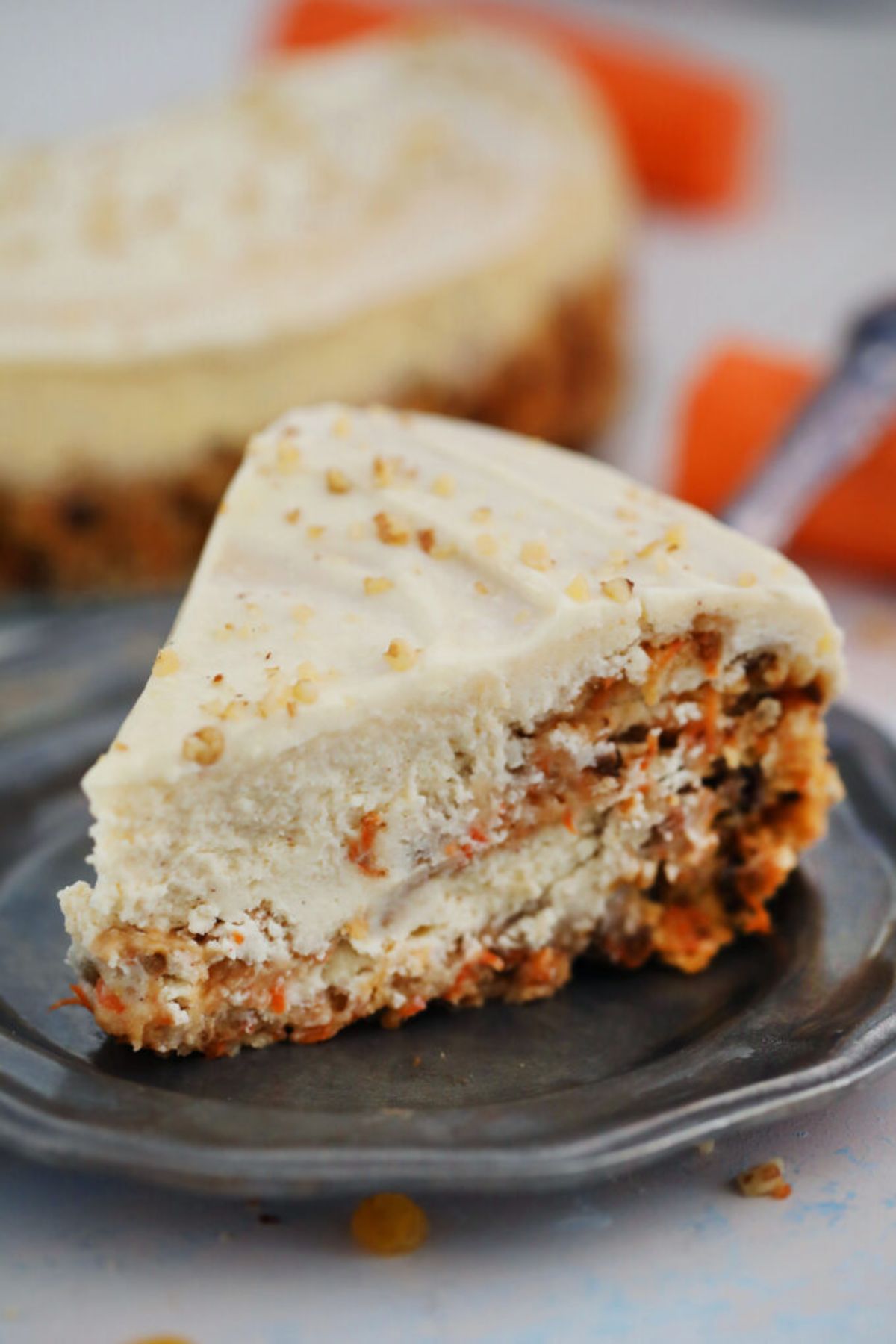 A perfect choice for your Easter table, this carrot cake cheesecake from Sweet and Savoury Meals will impress even your Great Aunt Maud. She'll never be able to tell that it's keto, and she'll definitely ask for another piece.
Lemon cheesecake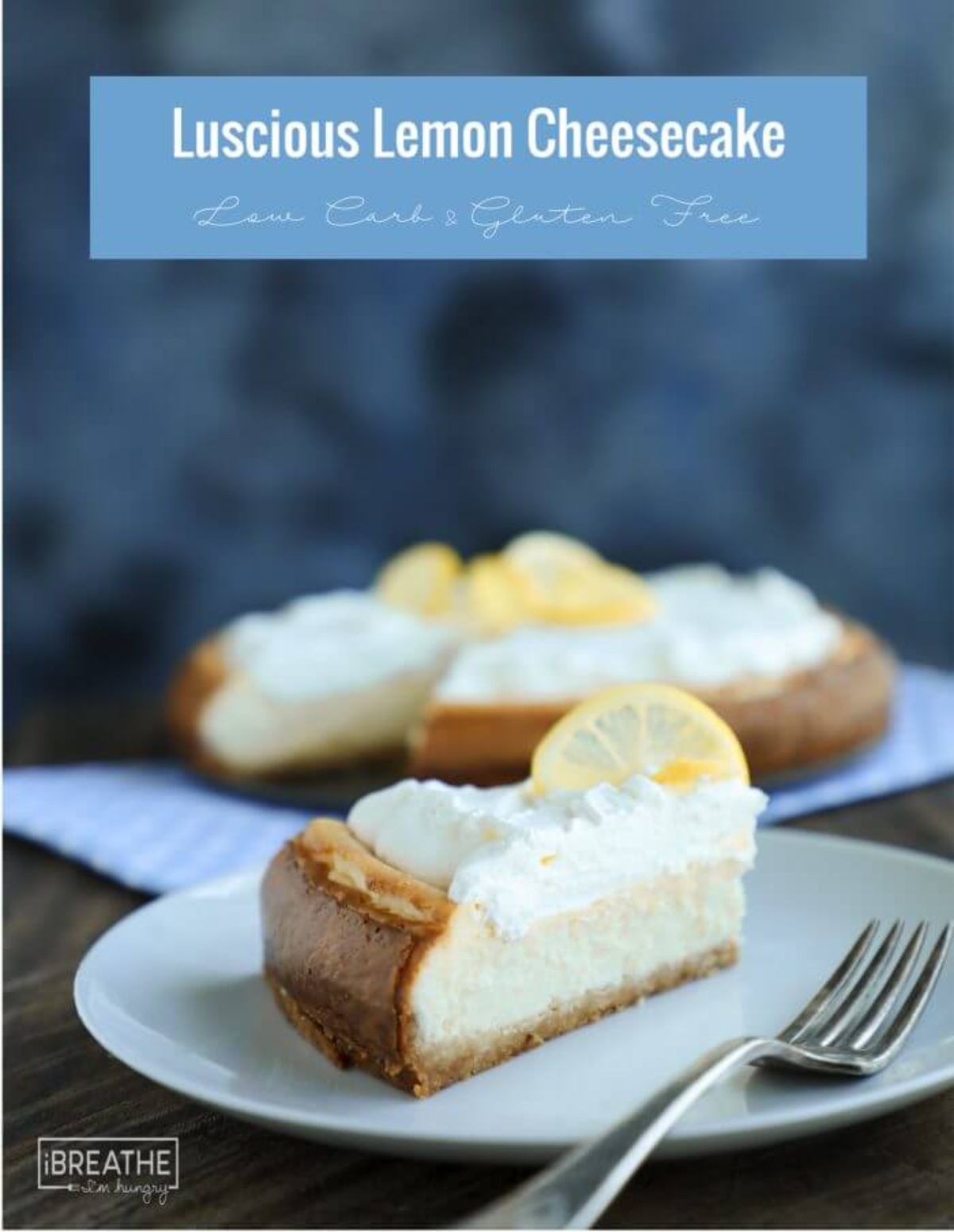 This super-easy lemon cheesecake from I Breathe I'm Hungry is made in a blender. Yup, that's right, no adding ingredients and beating one by one in a laborious fashion. Throw it all in the blender and don't worry about a water bath. Couldn't be easier.
Salted caramel cheesecake bars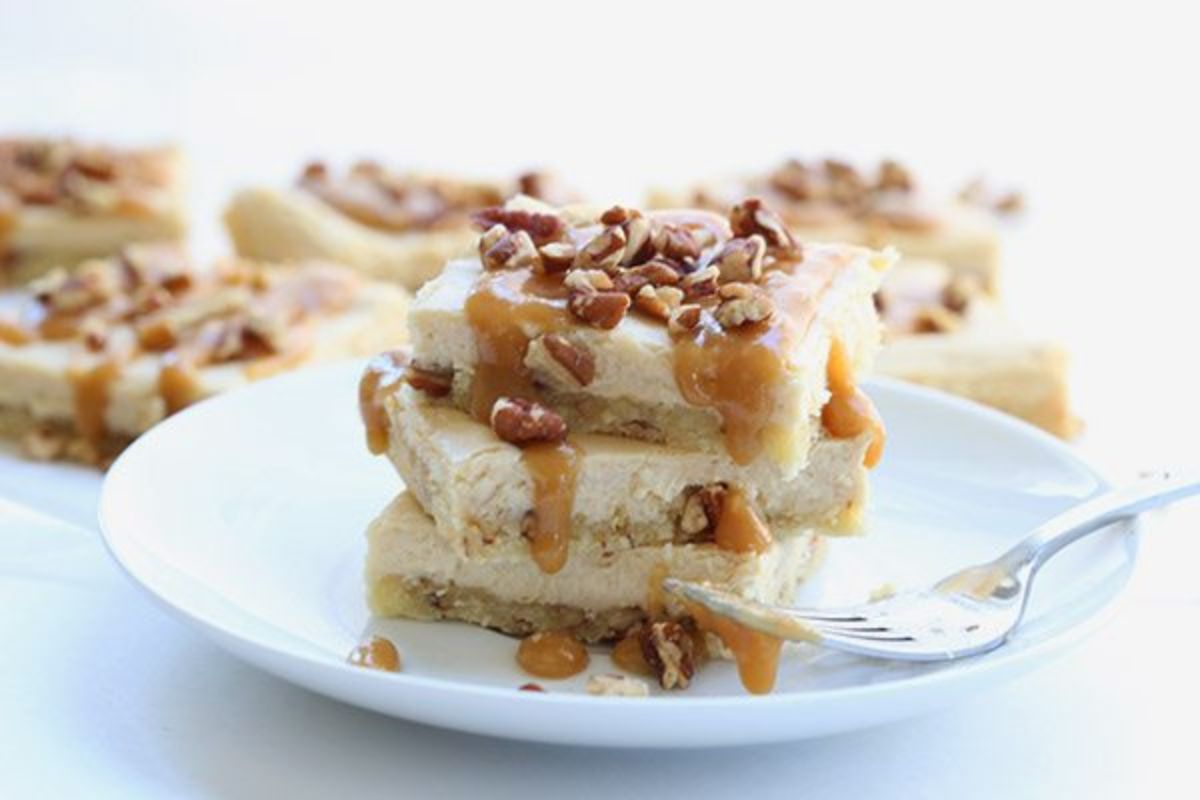 Just throwing a bit of variety into the mix, these cheesecake bars are salty and sweet, and a completely different shape so you're really not having cheesecake for dessert again – it's totally different. All Day I Dream About Food has your back, don't worry.
No-bake muffin mold cheesecakes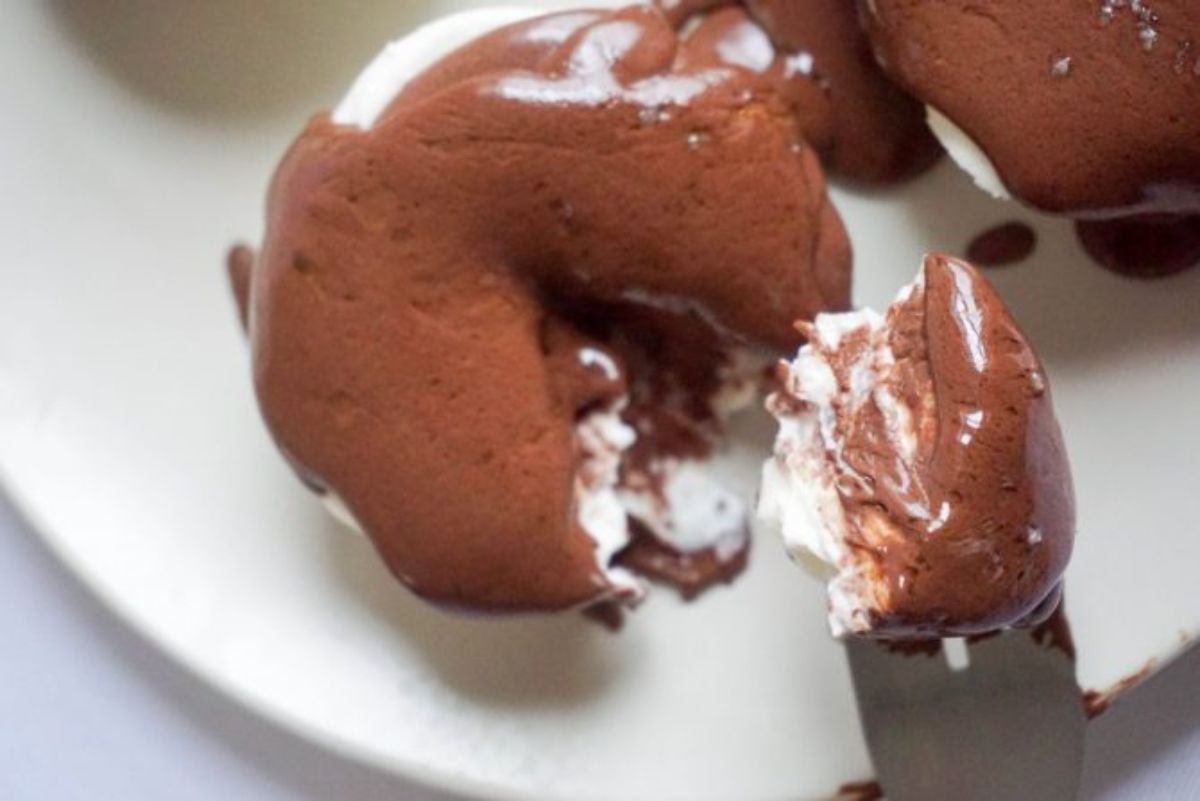 These packages of yumminess are made in muffin molds (choose silicone ones to stop them sticking), and Keto Connect has added a delicious chocolate sauce for you to pour over the frozen cheesecakes. What more could you ask for?
No-bake chocolate cheesecake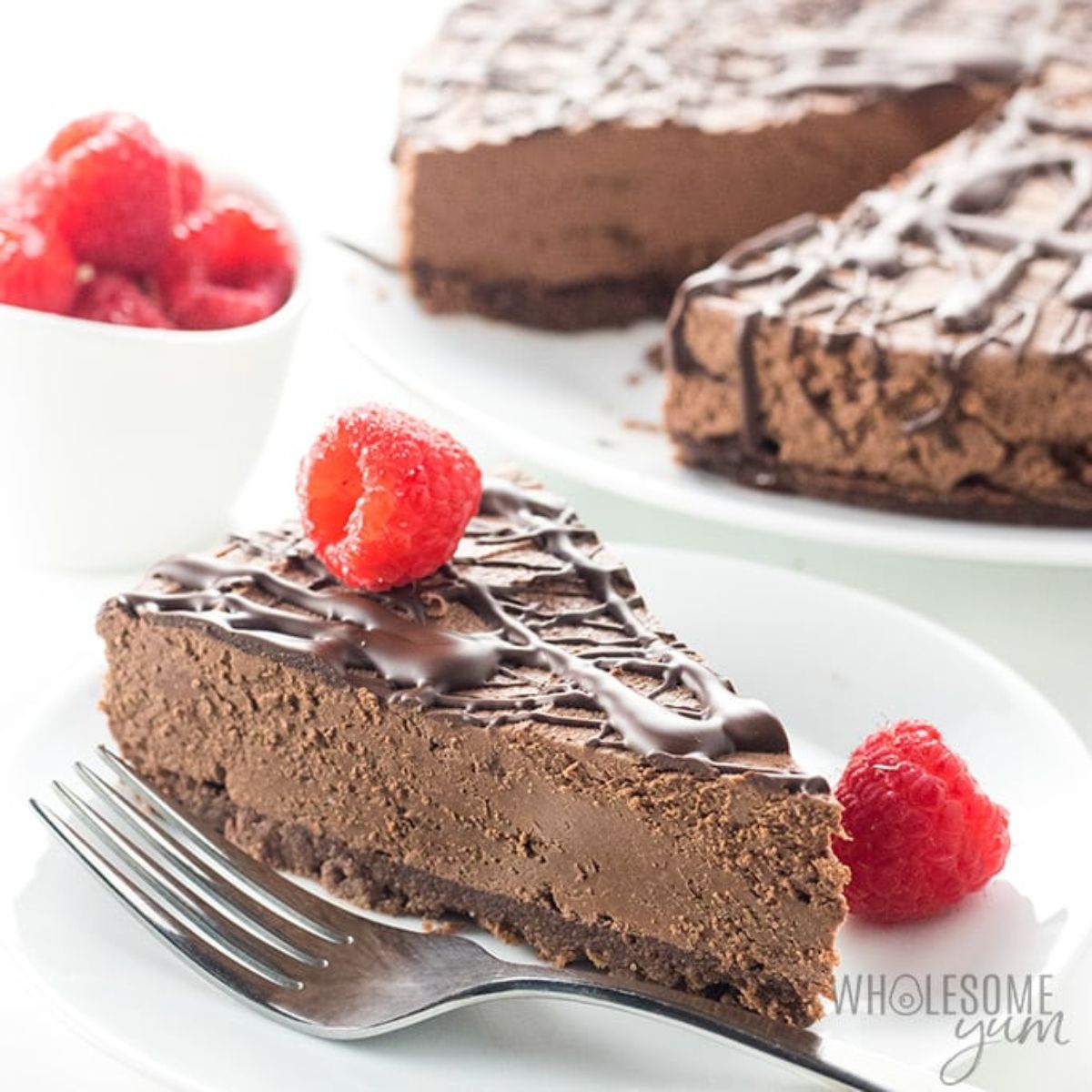 Wholesome Yum shows you how to make this delicious chocolate cheesecake, with only 20 minutes of prep and a crystal clear breakdown of all the steps. Perfect for the chocoholics out there who don't fancy Death by Chocolate right now.
No-bake pumpkin cheesecake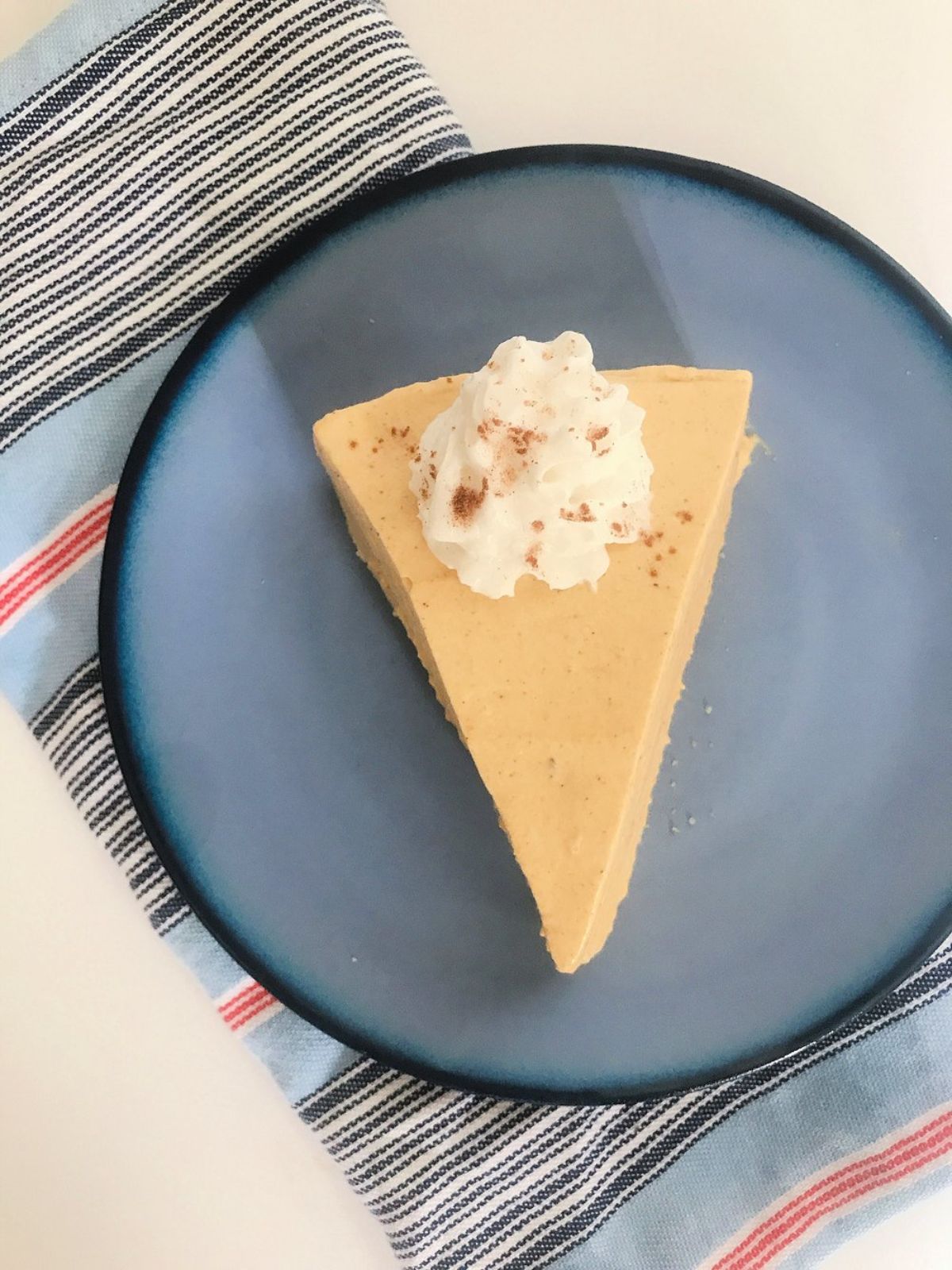 The almond flour crust on this cheesecake from Megan Seelinger's website perfectly complements the creamy pumpkin filling. If you prefer a crunchy crust the there are even instructions for how to make this a baked option.
Dairy-free chocolate cheesecake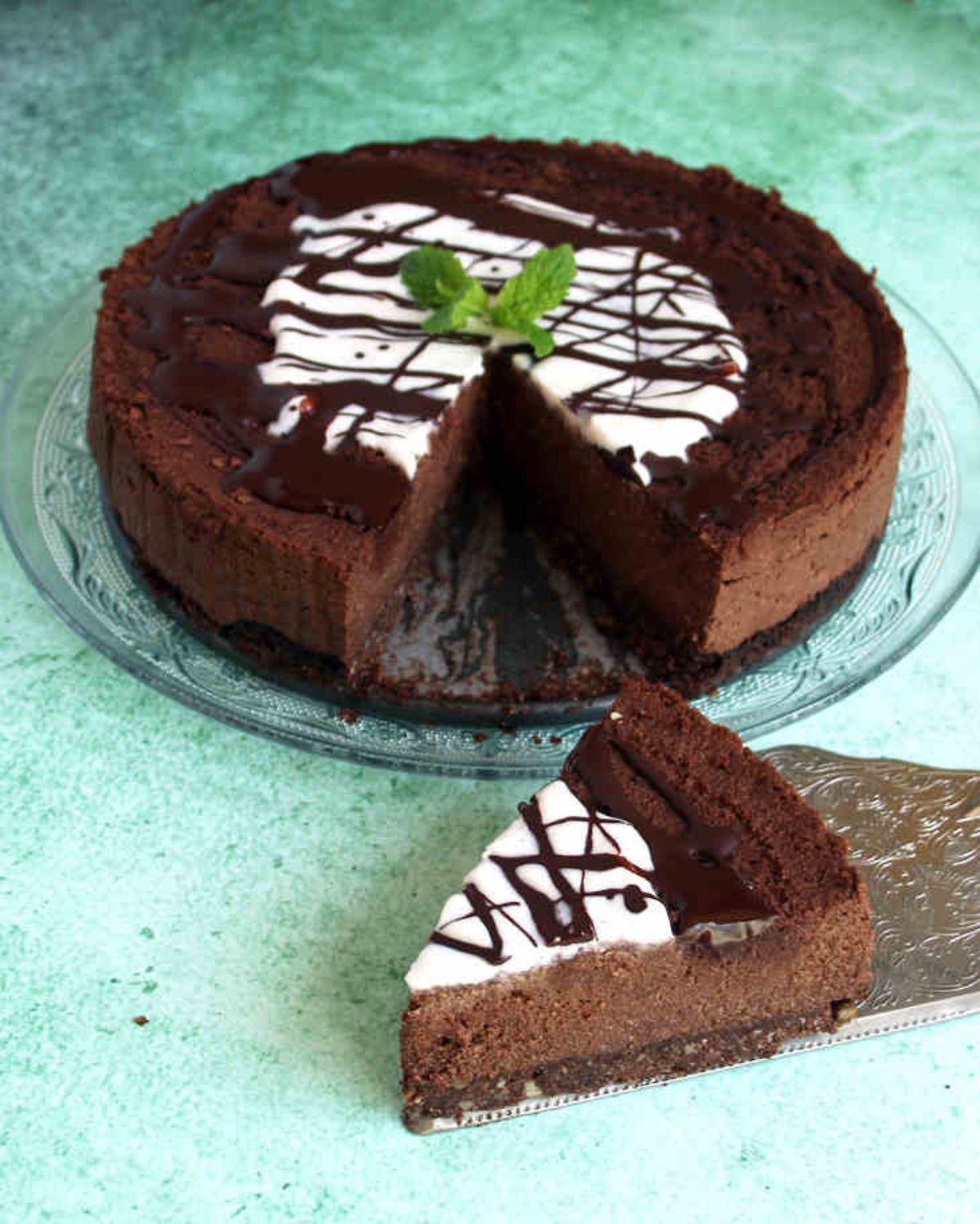 For those avoiding dairy as well as working around a keto diet plan, this cheesecake from Keto Summit is a perfect choice. The filling is made with cashew cheese, rather than the usual cream cheese. This means it takes a little longer, but it's totally worth it.
Blueberry cheesecake pie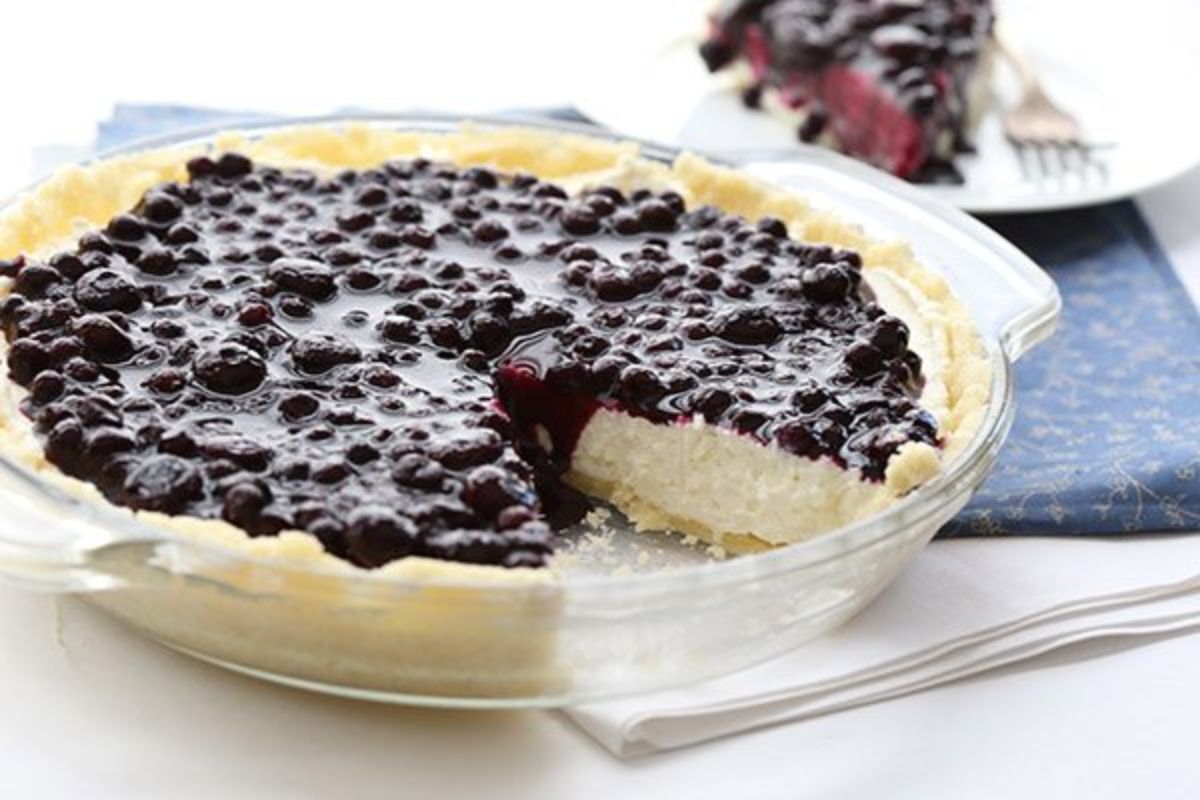 For a little twist on an old favorite, All Day I Dream About Food has this easy, no-bake blueberry cheesecake pie. Almond crust and sugar-free blueberry topping sound like our idea of heaven! If you have any of the topping left over, then it's also great on pancakes.
Red velvet cheesecake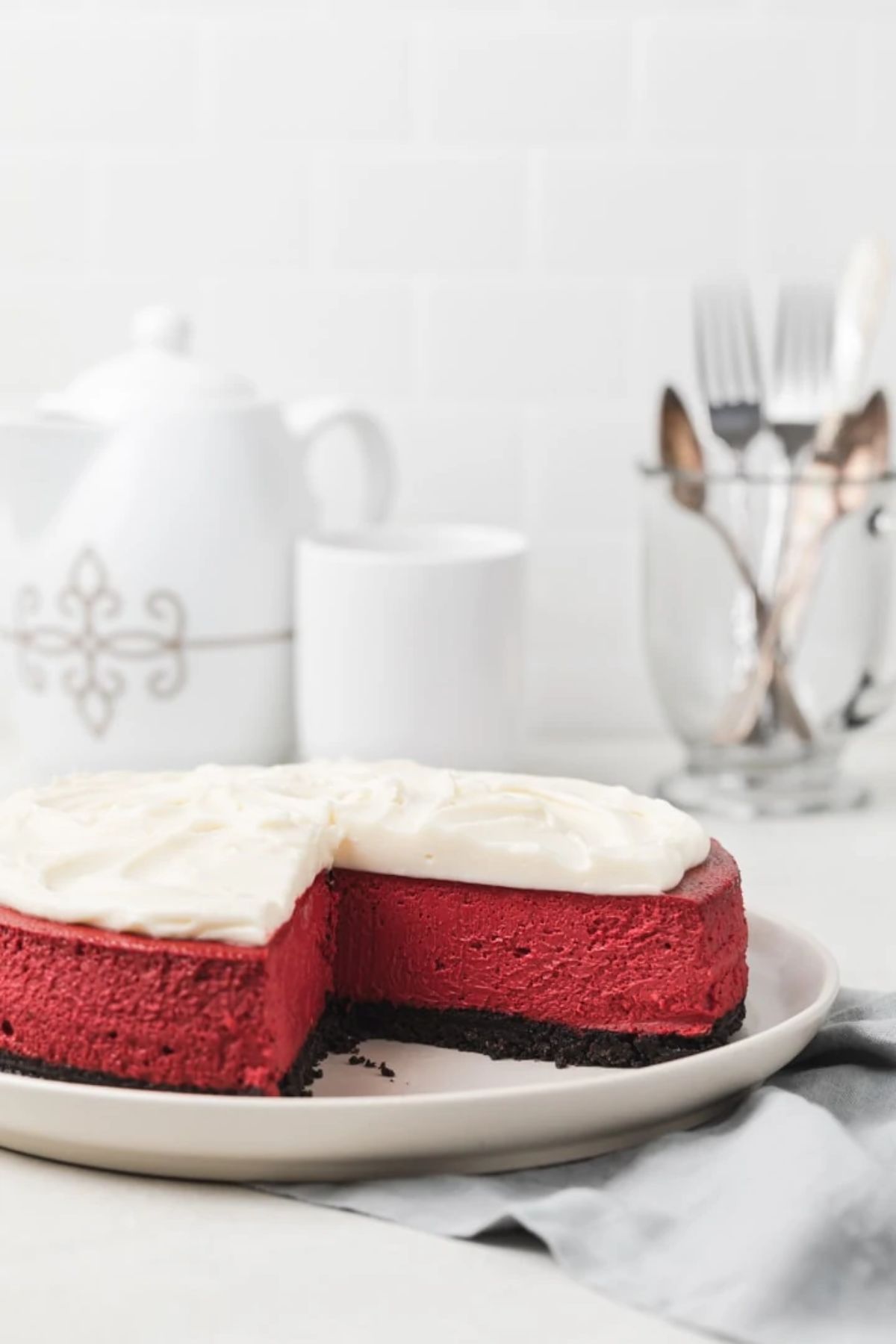 If you're looking for something that's going to bring the "Wow factor" when you place it on the table at a potluck, then this is the recipe for you. This red velvet cheesecake by Baked by an Introvert will definitely cement your place in the dessert Hall of Fame.
Peanut butter cheesecake bites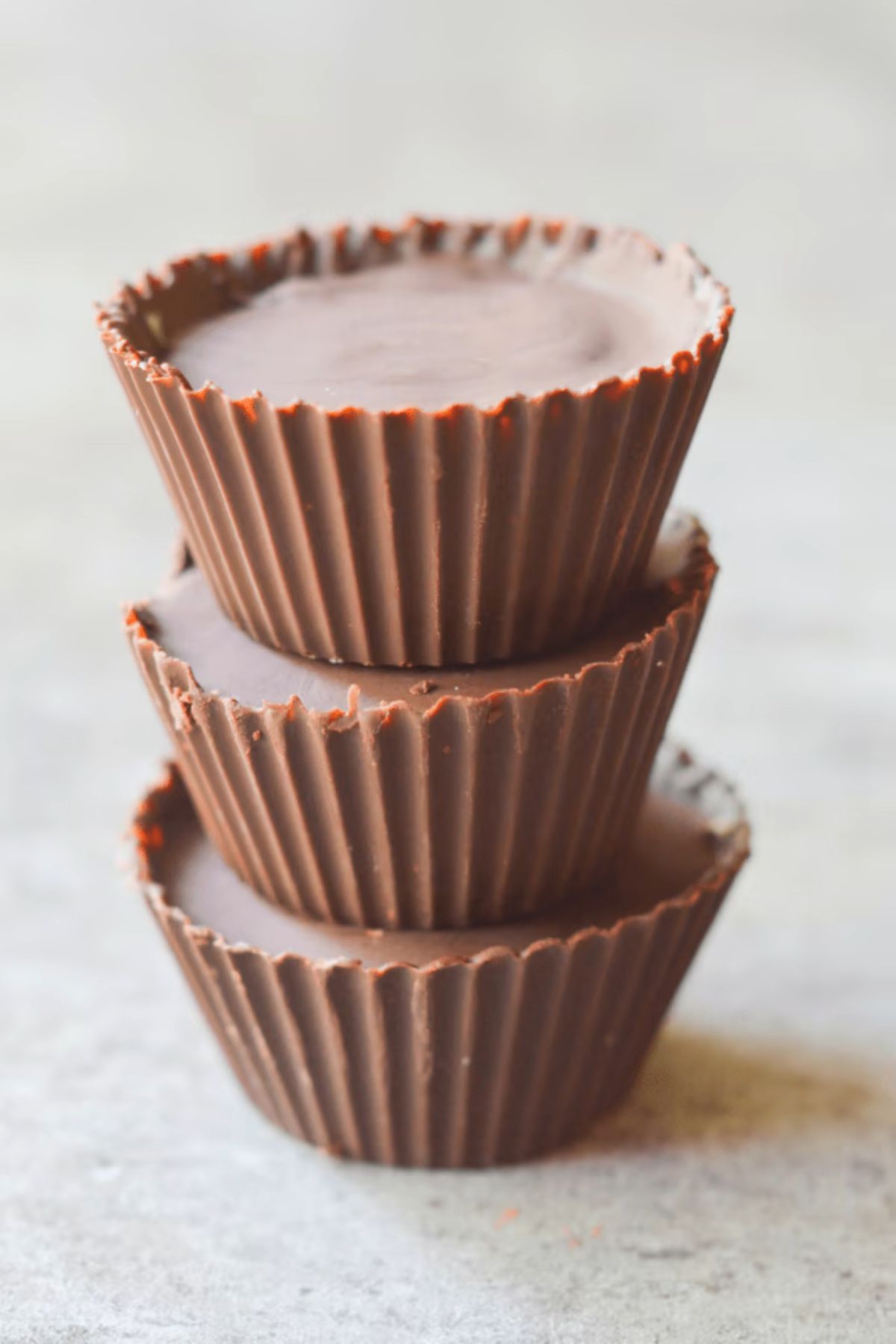 If you're more of a nibble than a bite person when it comes to desserts (or if you're trying to keep a handle on your snack consumption) then these cheesecake bites from Hey Keto Mama should be your go-to. They remind me a little of Reece's Pieces but are so much better for you.
Carrot cake Instant Pot cheesecake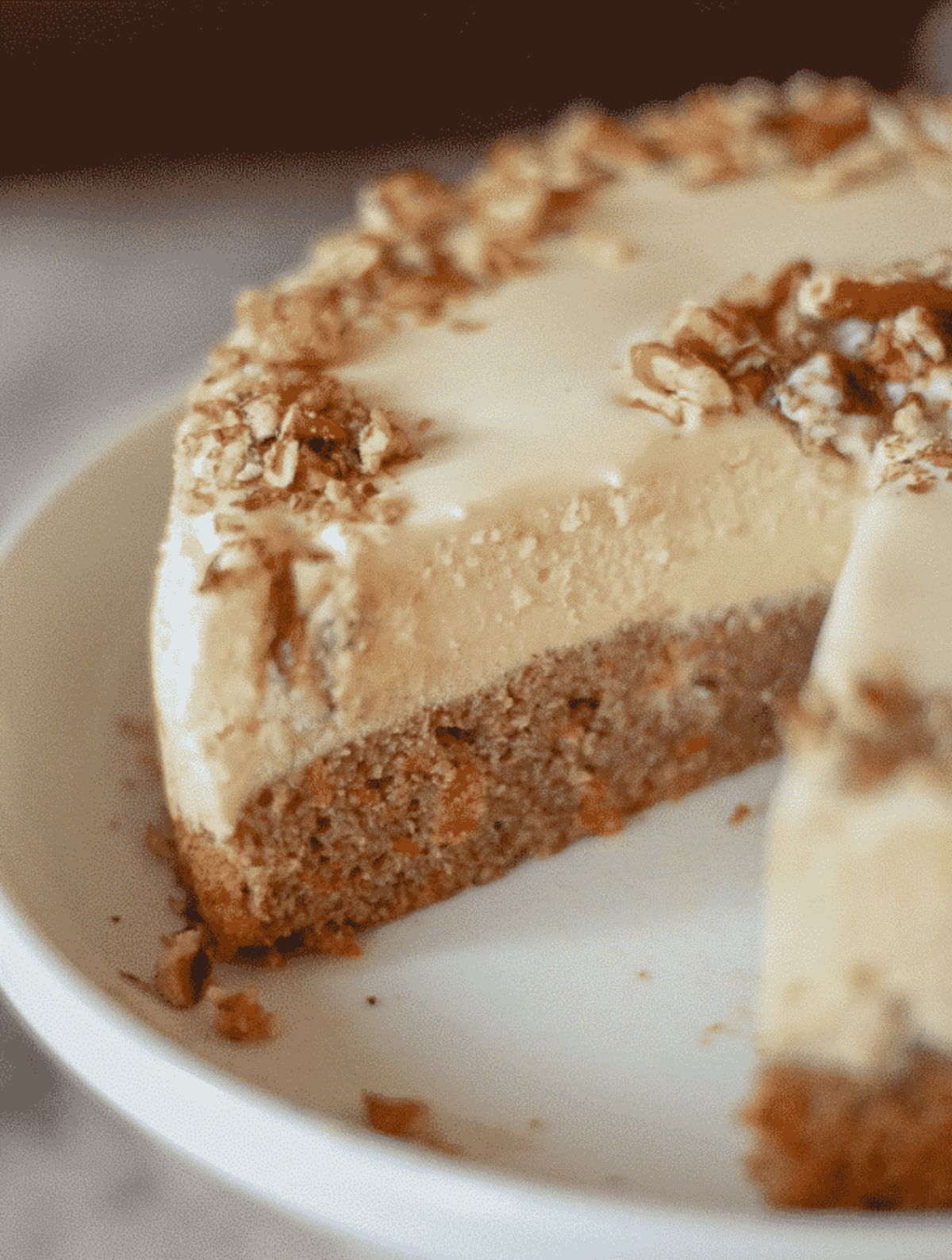 Another day, another opportunity for a carrot cake cheesecake, but this time This Mom's Menu has a recipe you can make in an Instant Pot. With a 15 minute prep time, this is minimum effort for maximum taste, and she's also included oven instructions if you've yet to invest in an Instant Pot.
Keto mini cheesecakes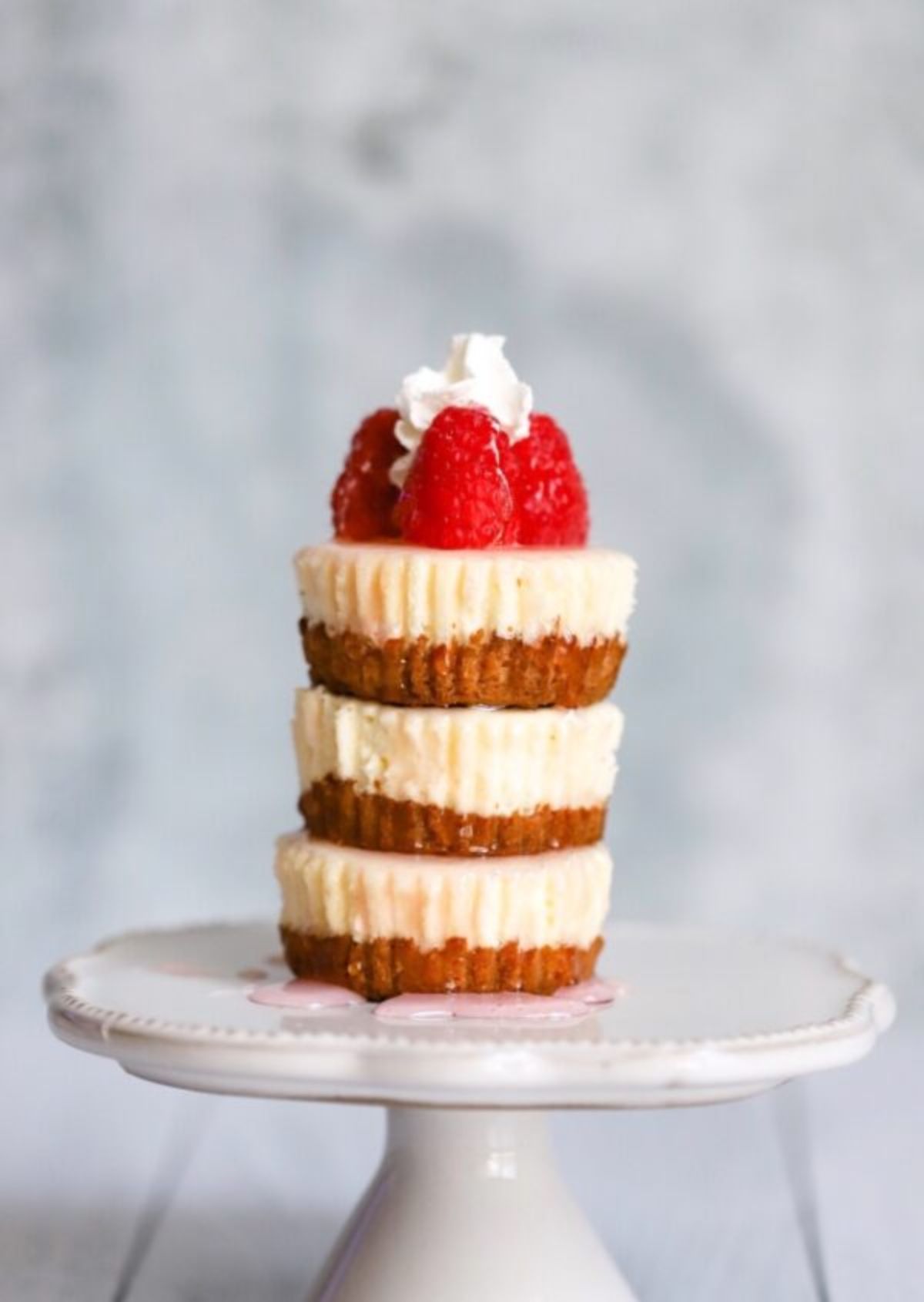 Another vote for the mini-sized cheesecake over here at Butter Together Kitchen. Great for satisfying a little craving at home, these tiny hits of flavor are also a good option for a grab-and-go snack. You can even use the same recipe to make a normal-sized cheesecake.
Pecan pie cheesecake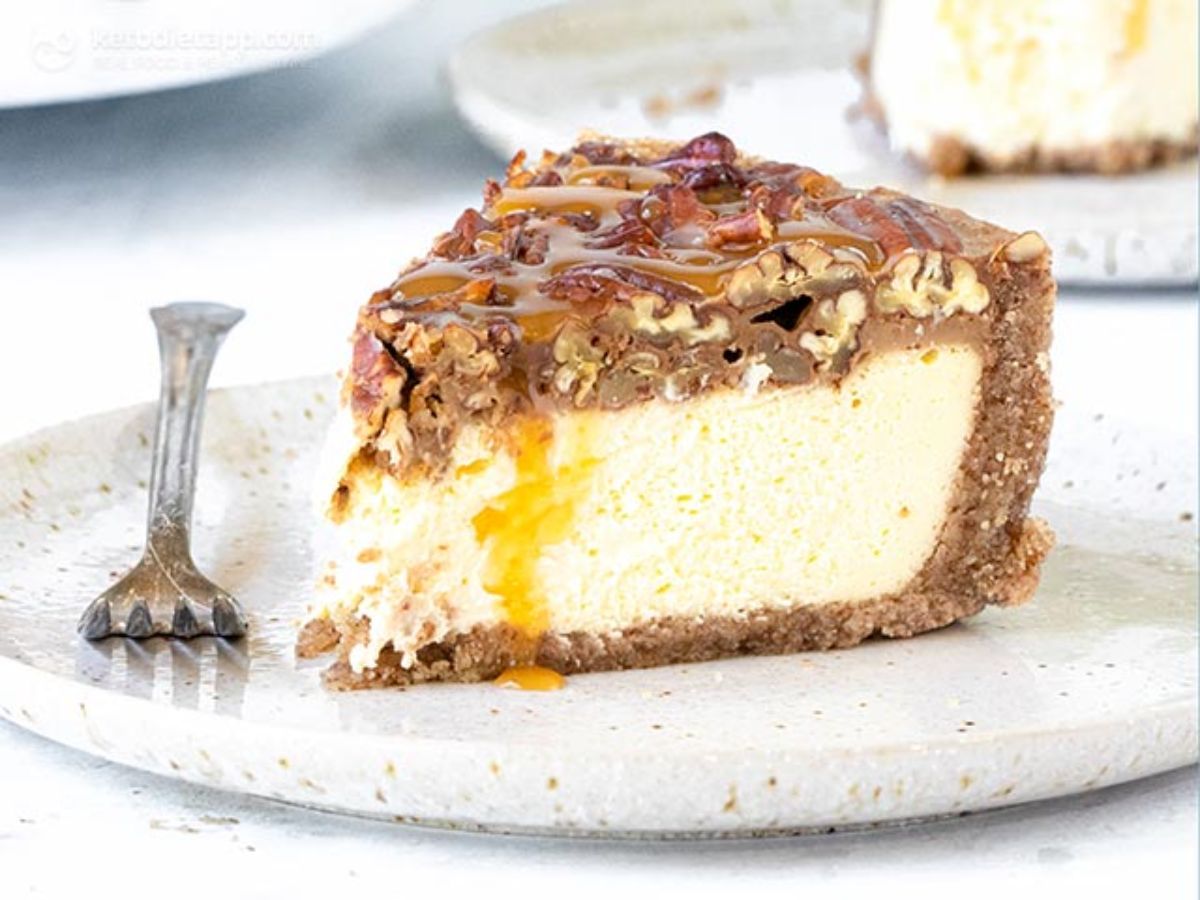 When you can't decide between a pecan pie and a cheesecake, Keto Diet App has made sure that you don't have to. This pecan pie inspired cheesecake will instantly transport you to Fall, and it's perfect for that special Thanksgiving gathering.
Chocolate Coffee Cheesecake Pie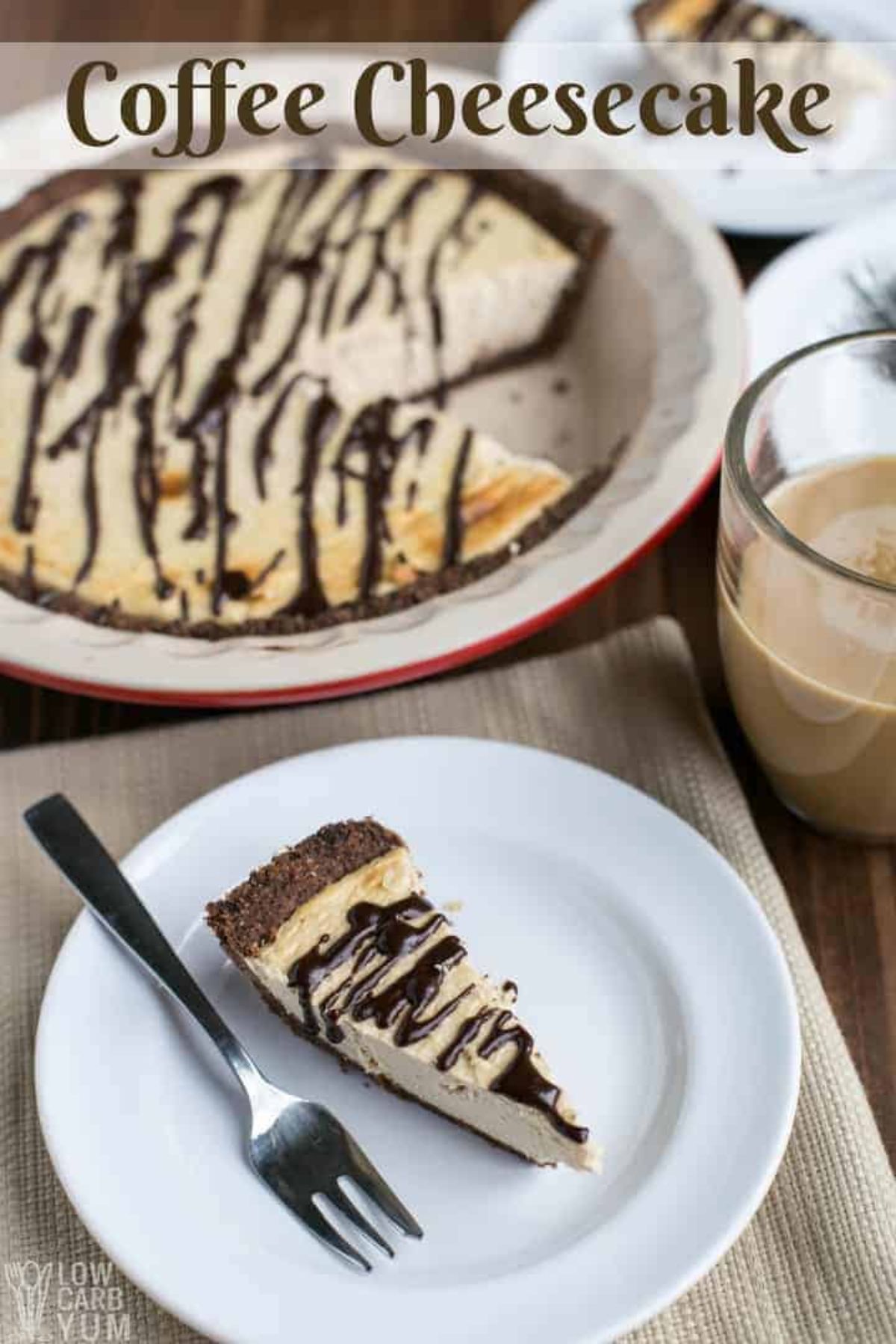 This recipe gives a smaller yield, and so is perfect if you're the only one in the house eating keto. Low Carb Yum has created the perfect dessert to have with a cup of coffee on a chilled afternoon, without having to break your carb allowance.
No-bake Cheesecake Bites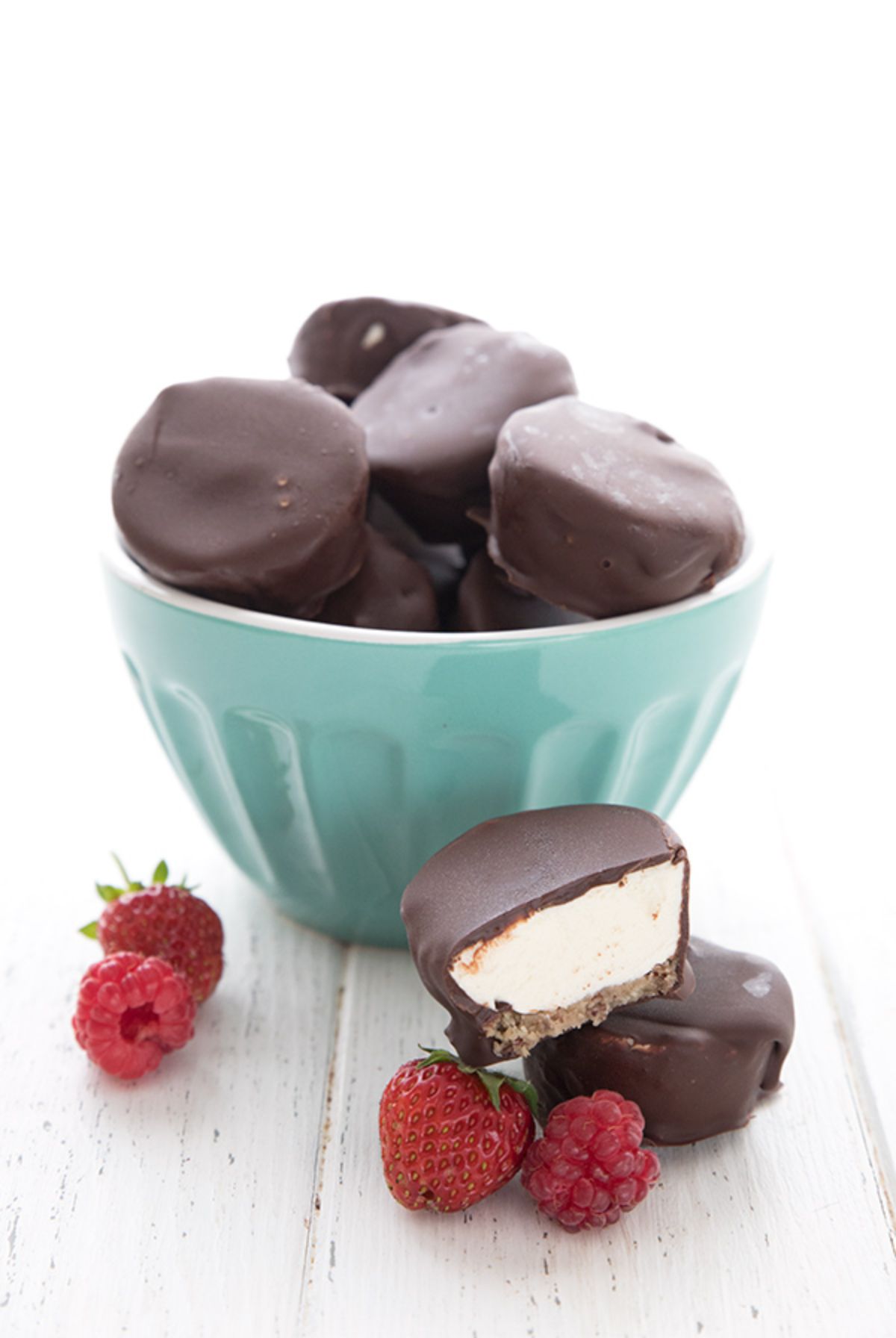 With no need to bake, and dipped in sugar-free chocolate, these cheesecake bites are your perfect fridge-based snack. You know, for when you're looking fr something to munch on while you're making the kids' tea. All Day I Dream About Food takes you through this remarkably simple recipe over on their page.
Cookie Dough Cheesecake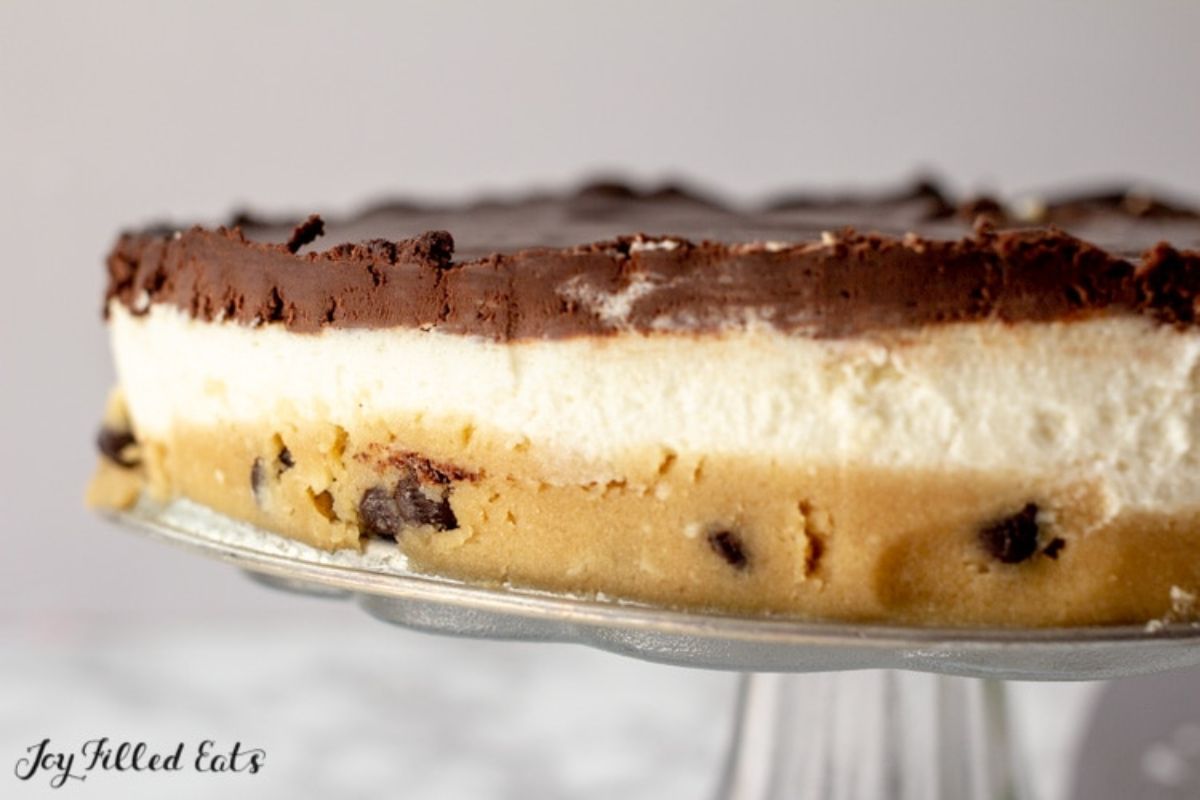 This deliv=cious concoction from Joy Filled Eats features a cookie dough base, creamy cheesecake middle, and chocolate ganache topping. What's not to love? You can find out how to make it (and discover how easy it really is) over on their page.
Chocolate Truffle Cheesecake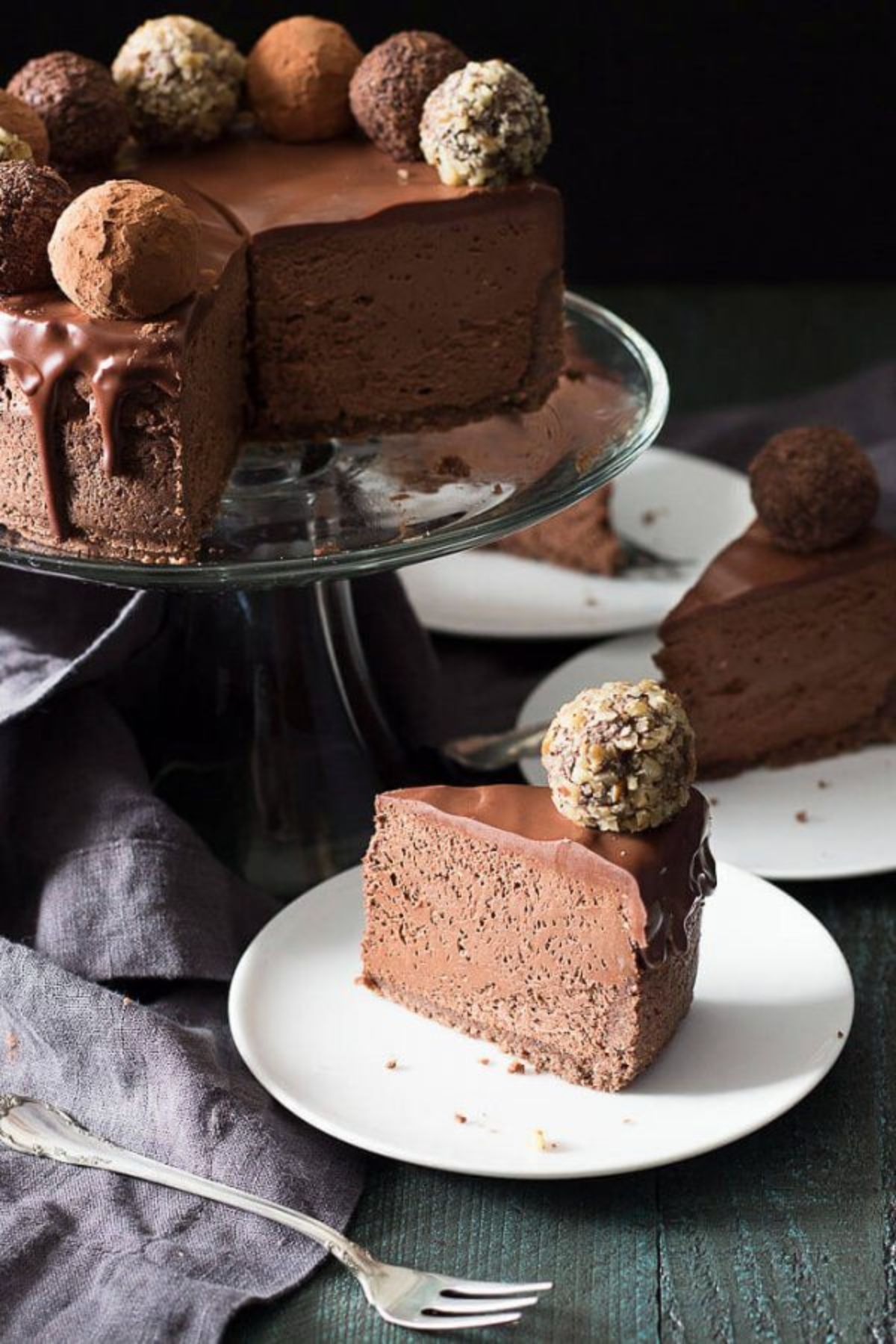 Another one for the chocoholics out there, not only is this decadent dessert topped with actual sugar-free truffles, but it also has a gluten-free base. Super rich, and only 5 net carbs per serving, Low Carb Maven has my Saturday night covered!
Basque Burnt Cheesecake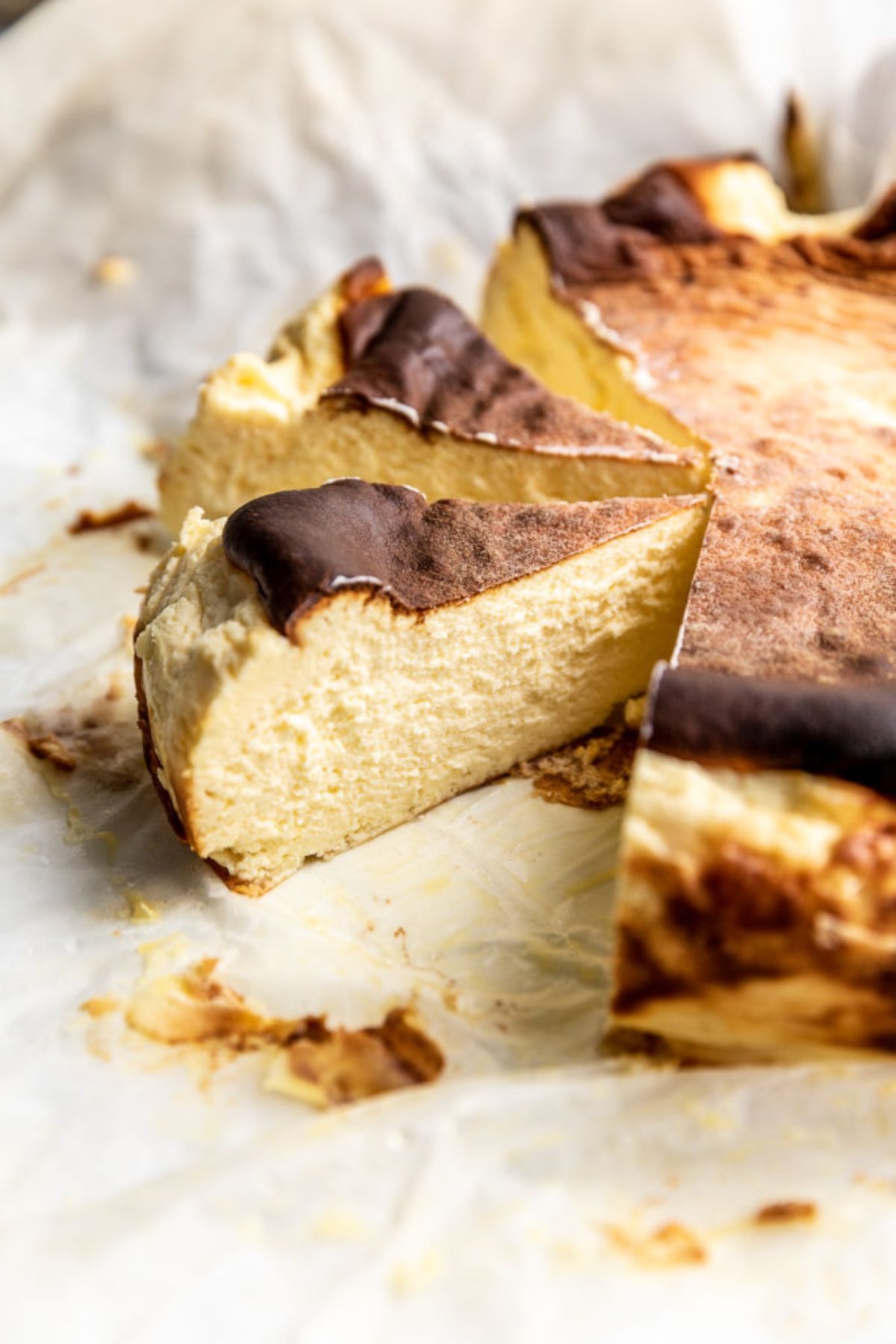 If you fancy something a little different, and a little more cosmopolitan, then this Basque burnt cheesecake from Fat for Weightloss should be your new favorite. Crustless, and with a creme brulee taste, this dessert will definitely excite your tastebuds.
Coconut Cheesecake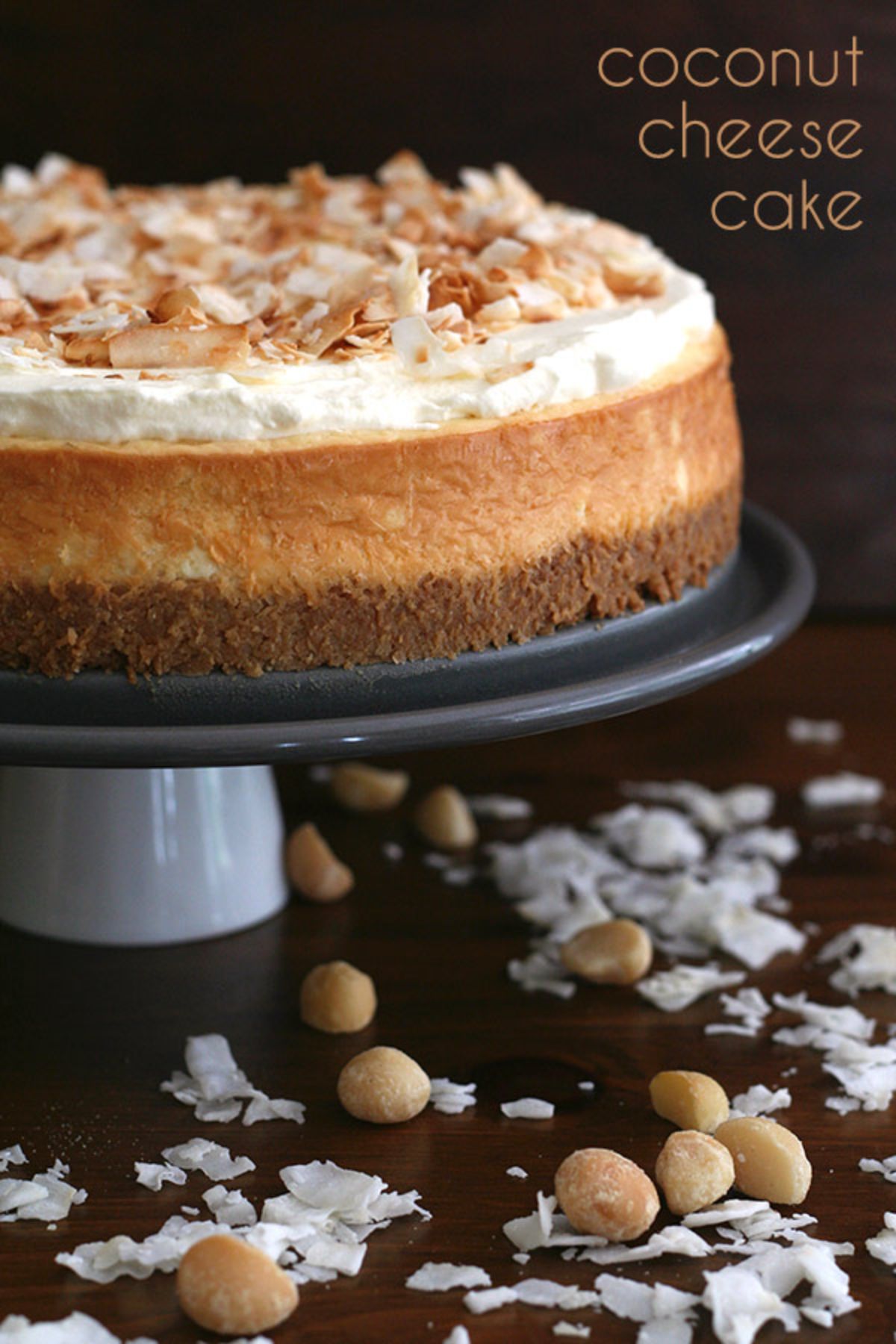 With the interesting addition of a macadamia nut crust, the delicate flavor of this coconut cheesecake will definitely impress your friends when you take it around for coffee. All Day I Dream About Food tops this light and fluffy creation with whipped cream and toasted coconut, adding an extra sprinkle of yummy crunch.
Cheesecake Fat Bombs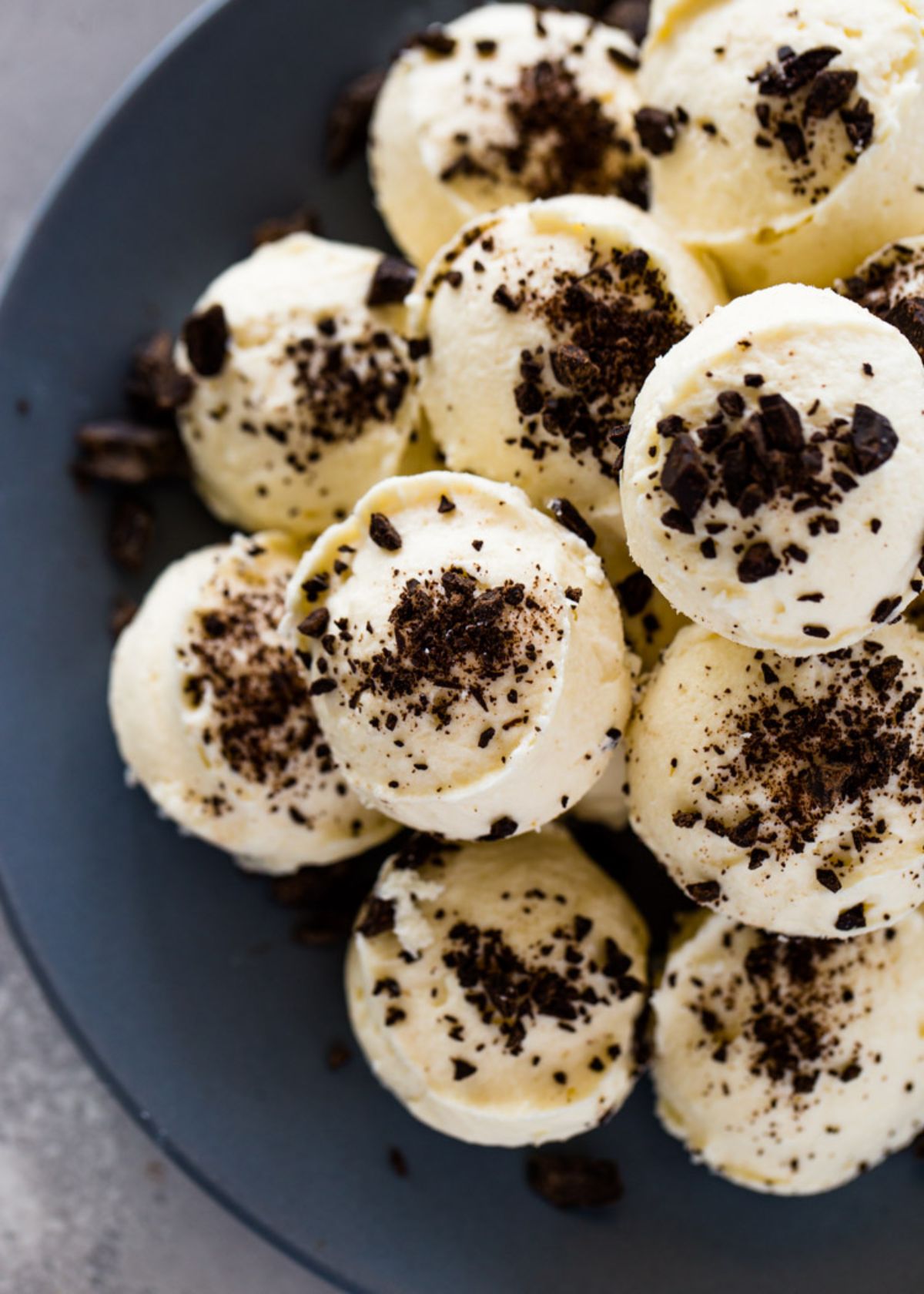 Despite their slightly violent name, these little parcels of deliciousness are just waiting to get to know you. Gimme Delicious will take you through how to make these fluffy and creamy parcels, and your fridge will never be without them again.
RECIPE CARD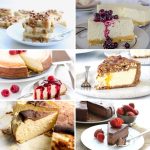 30 Keto Cheesecake Recipes With Low Macros
Find your favorite low net carb keto cheesecake on thsi list that includes classic cheesecake, chocolate keto cheesecake, and even a peanut butter cheesecake that easily fit into your low carb macros.
Ingredients
Please ensure Safari reader mode is OFF to view ingredients.
New York Cheesecake

Key Lime No Bake Cheesecake

Gluten-Free Vanilla Cheesecake

No-Bake Peanut Butter And Chocolate Cheesecake

Cookies And Cream Cheesecake

5-Ingredients Cheesecake

Keto Mug Cheesecake

Peanut Butter Brownie Cheesecake

Raspberry Cheesecake Cups

Death By Chocolate Cheesecake

Carrot Cake Cheesecake

Lemon Cheesecake

Salted Caramel Cheesecake Bars

No-Bake Muffin Mold Cheesecakes

No-Bake Chocolate Cheesecake

No-Bake Pumpkin Cheesecake

Dairy-Free Chocolate Cheesecake

Blueberry Cheesecake Pie

Red Velvet Cheesecake

Peanut Butter Cheesecake Bites

Carrot Cake Instant Pot Cheesecake

Keto Mini Cheesecakes

Pecan Pie Cheesecake

Chocolate Coffee Cheesecake Pie

No-Bake Cheesecake Bites

Cookie Dough Cheesecake

Chocolate Truffle Cheesecake

Basque Burnt Cheesecake

Coconut Cheesecake

Cheesecake Fat Bombs
Click to convert between US & metric measurements:
Instructions
More TIPS about this paleo recipe in the post above!
Prepare any of these delicious cheesecakes within an hour
© Copyright Wicked Spatula. We'd LOVE for you to share a link to this recipe, but please DO NOT COPY/PASTE the recipe instructions to social media or websites. You may share a photo with a link back instead.
Did you make this recipe?
Click here to leave a comment + star rating! ★★★★★
Then, share a pic on Instagram. Tag @wickedspatula or #wickedspatula!