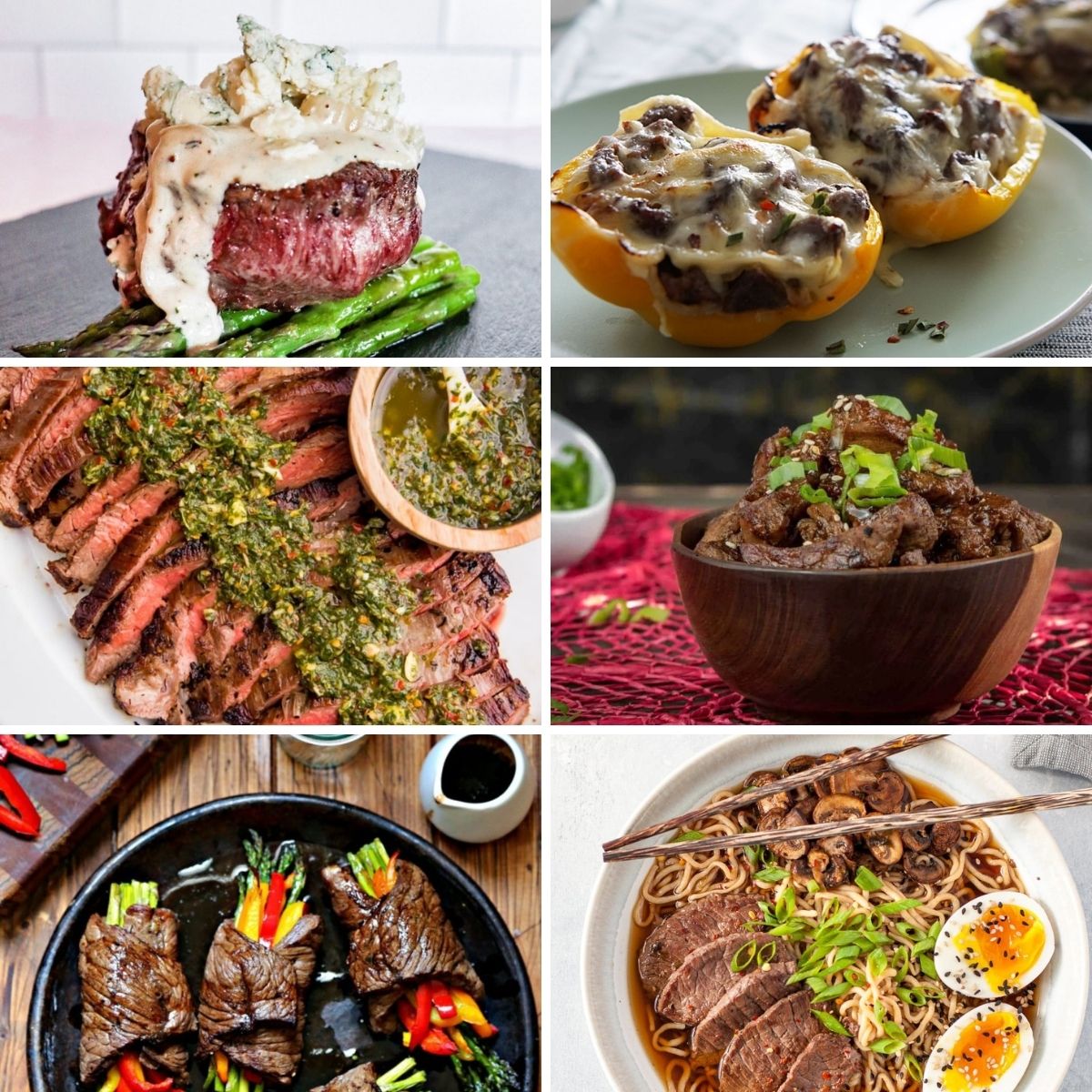 No matter how far you're into the keto life, you'll have welcomed steak with open arms into your meal reportoire. Steak is full of protein and carb-free, making it the perfect ingredient to build your supper around. As an added bonus, it'll feel like a special occassion every time you tuck in!
These 30 keto steak dinner recipes are easy to make, gorgeous to look at, and full of flavors that you'll want to wrap your tastebuds around. We've gathered everything from marinades, to casseroles, to ramen bowls for your viewing pleasure!
Steak and egg burrito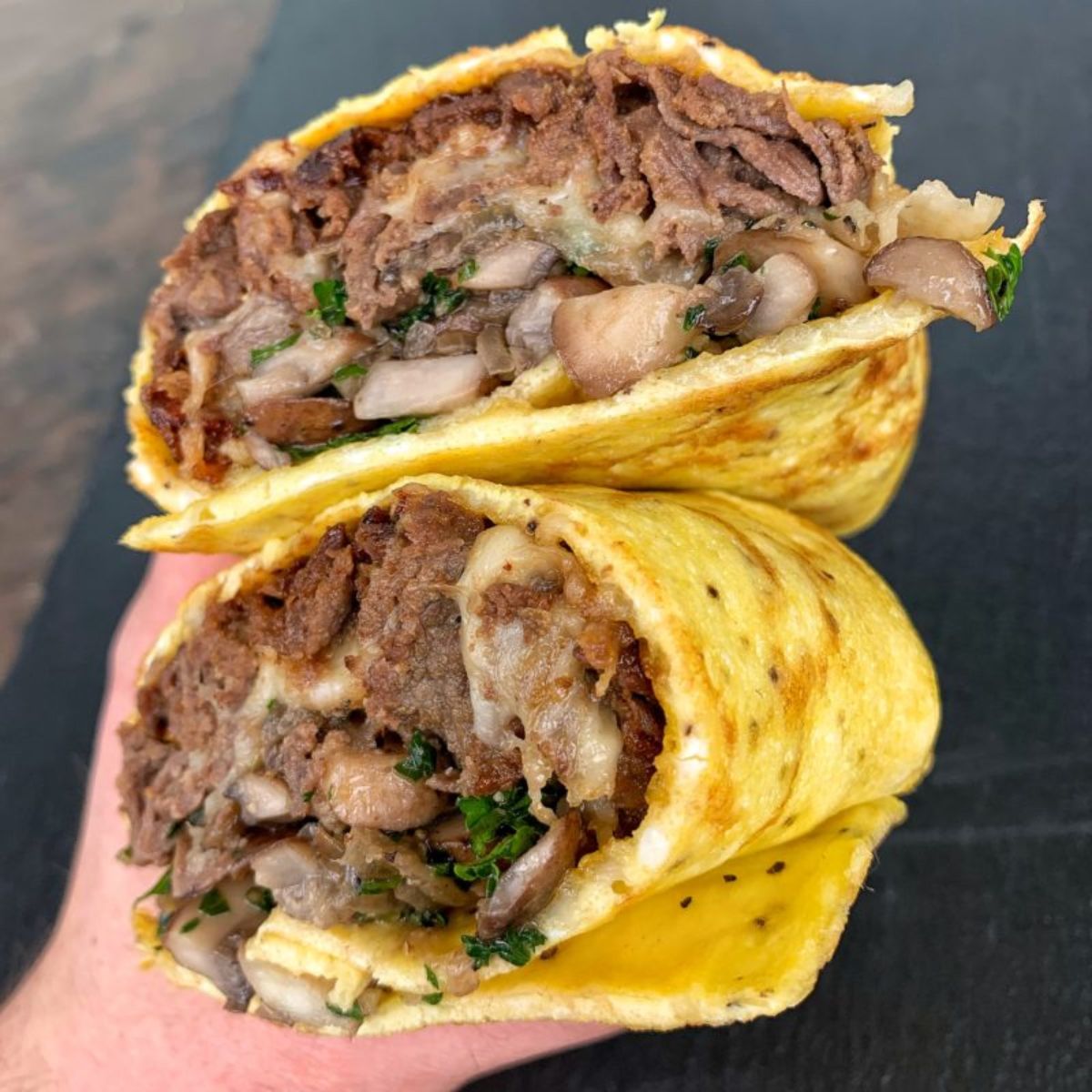 Steak and eggs for breakfast are a tried and tested friend of those on a low-carb diet. Recipe Champions has put his own twist on the classic with an egg burrito, and mouthwatering sauteed steak and mushrooms.
Chimichurri flank steak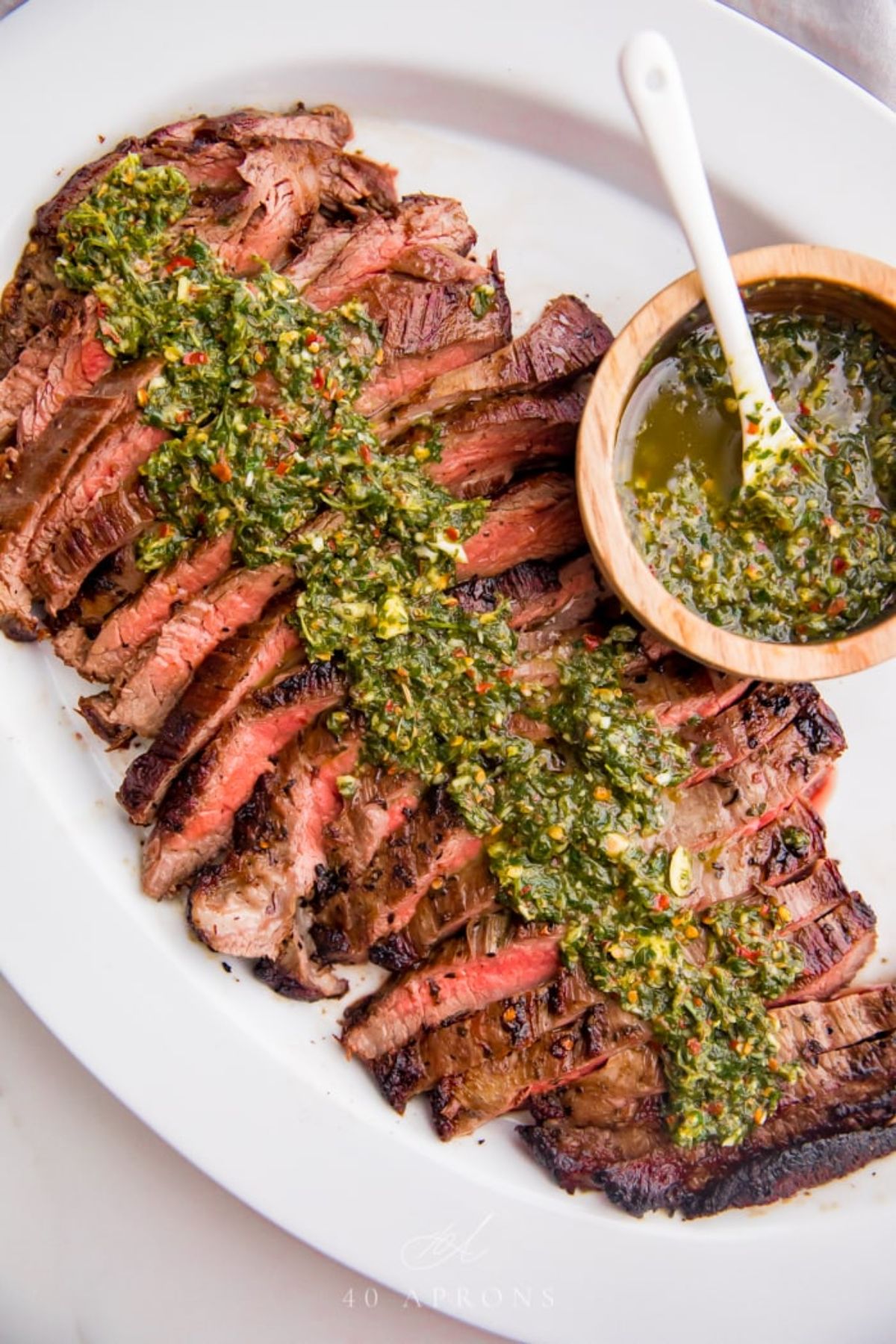 This hit of flavor from 40 Aprons is the perfect recipe for entertaining all of your keto (and non-keto) friends. It works well indoors or out on the grill, and you can make up the marinade and sauce ahead of time. Once that's all ready, though, the actual cooking takes seconds!
Steak with red wine pan gravy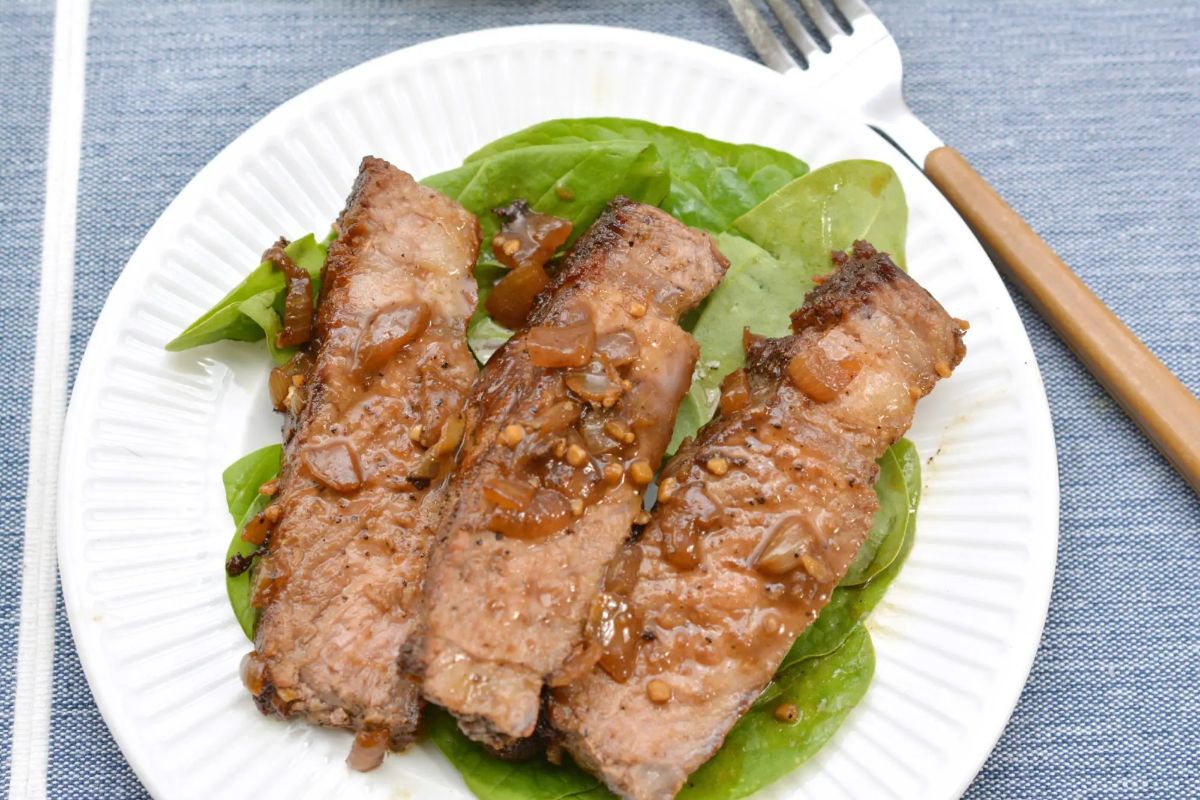 If you like your exercise, or you have a growing teenager in the house, then steak dinners are a great way of making sure everyone has the protein they need to build muscle. This steak recipe from Blog by Donna tastes good with cheaper cuts of steak as well as ribeye, so you're sorted no matter you're budget.
"Oh my!" steak sauce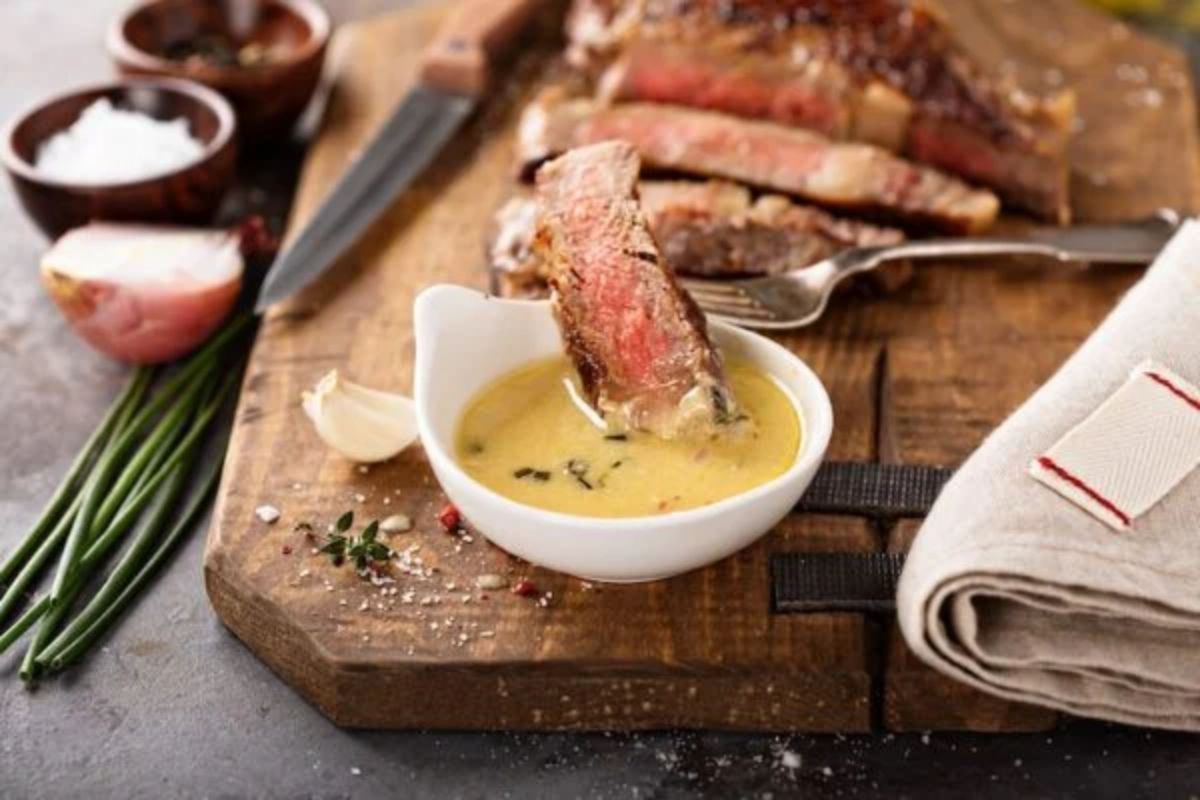 There are only so many ways that you can cook a steak (and yes, we're pretty sure we cover them all here!), but there are a million ways to use sauces and other ingredients to change how your steak dinner tastes. This keto buttery steak sauce from The Novice Chef is so good you'll want to pour it all over your portion, and not leave any for anyone else!
Steak and veggies sheet pan dinner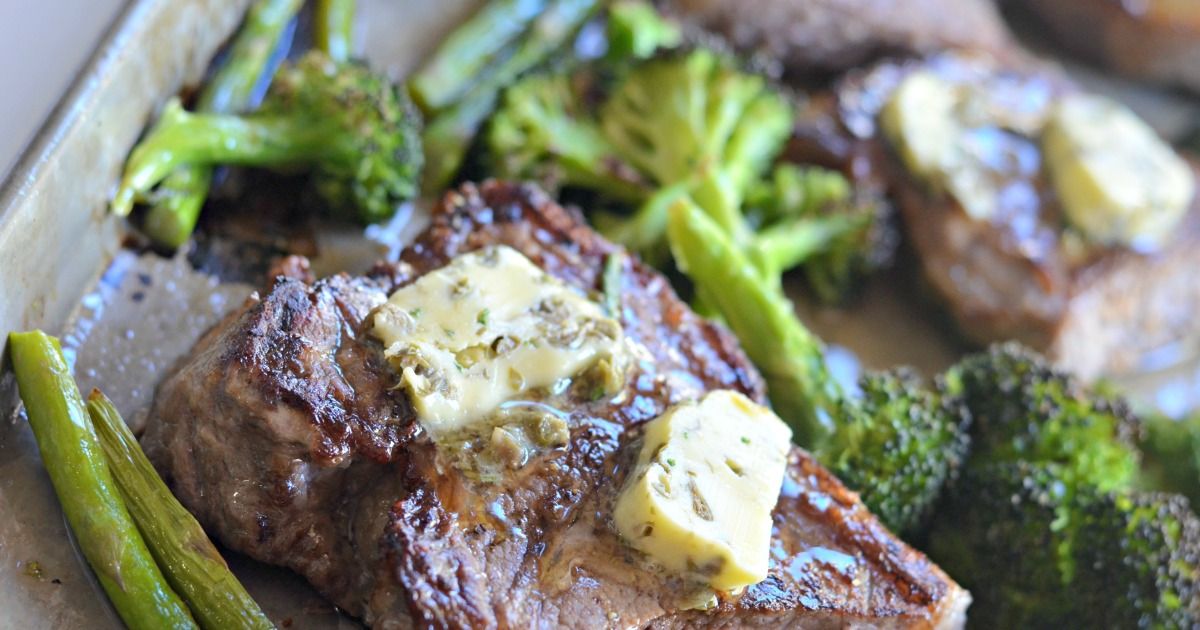 Do you know how I feel about one-pot meals? Well, sheet pan dinners are one of my favorite ways to get everything on the table in one go, with minimal washing up! Hip2Keto has a great speedy supper recipe with delicious garlic caper butter. It will knock your socks off, and give you more time to catch up on Selling Sunset.
Steak and eggs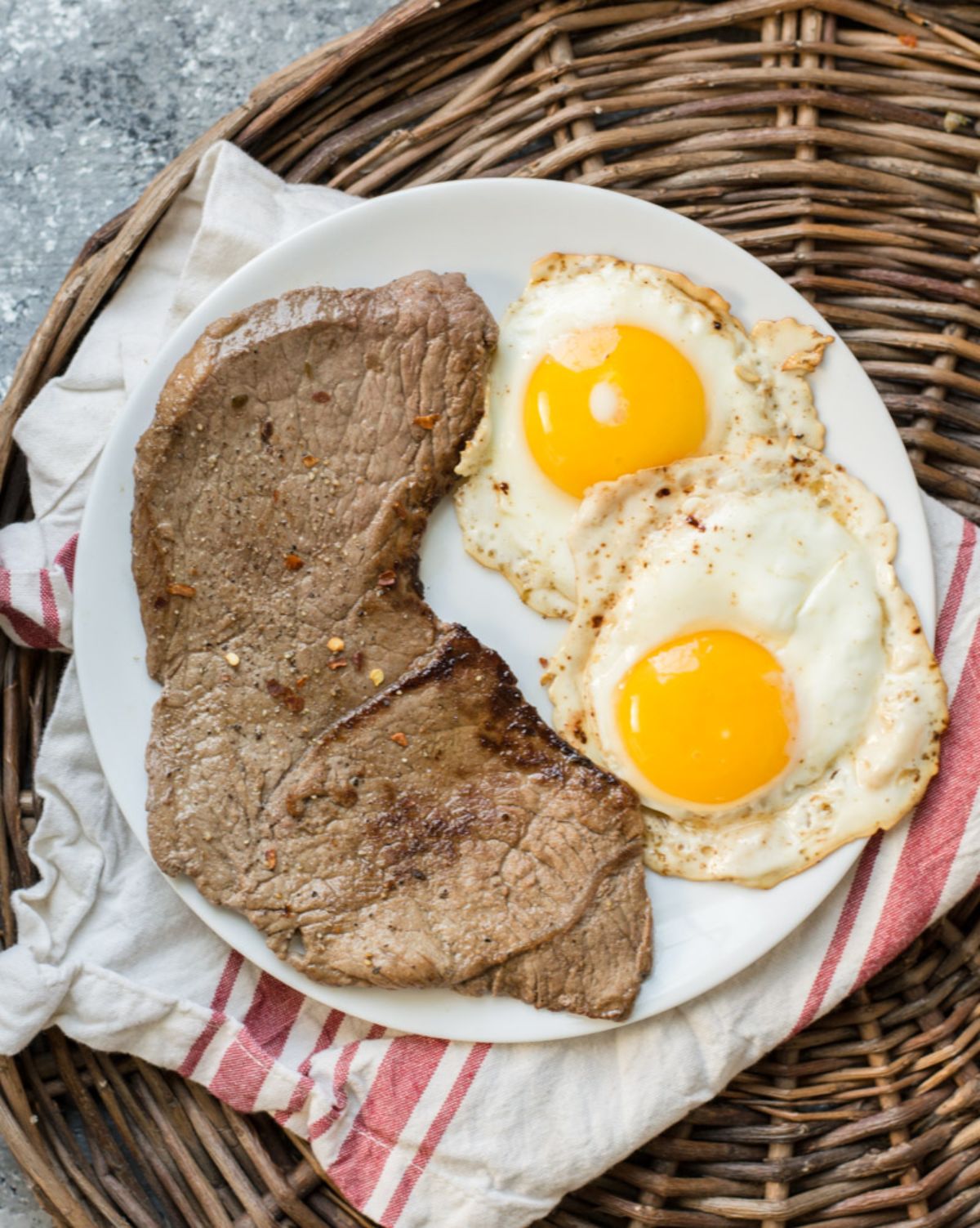 I couldn't do a round-up of all the best keto steak recipes without including the quintessential keto breakfast: steak and eggs. Maebells' recipe is simple and delicious, taking only 10 minutes to prepare.
Air-fried steak and asparagus bundles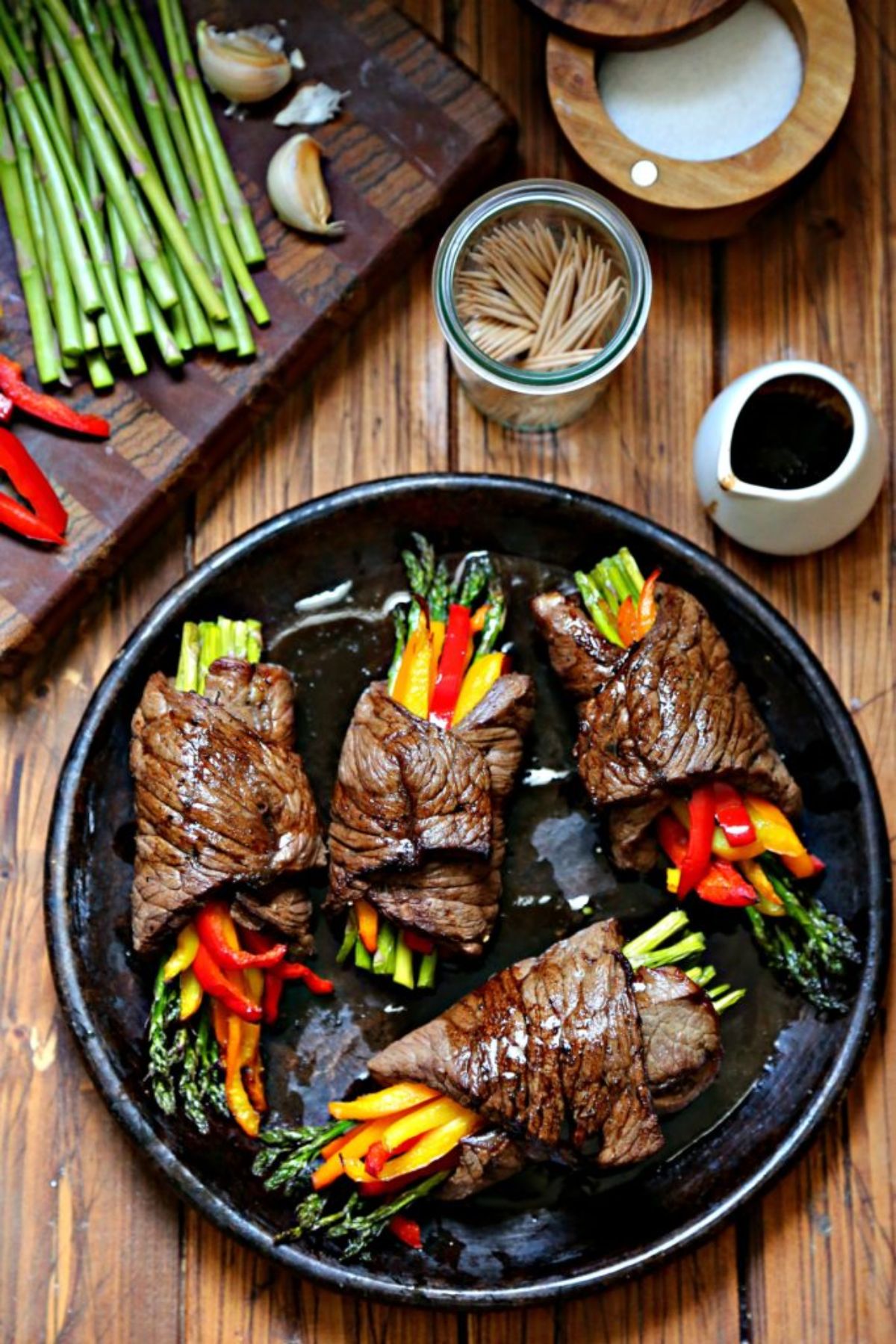 Gluten-free, low-carb, and keto-friendly, these bundles of joy from Bellalimento are perfect for a speedy weeknight dinner that looks pretty impressive on the table. Everyone will be impressed by tender asparagus and colorful peppers wrapped in delicious marinated flank steak.
Philly cheesesteak zucchini boats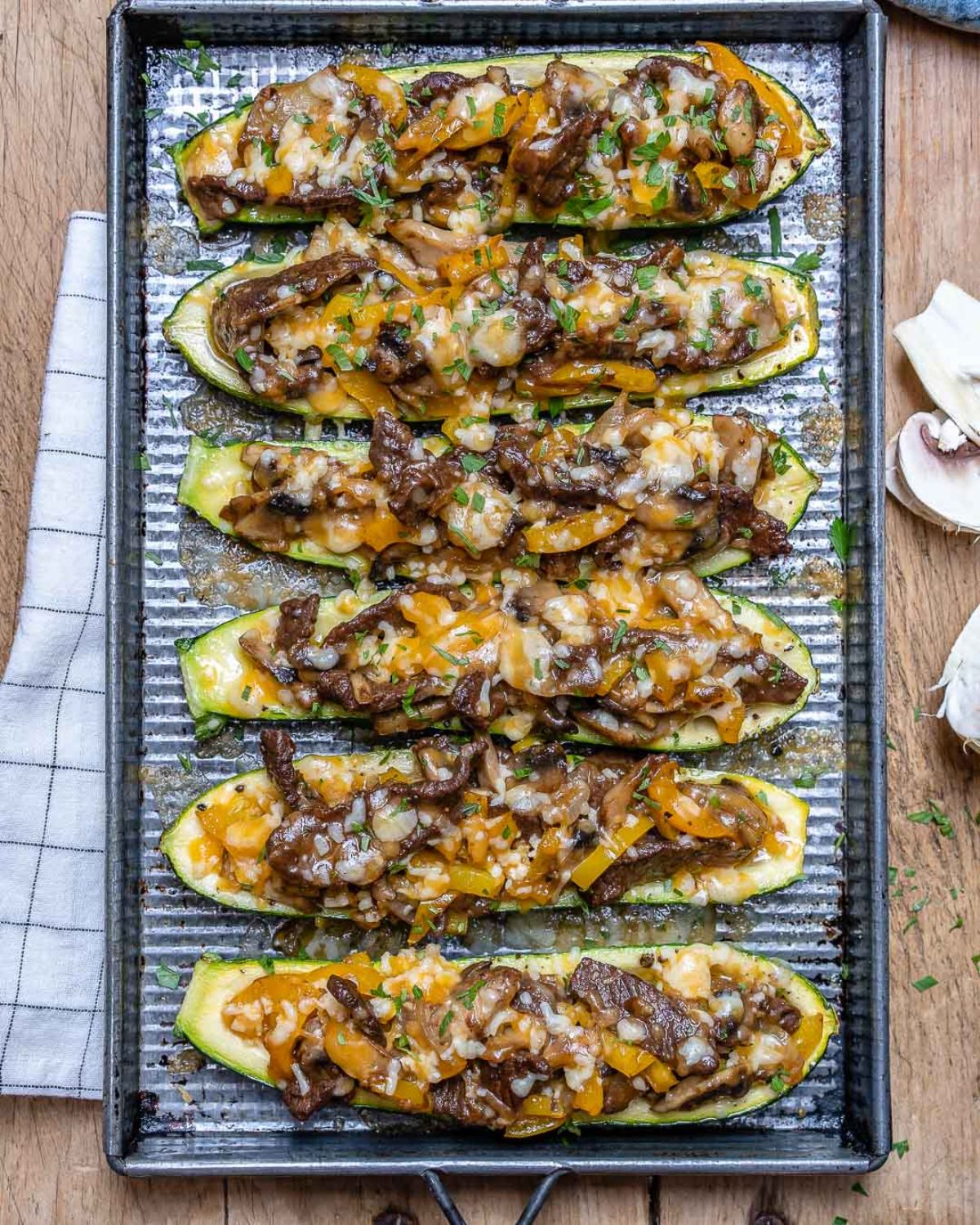 If you're looking for another way to get through a glut of zucchini then filling it with delicious Philly cheesesteak seems like a pretty good plan to me! Blondelish has a 30-minute recipe filled with onions, cheese, peppers, and tender steak.
Crockpot cube steak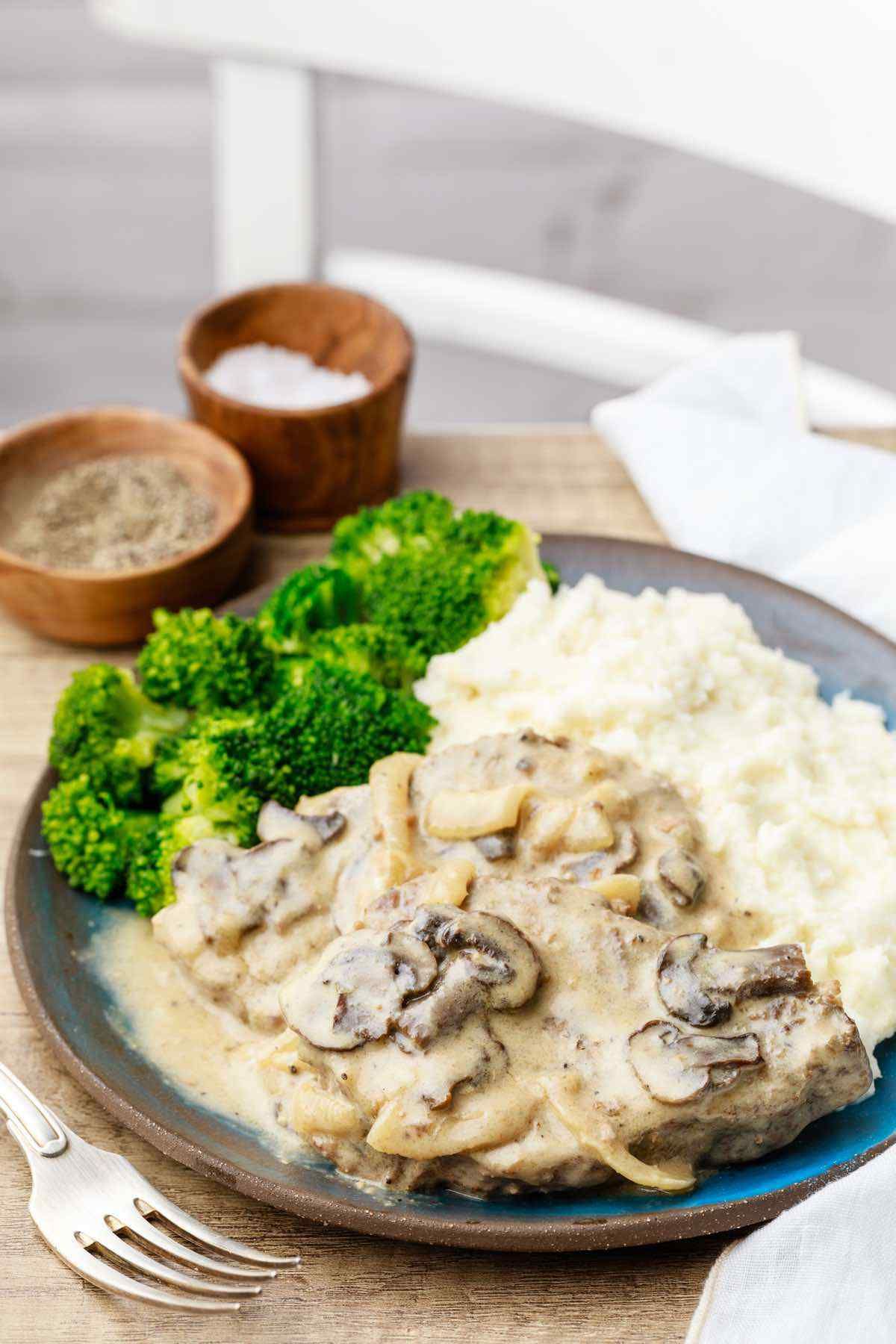 As nice as a simple marinaded steak is, sometimes you're after something a little more comforting. For this, you need to check out Keto Pots' Grandma-approved crockpot cube steak and gravy. It will make you feel like you're 8 again! Made with low-carb vegetables, as well as heavy cream and cream cheese, this meal is definitely keto-friendly, as well as being delicious.
Bacon cheese walnut crusted steak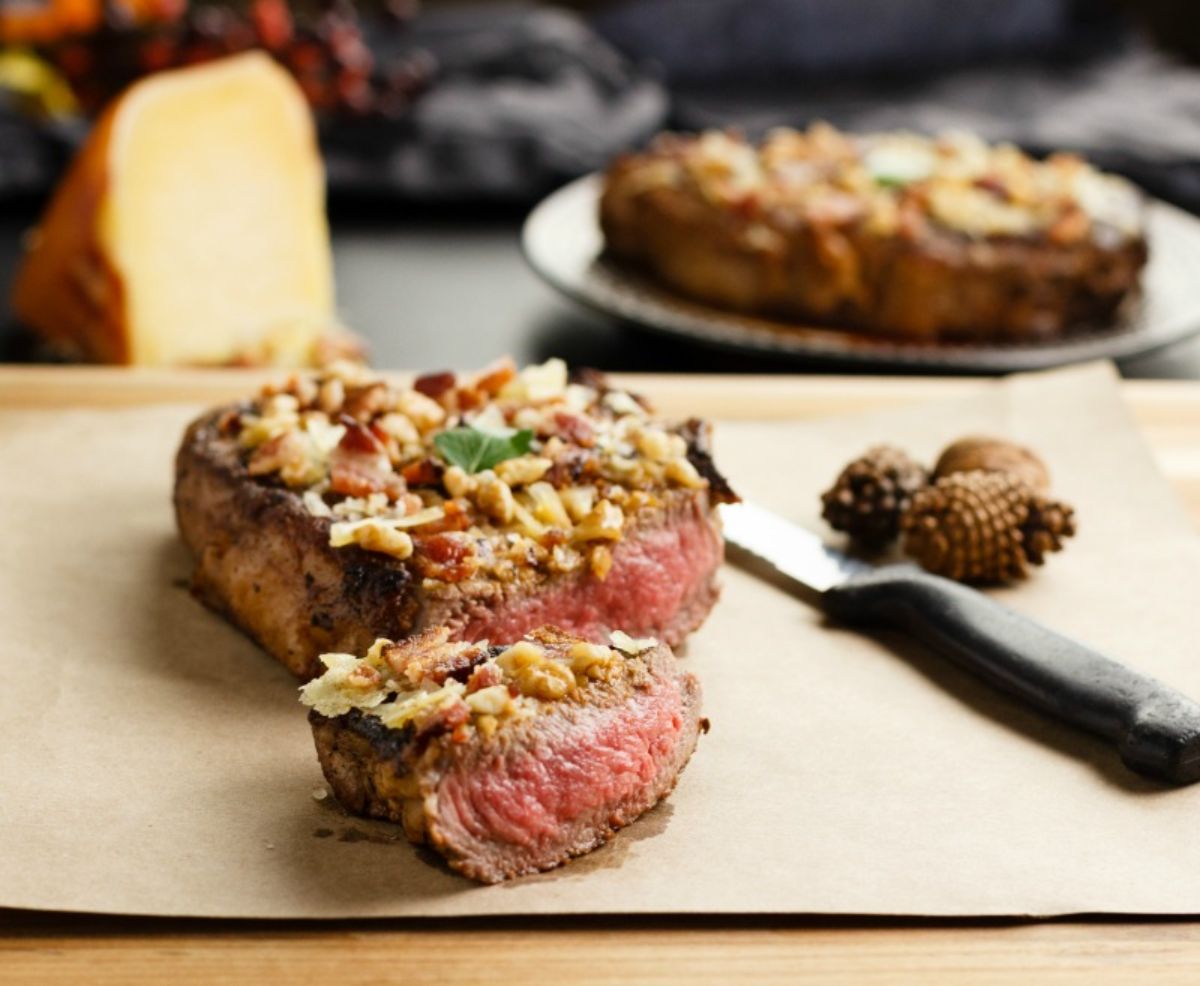 Beauty and the Foodie make this incredible morsel with cured aged hard cheese, which brings a tangy flavor to the steak crust. The combination of that, the bacon crumbles, and the chopped walnuts mean that you'll be wondering at the taste long after you've cleaned your plate.
Keto Mongolian beef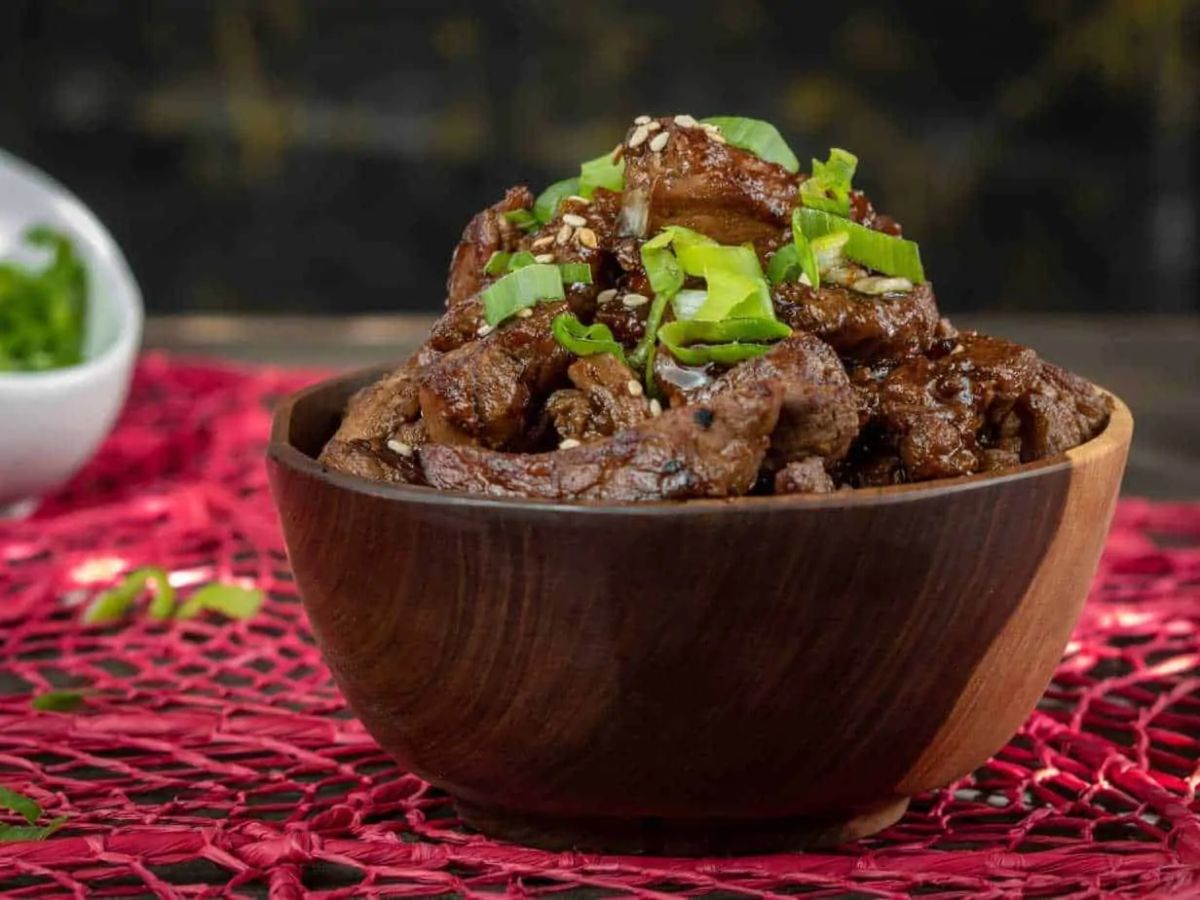 If you're a fan of this Chinese-American dish, then you'll be super-happy to know that Better than Bread Keto has a keto version. Paired with their cauliflower rice, this sugar-free bowl of deliciousness will become one of your favorite midweek keto meals.
Surf and turf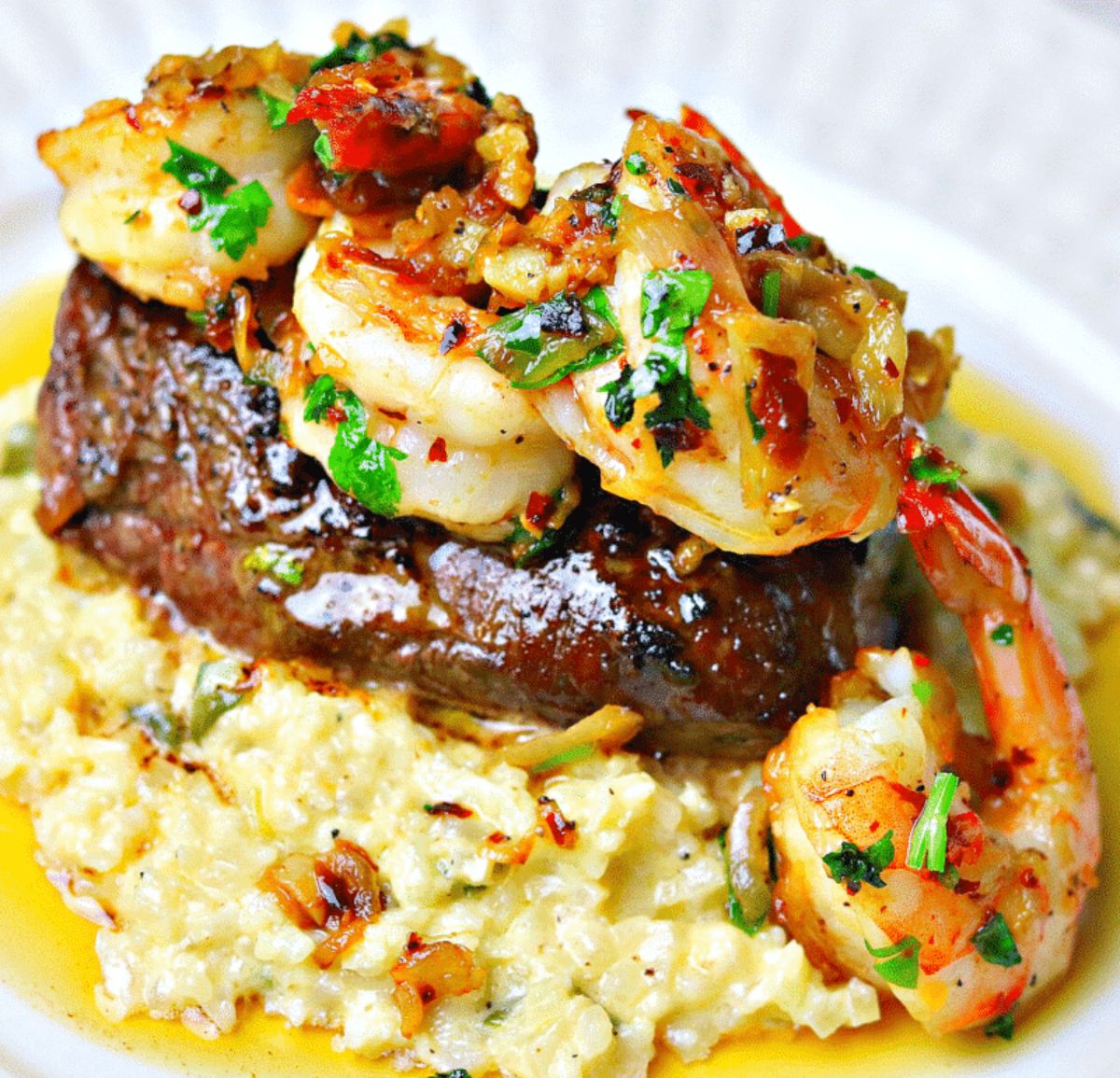 Rosemary flavored filet mignon steak, keto shrimp scampi, and parmesan cauliflower rice risotto, all sitting on a plate in front of you. Dr. Davinah's Eats has created the ultimate date night dinner! I'm drooling just thinking about the creamy, tangy goodness. Her instructions are really easy to follow, so there's no excuse for not trying it out on your next special occasion.
Philly cheesesteak stuffed peppers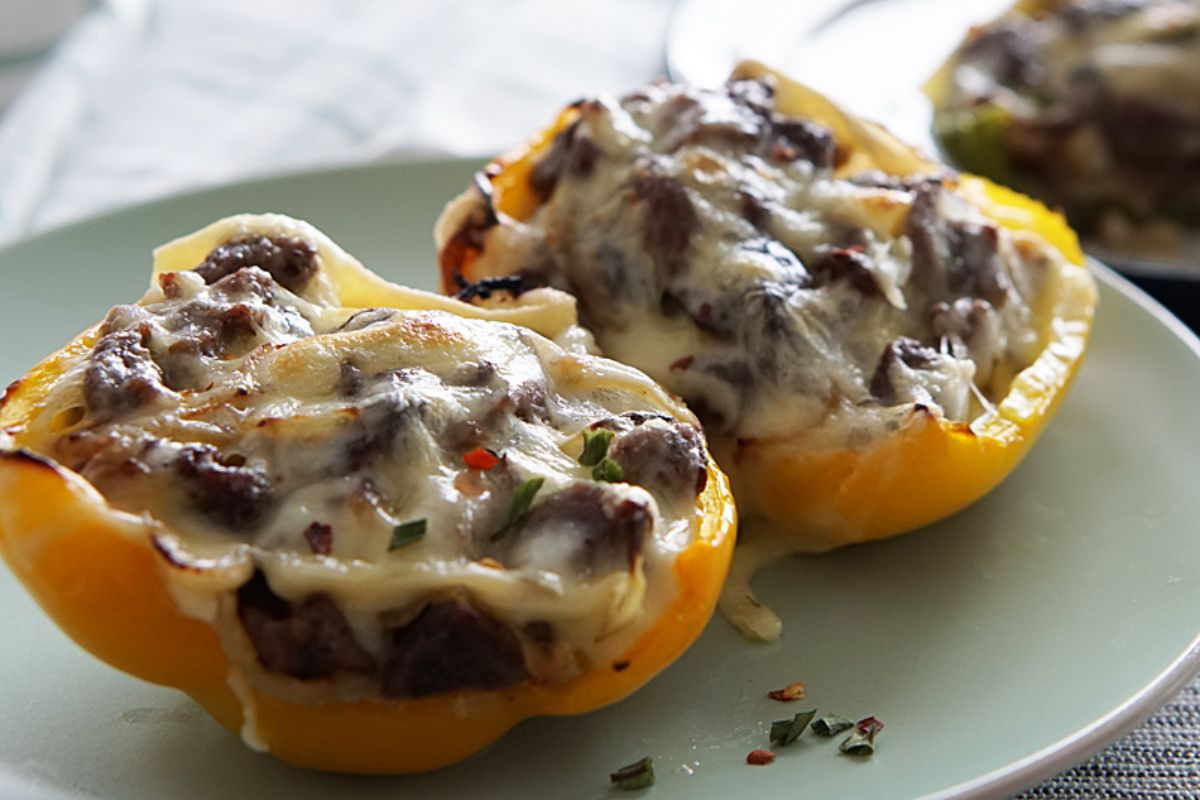 Stuffed peppers are a brilliant keto-friendly dinner, being low in carbs and high in flavor! Delightfully Low Carb has stuffed hers with this delectable Philly Cheesesteak mix, and I'm in love with it! The peppers have enough structural integrity to hold the cheesy, gooey mixture, and enough bite to add a bit of texture to your meal.
Keto fajitas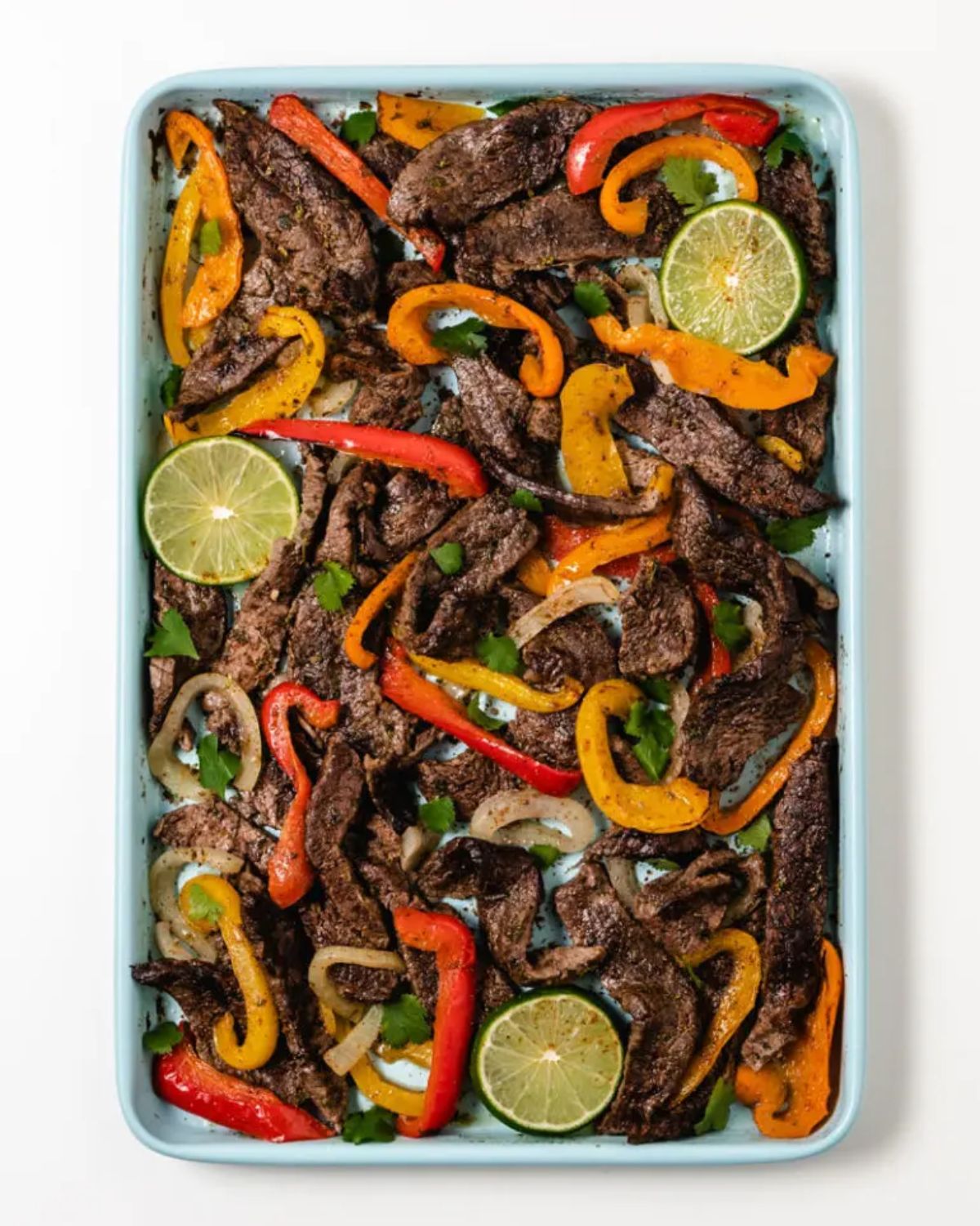 I adore fajitas, and I went through a stage at college where I ate them pretty much every day! Quick, easy, and delicious with oozing sour cream and guacamole piled on. Ketogasm understands my love and has a keto fajita guide for all of you spice-lovers out there. I'm going to go stand in the corner with my plate piled high!
Beef bulgogi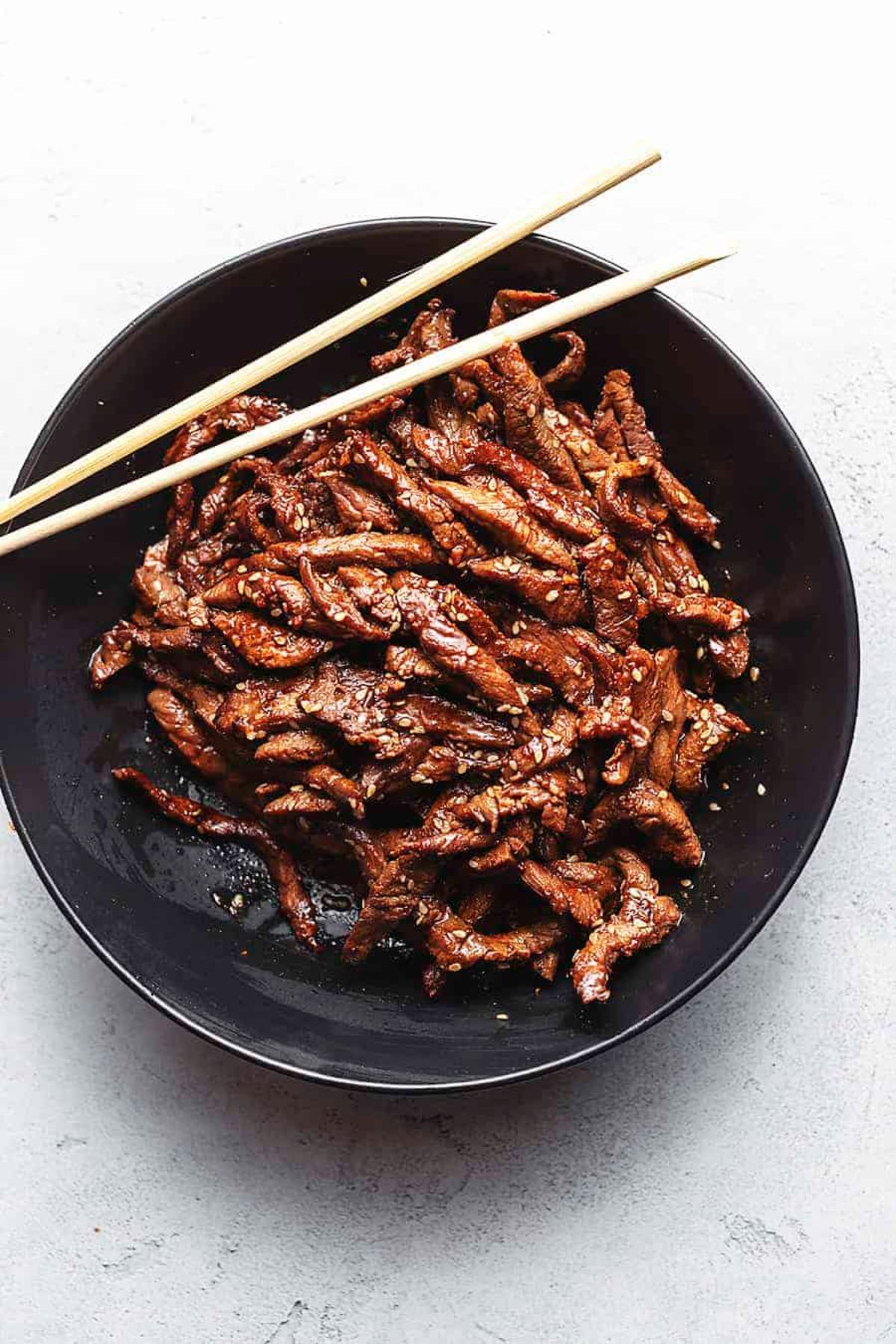 If you're in search of more interesting flavors, then Low Carb with Jennifer has a classic Korean dish with a keto twist. Serve this tender steak with cauliflower rice and your tastebuds will explode with sweet and savory flavor.
Salisbury steak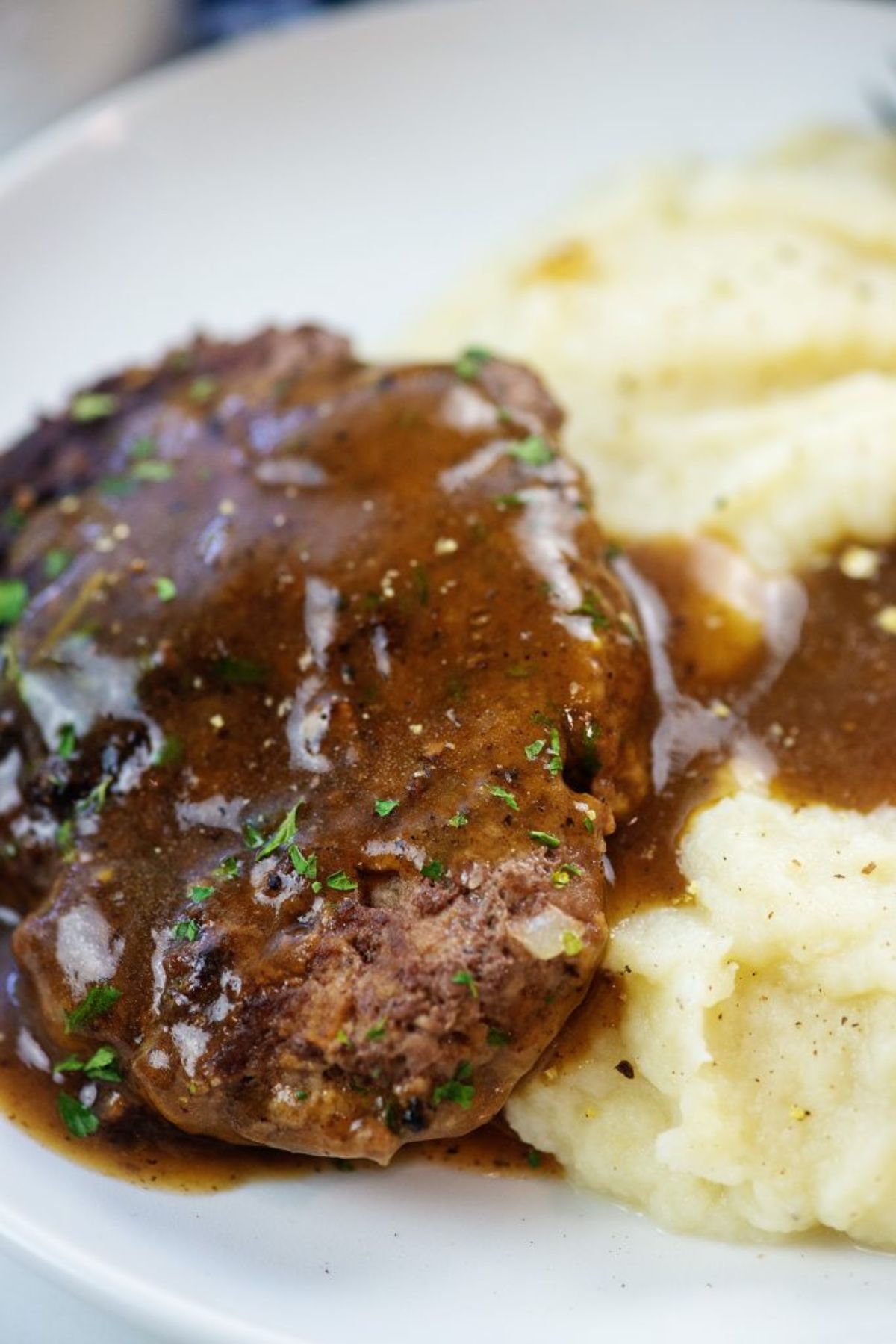 Another ultimate comfort food dish here from That Low Carb Life. Salisbury steak is perfectly cooked meat covered in a rich gravy, and I am here for it! Place it on top of cauliflower mash, and enjoy the sauce mingling with everything on your plate.
Philly cheesesteak pockets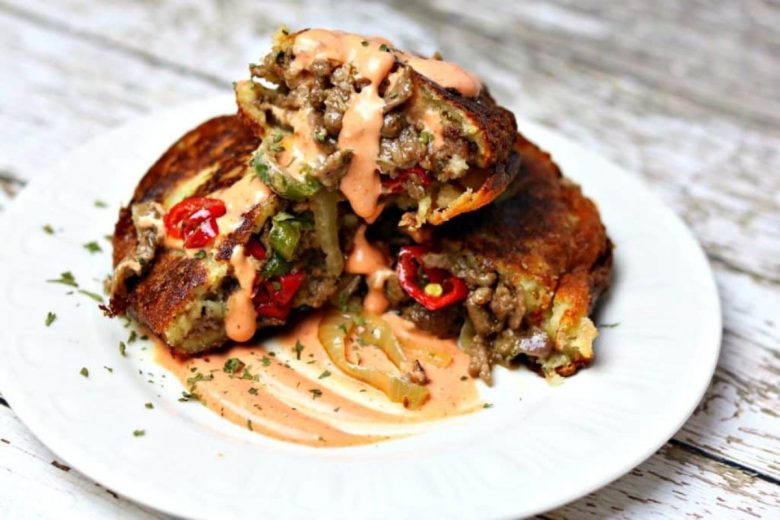 If you love the Philly cheesesteak taste, but want to try something a bit different, Dr. Davinah's Eats has the recipe for you. Her cheesesteak pockets use fathead dough to keep everything low-carb, and the result is a gooey, cheesy, pocket of pure joy!
Filet mignon with blue cheese shallot sauce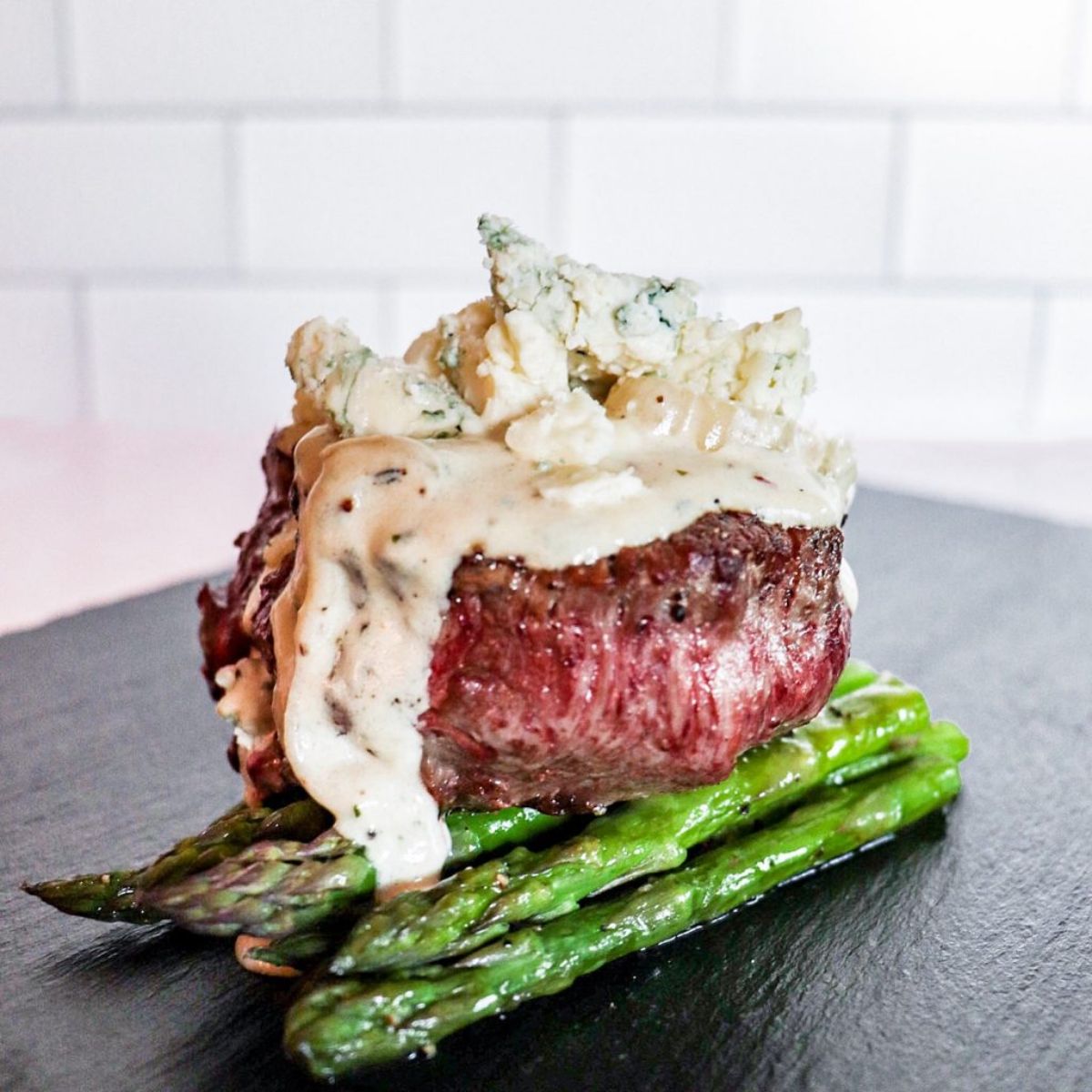 Just look at this little morsel of perfection! Granted, I don't usually have the time to serve up my suppers like this. But after scrolling through Salt and Sprinkles' website, I'm tempted to start making the time. Thankfully, this filet mignon tastes as good as it looks, with its rich blue cheese sauce.
Keto steak marinade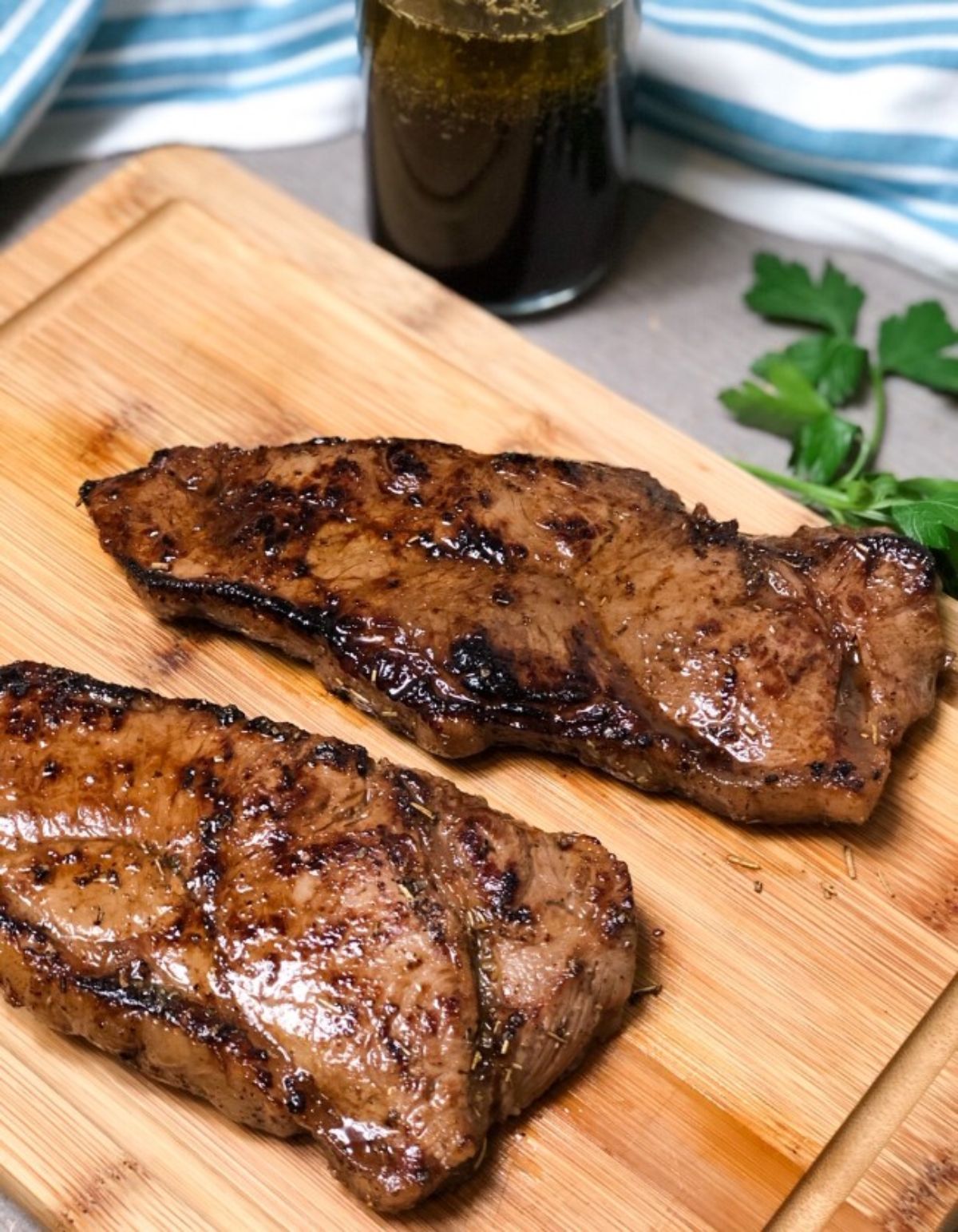 Now, obviously, every keto recipe website worth its salt claims to have "the best steak marinade," and they can't all be right. It probably comes a little down to personal taste, but I love this offering from Curbing Carbs. Balsamic vinegar, olive oil, coco aminos, garlic, Worchestershire sauce, and Italian seasoning make it a taste sensation.
Steak foil packets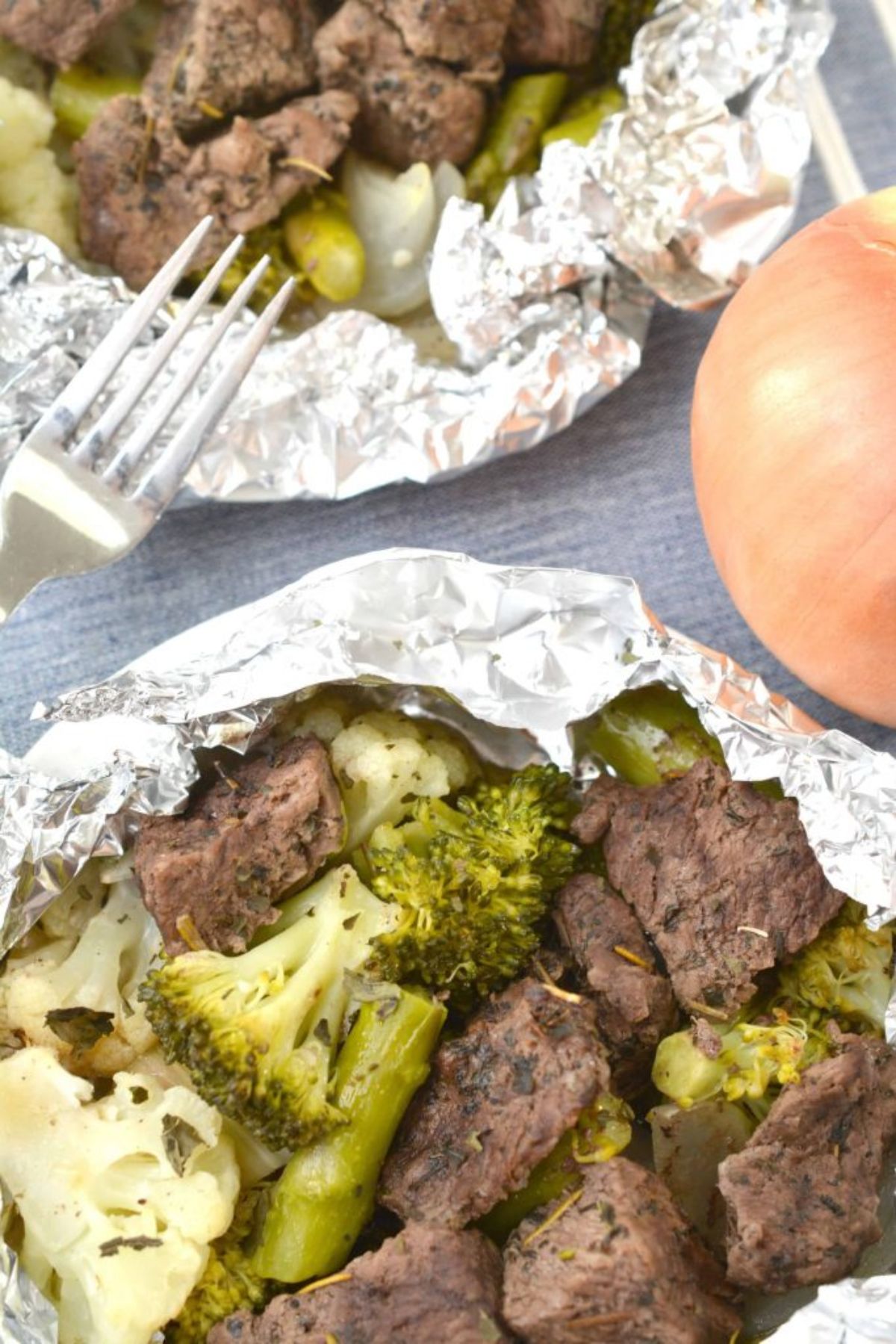 This is such a simple way to serve steak, but it comes packed with lots of flavors. Stylish Cravings' steak foil packets are delicious, easy to make, and don't result in a sink full of washing up (bonus!). The mix of herbs and the foil-cooking mean a tender and tasty parcel of meat and veg.
Pepper steak stir fry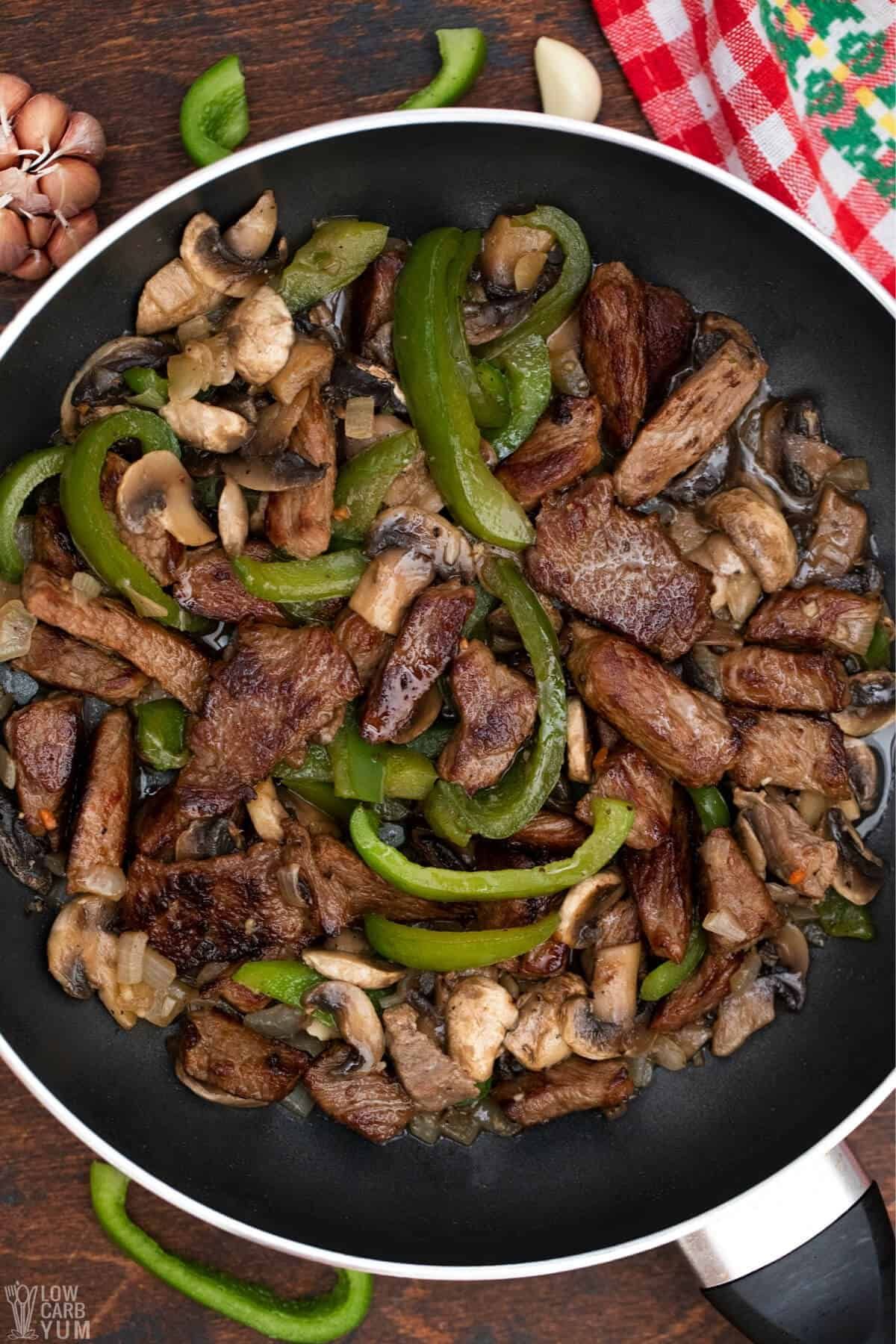 A stir fry is always my go-to super-quick midweek supper. It's great for when the kids have finally gone to bed and I don't want to stand at the stove for any more of my evening. Low Carb Yum's pepper steak stir fry is low-carb and takes less than 30 minutes, which gives me more time to pour a drink and enjoy it.
Philly cheesesteak in a bowl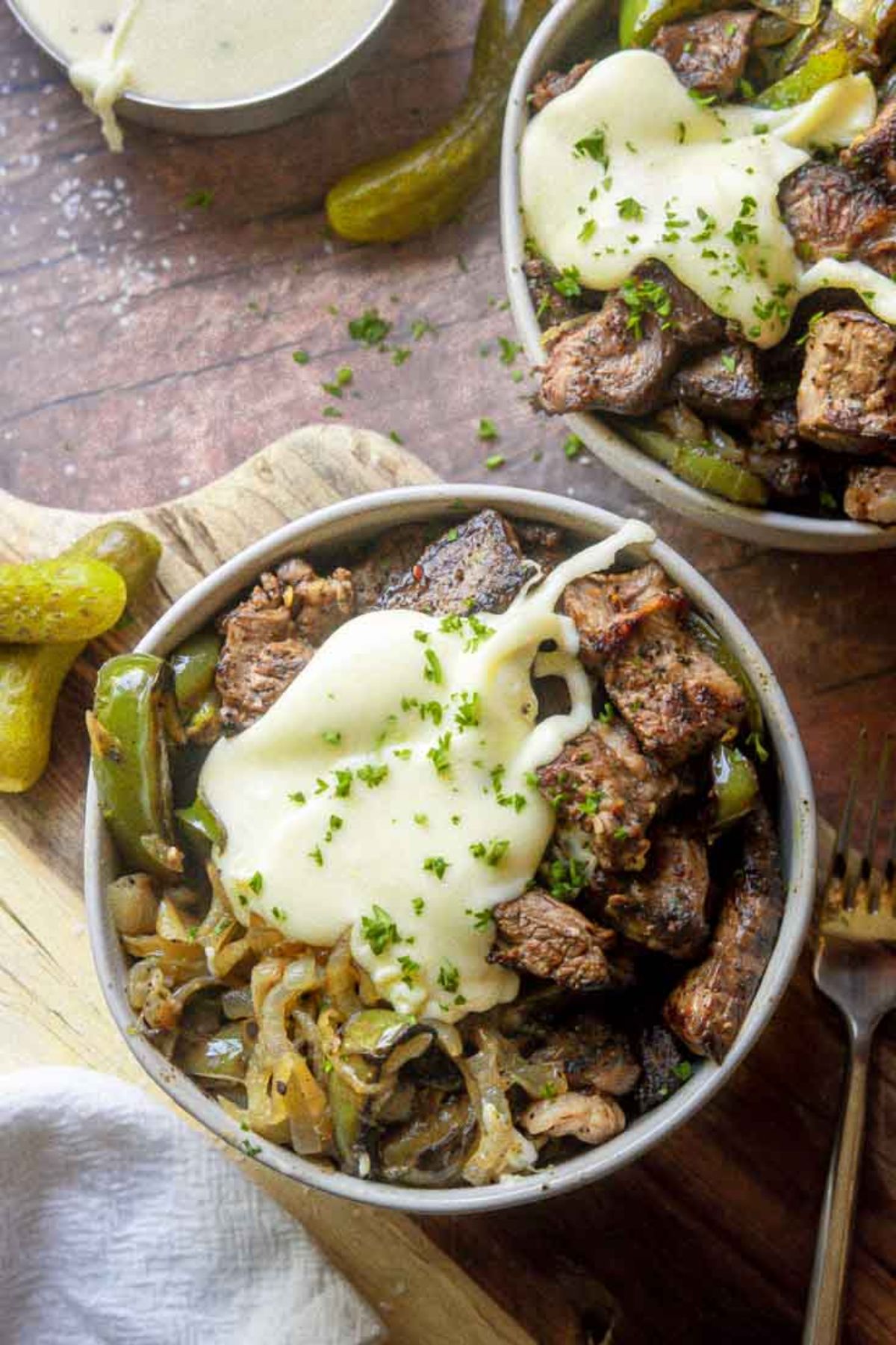 I think we're verging on spoiling you here with all these different ways to eat a delicious Philly cheesesteak! Little Pine Kitchen makes theirs in a bowl, and it looks like the kind of meal you sink into a cozy chair with and enjoy from beginning to end.
Steak bites with peppercorn and garlic butter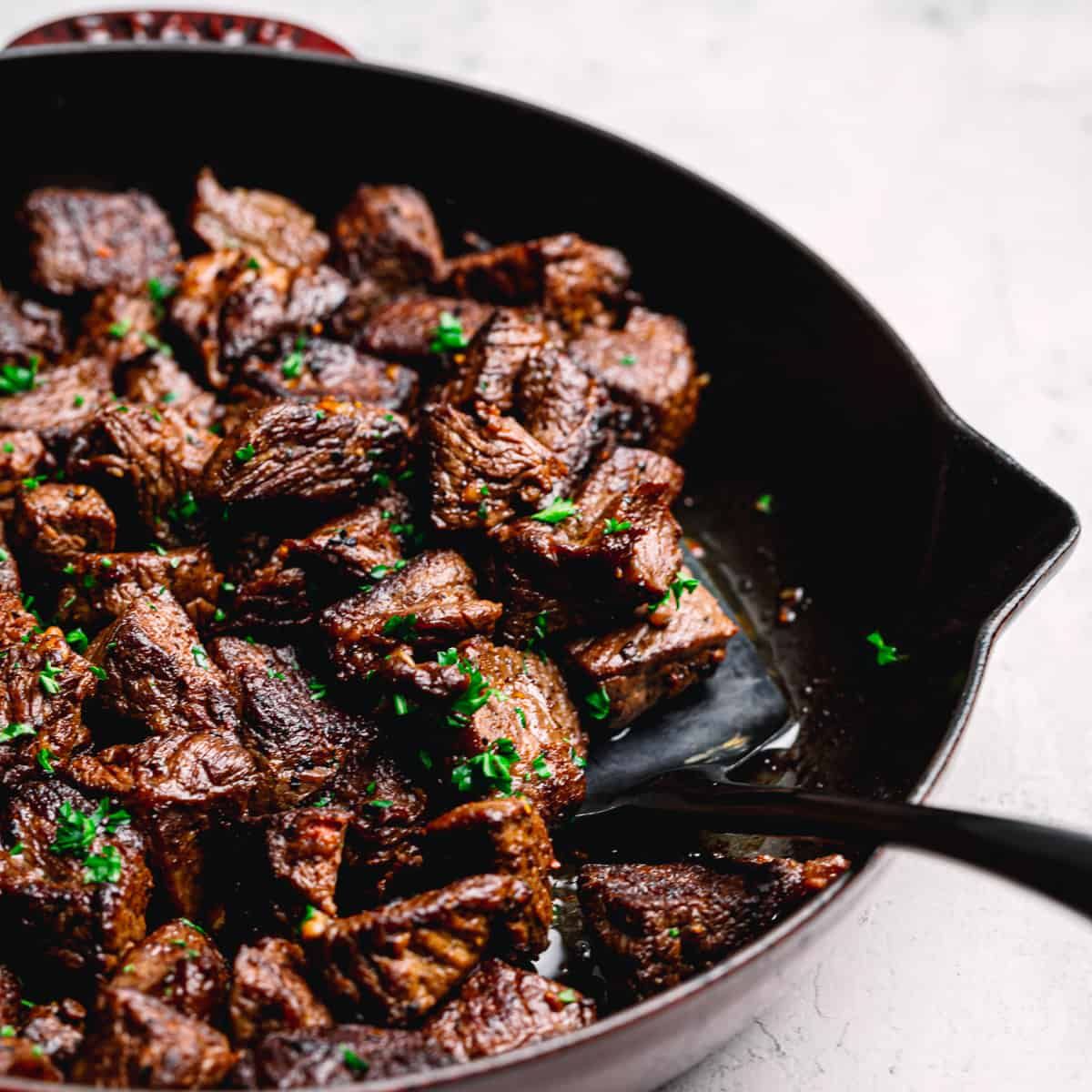 Posh Journal has the best recipe for perfecting your steak bites. Made on the stove they stay tender and juicy on the inside, and seared and crispy on the outside. Add to that the sauce, and it's divine!
Beef ramen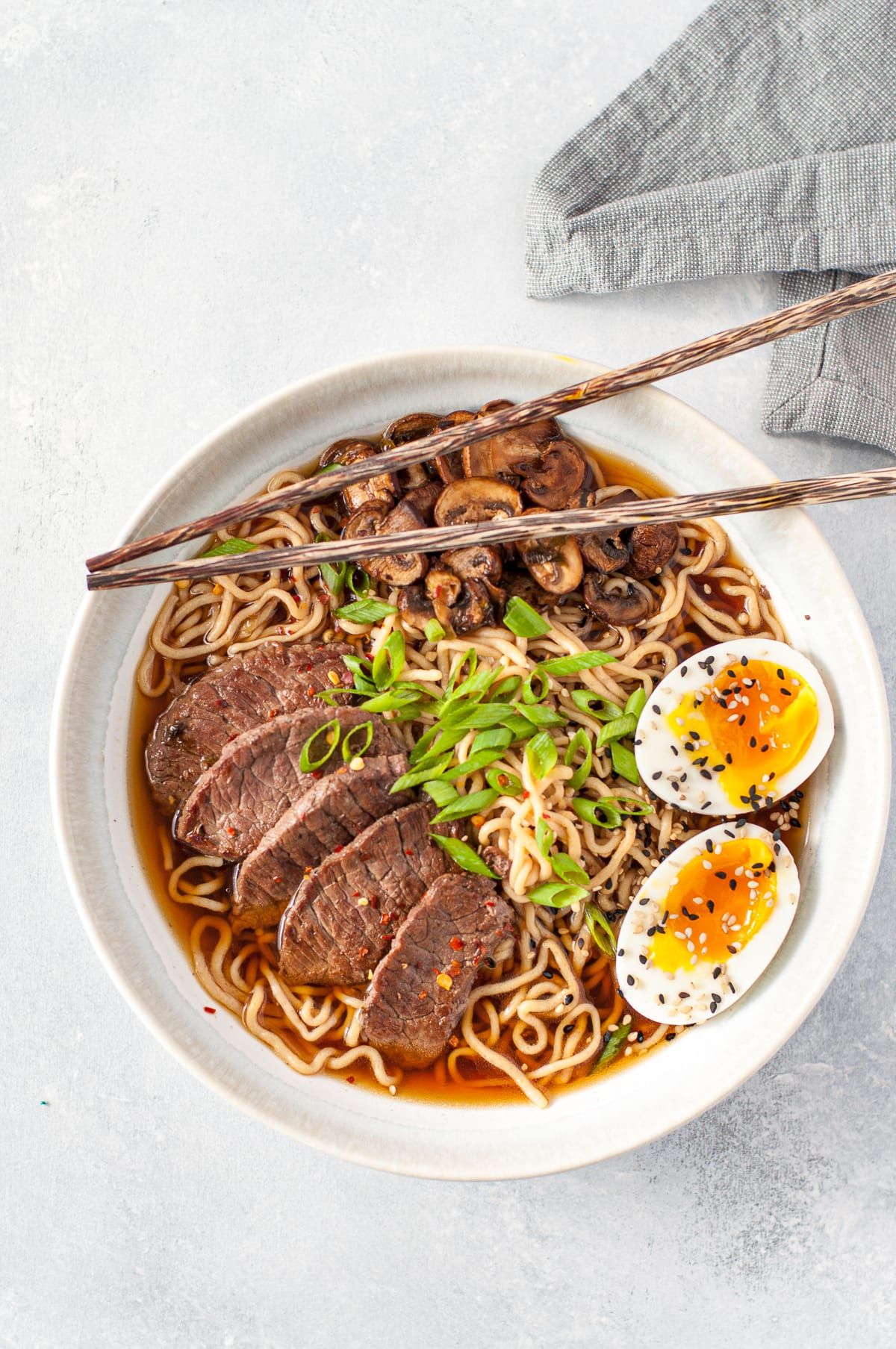 There are few things more warming than a full bowl of ramen. If you love ramen flavor but need to ditch the carbs, then Peace Love and Low Carb have a keto-friendly ramen recipe to warm you down to your toes.
Air fryer steak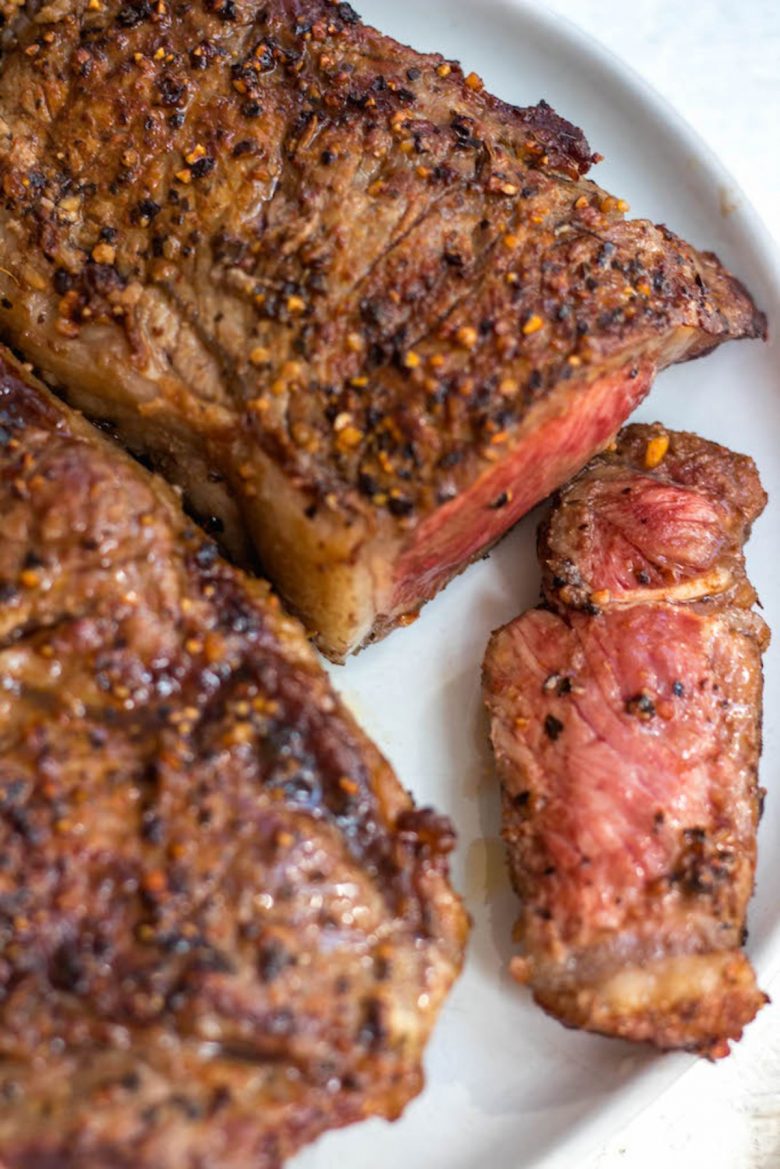 Whole Kitchen Sink loves their air fryer to cook steak, and I have to agree. Following their recipe, you can pop in the meat, and have enough time to sort out your sides before it's perfectly cooked all by itself.
Fajita steak salad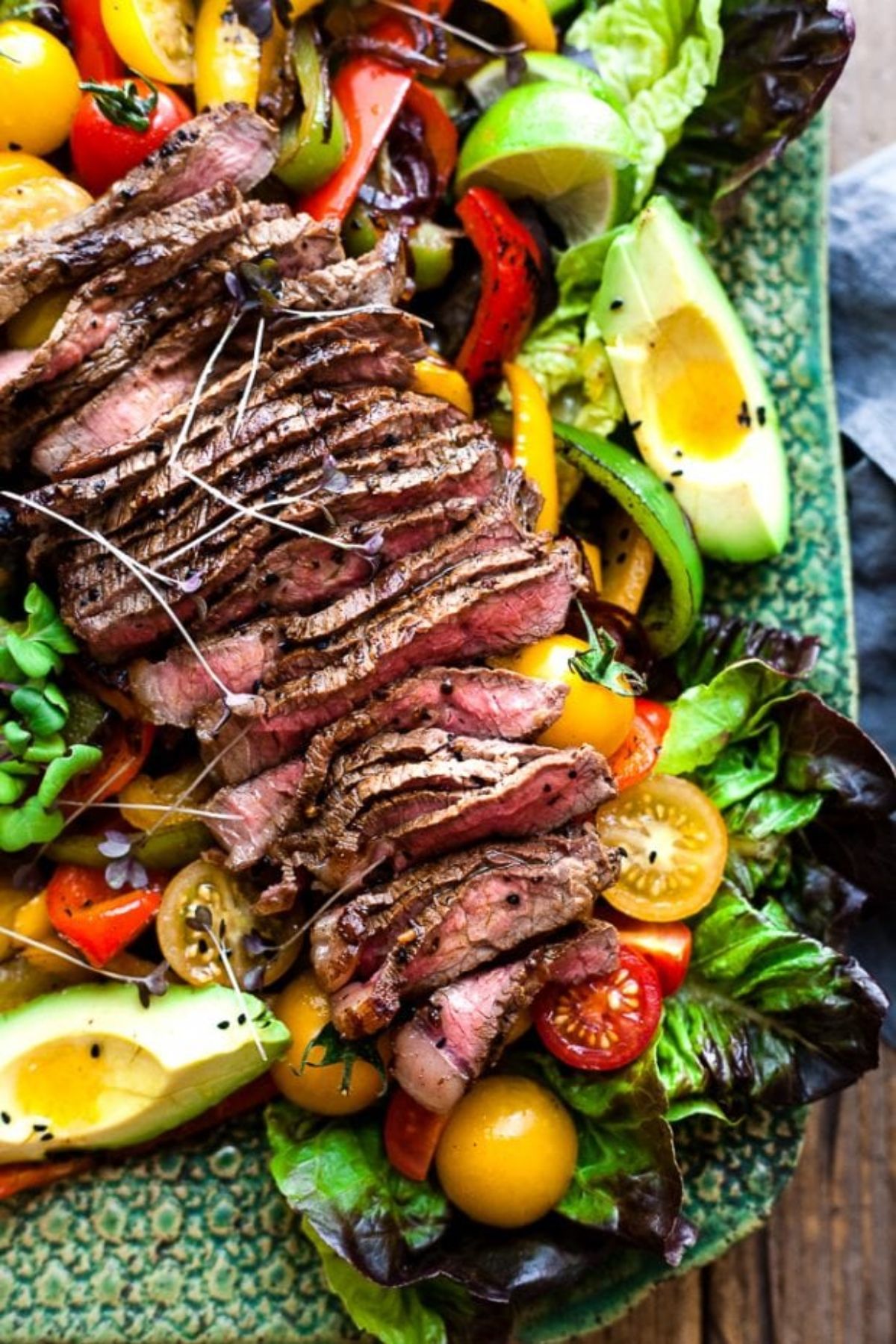 This amazing-looking plate of food is 40 Aprons' fajita steak salad. The light and fresh vegetables, combined with tender steak and gorgeous spices, make this a fabulous choice for a lunch with friends, or a summer afternoon BBQ side.
Stuffed flank steak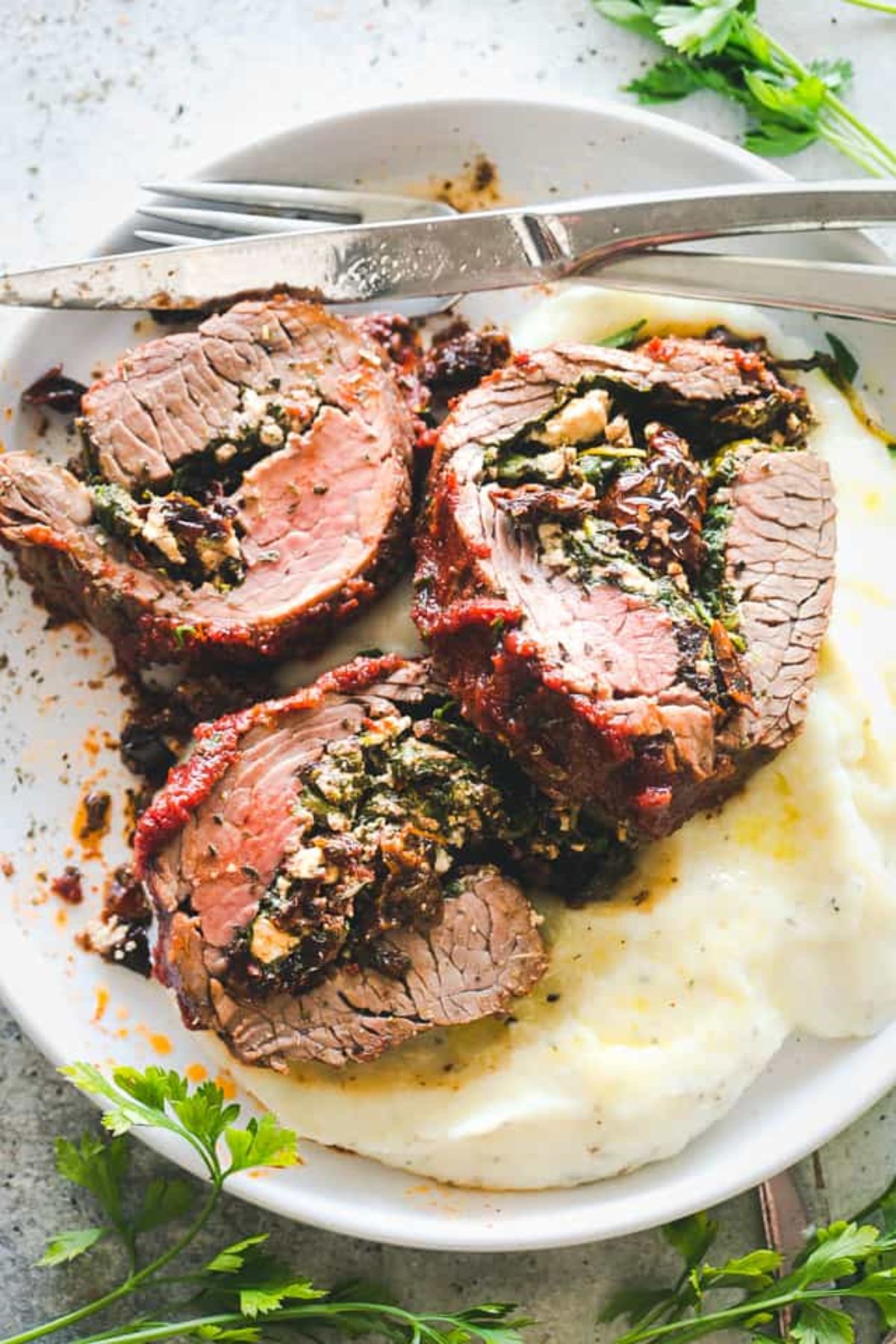 Finally, if you're looking for something that looks really impressive but doesn't take 5 hours and fits in with your low-carb diet, then Katerina at Diethood has a recipe for flank steak stuffed with baby spinach, sun-dried tomatoes, and feta cheese that I can't wait to show off to friends at my next dinner party.
RECIPE CARD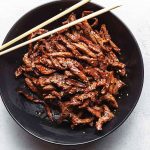 27 Keto Steak Dinners Your Family Will Love
Fill your menu with the deliciousness of steak with this list of low-carb keto steak dinner ideas that are perfect for special evenings in!
Ingredients
Please ensure Safari reader mode is OFF to view ingredients.
Steak And Egg Burrito

Chimichurri Flank Steak

Steak With Red Wine Pan Gravy

"Oh My!" Steak Sauce

Steak And Veggies Sheet Pan Dinner

Steak And Eggs

Air-Fried Steak And Asparagus Bundles

Philly Cheesesteak Zucchini Boats

Crockpot Cube Steak

Bacon Cheese Walnut Crusted Steak

Keto Mongolian Beef

Surf And Turf

Philly Cheesesteak Stuffed Peppers

Keto Fajitas

Beef Bulgogi

Salisbury Steak

Philly Cheesesteak Pockets

Filet Mignon With Blue Cheese Shallot Sauce

Keto Steak Marinade

Steak Foil Packets

Pepper Steak Stir Fry

Philly Cheesesteak In A Bowl

Steak Bites With Peppercorn And Garlic Butter

Beef Ramen

Air Fryer Steak

Fajita Steak Salad

Stuffed Flank Steak
Click to convert between US & metric measurements:
Instructions
More TIPS about this paleo recipe in the post above!
Bookmark this list to refer to throughout the month when you want red meat to become the star of the show at your dinner table!
© Copyright Wicked Spatula. We'd LOVE for you to share a link to this recipe, but please DO NOT COPY/PASTE the recipe instructions to social media or websites. You may share a photo with a link back instead.
Did you make this recipe?
Click here to leave a comment + star rating! ★★★★★
Then, share a pic on Instagram. Tag @wickedspatula or #wickedspatula!