This Sweet Potato Chorizo Hash is a no-fuss meal that's perfect anytime of the day!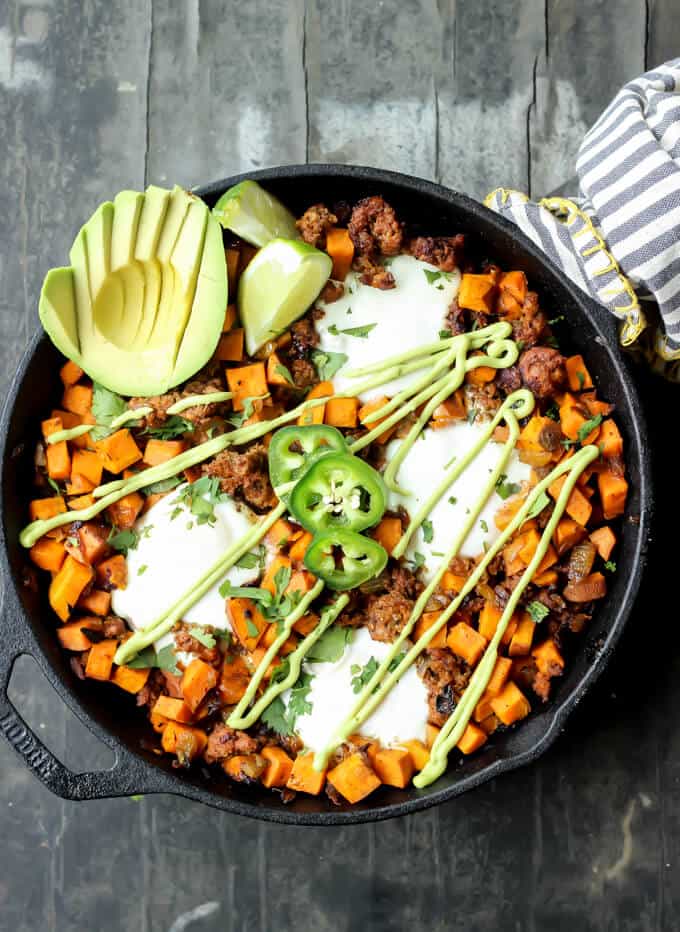 I'm a big fan of hash. It's versatility makes it perfect for end of the week meals when you have leftover veggies and meat in the refrigerator but you just don't know what to do with them. It almost always comes out delicious and it's seriously the easiest thing in the world to make. This one is no different. Just a few simple ingredients and you'll have a fantastic meal that will be devoured in seconds.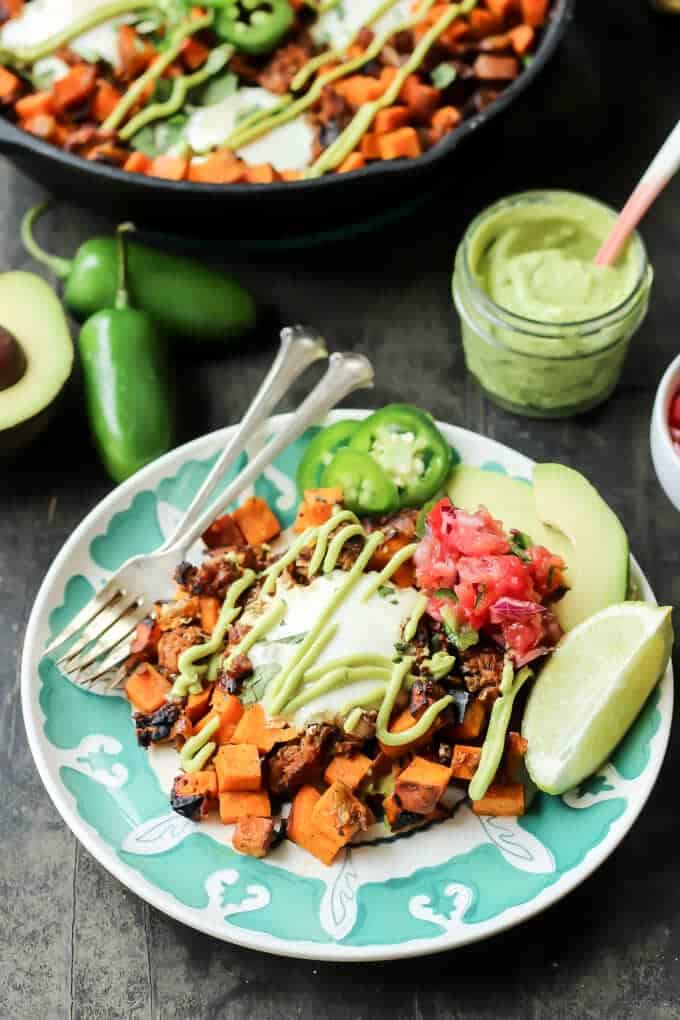 Despite having the chorizo this hash isn't all that spicy. Not until you add toppings anyways. I love the toppings, I feel that it makes the dish 20 times better. Fresh sliced jalapenos, some pico de gallo, minced cilantro, and some 2 minute avocado crema and you've got a hash party. Plus, what hash wouldn't be complete without runny eggs?
I don't think I even need to explain, you totally understand where I'm coming from. If you don't, just try it and I'm sure you will. I think breaking the yolk is the most satisfying part of the entire meal. It's like delicious glue that binds all the flavors together.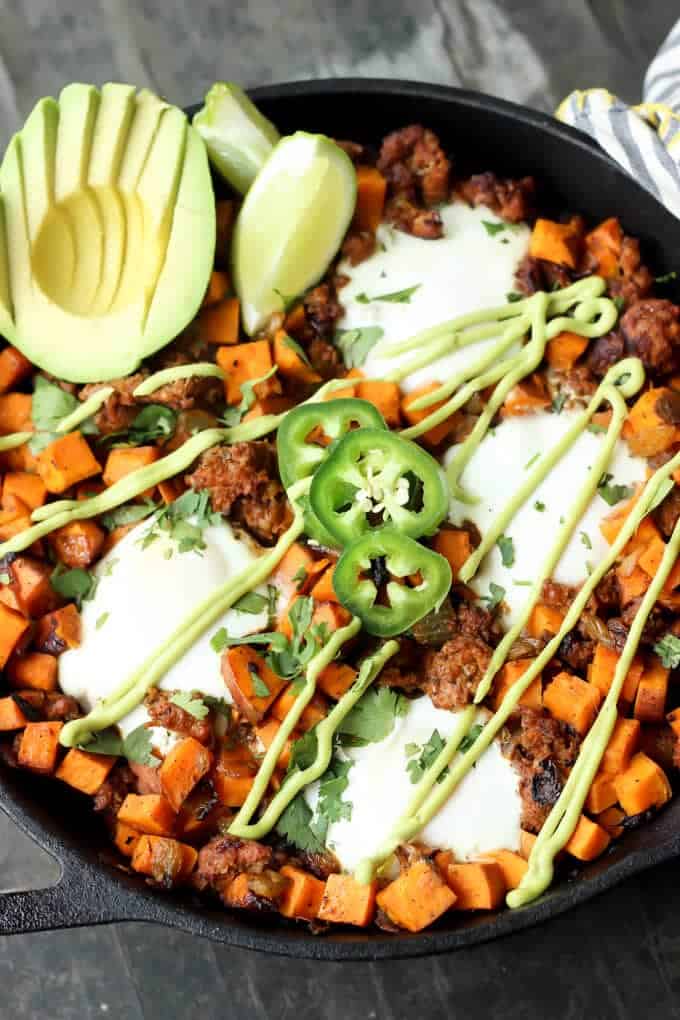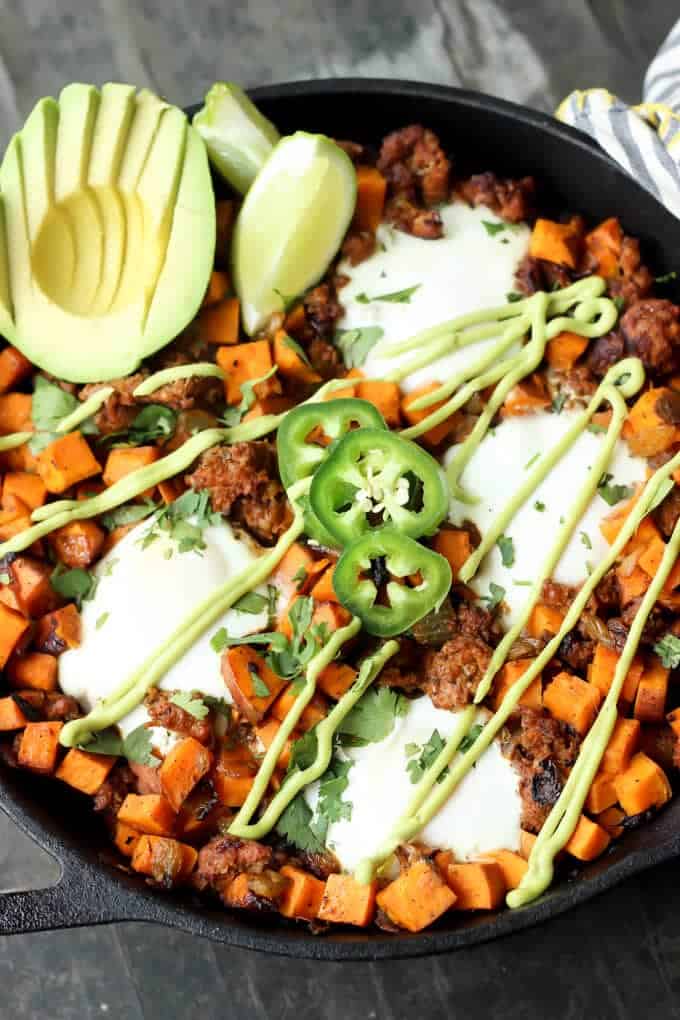 You didn't think I wouldn't deliver a breakfast Cinco de Mayo recipe did you? After having chilaquiles and hash everyday in Mexico for our honeymoon I've come to realize that Mexican food for breakfast is only natural.
Sweet Potato Chorizo Hash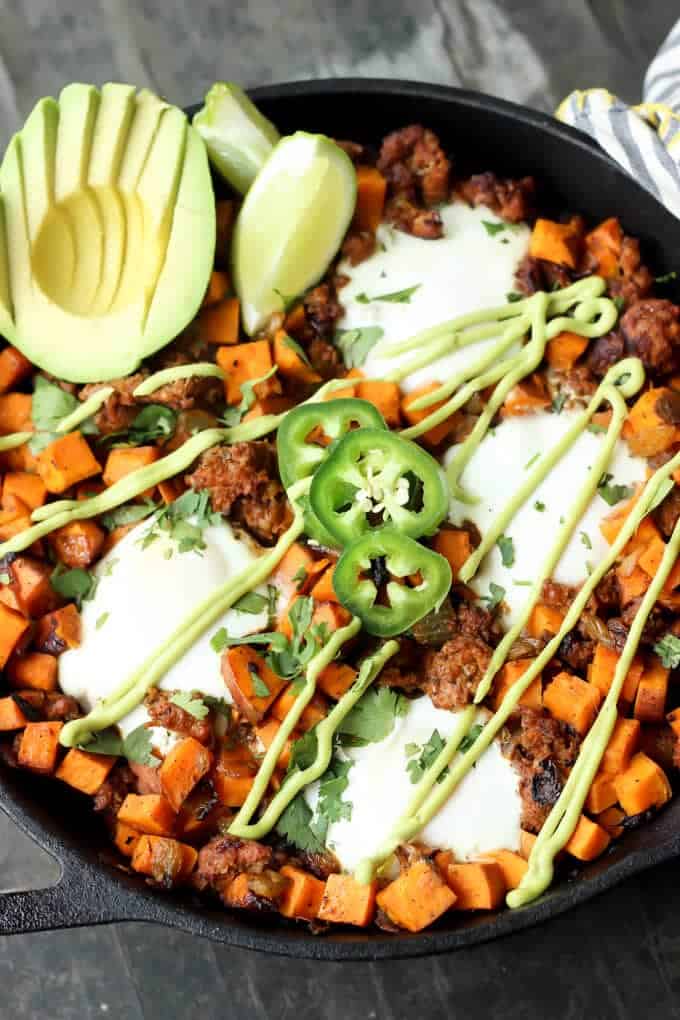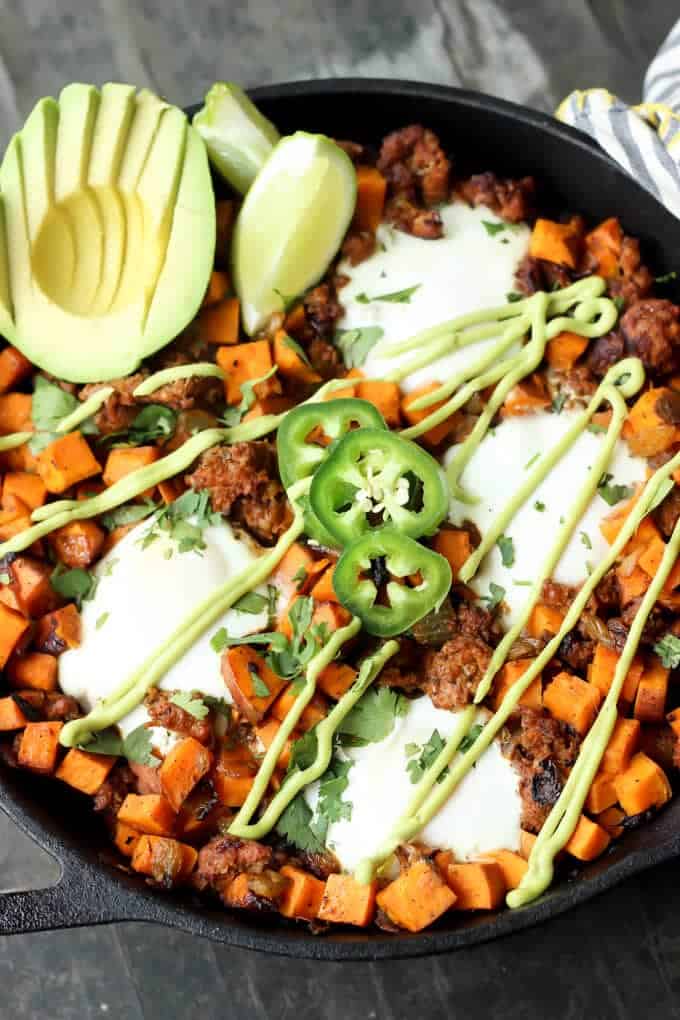 Ingredients
1

large yellow or white onion, diced

2

tablespoons olive oil

1/2

teaspoon paprika

1/2

teaspoon cayenne

1/2

teaspoon chili powder

1/4

teaspoon cumin

1 4

oz can diced green chilies

8

ounces chorizo

4

cups diced sweet potato

4-5

eggs
Toppings
Fresh jalapeños, sliced

Minced Cilantro

Avocado Crema (recipe below)

Sliced Avocados

Lime Wedges
Crema
1

avocado

Juice of 1 small lime

1

tablespoon mayonnaise

Salt, to taste

Water, if needed
Instructions
Heat a large cast iron skillet over high heat with 2 tablespoons oil. Add the onions and spices and saute until translucent and soft, about 5 minutes.
Add green chilies and chorizo to the pan and stir to combine. Let the chorizo brown, about 4-5 minutes.
Reduce heat to medium and add in the sweet potato and stir to combine. Pour in 1/4 cup of water and cover to steam the potatoes. This will take about 10 minutes. Uncover and stir every few minutes to loosen up the bits on the bottom.
Make the crema by blending the ingredients together. If it's a bit thick add in water a tablespoon at a time until it reaches your desired consistency.
Once the potatoes are soft make little divots in the hash and crack in the eggs. Cover and cook another 3-5 minutes until the whites are set but the yolks are still runny.
To serve top with desired toppings
by Lauren