This Paleo Slow Cooker General Tso's Chicken tastes just like your favorite takeout but totally healthier!

Today's recipe wraps up the first "theme week" on WS! What's the theme you ask?? It's EASY Weeknight Chicken Dinners!! What better recipe for a weeknight than a slow-cooker recipe right? Yes, I know at the time of posting this that's it's the first day of July and blazing hot outside but bear with me because slow-cookers aren't just reserved for winter stews!
Check out the other two recipes in the series, One Pan Greek Lemon Chicken with Lemon Cauliflower Rice and Dairy Free Creamy Mushroom Chicken!
General Tso's Chicken has always been a favorite of mine. That spicy sticky sauce that clung to rice was completely irresistible but not so when you consider the copious amounts of sugar, gluten, and MSG that your beloved Chinese restaurant uses. With this recipe we're going to strip all of the unnecessary ingredients away without compromising on flavor or texture!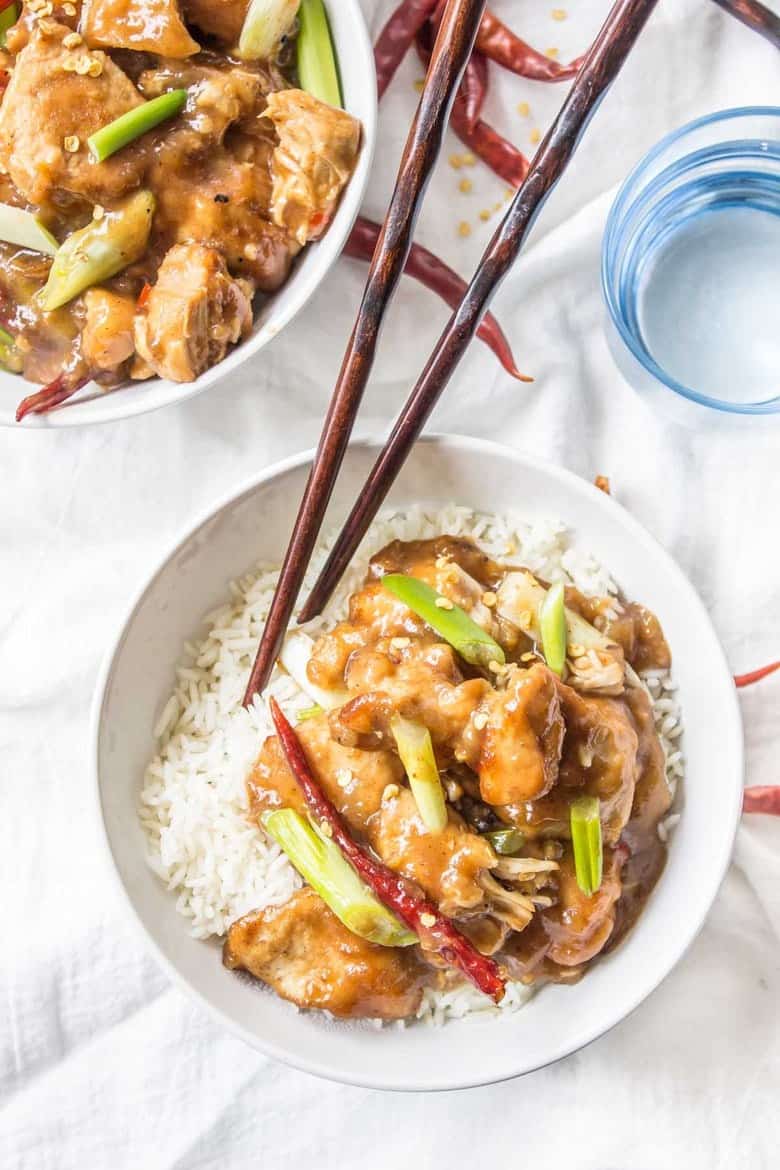 Now this isn't a slow-cooker recipe that can be cooked for 8 hours on low but it IS a recipe that can be prepped in 10 minutes and then placed in the slow-cooker for 2 hours while you run your kids to t-ball practice or finish up the laundry that's been laying at the foot of your bed for 2 weeks straight…(wait, that's only me??) Anyways you get the point: prep, throw in slow cooker, and maybe put some rice on at the same time and go do something that needs to be done. Come back and dinner is ready!
Speaking of rice, obviously this chicken is great with white rice but if you're grain free simply sub some cauliflower rice. Also, like I said if you have a nifty rice cooker that switches over to keep warm after cooking you can set it when you set the chicken and you're good to go. This is the rice cooker I use and LOVE. Seriously, up until a few weeks ago every single batch of rice I ever tried to make on the stove failed horribly but this rice cooker makes perfect rice every single time. Totally worth the investment!
After cooking I stirred in some sliced green onions and more chili flakes, because spicy, and it was ready to rock.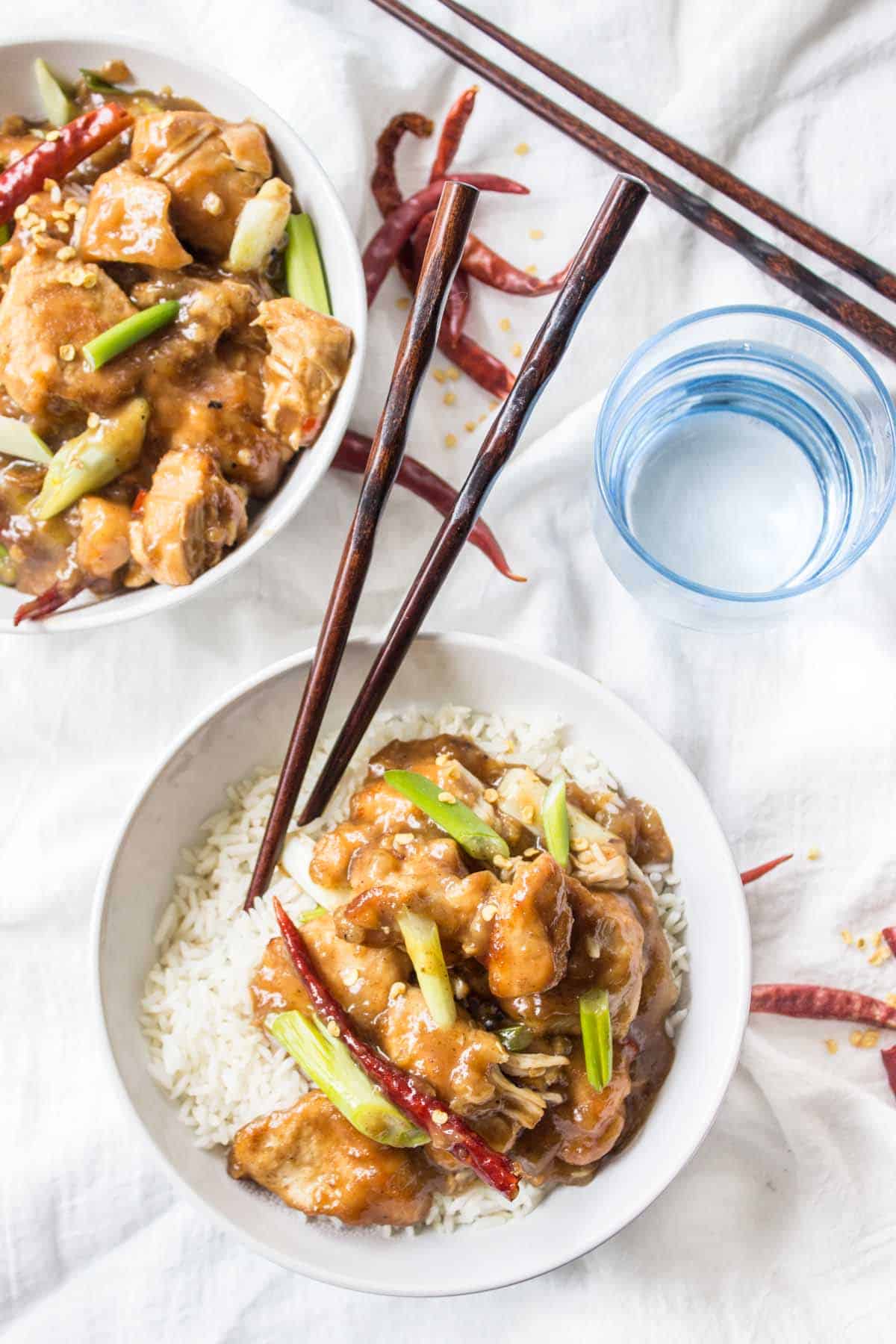 Paleo Slow Cooker General Tso's Chicken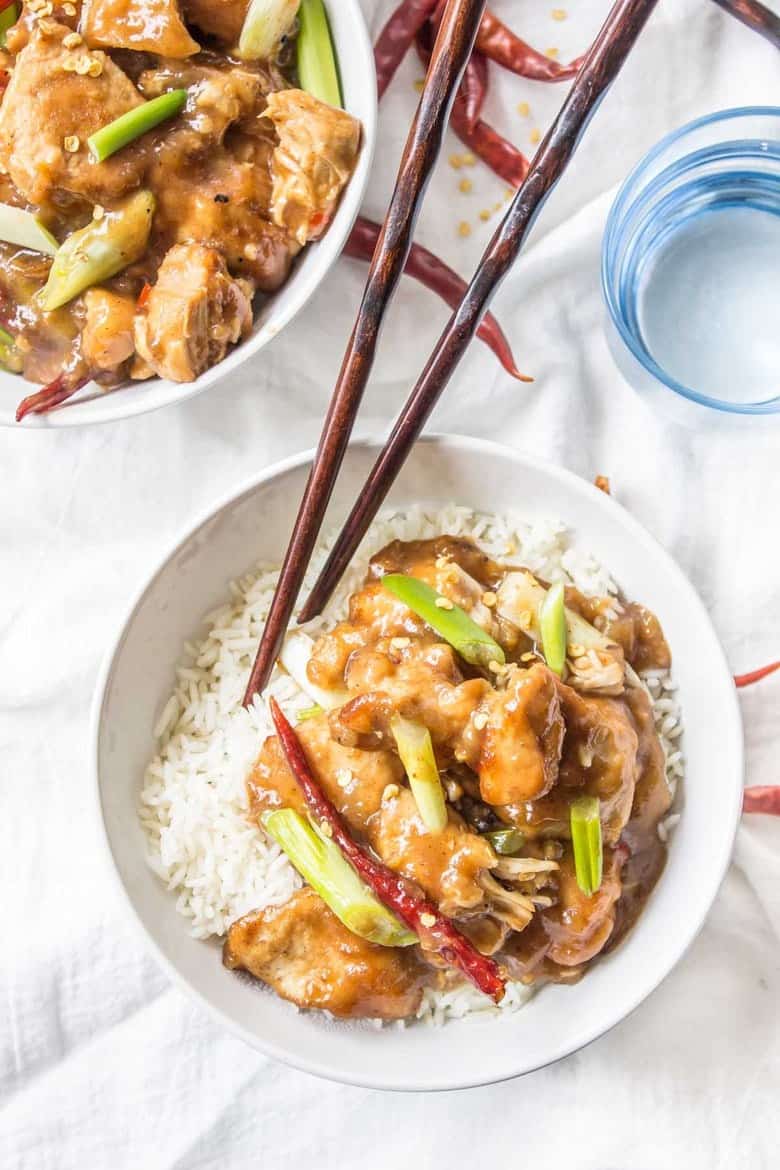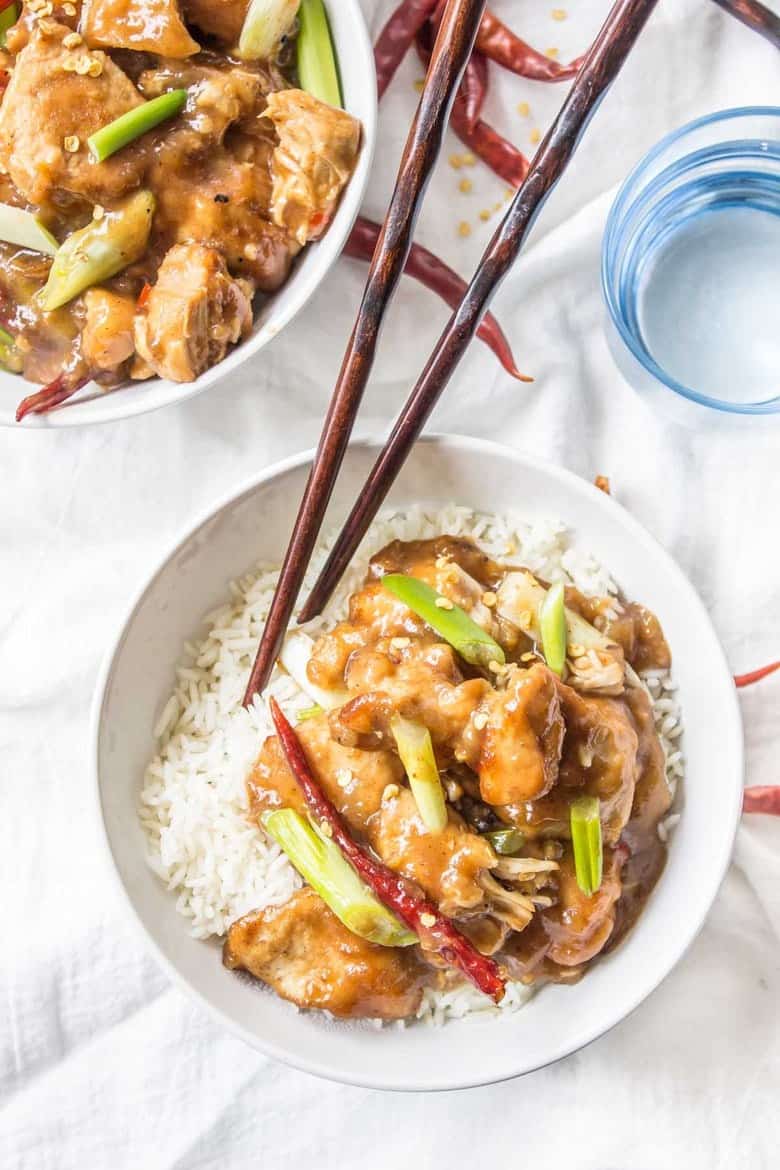 Ingredients
1.5

lb chicken breasts

1/2

cup tapioca flour

1

teaspoon white pepper

1

teaspoon salt

3

tablespoons coconut oil

4

green onions, sliced
Sauce
3

tablespoons hot water

2

tablespoons tapioca

2

cloves garlic, minced

1\"

piece of fresh ginger, minced

1/4

cup coconut aminos (or tamari)

1/4

cup white wine vinegar (or rice wine)

3

tablespoons coconut sugar

1

tablespoon honey

1

tablespoon almond butter

1

teaspoon red pepper flakes
Instructions
Cut the chicken into bite size pieces and toss with the tapioca, white pepper, and salt. Heat 2 tablespoons of coconut oil over high heat. Working in batches cook the chicken for 2 minutes per side just until a golden crust has formed. It will still be raw in the middle!
In the slow cooker whisk together the sauce ingredients and toss in the chicken. Stir to coat and cook on low for 2 hours. Just before serving stir in the green onions.
by Lauren