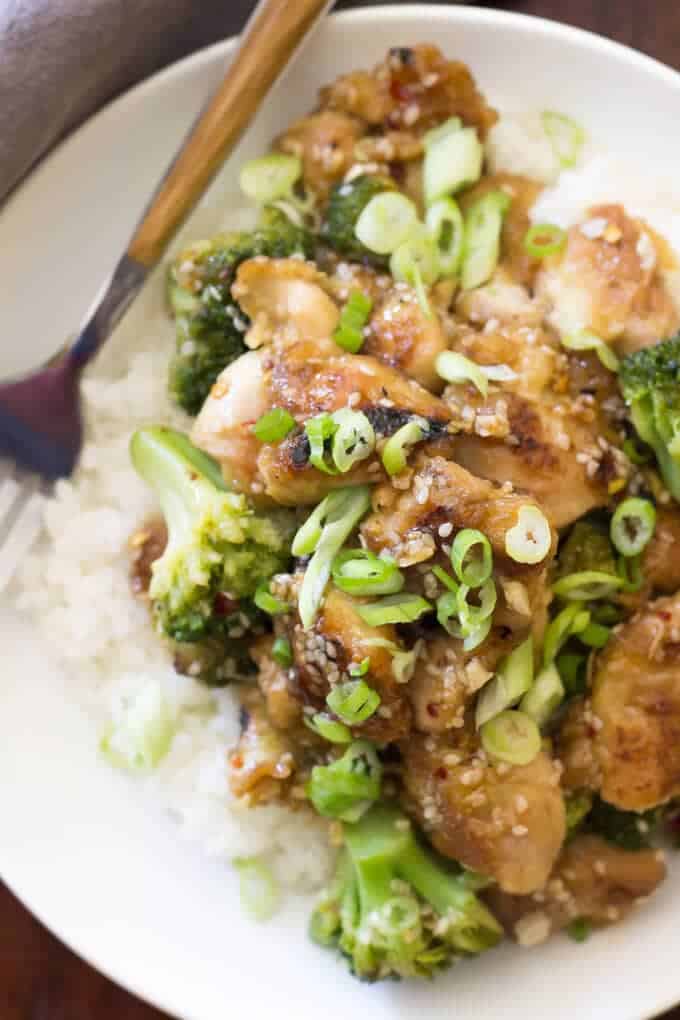 If there's one cuisine I love it's Chinese food, and Mexican, well and Thai. OK I just love food but when I crave something specific it's usually Chinese. Luckily this Paleo Sesame Chicken always hits the spot.
This recipe is based off of a Budget Bytes recipe but I've changed it pretty substantially to fit the Paleo diet and make it a little more saucy and veggie filled. Because, come on the sauce is the BEST part.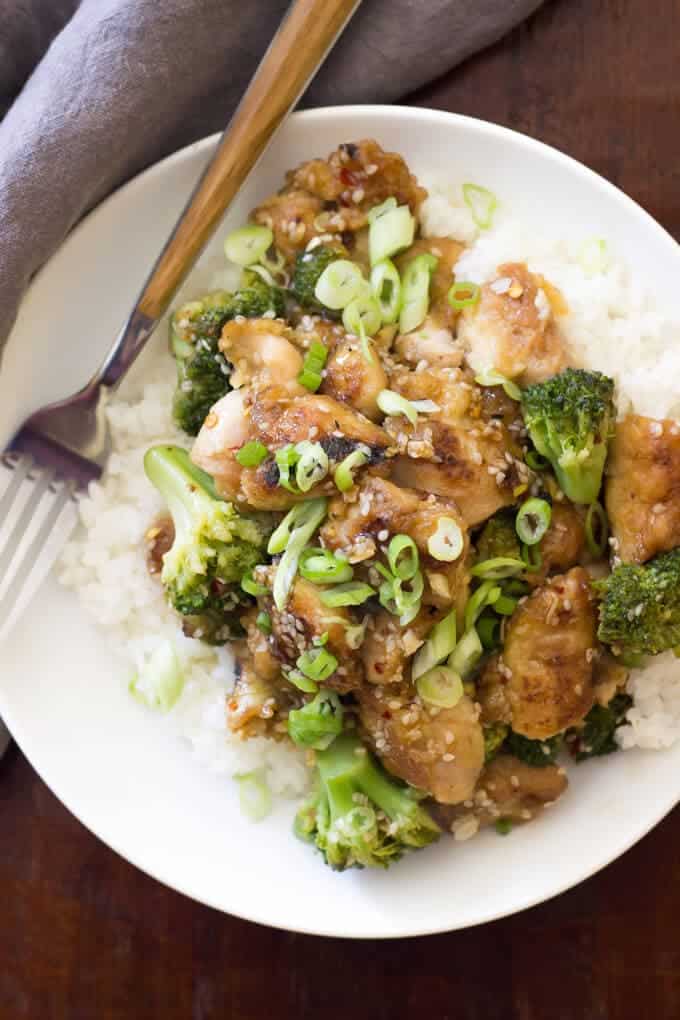 I've been making this recipe for awhile but up until recently I hadn't quite tweaked my Paleo version enough for it to be good enough to publish…I had been using tapioca starch in place of the typical cornstarch component but I was ending up with an incredibly gummy sauce. It still tasted great but gummy sauce isn't my favorite and I doubt it would be yours either.
So then I tried arrowroot starch and the game completely changed. I'm really not sure why I haven't tried using arrowroot before as a thickener. It's pretty common in gluten-free and Paleo cooking but I just haven't hopped on the bandwagon yet.
I've hopped on and I don't plan on getting off any time soon. The texture is spot on for a 1:1 substitution for cornstarch. It makes a great crispy crust (not too thick as like a batter, I'll stick to tapioca for that), an awesome thickener, and it's relatively cheap at about $4 for a 1lb bag.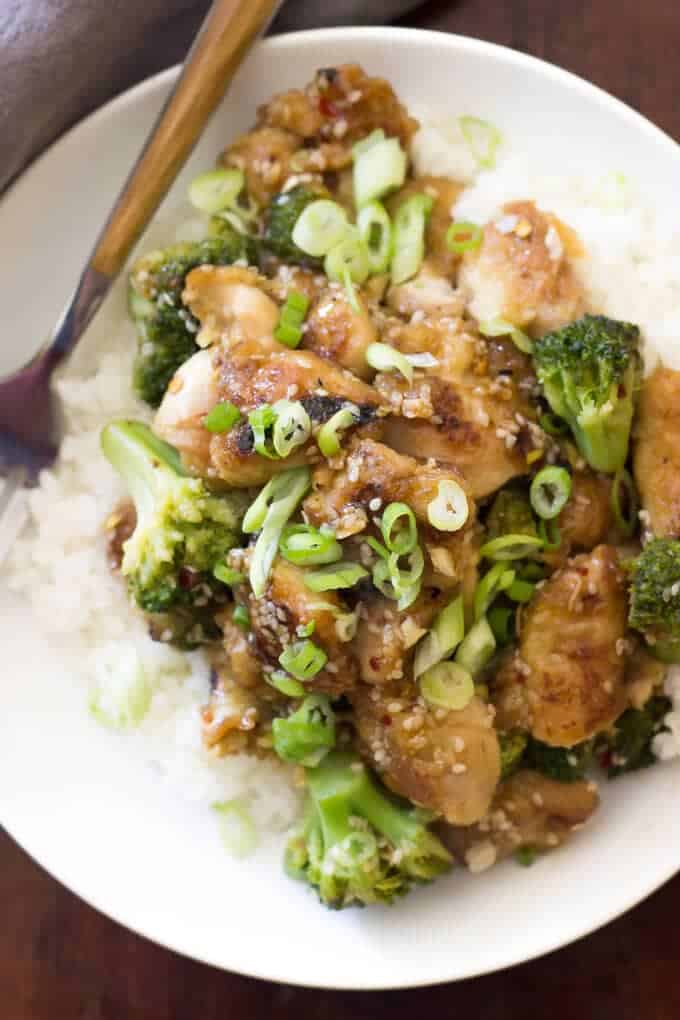 After that simple switch this recipe was ready to be shared! This is a quick and easy dinner that will satisfy even the pickiest eaters. I usually throw in some broccoli or green beans but water chestnuts, bell peppers, and onions are all great too! Be sure to serve it on top of some cauliflower rice, shredded cabbage, or even some white rice if you're on #teamwhiterice! 🙂
Paleo Sesame Chicken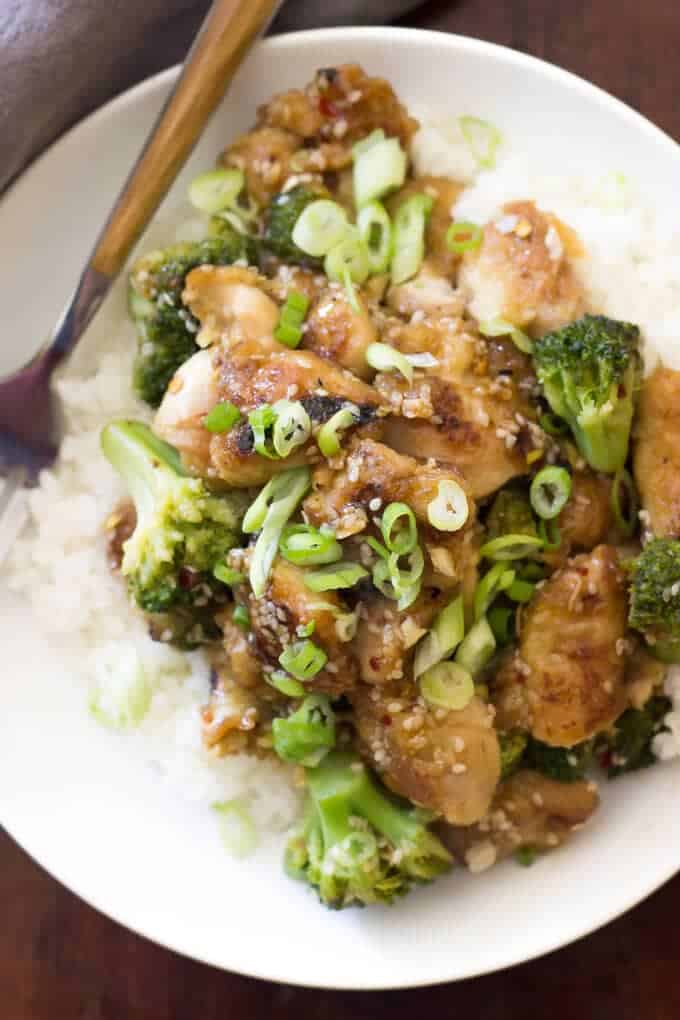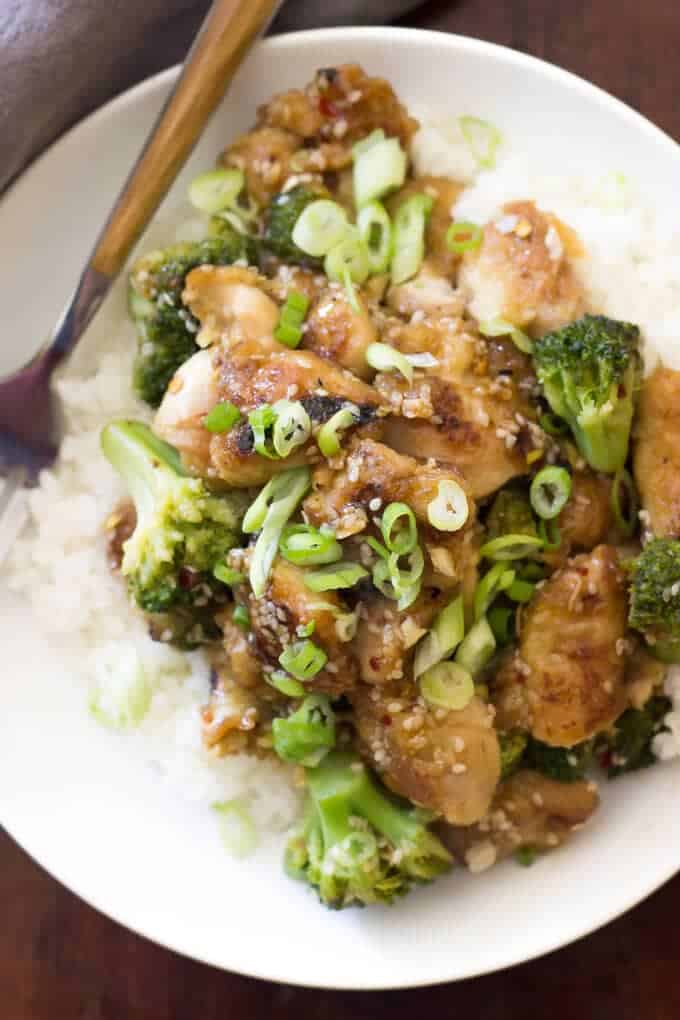 Ready in under 30 minutes this Chinese classic will satisfy any take-out craving! | Serves two as a meal or 4 as part of a multi course meal
Ingredients
1

egg

2

tablespoons arrowroot powder

1/4

teaspoon salt

1/2

teaspoon white pepper

1.5

lbs chicken breast or thighs

3

tablespoons coconut oil, for frying
Cups Optional Veggies (pick one or multiple)
Broccoli

Green Beans

Onion

Water Chestnuts

Bell Peppers
Sauce
1/4

cup + 1 tablespoon coconut aminos

3

tablespoons coconut sugar

3

tablespoons white wine vinegar

2

tablespoons water

1.5

tablespoons arrowroot powder

1

tablespoon honey

1

tablespoon toasted sesame oil

2\"

piece of fresh ginger, grated

2

cloves garlic, minced

1/4

cup sesame seeds

1/2

teaspoon crushed red pepper flakes

1/4

teaspoon salt
Optional Serving Suggestions
White rice

Cauliflower rice

Shredded cabbage
Instructions
Cut the chicken into small bite size pieces. In a large bowl whisk the egg, 2 tablespoons arrowroot, salt, and white pepper together until smooth. Toss in the chicken and toss to coat.
In a small bowl whisk all of the sauce ingredients together until no clumps of arrowroot remain.
Heat about 3 tablespoons of coconut oil in a large skillet (I use my wok) over medium-high heat. Working in batches fry the chicken 2 minutes per side until golden and crisp and almost cooked through. When you only have a few pieces of chicken left just dump the entire thing egg and all into the oil making sure you nudge the chicken away from each other so they don't stick together. Once all chicken is cooked add the other chicken back to the skillet and add in the veggies (If using frozen be sure to thaw them quickly under warm water so the moisture doesn't ruin the chicken)
Toss the veggies and the chicken for a few minutes to crisp up. Pour in the sauce and toss. It should instantly become thick and glossy. Turn off the heat and sprinkle with sliced green onions.
Serve with white rice, cauliflower rice, or shredded cabbage.
by Lauren