This Paleo Eggs Benedict utilizes summer's perfect cucumbers, tomatoes, and peppers into one perfect breakfast!

OK…so you know something is a winner when you eat it for dinner two nights in a row and push the rest of the menu to the next day and also maybe take a trip to the store for more ingredients to make said dish again. Not that I should be eating this decadent hollandaise sauce more than I don't know once a month? But guys. IT'S SO GOOD! Like I want to go make it right now and I just ate lunch. Poached eggs practically own my heart and when topped with a lemony hollandaise? Well let's just say I've died and went to heaven. Let's just be clear that I'm not exaggerating. I fully realize I say things are my favorite all the time but this really is my *favorite* and I guarantee it'll be one of yours too!
Let me tell you how this dish came to be. A few weeks ago Alex and I made our way to Tupelo Honey after yoga in the park. I ordered the eggs Benedict on gluten free toast and Alex had an omelet stuffed with cucumber salsa, sausage, avocado, and goat cheese. After trying each others we decided that everything was better mixed together. So we split each in half to have a mash up of an Eggs Benedict/omelet. Best decision ever. I'm sure we looked ridiculous mixing two completely different dishes together but that's how we roll. I knew I had to make it at home but pull it all together into one cohesive dish. Nailed it.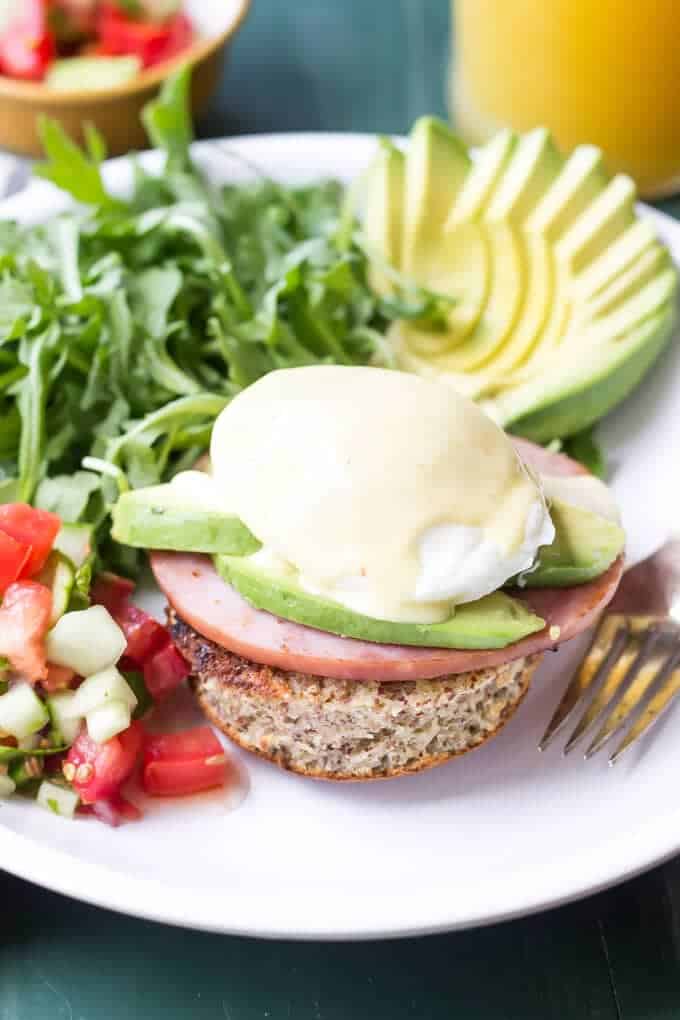 You can serve this Eggs Benedict on sautéed greens or you can do like I do and use Lexi's Clean Kitchen's recipe for Paleo Sandwich Rolls. I sub the palm oil for olive oil, pour into a loaf pan, and bake at 400 for 20-25 minutes. It's easily scaled but when doubling it I use 3 eggs instead of 4. It's the perfect base for soaking up all the decadent hollandaise and egg yolk. Trust me…it's good on greens but it's great on bread. I still serve some arugula on the side so it makes me feel a teeny bit better about eating such a decadent meal. My birthday is tomorrow, I think my request will be to have this for breakfast, lunch, and dinner. Yes, that will be just perfect.
Paleo Eggs Benedict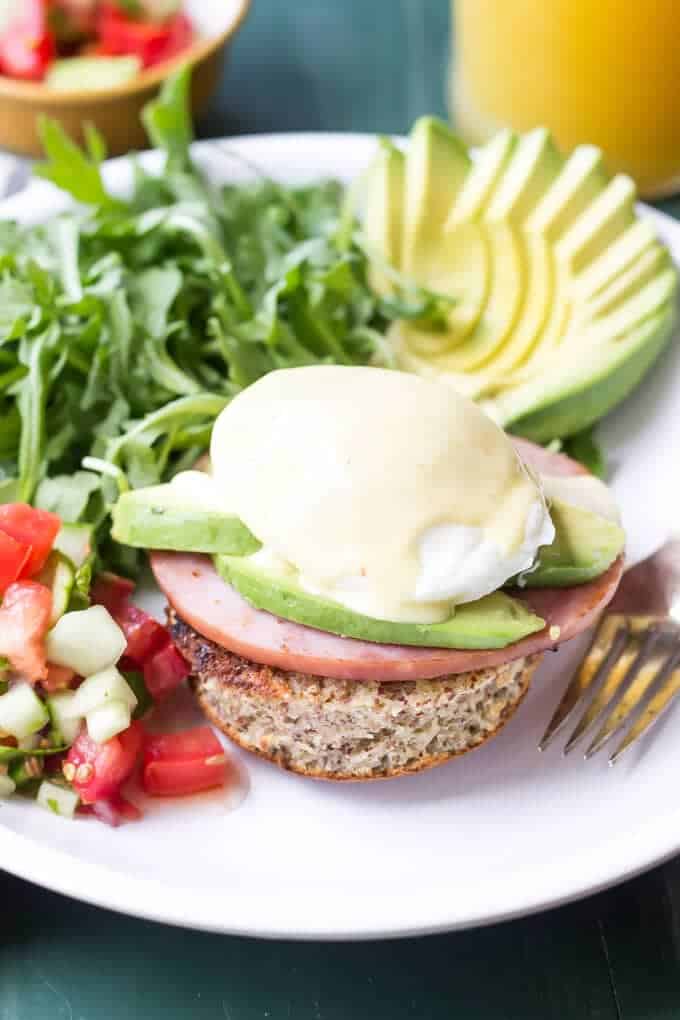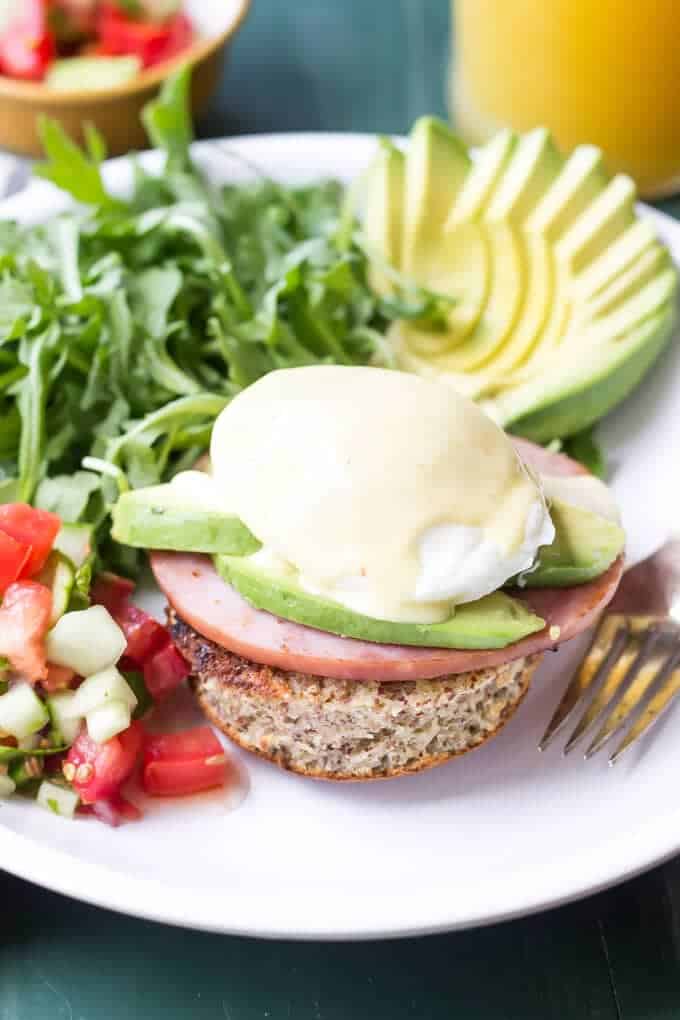 Ingredients
Hollandaise
4

egg yolks

12

tablespoons butter

Juice of 1/2 lemon

Pinch of cayenne pepper

Salt and pepper, to taste
Eggs Benedict
4

eggs

4

slices Canadian bacon

1

avocado sliced

4

cups arugula

1

double batch Paleo bread **(I sub the palm oil for olive oil, use 3 eggs, bake in a loaf pan at 400 for 20-25 minutes)
Cucumber Salsa
2

roma tomatoes, diced

1

small cucumber, diced

1

jalapeño, minced

Handful of cilantro, minced

Juice of 1 lime

Salt, to taste
Instructions
To make the bread follow this recipe and double it. Reduce the eggs to 3 and instead of using palm oil use olive. Pour into a greased loaf pan and bake at 400 for 20-25 minutes.
To make the salsa combine the all salsa ingredients and season with salt to taste. Set aside.
Place 4 inches of water in a medium saucepan and bring to a simmer over medium high heat. Working one at a time crack an egg into a shallow dish and carefully pour into the simmering water as close to the surface as you can. Let poach for 3 minutes, remove with a slotted spoon, and drain on paper towels. Repeat with remaining eggs.
To make the hollandaise heat 12 tablespoons of unsalted butter over medium heat until melted and bubbling. Place 4 egg yolks in a blender with the lemon juice and cayenne. Blend for 30 seconds until yolks are broken down. With the blender running stream in the bubbling butter in a slow steady stream. The sauce should thicken. Season with salt and set somewhere warm like beside your stove to keep warm.
To warm the ham simply place it in a hot pan for a few moments.
To assemble the dish place a piece of bread on a plate and top with a slice of ham, a few slices of avocado, a poached egg and spoon some hollandaise on top. Serve with salsa and arugula on the side.
by Lauren