I love hash. It's a way for me to use whatever is left in my fridge at the end of the week and always ends up being tasty. You don't really need a recipe for it, more of guidelines. So use the recipe at the bottom for paleo chicken hash as as starting point. If you make it as written it'll still be great though.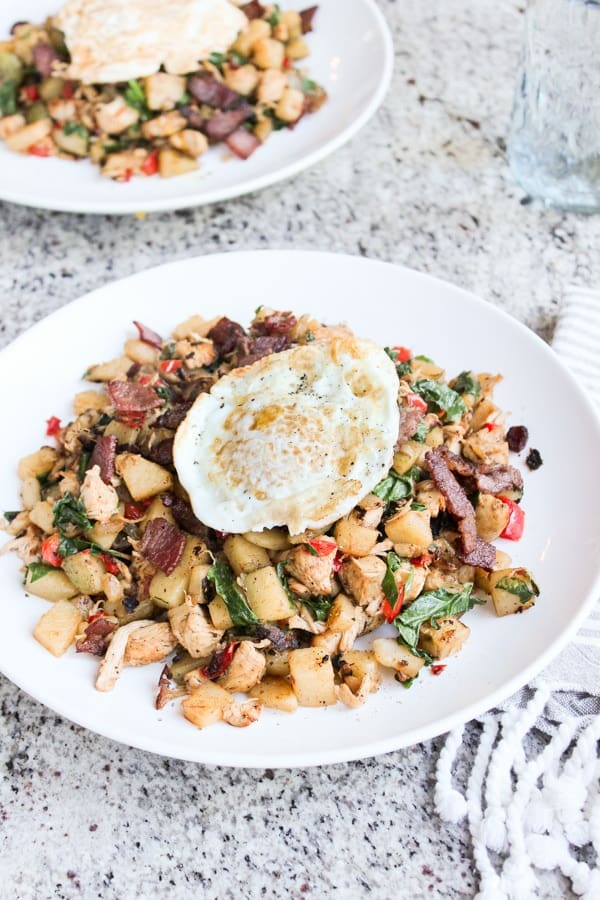 I'm a sucker for crispy potatoes and I usually always have sweet potatoes or golden potatoes stashed away. It's few and far inbetween when we don't have sweet potatoes on hand. I think I've mentioned before how a good chunck of our grocery bill goes towards sweet potatoes. Maybe I'll plant those in our garden next year!
I've been so inspired by Kathie at Homespun Seasonal Living and how she preserves food and I really want to start doing that! Being more self sustainable is high on my list for things to work towards. I dream of having our basement shelves stocked with canned tomatoes, jalapenos, apples, peaches, lime pickles and my favorite, green beans! There's nothing like home canned green beans. I could live off of them. I'm seriously thinking about getting chickens as well. I haven't done a ton of research yet and Alex doesn't seem to keen on the idea but I'm tired of paying $4 for a dozen organic free range eggs. Especially when we go through a couple dozen a week. I'm not even sure my neighborhood ordinance would allow chickens so I may just be rambling on for nothing here.
Speaking of eggs and breakfast this hash would be great for breakfast too. Or is it already a breakfast recipe that would be good for dinner? I don't know, we ate it for dinner and it was delicious and filling, egg included. Who ever said Paleo was bland and boring? I'm starting to crave fat and veggies instead of sweets and bread which is awesome and I love it. When I was craving something sweet the other day these Paleo Chocolate Cranberry Coconut Biscotti really hit the spot. Those or a piece of reallyyyy dark chocolate and I'm good to go.
I'm starting to think that this little blog of mine is heading into being mainly Paleo recipes and natural living focused. So my question for you is what would you like to see more of from Wicked Spatula? Is it Paleo recipes? Natural living tips? Neither and you'd like to see a bit of everything? Let me know in the comments! In the meantime I'm off to enjoy the leftover hash that's calling my name.
Paleo Chicken Hash
A delicious kitchen sink hash recipe that's easy enough to customize with whatever you have on hand.
Ingredients
2

boneless skinless chicken breasts, diced into small bite size pieces

4

slices thick cut nitrate free bacon

2

eggs

2

medium golden potatoes or sweet potatoes, diced

1/2

medium onion, diced

1

red bell pepper, diced

1

large handful of spinach, roughly chopped

1

teaspoon paprika

salt and pepper, to taste
Instructions
In a large pan over medium heat fry the bacon until crispy. Remove bacon and place on paper towels to drain excess oil.
Leaving the remaining bacon fat in the pan (about 2 tablespoons) throw in the chicken and the potato. Cook for about 4-5 minutes, or until chicken starts to brown then add in the onion and the red pepper.
Season with paprika, salt and pepper.
Continue to cook until potatoes are tender and the onions and pepper are soft, another 5-10 minutes.
If the pan seems too dry add in a drizzle or two of olive oil.
In the last minute of cooking add in the spinach and cook just until wilted.
While the hash is cooking fry your eggs over easy in a small pan over medium heat.
To serve top the hash with crumbled bacon and a fried egg.
by Lauren