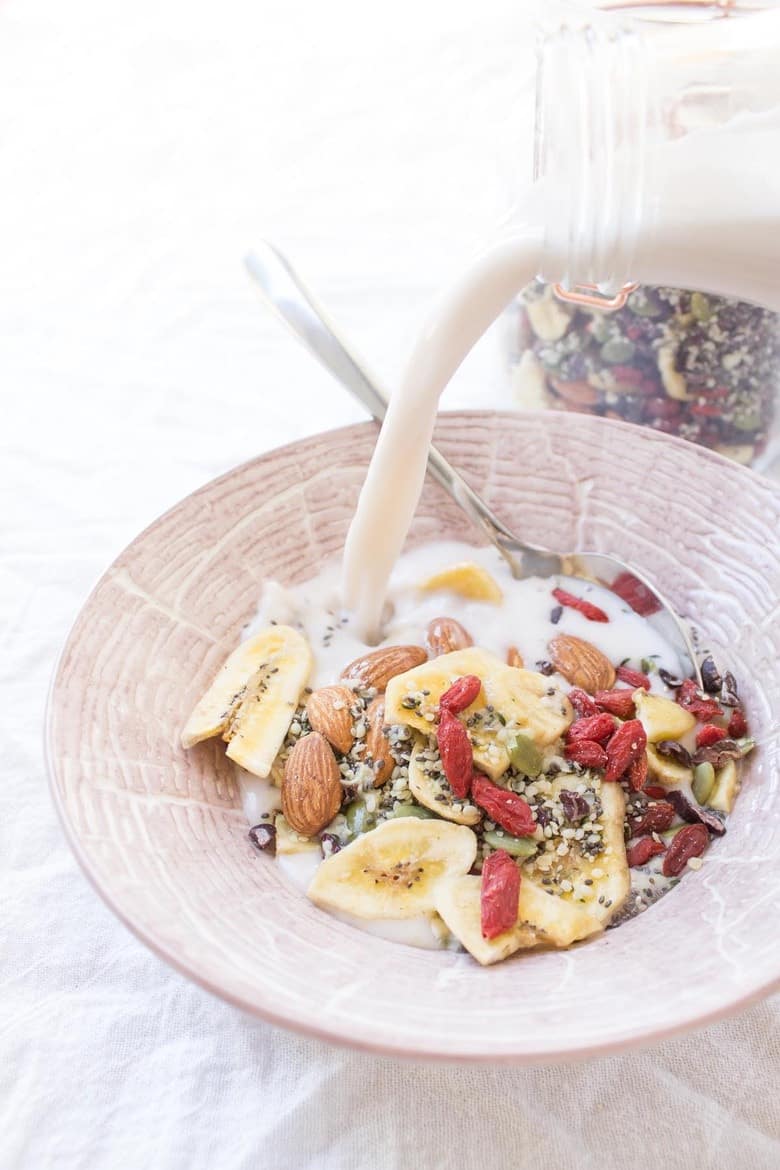 I've got a quick tip here on how to create a Paleo Cereal with superfoods, nuts, seeds, and a few simple additions for one perfect bowl of cereal!
Some mornings you just need something QUICK and EASY. No muffins, no eggs and bacon, no anything that takes longer than 30 seconds to throw together. Of course before you were Paleo you could just pour some lucky charms into a bowl with a splash of milk and call it a day but now that you actually care what's going to fuel your amazing body you want something healthier.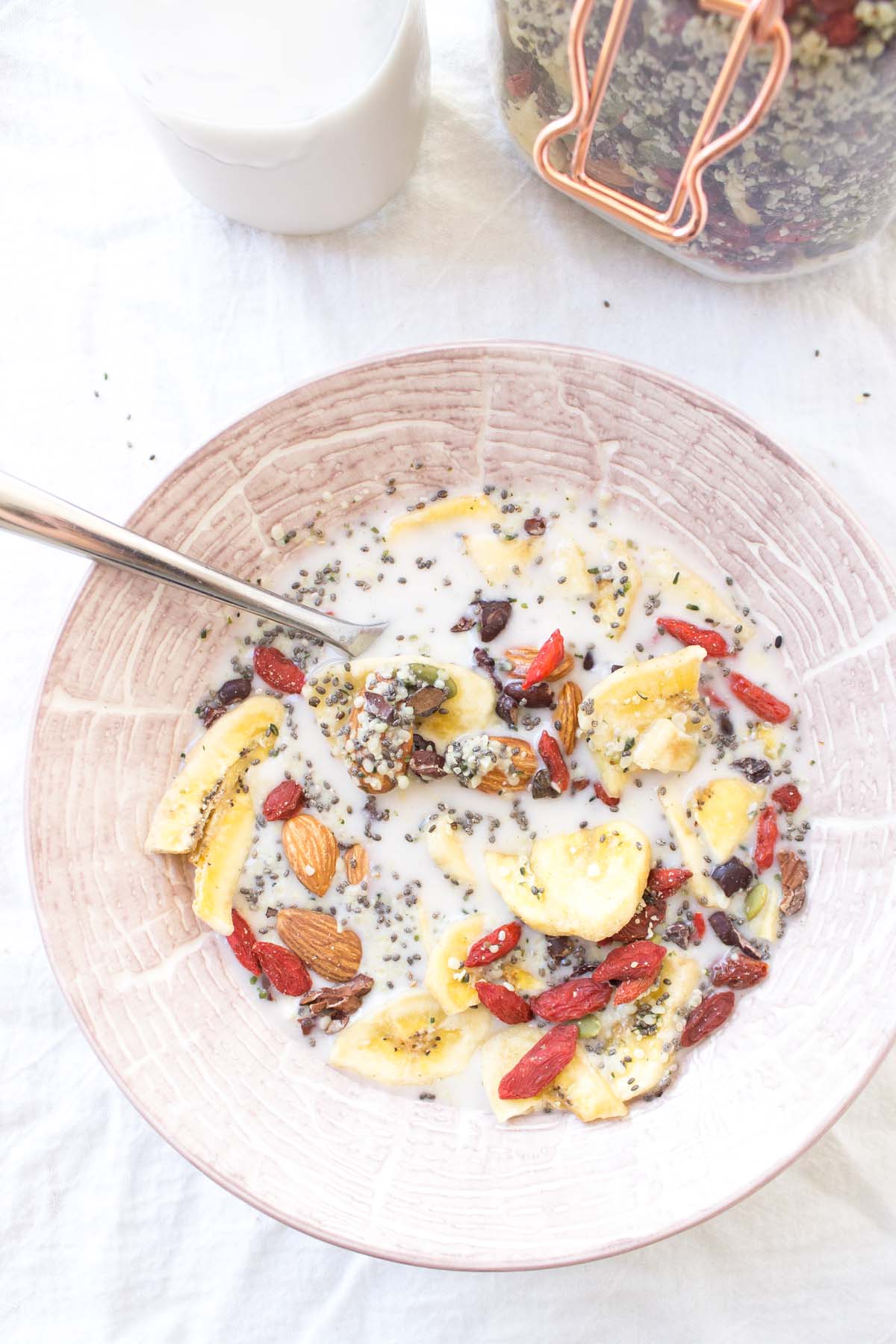 That's where this cereal comes in! At the beginning of each week, usually on my batch prep days, I fill a large jar with whatever superfoods I have on hand and call it cereal. Easy as that.
Usually my blend contains some nuts like almonds and macadamias, seeds like hemp, sunflower, flax, and chia, and some superfoods like goji berries, and cacao nibs and maybe some dried bananas or blueberries.
Then when I'm ready for breakfast all I do is scoop some out into a bowl and add in a drizzle of honey, maple syrup, or agave and a dash of two of spices.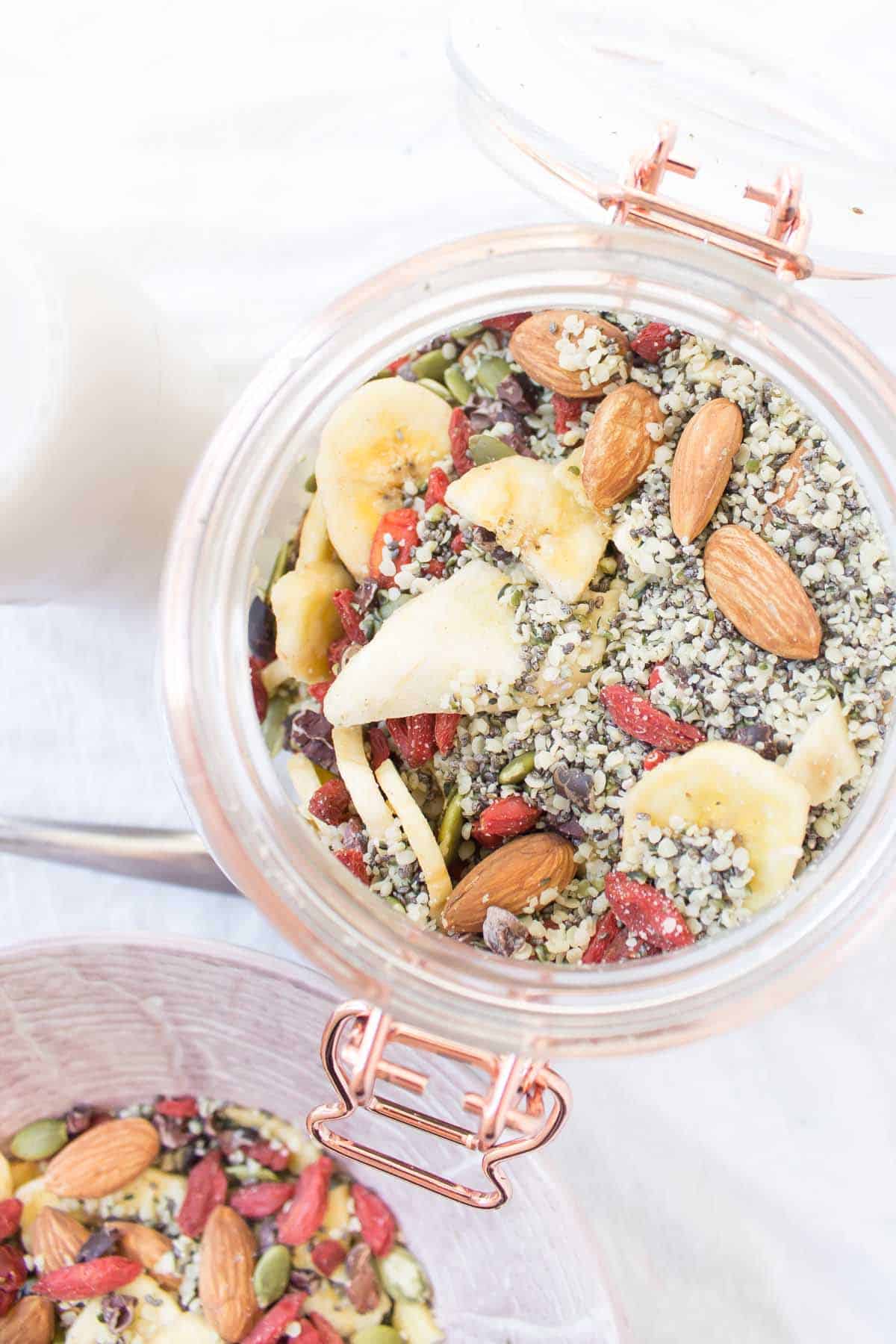 The spice is where the flavor really pulls through. My go-to is cinnamon and pumpkin pie spice but cinnamon sugar is also great.
Add in a splash of nut milk and you're good to go!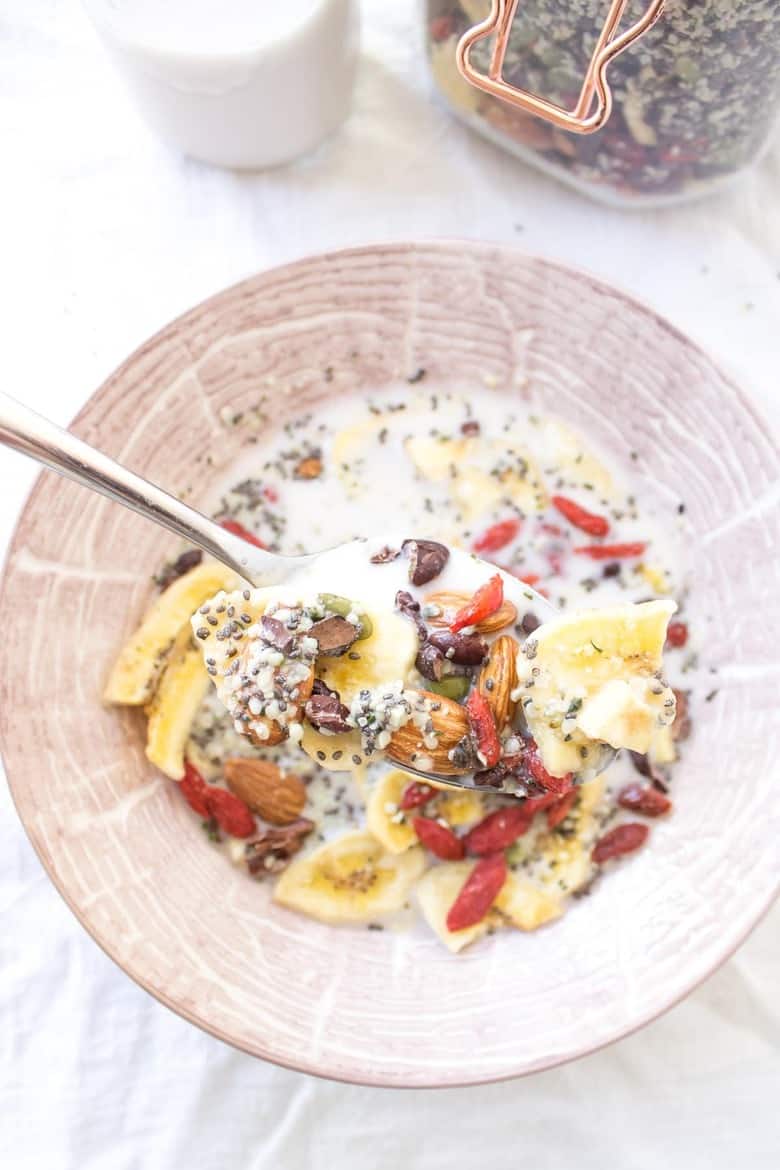 The mix will keep way longer than a week so you can make however much you want at one time. If you use hemp or flax seeds I would suggest storing it in the refrigerator for freshness.
You can also top of the cereal with whatever fresh fruit you have on hand as well! I love fresh blueberries in mine!
Paleo Cereal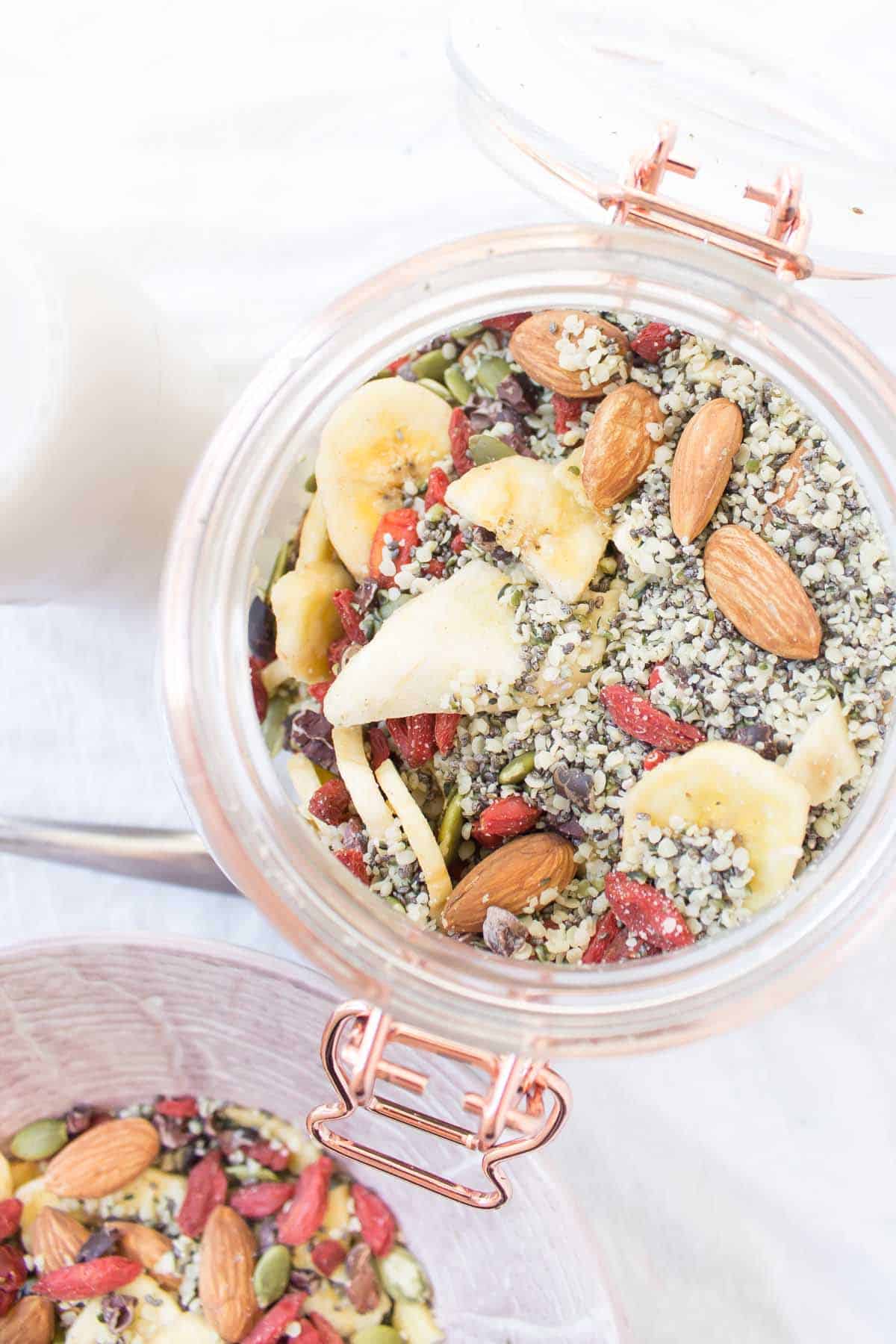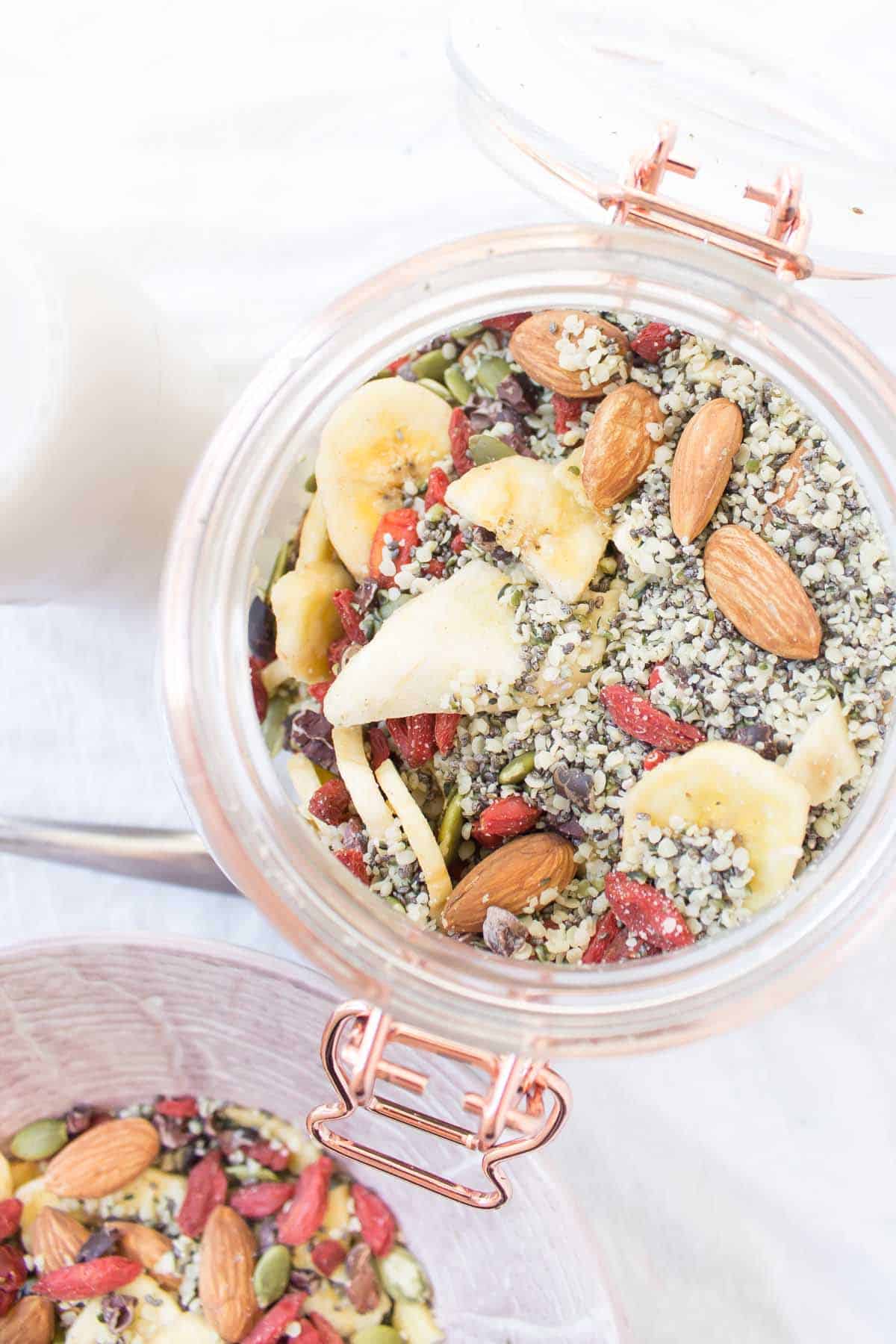 Ingredients
2

cups nuts (your choice)
cups seeds/dried fruit*
Hemp

Chia

Flax

Sunflower

Dried fruits

Cacao nibs

Goji berries
Instructions
Mix together your chosen ingredients and store in an airtight jar. If you used flax or hemp store in the refrigerator for freshness.
by Lauren