These Mexican Sweet Potato Egg Boats are bursting with flavors and spice.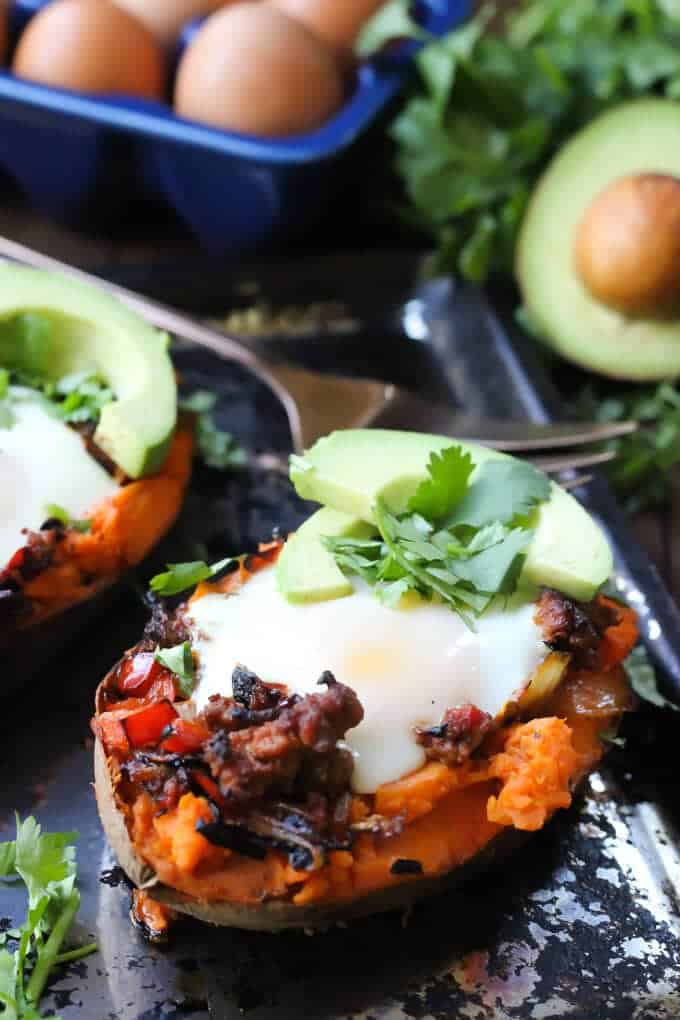 I don't know about you but I get so tired of eating scrambled eggs every single day for breakfast. Let's face it. I don't really have time to whip up a batch of zucchini muffins or eggs benedict every single morning so breakfast is usually nothing at all or plain boring scrambled eggs.
Not anymore.
I've discovered the sweet potato egg boat! After seeing versions float around Pinterest for a while I decided it was time to up my breakfast game.
I'm so glad I did! They're super easy and if you cook the potatoes the day before it only takes a few minutes the next morning to throw everything together.
I simply browned some onions and peppers with a link of chorizo and some chipotle peppers and stuffed that mixture into the potato, cracked an egg on top and popped it in the oven to cook the egg. About 10 minutes later I had one of the most filling breakfasts I've had in a while….with hardly any effort.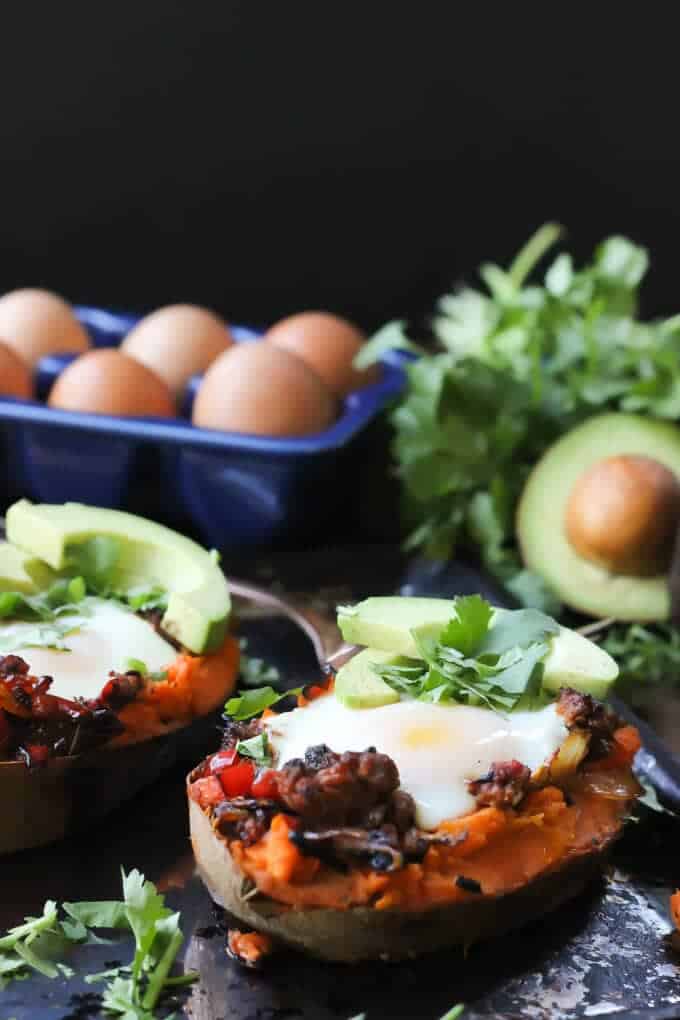 After I snapped the photos I decided that a chipotle mayo drizzle would be the perfect addition to the boats and it was great! It adds a nice creamy flavor that bumps up the heat a bit too. I definitely recommend whipping up a batch, it only takes a minute.
Mexican Sweet Potato Egg Boats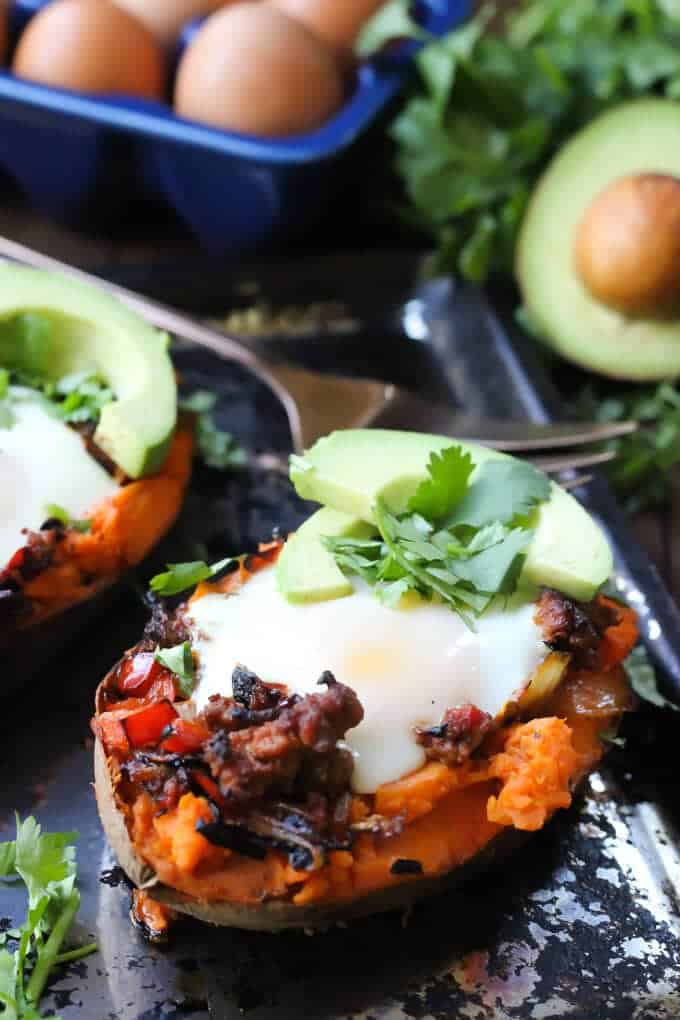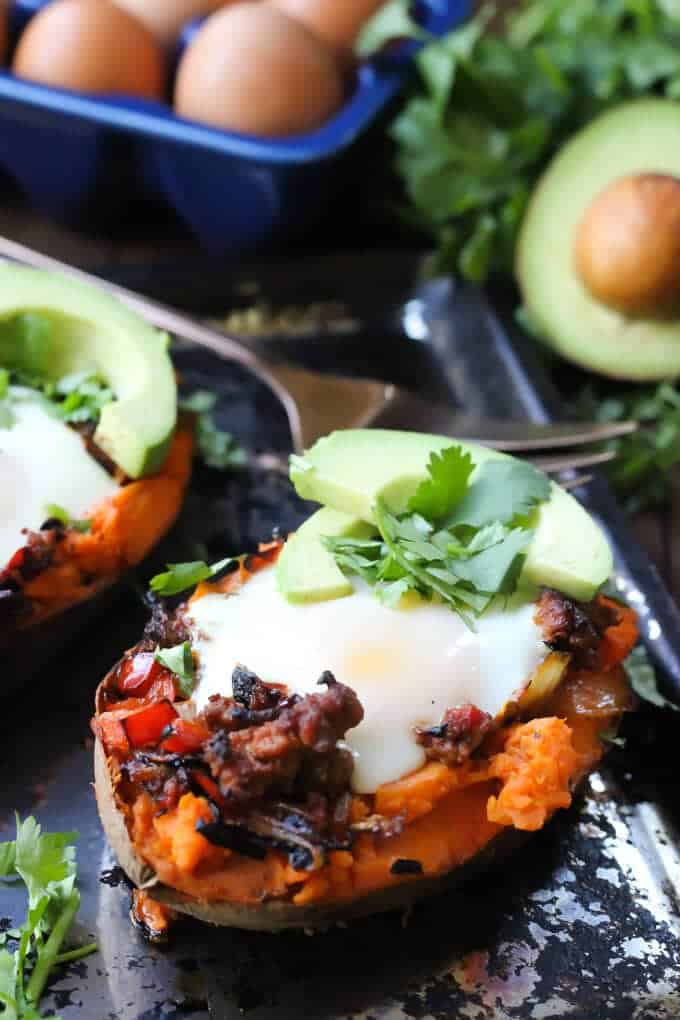 Ingredients
1

large sweet potato

2

tablespoons olive oil

1/2

large white onion, diced

1/2

bell pepper, any color, diced

5

ounces chorizo

1

chipotle pepper in adobo sauce

2

eggs
Toppings
Avocado

Cilantro

Chipotle mayonnaise - Simply mix 2 tablespoons mayo with a bit of the adobo sauce and minced chipotle pepper until you reach the spice level you want.
Instructions
Bake the Potatoes: Preheat oven to 400°. Bake the potato for 40 minutes. * move on to step 2 while potatoes are cooking...Remove and slice in half longways. Scoop out a bit of the middle and fluff with a fork. Return the fluffy potato to the boats and mash it down to where it has a large divot in the middle.
Prepare the Filling: Heat the olive oil in a skillet over medium high heat. Place the chopped onion and pepper in the skillet and sautee until the onions are translucent, soft, and beginning to brown. Throw in the chorizo and crumble with a fork until its brown. Stir in about a tablespoon of adobo sauce from the chipotle peppers. Mince a chipotle pepper and stir it in. Season with a crack of salt and set aside.
Stuff the Potatoes: Scoop half of the chorizo filling into the each boat. Make sure there is still a divot in the middle and carefully crack an egg into the divot. Return the potatoes to the oven and cook for 10-12 minutes until the egg white is set but the yolk is still soft. Top with avocado, cilantro, and chipotle mayo and serve.
by Lauren