I told you yesterday that I've been ALL for quick meals lately. Well, this Korean Paleo Bibimbap bowl is no different! It takes less than 20 minutes to toss together and everything can be made in the same exact pan!
There's this little Korean restaurant in the town over from us that serves the BEST bibimbap. I comes out in a hot stone bowl with raw meat, a raw egg, and tons of delicious vegetables. While my version is no way near authentic it's still pretty tasty and reminds me of theirs minus the meat.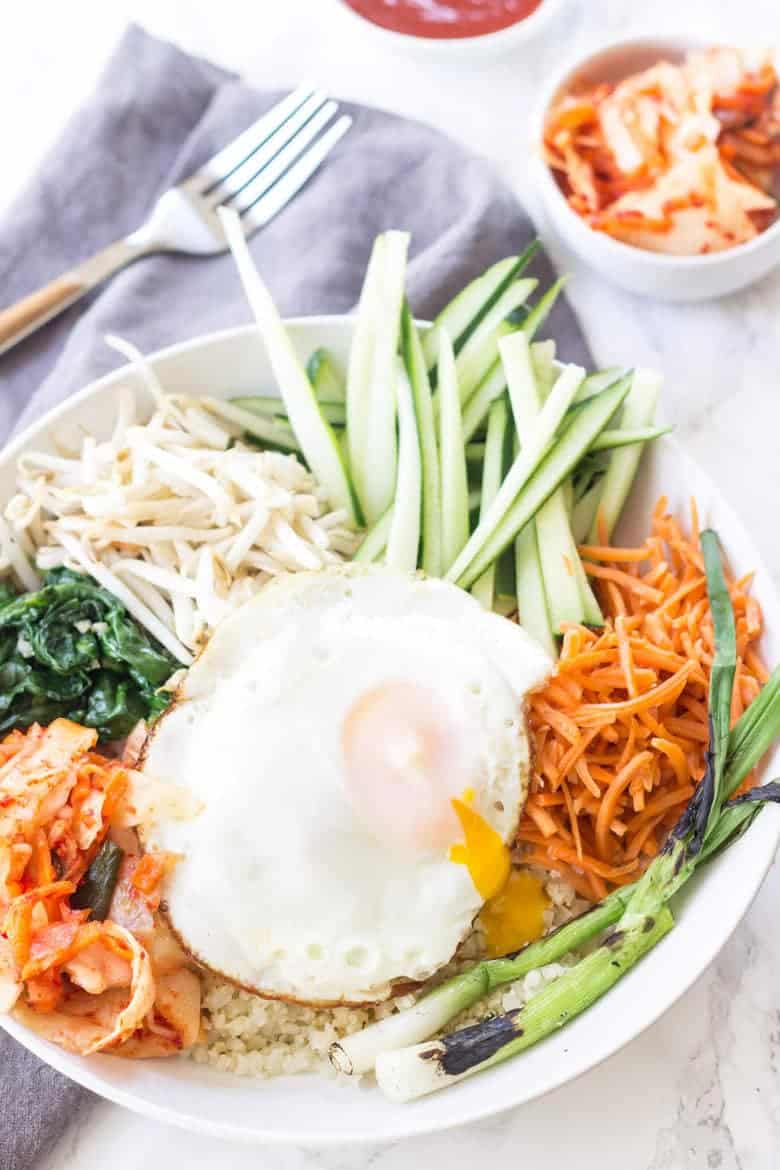 If you want to add in some meat though you totally can. Just sear some thinly sliced chicken, beef, or pork in the same skillet right after you cook the vegetables along with a splash of sesame oil, coconut aminos, and some salt. Easy!
The best part is totally the vegetables so I decided to keep them as the star of the dish. Seasoned carrots, bean sprouts, and spinach get lightly cooked which means they still have a nice crunch but just a wee bit softer. I also used some cucumbers, grilled scallions <— OBSESSED, and kimchi. I use a spicy kimchi that I buy at my local Earth Fare but you can use just about any kind you like or make your own!
Don't forget the Sriracha!
Korean Paleo Bibimbap
Ingredients
Rice
12

ounces cauliflower rice

1

teaspoon toasted sesame oil

1

teaspoon coconut aminos
Vegetables
1

cup matchstick carrots

1

cup bean sprouts

1

cup julienned cucumber

2

cups spinach

4

scallions

1

teaspoon toasted sesame oil, divided

Salt, to taste
Other Toppings
2-4

eggs** See notes

Kimchi (I like this)

Sriracha
Instructions
Heat a skillet over medium high heat with 1 teaspoon sesame oil. Add in the cauliflower rice and cook until soft and toasted, about 5 minutes. Remove and divide between two bowls.
Wipe out the pan and add 1/4 teaspoon sesame oil and carrots. Saute for about 30 seconds just until soft. Add a small pinch of salt. Remove from pan and set aside. Repeat with bean sprouts.
To the same pan once you've removed the sprouts add in 1/2 teaspoon of sesame oil and spinach. Cook for about 1 minute or until wilted.
Grill the scallions over high heat just until charred. I simply lay them over my gas burner but you can also use a regular grill or grill pan. See notes for another option.
Fry the eggs in a small ceramic or well seasoned cast iron skillet with a bit of sesame oil just until the whites are crispy and set but the yolk is still runny.
Divide the vegetables between the two plates, top with eggs, kimchi, cucumbers, and the grilled or sliced scallions. Serve with Sriracha.
by Lauren
Recipe Notes
**I usually use 1 egg per bowl but if you want some extra protein you can always add an extra or two!
**If you would rather not grill the scallions simply slice them.