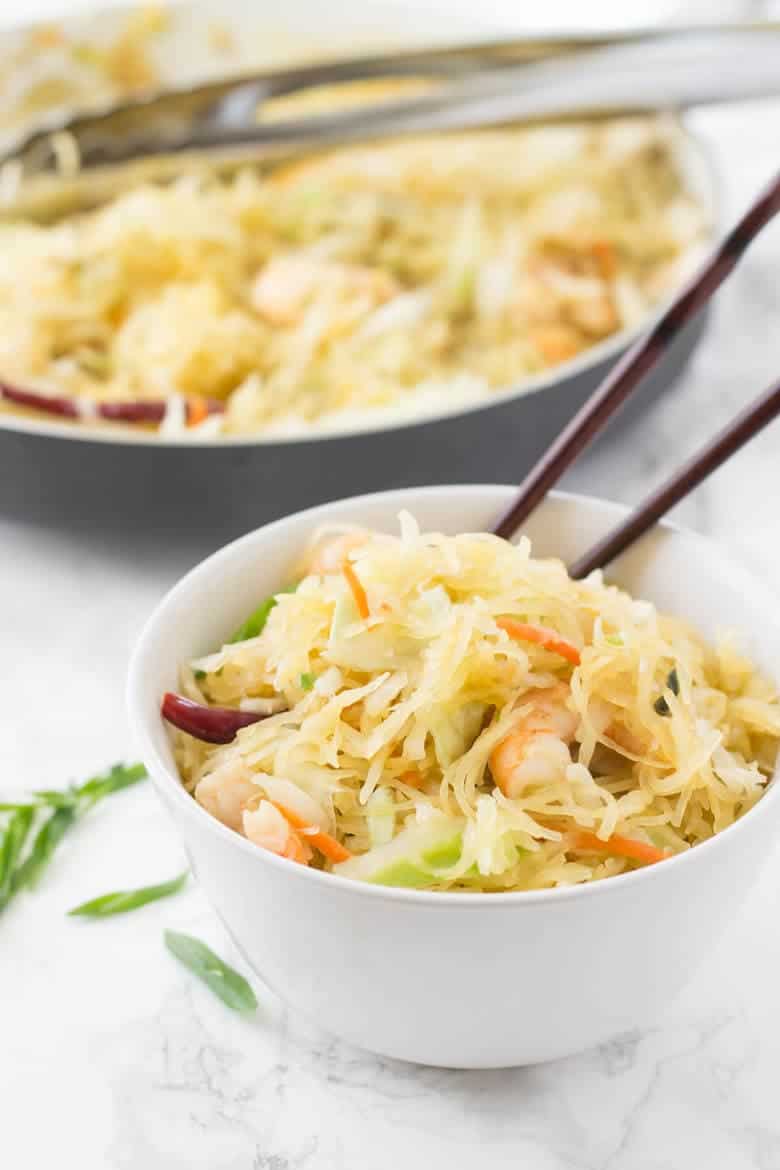 Can you tell those aren't noodles? I mean apart from the title giving it away and all. They look exactly like noodles to me and taste quite similar too.
One of my favorite meals used to be a local Chinese buffet. I haven't ate there in years but I do remember having a panic attack every.single.time I ate there. Without fail within an hour I would have crushing anxiety. Looking back it was probably the fact that it was loaded with MSG, carbs, and of course gluten. You would think that would be enough for me to not crave it anymore but no, our minds are a powerful thing and I still want it sometimes. I'm just more aware of how food reacts with my body now.
SO, I set out to make a healthier version of my favorite dish there, Shrimp Chow Mein. I loved the crunchy cabbage, sweet shrimp, and while I didn't drench these in shrimp sauce they're still delicious!
This is one of those recipes that only takes a few minutes to throw together. You do have to cook the squash but that's pretty hands off. You can even do it ahead of time and just store them in the refrigerator until you're ready to use them.
There's a bonus to that too. Once they chill they aren't as watery so the get a bit crisp like traditional stir fried noodles which makes for a better dish in my opinion.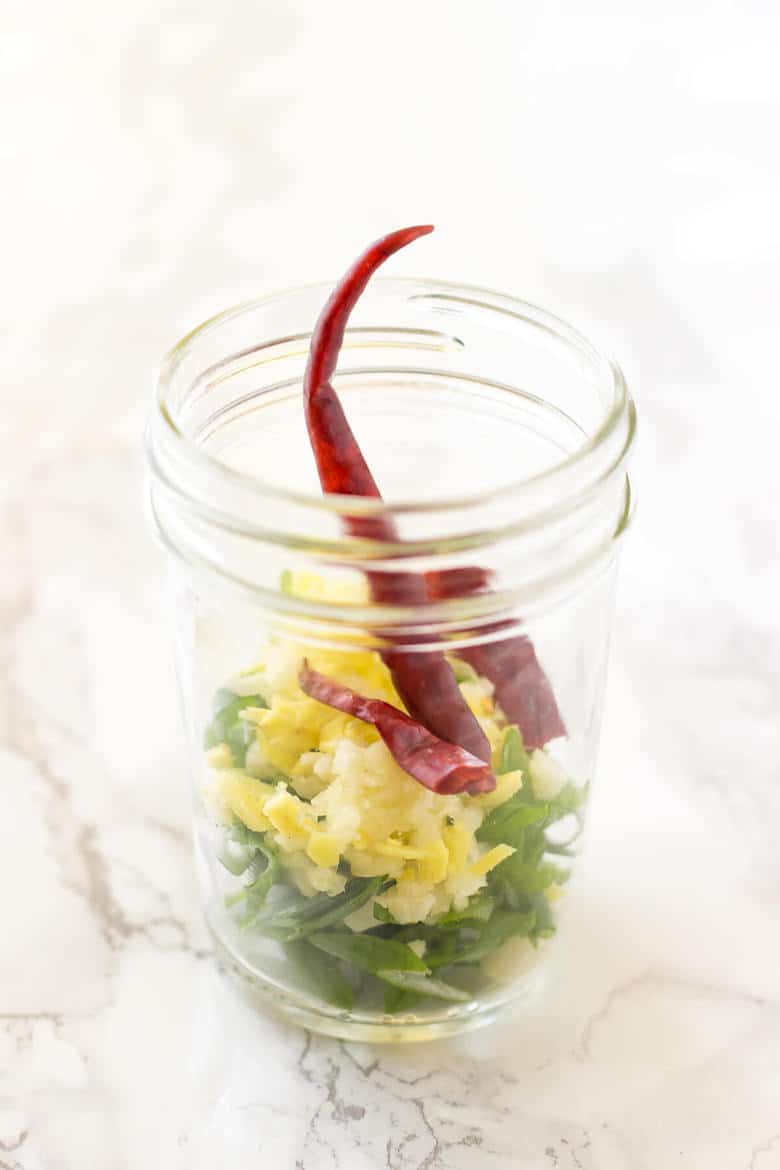 You can even throw in some additional veggies if you want. Peppers, onions, mushrooms, baby corn…all of it would be good. I like keeping it simple sometimes though.
Be sure to use a pan with high sides, a wok will work the best but any other pan will do just fine too. My wok needs to be reseasoned so I just used a ceramic skillet this time around. Be sure to drizzle some Sriracha on top!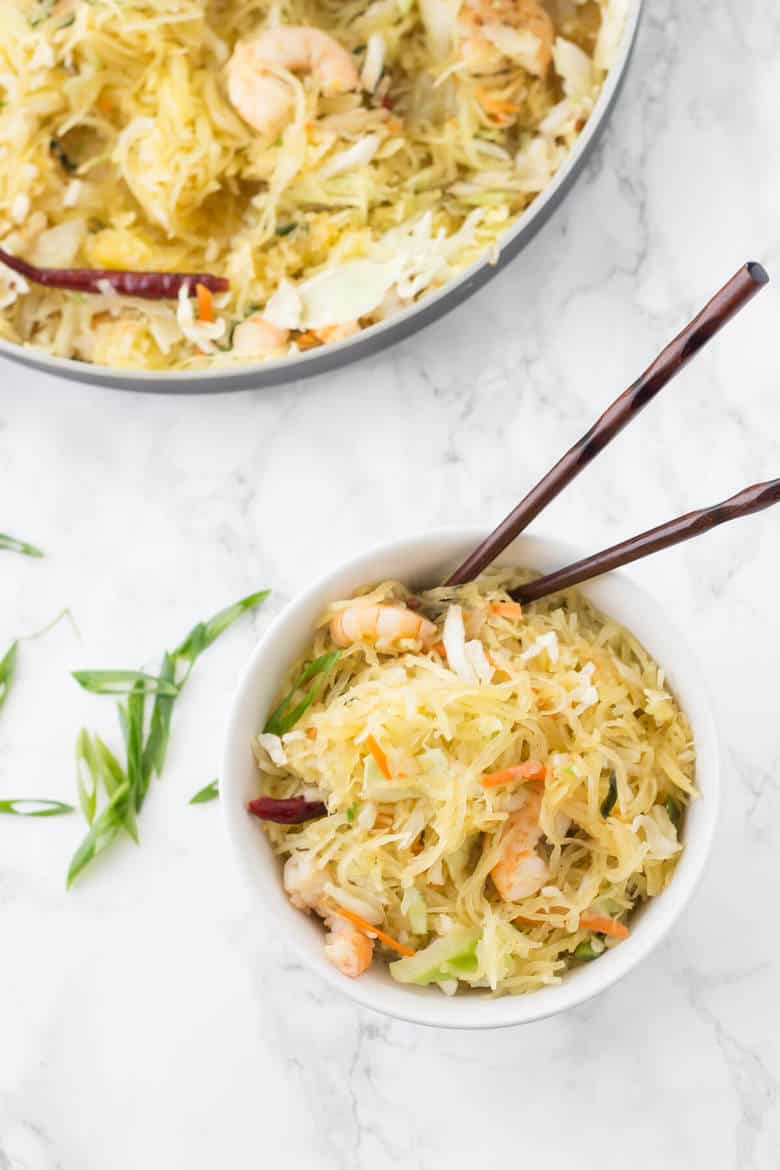 Paleo Shrimp Chow Mein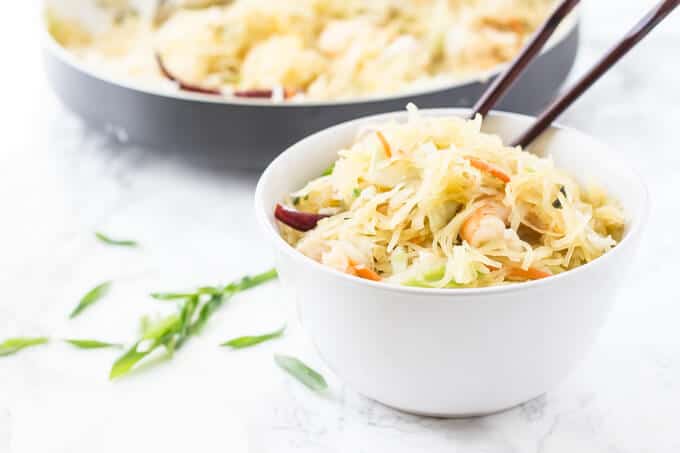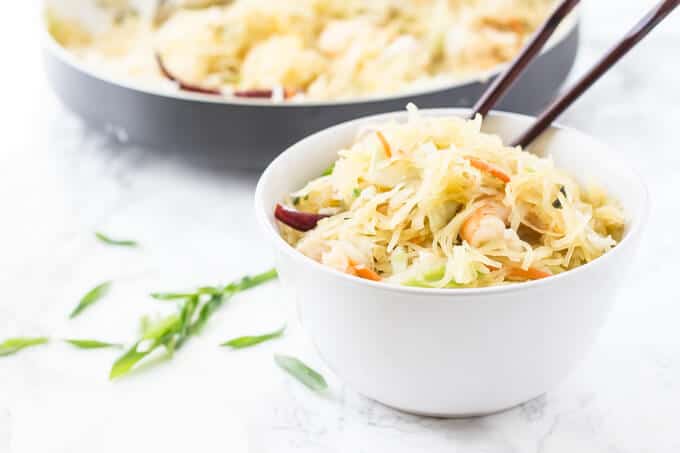 Ingredients
1

medium spaghetti squash

3/4

lb shrimp, peeled and deveined

4

cups shredded slaw mix

2

green onions, sliced

2

garlic cloves, minced

2

thai dried red peppers

1/4

teaspoon fresh ginger, minced

10

Sichuan peppercorns

1

tablespoon sesame oil

2-3

tablespoons coconut aminos

Pinch of salt

Pinch of coconut sugar, (optional)
Instructions
Preheat oven to 375° F. Cut the squash in half, bake for 40-50 minutes or until tender. Remove from oven and use a fork to shred into "noodles".
Combine the minced garlic, ginger, green onion, chile peppers, and peppercorns. Heat the sesame oil over medium high heat and stir fry the mix until fragrant about 30 seconds. Add in the shrimp and cook just until pink on both sides. Stir frequently so the garlic mix doesn't burn.
Add in the slaw mix and cook 1-2 minutes until slightly softened.
Add in spaghetti squash and stir until combined. Pour the coconut aminos over and toss. Taste for salt and add a pinch or two if needed. You can also add a pinch of coconut sugar to bring out the sweetness of the shrimp but it's not necessary.
by Lauren