These Aloe Vera Margaritas are a refreshing switch from your standard margarita! Complete with some awesome healing properties!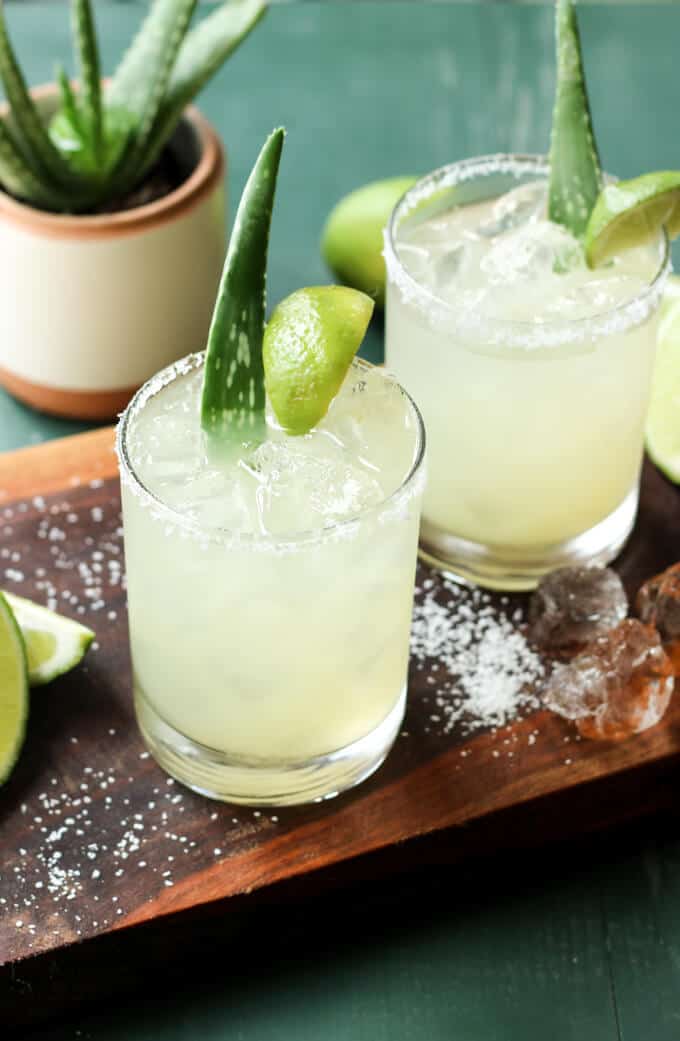 Don't you love how I can make a margarita healthy? Continuing the theme of healing margaritas like my cold fighter Rosemary Ginger Margarita I thought I'd bring you a drink that's the perfect digestive elixir.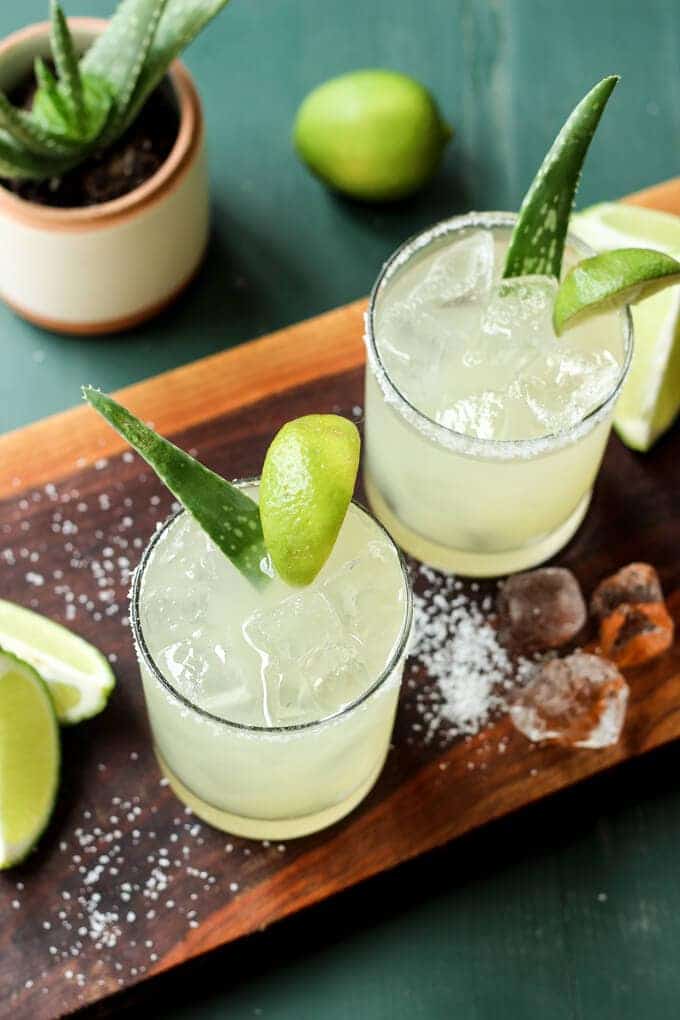 Along with boosting your immune system Aloe Vera is an awesome at calming an upset stomach and aiding in the digestion of food. Tequila does the same. Sometimes if I'm feeling particularly bloated after a meal I'll drink about an ounce of tequila and I notice a difference immediately. Adding aloe to the mix just ups the powerful calming effects as it contains numerous amino acids, enzymes, vitamins and minerals that soothe and protect your digestive tract.
Plus this margarita is just the bomb. Slightly sweet, slightly tangy, and slightly smoky is the perfect after dinner cocktail.
I love an interesting cocktail and this one will sure get the conversation going at your next dinner party. Also, if you're wanting the presentation to be extra special simply purchase a medicinal grade aloe plant and snip off a small leaf for garnish. Be sure to squeeze most of the gel out of it before using or you'll end up with a swirl of gel in your margarita.
Have you ever had an unusual margarita? Leave em' in the comments below! I'm always looking for more ways to utilize tequila!
Aloe Vera Margaritas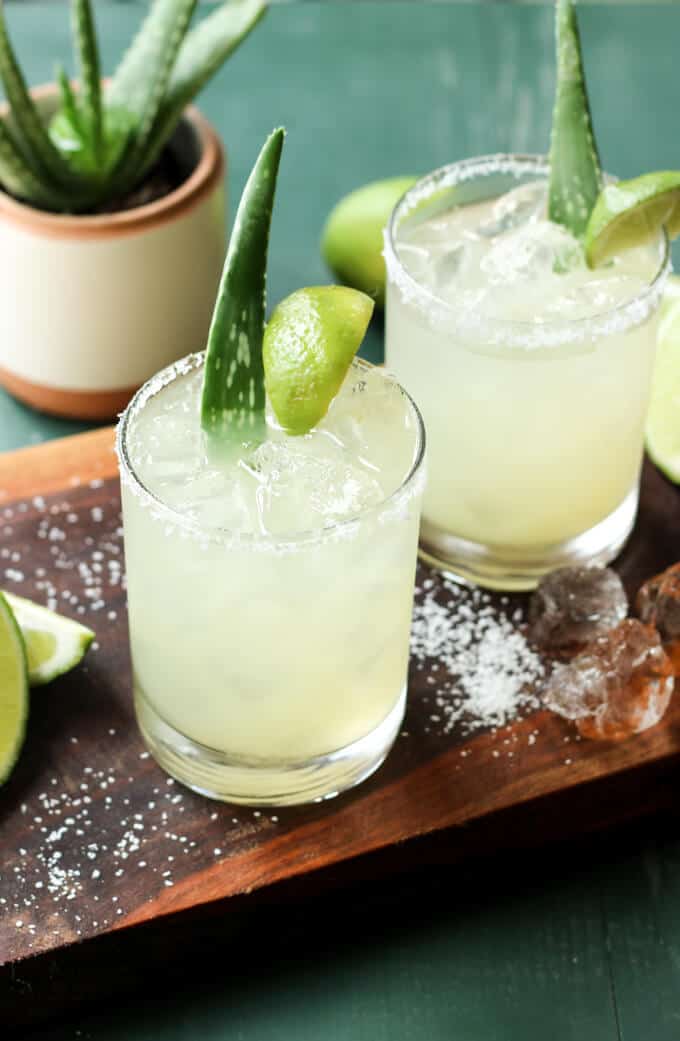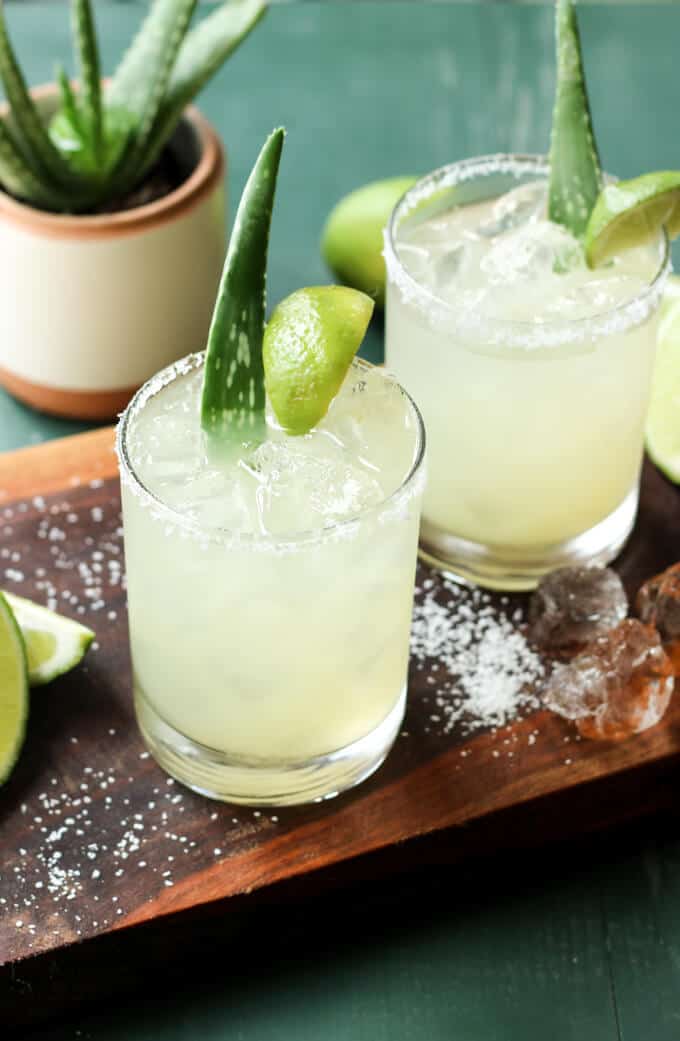 Ingredients
2.5

ounces Aloe Vera Juice

2

ounces 100% Agave Tequila

1.5

ounces lime Juice

1

tablespoon honey syrup**

Salt, for rimming
Instructions
In a cocktail shaker or jar shake the aloe vera, tequila, lime, and honey together. Strain into into a salt rimmed, ice filled glass.
by Lauren
Recipe Notes
**Honey syrup is simply equal parts honey and warm water. For one margarita you'll want to do 1/2 tablespoon honey with 1/2 tablespoon of warm water.