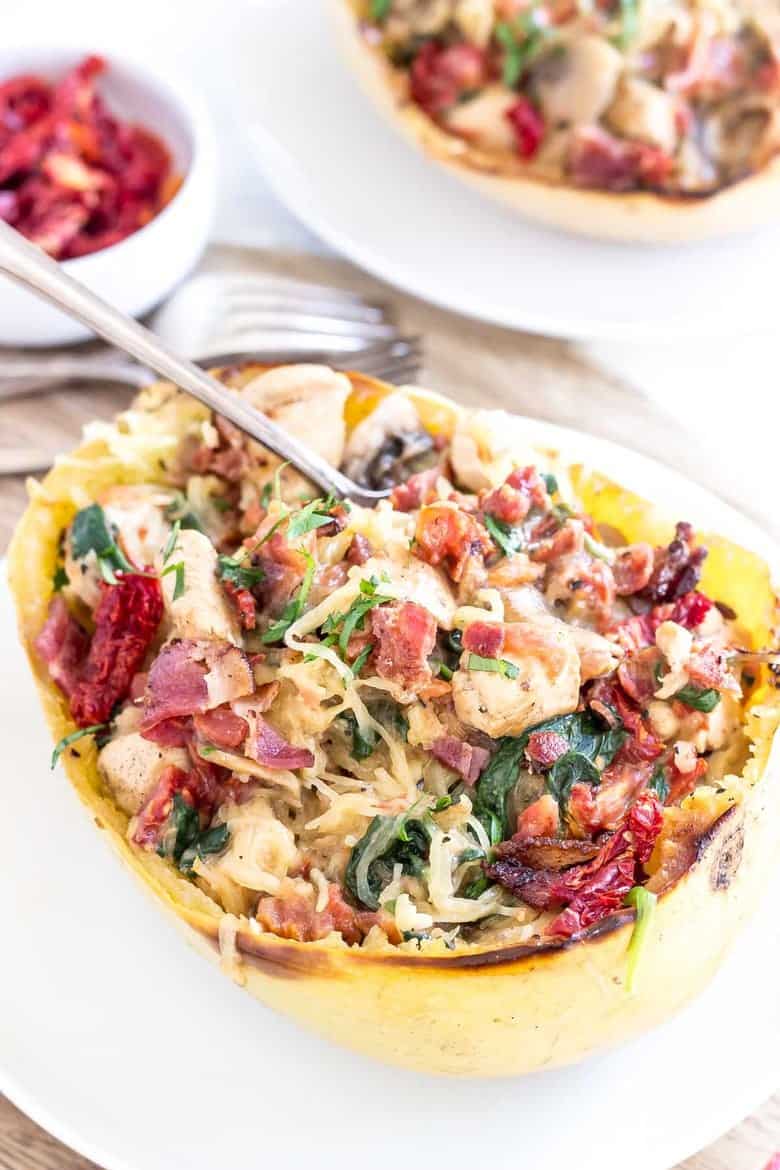 This meal is both quick and easy, as well as filling and nutritious…two things that don't always seem to go together. It hope I'm not the only one, but sometimes when I prepare a quick meal, I'm hungry again within a few hours. Is that just me? 😉
When you're picking out a spaghetti squash for this, you'll want to keep in mind the smaller the squash the faster it will cook. I used a medium sized squash and it worked perfectly for two people, I even had a little bit of leftovers. Once you pop the squash in the oven you've got about thirty minutes to whip up the Tuscan style chicken filling.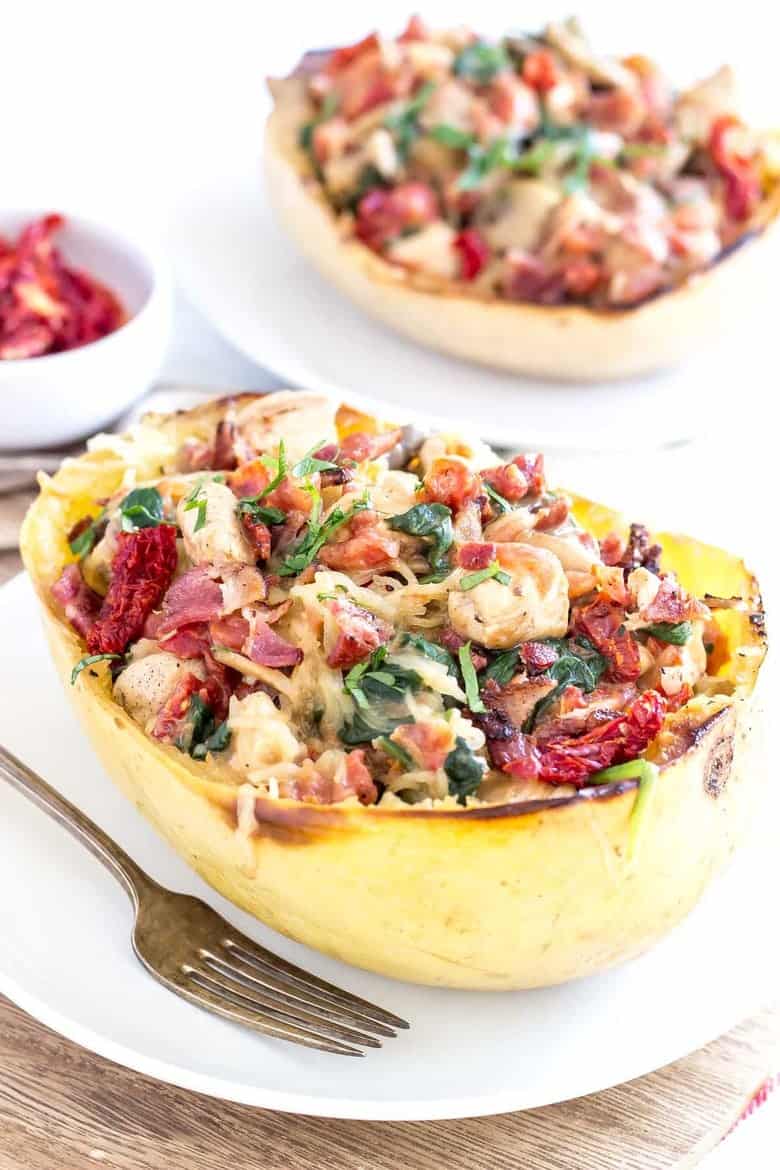 If you follow Wicked Spatula regularly you'll know I use my cast iron skillet for everything. So the first thing I do is add some olive oil to the skillet and cook the chicken, then the fun starts. I pull the chicken out and put in a few slices of bacon, and let is sizzle away. Then I throw in some mushrooms and diced tomatoes and let them cook in the bacon grease. The mushroom soften a bit and take on the smoky bacon flavor that we all love.
The best part has to be the cream sauce though. It's simply almond milk mixed with a bit of tapioca to thicken it up. Once the sauce, mushrooms, and tomatoes are starting to get all zoxy I throw in some fresh spinach and sun dried tomatoes. It only takes a few seconds for those 3 cups of spinach to wither away. By this point your spaghetti squash should be cooked, and dinner is ready!
Now I almost didn't have any pictures of these for you guys because I just couldn't wait to dig in, and neither could Alex. #foodbloggerproblems. So here you go, a simple, delicious meal with minimal clean-up involved, just your plates, the skillet, and the oven pan. I love the simplicity of spaghetti squash dinners, and if you love this one you'll definitely want to check out my Shrimp Scampi Spaghetti Squash Boats from a few weeks ago!
Tuscan Chicken Spaghetti Squash Boats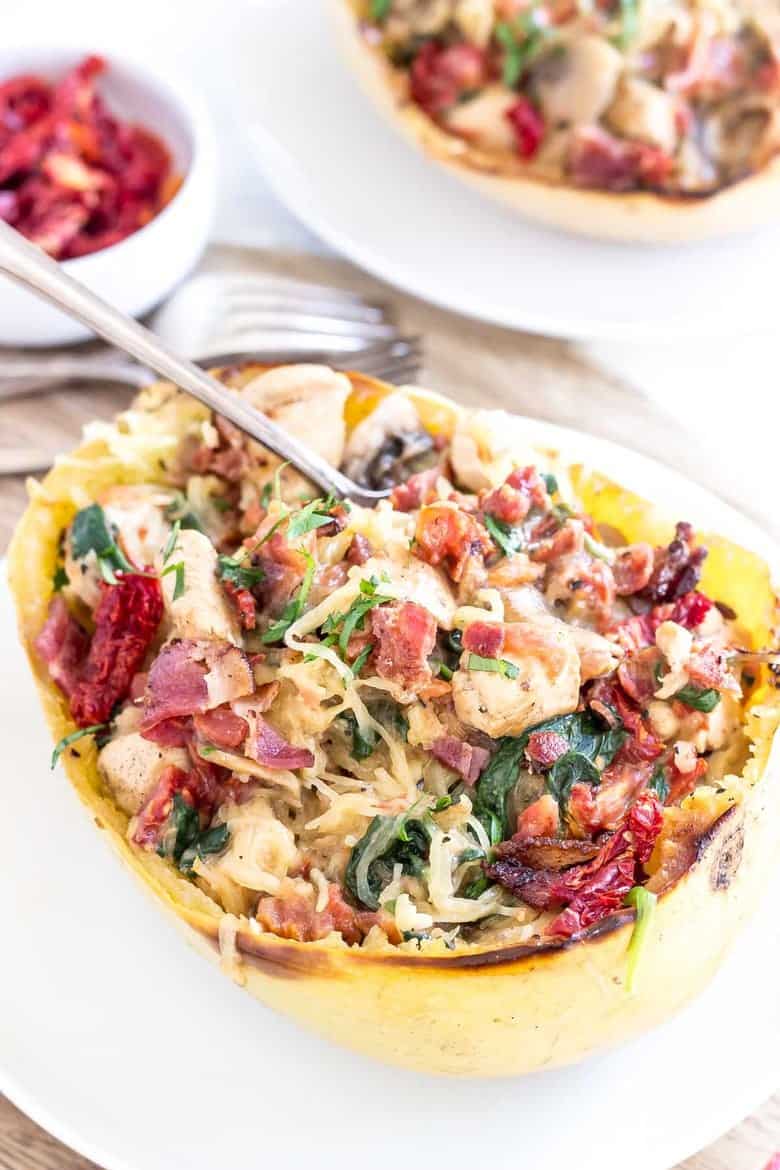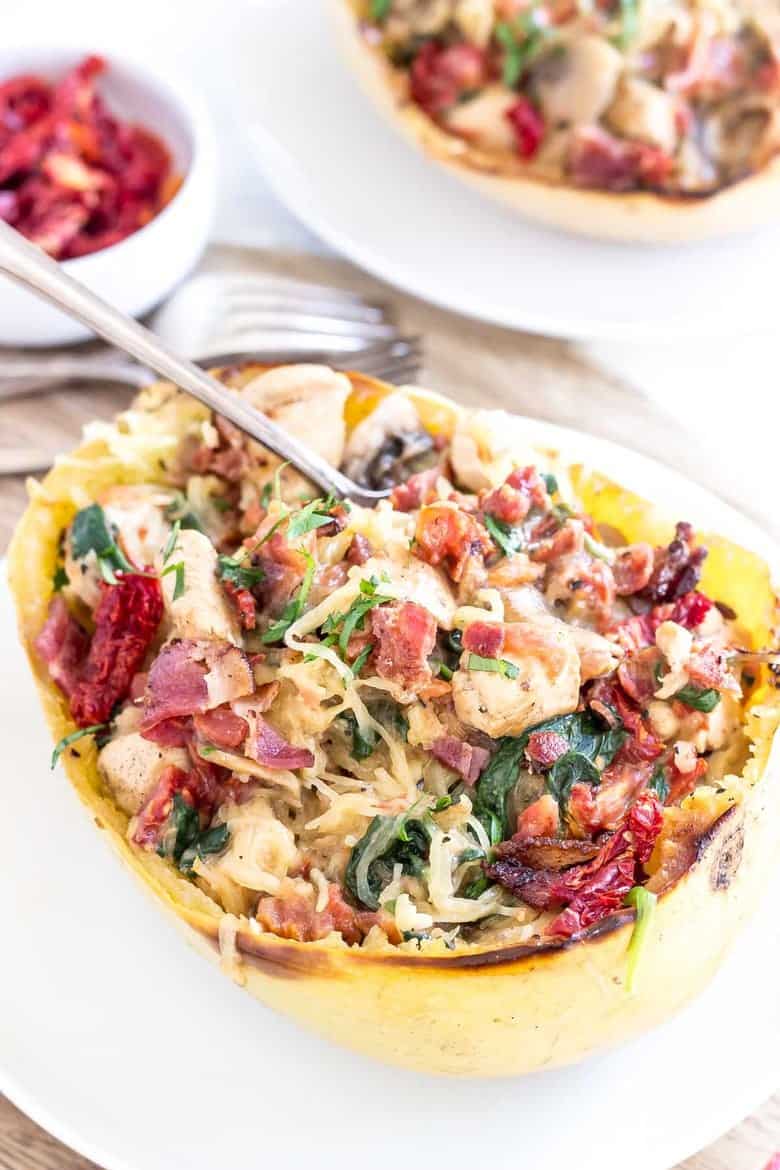 Ingredients
Spaghetti Squash
1

small spaghetti squash

1

tablespoon olive oil

Salt and pepper
Tuscan Chicken Filling
3/4

lb chicken breast

1

tablespoon olive oil

4

slices uncured bacon

4

oz sliced mushrooms

1

(14.5 oz) can diced tomatoes, rinsed and drained

1/4

teaspoon garlic powder

3/4

cup almond milk

1

teaspoon tapioca

3

cups spinach

2

tablespoons sun dried tomatoes

Salt and pepper, to taste
Instructions
Preheat oven to 375° F. Cut squash in half lengthwise and scoop out the seeds. Drizzle with olive oil and season with a pinch of salt and pepper. Place cut side down on a baking sheet and bake for 30 minutes.
Heat the olive oil in a large skillet over medium high heat. Dice the chicken into small bite sized pieces and add to the skillet. Season with salt and pepper. Cook 3-4 minutes per side until browned and cooked through. Transfer to a plate.
Add the bacon slices to the skillet and cook until crispy, about 5-7 minutes. Remove from skillet and crumble once cooled.
To the skillet along with the bacon grease add in the sliced mushrooms, diced tomatoes, and garlic powder. Let cook 2-3 minutes until the mushrooms start to soften.
In a measuring cup or small bowl whisk together the tapioca with 1 teaspoon hot water. Stir into the almond milk. Pour the mixture into the skillet and stir.
Add the spinach and sun dried tomatoes to the skillet and continue to stir until the spinach is wilted. Add the chicken back in and simmer 2-3 minutes. Stir in the crumbled bacon and taste for salt.
To serve scrape the squash strands into a pile of "pasta" in the squash shells and top with the Tuscan chicken mixture.
by Lauren