Yes, you saw that right…grilled avocado. Seriously like the best thing ever. I can't even describe how good it is. The creaminess of the avocado along with the charred bits from grilling it is a match made in food heaven.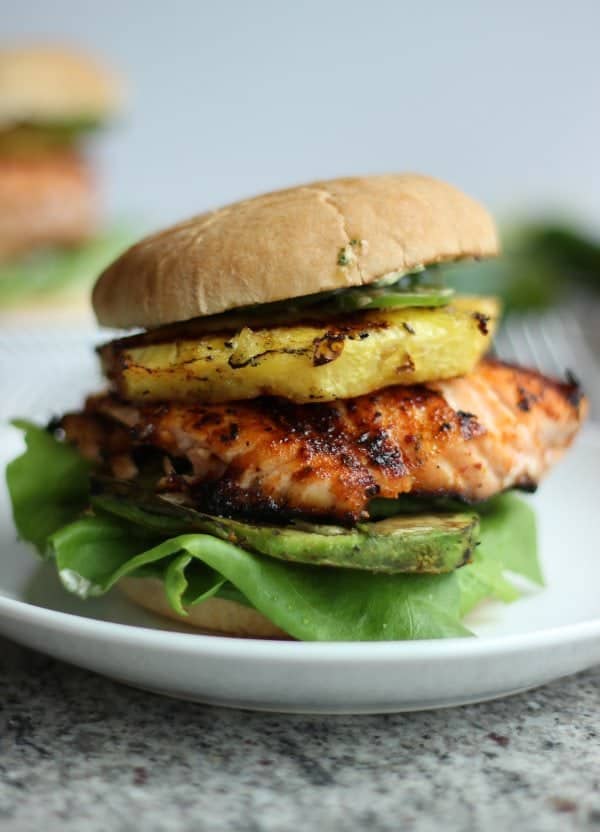 We've been grilling everything this past week. Okra wrapped in prosciutto, all sorts of pizzas, burgers, and finally this salmon burger. See, we just moved into our house and since we have lived in an apartment for the past 5 years (part of that in college) we weren't able to have a grill which resulted in us trying to grill things with a George Foreman and we all know that's not the same. So now that we can have one we are grilling everything we can, it may never stop. I wholeheartedly believe that everything is better when grilled.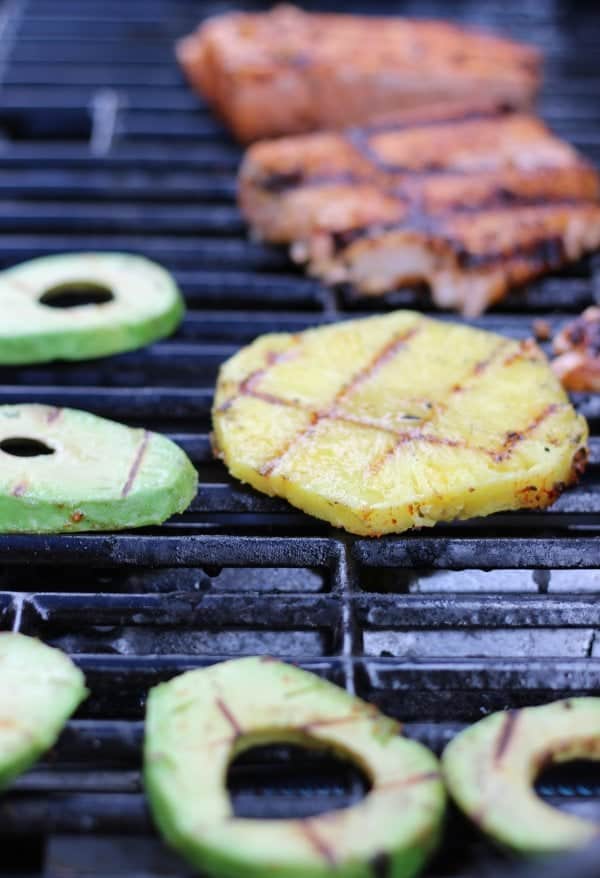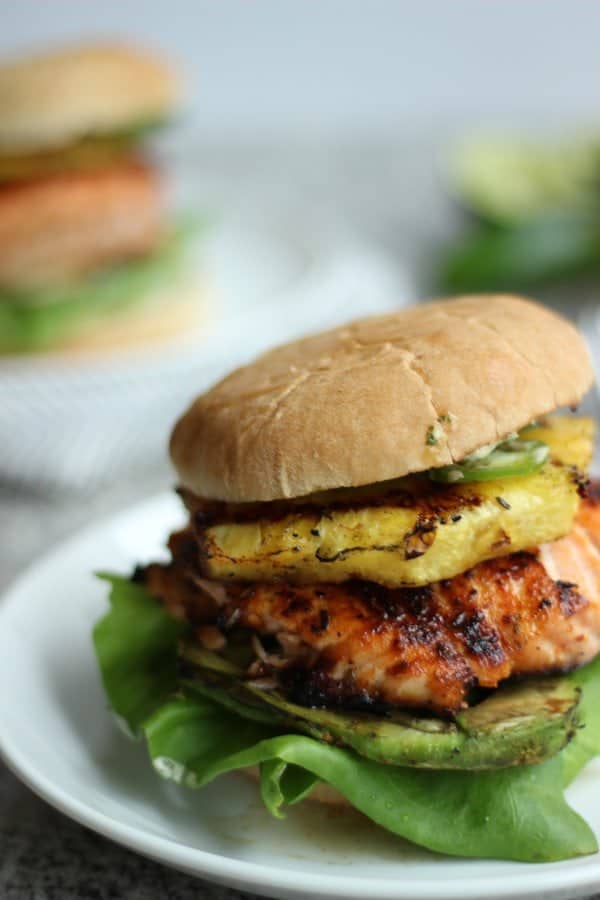 Remember yesterday morning when I said it had been in the 80's all week? I should have known better than to brag because yesterday afternoon it turned cold and was in the 60's. Not terrible except that it rained most of the day. Yes, we even grilled in the rain…
Ha! The patio table umbrella worked well.
It was worth it though, just look at that salmon burger! Now I'm not gonna lie you may need an entire roll of paper towels…and maybe a bib to eat this burger. It is messy but is it oh so worth it. The sweetness of the pineapple plays perfectly with the heat of the jalapeno. I wanted a sauce that would compliment the fish without overpowering it. I though about BBQ sauce, teriyaki, and even chipotle but none of them seemed right. Then it hit me…lime mayonnaise. I've been on a lime kick obsession recently and I just can't stop. We went out for Mexican the other night and Alex and the waiter were making fun of me because I had 5 slices of lime in my beer. I told you, obsessed. Throw in some cilantro and garlic and you've got the perfect sauce for the burger.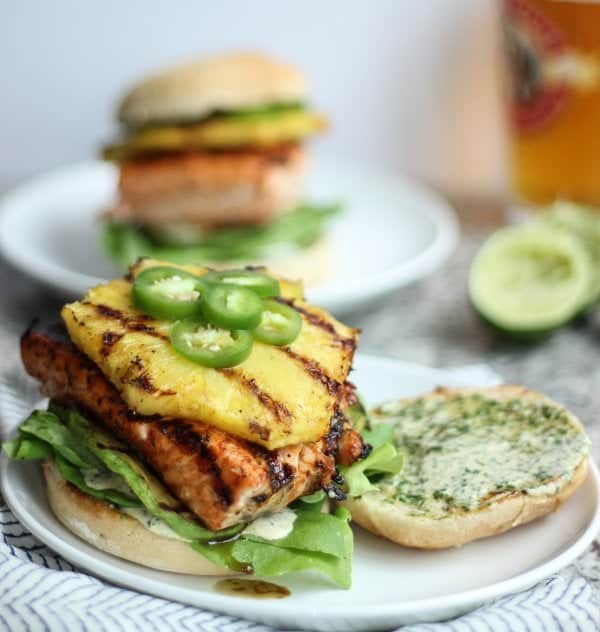 So glad salmon was on sale this week. I loaded up. I have a billion possibilities running through my head. Tacos, salmon caesar salad, pizza! Pizza. I've been know to throw just about anything on dough and call it a pizza. So good. Enjoy!
Tropical Grilled Salmon Burger with Grilled Pineapple & Avocado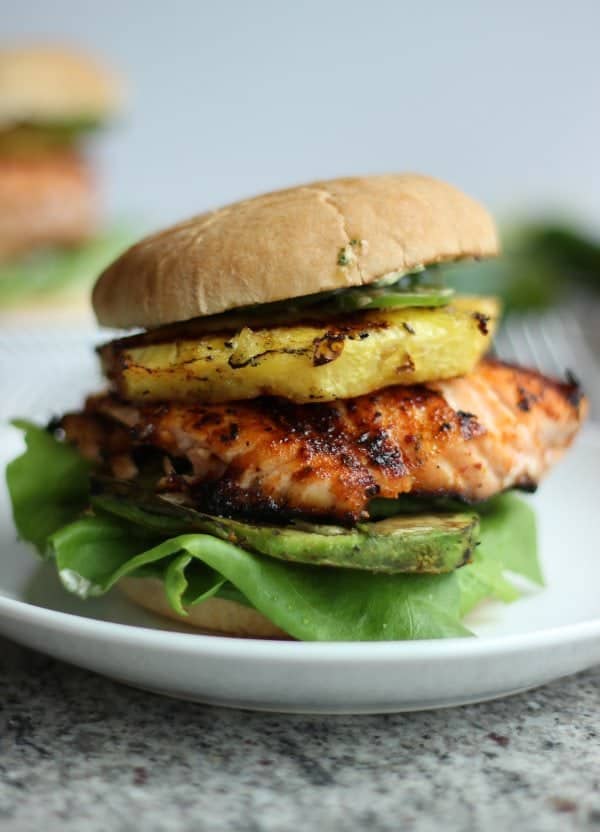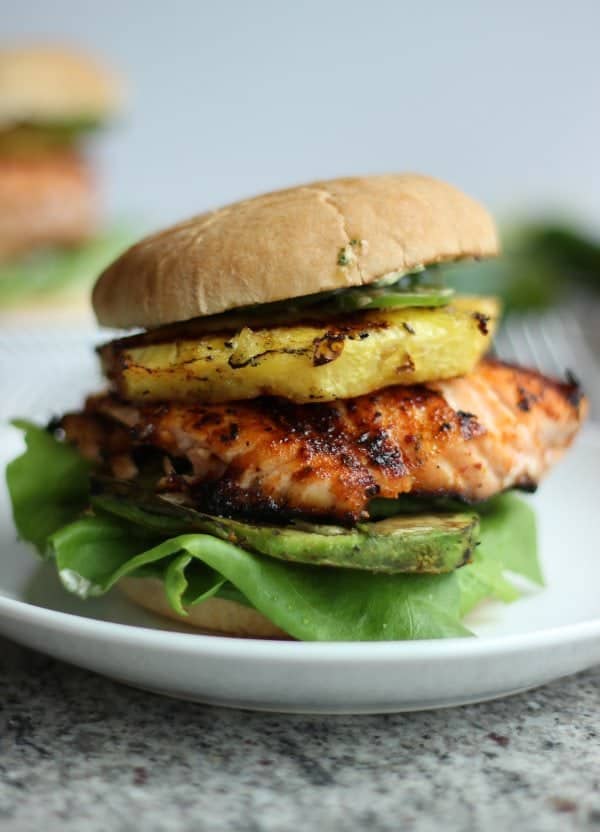 Ingredients
For the Salmon
1

lb salmon, skin removed

3

tablespoons of your favorite seasoning...Jerk, cajun, etc. (I used a sweet and spicy lime and jalapeno mix from my local store)
Toppings
2

slices fresh pineapple

1

jalapeno, thinly sliced

1

avocado, sliced

Butter Lettuce

2

burger buns, toasted
For the Cilantro Lime Mayonnaise
4

tablespoons lime juice

2

garlic cloves

1/2

teaspoon Sriracha

1

teaspoon Dijon mustard

1

cup cilantro

1

cup mayonnaise

Salt and Pepper to taste
Instructions
Directions for the Cilantro Lime Mayonnaise

In a food processor blend all ingredients except mayonnaise until finely minced. Stir in mayonnaise and refrigerate while preparing other items.

Directions for the Burger

Season salmon with your spices on both sides.
Brush pineapple and avocado lightly with olive oil.
Grill salmon for 10-12 minutes or until you reach your desired doneness. While the salmon is grilling also grill the pineapple and avocado. Avocado will be done in about 5-7 minutes so keep a close eye on them. Pineapple will be done with salmon.

To Assemble Burgers

Spread mayonnaise on both sides of the toasted burger buns.
Place toppings down in the following order: Lettuce, avocado, salmon, pineapple, jalapeno.
by Lauren