This Tricolor Grilled Potato Salad is the perfect side dish for summer BBQ's and picnics!

I believe just about anything can be made better by grilling it. As the weather gets warmer and the days get longer I'm turning to the grill more often than my stove. We still grilled throughout the winter (even in the snow!) but now we're at least grilling something once a day. I love it. Plus it's nice to not have to dirty a single pot or pan.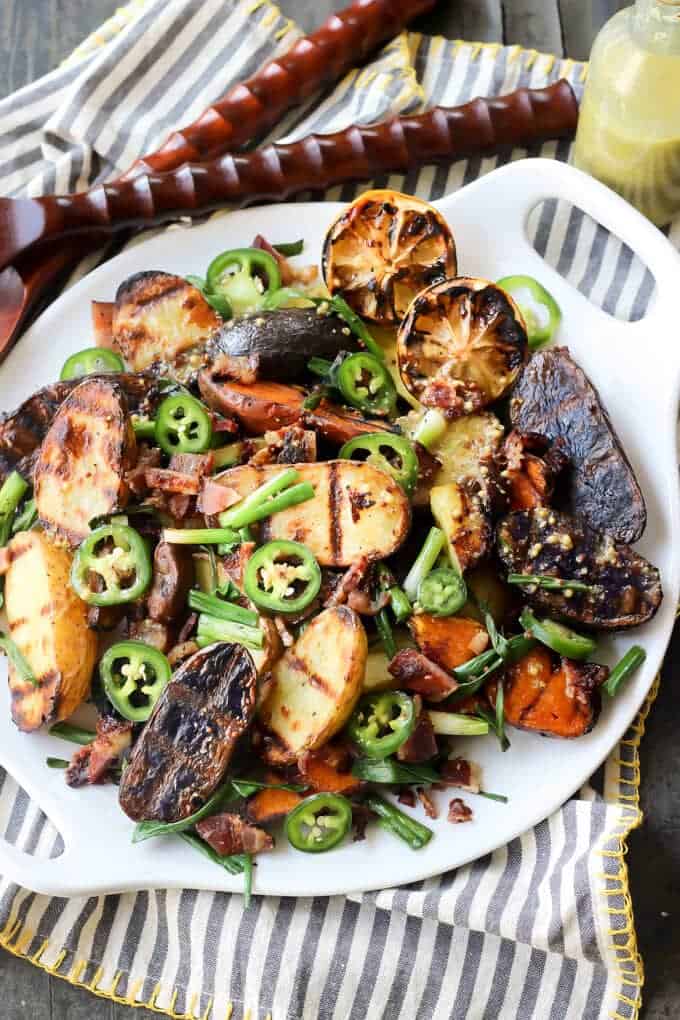 As it's getting warmer I'm also wanting to spend more time outside. Someday I would love to live somewhere tropical and have an open air kitchen and dinning room. Even now I open the windows and the breeze that blows through the kitchen is divine. I would happily stand at the island and wash dishes all day as long as the breeze was blowing. In an effort to spend more time outside I mentioned to Alex at lunch yesterday that we should camp in the backyard one night this week. Apparently adults don't do that? Who knew.
See it's a tad difficult to go anywhere for just one night since Van Gogh (that's what Alex lovingly named our cat that I brought home with one ear almost two years ago…it was either that or Evander Holyfield. Which one did you think I'd choose, at least I can call her Vanna and it sounds like a girl's name.) Anyways, she has to have medicine twice a day for seizures so instead of going on a camping trip about an hour away I figured the backyard would suffice. Is that crazy?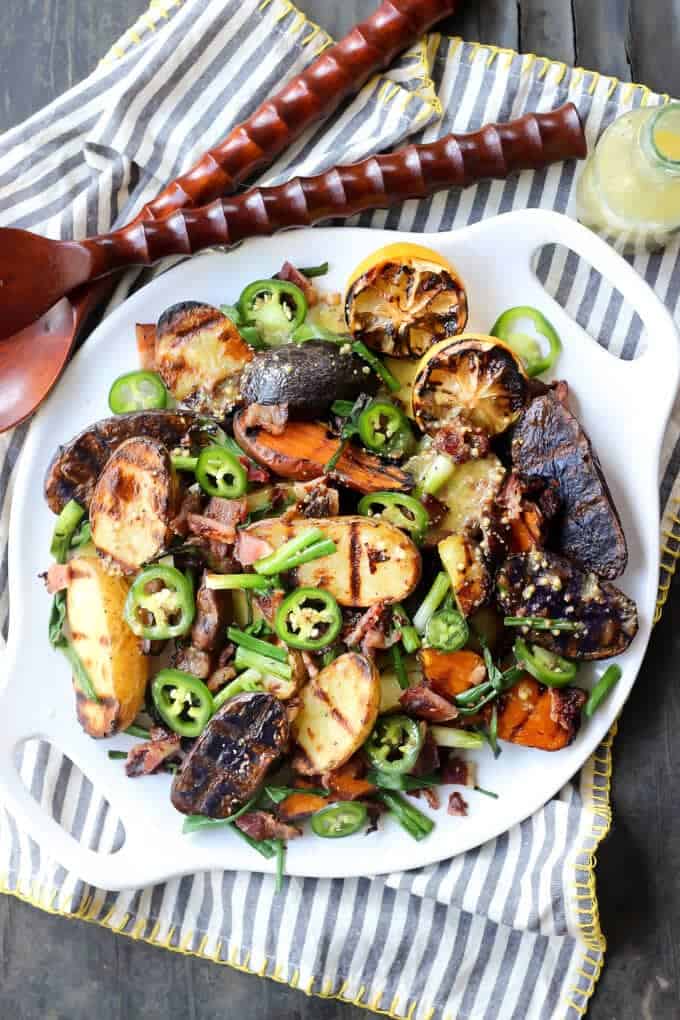 Back to this grilled potato salad. I found the recipe a few months ago on Food and Wine and have made it at least 20 times since then. I've made tweaks here and there until I think I've finally found the ultimate version of the dish. I added sweet potatoes, purple potatoes, bacon, and a bit of whole grain mustard to the dressing. The sweet potatoes and their classic sweetness goes so well with the smoky bacon and the crunchy spice of the jalapenos. I have to say that this salad is even better after it's chilled. I mean it is supposed to be eaten warm so just make sure you have some leftovers to throw in the refrigerator for a late night snack. I guarantee they won't last till the next day.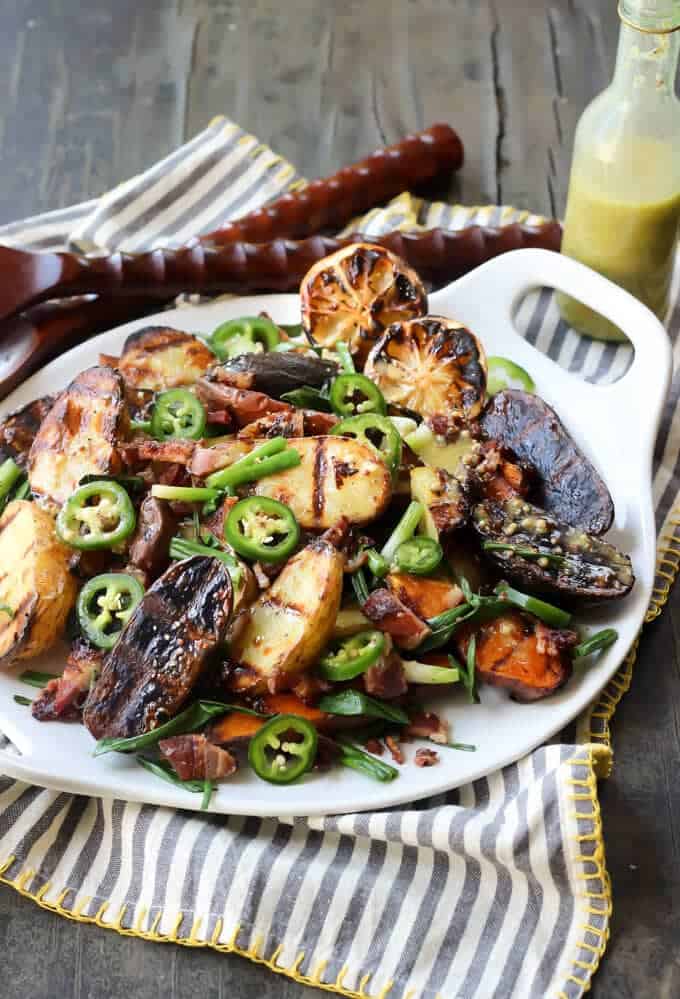 Grilled Potato Salad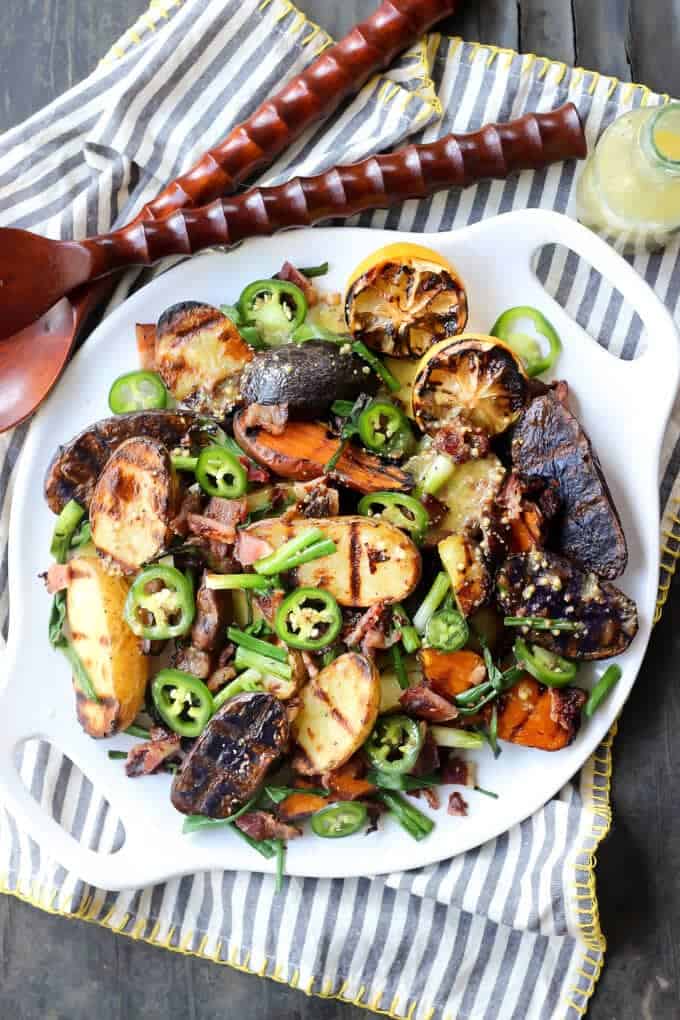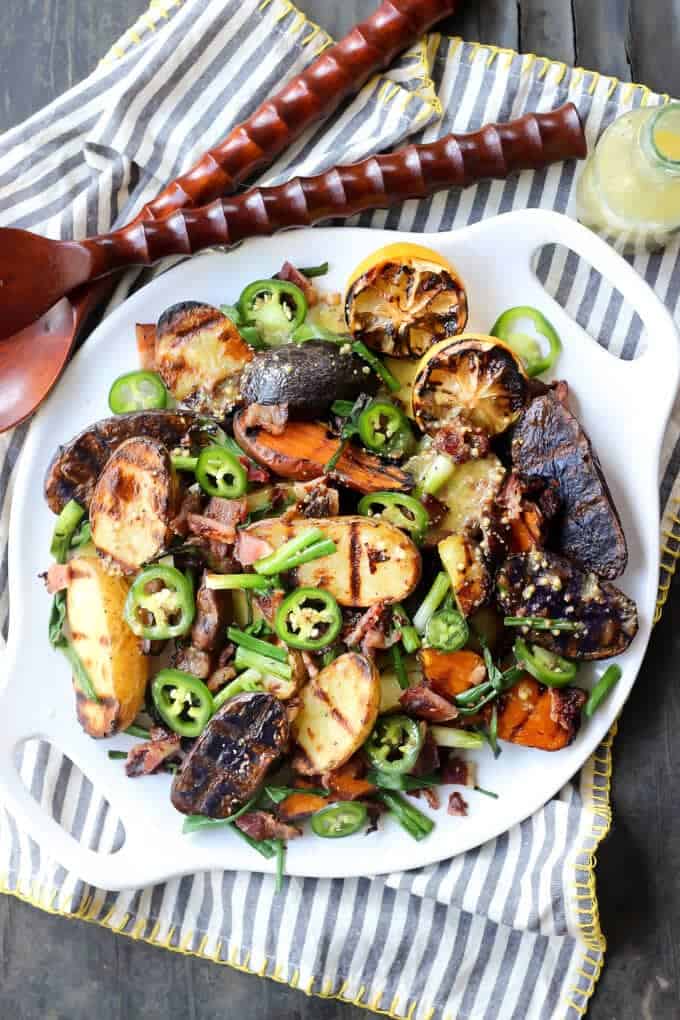 Ingredients
2

lbs small potatoes (sweet, purple, yukon gold)

2

bunches scallions

4

jalapeños

4

slices thick cut nitrate free bacon

2

tablespoons white vinegar

3

teaspoons lemon juice

2

tablespoons whole grain mustard

1/2

cup olive oil

Salt and pepper, to taste
Instructions
In a large pot cover the potatoes with water and bring to a boil until tender, about 20-30 minutes depending on the size of your potatoes. Drain and set aside.
While the potatoes are boiling fry the bacon and make the dressing.
Whisk together the white vinegar, lemon juice, mustard, olive oil, and salt and pepper. Place the dressing in the refrigerator until ready to use.
Halve the potatoes and brush with a little olive oil. Brush the green onions with a bit of oil as well.
Preheat your grill to the highest setting and grill the onion just until they begin to wilt, remove and cover with a towel or plastic wrap to steam them. Continue grilling the potatoes until they have a nice deep char lines and are golden (about 10 minutes)
Slice the jalapeños into rings and the green onions into 1 inch pieces, crumble the bacon as well. Toss everything with the potatoes. Drizzle with dressing and serve.
by Lauren