This Thai Shrimp Salad packs tons of flavor from fresh herbs and an almond butter Thai dressing.

In college I worked at this local Thai restaurant that had the best fresh spring rolls imaginable. Shrimp, rice noodles, cabbage, lettuce, minced pork, mint, and cilantro all wrapped into a soft rice paper wrapper. As an employee we received 50% off our meals while working and everyday I had a double order of those fresh spring rolls complete with a thick peanut(y) sauce to dunk them in. I've been missing those flavors recently and after seeing every blogger out there make fresh spring rolls the last few months I decided it was time for a Paleo version.
Enter this salad. It has all the amazing flavors I remember except in a salad form and not a rice paper roll. Let me let you in on a little secret…rice paper and rice noodles really don't taste like much of anything so I promise you aren't missing anything here. It's just a little less handheld.

Fresh herbs, nappa cabbage, romaine lettuce, julienned cucumber, toasted cashews, and shrimp get tossed with a creamy almond butter satay dressing for the salad of my dreams. The fresh mint is what makes it though. That classic flavor just pulls all the ingredients together to make one fantastic salad. I love throwing herbs in just about any salad though. Try using them as part of the greens in the next salad you have. You won't regret it. They add such a nice earthy flavor.

This dressing. This dressing is seriously drinkable. I had a bit left in the blender while I was taking pictures and when I was done I turned around to see Alex eating it with a spoon. It's creamy and tart and has the perfect level of spice. You can use cashew butter too but I always love a touch of almond flavor.
Can we chat about shrimp tails for a moment. I couldn't decide if I wanted to photograph the salad with the shrimp tails on or off. See, most people obviously don't eat the tails so it's annoying when you have to cut the tails off while eating your salad. I get it, I really do. BUT…I eat the tails. I always have and I don't know why. I must have just tried it one day and realized they're insanely delicious and never looked back. PLEASE tell me I'm not the only one? They're perfectly crunch and have a another whole shrimp flavor that I love. If you're thinking I'm crazy that's OK but check out this short little article from epicurious backing up my case.
I remember not eating shrimp in front of Alex when we first started dating because one I didn't want him to think I was weird and two I knew I wouldn't want to leave the tails on my plate. Ha! So once I realized that he hated shrimp and had only tried them like once I took that as a sign that I could convert him to my ways. He would never know that it's not common place to eat the tails. So after years of making every shrimp dish imaginable he finally began to love shrimp just as much as I do and it was never a question of "do I eat the tails?" he just did because I did. At least we both get stares while eating out now. So eat the tails if you want or remove them from the shrimp before plating. Either way this salad is epicly delicious!

Thai Shrimp Salad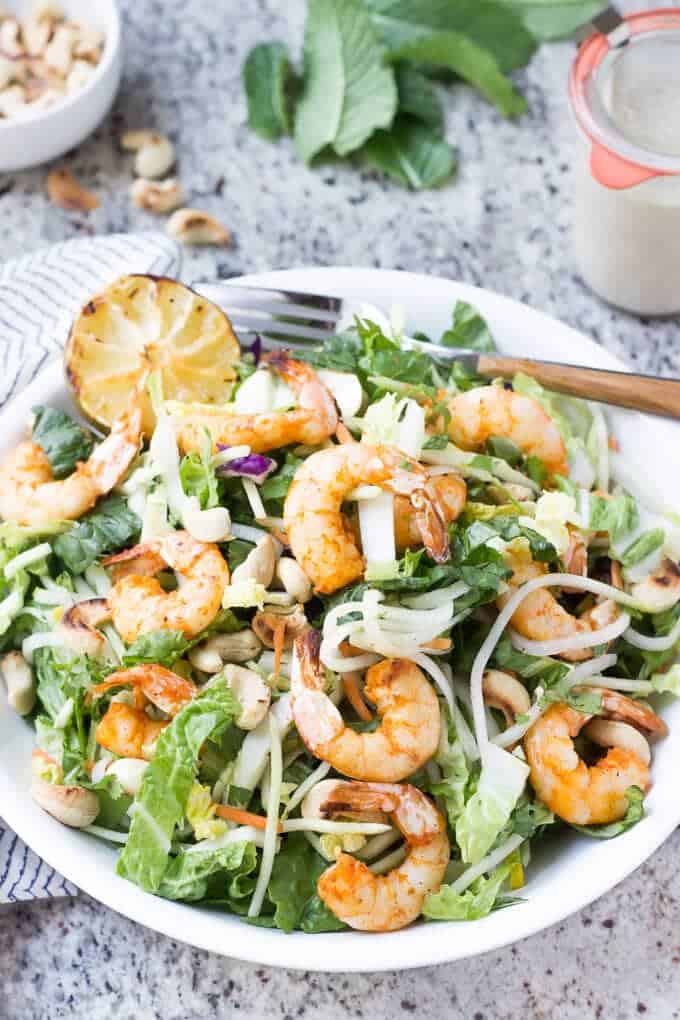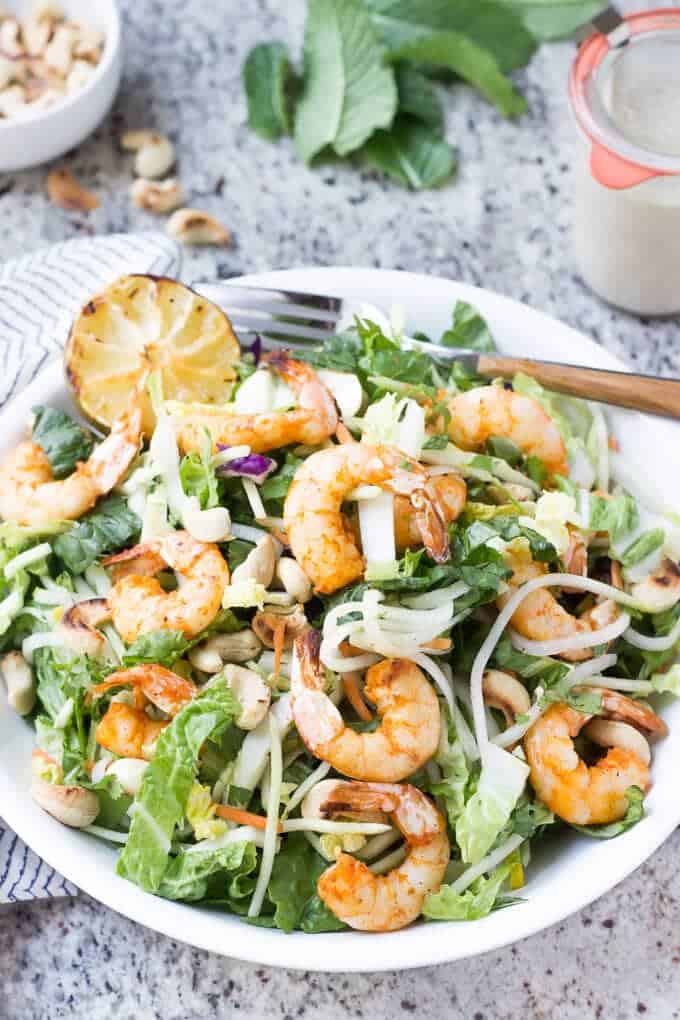 Ingredients
Salad
1.5

lb Shrimp, shells removed and deveined

1

tablespoon olive oil

1/2

lime, juiced

1

teaspoon paprika

1/2

teaspoon salt

4

cups nappa cabbage, chopped

10

ounce bag broccoli slaw

2

cups romaine, chopped

1/2

cup cilantro, minced

1/2

cup mint, minced

1

cucumber, julienned

1/4

cup cashews, toasted
Dressing
1/3

cup almond butter (the plain kind with the only ingredient being almonds)

2

tablespoons white wine vinegar

2

tablespoons coconut aminos (may sub tamari if not Paleo)

1

tablespoon honey

1

tablespoon sesame oil

1

tablespoon lime juice

1

clove garlic

1

inch piece of fresh ginger

1/4

teaspoon red pepper flakes

1/4

cup coconut oil, melted

1/4

cup warm water
Instructions
Place the shrimp in a bowl with the olive oil, paprika, salt, and lime juice. Set aside.
Chop all the lettuce and herbs and place in a large bowl with the broccoli slaw. Set aside.
Blend together all the dressing ingredients until smooth. Season with a pinch of salt and set aside.
Pre heat grill or pan to medium high and sear shrimp about 2 minutes per side until pink and opaque.
Divide greens between 4 plates, top with shrimp and cashews. Toss with dressing just before serving.
by Lauren
Looking for more shrimp recipes? Right this way…