This Summer Salmon Salad is the perfect way to kick off the warm weather!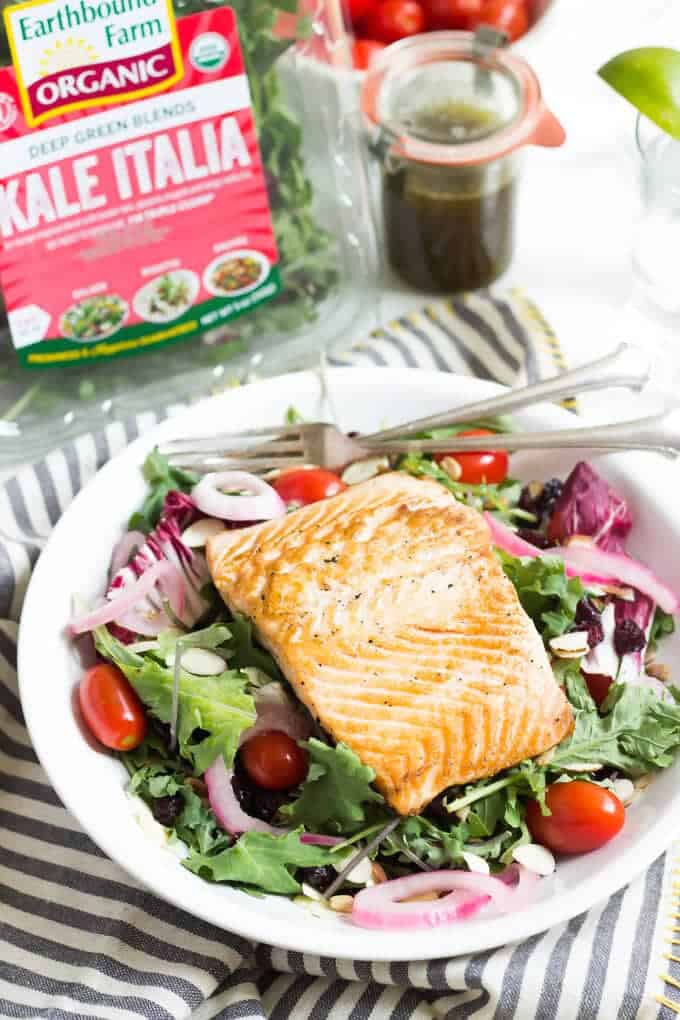 Summer just screams salads to me. Breezy warm weather calls for light salads that aren't too heavy but are nourishing enough to actually be called a meal. No rabbit food here! Enter salmon, sunflower seeds, and almonds. This salads boasts plentiful healthy fats, omega-3's, and tons of other nutrients. I promise you'll feel ready to tackle the afternoon after this lunch!
**Thanks to Earthbound Farm for sponsoring this post. As always all opinions and words are my own. Thank you for supporting the brands that make healthy living possible.
Can we just talk about gardens for a second? Do you have a garden this year? Ours is absolutely exploding! We've got zucchini galore, tons of basil, purple jalapeños, serrano peppers, and banana peppers. The tomatoes are starting to flower and the cucumbers are just itching to start producing. I'm not sure what's up with the cabbage and lettuce though, it doesn't seem to be growing. Any tips for a new gardener? The basil has made it's way into multiple dishes lately and I believe this dressing is my favorite way to use it. Basil, balsamic vinegar, olive oil, and some other goodness gets blended up into a tangy herby dressing that goes perfectly with the tart pickled onions and sweet cranberries. I'll be keeping a jar of this on hand all summer long!

I'm a huge fan of throwing everything but the kitchen sink in a bowl for lunch. Usually it's 1 o'clock and I haven't even thought about lunch…OK that's a lie I think about lunch as soon as I'm done with breakfast but it IS 1 o'clock before I get around to making something. That's where salads come in handy. Just a few minutes is all you need to make a filling, light, and satisfying salad. You know what makes it even easier? Using pre-washed greens. I'm one of those people who HATE to wash lettuce. First of all my kitchen isn't huge so having to store a ridiculously large salad spinner is a no-go and second, even when spinning the greens still come out semi-wet. Who want's a watery salad? Not me. That's why I adore Earthbound Farm. Their greens are triple washed so all I have to do is grab a handful or two and I'm good to go.
For this salad I used the Earthbound Farm Kale Italia blend. It has a blend of kale, arugula, and radicchio. Arugula is my absolute favorite the peppery spice goes great with salads but when you add in the radicchio and kale it takes it to a whole new level. The crunch from the radicchio with the soft kale and arugula is also one of my favorite things about this blend. It pairs wonderfully with the buttery melt-in-your-mouth salmon. I can already tell that this may become my go-to summer salad!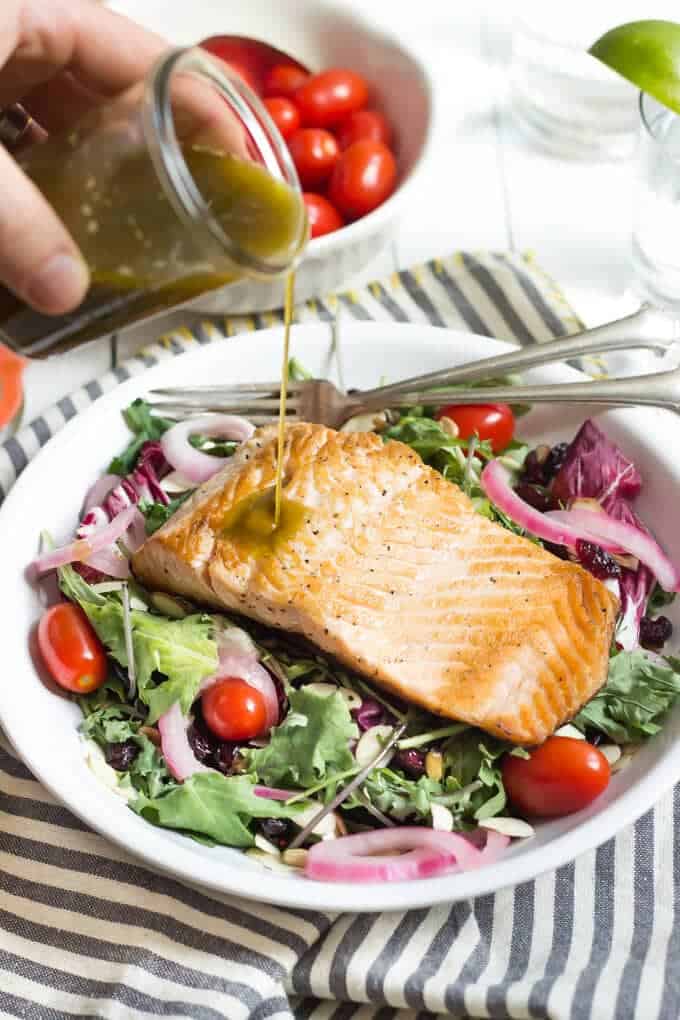 For $2.00 off any (2) Earthbound Farm products click here to print a coupon!
Summer Salmon Salad with Basil Vinaigrette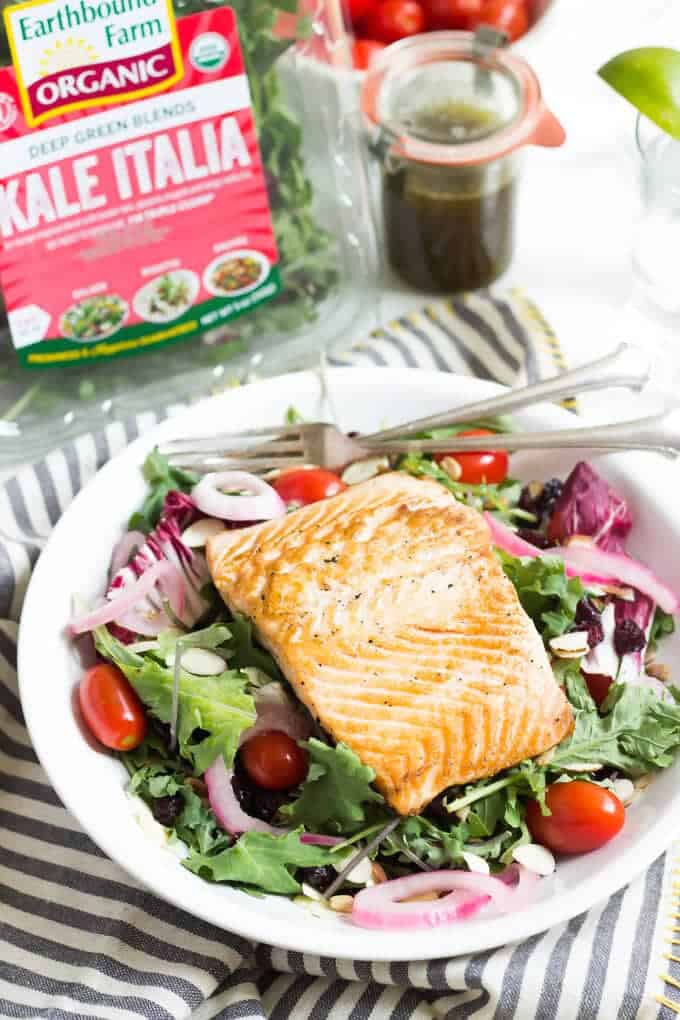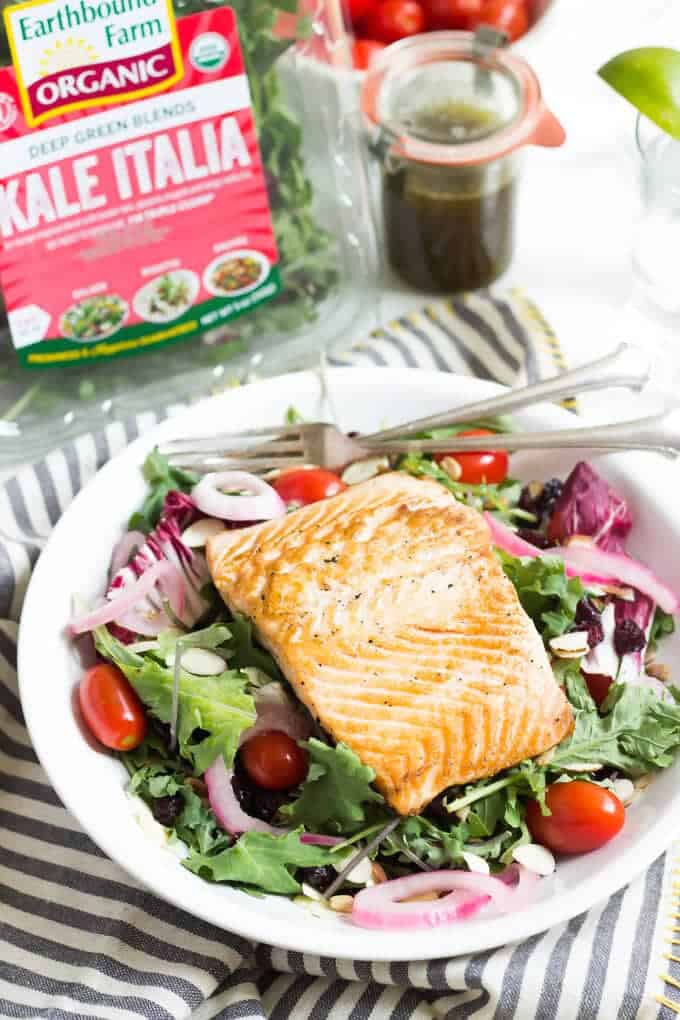 Ingredients
Pickled Red Onions
3/4

cup apple cider vinegar

1/2

teaspoon good quality salt

1/2

red onion, thinly sliced
Salmon
4

salmon fillets, about 6 oz each

Refined coconut oil

1/4

teaspoon cayenne pepper

1/4

teaspoon smoked paprika

Salt and pepper
Basil Vinaigrette
3

tablespoons balsamic vinegar

9

tablespoons olive oil

1

teaspoon lemon juice

1/2

teaspoon whole grain mustard

1/4

teaspoon ground mustard

1/4

cup packed basil

Salt and pepper, to taste

1

clove garlic

1/2

teaspoon minced onion
Salad Fixings
2

packages Earthbound Farm Kale Italia Blend

Pickled red onions

Dried cranberries

Sunflower seeds

Sliced almonds

Grape tomatoes
Instructions
Pickle the onions:The onions can be made ahead of time and up to 2 hours before you need them. Simply bring a few cups of water to a boil (I use and electric kettle to make this go faster), slice the onions into thin rings and place in a glass or metal colander and pour the boiling water over the onions letting them drain immediately. Pour the vinegar and salt into a jar with a lid and place the onion inside. Let stand at room temperature one hour then cover and transfer to the refrigerator.
Make the Dressing: Combine all ingredients in a blender and blend until smooth.
Pan Fry the Salmon: Pat the salmon fillets dry and season both sides with salt and pepper, cayenne, and paprika. Heat a large stainless steel or cast iron skillet over high heat. Once hot add just a bit of coconut oil (about a teaspoon) to the pan. Add the salmon fillets to the pan skin side down. Let sear for 30 seconds then reduce heat to medium high. Continue to cook 5 minutes until the skin is crispy and easily lifts off the pan. Flip the salmon and cook 30 additional second to 1 minute depending on how thick your fillets are. This will give you a medium rare fillet.
Assemble the Salad: Divide the greens between 4 plates. Top with 4 or 5 slices of pickled onions, 1 tablespoon dried cranberries, 1 tablespoon sunflower seeds, 1 tablespoon sliced almonds, a few cherry tomatoes, and the salmon. Drizzle with dressing and serve.
by Lauren