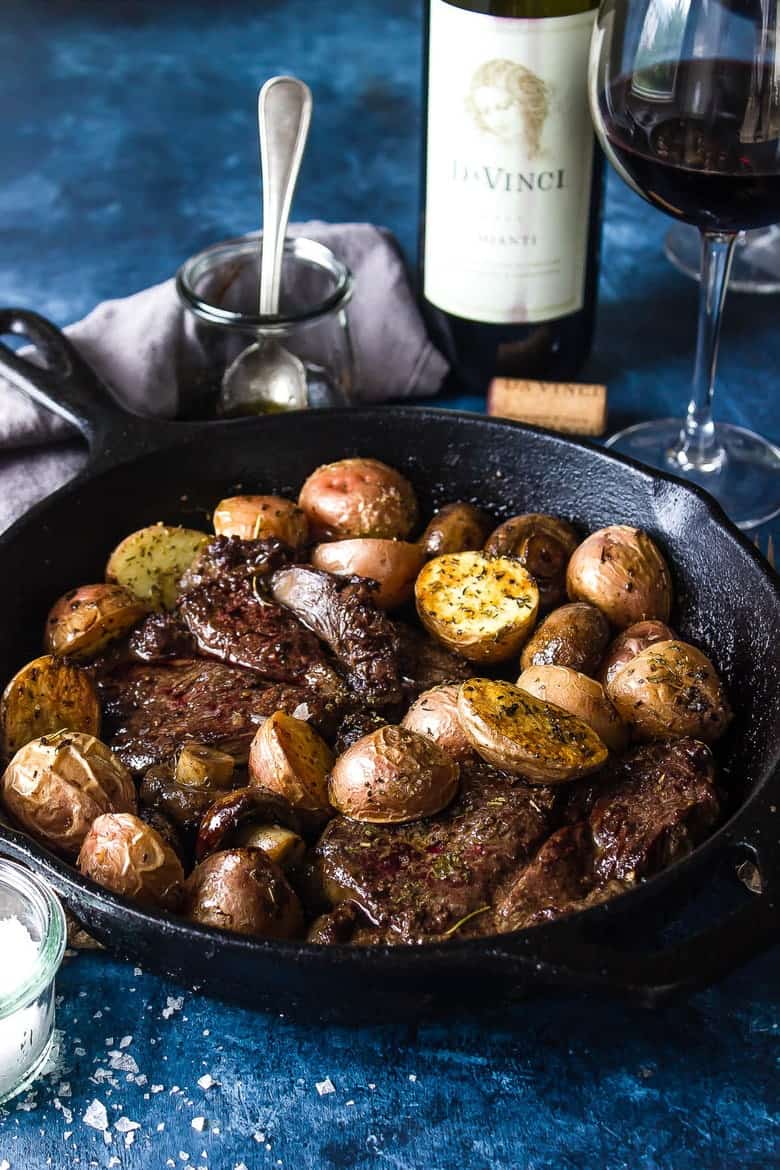 It's Date Night! What do you do? Do you go to the same old restaurant you go to every week, see a movie, a picnic in the park? One of my favorite date night activities is to cook dinner together with a nice bottle of wine, set an actual table with linens, flowers, and candles, and have a cozy night at home. One of Alex and my first dates was making a boxed pizza together – you know the kind with dehydrated pepperoni and parmesan cheese? Yes, we were broke college kids! We had a blast. Obviously, I love to cook so this has stayed a part of our regular date nights since, with just a little more focus on quality and taste. 😉
This Steak and Mushroom Skillet with Chianti Wine Caramel Sauce is the perfect date night dinner for two. It comes together in a flash and is bursting with flavor from the DaVinci Chianti that I turned into a lusciously sweet caramel sauce. At one point Alex said "I could eat this on pancakes!" I bet he could!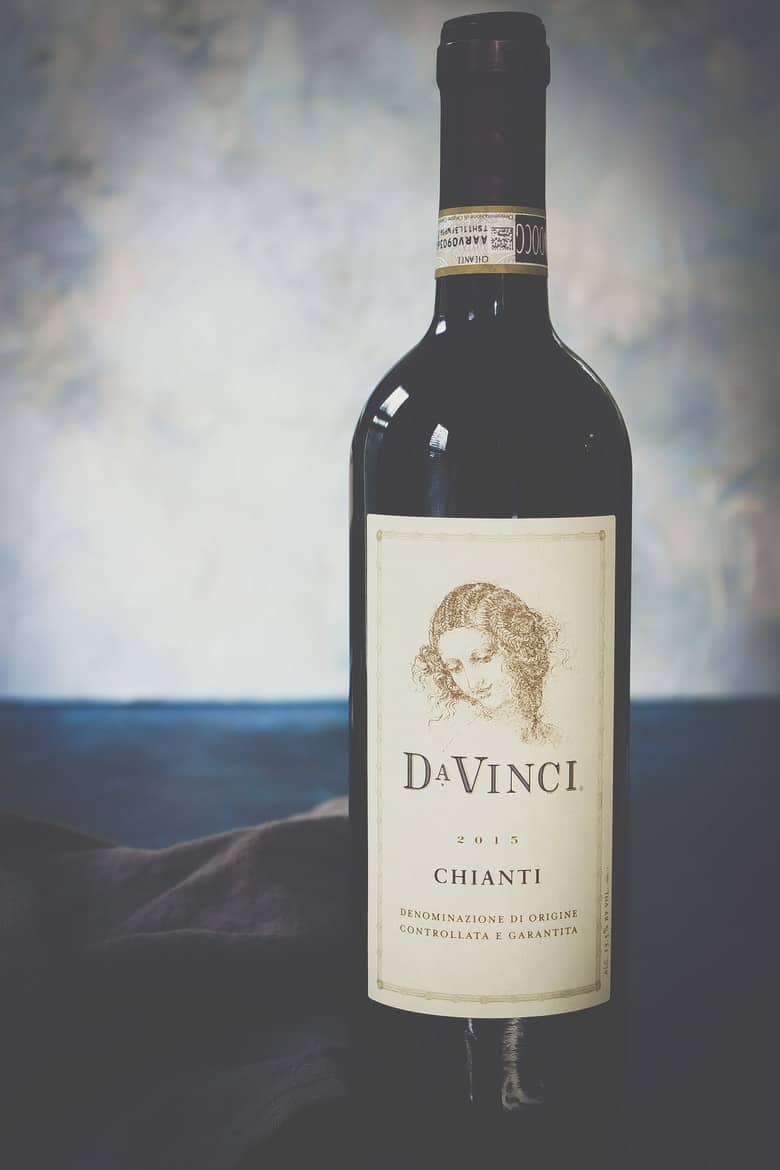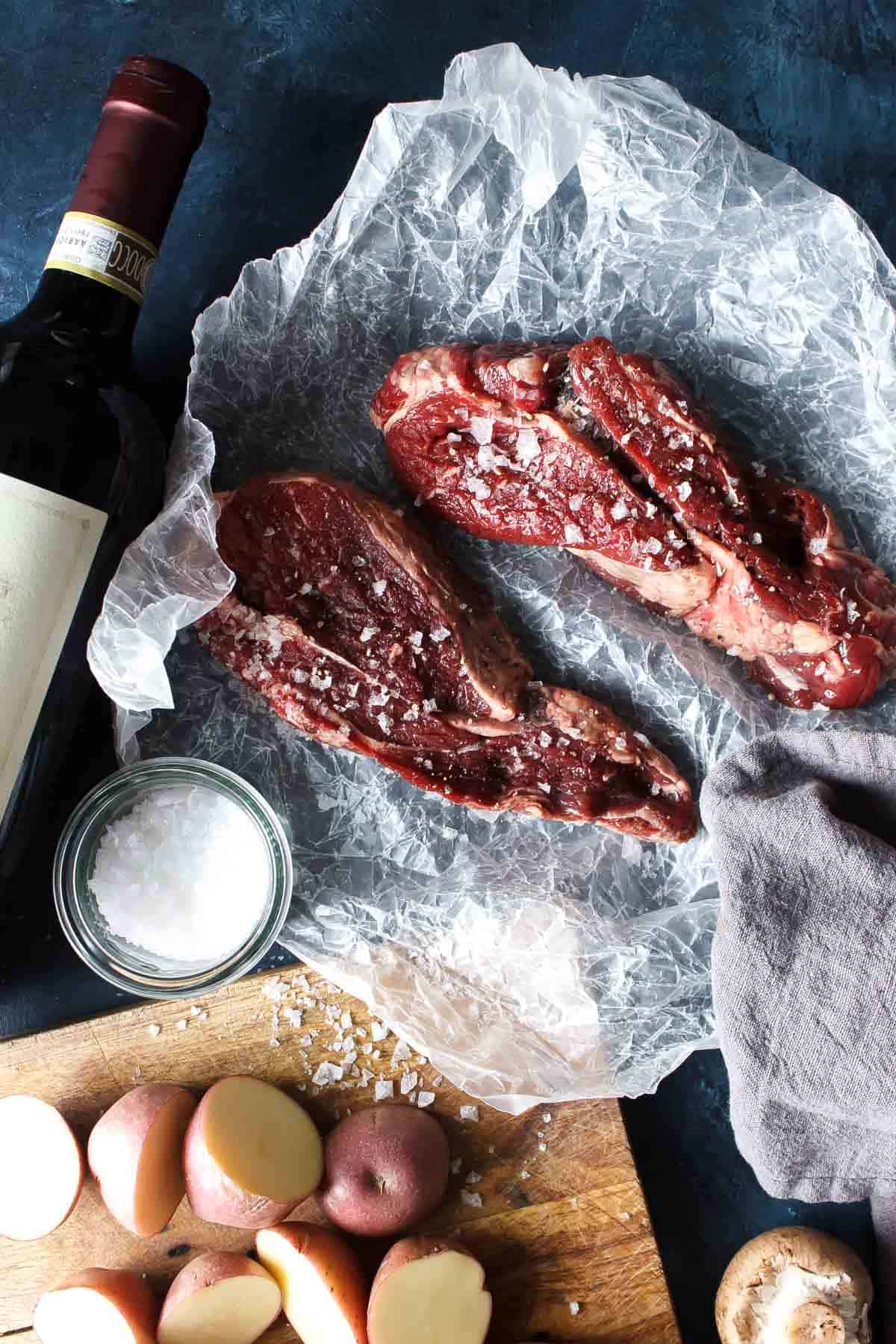 DaVinci Chianti uses Sangiovese grapes sourced from vineyards near Vinci, Italy. There's bursting flavors of juicy plums and cherries that pair well with a variety of dishes and especially this steak skillet. For more pairing ideas you can visit DaVinci Wine on Facebook!
DaVinci Wine is produced by the Cantine Leonardo da Vinci, a cooperative of more than 200 passionate local winegrowers nestled near the Tuscan hillside town of Vinci. They also produce a lovely Pinot Grigio.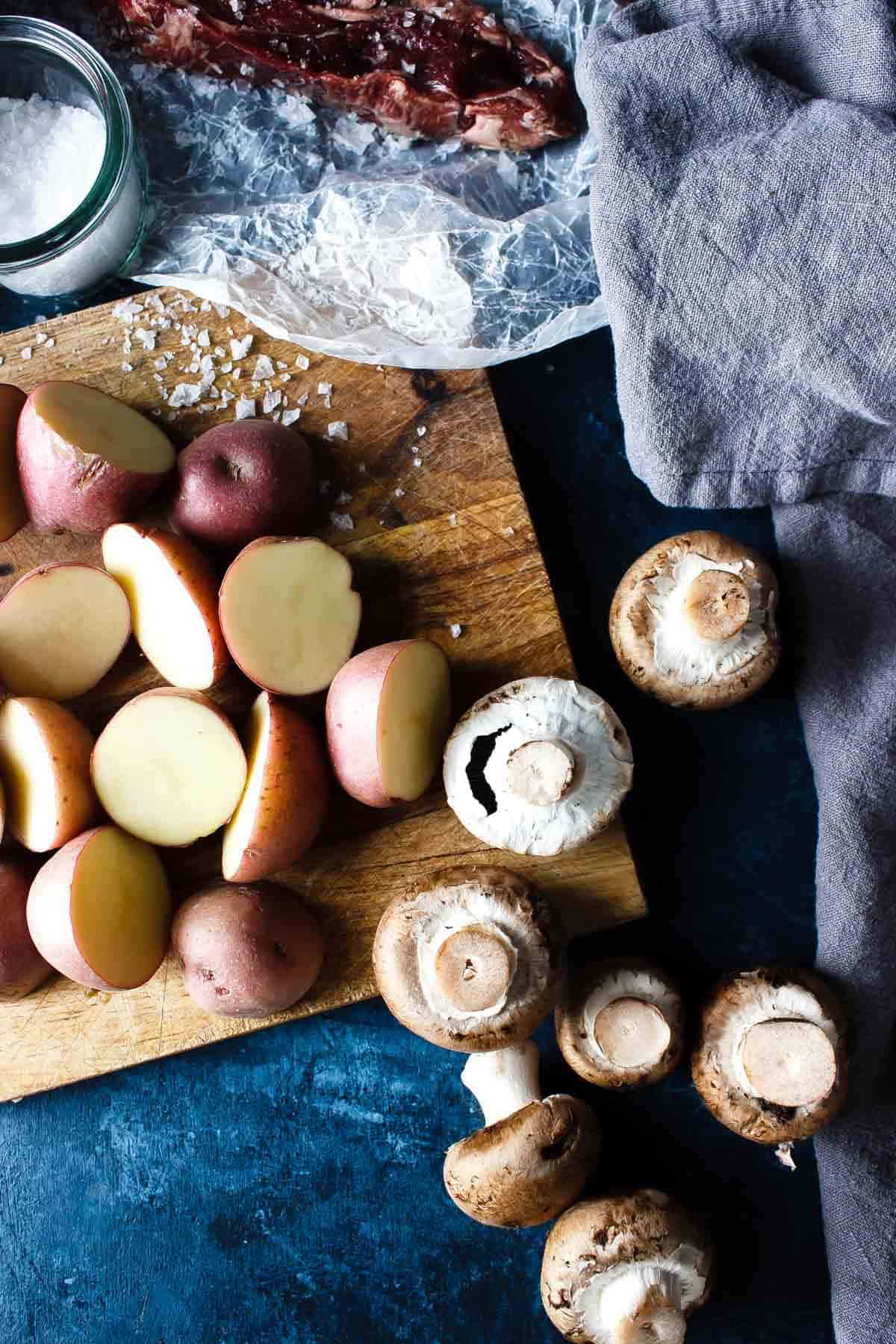 I chose to use grass-fed ribeye but filets would be equally, if not more, delicious. Cremini mushrooms and some fingerling potatoes round out the dish. To make the caramel sauce I simply deglazed the pan with the wine, whisked in some coconut sugar and vanilla, and brought that to a boil until thick and glossy. A large spoonful of butter stirred in and you're ready to drizzle.
I love the savory sweet combo, it's one that I can never get enough of. I would suggest serving a green salad before the main course. Maybe a frisee base with sliced apples, blue cheese, and a light vinaigrette. For dessert, anything chocolate always has my vote.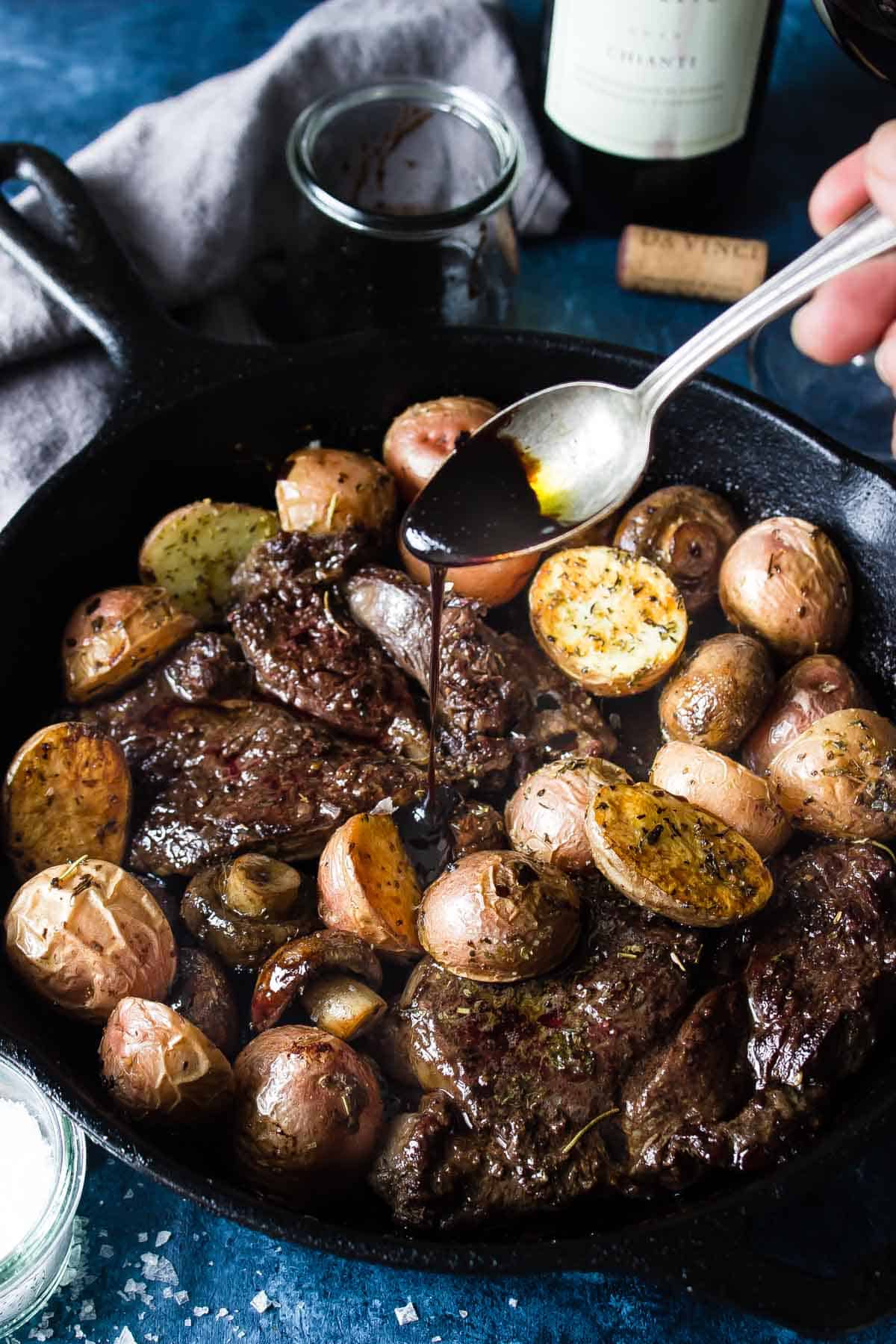 This is a sponsored post written by me on behalf of DaVinci Wine.
Steak and Mushroom Skillet with Chianti Wine Caramel Sauce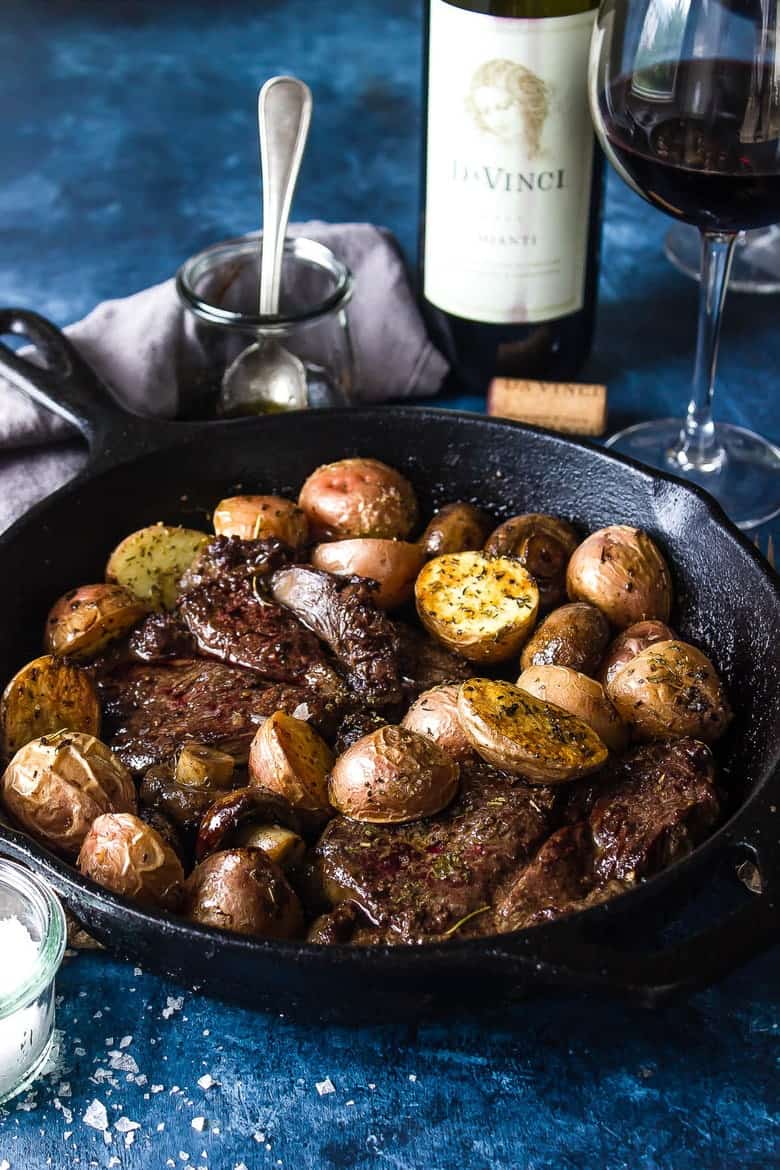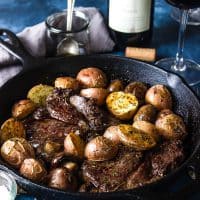 Ingredients
2

(6 ounce) steaks

½ pint cremini mushrooms

8

baby red potatoes (about 12 oz)

½ teaspoon salt

½ teaspoon Italian seasoning blend

1

tablespoon olive oil
Caramel Sauce
½ cup DaVinci Chianti

2

tablespoons coconut sugar

½ teaspoon vanilla extract

1

tablespoon unsalted butter
Instructions
1. Preheat oven to 400° F. Cut the potatoes in half and toss with olive oil, salt, and Italian seasoning. Arrange in a single layer on a baking sheet. Roast for 25-30 minutes until golden and crisp.
2.Season the steaks liberally with salt and pepper. Heat a large cast iron skillet over high heat with a bit of butter or oil. Place the steaks and the mushrooms in the skillet along with the crushed garlic clove. Sear steaks about 4 minutes per side for medium rare. Transfer steak and mushrooms to a plate and deglaze the pan with the wine.
3.Whisk in the coconut sugar and vanilla, bring to a boil. Boil 1-2 minutes just until thick and glossy. Turn off the heat and whisk in the butter. Transfer to a jar.
4. Place the steak, mushrooms, and roasted potatoes back into the skillet and drizzle with the caramel sauce, serve.
by Lauren