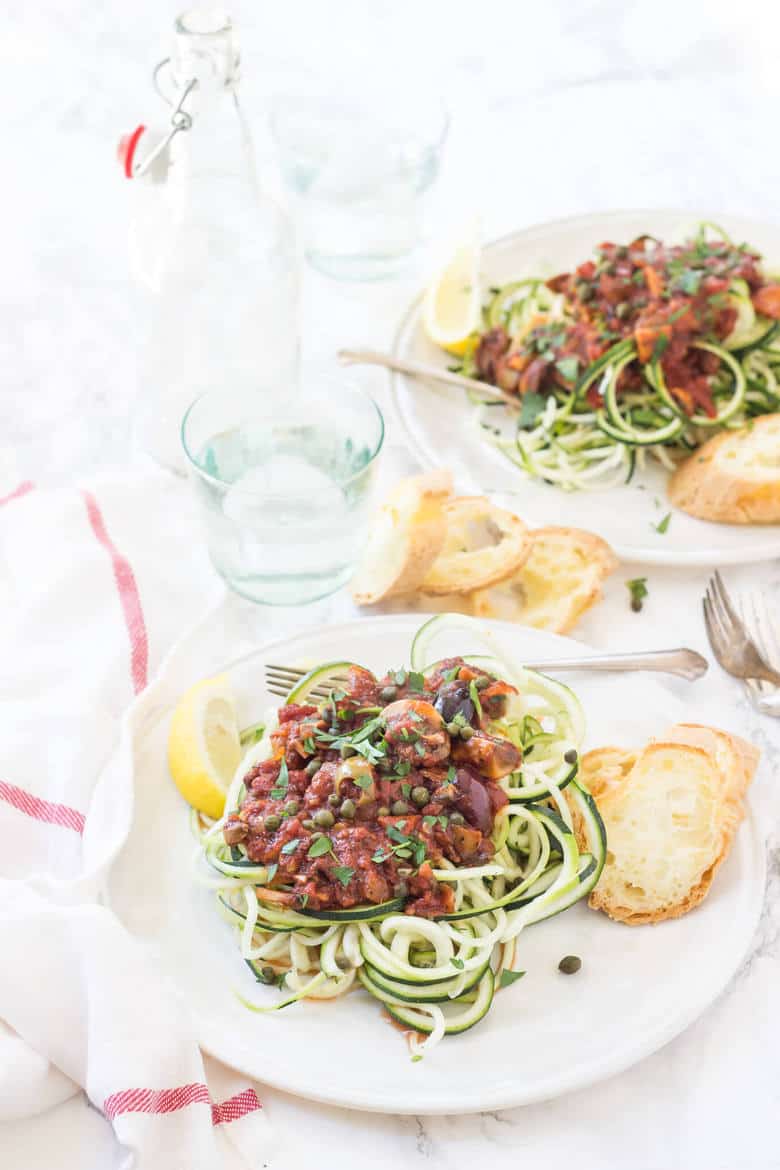 I pretty much have a list of 20-25 things that I rotate throughout our menu each week. Other than the new recipes I create for the blog we're creatures of habit over here. One of my favorite meals on said list is Spiralized Zucchini Puttanesca!
I've been making puttanesca sauce forever and as the years have passed I think I've perfected my version.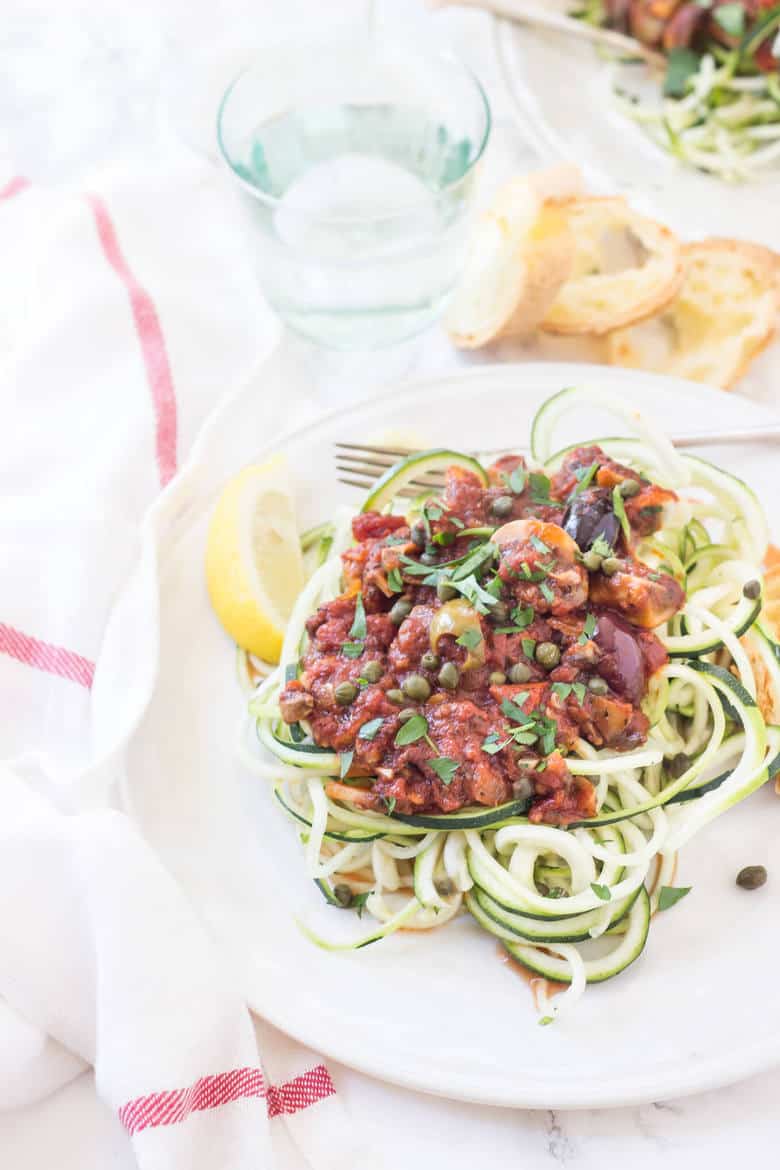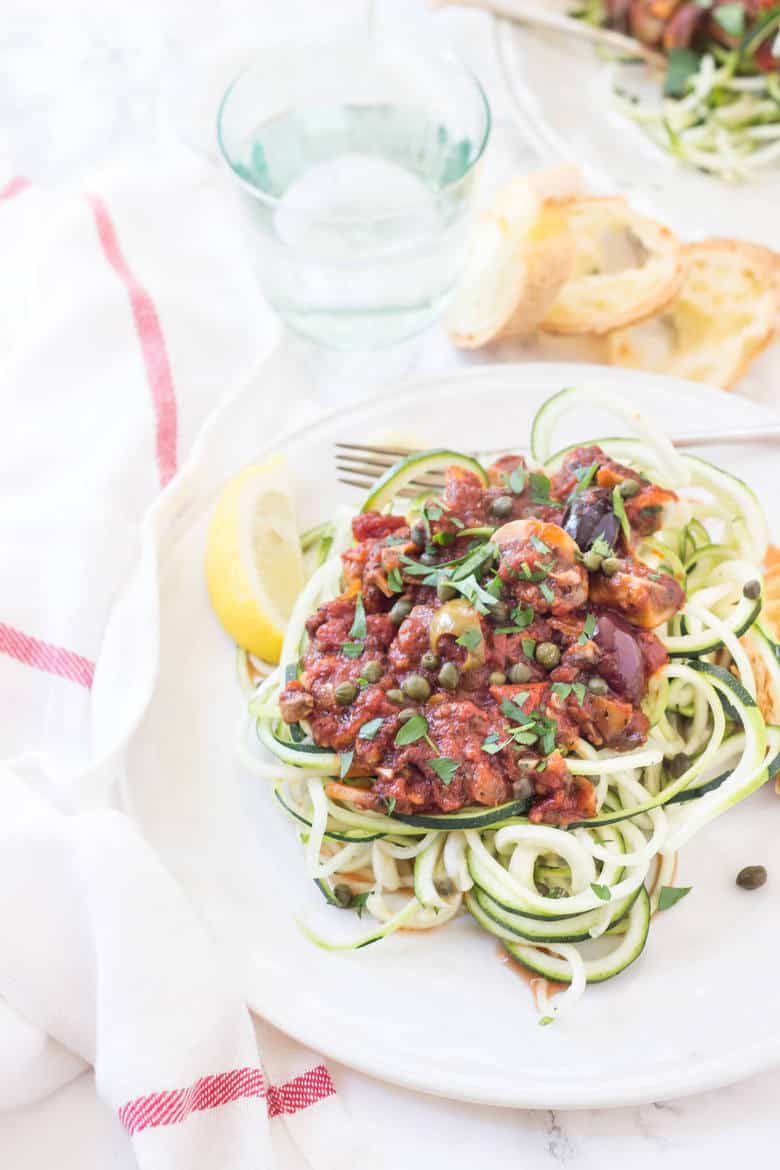 What does my version have?? Well I start with pasta sauce basics…olive oil, onion, and garlic. Then I add some spices and of course the crushed red pepper to make this a SPICY pasta sauce.
My favorite part though is that I stuff it full of mushrooms, anchovies, and olives. Three of my favorite foods.
For the olives I simply use a blend of whatever I'm feeling off of the olive bar at Whole Foods or Earth Fare. Usually that's some castlevatrano, kalamata, and some Itlalian blend. Nothing has to be precise in cooking! Except baking and that's why I prefer not to 😉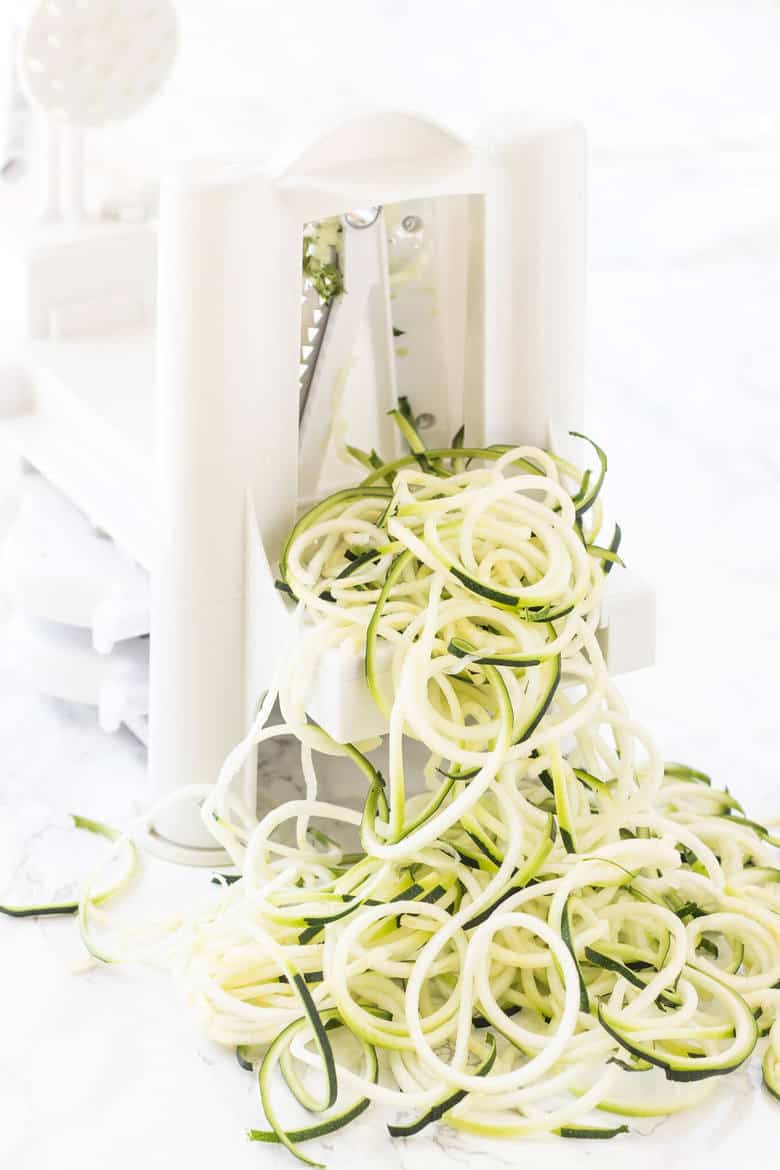 Ok, so the fun part of this dish is the Spiralized noodles! Don't get me wrong I LOVE me some GF pasta but I also love the crunch of the zucchini. You can serve it raw, which I do most of the time, or you can toss it in with the sauce for just a minute or two before serving.
Zucchini has a high water content so it's more likely to water down your sauce that way but if you want softer doodles that's the way to go. Just make sure to squeeze some of the water out before adding them to the sauce!
I like to serve the pasta topped with some capers, fresh parsley, and a squeeze of lemon! Don't forget the bread! I'm in love with the Against the Grain Baguettes right now!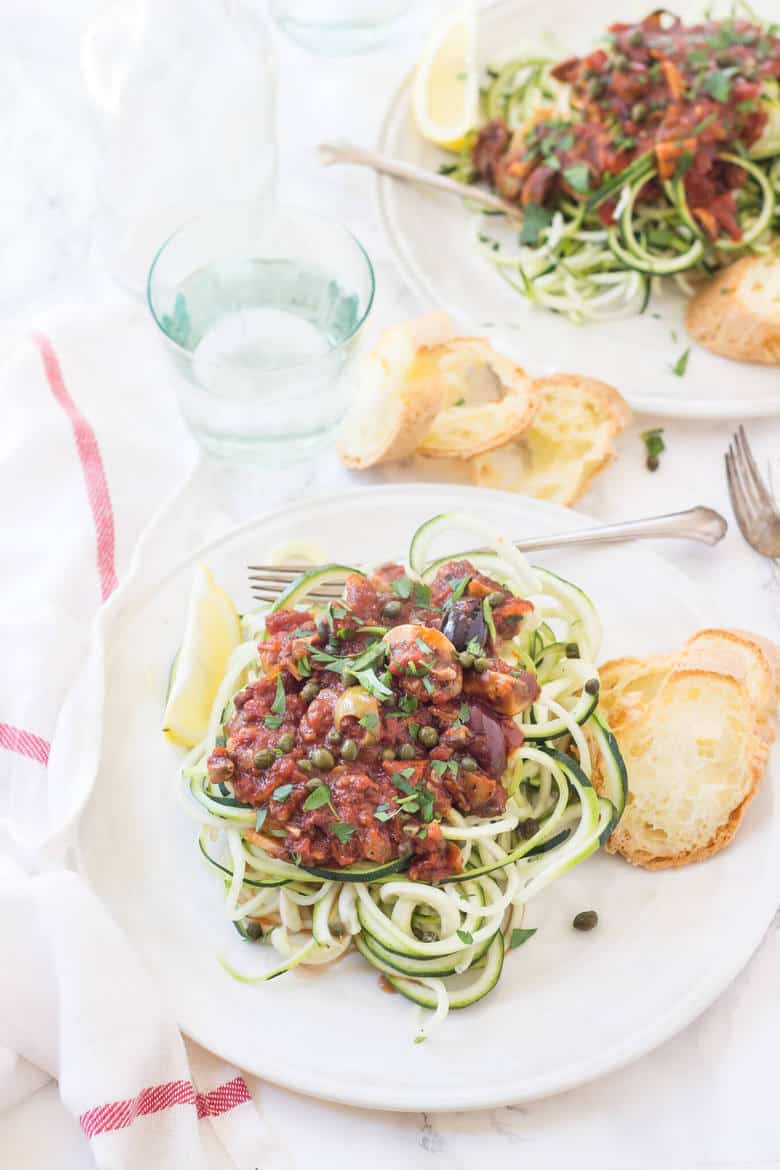 Spiralized Zucchini Puttanesca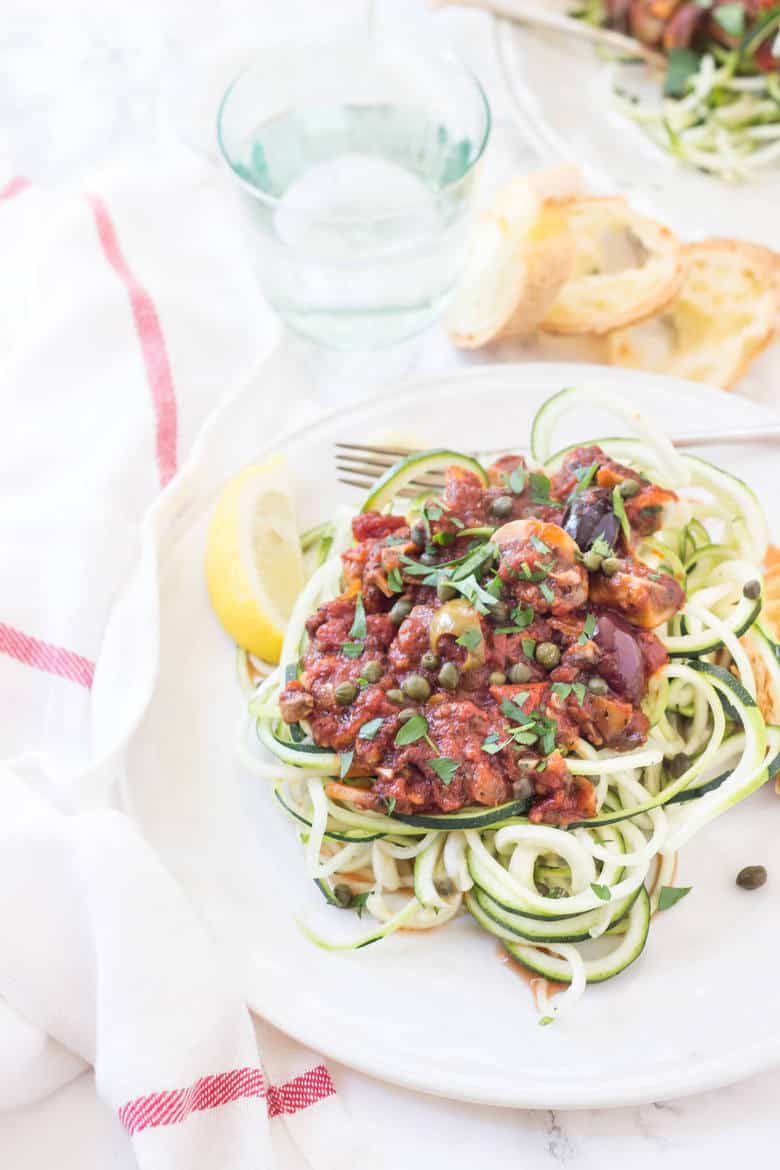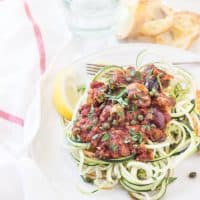 Ingredients
1/4

cup olive oil

1

small white onion, diced

5

cloves garlic, minced

2

tablespoons Italian seasoning

1-2

teaspoons crushed red pepper flakes

3

anchovy fillets (canned in olive oil), minced - Omit for vegan

1

cup chopped mushrooms

3/4

cup mixed olives, diced

1

(28 oz) can crushed tomatoes

3

large zucchini, spiralized

Capers, for topping

Fresh parsley, minced for topping

Lemon wedges for serving
Instructions
Heat the oil in a medium sized dutch oven or stockpot over medium high heat. Add in the onion and cook until soft and slightly browned. Add in the garlic and stir until fragrant, about 30 seconds. Add in the Italian seasonings and red pepper. Stir until combined.
Add in the anchovies, mushrooms, and olives. Cook until mushroom start to soften. Add in the tomatoes and bring to a simmer for about 10 minutes to slightly reduce.
Spiralize the zucchini and pat dry. At this point you can either serve them raw with the sauce (It will add a fresh crunch, really lovely) or put them in the sauce for about 2 minutes to slightly soften. If you add them to the sauce be sure not to overcook them since they can water down the sauce.
Top with the capers, parsley, and fresh lemon.
by Lauren