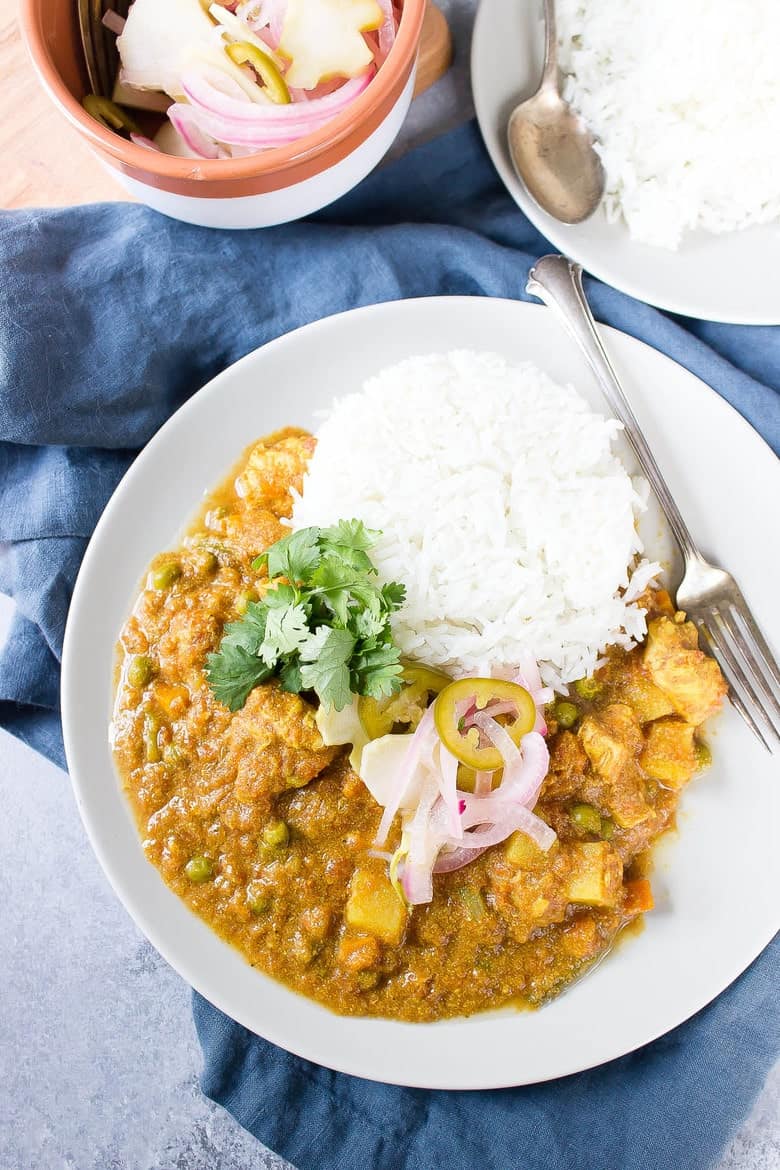 One of my favorite restaurants is Blue Dream Curry House in Asheville, NC. Seriously, I live an hour away and I'm there at least once a week. one of my favorite dishes is their chicken korma with a side of their house pickles and hot sauce. While I haven't created their liquid gold hot sauce I have tried to make the pickles since, in my opinion, they're vital!
This slow cooker chicken korma couldn't be easier, really you just need to dump everything into a slow cooker and call it a day. If you have a rice cooker (<— my favorite!) that switches to a keep warm setting you can everything ready to go when dinnertime rolls around. While the pickles aren't technically necessary they take just a few minutes to put together so I highly recommend it!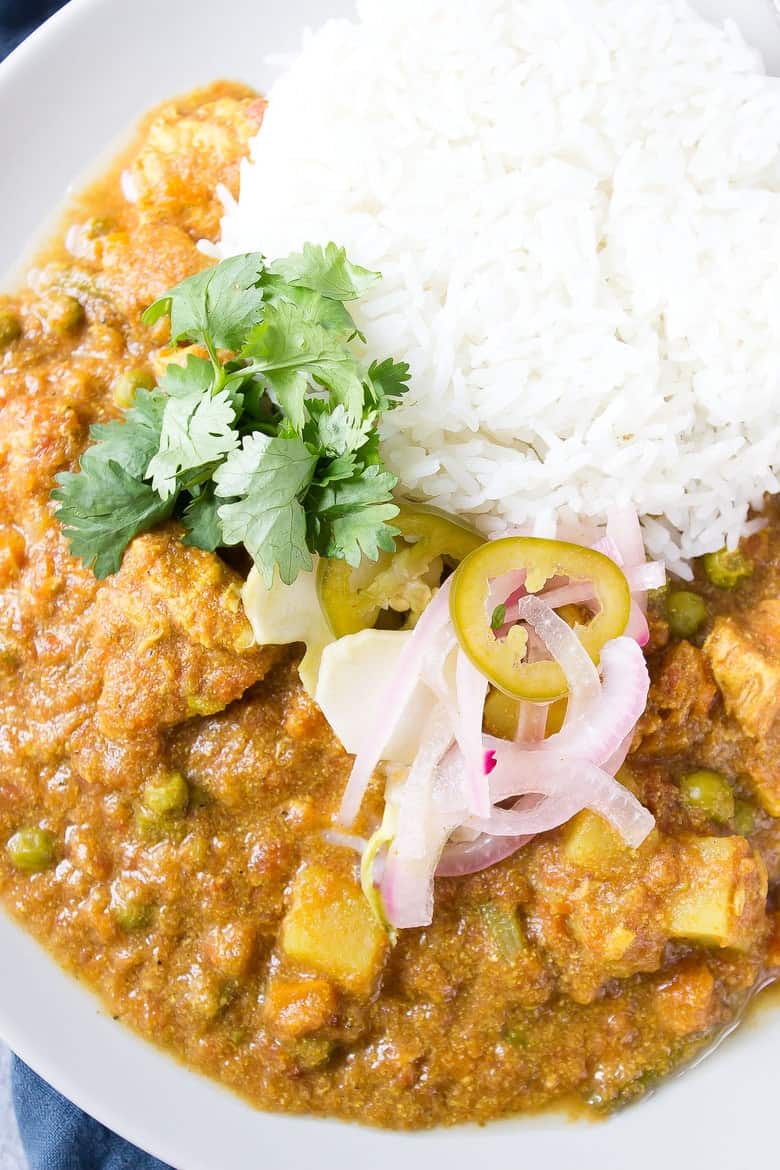 For the pickles we're doing red onion, jalapenos, and wait for it….broccoli stems! How much of an amazing idea is that? I believe they also do turnip but the broccoli is my favorite so that's what I chose to do as well. I love the tang that they give the creamy spicy curry base.
Add in a few sprigs of cilantro and you're ready to go! While my version is not nearly as good as theirs it sure does fulfil my craving when I can't get there for the real thing!
Slow Cooker Chicken Korma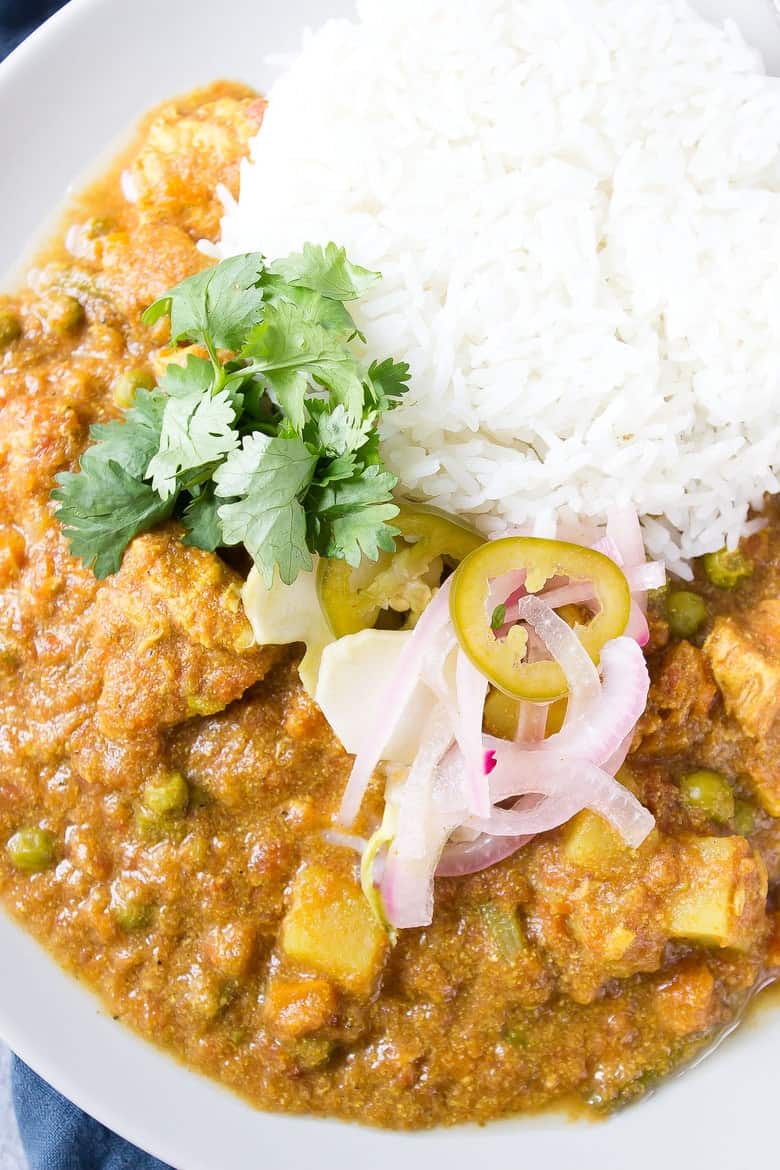 Ingredients
1.5

lbs chicken thighs or breast, cut into 2

1

lb golden potatoes, cubed

1

cup fresh green beans

10

ounces frozen peas and carrots

1

yellow onion

4

cloves garlic

1

jalapeno pepper

1

inch piece of fresh ginger

1

(14.5 oz) cans crushed tomatoes

2

tablespoons curry powder

1

tablespoon garam masala

2

teaspoons salt

2

teaspoons corainder

2

teaspoons cumin

1

teaspoon cayenne pepper

1

cup whole yogurt

1/2

lemon, juiced

Cilantro, for topping
Pickles
1

small red onion

2

jalapenos

Stems from 1 head broccoli

1

clove garlic

1/4

cup white vinegar

1/2

tablespoon sugar
Instructions
Place the onion, garlic, ginger, and the jalapeno in a food processor with all of the spices. Blend until smooth.
Transfer to a slow cooker with the diced potato, chicken, carrots, peas, and green beans.
Pour in the crushed tomatoes. Cover and set to low heat for 6-7 hours or high for 3-4. At the end stir in the lemon juice and yogurt.
For the pickles simply bring the water (enough to cover your pickles in whatever vessel you're using), vinegar, and sugar to a boil. Place the sliced onion, sliced jalapenos, and sliced broccoli stems in a large mason jar. Pour the boiling liquid over the vegetables and place the lid on, store in the refrigerator until ready to use.
by Lauren