Lets face it, if you live in the south you've probably had shrimp and grits at some point in your life. If you're like me though you've had them more than once and it's one of your favorite meals…ever. I absolutely adore shrimp and grits and each time I see them on a menu I have to try them. Reigning champ so far = my kitchen.
Yes, I'm bragging a little. These aren't your normal grits though. In the effort of eating Paleo I came up with a recipe using cauliflower that will knock your socks off. This shrimp and cauliflower "grits" recipe will have you loving this southern dish if you hadn't before.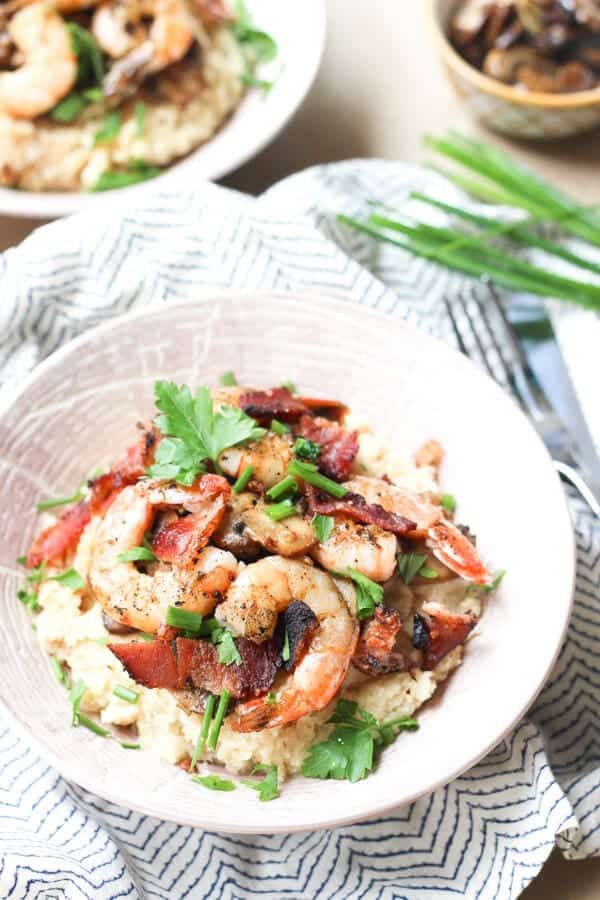 The cauliflower resembles the creamy but grainy grits so much. There's no steaming and squeezing the water out either. They literally take 5 minutes to come together. Paired with the delicate shrimp and hearty mushrooms and bacon it's delicious.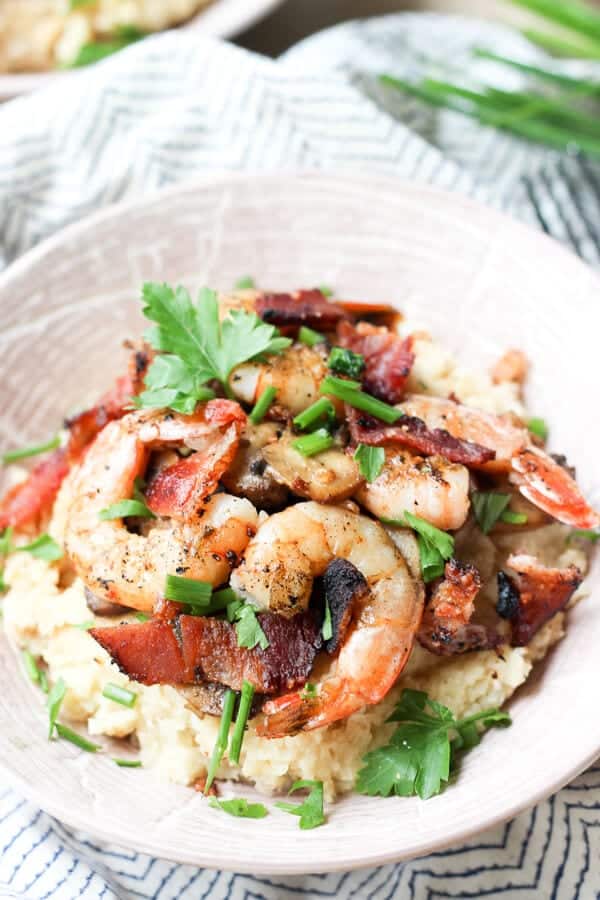 A drizzle of lemon juice over the top after its plated and ready to go brings out the flavor of the shrimp and cuts through the heartiness of the mushrooms and bacon to lighten everything up a bit a meld everything together. A sprinkle of fresh herbs and you've just made a sophisticated dinner at home in less than 30 minutes.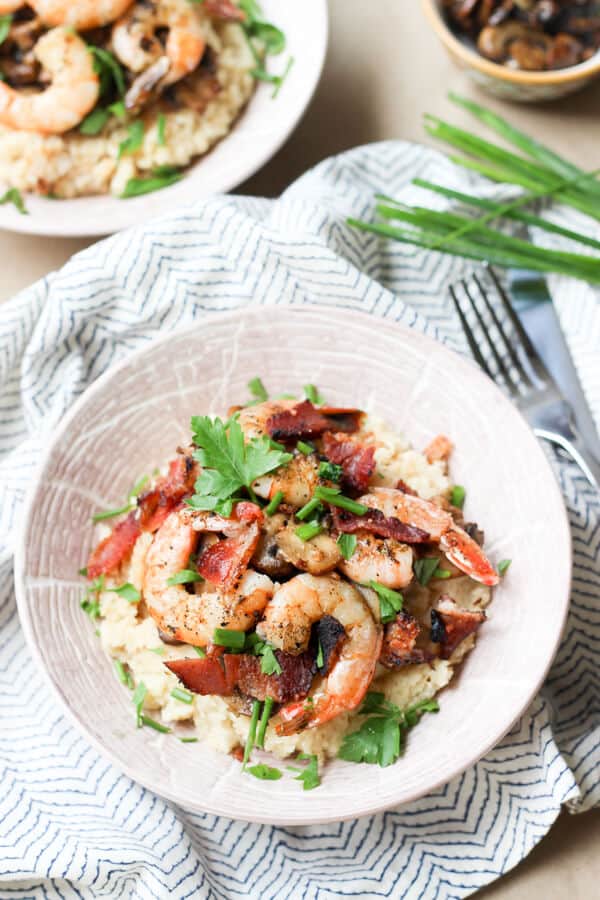 One suggestion regarding the shrimp. I usually use the large wild white American variety but I've used others in the past. Try and stay with a white shrimp. They're more delicate and sweet whereas brown shrimp that a lot of stores sell tend to be meaty and strong flavored. It's totally up to you though, use whichever you normally enjoy the most.
Shrimp and Cauliflower "Grits"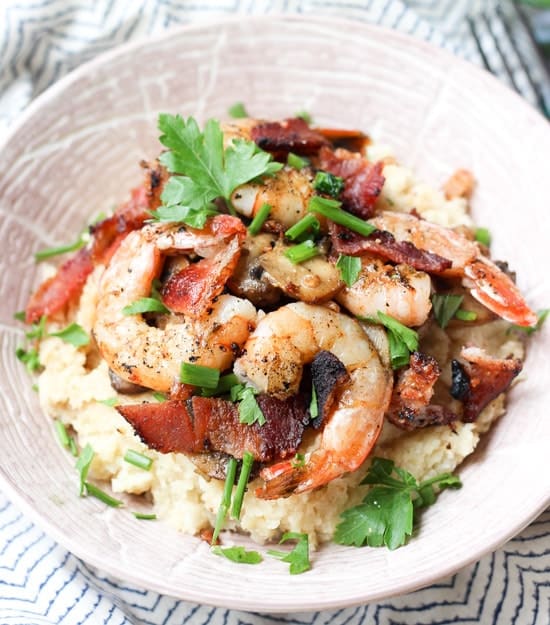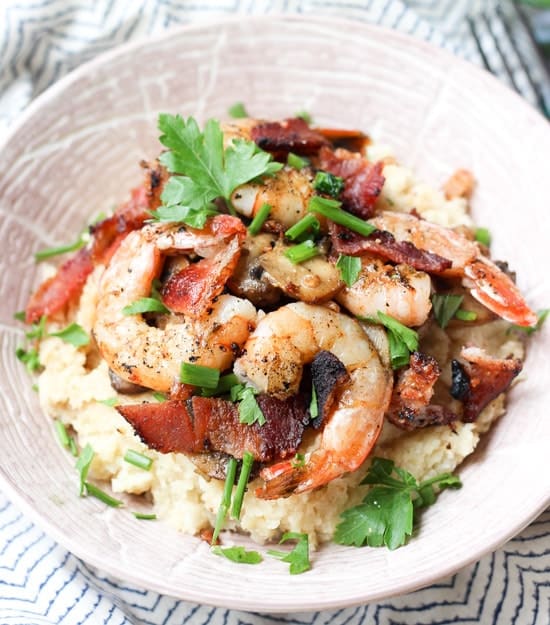 Ingredients
1

large head cauliflower

1

tablespoon butter or ghee

1/4

cup coconut milk

1lb

large shrimp, shell removed (tail left on if wanted)

8oz

button mushrooms, sliced

4

slices bacon

2

cloves garlic, minced

Pinch red pepper flakes

1/2

cup beef broth

Salt and pepper, to taste

Fresh parsley and chives, minced
Instructions
Gather all of your ingredients, peel the shrimp and slice the mushrooms.
Fry bacon in a large cast iron skillet until crispy. Remove and set aside.
Pour all but about 1 tablespoon of bacon grease out of the pan.
In a food processor mince the cauliflower until it resembles rice.
Place minced cauliflower in a medium pot over medium high heat and cook for 5 minutes stirring frequently to release some of the moisture.
Add 1 tablespoon of butter and 1/4 cup of coconut milk to the cauliflower and stir until melted.
Using an Immersion Hand Blender
or food processor blend the cauliflower until it resembles the smooth but grainy consistency of grits. Season with salt and pepper and set to low heat, stir every few minutes until shrimp are done.
Add shrimp to the skillet with reserved oil and cook for 1-2 minutes per side. Remove and set aside.
Add the mushrooms to pan and stir every few minutes allowing them to brown and soften. If the pan seems to dry add 1 tablespoon of olive oil.
When the mushroom are browned and softened add in the minced garlic and red pepper flakes. Stir for 1 minute until fragrant.
Pour in the beef broth and scrap any bits off the bottom of the skillet.
Add the shrimp back into the skillet and simmer until the beef broth is almost gone. You just want it to turn to a thick sauce to coat the shrimp and mushrooms. Season with salt and pepper to taste.
To serve top divide the grits into two bowls and top with the shrimp and mushroom mixture. Top with crumbled bacon, fresh parsley, fresh chives, and a squeeze of lemon juice.
by Lauren