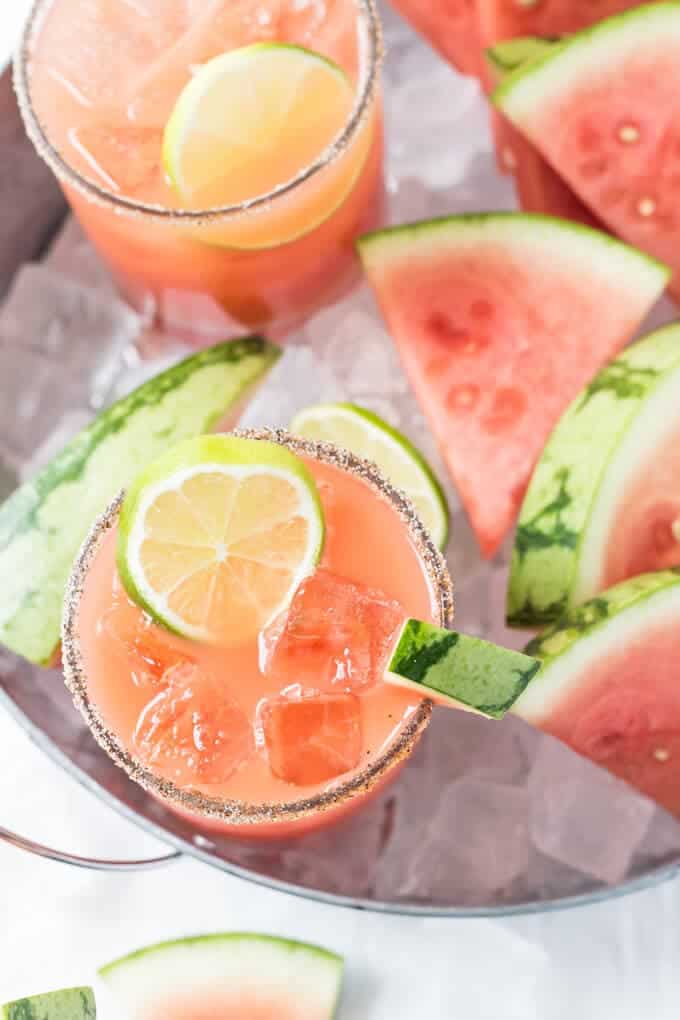 Are you a fan of watermelon? I was never a huge melon fan but over the past few years I've been warming up to them. First with cantaloupe and now with watermelon. It's just so refreshing, especially on a hot summer's day. You know what's better than munching on plain watermelon though? Sipping on a salted watermelon margarita.
Just like when you salt your sliced watermelon I added a pinch of salt to the drink (in addition to the rim) to make the sweetness explode instead of being an undertone. Watermelon is packed with so much water that it needs something to brighten it up a bit and salt does just that. Personally I salt just about everything because it makes flavors so much bolder.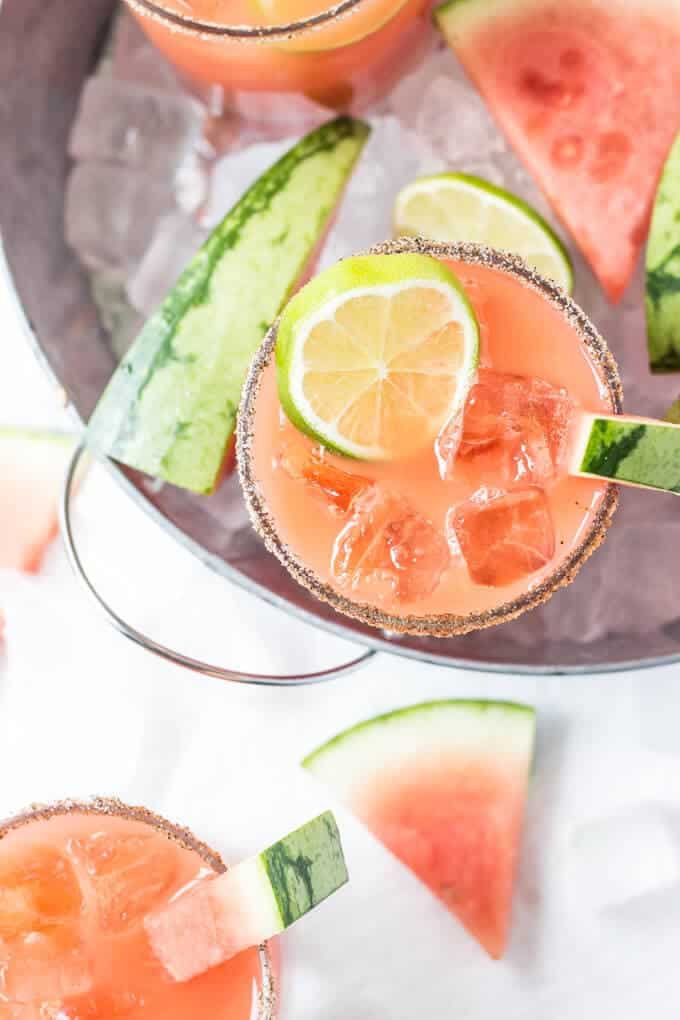 I also added some chili powder to the rim to give it just a touch of heat. If you're looking to spice things up even more you can muddle some jalapeños or even a slice of habanero in with the drink before straining. With this drink I'm taming my need for heat just a little bit in order to really enjoy the summer sweetness the watermelon offers.
A little drizzle of honey makes this southern cocktail even sweeter but not overly so. Just a 1/2 teaspoon is what I ended up with but you could leave it out entirely or even add more if you want it sweeter.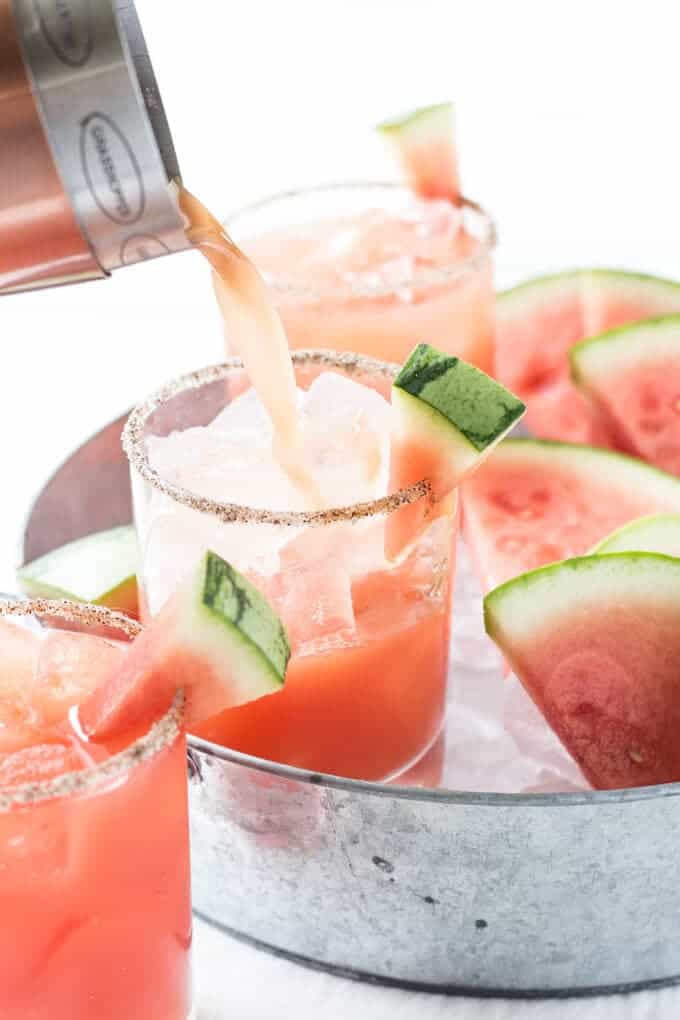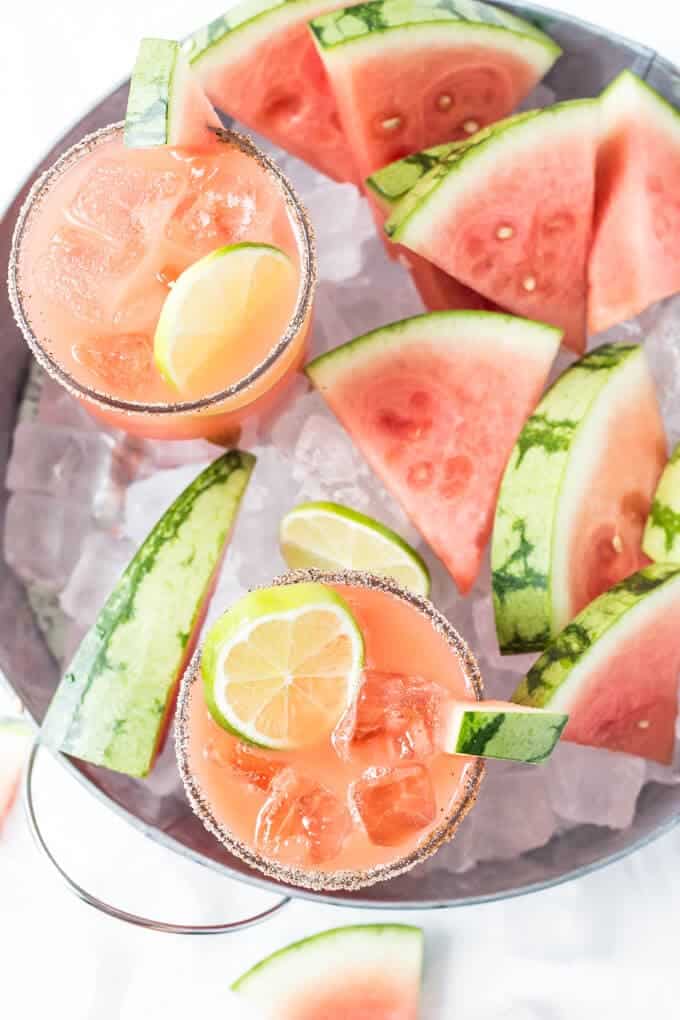 To make it easier to mix in the honey you can mix it with equal parts warm water…or do what I do half the time and just shake the cocktail extra hard to get everything melded together.
Adding some classic lime juice and a small shot of orange juice rounds things out for one perfect summer sipper. I'm a fan of using orange juice in place of triple sec but you could go that route too. Just be warned that you're adding extra alcohol to the drink unless you reduce the amount of tequila and no one wants to do that 😉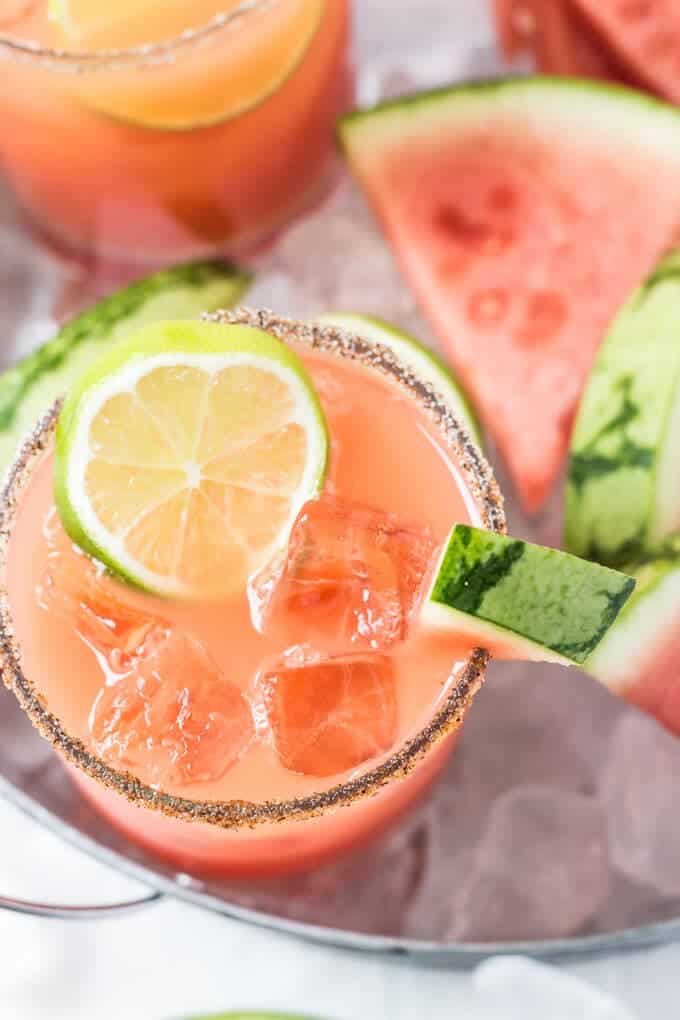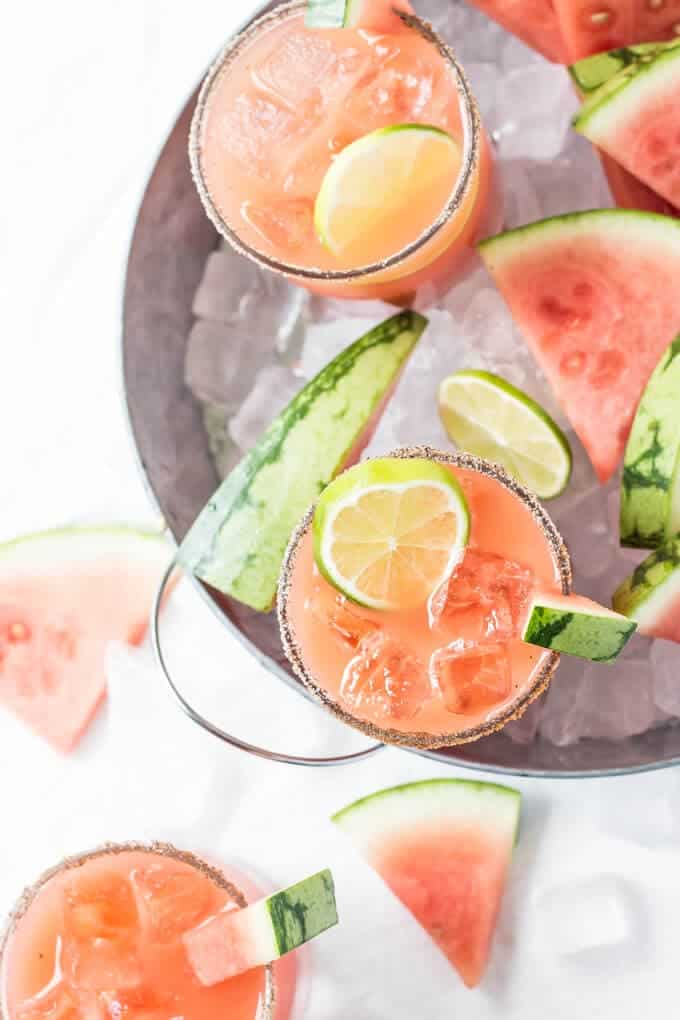 Now I'm in the mood to kick my feet up on my front porch swing while watching the summer lighting bugs that just popped out…join me?
Salted Watermelon Margaritas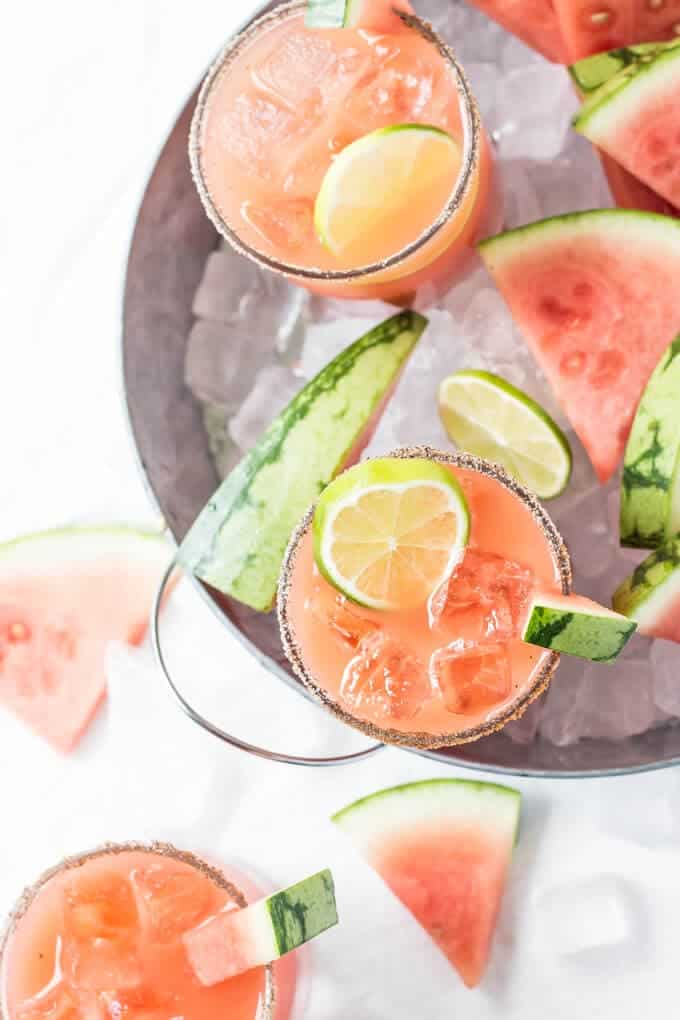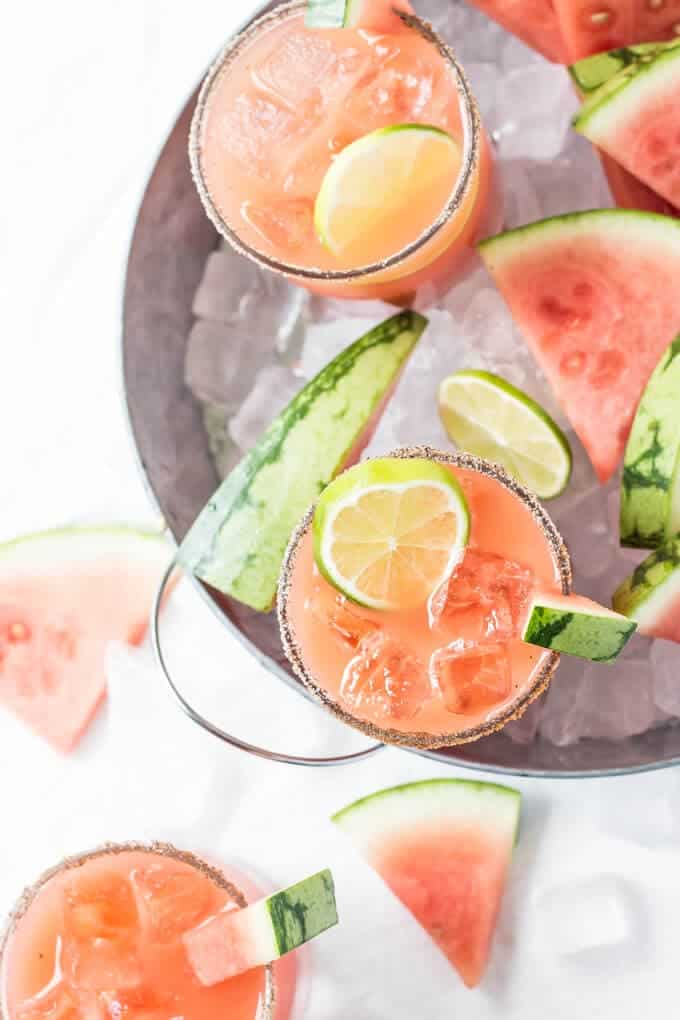 Ingredients
3

ounces watermelon juice*

2

ounces 100% agave silver tequila

1

ounce lime juice

1

ounce orange juice

1/2

teaspoon honey + 1/2 teaspoon warm water

Salt

Chili powder

Ice
Instructions
Mix a tablespoon of salt with a few shakes of chili powder on a plate. Wet the rim of a glass with a slice of lime and dredge through the salt. Fill with ice.
Mix the honey with the warm water and shake with the watermelon juice, tequila, orange juice, and lime juice. Add in a small pinch of salt and shake once more. Strain over ice and garnish with a slice of watermelon and lime.
by Lauren
Recipe Notes
To make watermelon juice simply blend watermelon and strain through a mesh strainer.