Every year since I can remember I've given my grandmother coconut macaroons for her birthday. Whether they were homemade, bought from a little bakery in my hometown, or purchased at a speciality grocery store in the town I now live she's always received coconut macaroons.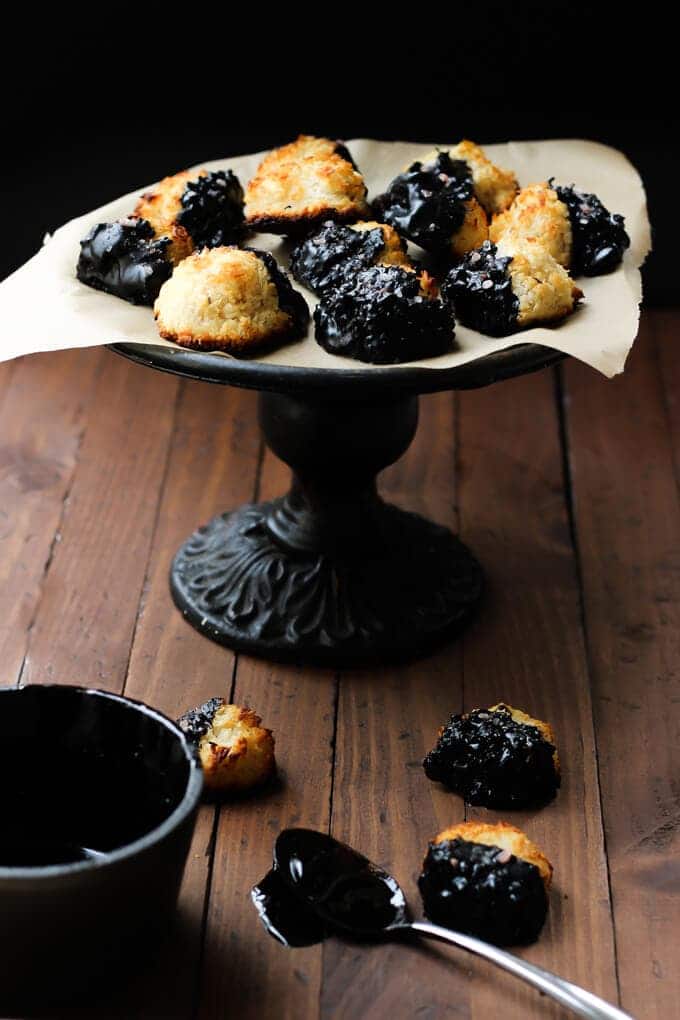 I remember her birthday in 2010. It was my freshman year of college and we were riding around looking at prospective apartments for the upcoming year. I had grown tired of living in a dorm (albeit a fantastic private dorm with my own bathroom and room for a couch, thanks dad!) and desperately wanted a kitchen and living room. So it was her birthday and I had driven the hour back to my hometown the day before to pick up my order of coconut macaroons that were her favorite. We had stopped to get gas and she had sat one of the macaroons on a napkin in the drivers seat while she filled the tank. A few minutes later driving down the road she asked where the macaroon was. I had no idea and she soon remembered placing it in her seat. Sure enough when we stopped again her pants were covered in sticky golden coconut. We laughed so hard.
Lately I've had this feeling that life is passing me by while I'm waiting for something grander. Whether that's traveling the world, becoming succesful with the blog, reaching my goal weight, eventually having children, or whatever I'm desiring at any given moment. Remembering that moment with my grandmother 5 years ago reminded me that it truly is the little things that count. Sure, we all strive for great things but if all you want to accomplish is the end result you'll never have joy in life. It's the process, the trials, the triumphs, the laughter, the tears, the smiles, and the heartache as well that makes life an adventure. This adventure I've been given may not be perfect but it's mine and I want to enjoy every little second of it.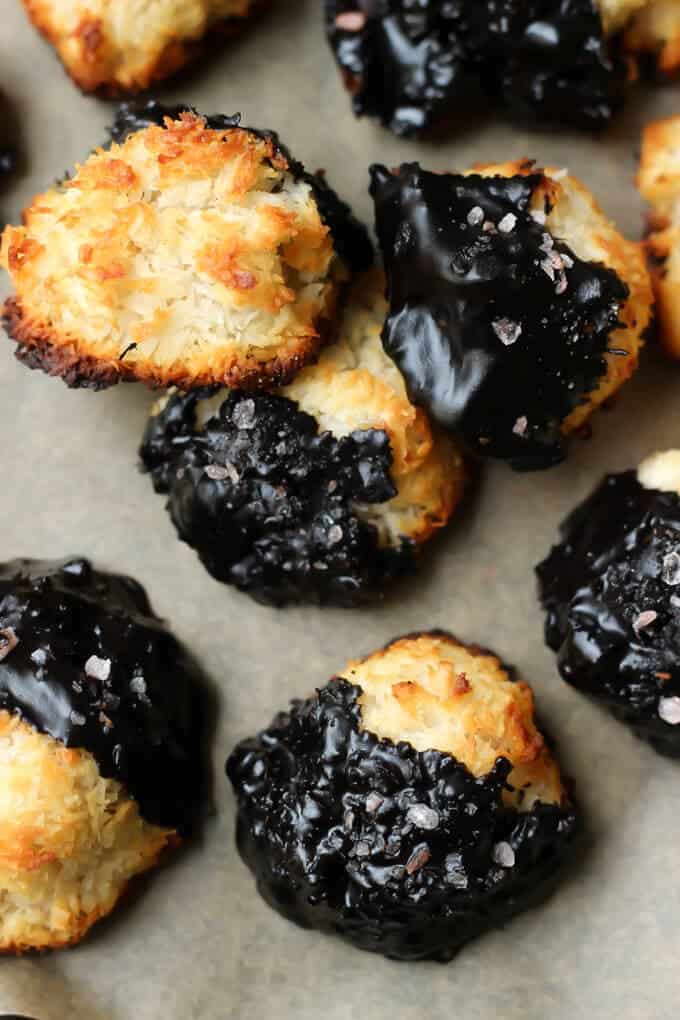 One way I'm trying to enjoy every day is cooking more meals that aren't for the blog. I made the Chicken Saag with Coconut Crepes recipe out of The Homegrown Paleo Cookbook
the other night and I swear Alex and I haven't stopped talking about it. We literally had a 20 minute conversation about it while going to sleep last night. It was so nice to cook a meal that I had no intention of taking pictures of. Just the act of cooking a nourishing meal brought so much joy to us that evening. So here's to the little things. It just so happens these coconut macaroons come in a perfect little package or coconutty, chocolatey, goodness.
My grandmothers birthday was a few weeks ago and while I had every intention on whipping up a homemade batch it just didn't happen. Store bought it was. So in light of falling short in my granddaughter duties I decided to make a batch to take to Easter brunch at her house Sunday. I believe these will surely be better than the plastic package lemon macaroons even if they were artisan. Homemade is always better. These light as air salted dark chocolate coconut macaroons are deliciously sweet and crunchy. A optional dunk into some melted dark chocolate takes them to a whole new level of deliciousness.
Salted Dark Chocolate Macaroons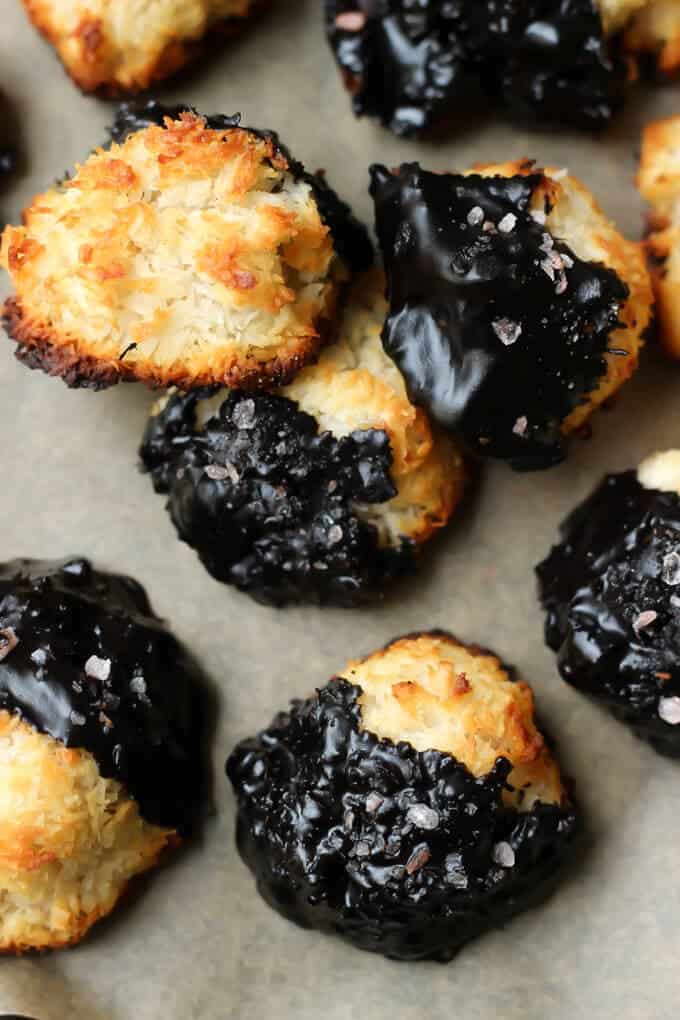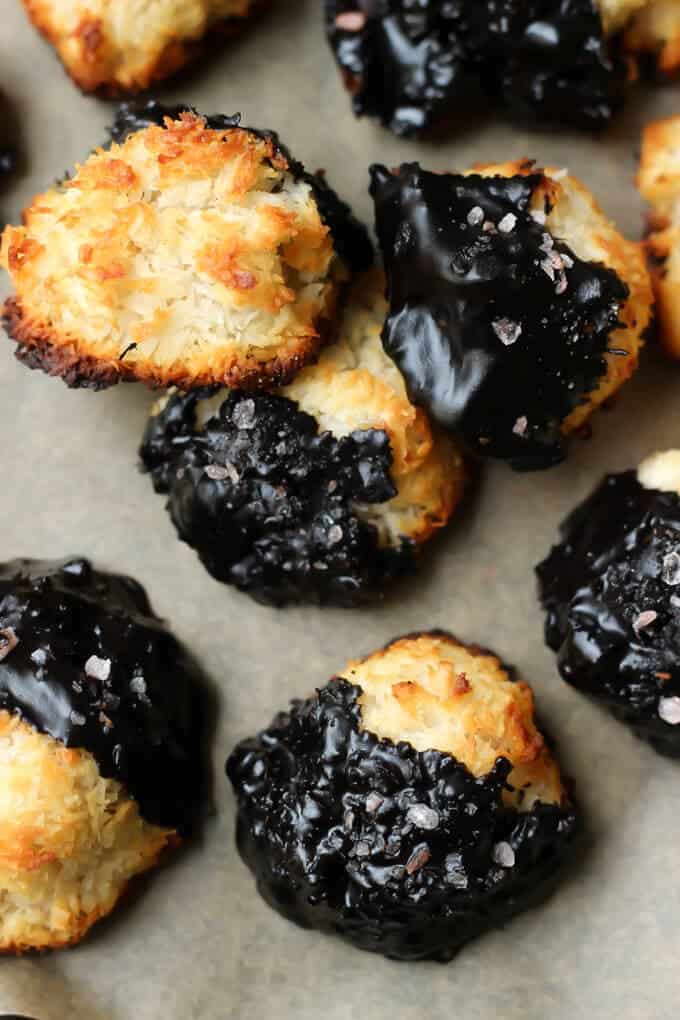 Ingredients
1

cup coconut milk

2

tablespoons honey

8

ounces unsweetened coconut flakes

1

teaspoon vanilla

2

egg whites
Chocolate Glaze
4

tablespoons coconut oil

1/4

cup cocoa powder

1

tablespoon honey

Flaked sea salt
Instructions
Preheat oven to 325°
In a small sauce pan over medium heat whisk the coconut milk and 2 tablespoons of honey together. Bring to a simmer and let reduce a bit until it darkens just a little in color and thickens to the consistency of condensed milk. Remove from heat and let cool.
With an electric mixer beat the egg whites on high speed until stiff peaks form.
Mix the shredded coconut, condensed coconut milk, and vanilla together in a medium bowl.
Gently fold in the egg whites until incorporated.
Line a baking sheet with parchment paper and scoop about 2 tablespoons worth of batter into little mounds.
Bake for 25-30 minutes until golden.
While the macaroons are baking mix up the chocolate glaze. In a small sauce pan melt the coconut oil and 1 tablespoon of honey together. Remove from heat and allow to cool slightly. Whisk in the cocoa powder until smooth and creamy.
Dip each macaroon into the chocolate mixture. Allow the chocolate to harden just a bit before topping with the salt or it will melt.
by Lauren
* This post contains affiliate links, which means I receive a small commission if you make a purchase using this link. Your cost will never be higher from purchasing through one of my links.