I've been meaning to recreate this dish for a while but never got around to it. Probably because it's hard to recreate a creamy risotto out of something other than risotto. After jumping on the cauliflower grits and rice train I figured I could do the same with risotto. It turned out fabulous. This Roasted Grape and Romanesco "Risotto" with Seared Scallops is a deliciously easy and classy dish. It would be perfect for a special date night.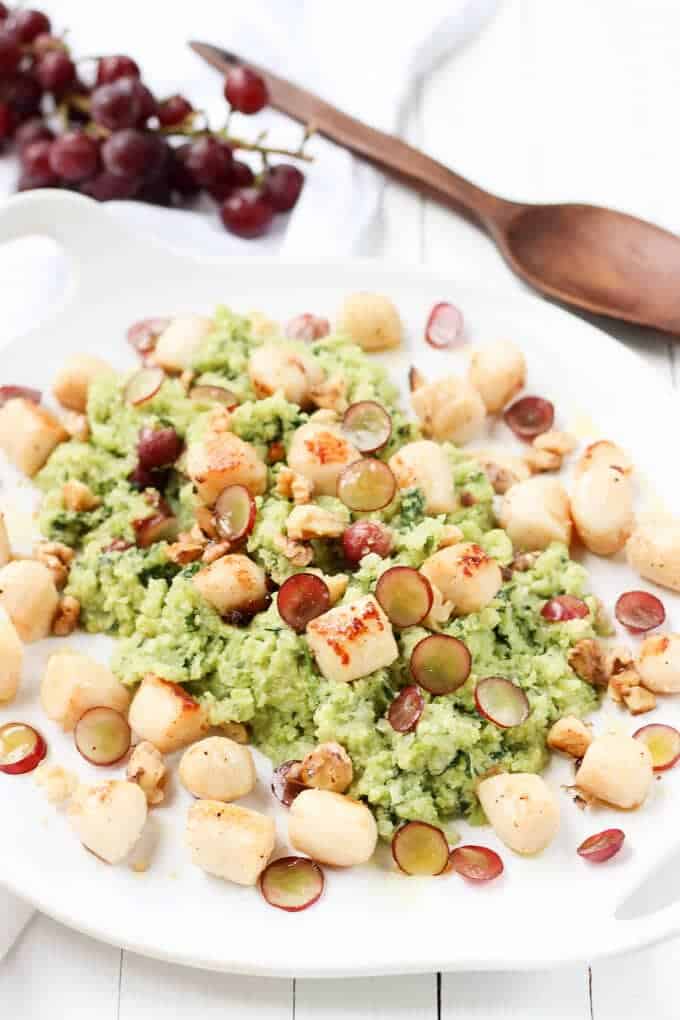 Plus I couldn't pass up this beauty at the market. Absolutely gorgeous. It's very Dr. Seuss. Love it.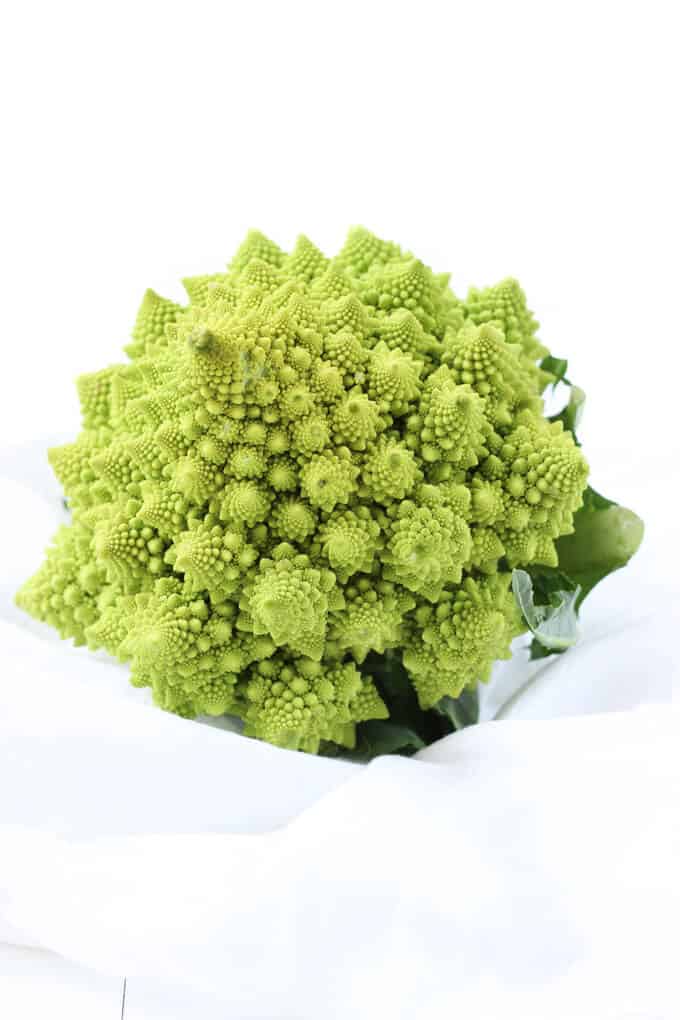 This recipe is a special one. It was the dish I had the night Alex proposed. He had told me that he had an impromptu business meeting in Georgia and asked me if I wanted to go. Of course I said yes when I realized we would be able to swing by Hilton Head for a few hours on our way there. We had stopped at the public beach and took a long walk before heading back to the car since we had to be at the conference a few hours later. When walking back I saw this woman on the dunes taking pictures of the beach. I made a comment about wanting a camera like hers one day (This was 2 years ago before I had a real camera). Alex agreed and asked me what something was down near the waterline. I love seashells so I went to check it out.
When I picked up the shell I turned around to see Alex on one knee. I was shocked and started bawling. I'm such a crier. I thought that he just taken the opportunity to propose since we were at the beach and didn't really plan any of it. I may have been a little upset for a moment. After the most beautiful proposal and of course saying yes! I noticed that the lady with the camera was taking our pictures. Again thinking that she was just taking the opportunity to capture such an amazing moment I had no clue that it was planned. We had a little photo session and champagne and I finally told Alex we were going to be late for his conference. Little did I know no such conference existed. The conference agenda, hotel reservations in Georgia, and the expense sheets from his work was all fake. It was all a ploy to get me to Hilton Head without suspecting anything. I usually figure out surprises way before they have the chance to happen. He had planned the most amazing weekend that I'll never forget. Being someone who has every minute of everyday planned out it was so nice to literally not have to decide on anything. Dinner reservations, spa reservations, everything was completely planned out.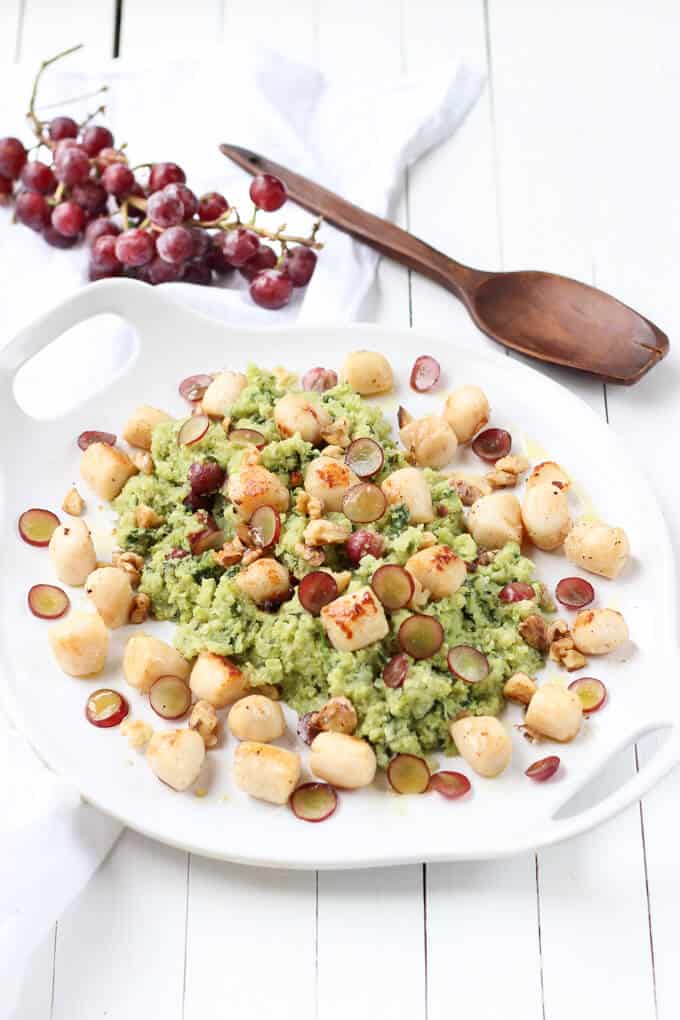 I love reminiscing about that day. I wish everyday was that magical. For now though I'll just enjoy this lovely re-creation. My favorite part is the roasted grapes. I also sliced raw grapes for topping, they add such a nice sweetness to the nutty risotto and briny scallops. If you can find sea scallops I would use those. All I have been able to find here lately are jumbo diver caught bay scallops. They are just as good but I especially love the sea scallops.
Everything comes together rather quickly so you shouldn't need more than 30 minutes to get this beauty on the table.
Romanesco "Risotto" with Roasted Grapes, Seared Scallops, and Walnuts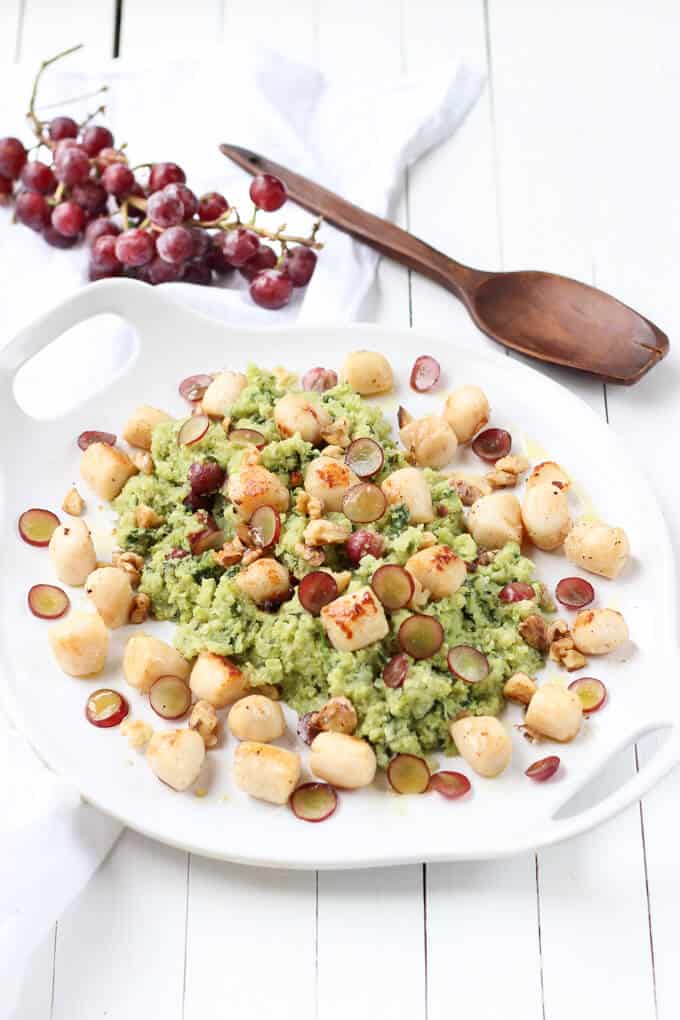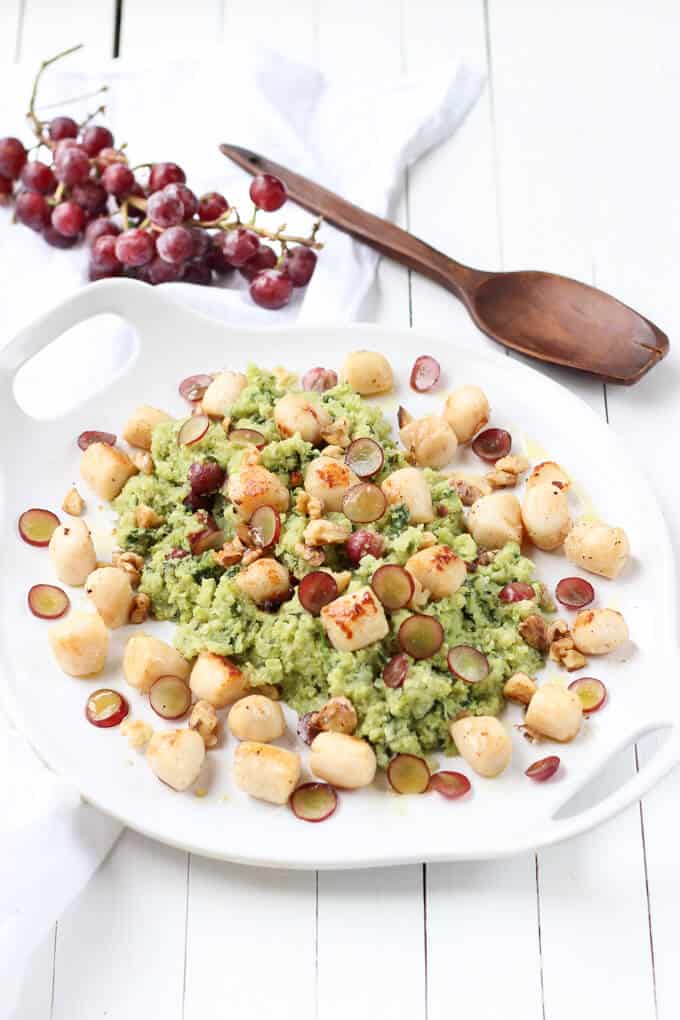 Ingredients
1large

head romanesco

2

tablespoons olive oil

1

shallot, minced

3

garlic cloves, minced

1 1/2

cups chicken broth, divided

2

cups spinach

1 1/2

cups red seedless grapes, divided

1/4

cup toasted walnuts, roughly chopped

1

lb scallops

1

tablespoon butter

1

tablespoon olive oil

Salt and pepper, to taste
Instructions
Cut the romanesco in half. In a food processor pulse 1/2 of the head until very finely minced. Set aside. Now pulse the remaining romanesco until it resembles rice, set aside.
In a large pot over medium high, heat the olive oil and saute the shallot and garlic until fragrant, about 1 minute. Stir in the minced romanesco and give it a good stir. Allow the romanesco to release some moisture stirring occasionally, about 3 minutes.
Now start heating your skillet for the scallops over medium high heat. Add butter and olive oil to pan.
Stir in 1 cup of broth to the pot of romanesco and bring to a simmer. Use an immersion blender to blend into a puree. (You can also transfer to a blender and return to the pot) Add in the riced romanesco, 1 cup grapes and spinach. If it's too dry add another 1/2 cup of broth. Cover and cook 5 minutes. Season with salt to taste.
Season scallops with salt and pepper and place in skillet. Let sear for 2 minutes, flip and sear 1 more minute.
Serve by topping the risotto with sliced grapes, toasted walnuts, scallops, and a drizzle of olive oil.
by Lauren