Guys. I'm obsessed. Obsessed with citrus! The bright bold colors and flavors are so uplifting! They have me feeling tropical and breezy instead of cold and wintery. Especially with the reggae music that's been dominating my Spotify lately.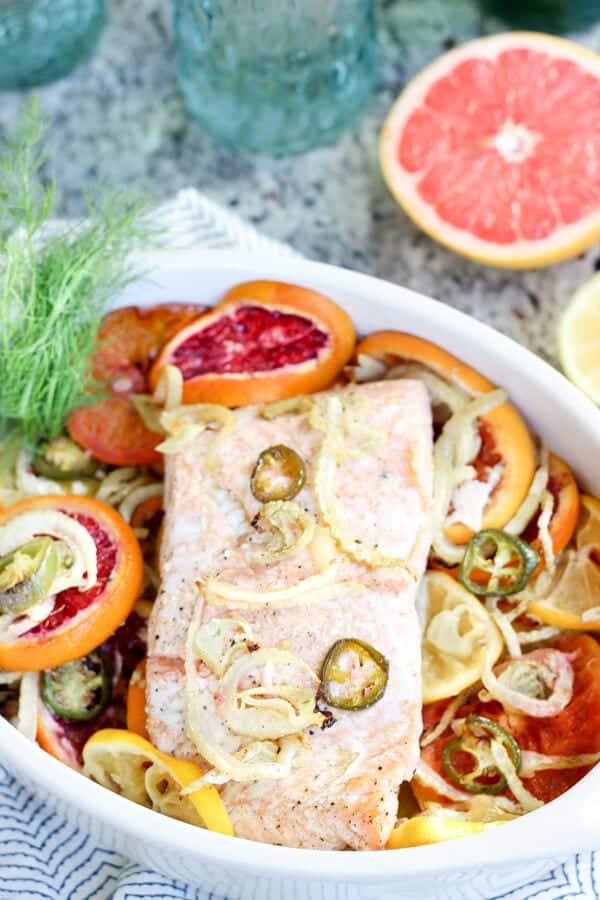 I'm in need of a serious vacay to somewhere warm with palm trees swaying in the breeze and a fresh young coconut in my hand. Pinterest keeps promoting pins to me for Tulum. It knows me so well. It's been a little over a year since our honeymoon to that magical place and I would give anything to be back for even a few precious days. Now though I'll settle for making this roasted salmon with citrus and fennel.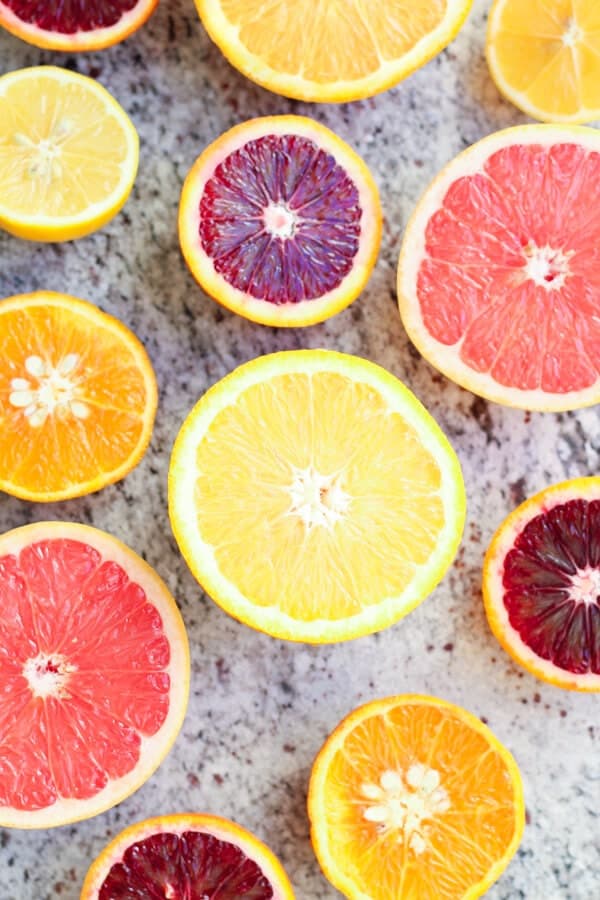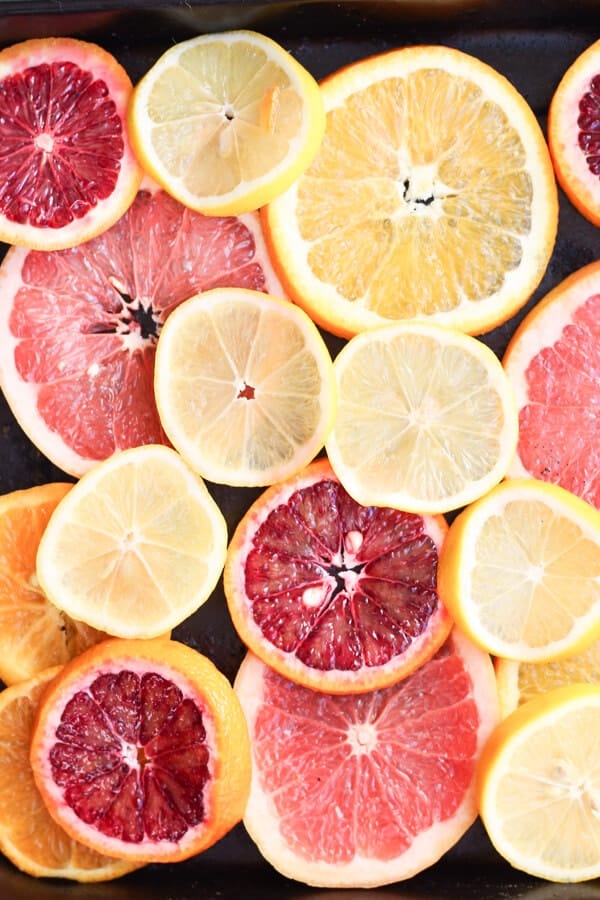 I saw the recipe on Bon Appétit and knew I had to make it! I changed it up just a bit so if you want the original masterpiece head on over there to check it out! Mine serves a few less people and I left out a few ingredients and added a few. I can never make a recipe as is, even when I remake one of mine own I usually do something different.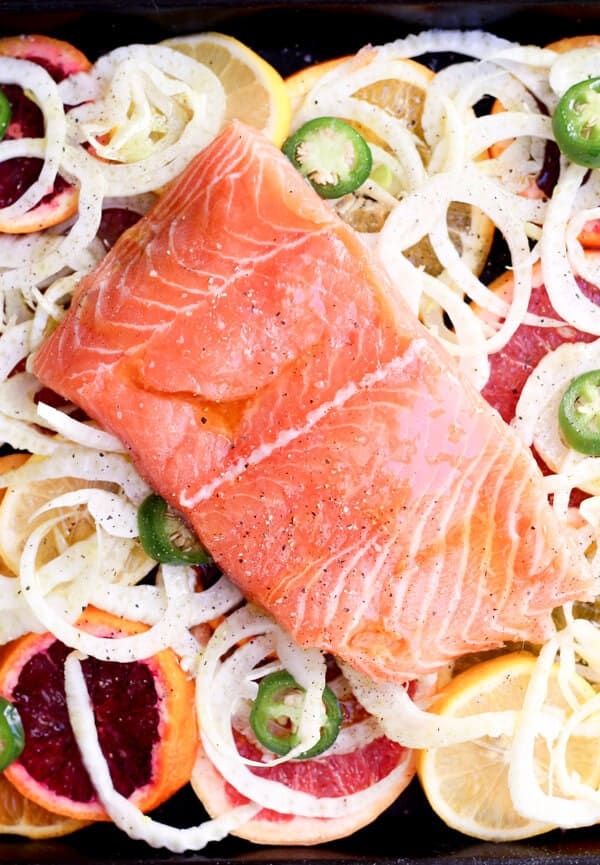 It was so good. Bright and tart with the fatty richness of the salmon cutting through. What really did it for me though was the jalapeño peppers. The spice works so well with the citrus that I was wishing I had added 5 more jalapeño. I like things spicy. If you do as well feel free to add an additional pepper or two.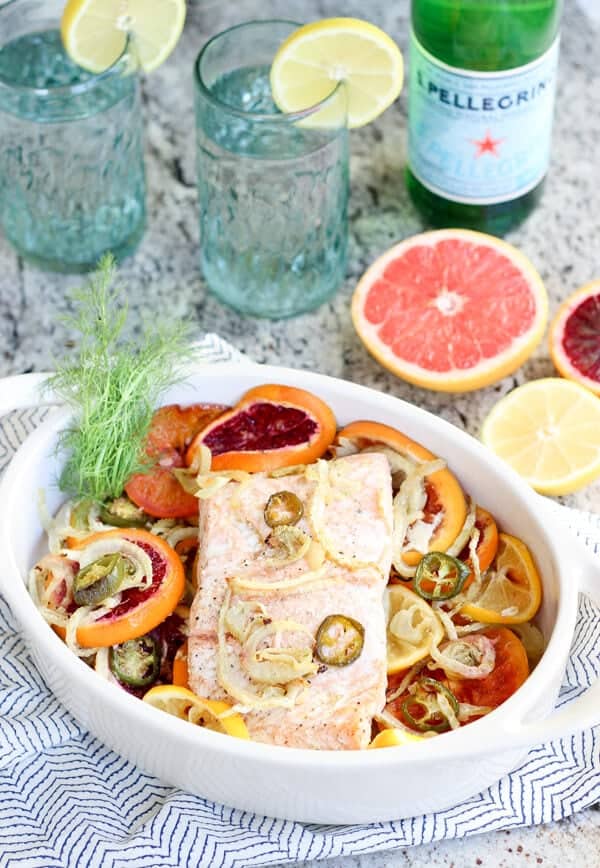 If you can't find the exact citrus varieties listed just use whatever you can find. A regular lemon will work the same as a meyer and a regular orange will work the same as the Cara Cara. Enjoy!
Roasted Salmon with Citrus and Fennel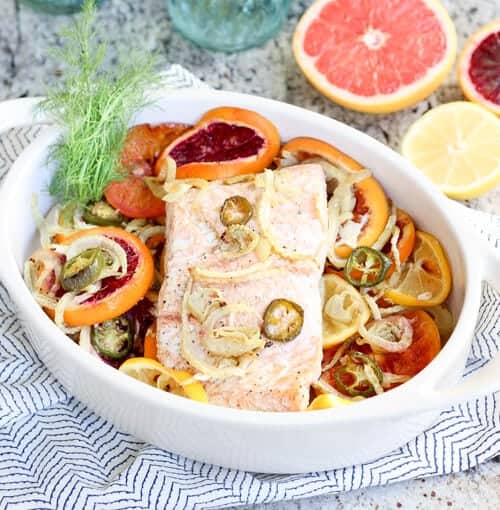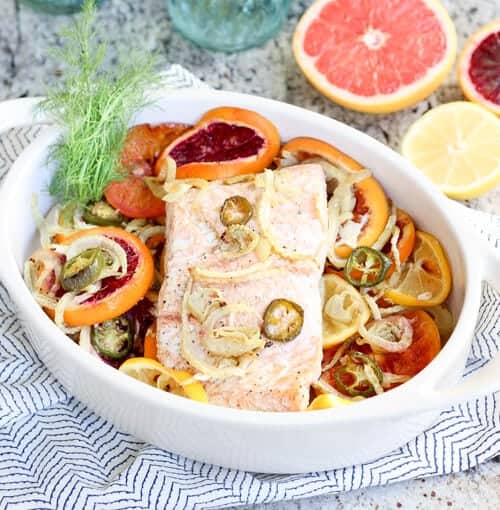 A beautiful dish full of bright vibrant colors.
Ingredients
1lb

salmon fillet

1

blood orange, thinly sliced

1

grapefruit, thinly sliced

1

meyer lemon, thinly sliced

1

honey tangerine, thinly sliced

1

cara cara orange, thinly sliced

2

jalapeño, thinly sliced (more if desired)

1

large bulb fennel, thinly sliced

1/2

cup good quality olive oil

Sea salt and fresh cracked pepper
Instructions
Preheat over to 300.
Thinly slice all of the citrus, fennel, and jalapenos.
Arrange in a shallow baking dish and season with salt and pepper.
Place salmon fillet in middle of citrus mix and season with salt. Pour olive oil over the salmon, citrus, fennel, and jalapeños evenly.
Roast for 30 minutes and remove salmon.
Turn on the broiler and broil the citrus mixture for 5-10 minutes or until it begins to caramelize and get a bit crisp.
To serve divide citrus mixture among 2 or 3 plates and top with flaked salmon.
by Lauren