Happy Halloween! Are you ready for a healthy dinner? You better be because this roasted salmon is one of the healthiest dinners you could have. How could it not be with not just one but TWO superfoods included?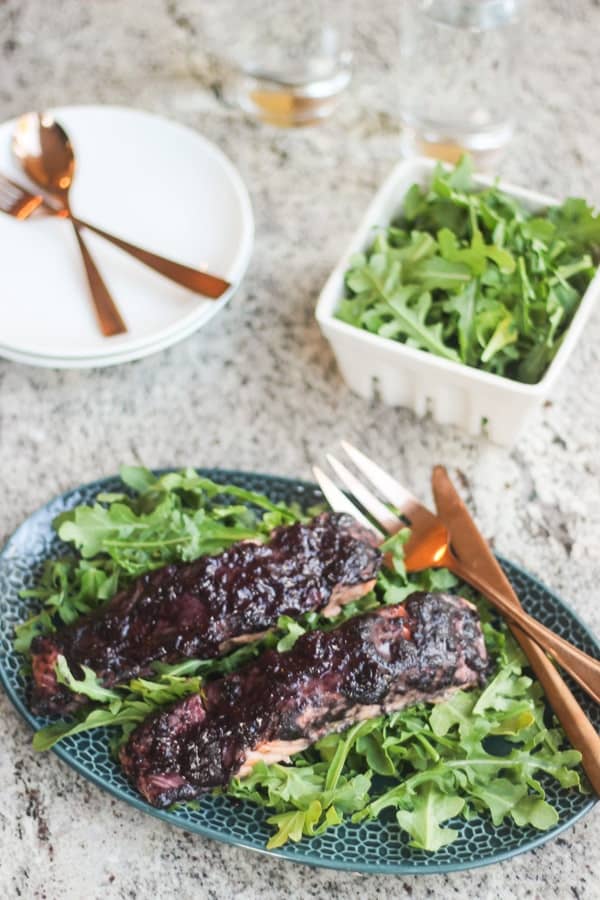 Salmon has long been known for it's rich omega-3 content but did you know that it has tons of other great qualities as well? Take a look at the this little nutritional excerpt from Dr. Axe's website that explains what just ONE 4oz serving of wild caught salmon has to offer:
Vitamin B12 (236% daily recommended value)
Vitamin D (127%)
Selenium (78.3%)
Vitamin B3 (56.3%)
Omega-3 Fatty Acids (55%)
Protein (53.1%)
Phosphorus (52.1%)
Vitamin B6 (37.6%)
Iodine (21.3%
Choline (19.2%)
Vitamin B5 (18.4%)
Biotin (15.1%)
Potassium (14%)
Your brain is made up of almost 60% of fat. Fat is essential for good health and that is what the western diet has gotten all wrong. We, as a culture, are consuming WAY too much sugar and grains and not nearly enough fat. People think that consuming fat will raise their cholesterol, clog up their arteries and make them fat when it's the exact opposite!
In five medical studies eating a paleo diet free from grains, sugar, and dairy, and in turn eating a high fat diet along with lots of vegetables was shown to decrease cholesterol levels, blood glucose levels, blood pressure and their weight! I'm not sure what could be more motivation to ditch the grain and sugar. Also, if you haven't seen the documentary Fed Up I highly recommend it. Sugar will be the downfall to human health and we are already on the fast track to that conclusion.
Hopping off my soapbox now, let's get to the recipe! Easy and quick is what I like in my kitchen especially during the week when I've got a billion and one other things to do. This dish fits the bill. The salmon literally cooks for about 12 minutes and the sauce comes together in about 10 as well. All in all you're looking at a 20-30 prep and cook time. Grilled asparagus is especially delish with the salmon and takes minimal effort or you can just serve it on top of a huge pile of arugula like I do.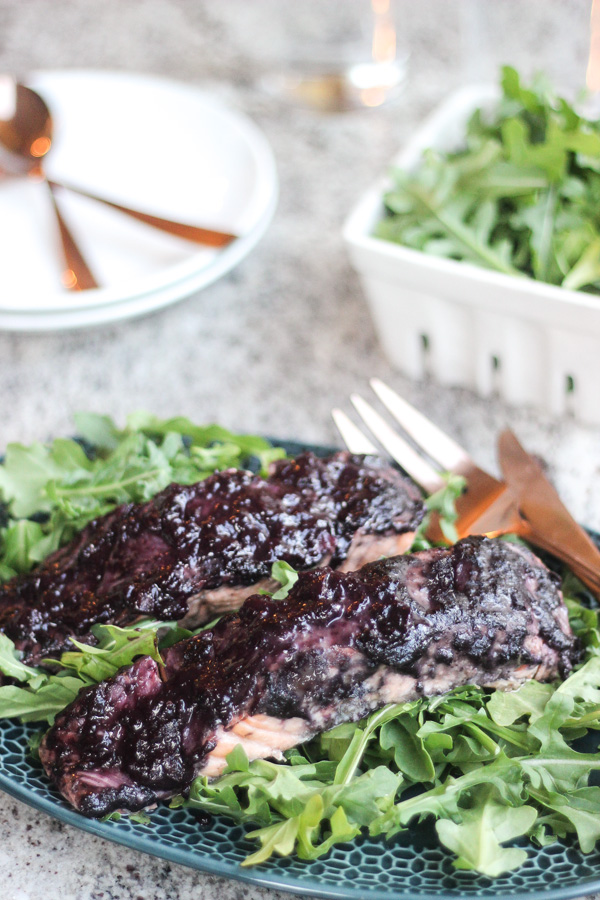 You won't miss the grain one bit with the recipe, I promise. Enjoy!
Roasted Salmon with Blueberry BBQ Sauce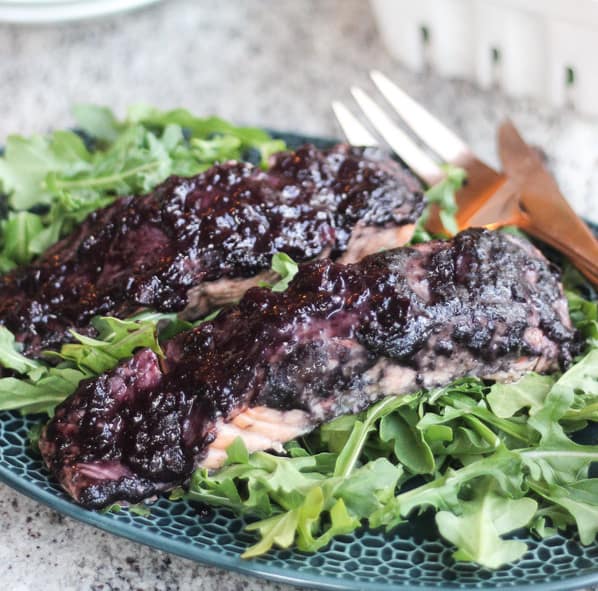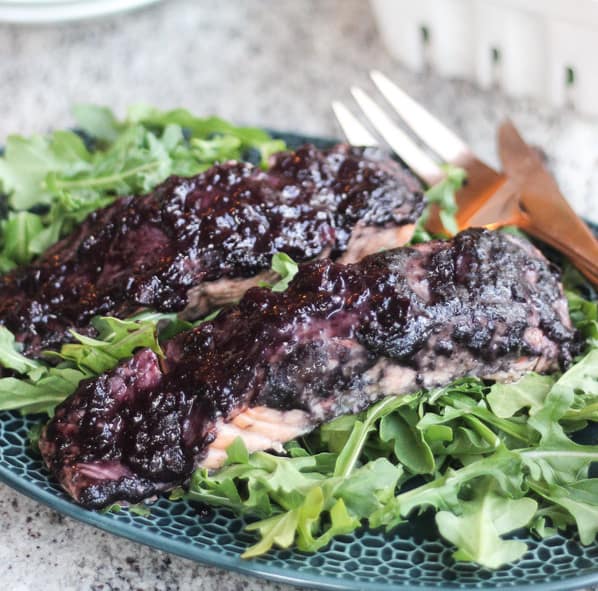 A superfood dinner that will leave you healthy and energized
Ingredients
2

salmon fillets, I usually get each fillet to be between 4 and 8 oz.

Salt and pepper, to taste
For the Sauce
1

teaspoon olive oil

1/8

cup white onion, diced

1

clove garlic, minced

1/8

cup ketchup (no high fructose corn syrup, preferably sweetened with honey)

1/8

cup champagne vinegar

1

tablespoon dijon mustard

1

tablespoon honey

Pinch of red pepper flakes

1

cup of blueberries (you can use fresh or frozen)
Instructions
Preheat oven to 400°
Line a baking sheet with aluminum foil and season salmon with salt and pepper.
In a small saucepan over medium high heat, heat 1 teaspoon olive oil.
Add onions to pot and cook for 1-2 minutes or until onions are soft. Add in the garlic and cook until fragrant about 1 more minute.
Reduce heat to medium low and add in ketchup, vinegar, honey, mustard and red pepper flakes. Stir to combine.
Add in the blueberries and continue to stir occasionally to keep the sauce moving. Allow the blueberries to break open and start to breakdown, about 5 minutes.
Transfer sauce to a blender or using an immersion blender blend the sauce until smooth.
If the sauce is too thick add in water one tablespoon at a time until you reach your desired consistency.
Brush salmon with a bit of sauce and transfer to oven, bake for 5 minutes.
Remove salmon from oven and brush with a bit more sauce, return to oven and bake for 5-7 more minutes. This will give you a medium cooked salmon that is nice and flaky.
To serve top with remaining sauce.
by Lauren