So I know that chicken nuggets aren't a fabulous knock your socks off recipe but who doesn't love them? There's a reason why children and adults alike love these little crispy gems. These Paleo chicken nuggets are perfect for a light lunch or gameday snack. Alex does keep reminding me that March Madness is about to start. They also make a fabulous packable lunch for kids.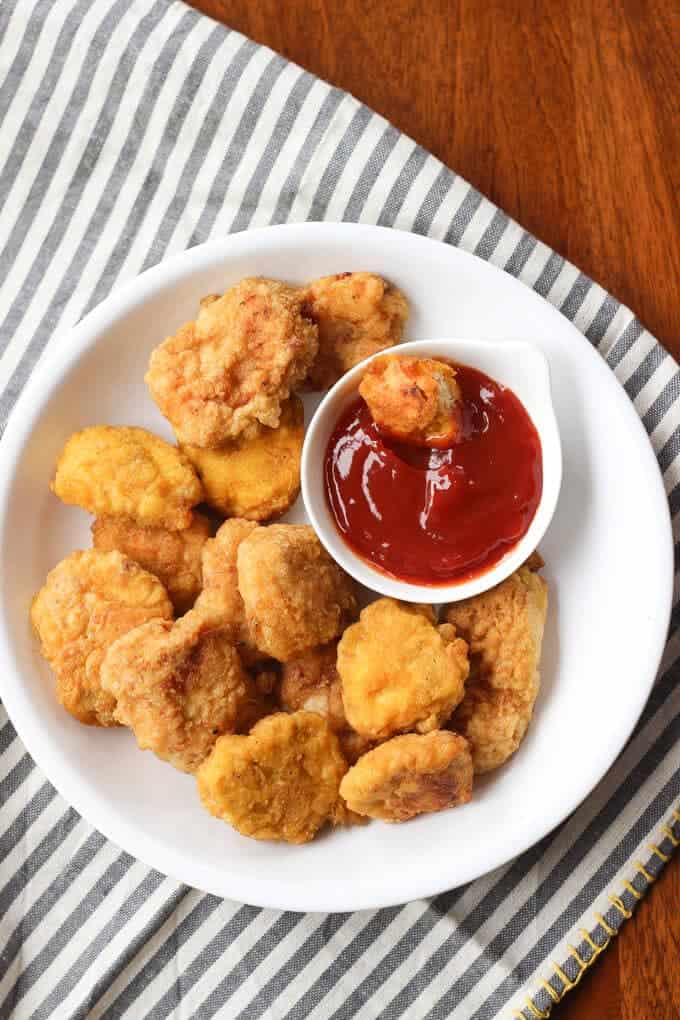 The batter is very similar to the one I use for my baja tacos. Light and airy they sort of remind me of McDonald's chicken nuggets. Not that I've eaten there in several years.
There's only a few simply ingredients in the entire recipe and the hardest part is frying. If you're a normal person though and don't get totally freaked out by frying things you should be just fine. They fry up quick, less than 10 minutes working in batches. I just have a phobia of frying so I tend to jump and scream at every little crackle and pop of hot oil.
It's a little ridiculous but after I dropped a pot of frying oil into water in high school without knowing that water and oil DO NOT mix I've been scared ever since. That's the worst pain I've ever felt…even worse than kidneys stones when I thought I was literally dying. There's just something about a burn that is horrendous and when it's on your face, stomach, and hands it's even worse. Luckily a quick trip to the ER and some magical cream later I didn't have much scarring. Lesson folks, let hot oil cool on the stove before washing out the pot. But you knew that right? Just me the naive 15-year-old must have not learned that yet in chemistry class.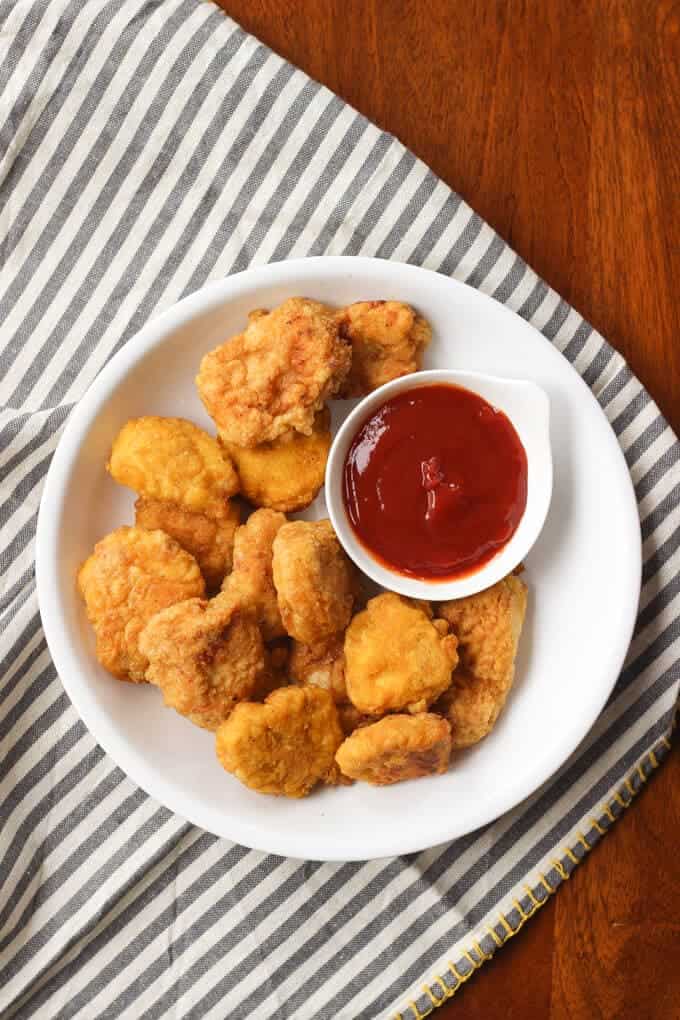 I usually serve them with ketchup, whole grain mustard, and ranch dressing. If you're making these ahead of time you can crisp them up by toasting them in a toaster oven or under the broiler for a few minutes. Simple, delicious, and everyone loves chicken nuggets!
Quick and Easy Paleo Chicken Nuggets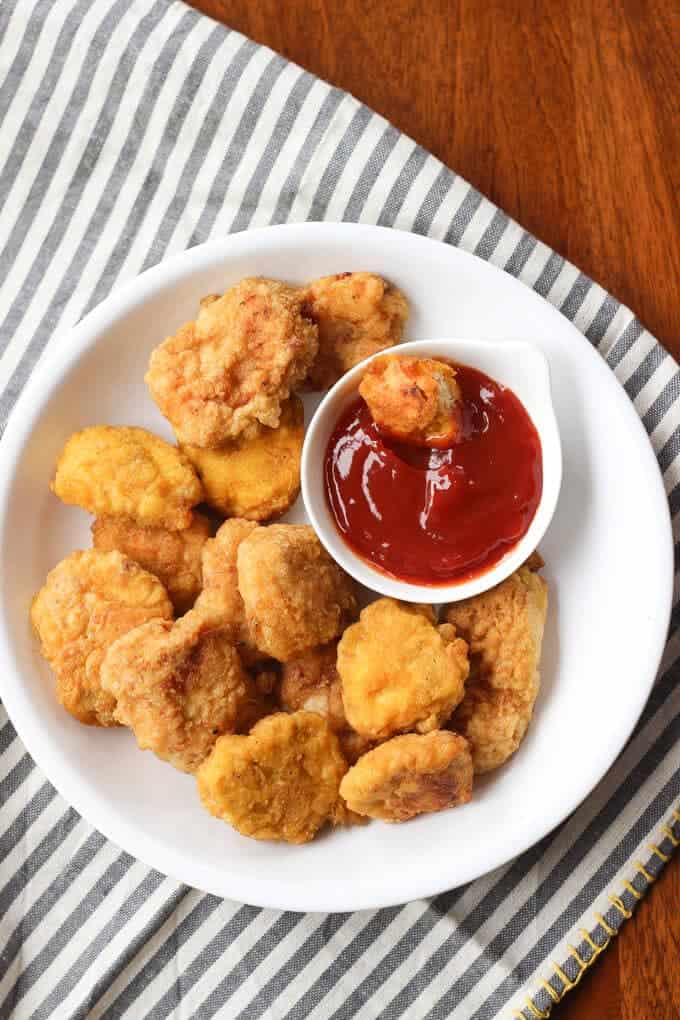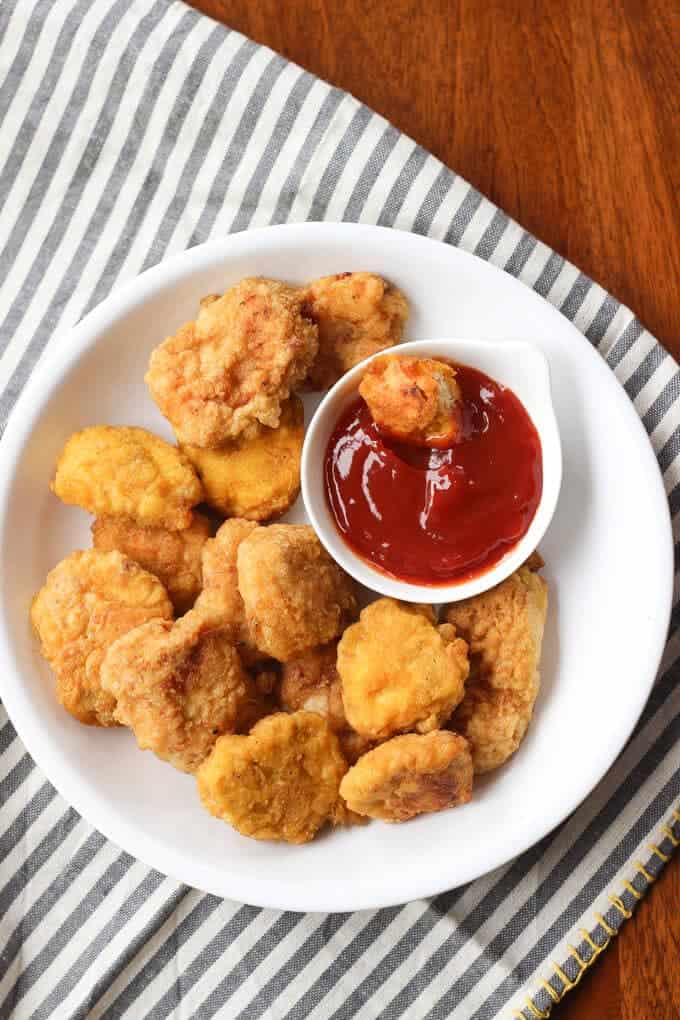 Ingredients
1

lb chicken breast

1/4

teaspoon salt

1/4

teaspoon fresh cracked black pepper

1/4

teaspoon onion powder

1/4

teaspoon paprika

1/4

teaspoon cayenne pepper

1

egg

1/3

cup tapioca flour

1

tablespoon water

1/2

cup coconut oil or red palm oil
Instructions
In a food processor pulse the chicken until minced. Mix in the spices.
Form chicken into patties (about 25 or so) and dust in tapioca flour. You just want them lightly dusted so be sure to shake off the excess.
In the remaining tapioca flour mix in the egg and water.
Heat oil over medium high heat. I use a wok since it's shallow and naturally nonstick.
Working in batches dip the nuggets into the batter and then place directly in the oil. Give it a little nugget with a spoon to loosen it from the bottom of the pan so it will float freely.
Fry 3-4 minutes per side until golden brown and crispy.
by Lauren