One of the easiest recipes on the site but hands down one of the best. I've always loved the crunch of cabbage in salads and treat it as more of a lettuce than anything else. Most of my salads have some cabbage thrown in. Even though this is a slaw I could (and did) eat it alone as a meal. This pomegranate Mexican slaw is crunchy, sweet, tart, spicy, and colorful. All my favorite adjectives when it comes to food.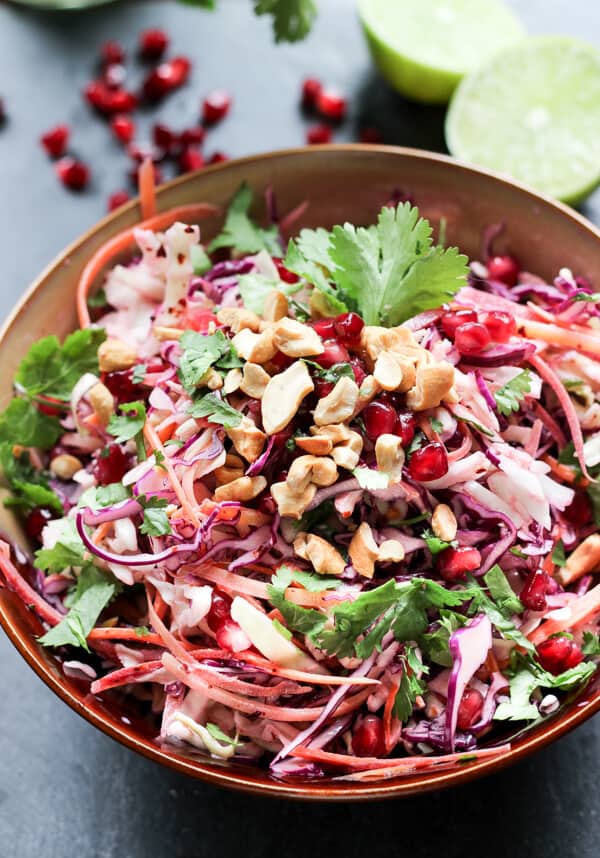 It takes less than 5 minutes to come together and will brighten any table. I could easily serve this with a variety of grilled meats and I think it would be fantastic on tacos. Or you know, dig in and finish the entire batch for lunch.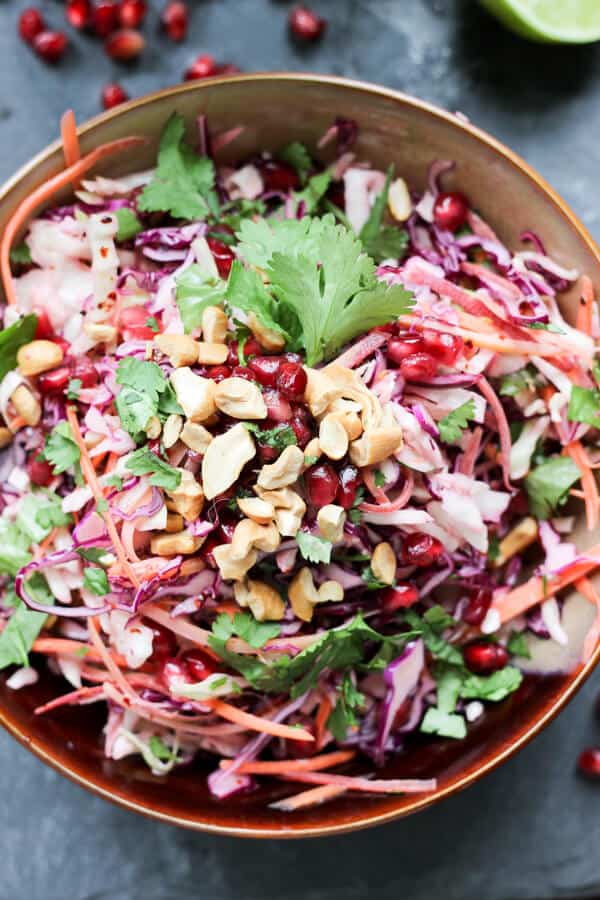 The little bursts of pomegranate seeds lend the perfect amount of sweetness to the slaw without any additional sweetener.
I could easily see taking this slaw to a cookout if you did that sort of thing in January. Maybe you're somewhere warm and you can. Can we trade places?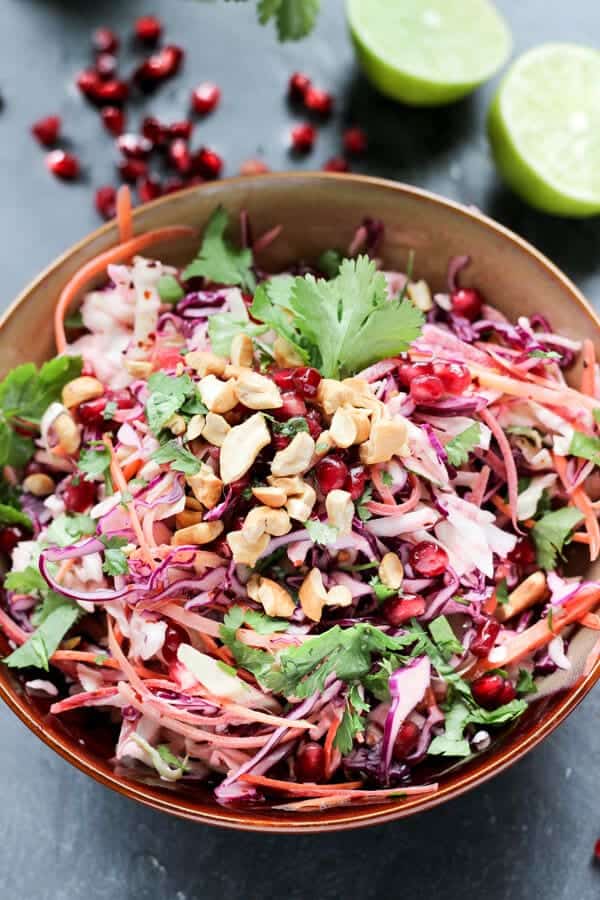 Can we just talk about the cashews for a second? So nutty and bold. It sort of levels out the flavor of the slaw and pulls it all together melding the flavors into a cohesive harmony. I think they're my favorite part. Enjoy!
Pomegranate Mexican Slaw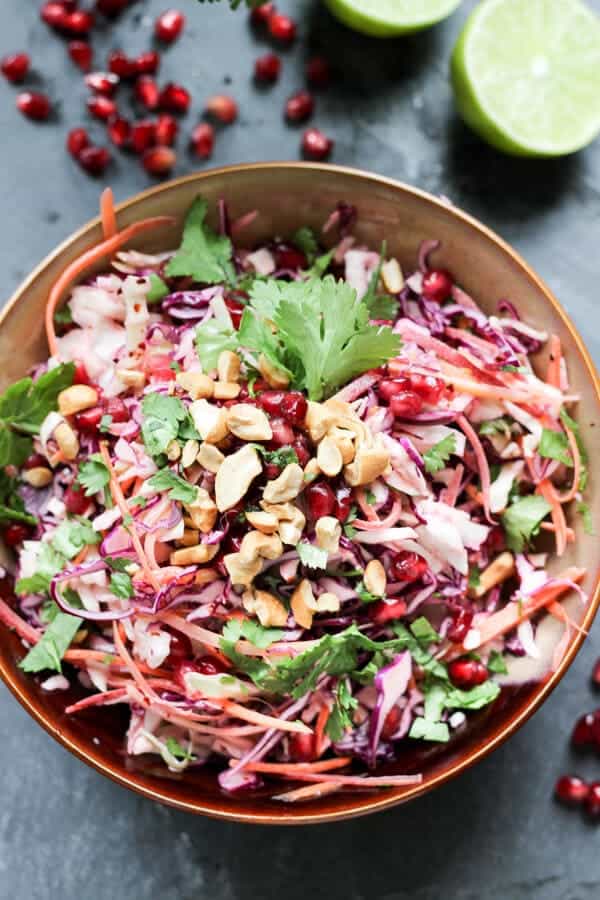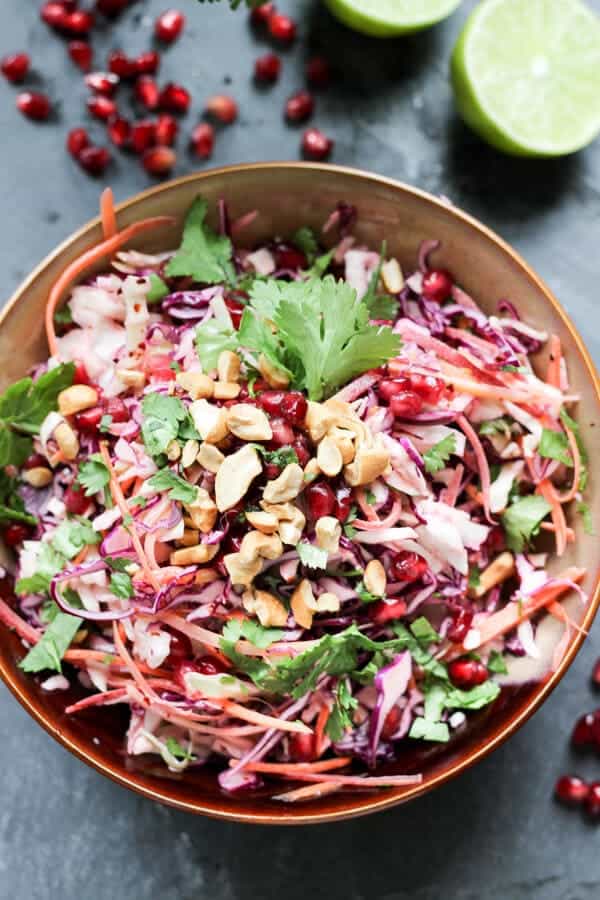 Crunchy, colorful, sweet, and spicy this slaw is everything you need in life.
Ingredients
3

cups shredded white cabbage

3

cups shredded red cabbage

4

shredded carrots

1

large lime, juiced

1/4

cup mayonnaise

1/2

cup pomegranate seeds

1

teaspoon red chili flakes

Handful of fresh cilantro, chopped

1/3

cup cashews, chopped
Instructions
In a large bowl toss the cabbage and carrots together.
Pour lime juice over cabbage and carrots and toss.
Mix in the mayonnaise and salt.
Sprinkle in the chili flakes, pomegranate seeds, cashews, and cilantro.
Toss and serve.
by Lauren