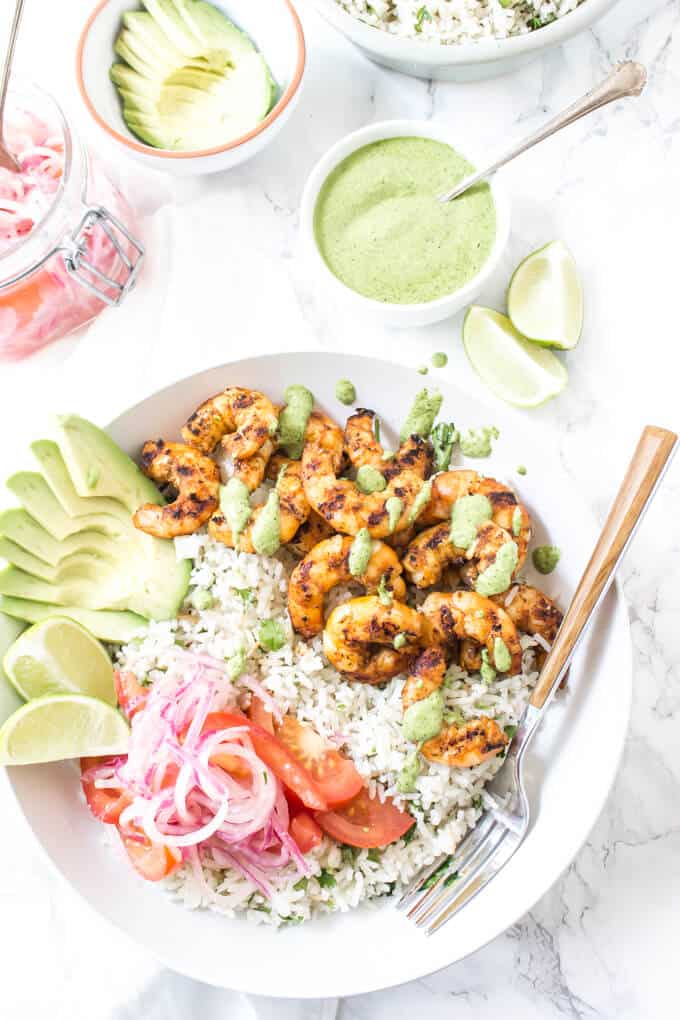 Man, oh man! These Peruvian Shrimp Bowls have become my favorite meal over the past week. I think we've ate it no less than 4 times, seriously, and I show no signs of stopping. The rice? To die for…the salsa, amazing. And that sauce? OMG drinkable.
So the idea for this meal came from a restaurant Alex and I stopped at in Charlotte on our way home from the beach last week. It was called Viva Chicken and is basically a peruvian chicken joint with a limited(ish) menu. I didn't have high hopes even though it had rave reviews since Alex doesn't eat chicken (right now, maybe never again? IDK). Anyways, after inquiring about gluten free and the lady asking if eggs contained gluten I really didn't have high hopes but I'm SO glad we stuck it out. I ordered a 1/4 chicken with cilantro rice, beans, and salsa criolla (marinated onions and tomatoes) along with an herbal lemonade and Alex ordered basically the same things minus the chicken add avocado.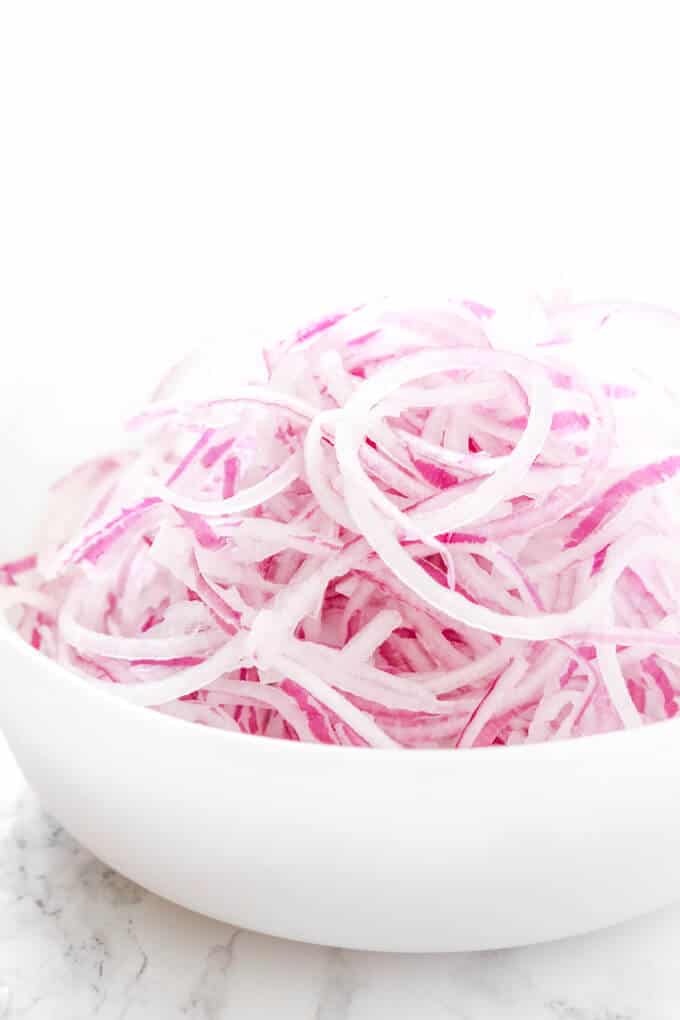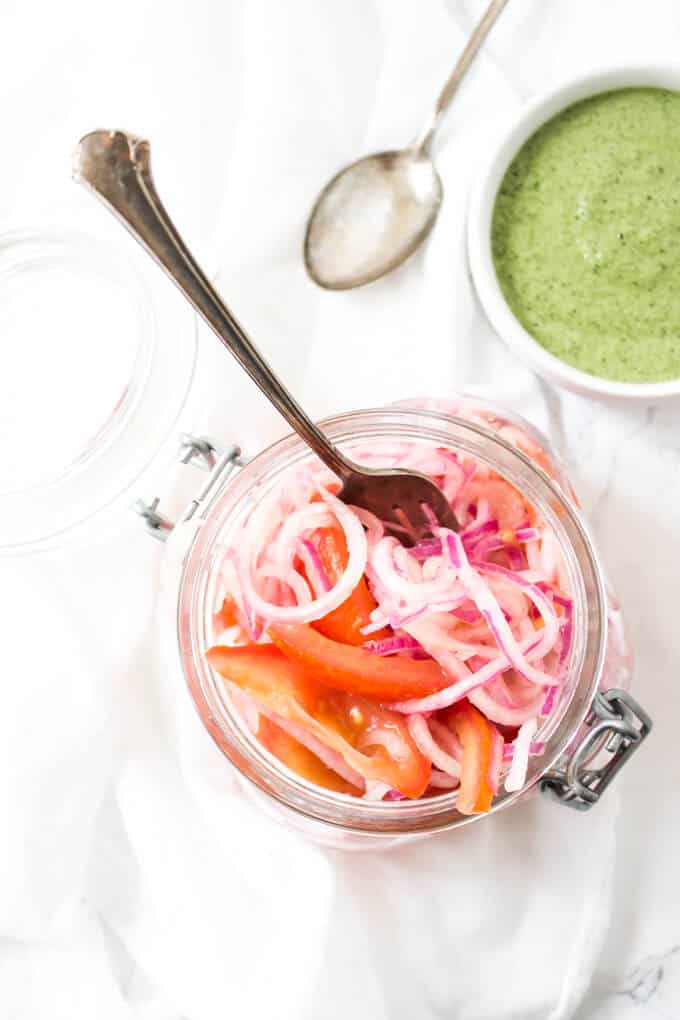 It was literally one of the best meals! The also had a salsa bar with 3 different types of sauces but the cilantro mint packed a nice herbal punch along with some heat. I knew I was going to have to recreate everything at home with a few spins.
First off, I made the rice coconut cilantro rice <— BEST DECISION EVER. I love the creamy sweetness of coconut rice and the flecks of caramelized sugar that attach onto the bottom of the pot. They add a wonderful crunch so don't skip the coconut sugar! Then I whipped up some salsa criolla and that cilantro mint sauce along with some peruvian spiced shrimp. Sidenote: the spice is also fab on salmon and of course, chicken if you want to skip the shrimp.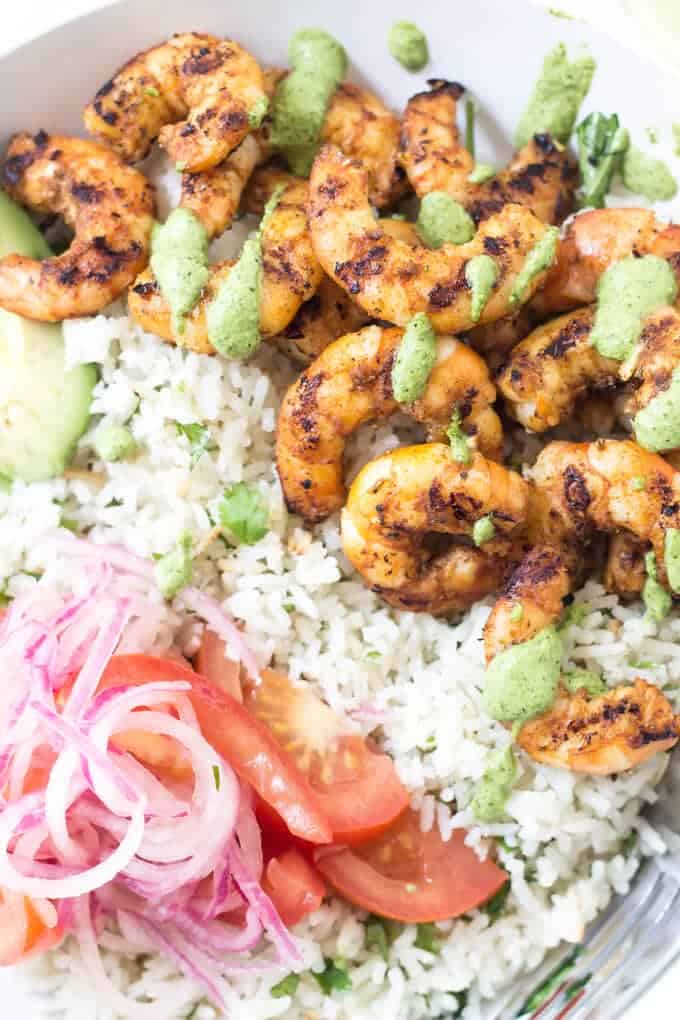 So traditionally this sauce is called huacatay sauce which is black mint. You can buy huacatay paste but since my garden bed is filled to the brim with mint that sprung back up from last year I decided to go the easy route.
In my opinion it tastes the exact same as the huacatay sauce so you're not missing out taking the easy route. I get stuck on sauces quite a bit and this is totally my new favorite. I'm keeping a jar of it in the fridge for easy lunches!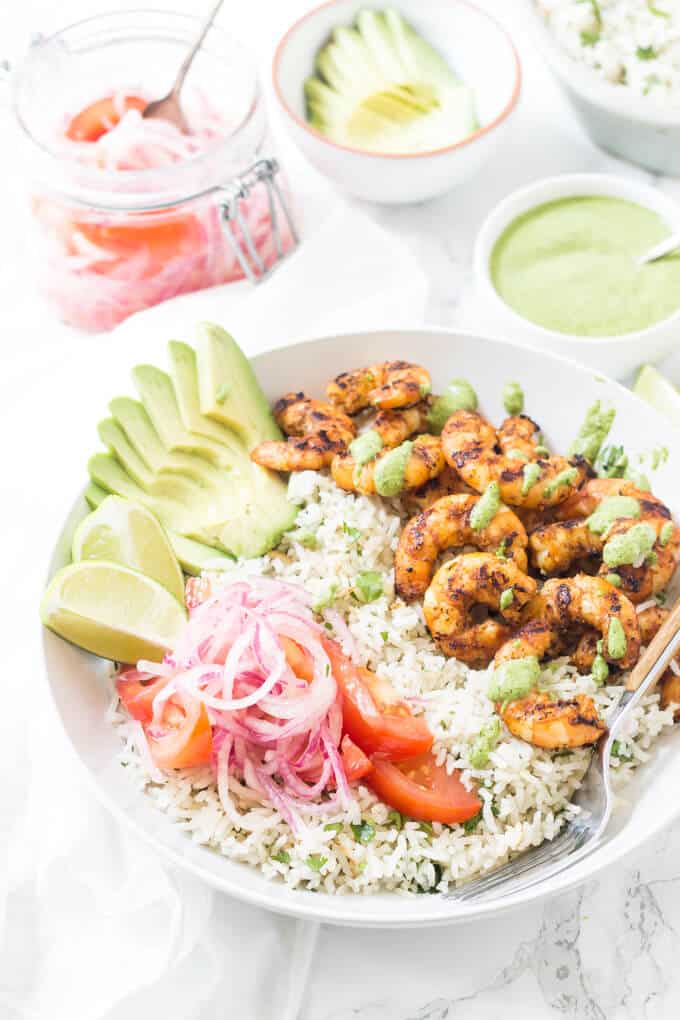 Yesterday I had about 15 minutes to put lunch together so I threw a bag of Trader Joe's frozen cauli rice in a skillet with a bit of turmeric and black pepper, broiled a piece of salmon straight from frozen, and topped it with this sauce and some of the leftover salsa criolla and sliced avocado.
It was healthy, super quick, and high on flavor which you can't beat. If you don't make this recipe please just promise you'll make the sauce?? Thank you 😉
Peruvian Shrimp Bowls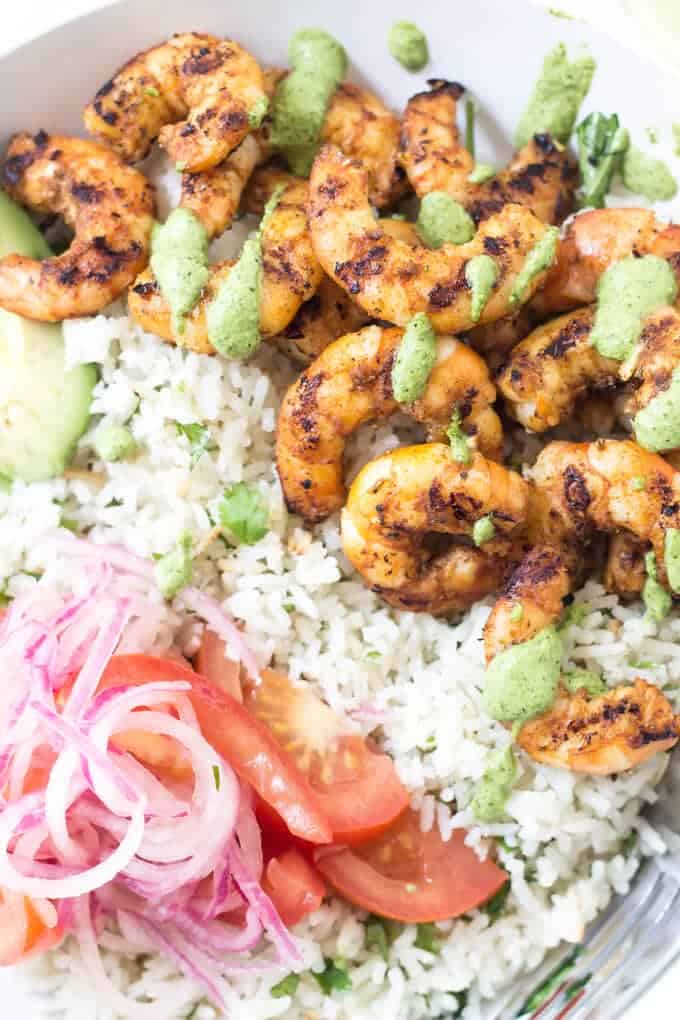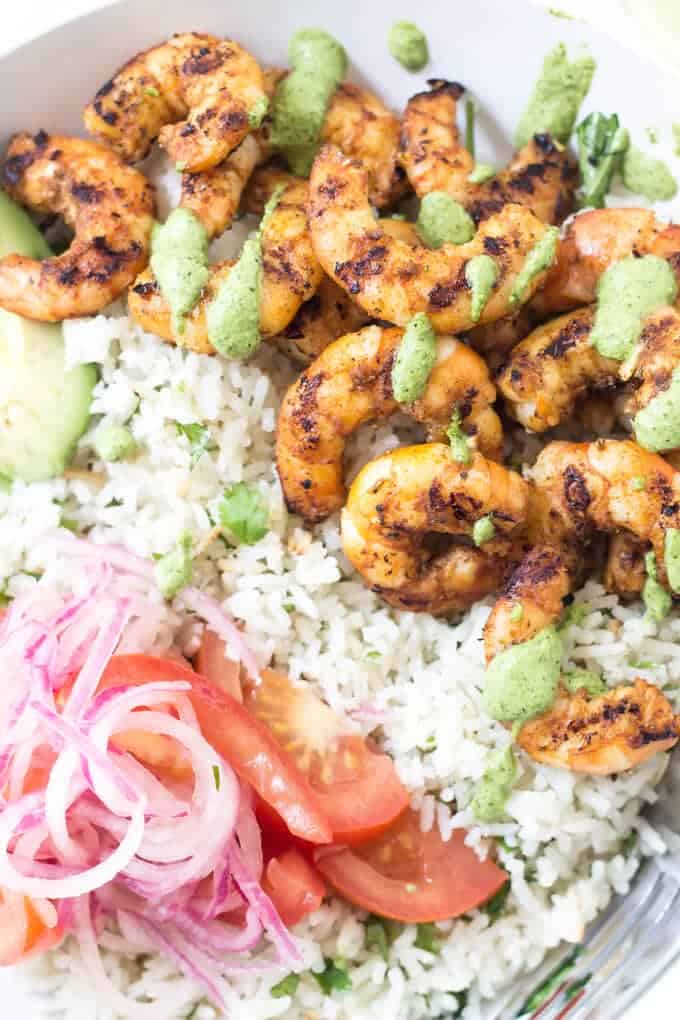 Ingredients
Coconut Cilantro Rice
2

cups white rice (I used basmati)

1

(13.5 oz) can full-fat coconut milk

1

tablespoon coconut sugar

Additional water per rice instructions

1/4

cup chopped cilantro
Salsa Criolla
1

red onion, thinly sliced

2

tomatoes

Juice of 1 lime

Salt, to taste
Cilantro Mint Sauce
1

large bunch cilantro, stems and all

10

large mint leaves

2

jalapeños (seeded if you don't want it hot)

2

cloves garlic

3

tablespoons mayonnaise

2

tablespoons lime juice

2

tablespoons olive oil

Salt, to taste
Peruvian Spiced Shrimp
1

lb shrimp, peeled and deveined

2

teaspoons olive oil

1

teaspoon lime juice

1

clove garlic, minced

1

teaspoon cumin

1/2

teaspoon paprika

1/2

teaspoon oregano

1/2

teaspoon coconut sugar

Pinch of salt
Additional Toppings
Sliced Avocado

Minced Cilantro

Lime Wedges
Instructions
Make the Rice: In a medium pot whisk together the coconut milk, coconut sugar, rice, and any remaining water per you rice instructions. Cook according to rice instructions. After cooking fluff with a fork and stir in the chopped cilantro.
Make the Salsa Criolla: Thinly slice the red onion and cut the tomatoes into small wedges, toss with lime juice and salt to your taste. Cover and refrigerate until ready to use.
Make the Cilantro Mint Sauce: Place all ingredients into a food processor and blend until smooth.
Make the Shrimp: Toss the shrimp with the olive oil, lime juice, and seasonings. Let sit for 15 minutes. Preheat your grill or grill pan or regular pan to medium high heat. Grill the shrimp for 2-3 minutes per side or until shrimp have started to form black grill lines and are opaque in the middle.
Assemble: Divide the rice between 4 bowls and top with shrimp, salsa criolla, cilantro mint sauce, sliced avocado and additional cilantro and lime if desired.
by Lauren