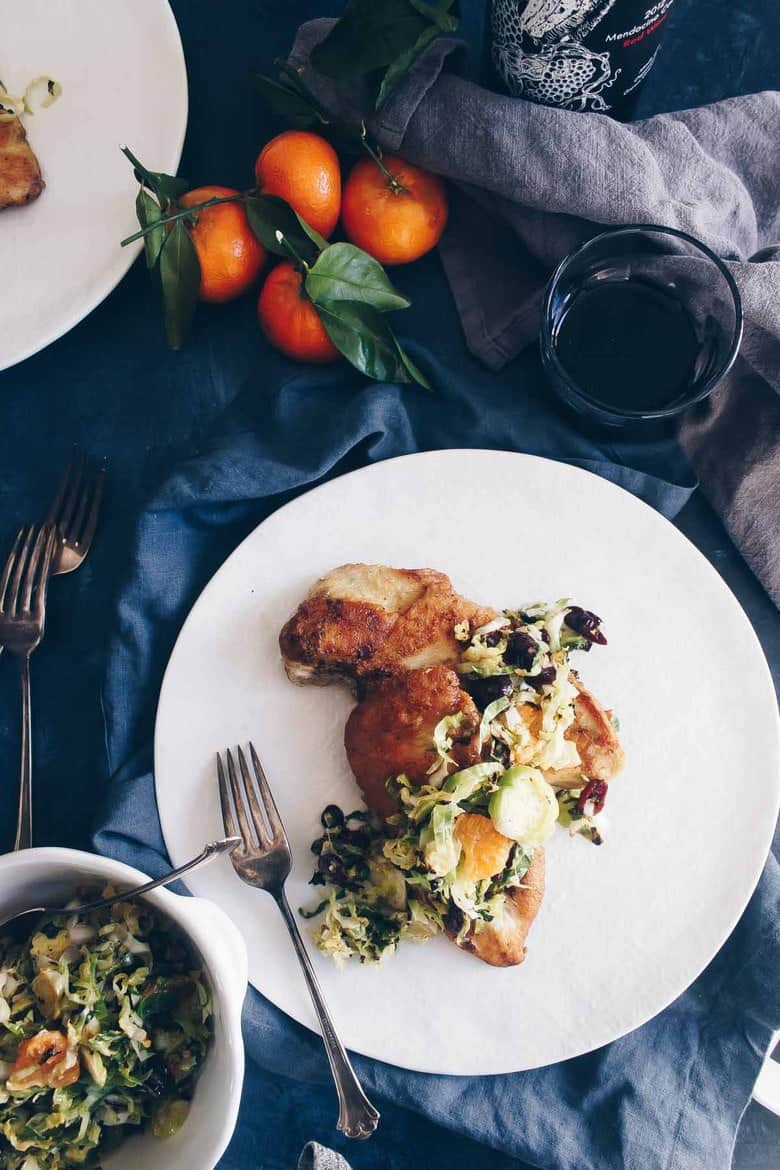 We are less than a month away from spring and I am so excited for the tree's to regain their leaves, the bee's to start buzzing, and of course my local farmer's market to open. Until I can get my hands on some locally grown fresh produce, I try and do my best to eat seasonally throughout the winter.
Sometimes it can be tough to make meals that have the same feeling of freshness as their warmer weather counterparts, but this Pan Seared Chicken with a Winter Sprout Slaw does just that.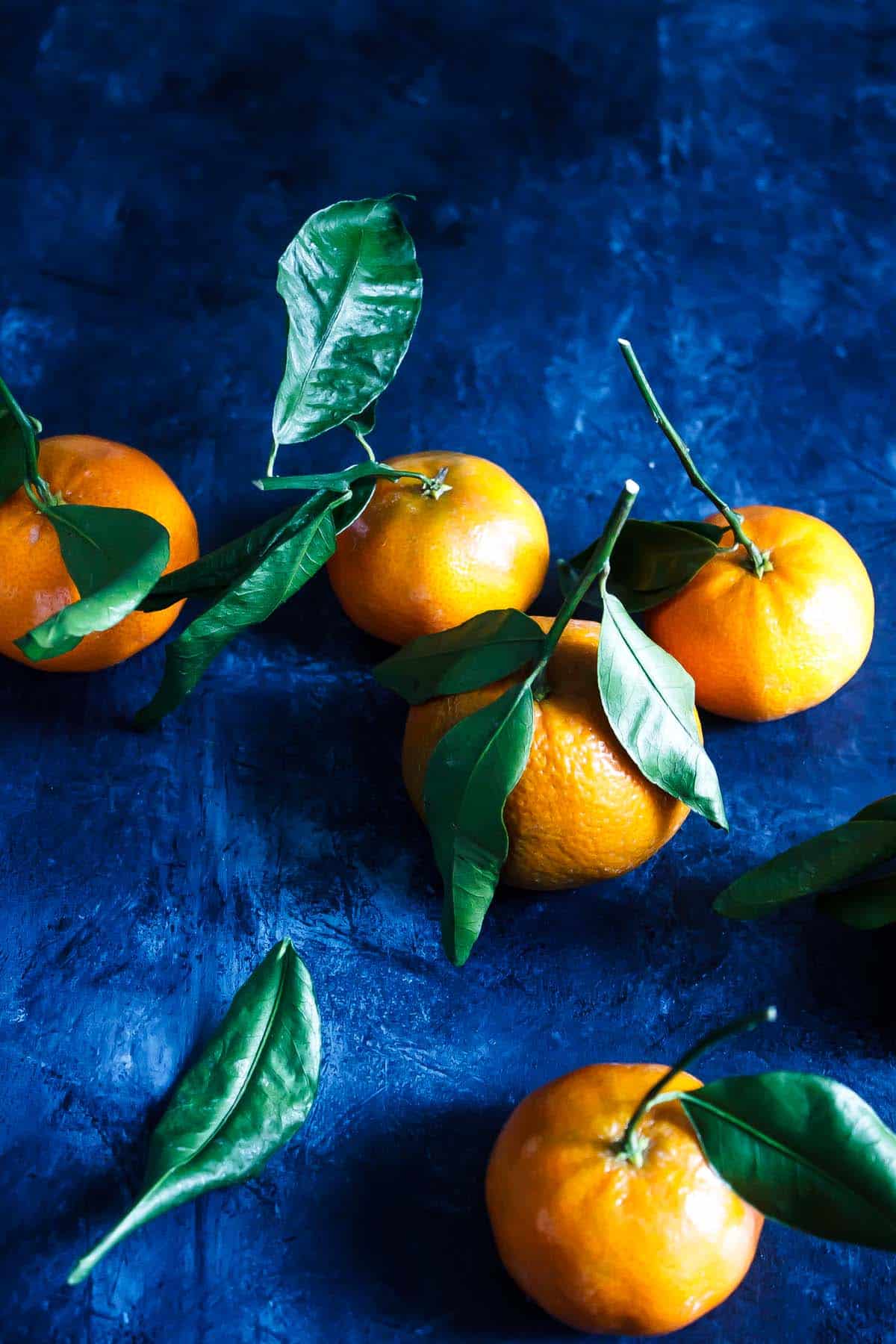 I always try to eat seasonally and locally, I don't succeed 100% of the time, and probably not even 75% of the time, but I do make a conscious effort to know where my food comes from. If you live on the Eastern half of the U.S. (like I do), a lot of the produce we find in grocery stores are products of California or Mexico. By the time it is grown, loaded into trucks, and shipped cross country it has lost that crisp fresh taste and this is especially true during the winter months.
I always choose organic options when available because I believe they are better for my body and I always choose non-toxic options for cleaning or around the home because I don't want to breathe in volatile chemicals. I care about my body and my surroundings, so another reason I strive to eat locally is for the environment, If I can eat food that has been grown or raised locally I'm reducing the carbon emissions involved in the food chain by reducing the distance the food has to be shipped to reach me.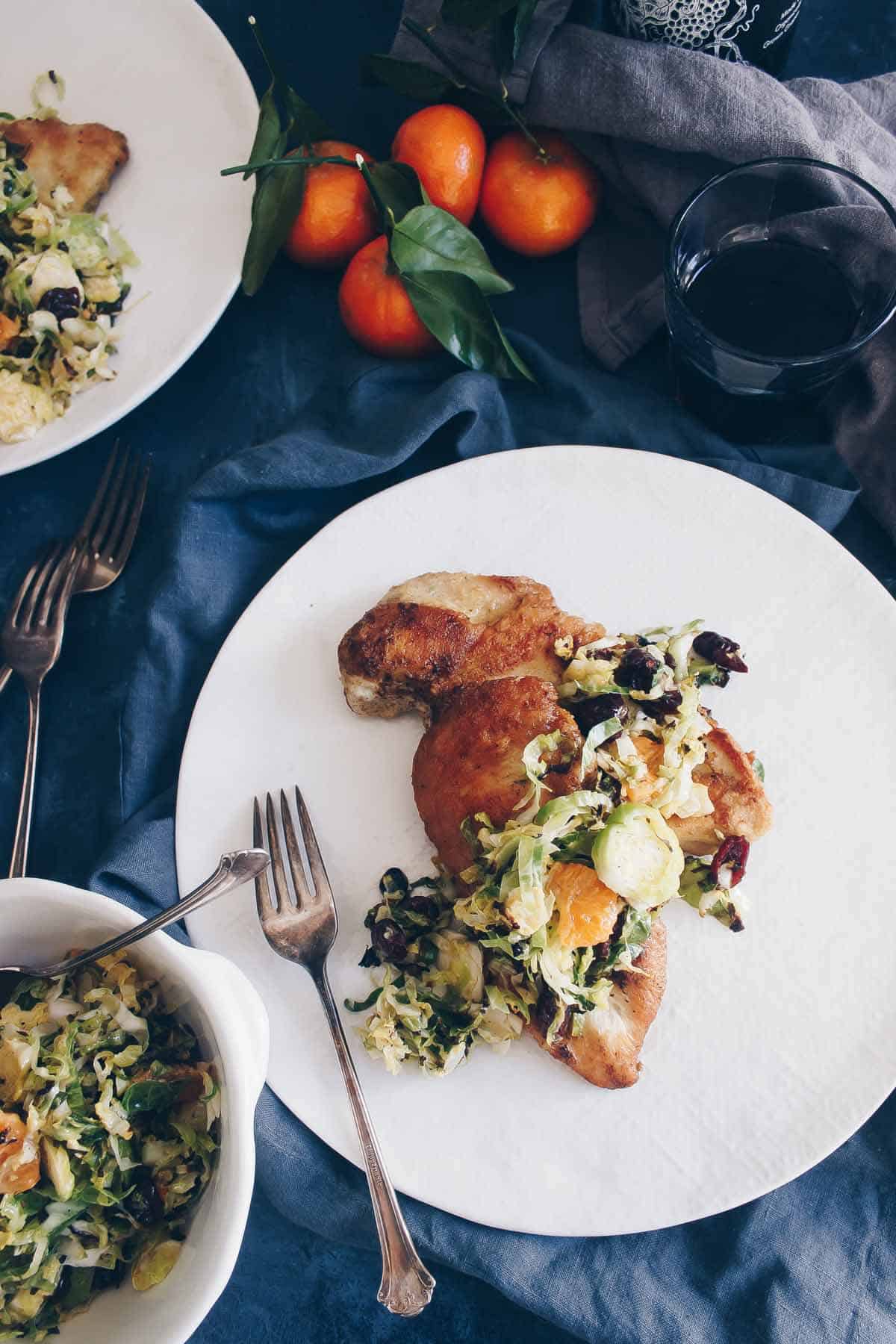 Sorry, I got a little off track there… back to this delicious meal.
The chicken component is super simple, but the slaw is what really elevates and changes the dish into something special. For the slaw I charred a portion of the Brussels sprouts under the oven broiler and left the rest fresh to give it a little more texture. I really love the contrast between the charred leaves and the raw. I simply sliced the oranges and sprinkled some dried cranberries on top. The dressing is just a few ingredients and gives the dish a little bit of an acidic bite that make all the flavors really pop. As a whole the entire dish can come together quite simply and quickly and be a lot more flavorful than just boring plate of pan seared chicken with a side of veggies. How's this for a 30 minute meal? 😉
Pan Seared Chicken with Winter Brussels Sprout Slaw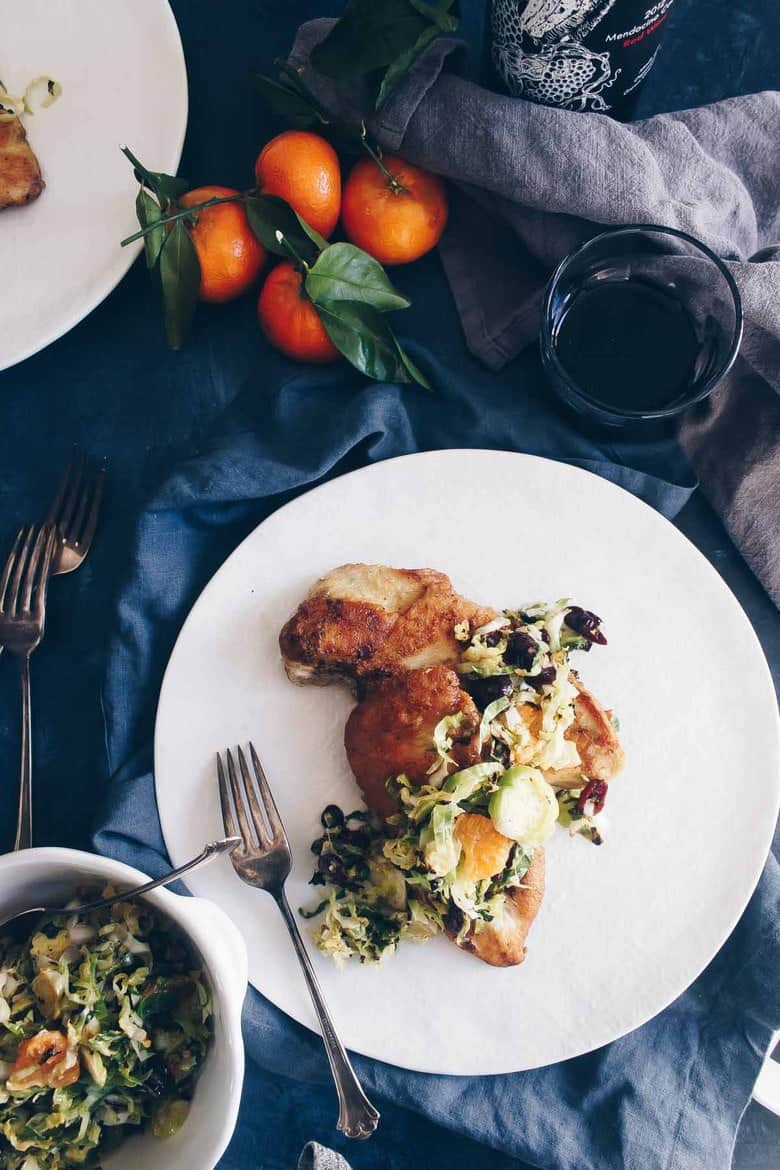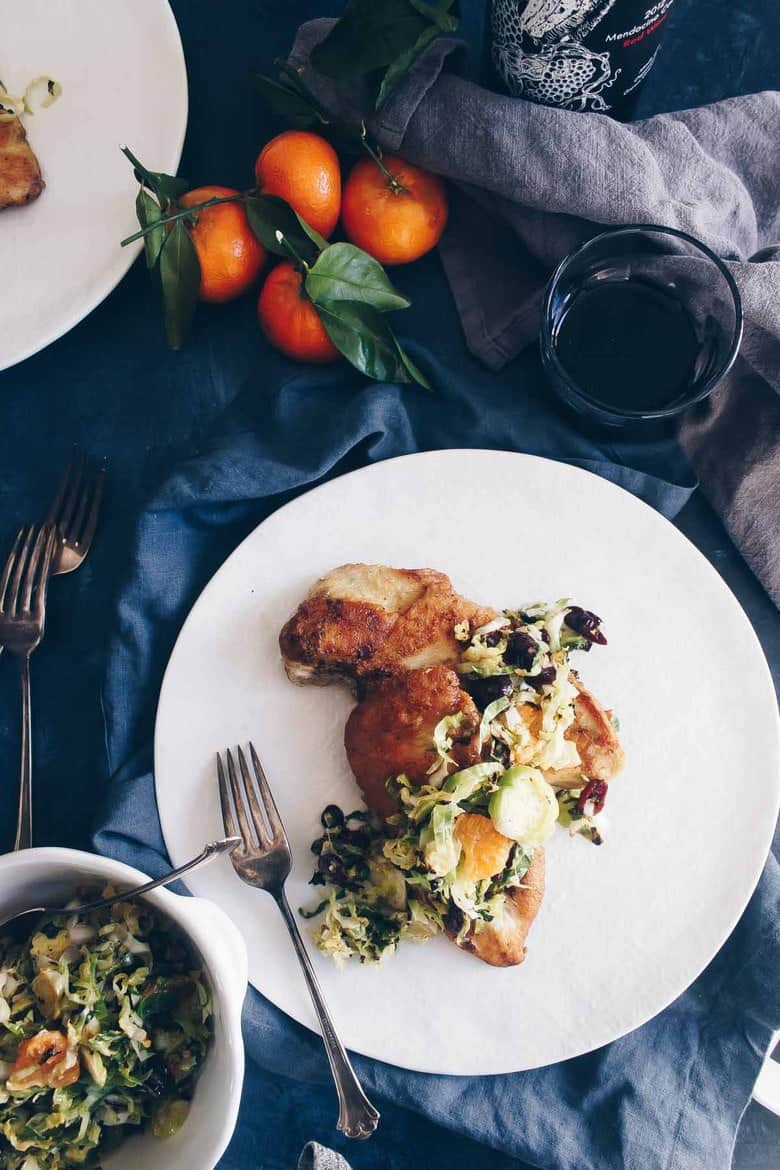 Ingredients
2

(6 oz) chicken cutlets

1/4

cup cassava flour (you can also use tapioca, arrowroot, or gluten free flour)

Salt and pepper, to taste

1

tablespoon coconut oil, lard, or avocado oil
Slaw
2

cups shredded Brussels sprouts

1

orange, segmented

3

tablespoons dried cranberries

1/4

cup olive oil

1

tablespoon Dijon mustard

1

tablespoon white wine vinegar

Salt and pepper, to taste
Instructions
Make the slaw by charring half of the shredded Brussels under a broiler for 3-5 minutes. Keep an eye on them to make sure they don't completely burn. Combine the charred leaves with the raw. Toss in the oranges and cranberries. In a small jar shake together the olive oil, Dijon mustard, and vinegar, set aside.
In a small bowl season the cassava flour with salt and pepper. Heat the coconut oil in a large skillet over medium high heat. Once hot dredge the chicken through the flour shaking off any excess. Place in the skillet and cook 5 minutes, flip and turn the heat down to medium. Continue to sear 5 more minutes until a nice golden crust has formed and the juices run clear.
Pour the dressing over the slaw and toss to coat. Season with salt and pepper to your taste. To serve place a piece of chicken on a plate and top with the slaw.
by Lauren